Are you and your significant other wants a romantic getaway in the beautiful city of Chicago? You are in the right place love-birds!
Our handpicked collection of luxurious hotels that offer intimate and unforgettable experiences, complete with Jacuzzis in the comfort of your own room. 
Experience romance like never before amidst the vibrant energy of the Windy City. Indulge in soothing bubbles, champagne toasts, and the serenity of candlelit baths.
Tours & Things to do hand-picked by our insiders
Read on and book the perfect romantic hotels in Chicago with Jacuzzis in room, where love stories are written and cherished.
35 Romantic Hotels In Chicago With Jacuzzis In Room 
The Champagne Lodge & Luxury Suites is a boutique hotel. The hotel offers a unique and luxurious experience. It is located in the Swiss Alps. You will love the breathtaking views of the alpine vista.
Whether you're a romantic couple seeking gateaway, a family in search of adventure, or a business traveler in need of excellent amenities, this hotel has something for every traveler.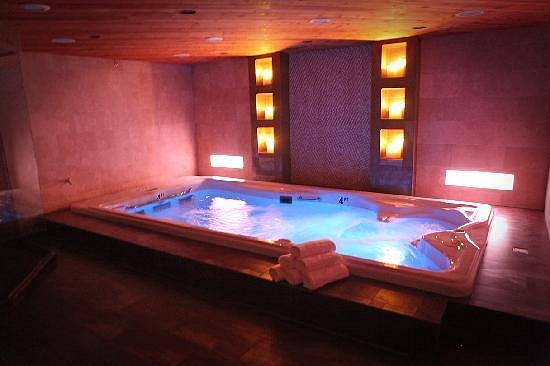 The Champagne Lodge & Luxury Suites ranks among the best hotels, offering options like suites with private pools or hot tubs.
The suite features a king-size bed, a walk-in shower, and a Jacuzzi next to the bed. Living here will give you an amazing experience.
While staying here, you can go to romantic dinners at nearby restaurants like La Cabañita or the Chiba Japanese Restaurant for its sushi.
Address: 16W621 S Frontage Rd, Willowbrook, IL 60527, United States
Phone: +1 630-455-0555
2. Vibe Inn– Whirlpools Suites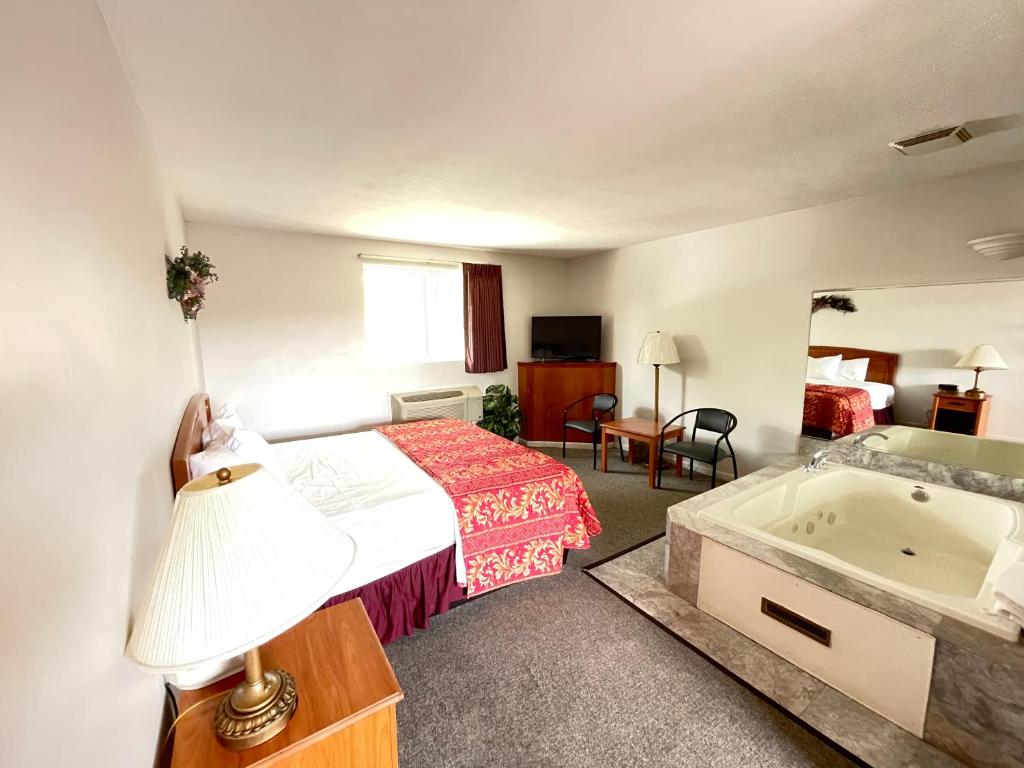 Located in the charming village of Lyons, just outside of downtown Chicago, The Vibe Inn – Whirlpool Suites is a hidden treasure that offers an exceptional blend of opulence and intimacy.
This motel caters exclusively to adults and  feature a luxurious spa tub situated right next to the comfortable bed. The suites are decorated tastefully. The rooms has all the necessary with modern amenities.
If you are seeking for an affordable romantic escape,  come here and indulge in complete relaxation to you very own private whirlpool tub in your hotel room.
Address: 7307 Ogden Ave, Lyons, IL 60534, United States
Phone: +1 708-442-5120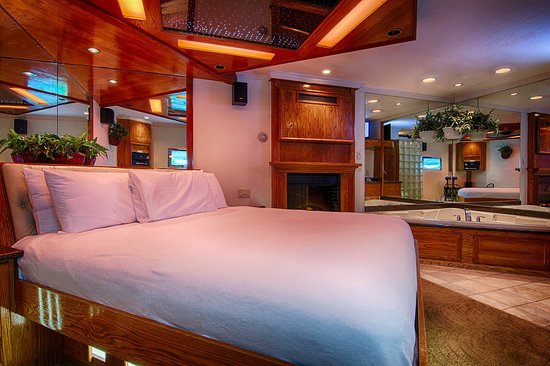 Experience the ultimate romantic escape in this this exclusive hotel in Downers Grove, strictly reserved for adults. 
At Sybaris– Downers Grove, there're units that will elevate your experience by offering a private pool accompanied by a tropical waterfall, a soothing steam room, and massage chairs.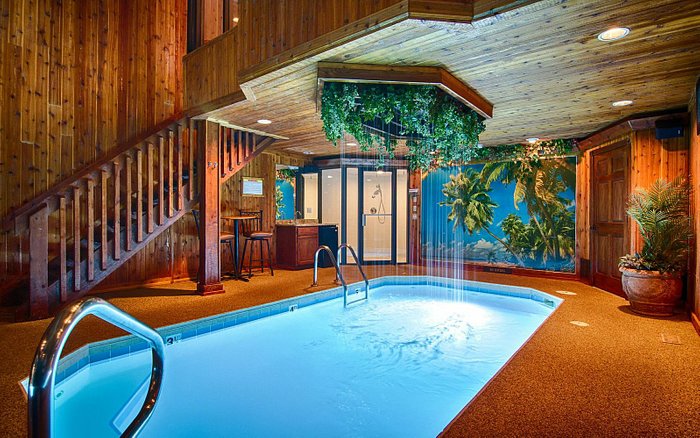 Each suite features a delightful hot tub within the room, a cozy fireplace, and an exclusive love swing (exclusively available at this location).
Indulge in the splendid whirlpool and pool suites which promise an unparalleled getaway. Book Now!
Address: 600 Ogden Ave, Downers Grove, IL 60515, United States
Phone: +1 630-960-4000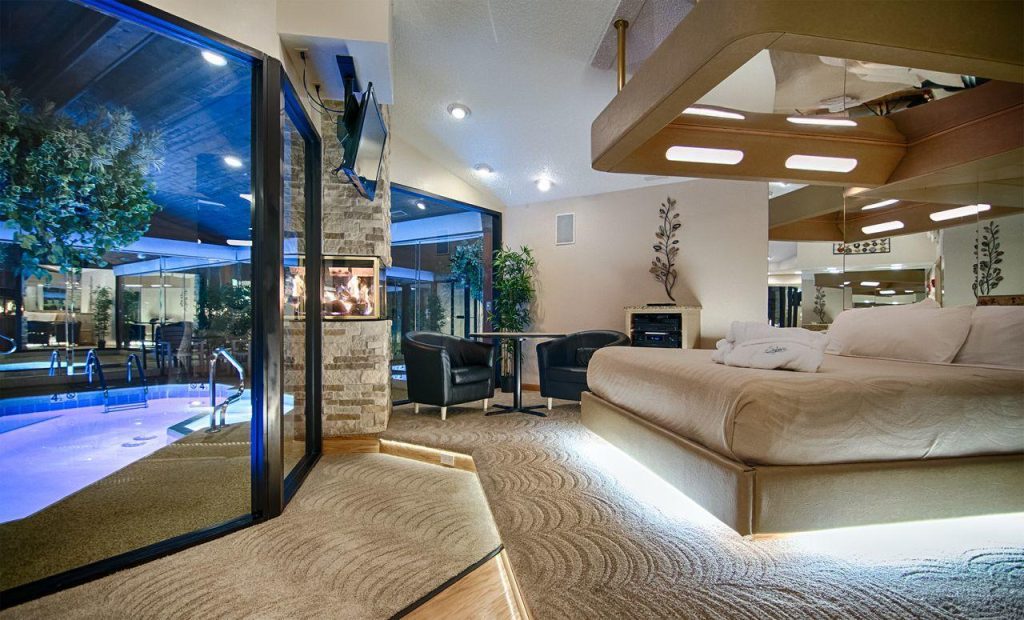 Sybaris, chosen as the top romantic hotel with hot tubs in the United States, and it lives up to its reputation undoubtedly.
Their suites are designed tastefully for unforgettable honeymoons, anniversary, or any cherished occasion with your partner.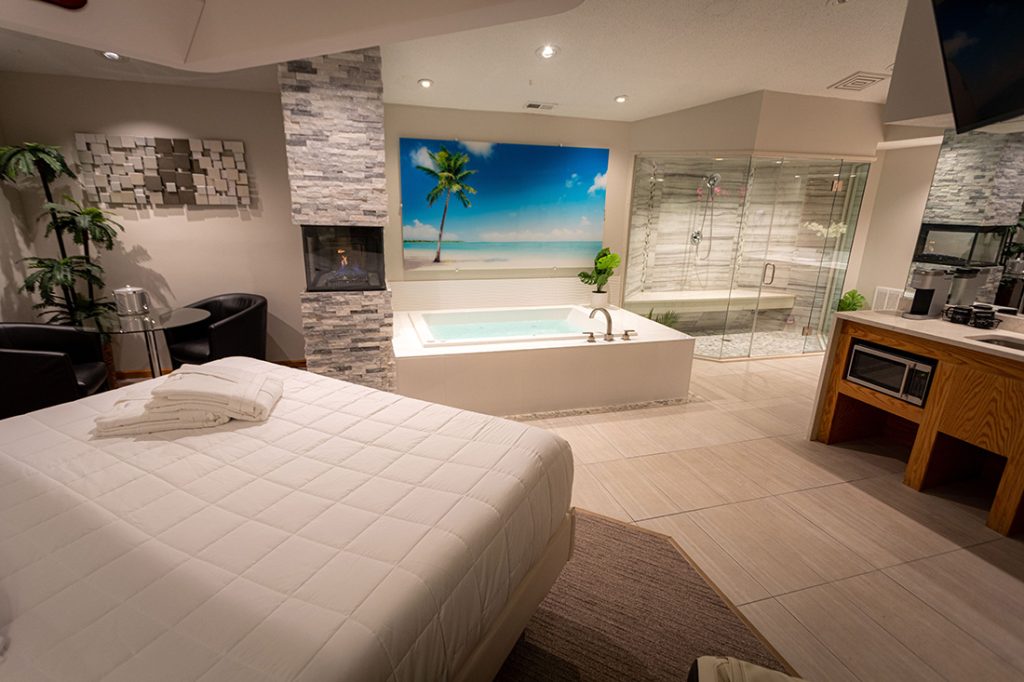 Each suite features a big whirlpool tub, a cozy fireplace, a rejuvenating misting steamroom, and relaxing massage chairs. They also offer suites that feature a personal pool, ensuring an extra element of serene seclusion.
Address: 7500 W Lincoln Hwy, Frankfort, IL 60423, United States
Phone: +1 815-464-5000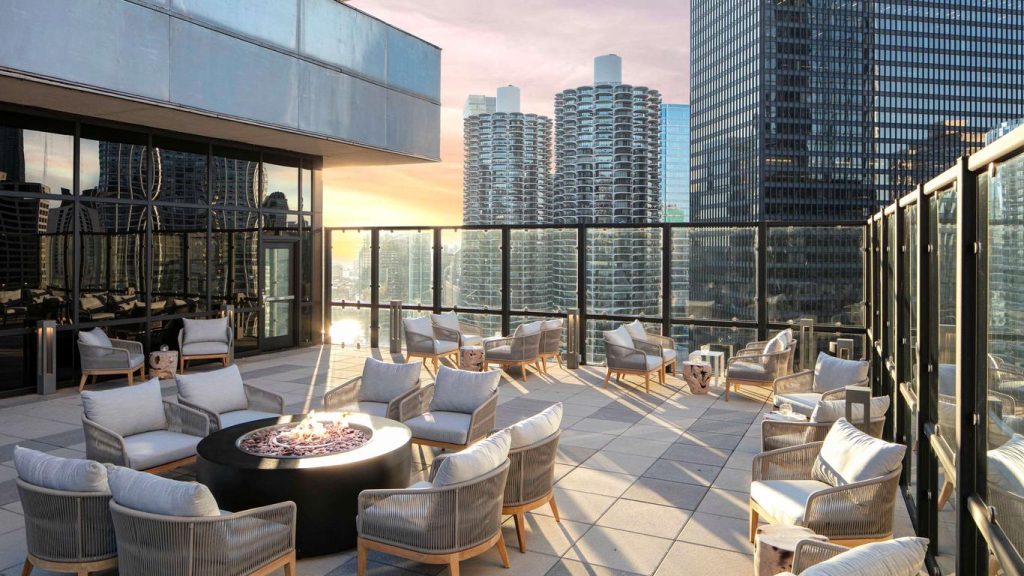 This chic boutique hotel, holding a 4-star rating, is excellently situated in the vibrant downtown area of Chicago.
With its personalized assistance services, esteemed restaurant serving delectable Italian dishes, and a classy wine/cocktail bar, guests are guaranteed an unforgettable experience.
The Allegro Royal Sonesta Hotel Chicago Loop provides spacious and cozy rooms that come equipped with a flat-screen TV, complimentary in-room spa program, and Yoga accessories for your convenience.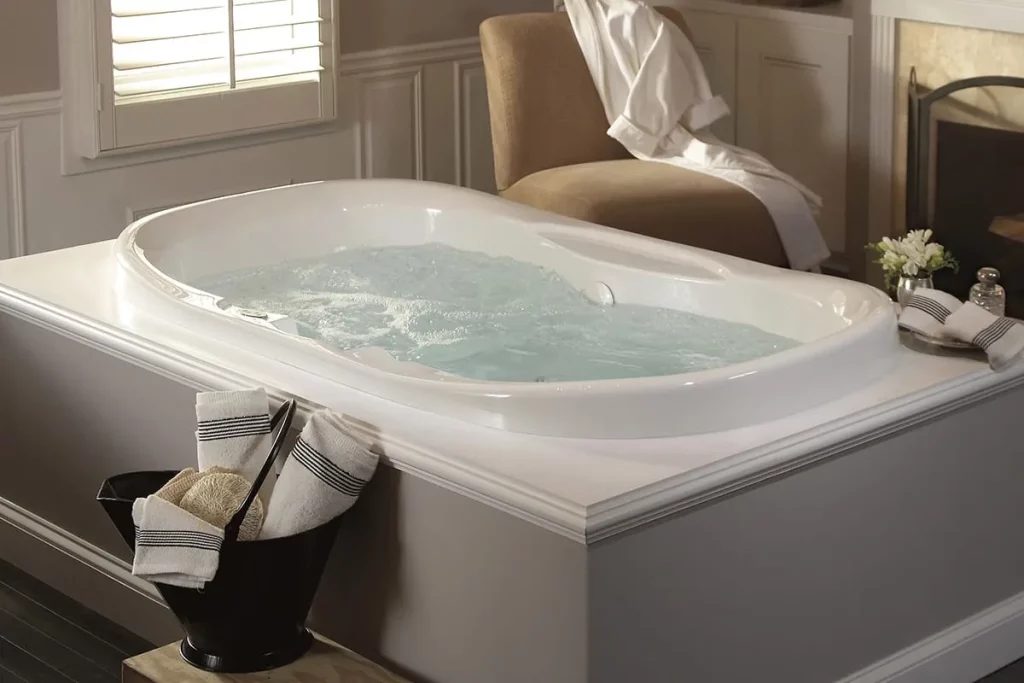 For the utmost tranquility during your romantic getaway, opt for the One-Bedroom King Suite with Two Person Tub, featuring a soothing jetted tub that will ensure ultimate relaxation.  Book now!
Address: 171 W Randolph St, Chicago, IL 60601, United States
Phone: +1 312-236-0123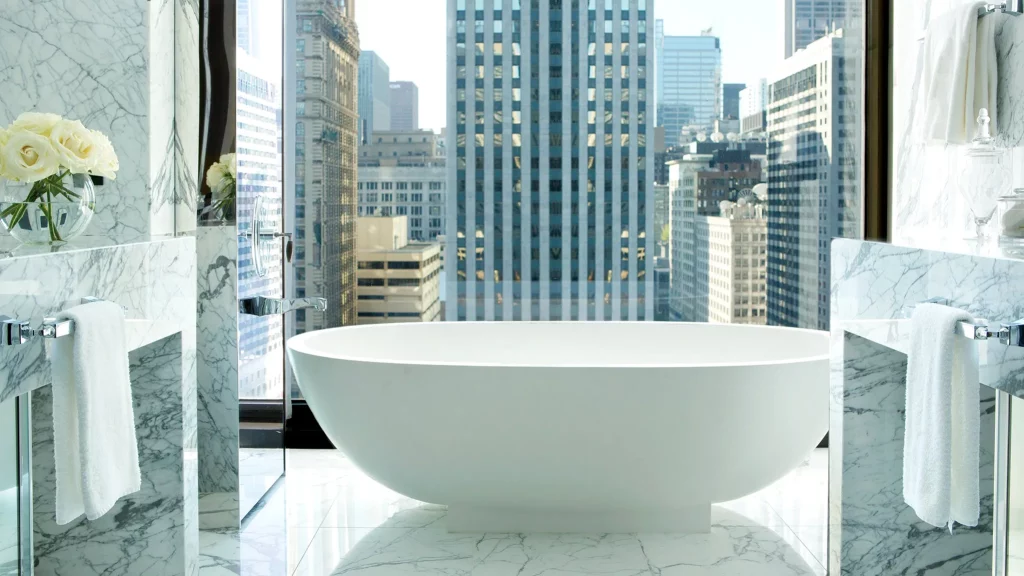 Continuing our exploration of romantic Chicago hotels with hot tubs in rooms, we have found an amazing option situated just a stone's throw away from the vibrant dining and entertainment scene of the renowned Magnificent Mile.
This specific hotel prides itself on its award-winning service, inviting lounge area, refreshing indoor pool, and well-equipped gym.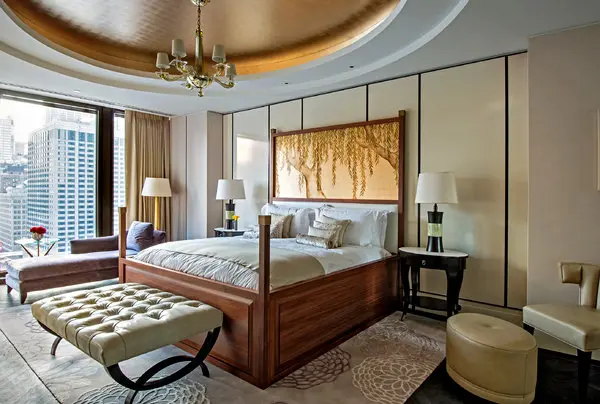 The accommodations feature tea/coffee machines and generously sized floor-to-ceiling windows that offer mesmerizing views.
The bathrooms are adorned with exquisite Alaskan white granite, deep soaking tubs, and indulgent rainfall showers.
Among the various suites available, the One-Bedroom River View Suite has captured our hearts as a personal favorite. Book now!
Address: 330 N Wabash Ave, Chicago, IL 60611, United States
Phone: +1 312-923-9988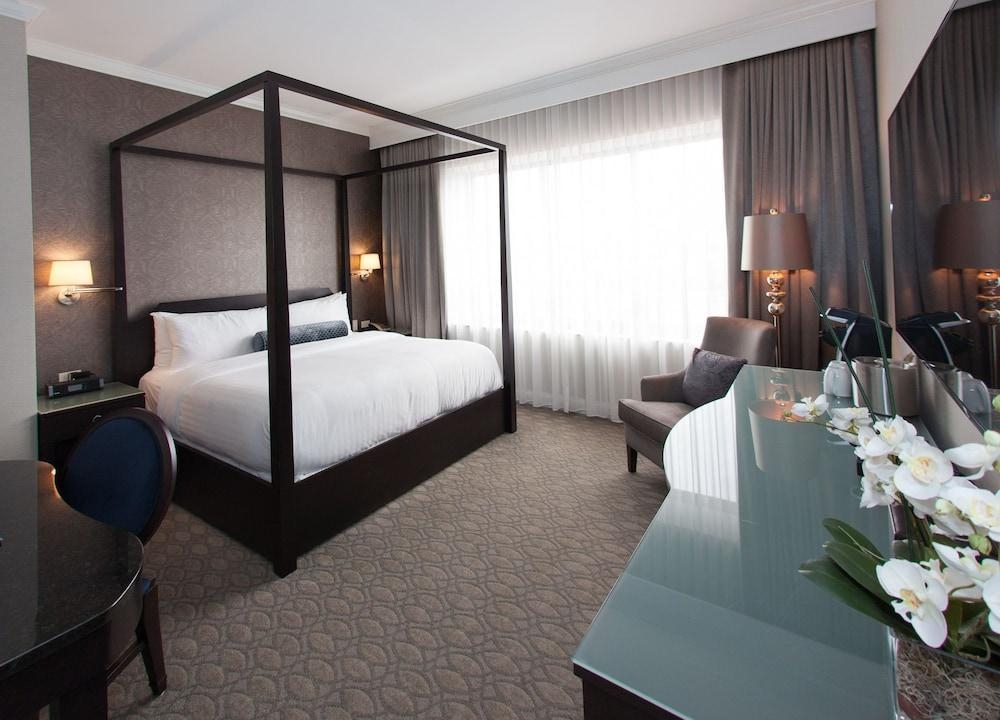 La Banque Hotel is housed in a historic building. It's a boutique house with luxury amenities. The hotel offers 18 beautifully furnished guest rooms to choose from. 
The rooms perfectly blend classic elegance with modern sophistication.
Be sure to receive attentive services with the charm of a small town. If you want a very serene getaway it is  the ultimate choice for you.
The generously-sized bathroom feature a relaxing bathtub, although it's worth noting that some rooms offer shower-only facilities. To ensure your preference is met, we recommend checking in advance.
Address: 2034 Ridge Rd, Homewood, IL 60430, United States
Phone: +1 708-798-6000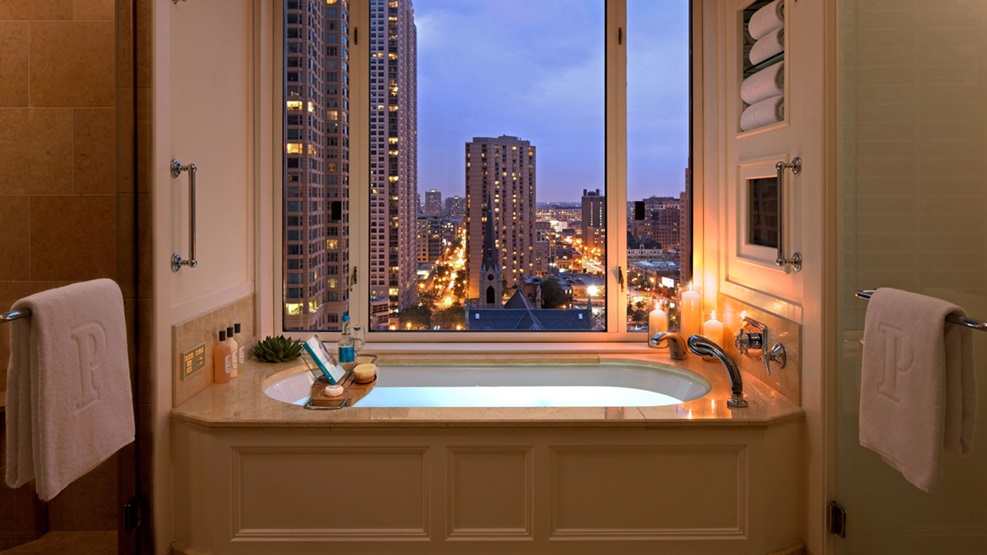 Located in the vibrant center of Chicago, this hotel warmly welcomes pets and features an exquisite spa with an Asian touch, a trendy bar, two esteemed restaurants, a delightful terrace, a convenient indoor pool, and a well-equipped gym.
Every room exudes spaciousness and provides opulent amenities along with captivating city vistas.
For those seeking an enhanced experience, the Executive hot tub suite presents a charming soaking tub with a panoramic view, ideal for a romantic getaways.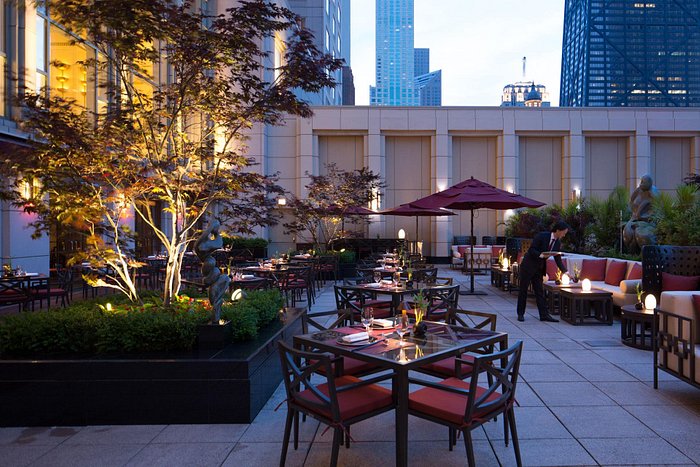 Situated just across the street from the prestigious Water Tower Place and within a leisurely stroll of the renowned Navy Pier, this hotel gives you an opportunity to enjoy an exceptional historic sight seeing.
Address: 108 E Superior St, Chicago, IL 60611, United States
Phone: +1 312-337-2888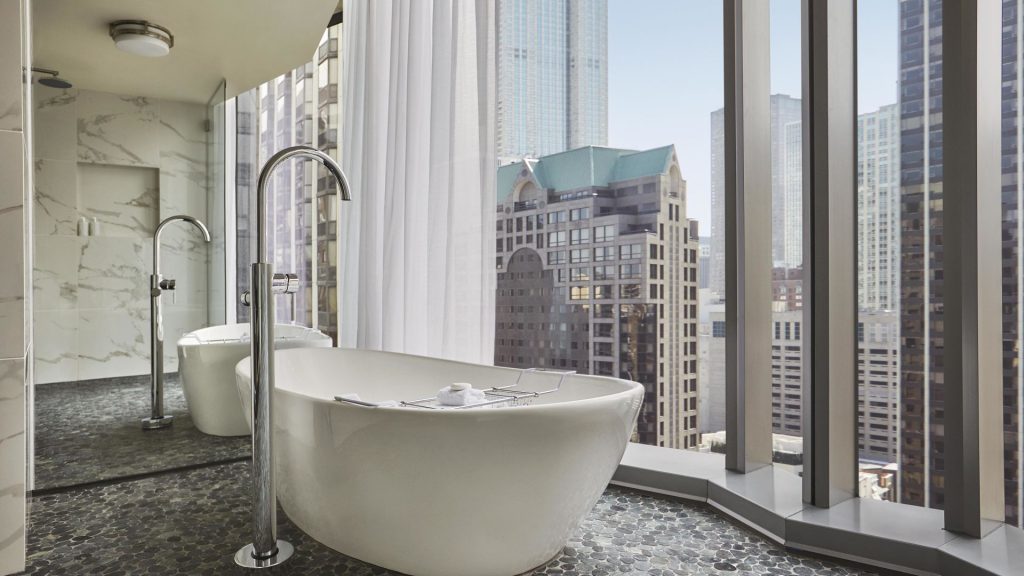 Viceroy Chicago is a luxurious 5-star hotel. This iconic hotel is situated in the heart of Chicago. It features a rooftop bar and lounge. You can enjoy stunning panoramic views of the city from the rooftop pool.
The coolest thing about this hotel is the fitness center. You will enjoy a good workout or Pilates session here. There are two fantastic hotel's restaurants. You can be sure of having top-notch amenities while staying here.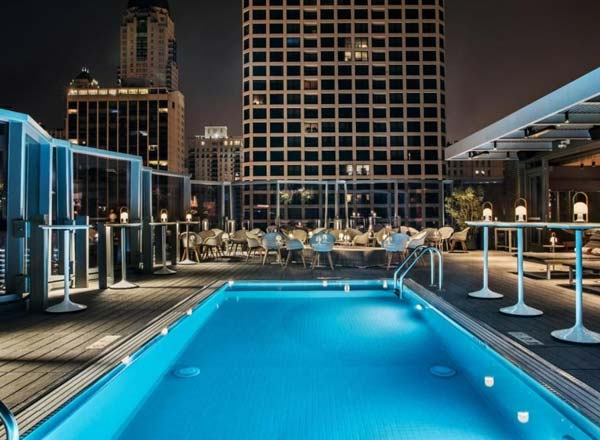 The Junior Suite with Terrace is highly recommended, as it offers a private terrace, a spacious bathroom with upscale bath products, and a deep soaking tub with captivating city views.
The suite also has a generously sized bathroom complete with high-end bath products, as well as a deep soaking tub offering magnificent city views. Book now!
Address: 1118 N State St, Chicago, IL 60610, United States
Phone: +1 312-586-2000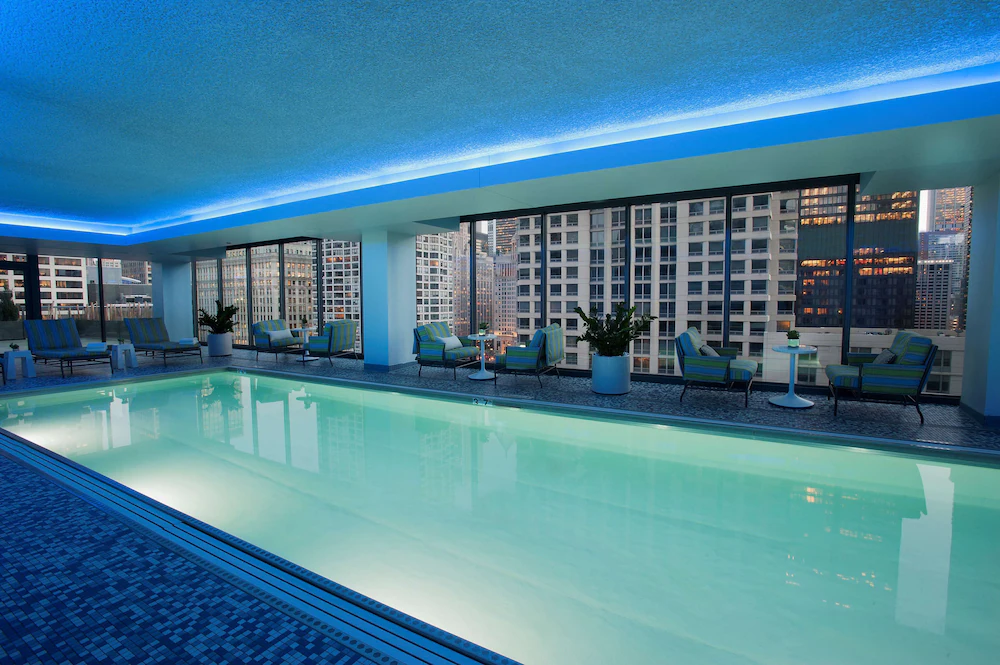 This 4-star hotel is located in Downtown, near all the local attractions. The hotel features an indoor pool, a sundeck, in-room spa services, and multiple dining options. 
You can start your day with the amazing complimentary morning coffee and tea. Personal advise- try not to miss the breakfast. It's really good. 
The guest rooms are decorated in a design inspired by the Chicago World's Fair. The aesthetic is very cool.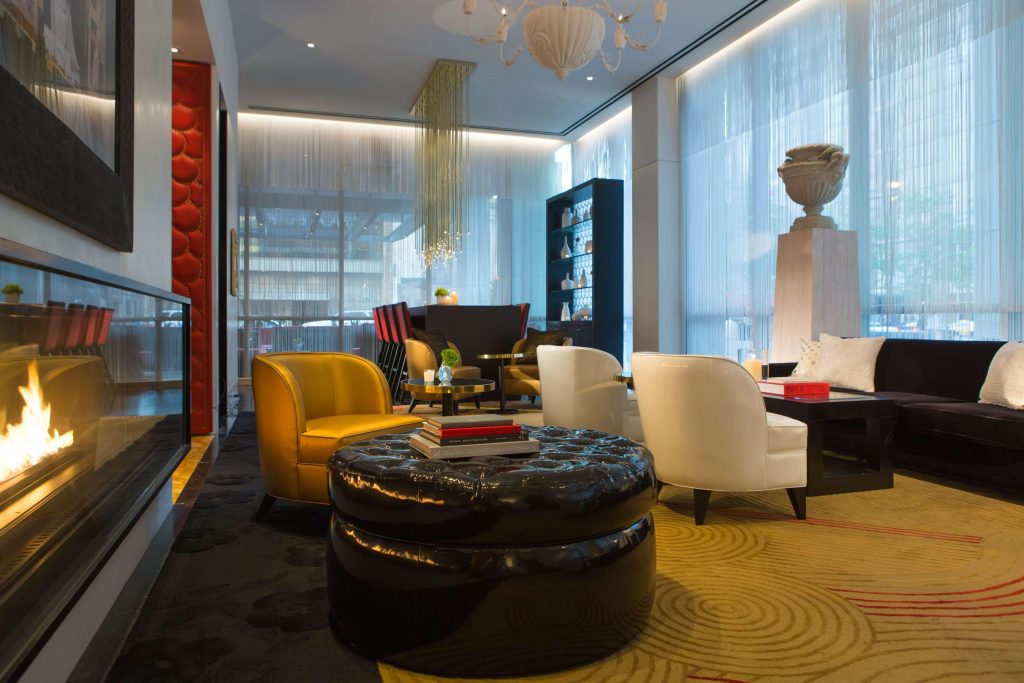 For a luxurious and relaxing weekend getaway with your significant other, we recommend choosing one of the King Room with private hot tub. These suites come in various options, including One-Bedroom, Luxury, or Junior suites.
Address: 505 N State St, Chicago, IL 60654, United States
Phone: +1 312-755-9703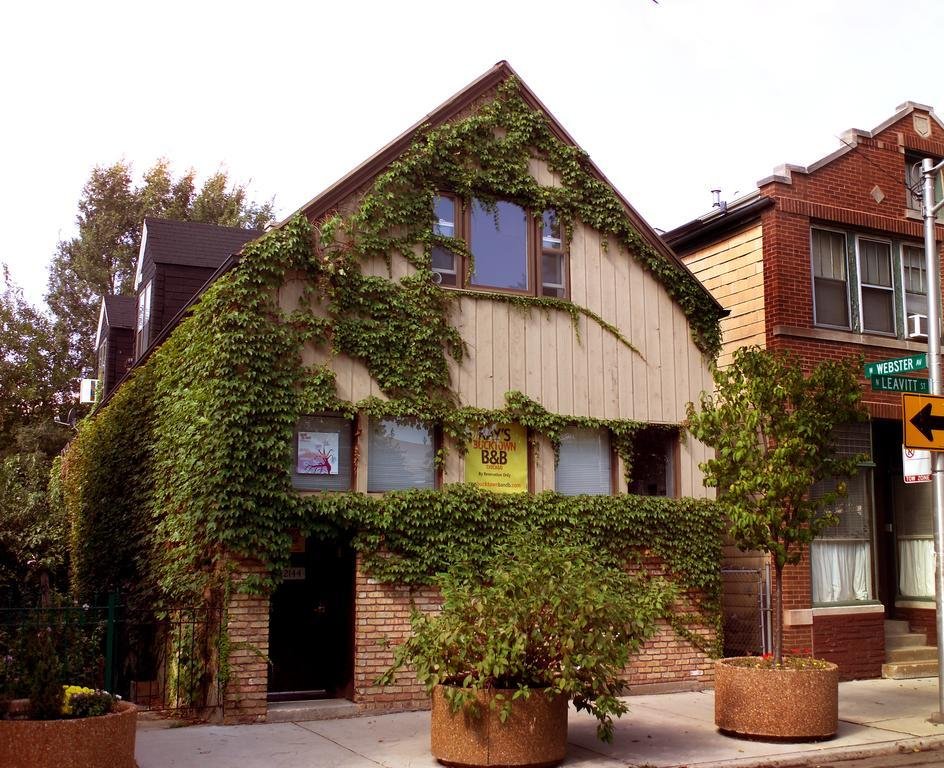 Ray's is a one-of-a-kind bread and breakfast. It is located in the vibrant Bucktown neighborhood of Chicago. Inspired by charming European hotels, this B&B offers cozy bedrooms, each with its own private bathroom.
You can come with your partner for romantic time. Or may be if you are in town for business, you can stay at this lovely hotel to have romance on your own.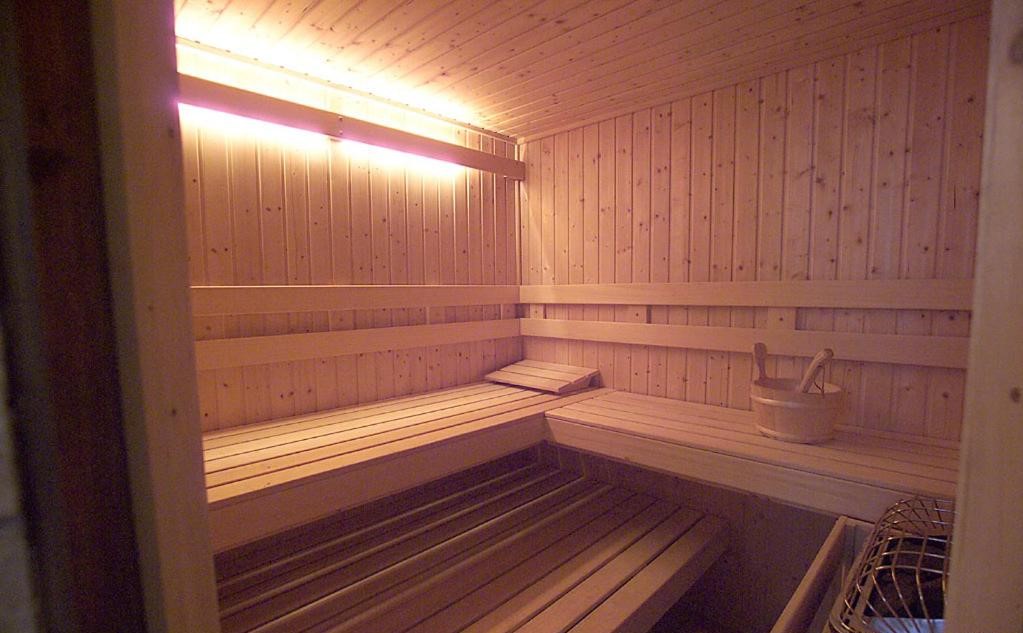 The bedrooms have all the necessities amenities including steam room and sauna.Have all your stress taken out by the in house spa center.
There's a common sitting space for relaxation and socializing. Ray's Bucktown Bed and Breakfast has a summer herb garden and several common areas.    
Address: 2144 N Leavitt St, Chicago, IL 60647, United States
Phone: +1 773-384-3245
12. Sophy Hyde Park– Hot Tub Suites in Chicago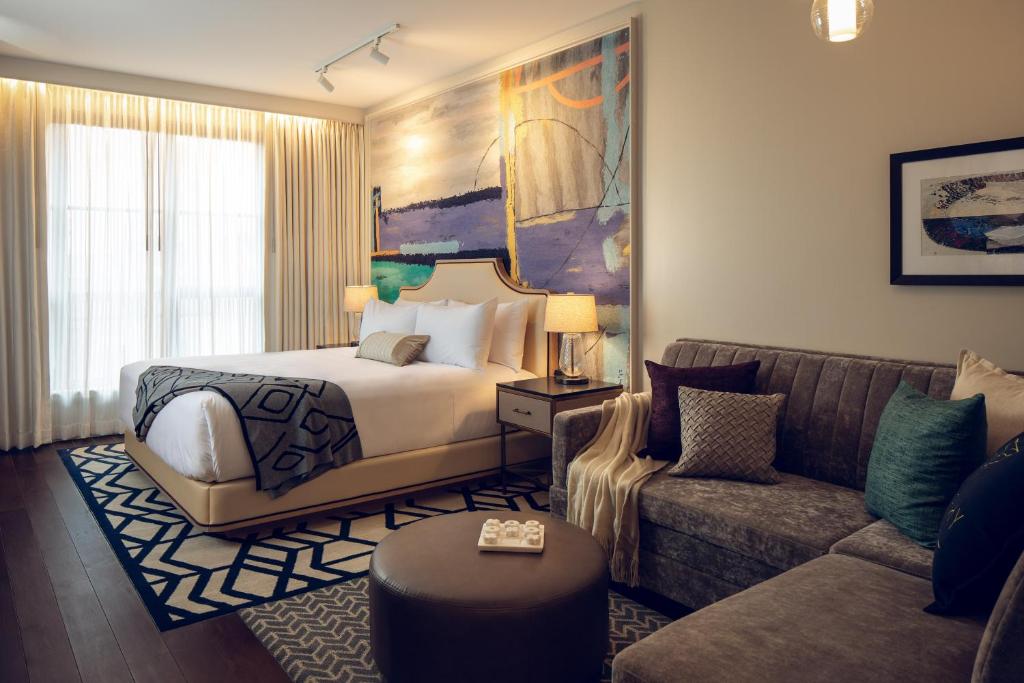 The exquisite hotel in Chicago have both romance and pet-friendliness, offering hot tub suites. Give yourself a treat in the luxurious ambiance of this unique boutique hotel. The hotel is adorned with community-inspired artwork and a captivating library.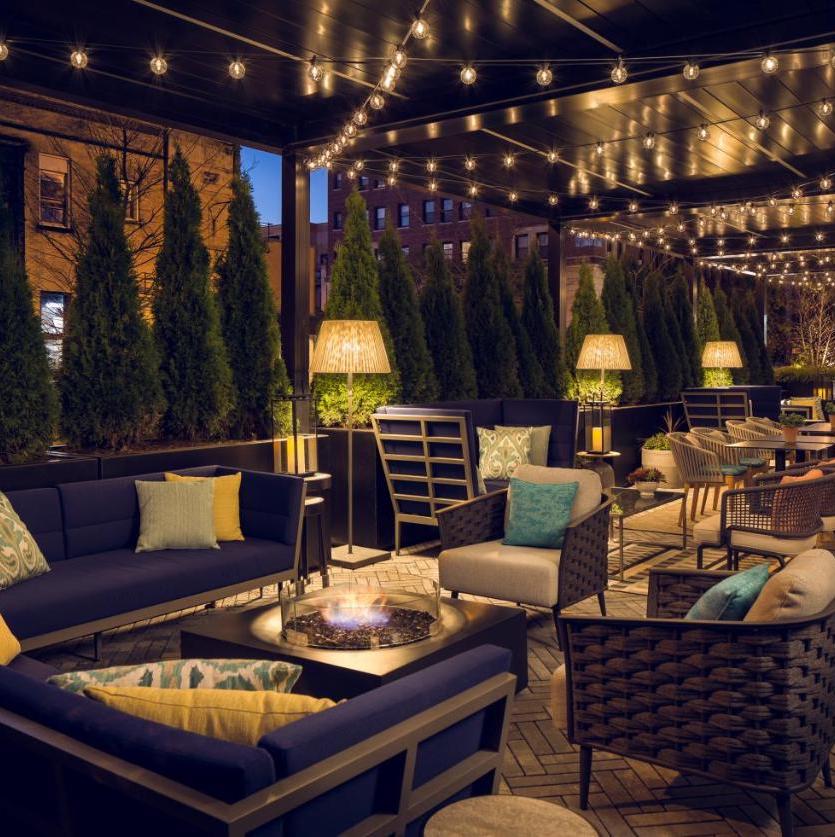 You can enjoy the amazing cuisine at the restaurant of this hotel. Some rooms even feature a separate living space and dining area, while others offer the ultimate relaxation with a spa bath from the comfort of your room.
Address: 1411 E 53rd St, Chicago, IL 60615, United States
Phone: +1 773-289-1003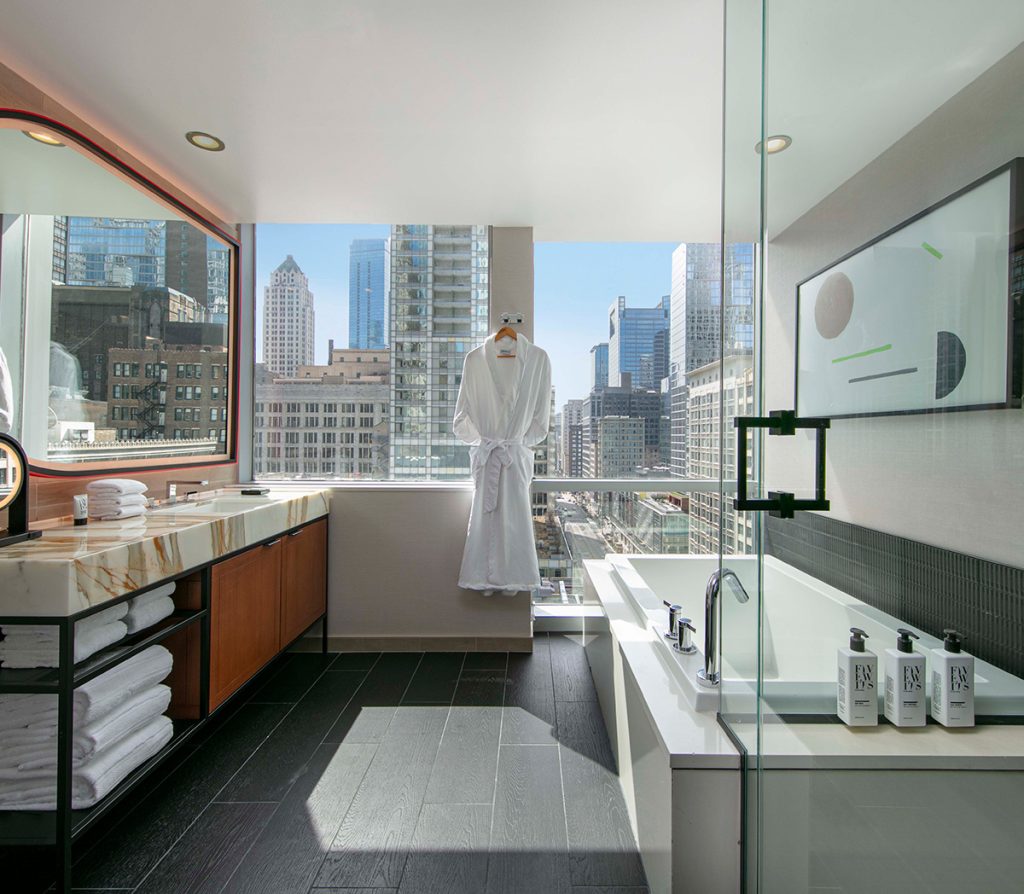 TheWit is located in the heart of Chicago's Theater District. This suites by Hilton chicago provides guests with all the luxury amenities including a spa, fitness center, on-site restaurant serving American cuisine, and a rooftop lounge offering stunning city views.
It is one of the best Chicago hotels with a hot tub. The rooms in this modern hotel feature necessary amenities to make your stay comfortable.
Some rooms, such as the King suites with in-room hot tub, even offer the added luxury of a private Kohler soaking tub.
If you want some sight seeing to do, luckily the Millennium Park and the Magnificent Mile are just a short walk away from the hotel.
Address: 201 N State St, Chicago, IL 60601, United States
Phone: +1 312-467-0200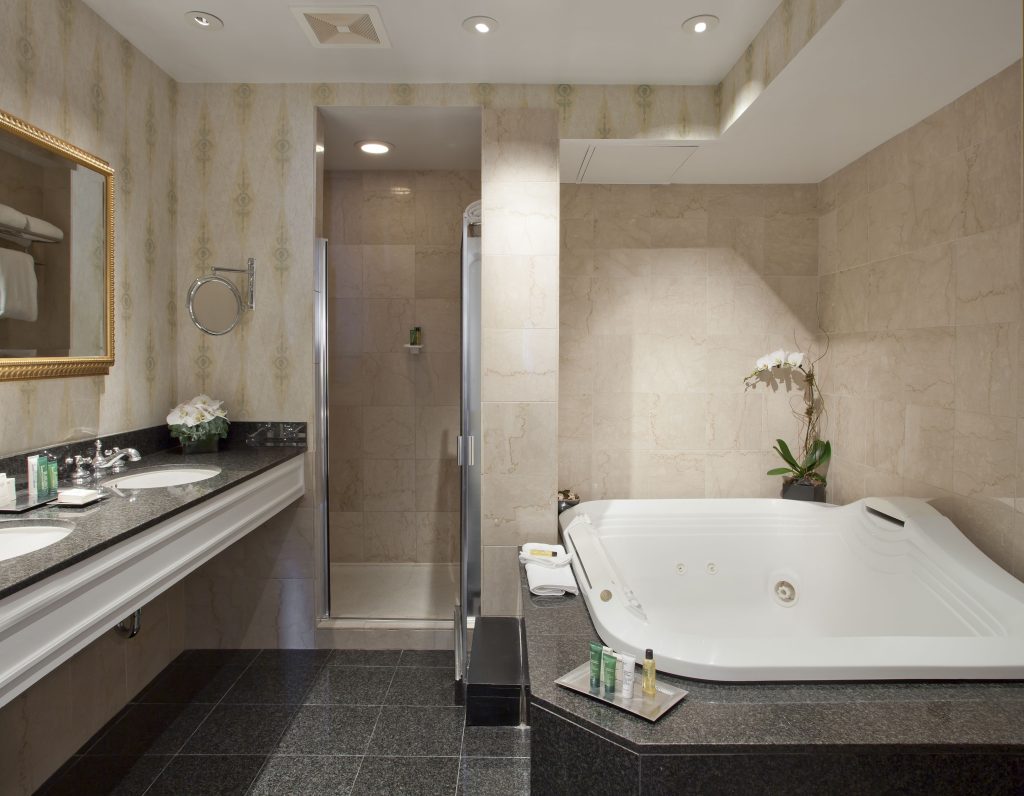 If you're planning a special anniversary or honeymoon trip to Chicago and feel like treating yourself, indulge in the ultimate luxury at the Drake hotel.
Their One Bedroom King Gold Coast Suites offer extravagant features such as jetted spa tubs and breathtaking views of Lake Michigan.
Previous guests have praised the hotel for its fashionable rooms, excellent service, and prime location at the prestigious Magnificent Mile.
Address: 140 E Walton Pl, Chicago, IL 60611, United States
Phone: +1 312-787-2200
Located in the serene town of Skokie, just north of downtown Chicago and adjacent to the scenic Harms Woods, this inn Chicago offers impeccable room service, a fitness room, complimentary parking, and a delectable hot breakfast buffet.
The hotel features a range of fantastic amenities. You will the  luxury fitness center, an indoor pool and hot tub, a 24-hour market for any quick shopping run, and a complimentary hot breakfast to make the starting of your day sweet.
For added luxury, some rooms provide a cozy seating area, a kitchenette, and a relaxing whirlpool tub designed for two.
Within walking distance, you'll find the Illinois Holocaust Museum, while the vibrant attractions of downtown Chicago are only a short drive away.
Address: 33 W Illinois St, Chicago, IL 60654, United States
Phone: +1 312-832-0330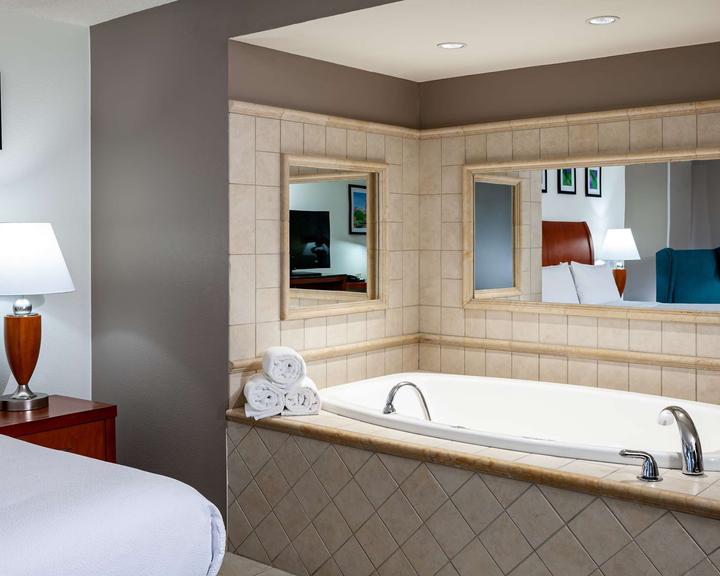 Have a fantastic experience at Comfort Inn & Suites Geneva West Chicago where the staffs are known for their friendly and attentive service.
The rooms are extremely cleaned and equipped with everything needed for your comfort. You can unwind and relax dipping in the indoor pool.
If you are some one who likes to keep up with your fitness routine while vacation, the hotel has a fitness center. Kick off your day with a delicious complimentary breakfast every morning.
Address: 4200 N River Rd, Schiller Park, IL 60176, United States
Phone: +1 847-233-9000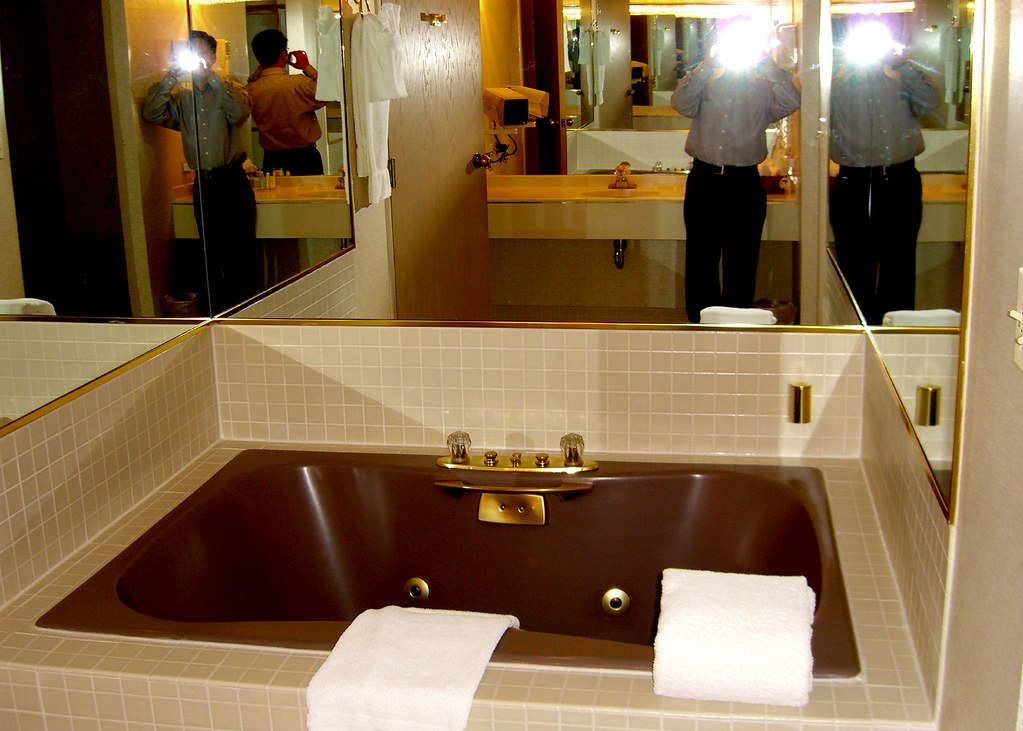 The next hotel on our list with hot tubs in Chicago hotel, is the Hilton Chicago/Northbrook. Located in Northbrook, in northern Chicago, this hotel sits alongside the Des Plaines River.
Couples looking for a perfect romantic weekend, this 3-star hotel is an ideal choice. The Executive King Room has a Spa Bath and the King Room has a Jetted Tub. They are recommended options, with the former providing a larger bath for a more luxurious experience. The hotel also features a sauna and a hot tub, it's included in the room.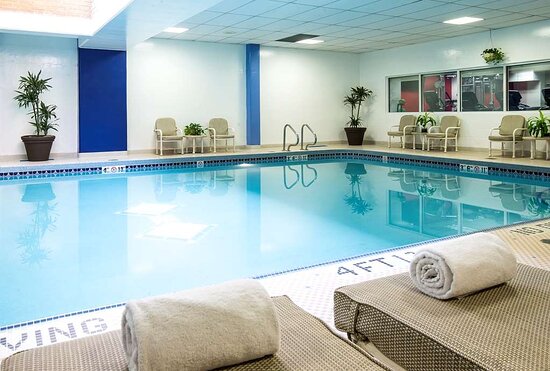 Besides the luxurious room amenities, you can also enjoy a romantic dining experience. The hotel features award-winning restaurant. Order some chocolates and wine at the room service while creating memories in this beautiful hotel . 
Address: 2855 Milwaukee Ave, Northbrook, IL 60062, United States
Phone: +1 847-480-7500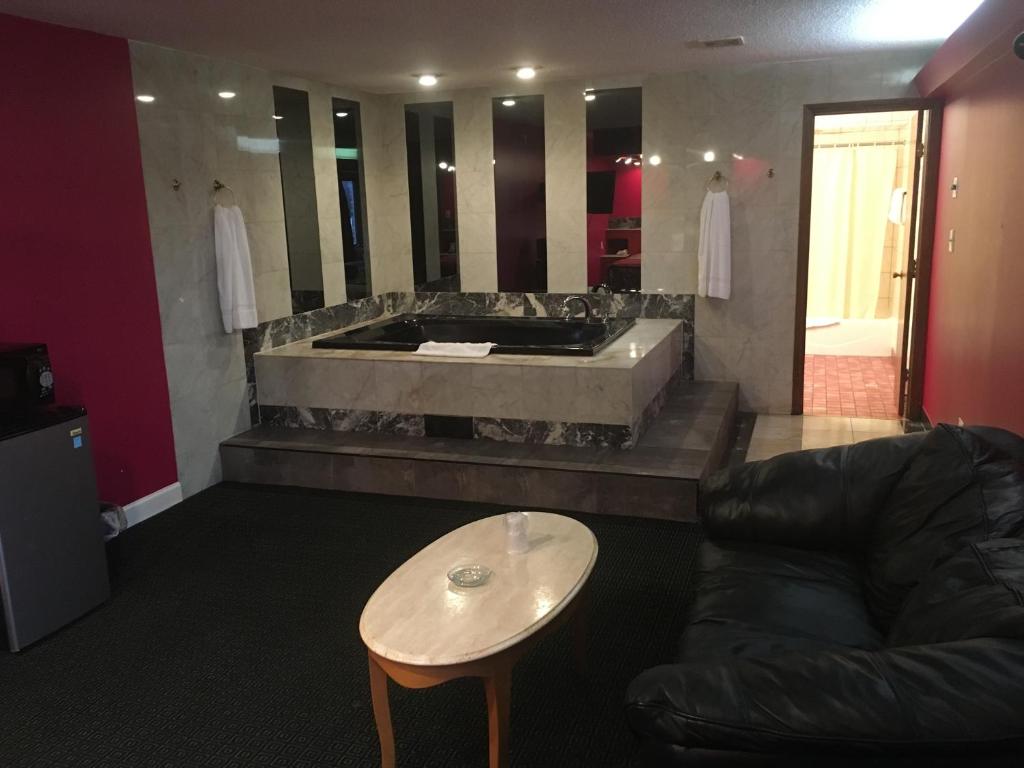 Explore a charming accommodation nestled in the bustling center of Grand Junction, Colorado. At Midway Inn & Suites, they offer a range of affordable room options.
They have standard rooms and suites. Take advantage of the big outdoor pool to soak up the sun. Make memories with your partner and stay active at the fitness center.
The hotel is pet friendly and happily accommodate pets. Every morning  you can enjoy a mouthwatering continental breakfast at no additional cost.
Address: 9320 S Cicero Ave, Oak Lawn, IL 60453, United States
Phone: +1 708-424-8700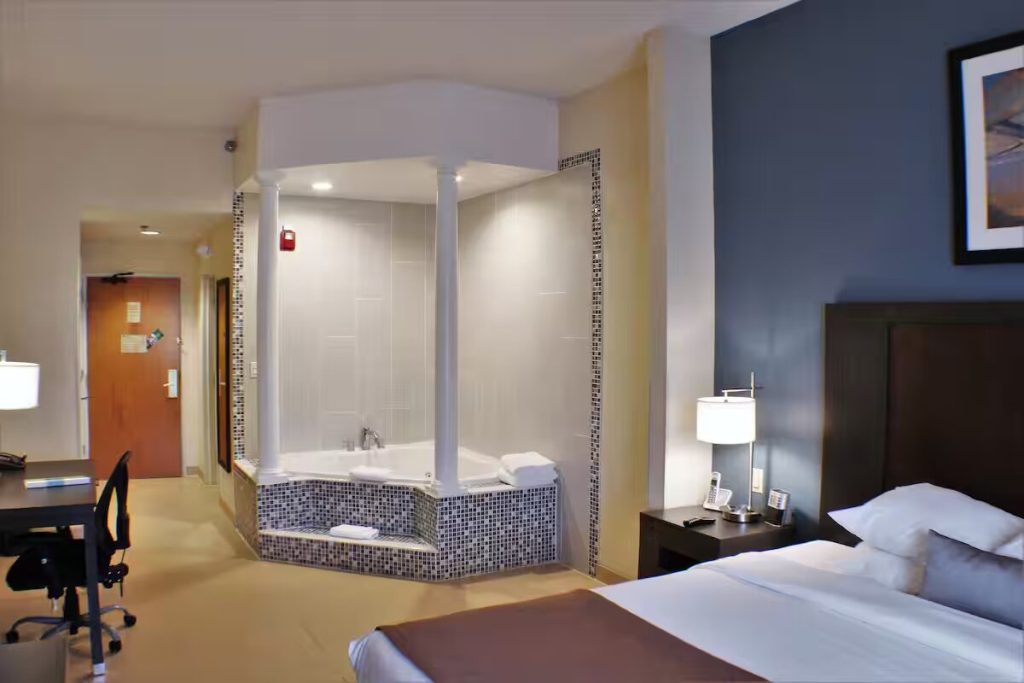 Enjoy a trendy stay at Wingate by Wyndham Schaumburg, a cutting-edge hotel located in Schaumburg, Illinois.
The hotel has spacious room with all the modern ammenities. It also has a indoor pool. Perfect for taking a dip with your partner.
It is situated near the Sears Centre Arena, Schaumburg Convention Center, and Medieval Times. This hotel serves as the perfect launching point for experiencing the finest attractions in the area.
Address: 50 Remington Rd, Schaumburg, IL 60173, United States
Phone: +1 847-805-8308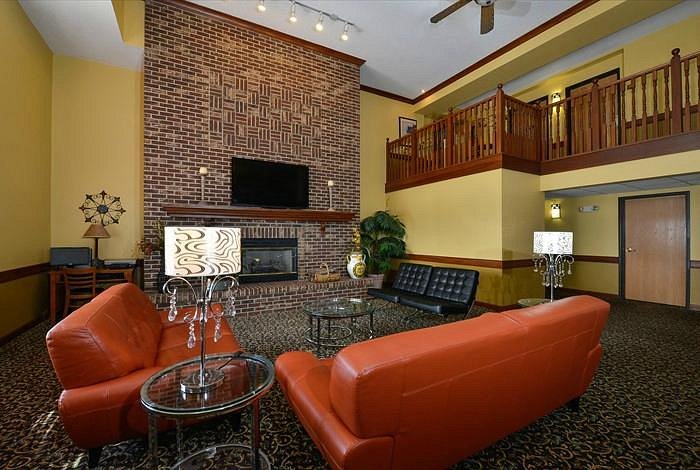 Experience a tranquil stay cation at Quality Inn Bolingbrook in the heart of Bolingbrook, Illinois. If you are in a short romantic trip you can unwind in the cozy guest rooms.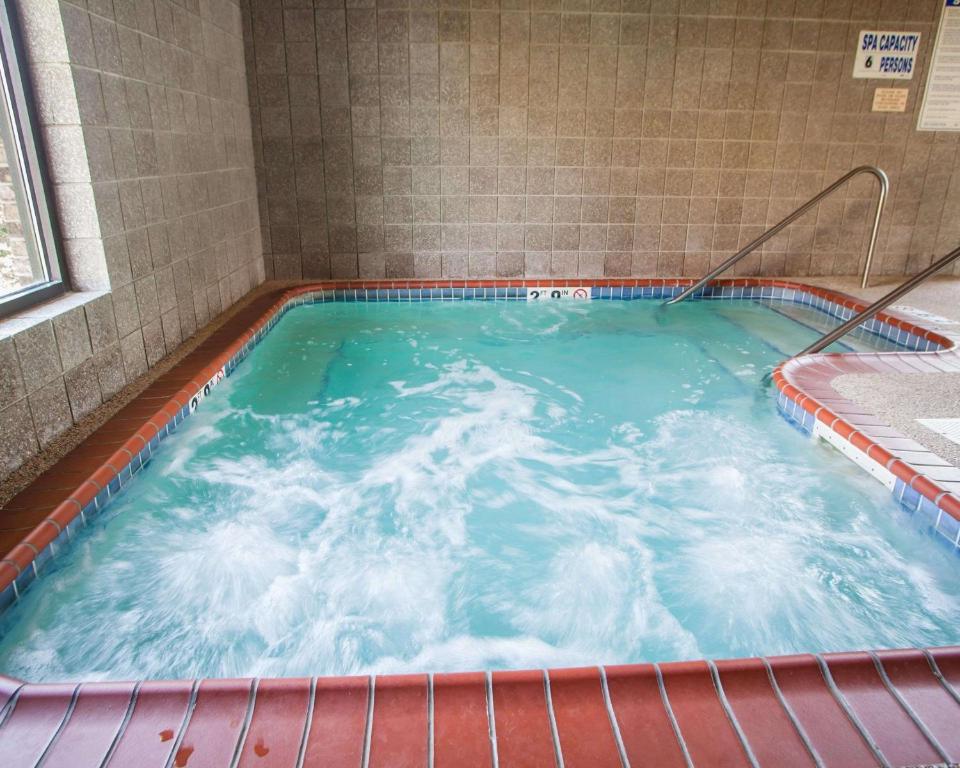 The rooms are equipped with all the necessities that one may need to make the staycation comfortable.  Take advantage of the indoor pool.
Have a romantic dip with your partner before heading to your room. For those longing for some peaceful moments to themselves, this hotel is a top-notch option.
Address: 175 Remington Blvd, Bolingbrook, IL 60440, United States
Phone: +1 630-378-5300
Introducing the next romantic hotels with hot tubs in Schaumburg, an attractive suburb in the northwest of Chicago.
This hotel provides fantastic amenities that will surely enhance your experience during your romantic couple's vacation.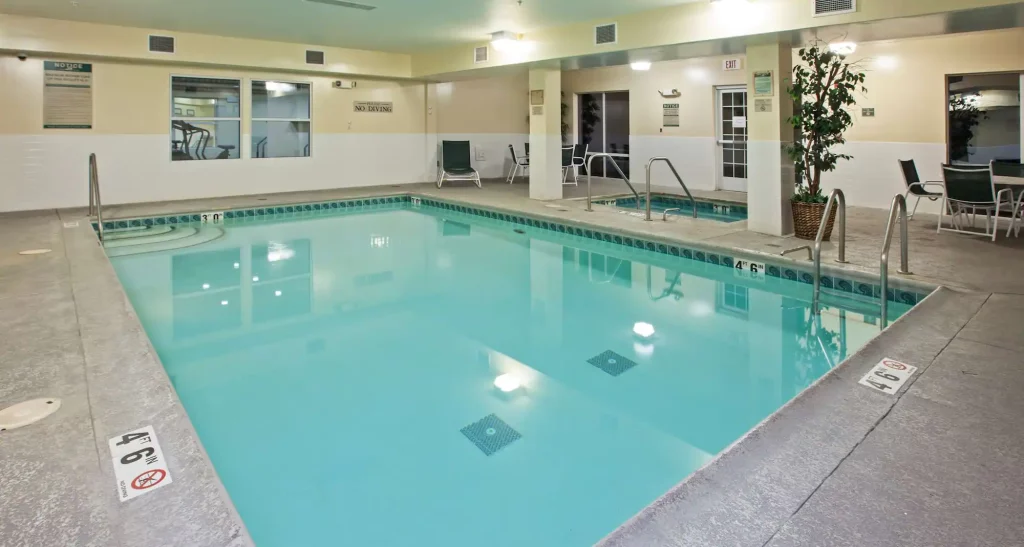 There are suites available with an in-room spa tub for ultimate relaxation. The hotel offers an indoor pool and a hot tub on the premises. 
The beautiful tub will set your mood and it's the perfect opportunity for relaxation. A daily continental breakfast is also available for all guests to enjoy.
Each Country Inn & Suites by Radisson has its own unique character. Some are conveniently located near popular attractions, while others offer a peaceful and serene rural ambiance.
Address: 777 E Grand Ave, Bensenville, IL 60106, United States
Phone: +1 630-279-0100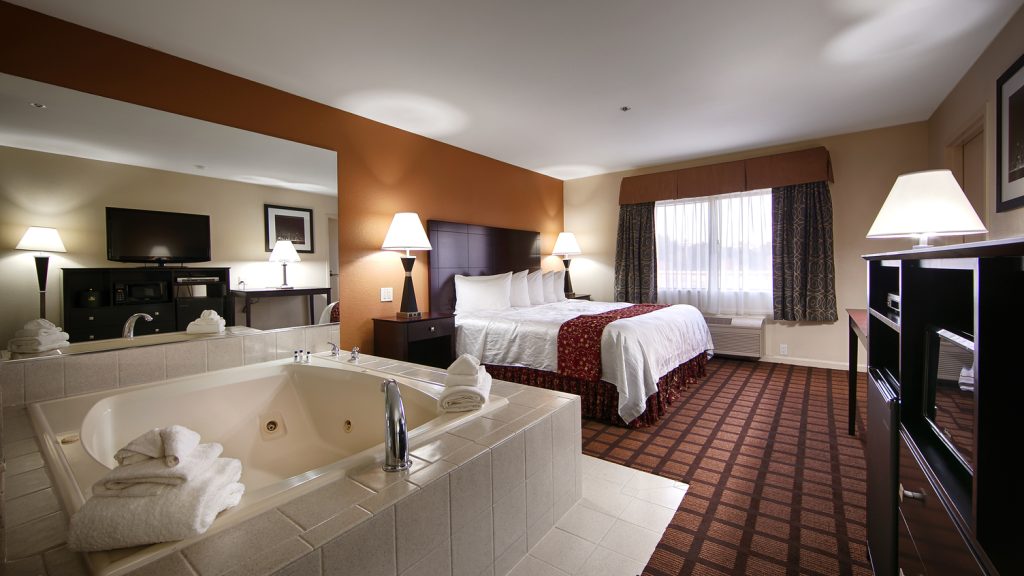 Situated in Oak Brook, this hotel provides convenient car access and its the best value for money with its suite rooms featuring Jacuzzis.
There are multiple rooms with bathtubs, but only one includes a hot tub as shown in the provided photo (the room with the spa bath). So while making a reservation, make sure you get the one with hot tubs. 
What distinguishes this hotel from others, according to most customers, is the excellent housekeeping service. It ensures that both the hot tub and the room itself are immaculate – a significant aspect when selecting this type of accommodation. 
A highly recommended option is the King Suite with Spa Bath, ideal for an intimate and relaxing vacation experience.
Address: 669 Pasquinelli Dr, Westmont, IL 60559, United States
Phone: +1 630-323-1515
Best Western Inn of St. Charles is located on the picturesque banks of Fox River. This charming hotel is the perfect destination for couples seeking a romantic getaway.
They offer contemporary and classic rooms. The hotel has a warm and cozy atmosphere. The rooms have a separate living and seating area.  To enhance the ultimate couples' experience, the rooms also feature a luxurious spa bath.
Along with the comfortable accommodation, the hotel features a seasonal outdoor pool. Its perfect for a refreshing dip. You can start your day on a delightful note with a complimentary full hot breakfast served each morning.
For couples planning a weekend escape from the bustling city of Chicago or those attending local live entertainment events, the King Suite with Spa Bath is highly recommended. This suite promises the utmost comfort and indulgence, ensuring an unforgettable stay.
Address: 1635 E Main St, St. Charles, IL 60174, United States
Phone: +1 630-584-4550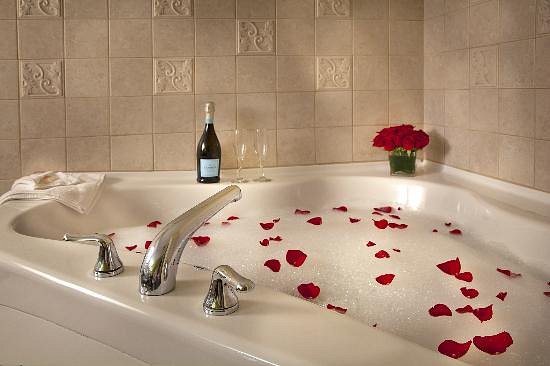 The Holiday Inn Hotel & Suites is affordable. It's the best budget option and has convenient amenities.  For couples seeking a romantic atmosphere, the King Suite with Spa Bath is the perfect choice.
It features a hot tub and a seating area. Holiday Inn Hotel & Suites also provides a modern amenities, an indoor pool, and room service for those who prefer to stay in their suite during their stay.
Address: 150 S Gary Ave, Carol Stream, IL 60188, United States
Phone: +1 630-665-3000
The Holiday Inn Express Chicago is a conveniently located hotel offering a King Suite with a Spa Bath, making it a great choice for a unique night out that won't break the bank.
For longer stays or special occasions, we don't recommend this hotel considering other hotels offer a higher level of quality and a more romantic atmosphere.
If you want to dine out, there are some fantastic options nearby. We highly recommend trying "Burrito Parrilla Mexicana". Their 'Tacos al Pastor' are particularly outstanding. Give them a try and share your thoughts with us in the comment section!
Address: 640 N Wabash Ave, Chicago, IL 60611, United States
Phone: +1 312-787-4030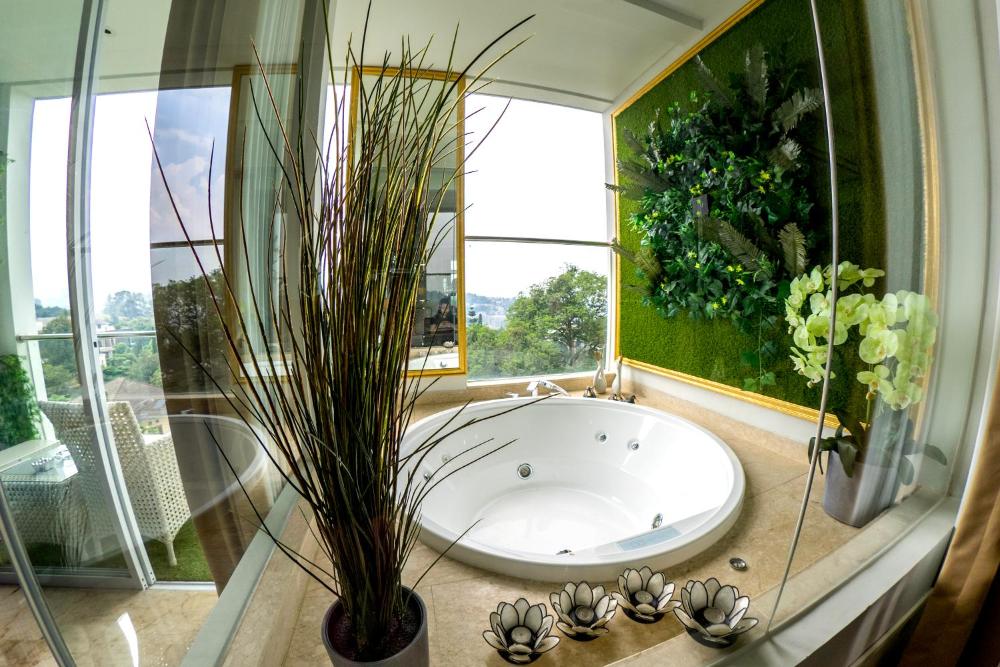 The Art Deco Condo with Whirlpool Tub, located in the vibrant city of Chicago. This exquisite and affordable hotel features a multitude of amenities that will surely enhance your stay.
Each room of the Art Deco Condo comes with all the  necessary modern amenities. For those seeking a romantic atmosphere, the King Suite with Spa Bath offers a spacious room.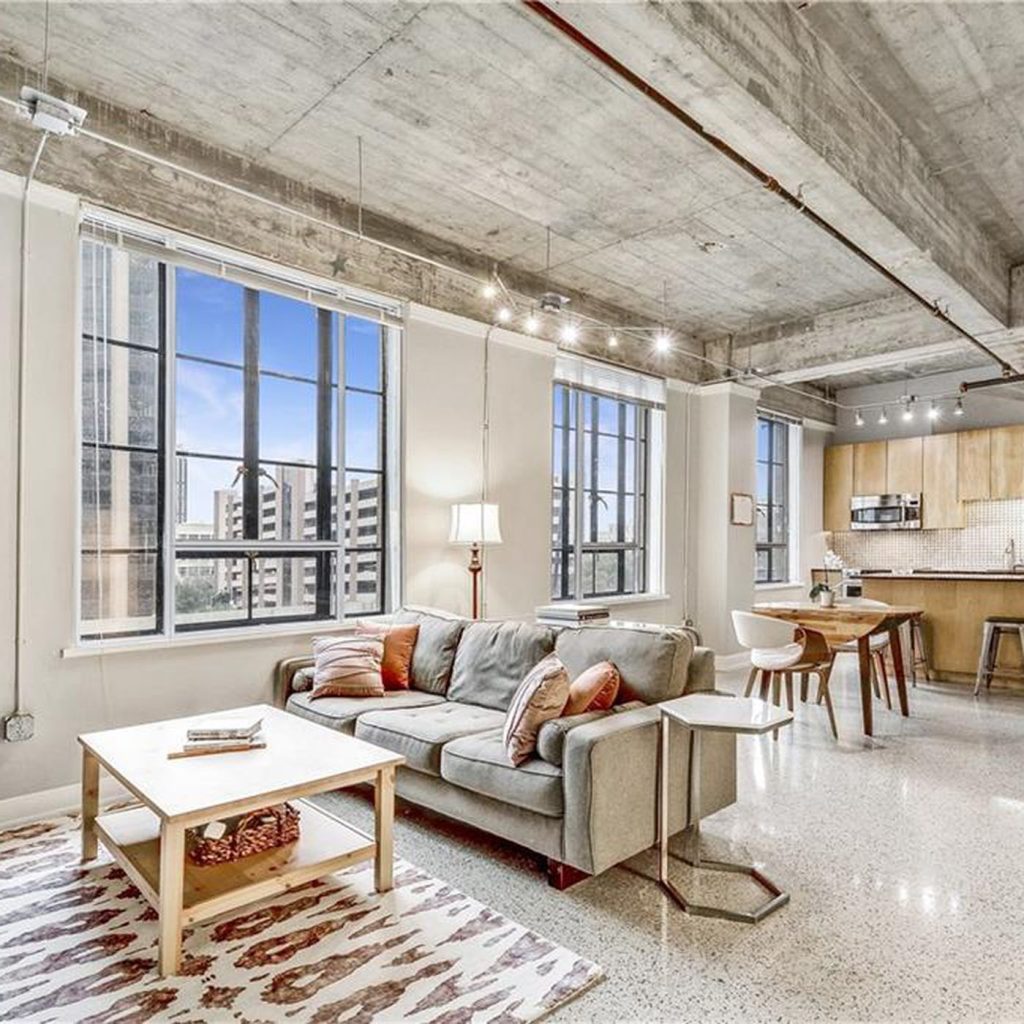 Escape the reality and soak in the  luxurious hot tub. Spend some quality time with your partner and share laughter sitting in the beautifully decorated seating area.
With all the luxurious accommodations, the Art Deco Condo offers a fitness center. It isperfect for those who wish to stay active during their visit.
While staying here, unwind all your worries dipping in the indoor pool. Romance with your partner and order room service if you wish to enjoy a peaceful night in the comfort of your suite.
Discover the perfect blend of affordability, convenience, and luxury at the Art Deco Condo with Whirlpool Tub. Book your stay today and let us make your Chicago experience truly memorable.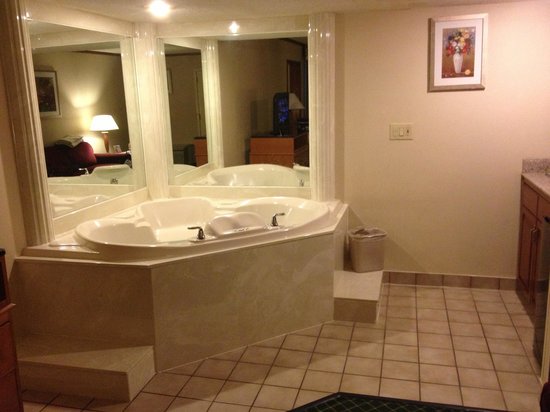 If you're looking for an affordable option in Chicago with a hot tub, consider booking a room at the Baymont by Wyndham Joliet Motel.
The Deluxe King Studio Suite is worth checking out, as it offers a hot tub and mirrors for a more adventurous evening.
There are several pros to staying here. The rooms are well decorated and spacious. All the high quality amenities are included in the rooms. You will complementary breakfast every morning. 
But we suggest you visit Louie's Waffle House for breakfast. It's too good to miss.  They offer a variety of options including sweets, omelets, toast, and bacon. And the best thing is, it's just a short walking distance from the hotel.
For a recommended suite, take a look at the Deluxe King Studio Suite. It features a sofa, a spacious jetted tub, a microwave, and complimentary toiletries.
Address: 1730 McDonough St, Joliet, IL 60436, United States
Phone: +1 815-768-1881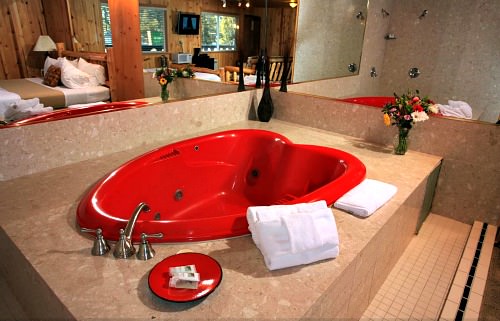 If you want a very short trip and looking for a motel with a classy ambiance, you can check this hotel. The hotel rooms feature an in-room hot tub and a touch of romantic ambiance.
You will find this one quite appealing. Particularly, their suite room comes highly recommended, featuring a heart-shaped hot tub for that extra romantic touch.
Its clean and well-maintained environment, the motel pleasantly surprises with its exceptionally comfortable circular bed. Consider it an added bonus!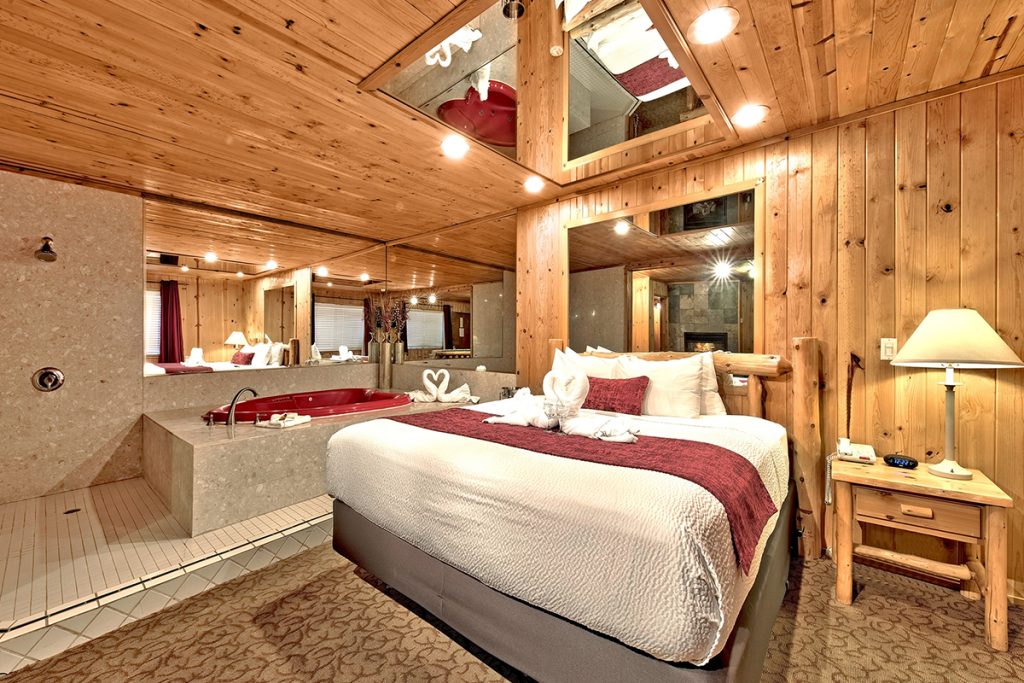 The location is also very convenient. It is situated just a short 20-minute drive away from downtown Chicago.  This hotel near Chicago offers reasonable pricing. 
This is a popular choice among couple for a memorable night out. And for those who enjoy capturing moments, don't forget to slip into your bikini and snap a photo in their vibrant red hot tub.
Please note that while the motel does not provide breakfast options, we can gladly suggest a nearby restaurant that offers a diverse range of delicious choices. You can try Krave restaurant which serves everything from waffles and pastries to hearty eggs, sausages, and bacon.
For an incredibly relaxing and romantic experience, we highly recommend booking the Premium Suite, designed with a love-themed atmosphere. This suite features a hot tub with a unique heart-shaped spa bath and a spacious round bed.
Address: 7336 S Harlem Ave, Bridgeview, IL 60455, United States
Phone: +1 708-458-1015
If you want a very short trip and looking for an affordable Chicago motel with hot tubs in the rooms, this is the one you should definitely consider.
Listed this motel cause of many positive reviews, excellent amenities, and unbeatable prices. Also, this motel  welcomes pets and  provides free parking. Isn't it a very good deal?
Ideal for a romantic evening, the Queen Suite with Spa Bath is the perfect choice for you. Equipped with a cozy seating area, a convenient coffee maker, and a luxurious jetted tub right in the room, it guarantees a memorable experience.
Address: 9625 S 76th Ave, Bridgeview, IL 60455, United States
Phone: +1 708-430-1818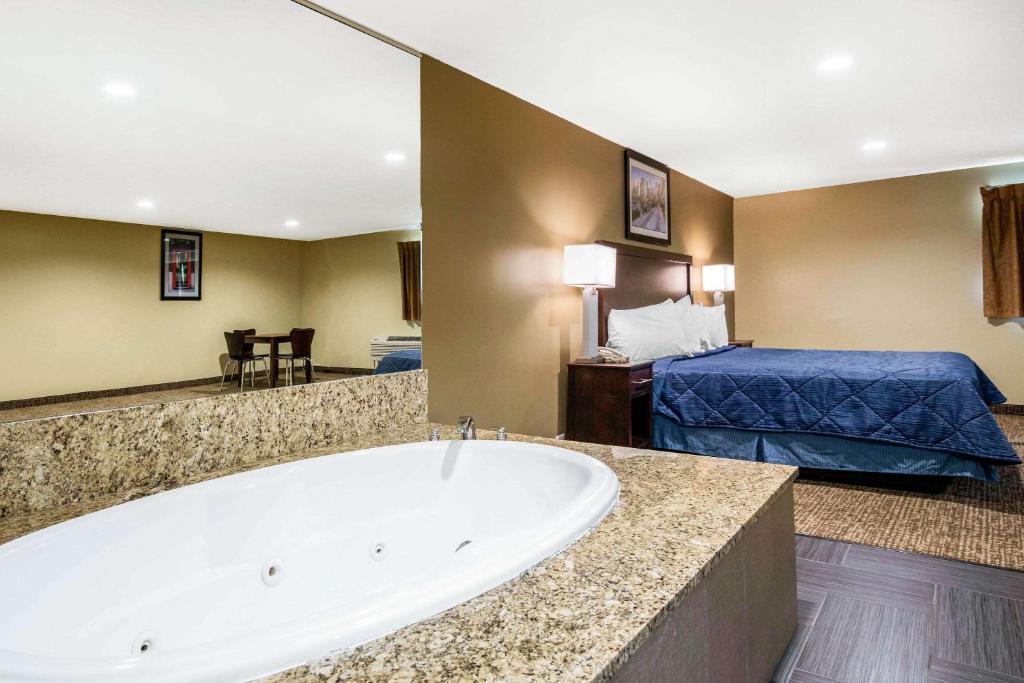 Located near a lots of popular attractions in Illinois, this hotel for couples provides a convenient and enjoyable stay.
Guests can start their day with a complimentary continental breakfast and enjoy unlimited coffee and local calls.
Each suite is thoughtfully furnished with amenities including coffee makers, microwaves, refrigerators, and, in select suites, whirlpool tubs for a relaxing experience. For an extraordinary indulgence, opt for the King Suite with a spa bath.
You will find shopping centers, entertainment venues, restaurants, and cocktail lounges in close distance for convenient leisure and dining options.
Address: 8640 Ogden Ave, Lyons, IL 60534, United States
Phone: +1 708-589-7044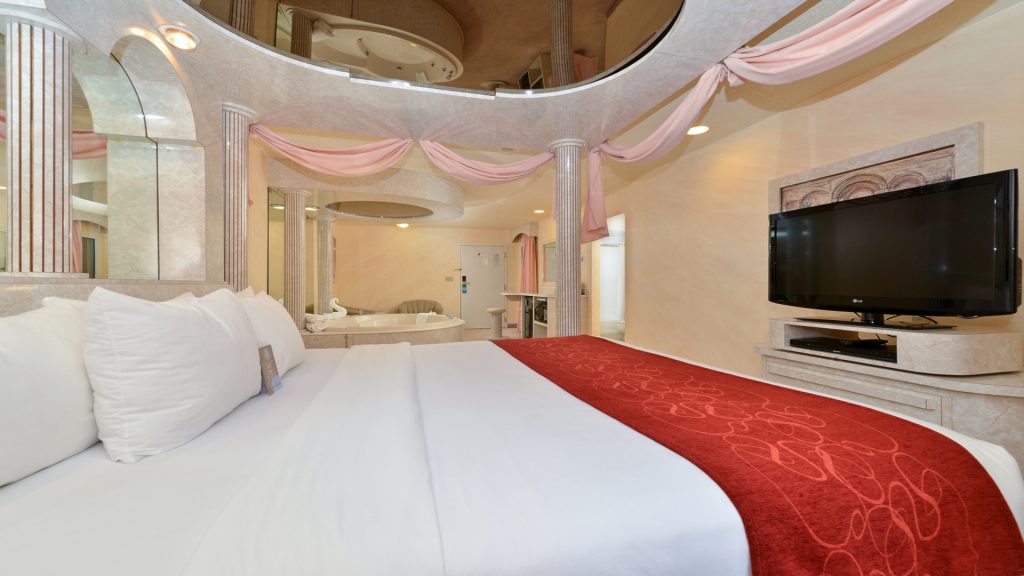 We highly recommend the Chicago Club Inn for a unique and enjoyable night out. It has average ratings, but this hotel offers great value for money, especially if you want a suite with a hot tub for a quick romance.
The hotel is conveniently located in Westmont and provides ample parking. It also features an indoor pool. The staff is friendly, which is always a positive aspect for a couples' getaway.
Most importantly, the suite features a large Jacuzzi with adjustable LED lights. You can change the colors to create a more romantic ambiance.
For a truly relaxing stay, we highly recommend choosing the Suite with Hot Tub. It includes a spacious whirlpool for two people next to the bed, along with mood lights.
Address: 630 Pasquinelli Dr, Westmont, IL 60559, United States
Phone: +1 630-920-2200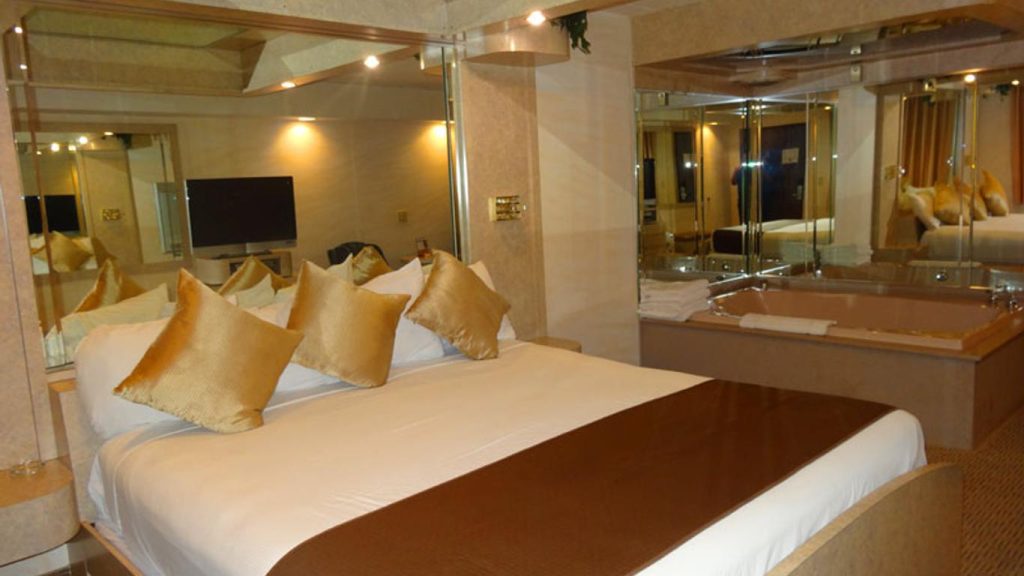 Blue star motel is located in the bustling downtown area. This cozy two-star motel is renowned for its personalized hospitality.
The hotel adds a fun twist to each of its rooms. Some of the rooms feature whirlpool tubs. These rooms offer a memorable spa getaway experience that you will cherish for a long time.
The whirlpool suite includes a spacious Jacuzzi. Have a night filled with romance in a king-size bed, a steamy shower, a dining table set up for two, and all necessary amenities.
Address: 7150 103rd St, Chicago Ridge, IL 60415, United States
Phone: +1 708-422-2853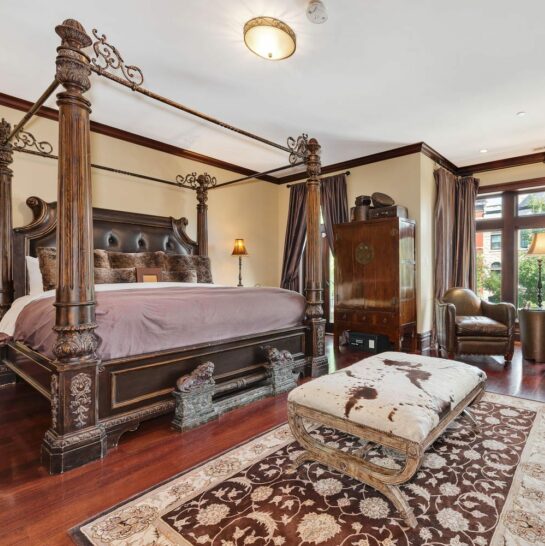 Villa D' Citta is located in the bustling shopping and dining district of Lincoln Park. This exquisite bed and breakfast are strictly available to adults.
The hotel provides a serene atmosphere for relaxation. The property has a charming garden and a terrace adorned with a hot tub and barbecue facilities. Moreover, guests can conveniently rent bicycles right on-site.
Each room embraces a romantic ambiance with its Italian-inspired décor, offering stunning views of the neighborhood through expansive windows. Guests can unwind and indulge in entertainment with a flat-screen TV provided in every room.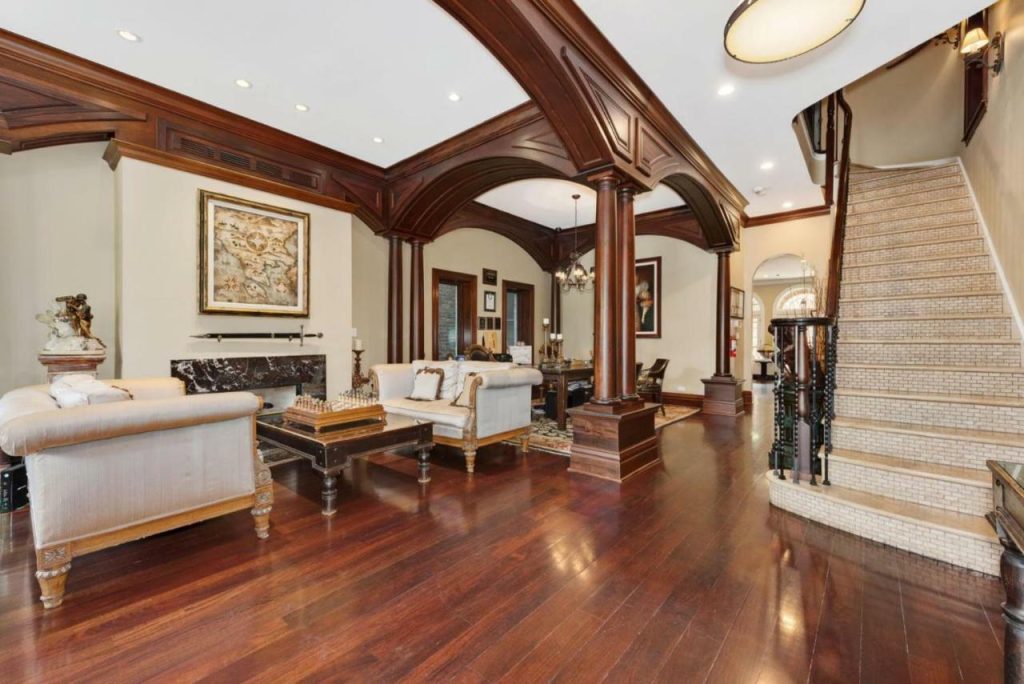 The Two-Bedroom Suite is the perfect choice if you are coming with friend group. The suite has a big Hot Tub.
It's perfectly suited for two couples. If you are on a double date night, you can consider reserving the suite.
This suite offers an big  jetted tub in the bathroom, as well as a private terrace and a cozy fireplace for added comfort and enjoyment.
Address: 2230 N Halsted St, Chicago, IL 60614, United States
Phone: +1 312-771-0696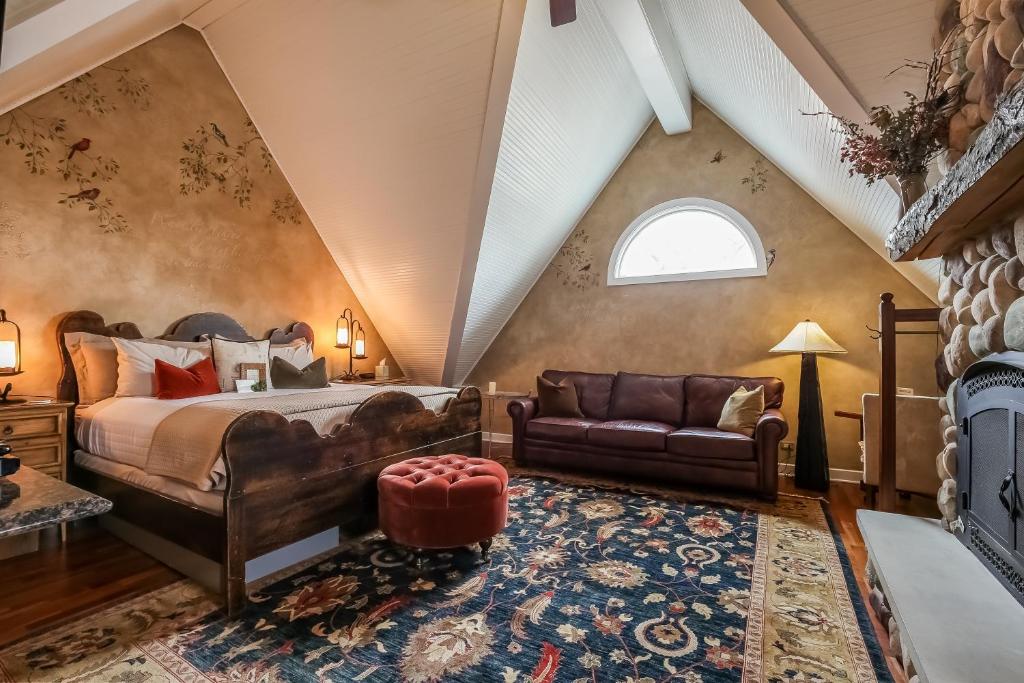 This Bed and Breakfast located in Oak Park offers complimentary parking and a shared space with a fireplace.
Harvey house bread and breakfast is strictly for adults only.  It is close to the city center of Chicag. Its an ideal choice for those desiring a romantic retreat with a private hot tub.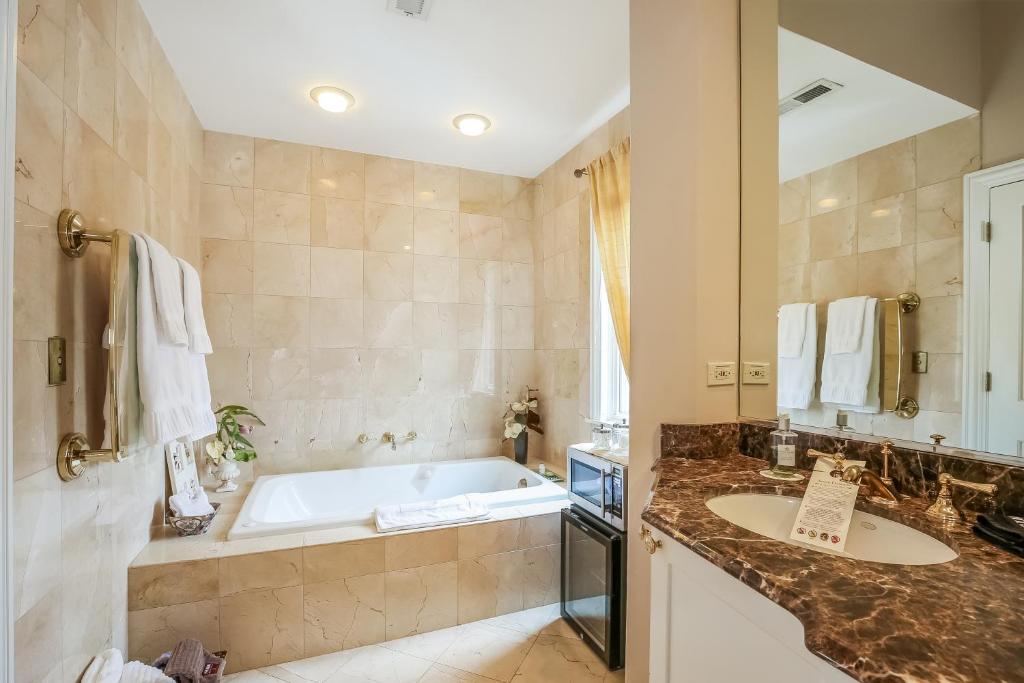 For an extra special occasion like an anniversary or honeymoon, we suggest the King Suite with a spa bath, a spacious and luxurious suite known as the Jimmy Stewart Suite.
Address: 107 S Scoville Ave, Oak Park, IL 60302, United States
Phone: +1 708-955-7254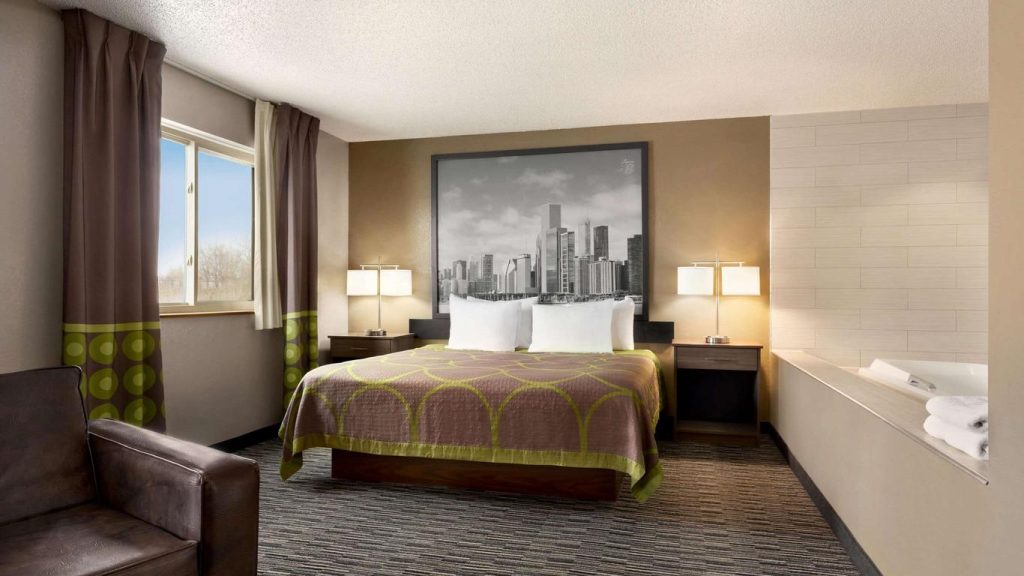 Planning a romantic getaway to the Chicago area? If you are looking for a comfortable yet affordable place to stay, the Super 8 hotel is the one for you.
This hotel offers a range of amenities perfect for couples, including a year-round indoor pool, fitness center, and also a free airport shuttle service. Be sure to have a hassle free trip here.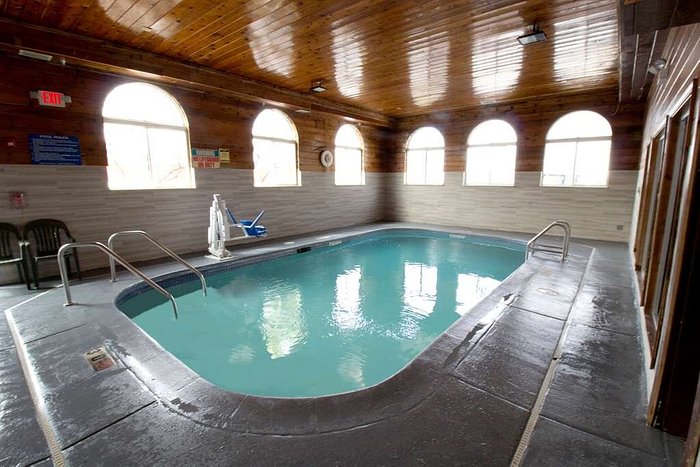 If you are looking for an extra touch of luxury, the hotel also offers a King Suite with a Hot Tub. This special suite includes a cozy seating area, a spacious 2-person spa bath, and a private bathroom.
Address: 2951 Touhy Ave, Elk Grove Village, IL 60007, United States
Phone: +1 847-827-3133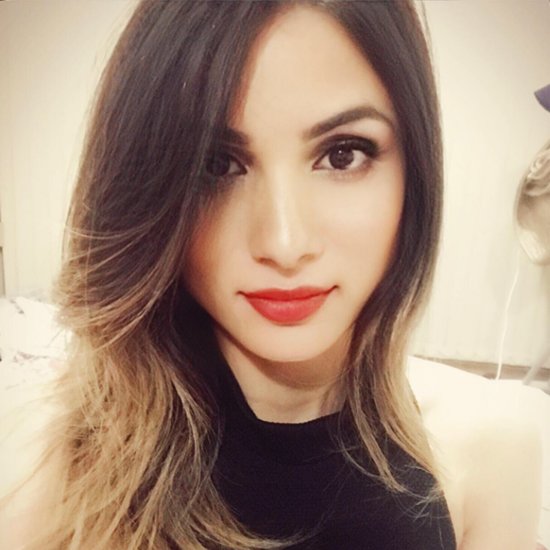 Hello, and welcome to Travel Crog, a site where I share my travel advice for your dream vacations. My name is Molly Martin, and I'm the founder and editor-in-chief of this site. I have a passion for travelling and exploring new destinations, and I want to inspire you to do the same. Six years ago, I left my job as an HR professional and embarked on a three-month trip around the world. It was an amazing experience that changed my life and perspective. Ever since then, I have been travelling as much as I can, and writing about the best things to do, see, and eat in every place I visit. Whether you're looking for a city break, a beach getaway, or a mountain adventure, I have something for you. Travel is not only fun, but also empowering and enriching. Join me on my journey and discover the world with Travel Crog. My motto is: "Life is short, travel more."