Ahoy me hearties! ye ready to experience the island life of Jamaica? If you're a fan of Caribbean coastline vistas, delicious exotic food, and outdoor activities, you've come to the right place!
Pack your things and get ready to chart a course for Jamaica- the land of beaches, culture, and adventure! Whether you're looking for a good time, sunshine and relaxation or a whirlwind of exotic activities and fun places to visit, Jamaica has something for you.
From chilling beside waterfalls to partying with the locals, let us guide you to a journey like no other! Here are 50 Things To Do in Jamaica that will guarantee an unforgettable Caribbean experience!
Tours & Things to do hand-picked by our insiders
Best 50 Things To Do in Jamaica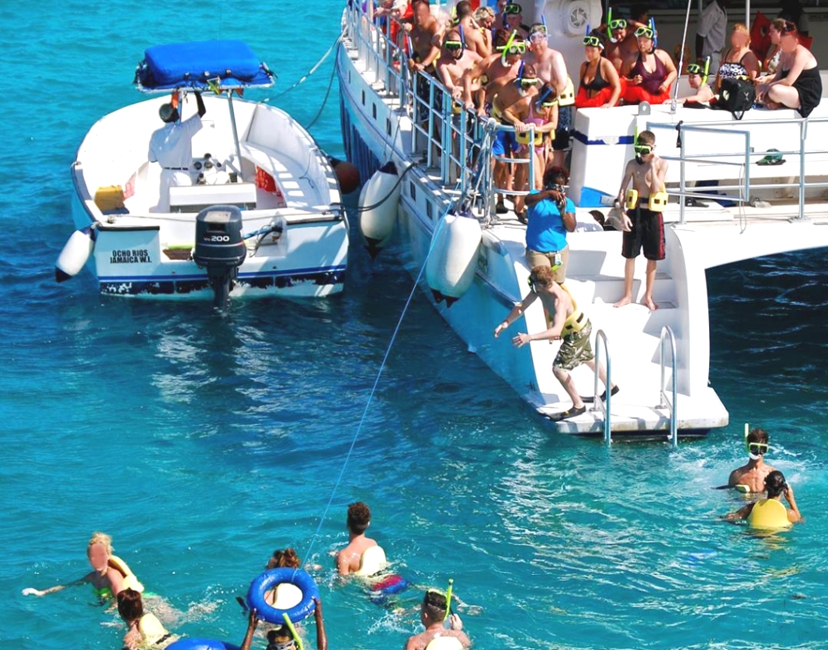 Dunn's River Falls is one of Jamaica's most popular tourist attractions. It's a 600-foot cascade of tiered waterfalls, located in the resort town of Ocho Rios. Taking a snorkeling session at Dunn's River Falls is an experience like no other.
Snorkeling here at Dunn's River Falls allows you to see the beautiful and picturesque plant and animal life that surrounds the river.
You can see colorful fish, and other inquisitive marine life as you make your way through the cascades. As you get further into the river, the current gets stronger and the visibility increases significantly. 
The falls are surrounded by lush vegetation, offering beautiful views and a great place to relax with friends or family. There are also many trails leading to viewpoints of the falls.
The area is very safe and there are lifeguards located around the area just in case of any accidents or emergencies. Book the snorkeling cruise!
2. Soak Up The Sun in Seven Mile Beach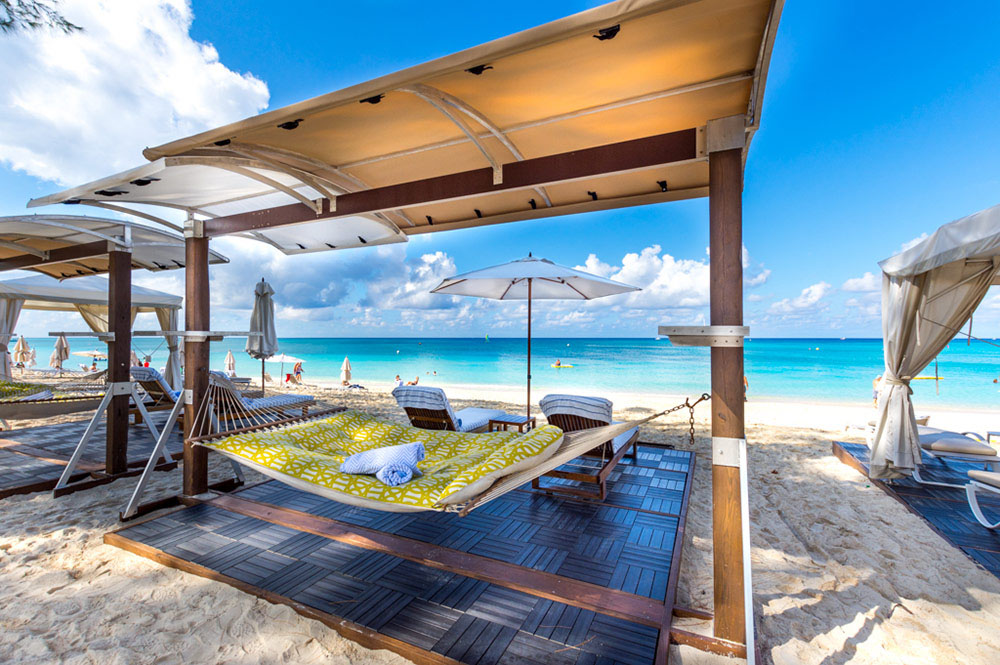 Seven Mile Beach in Negril is a stunning stretch of Caribbean coastline. It is located on the western tip of Grand Cayman Island. This beach is one of the best beaches in Jamaica and most popular in the Caribbean island, and it's easy to see why. 
As you can already get from the name, Seven Mile Beach is seven miles long, and it is lined with lush palm trees, white sand and crystal clear waters, offering the perfect backdrop for a day of relaxation. 
If you're looking to kick back and relax while on the Beach, then you can find plenty of comfy lounge chairs along the shoreline. Perfect for soaking up some sunshine, there's no better way to unwind and enjoy a day of rest and relaxation. 
The Beach also has plenty of interesting activities to entertain and delight visitors. There's snorkeling and kitesurfing, as well as fishing and jet-skiing for the more adventurous among us. Or, if you're in the mood to shop, the nearby George Town district offers plenty of souvenir shops and restaurants to keep you occupied. 
So, next time you're planning a day trip to Caribbean, be sure to make time to relax on Seven Mile Beach and book the best resort to make you stay even more beautiful!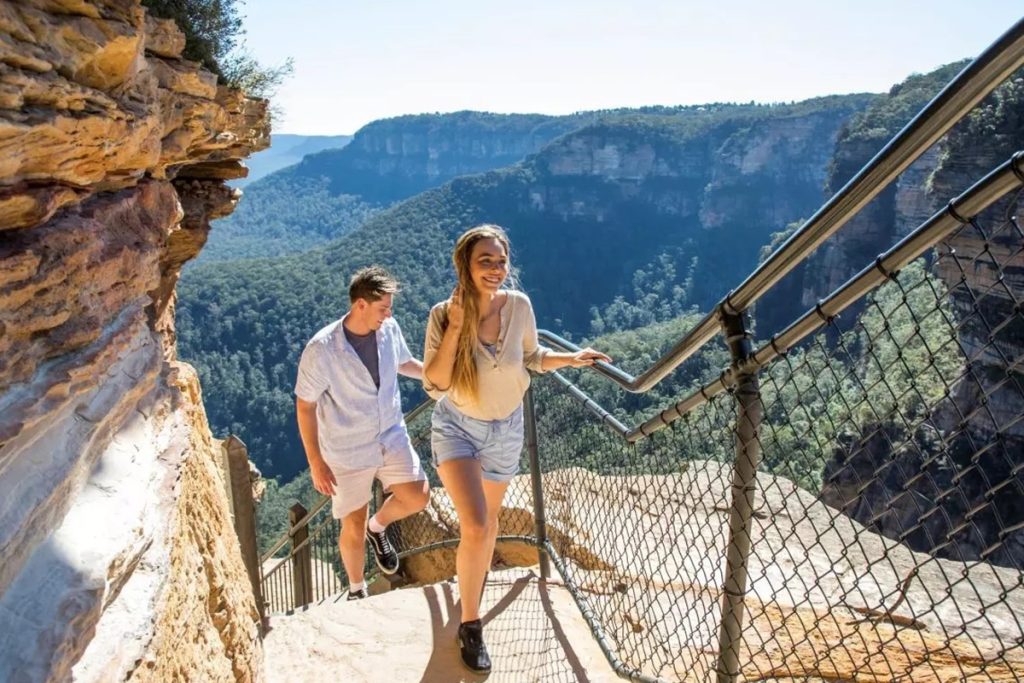 Sitting at 7,402 feet above sea level, Blue Mountain Peak is the highest point of Jamaica. In order to reach the summit, you have to take the steep and rugged six mile trail. Despite the difficult hike, the views are absolutely incredible.
You can have a look at the unique wildlife exclusive to the mountains, such as the Jamaican rose, the Jamaican tody and a giant swallowtail butterfly.
The pine trees will give way to elfin woodland, also known as dwarf forest, which feature stooped trees and lichens. It will make you feel as if you are walking through the Jurassic era.
The perfect time to begin the hike is 2 AM, allowing you to experience the breathtaking sight of the Milky Way and Kingston's shimmering lights in the darkness. Book the hike here!! 
Sunrise at the peak is truly a remarkable spectacle, and when you come down, take a few moments to appreciate the diverse wildlife and remarkable beauty.
Be sure to dress in warm clothes as temperatures close to freezing can be experienced at the top and snow flurries have even been recorded.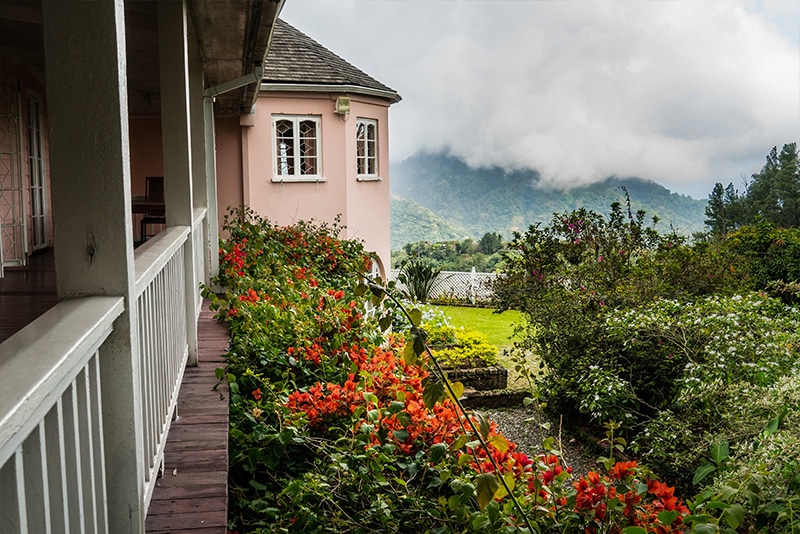 After experiencing true beauty in the peak Kingston hike, it's time to visit a working blue mountain coffee farm. In 1728, Arabica coffee beans were initially brought to Jamaica and planted on the hillsides of the Blue Mountains, as well as in various other regions in Jamaica.
Jamaican Blue Mountain Coffee has been recognized for its sweet aromas, mild taste, and lack of any bitter aftertaste, which has enabled it to become incredibly expensive and sought-after globally.
Until you have tasted it first-hand, you are unlikely to understand the cost of this Coffee – a pound of fresh, roasted beans cost an average of $65.
To view the production process, you can arrange a visit to a facility like Lime Tree Coffee Farm which is home to one of several dozen Blue Mountain coffee farms.
At Creighton Coffee Farm, you will see the coffee making process step by step, from planting and harvesting to pulping, drying, roasting, grinding, and brewing, all done manually.
The farm offers its coffee to establishments such as the Mavis Bank Coffee Factory, which produces the renowned Jablum brand of Blue Mountain coffee. Book now!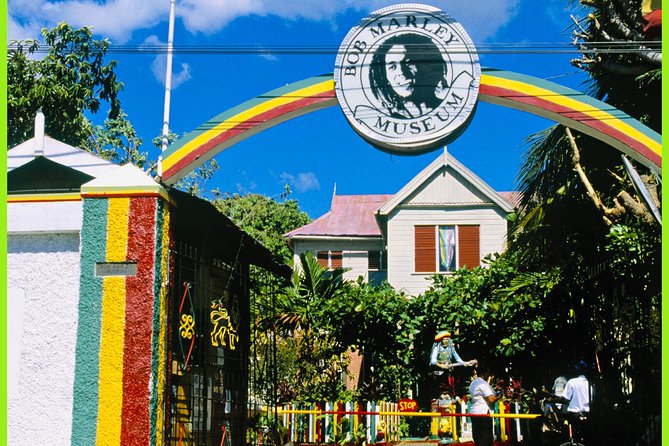 No trip to Jamaica would be complete without a touch of Bob Marley! If you are a fan of reggae music, the Bob Marley Museum in Jamaica is a must-see.
This museum is the former home of the legendary singer and songwriter Bob Marley, and it offers visitors the opportunity to learn more about his life and work.
Experience a journey of the musical history of Jamaica and stand amidst the mementos of its beloved Reggae King – Bob Marley.
At the Museum you will tour through the main house, personal recording studio, exhibition hall, theater, gift shops, One Love Café and the Bob Marley Gift Shop to capture the sights and sounds of the reggae music icon.
The museum is kept exactly as it was when Bob lived here, along with countless cherished memories, while you can purchase special trinkets and souvenirs to remember your visit.
As you stroll through the museum, you'll hear his music and other recordings, and you'll also get a glimpse of his famous home studio.
6. Enjoy a Jerk Chicken Feast in Boston Bay- Jamaican Attraction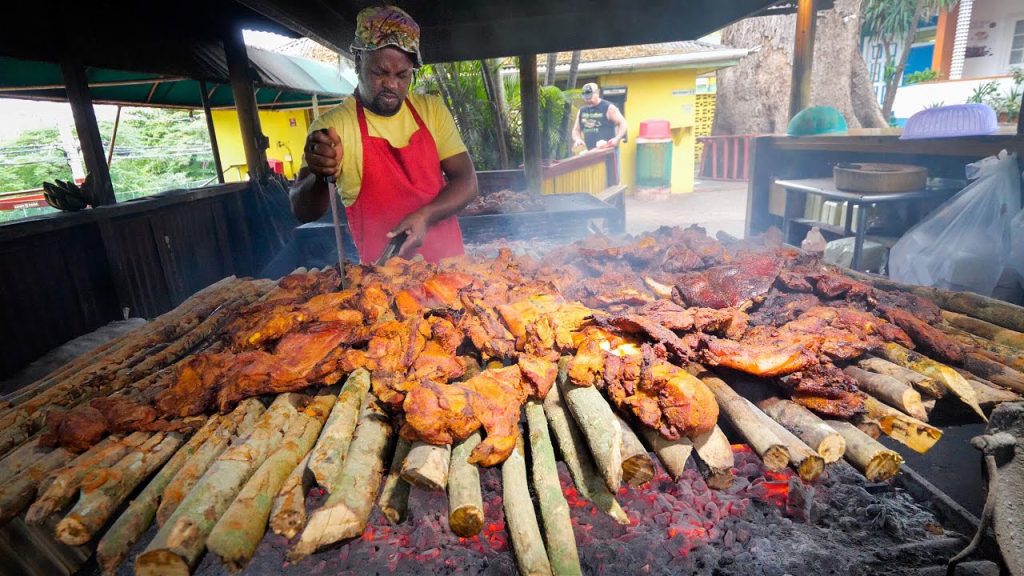 If you're looking for a truly delicious culinary experience, head to Boston Bay for a jerk chicken feast. Located in the picturesque town of Winnie Bay, Jamaica, Boston Bay is the home to the legendary jerk chicken that has become famous around the world.
The original jerk chicken recipe comes from the nearby village of Boston Bay, where the Maroons, escaped African slaves, established themselves during the 17th century.
At the feast in Boston Bay, you can sample the famous jerk chicken, which features tender meat and a blend of spices that include allspice, thyme, garlic, cinnamon, scotch bonnet peppers, and more.
Served alongside the jerk chicken is a variety of accompaniments that includes rice and peas, fried ripe plantains, bammy, and more. Once you've filled up on the jerk, hang out in a local watering hole for a cold one and enjoy the local vibes.
7. Visit Caymanas Park Race Track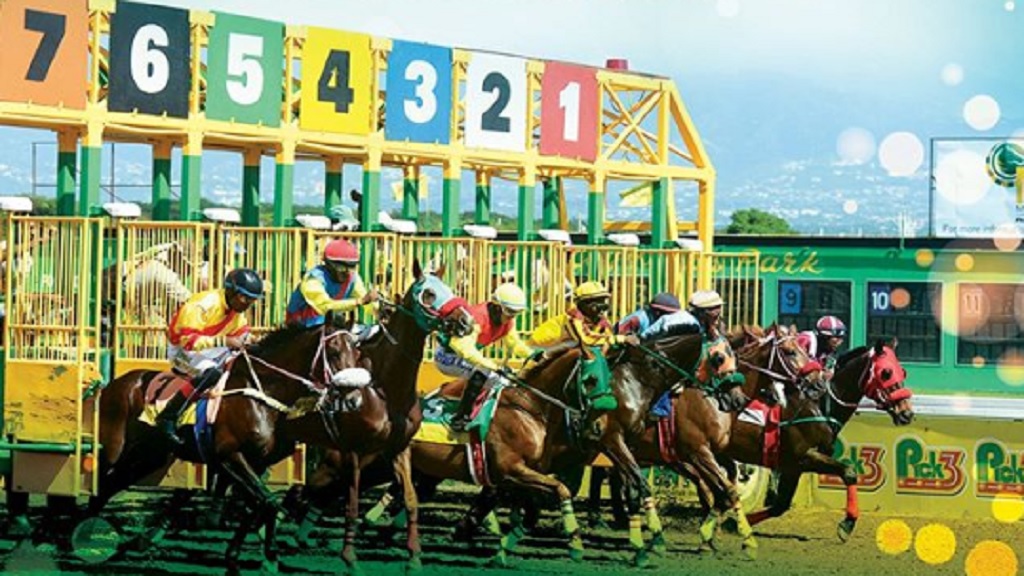 Caymanas Park Race Track, located in St. Catherine, Jamaica, is one of the most well-known horse-racing venue.
Racing at Caymanas Park has been a tradition since 1950, and the horseracing season usually runs from February through October.
Racing takes place every Saturday, with some other events scheduled on public holidays and special occasions. When you visit Caymanas Park, you'll be able to experience a vibrant atmosphere like no other.
There are several seating areas available to suit every budget, including the Posse Grandstand and the Caribbean Terrace.
Some of the highlights during a visit include the horse parade, race commentary, and the chance to dance and mingle as live music plays in the background.
 If you love to bet, you can make use of the on-site betting facilities. Services such as Turbo-Tote provide an easily accessible betting system, allowing you to try your luck from the comfort of your seat at the track.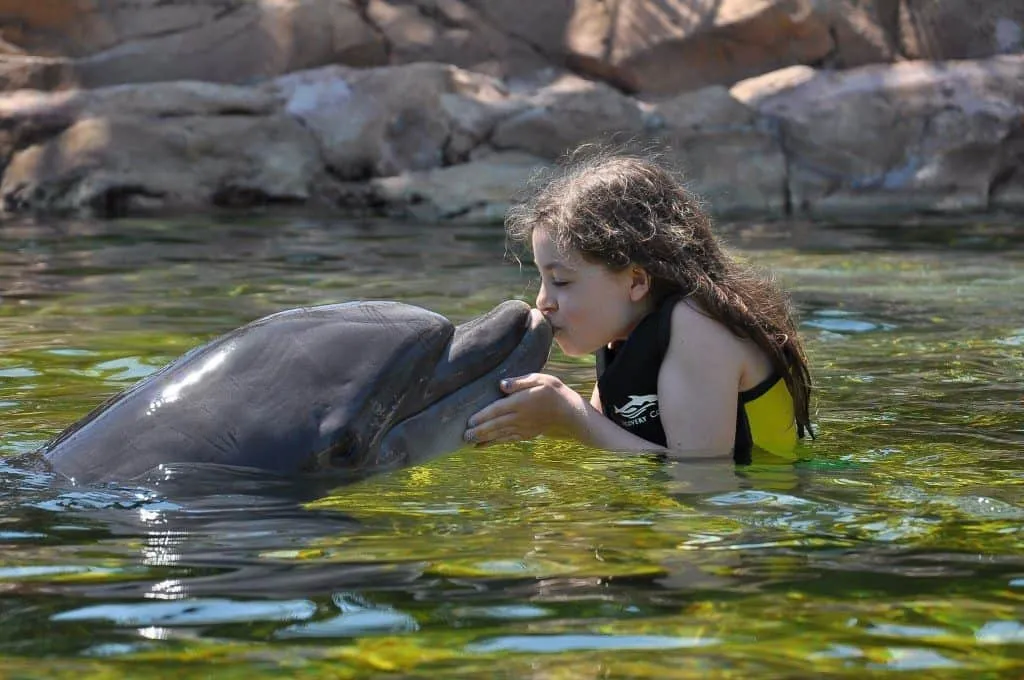 Dolphin Cove is #1 of many Jamaica tourist attractions. This aquatic park located in Ocho Rios, offering visitors the chance to get up-close-and-personal with dolphins.
The park allows visitors to interact with the dolphins in the lagoon-like environment and experience the captivating power of the majestic creatures. Swimming with the dolphins is one of the most popular activities offered.
During the orientation, you will get to learn about the dolphin's behavior, responsible interaction, and safety measures. After that, visitors put on a life vest and are guided into the dolphin lagoon by trained guides.
Once inside, visitors meet the dolphins and may be able to rub and feed the animals. Those brave enough can even take a dip in the water and swim with the dolphins!
Swimming with dolphins has become an increasingly popular activity for family vacations, couples getaways, and solo adventures.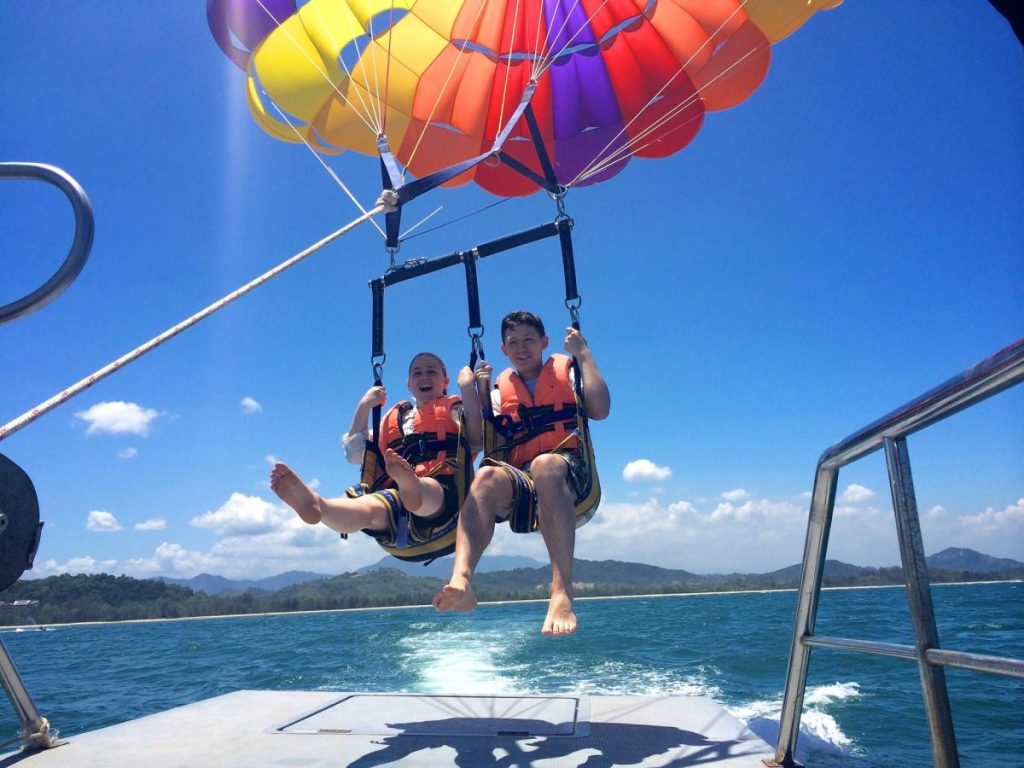 Montego Bay is the perfect destination to get your adrenaline pumping and take part in two popular watersports: parasailing and jet skiing.
Parasailing gives you the unique opportunity to take in a spectacular aerial view of Montego Bay, as you take flight on a parasail and soar above the stunning Caribbean Sea, gliding through the air with the warm tropical breeze in your hair.
Experience the thrill of jet skiing for yourself and fly through the clear turquoise waters on a jet ski, exploring the coastline and nearby bays.
Whether you're a beginner or an experienced jet skier, there are plenty of rental options available and certified guides to help you on your way.
For an unforgettable Montego Bay experience, take to the skies or rev up the engine and go parasailing or jet skiing.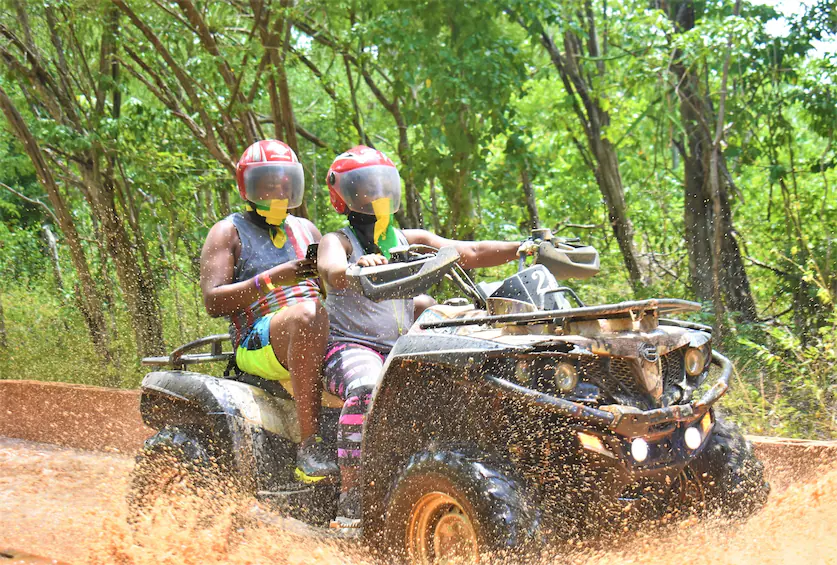 Start the day bright and early with hotel pickup in Montego Bay before making your way to the Rastasafari Adventure Plantation. Once you arrive, receive a detailed safety briefing and instruction on how to operate the ATV, plus the necessary safety gear.
Once you're comfortable and ready to ride, head off with your guide for an exhilarating excursion. Cruise along back country roads and traverse through small villages to one of Jamaica's rivers.
Park your ATV and take a quick soak to cool off, while your guide regales you with tales of country living.
Continue on for a stop at a local ganja field, giving you an interesting glimpse into Jamaica's culture. Next, refresh with some fresh fruit, such as pineapple, mangoes, bananas, and guava.
Take in glorious vistas of the Jamaican countryside, and then it's time to return. After a thrilling day with a fast-paced ATV adventure and plenty of learning, escape to a relaxing countryside picnic where you can enjoy a delicious and homemade lunch.
Before transport back to your hotel, sample some local Jamaican rum punch to conclude a perfect day. Book the adventure now!
Mystic Mountain in Ocho Rios, Jamaica, is an amazing amusement park located in the heart of Jamaica's beautiful rainforest. This fun park offers exciting rides and activities for all ages, but its most popular attraction is definitely the bobsleds.
The Mystic Mountain Bobsleds is a two-person ride that rockets you around the mountainside at speeds reaching 70 km/h. Each car is operated by expert bobsled drivers with years of experience, and harness both excitement and safety.
As you go down the slopes, you'll experience some of the most spectacular views of Ocho Rios, and the surrounding landscape.
The Mystic Mountain Bobsleds course is divided into four sections—the beginner's stretch, intermediate stretch, advanced stretch, and the turbo stretch. 
Once you're zipping around the mountain, you'll be sure to have a blast! After your adrenaline filled ride, be sure to take a stroll through the beautiful rainforest and explore the nature trails and other things Mystic Mountain has to offer.
If you're feeling particularly adventurous, the park also offers zip lining and mountain biking. So, don't miss this amazing opportunity and come see why Mystic Mountain is one of the best theme parks in Jamaica. Book now!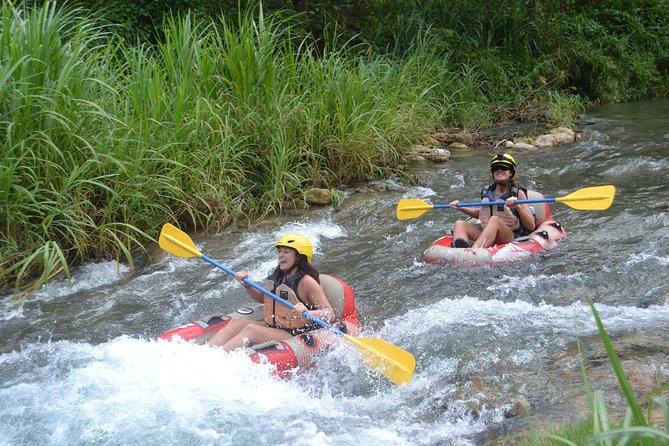 Floating serenely on a kayak in Montego Bay and have an enchanting experience. This picturesque (book a photo shoot) destination is situated in Jamaica's northwest corner, with golden beaches stretching around the bay's beautiful turquoise blue waters. 
As the sun beats down on the kayaker, they will be pleasantly surrounded by all the majesty of the natural scenery, with the tranquil sounds of the waves all around them. 
Visitors can relax in the warming sun and take in the views of the jungle-lined shores, mangrove swamps and lively towns of Montego Bay. With the vastness of the Caribbean Sea providing a stunning backdrop, the perfect kayaking experience awaits.
  For visitors looking to take a break from the sunshine, the nearby coral reefs provide the perfect opportunity to snorkel or dive and discover a hidden underwater world of colorful coral and marine life.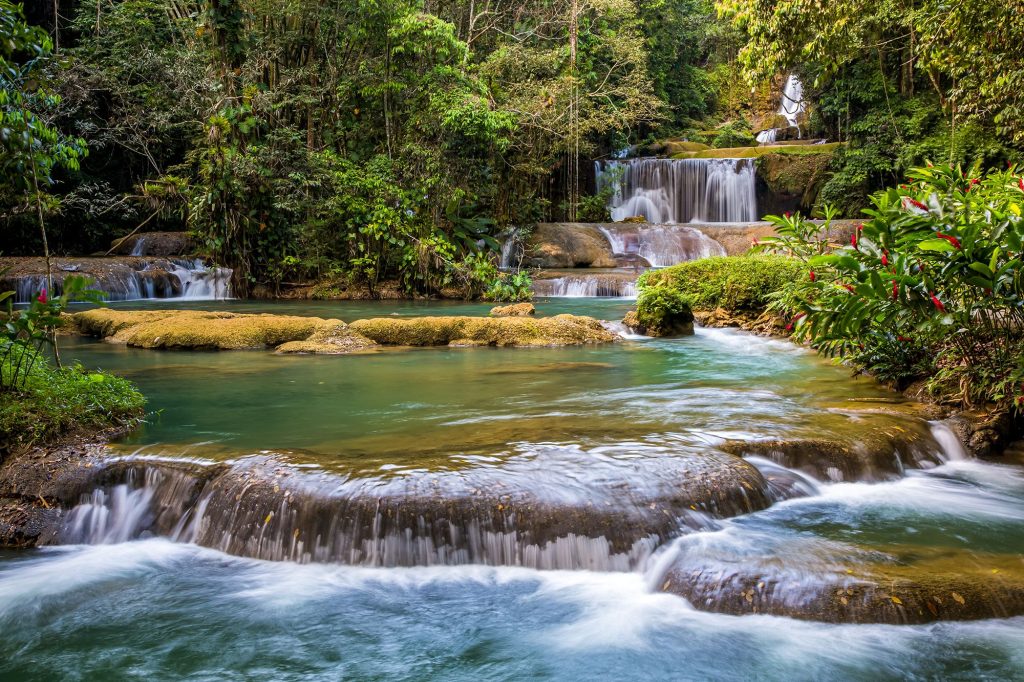 Mayfield falls is one of the most beautiful and unspoiled natural beauty in jamaica. It is located amidst in the lush rainforest of the beautiful catadupa mountains.
This falls is a great way to experience nature and relax in some of  most pristine landscapes. Explore the cascading waterfalls and the crystal clear pools .
The sound of the water becoming more intense as it cascades into the water below is an unforgettable experience.
 
Take a dip in some of the many swimming holes surrounded by lush green towering mountains. Tour guides are available to guide you through the adventure and to ensure your safety. You will get to view the forest, with its diverse and unique trees, plants, and wildlife.
Take a hike, observe the wildlife, have a picnic, and cool off in one of the many pools. If you want a more daring adventure, you can find hidden cliffs to jump off of, as well as take a daring rappel into the jungle. Book now!
14. Have a Chilled-out Trench Town Experience – Bucket List 2023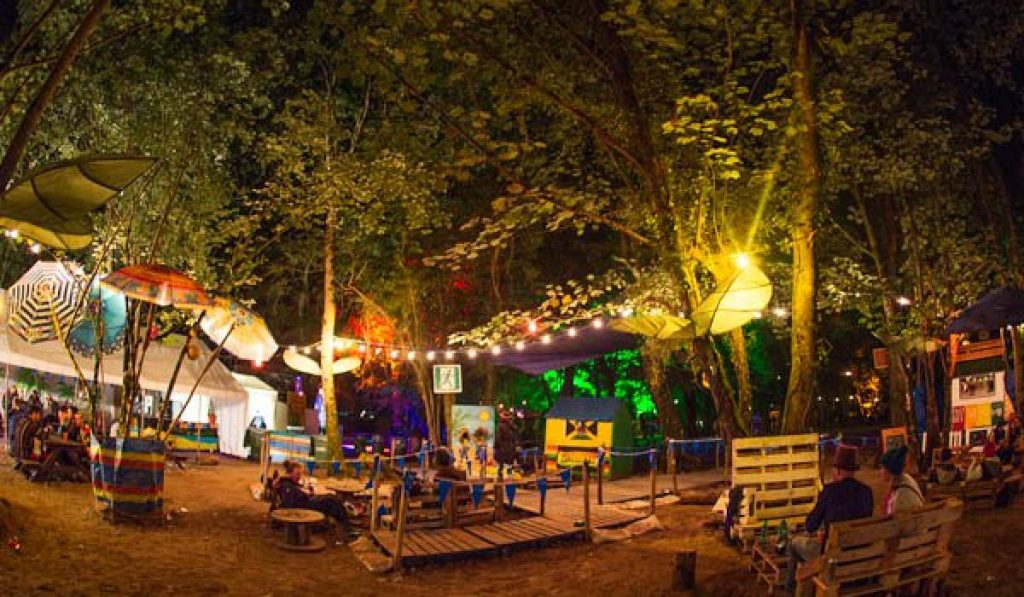 Trench Town is a vibrant Jamaican community located in Kingston. It is celebrated as the birthplace of reggae music and in it has become a major tourist attraction in Jamaica.
The town is most famous for its rich musical history and the many iconic musicians who call it home, including Bob Marley.
Exploring Trench Town and soak up the atmosphere, absorb the culture of local music as you take in the local sights and sounds.
Take a stroll around the vibrant streets and explore some of the vibrant art galleries. The locals are extremely friendly. You can kick back with local and international contemporary artists. Have some fun conversation with them.
Want a more tranquil experience? Then take a peaceful stroll through the lush and beautiful Hope Gardens.
This sprawling park offers a beautiful landscape, with picturesque trails, flora and fauna to explore, as well as a wildlife sanctuary.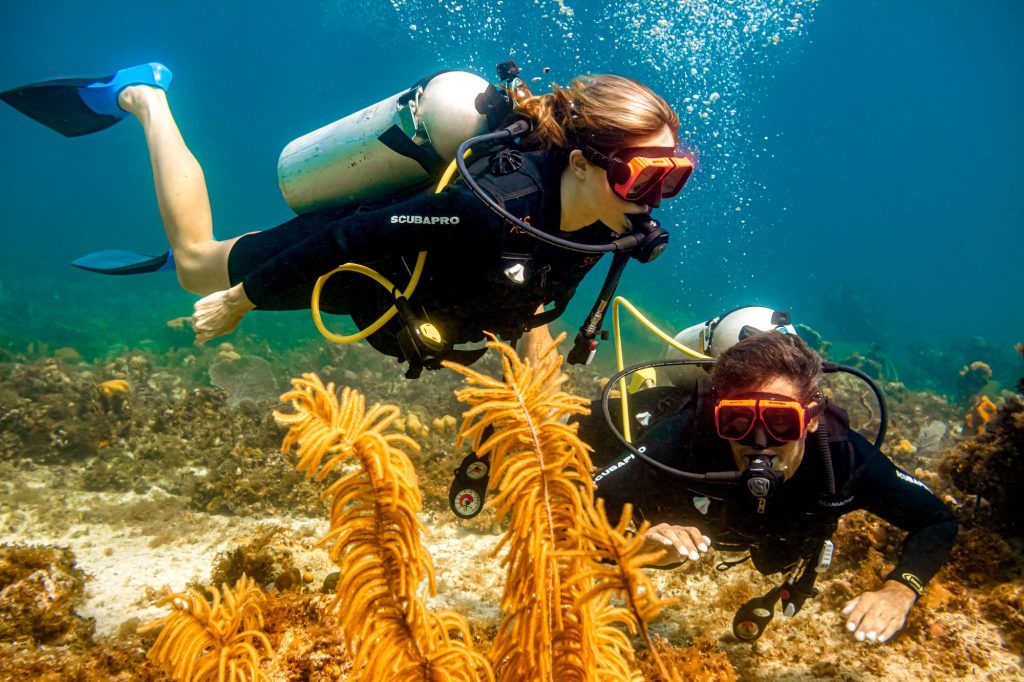 Negril, Jamaica, is the perfect place for an incredible scuba diving experience. You can explore crystal-clear waters filled with a variety of aquatic life, and journey to depths of up to 60 feet (18 m).
Three Mile (also known as Long Bay) and six Mile reefs are particularly well-known for their diverse marine creature.
These reefs, installed in 1994 and 2003 respectively, offer divers the opportunity to see a variety of exotic and rare fish, sea turtles, friendly nurse sharks, eels, manta rays, and even the occasional sea donkey!
This is an ideal spot for divers of all levels. Beginners can take advantage of the shallow waters and experienced divers can enjoy the depths and explore some amazing underwater terrain.
With year-round warm temperatures and plenty of dive sites to choose from, a scuba diving trip to Negril is the perfect way to have an exciting and unforgettable experience.
16. Wallow in The Treasure Beach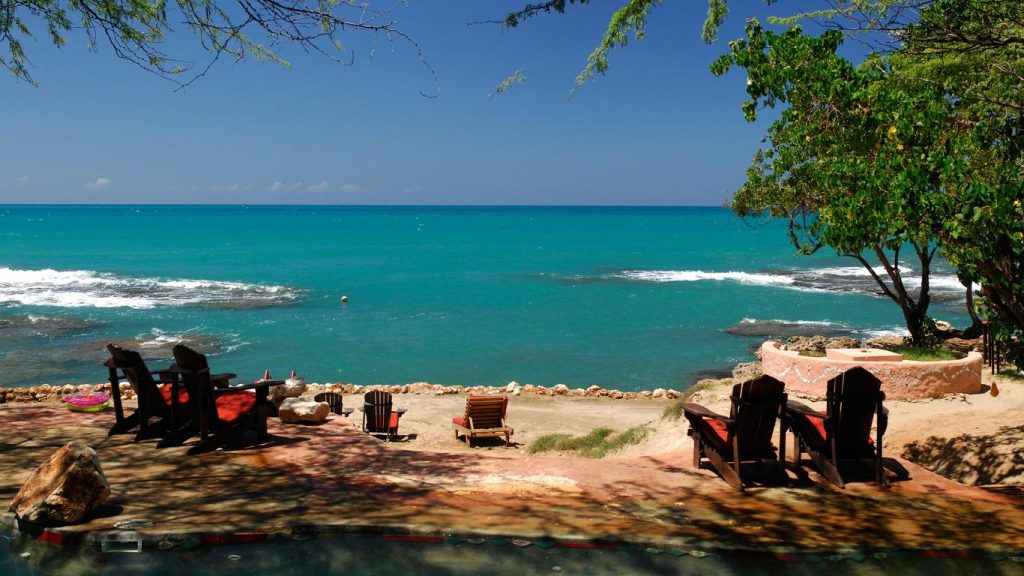 Treasure Beach is a beautiful area along Jamaica's south coast which stretches from Great Pedro Bay in the west to Billy's Bay in the east.
It is known for its pristine white-sand beaches, turquoise waters, lush tropical flora, and excellent seafood restaurants.
There's plenty to explore here, such as snorkeling, diving, and kayaking, as well as hiking and cycling. You can also enjoy soaking in natural hot springs and relaxing on the tranquil beaches.
While you are here, a visit to nearby Gordon Town is a must with its beautiful colonial architecture and lush green-hillsides.
There's no better way to make the most out of a visit to Jamaica than to wallow in Treasure Beach's beauty and tranquility.
Rose Hall Great House in Jamaica is an 18th-century plantation estate located in Montego Bay, Jamaica. It has a long interesting history.
It'd served as the home of Annie Palmer who is the infamous 'White Witch of Rose Hall'. Visitors can take guided tours, led by knowledgeable and entertaining guides.
One of the highlights of the tour is the Great House's exterior. The manor is made of a white Georgian style structure, with a central building and two side wings.
The columns support a second story balcony, where you can enjoy spectacular views over Montego Bay and the surrounding countryside.
After taking in the views of the exterior, you can move inside the mansion and explore the first-floor chambers. Here, guests will find a collection of rare furniture and artifacts, which help paint a picture of a bygone era.
As you move through the second and third floors, they can take a peek into the bedroom of Annie Palmer. This room gives an insight into the life and habits of the 'White Witch' and her mysterious lifestyle.
Further up the stairs, visitors can view the balcony and the observatory which can be seen for miles around.
A trip to Rose Hall Great House is a unique experience that delves into Jamaica's history and culture. Strolling through the interior and exterior of the mansion, you can appreciate the beauty and luxury of the bygone times.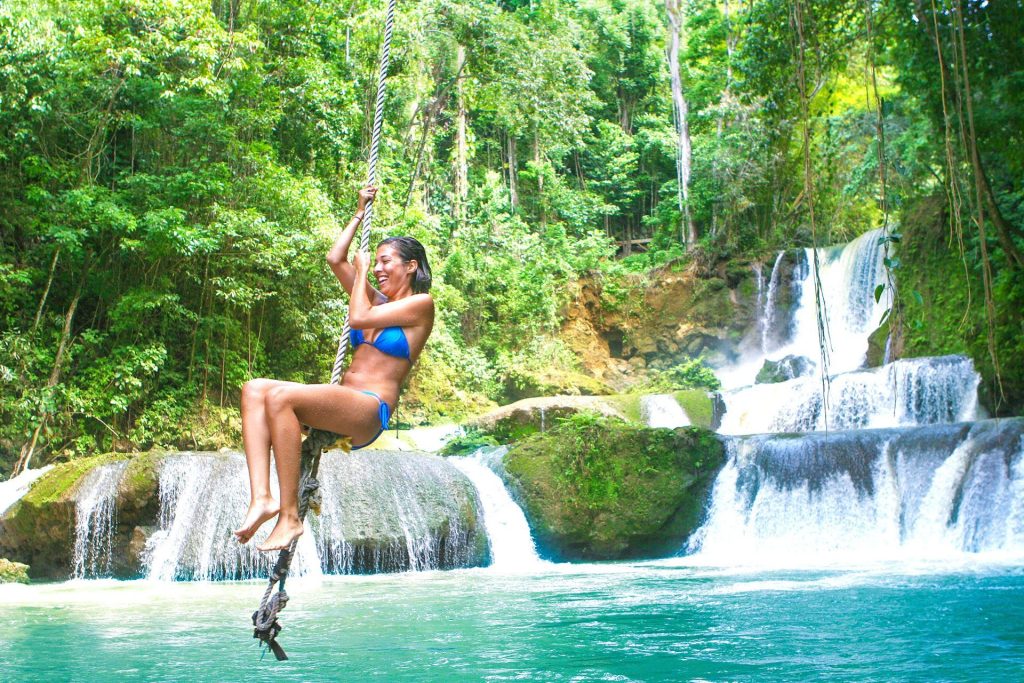 YS Falls is a hidden gem of Jamaica, boasting seven breathtaking waterfalls surrounded by lush green mountains.
Take a tour or explore by yourself to get the most out of the setting, and don't forget to take photos! For those looking for an extra thrill, the zip lines offer an exciting way to take in the breathtaking views.
Enjoy a dip in the pool or soak in a hot spring before taking off. At the end of the day, you can also enjoy the hot springs, the jungle gym, and many other attractions at YS Falls such as get up close and personal with the wildlife while cruising down the Black River.
 There's also an Appleton Estate distillery nearby, where you can sample the local rum. Experience the best of both worlds with sightseeing and adventure at YS Falls!
19. Go River Rafting on the Rio Grande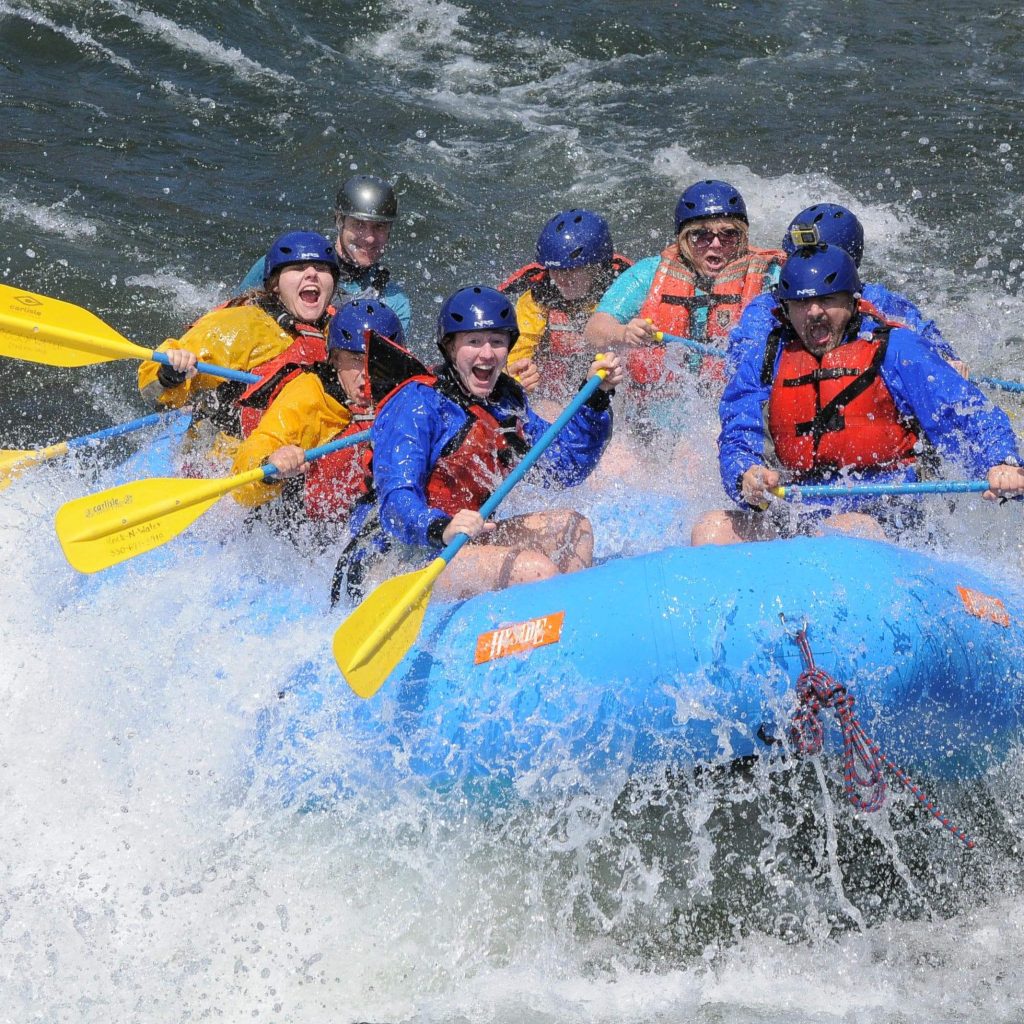 For a thrilling summertime activity, consider going river rafting on the Rio Grande! Rapid-filled whitewater will challenge and excite you!
You'll get to see the breathtaking beauty of the surrounding landscape, the towering cliffs and the majestic mountains in the distance.
To ensure safety, guided tours are available. They provide life jackets, equipment, and helpful, knowledgeable guides to point out interesting landmarks and wildlife nearby.
On these trips, you may also be able to explore nearby caves and waterfalls that are home to local wildlife. Nothing beats the thrill of river rafting down a river! Book a rafting tour today for an unforgettable experience.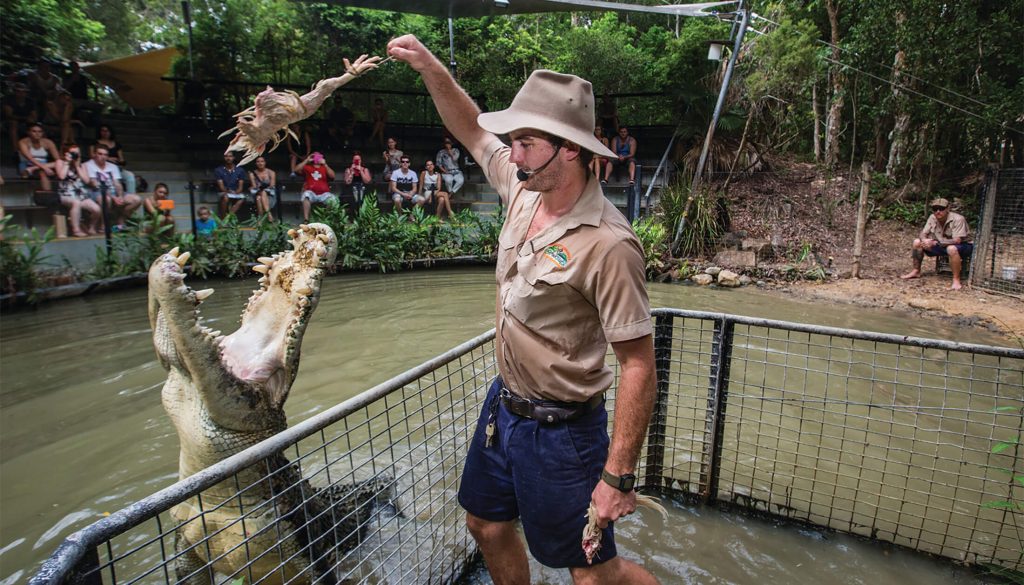 You can witness the 'last remaining dinosaur' up close (and safely), by going on a mangrove safari tour or visiting a rehabilitation centre focused on protecting the American Crocodile – the only species to be found in Jamaica, primarily along the southern coast.
If possible and you're brave enough, you can even get the chance to hold a juvenile crocodile, along with some other reptiles!
21.  Spend the day relaxing at an All-Inclusive Resort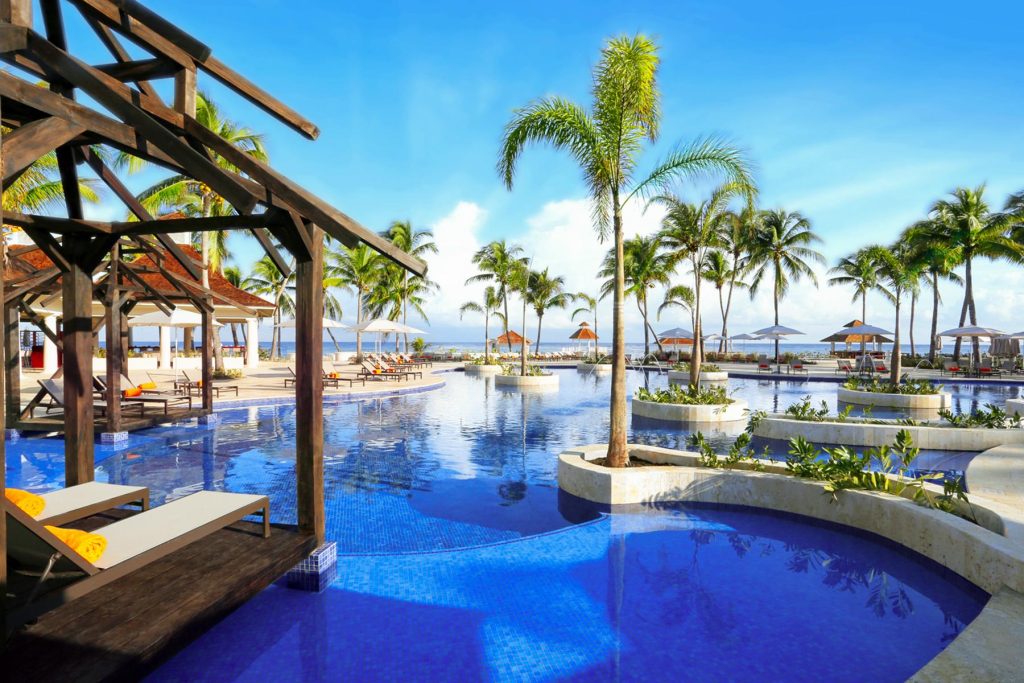 If you are couples visiting in Jamaica, then unwind in the beautiful resorts here. You can enjoy a stress-free day while relaxing at an all-inclusive resort in Jamaica. 
Spend your time with your partner while sipping fruity drinks by the poolside, lounging in the white sand beach, or indulging in a spa treatment with your partner.
Take advantage of the hotel's restaurant and bar and drinks throughout the day. Apart from that get the access to activities like biking, kayaking, and snorkeling. Enjoy a romantic dinner under the stars at night in one of the many restaurants.
Leave your worries behind while you melt into the atmosphere of tranquility and happiness in Jamaica. Let the beauty of the island work its magic for a truly blissful day. Here are The best resorts to stay in the islands of Jamaica! Book now!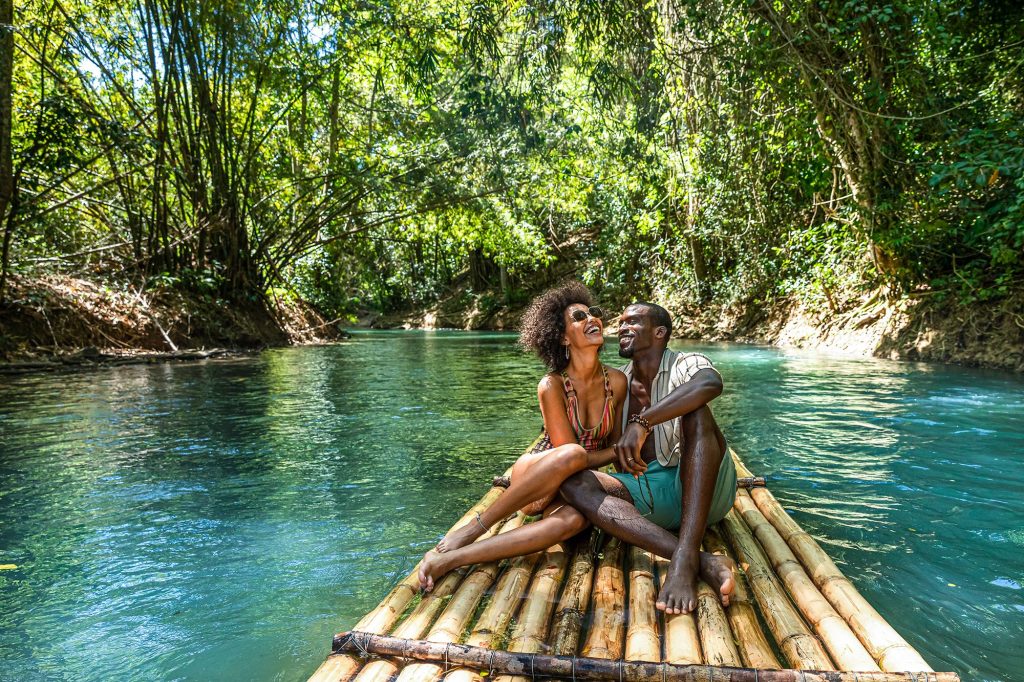 Bamboo rafting is a must in Jamaica. A bamboo rafting trip down the Martha Brae River is an absolute fun things to do with your friends  on a Jamaica tour. Journeys typically start at the river's edge, where sightseers climb aboard a traditional bamboo raft, paddled by an experienced guide.
As the raft glides down the river, you'll marvel at the lush greenery, towering trees, and vibrant wildlife of Jamaica's rainforest.
In certain areas, the guide will point to the many cascading waterfalls, lush foliage, and hidden caves. With its gentle current, the Martha Brae River is a favorable environment for any type of water activity. Book the adventure!
23. Check Out Exotic Birds at Rocklands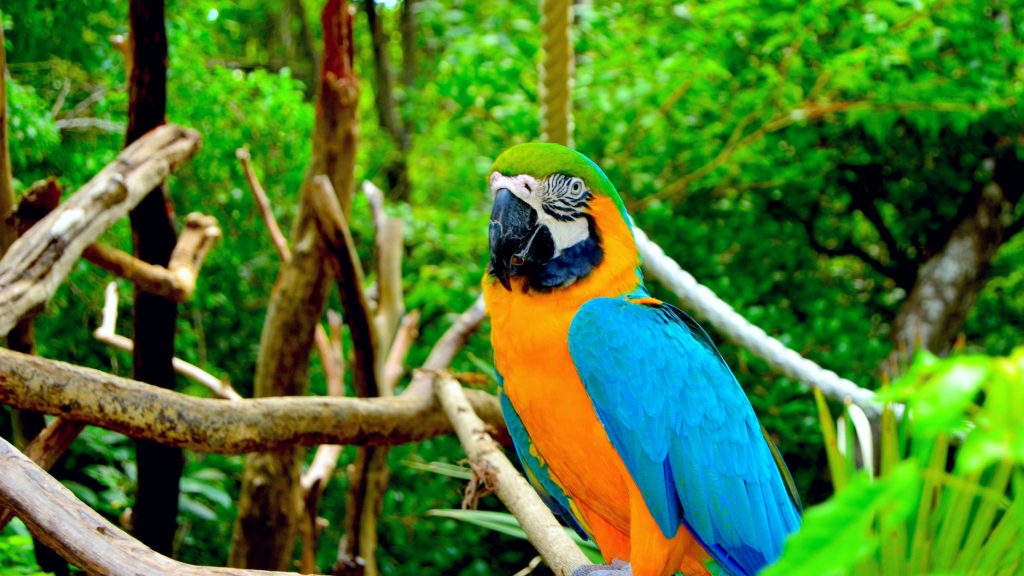 Rocklands Bird Sanctuary in the hills of Montego Bay is a popular place for bird watching. It is home to over 400 species of birds, many of which are exotic and rare.
You can spot a thousands of native and migrant birds, , from pelicans to parrots, sparrows to secretary birds, storks to sun birds. Marvel at the wide array of brightly-colored finches, waterfowl, honey-eaters and sacred ibis.
Bird watchers can also take the opportunity to explore the wetland habitats of Rocklands for another exciting birding opportunity. Guided tours are available, as is the chance to spot and photograph rarely seen species of birds in their natural home. 
24. Unwind at The Mineral Baths of Milk River
Unwinding at Milk River's mineral baths is blissful. Enjoy its naturally heated water from deep inside the Earth, creating ideal temperatures for total relaxation.
Inhale the soothing aroma of the mineral-infused steam, which carries the promise of a deep and restful sleep. Take a solo soak or invite friends to share in the cocoon of tranquility.
With multiple baths available, everyone can enjoy rejuvenation at their own comfort level.
Crystal white sands, calming music, and gorgeous views of rushing river waters make the experience a serene yet luxurious escape. Let go of life's stress while soaking in this haven of serenity.
25. Catch a Reggae Show at One of The Local Clubs- Tourist Attraction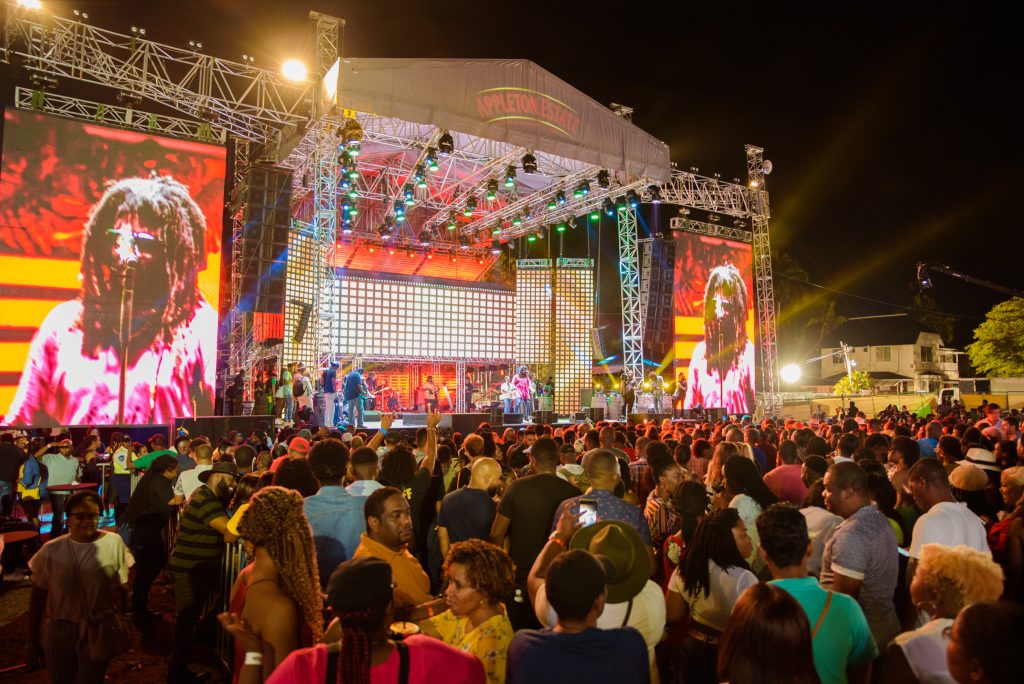 Catching a reggae show at one of the local clubs in Jamaica is an awesome experience. Hearing the deep pulsing bass line accompanied by the drums and the uplifting tones of the brass instruments will bring out the unique and vibrant music that Jamaica is known for.
The atmosphere of the club itself is often lively, with the thick smell of ganja, Rastafarians, and locals singing along to each song.
The dancing, whether solo or in pairs, is energetic and soulful. The night is full of good vibes and everyone in attendance holding the same energy and love for the culture.
It is worth checking out if you're ever visit Jamaica!
26. Visit Green Grotto Caves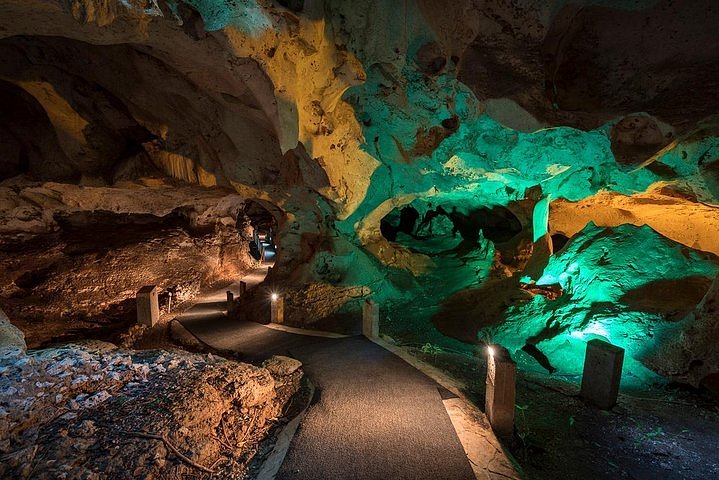 Visit Green Grotto Caves and explore the subterranean network of limestone cavities and beautiful stalactites and stalagmites located in Jamaica.
This incredible cave system offers an exciting journey through winding passageways, underground lakes and streams, and a magnificent Cathedral Room, the most breathtaking of all the chambers in the caves. 
While on your tour you may also discover the captivating Izamal Chamber, believed to have been a cult center centuries ago.
Enjoy all that the Green Grotto Caves has to offer as you marvel at the stunning beauty of these natural limestone structures. Pre-book a guided tour with admission!
27. Take The Sunset Cruise in Ocho Rios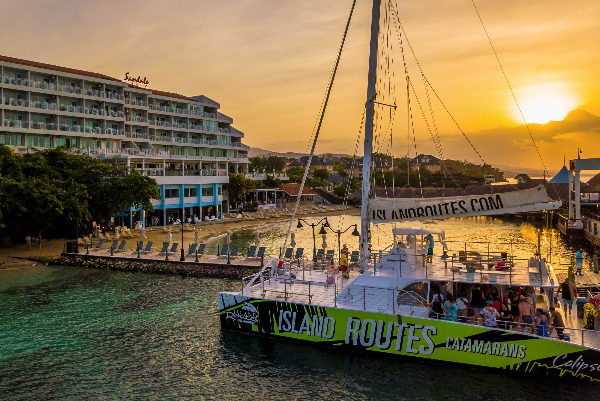 A sunset cruise in Ocho Rios is an enjoyable and unique experience. The cruise takes you through Ocho Rios' beautiful coastline and gives you a chance to take in some of the sights, including a breathtaking panoramic view of the Caribbean Sea.
Relax on board the cruise and let the staff take care of you while you admire the stars peeking through the night sky. Delight in a romantic dinner and drinks as you enjoy the gentle rocking of the waves.
With so many options to choose from, there's no better way to unwind and take in the beauty of Ocho Rios than the sunset cruise.
28. Spot Red Stripe Crabs on the Beaches of Negril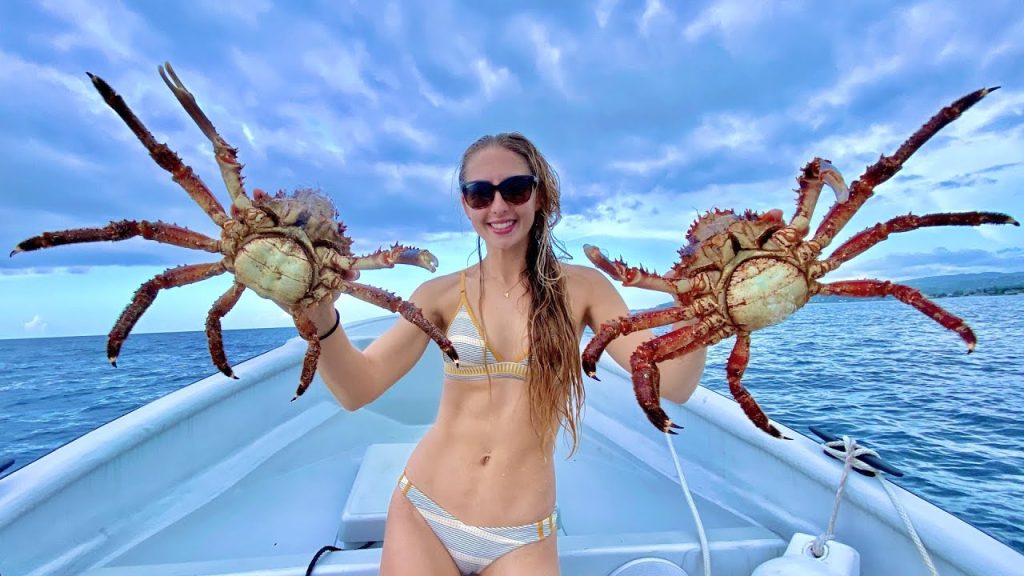 Negril, Jamaica is one of the world's most sought after vacation spots due to its stunning beaches and beautiful coral reefs.
One of the creatures guests may come across while exploring the crystal clear waters of Negril's seashore is the Spot Red Stripe Crab.
These small crabs have reddish stripes along the sides of their legs and claws, and they are sometimes seen scurrying around the beach when the tide is low.
Spot Red Stripe Crabs primarily feed on seaweed and marine plants, but they have also been known to scavenge for food such as small fish or shrimp.
They are a unique and interesting way to liven up any warm weather beach day, so make sure to keep a lookout when visiting Negril!
29. Take a Caribbean Cooking Class in Kingston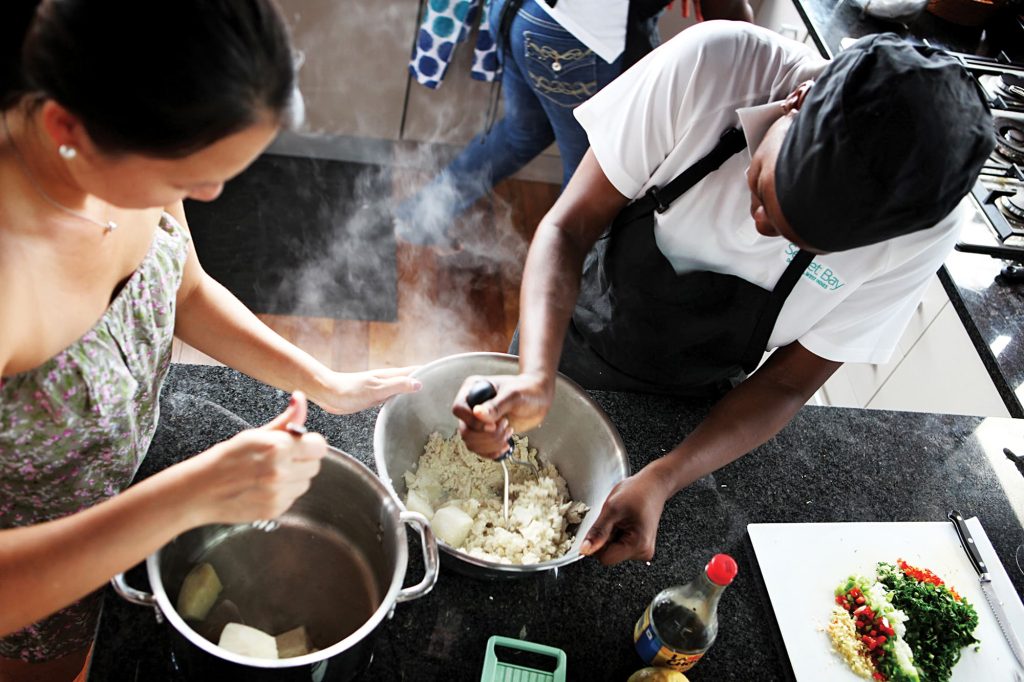 Taking a Caribbean cooking class in Kingston is a great way to learn about the colorful cuisine of the region. Classes held in Kingston teach students traditional local dishes and give them an understanding of the region's diverse flavors and cultures.
Students learn how to make dishes such as Jerk chicken, fried plantains, and curried goat that can be enjoyed with local favorites like Rice and Peas.
They will also learn to make island-inspired dips and appetizers like ackee and saltfish fritters. With the help of expert chefs and amazing local ingredients, students can explore, learn, and experience the exciting flavors of the Caribbean.
30. Drink Rum Cocktails at the Appleton Oasis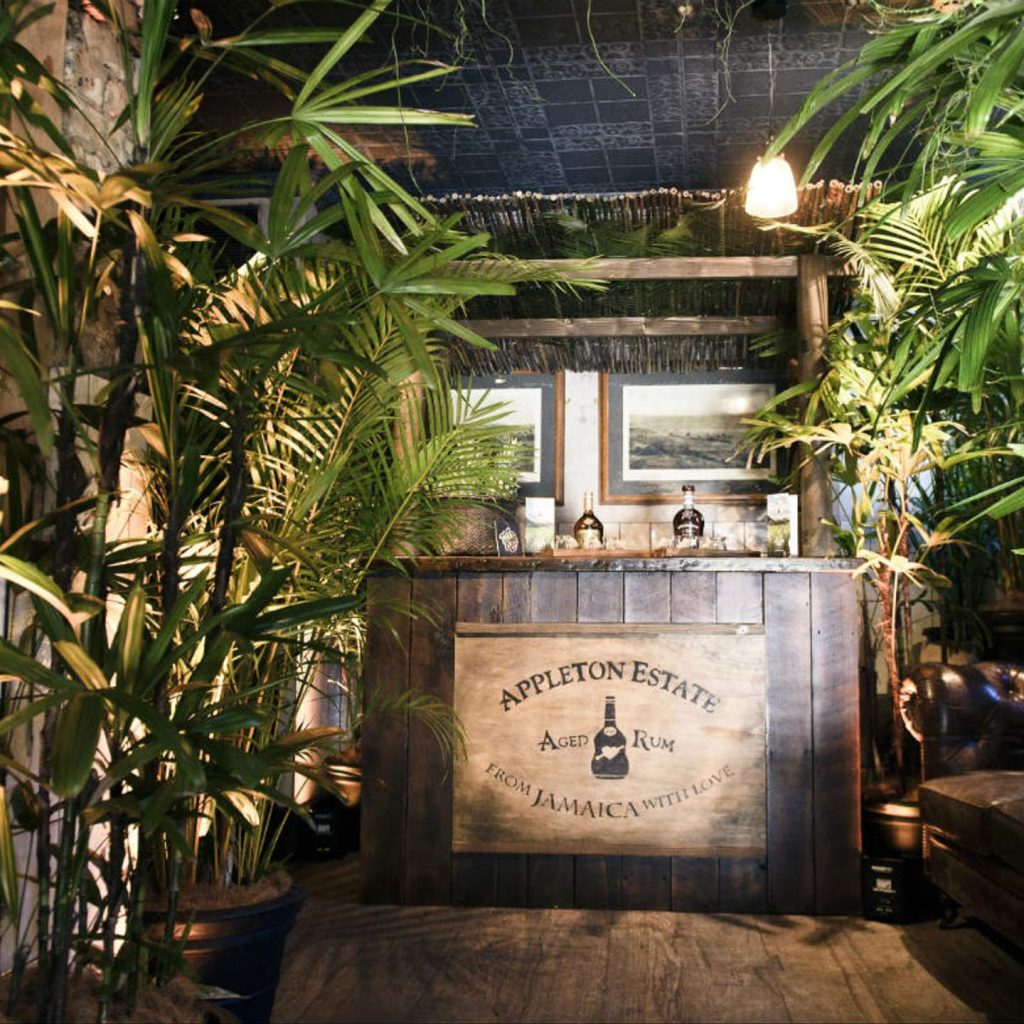 The Appleton Oasis is the perfect spot for a rum cocktail. Situated under the stars, this beach-side bar offers a variety of delicious rum cocktails, made with the world-famous "Appleton Estate Jamaica Rum" straight from the Caribbean.
From the classic Mai Tai to a refreshing Rum Punch, there's something for everyone. And if you need a break from the strong stuff, the bartenders are more than happy to whip up a tasty mocktail, too.
With its laid-back atmosphere and beachside views, the Appleton Oasis is the perfect spot for a night out in Jamaica. So grab a seat, order a cocktail, and get ready to enjoy paradise.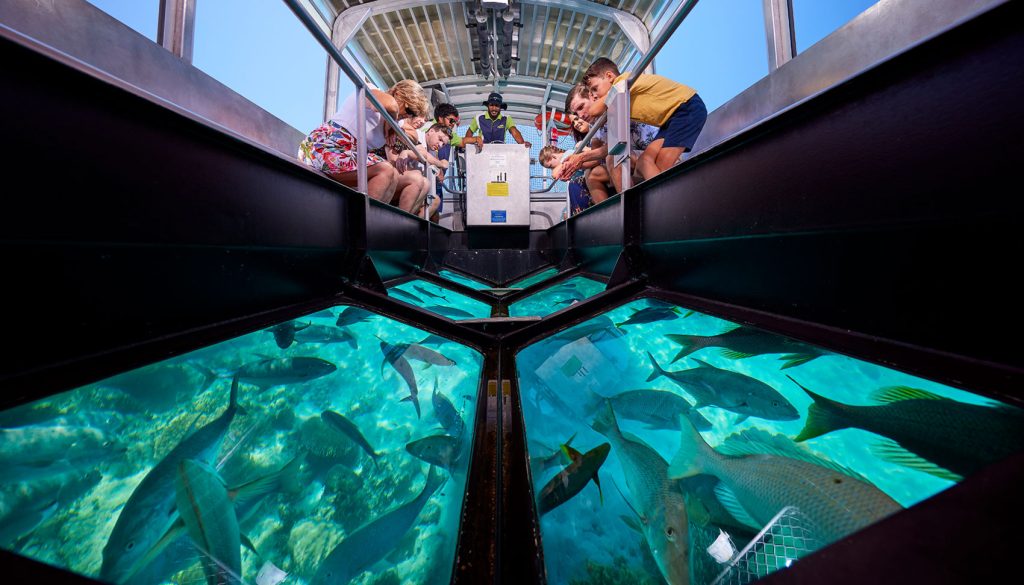 A Glass-bottom boat ride to see the reef is a fun and mesmerizing adventure. The boat allows passengers to witness the wonderful world of the coral reefs in its natural environment.
As the boat slowly glides near the reef, passengers can observe an array of sea creatures swimming around and amongst the vibrant coral, rocks, and plants.
This boat tour is a wonderful opportunity for children to learn about the importance of preserving these fragile ecosystems and admire its natural beauty. It's a sure-fire way to have a memorable experience and a day to remember. Book now!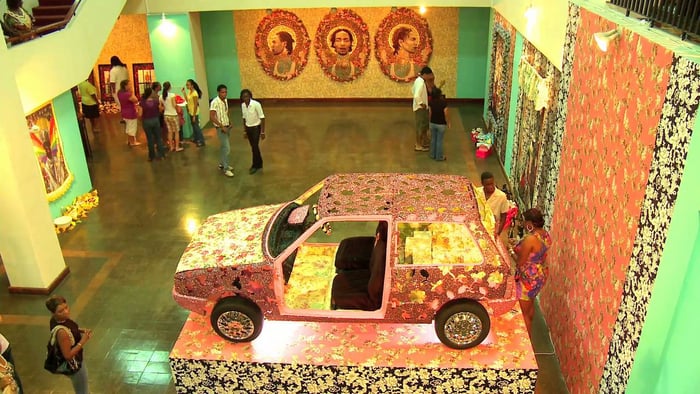 Jamaica is home to numerous galleries and museums. The National Gallery of Jamaica is a premier visual arts institution.
It is located in Kingston and its mission is to promote the appreciation and understanding of Jamaica's visual arts heritage through the collection, conservation, research and interpretation of Jamaica's visual culture.
The Gallery offers visitors a wide variety of exhibitions, public programs, educational programs, online resources, and other initiatives dedicated to the understanding of visual arts.
Visitors can explore the national collection of art and artifacts spanning almost three centuries, take part in gallery tours, attend weekly exhibitions, and engage with local activities and events throughout the year. 
33. Play Golf at The Tryall Club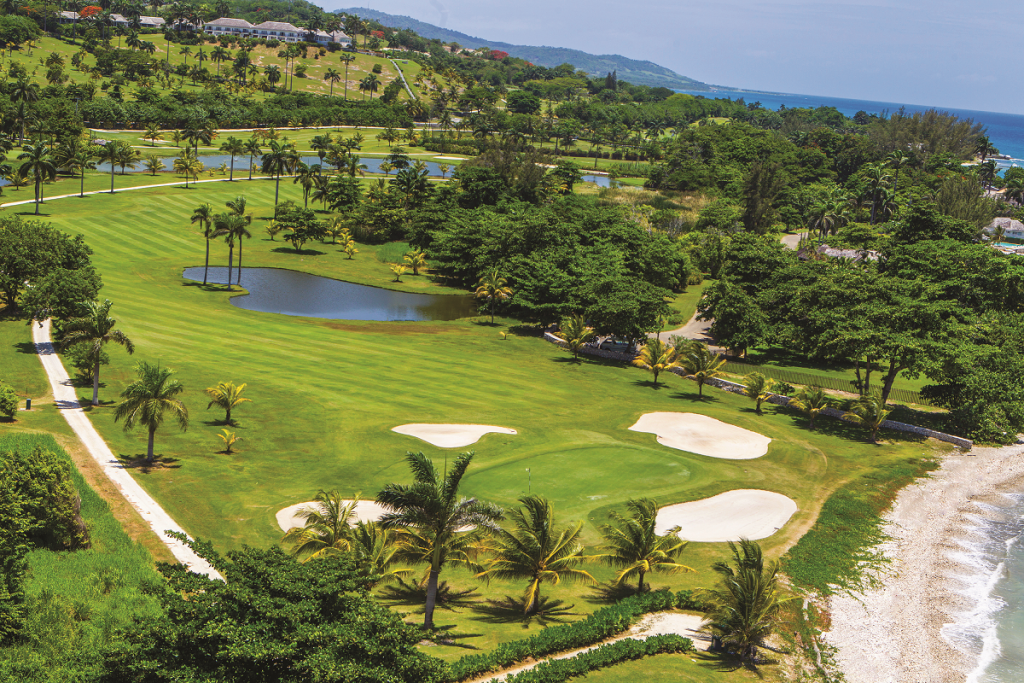 The Tryall Club is renowned for its lush golf course stretching across lush green grass hills, with its 18-hole championship course taking the center stage.
The 7,100 yards long course has challenging first and back nines, with well-bunkered landing zones and elevated tees.
Play a round of golf with the mesmerizing view of the Sea in the background. Expert golfers can also take private lessons from a PGA instructor while amateur golfers can join in the junior clinics.
The amenities include a driving range, practice bunkers, and putting green. With its many attractions, the Tryall Club is certainly a golfer's paradise.
34. Wander Around Fruit Markets on Great George Street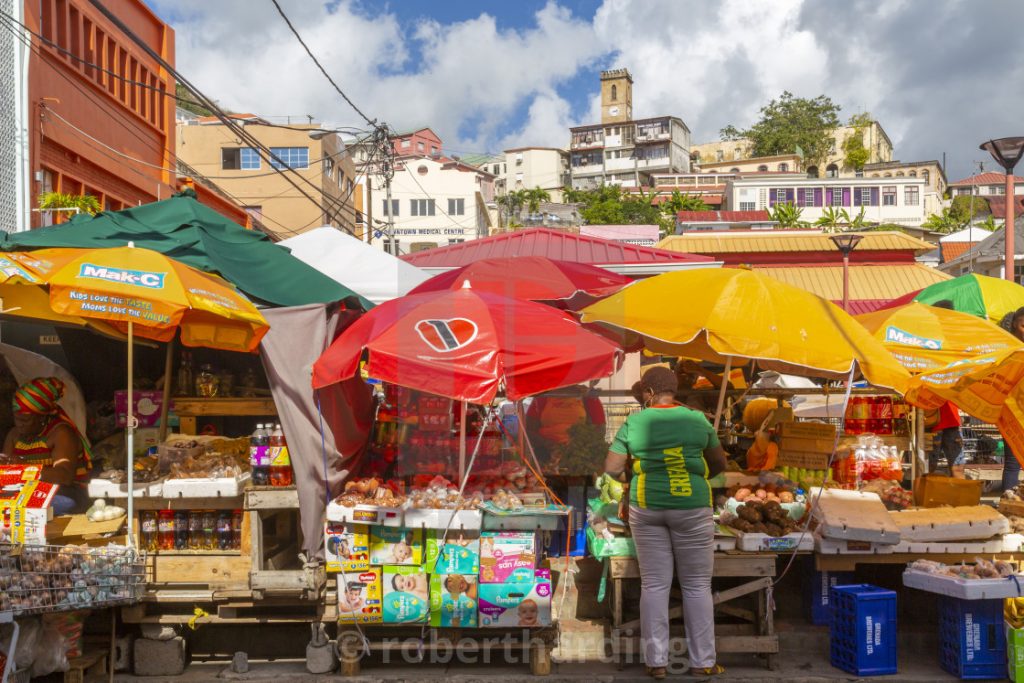 Wandering around the colourful fruit markets on Great George Street is an enjoyable pastime. The streets are lined with stalls selling all manner of fruits and vegetables, from bananas and oranges to avocados and squash.
There is something here for everyone – from budget-friendly options to rare and exotic treats. The smells, colours, and textures are a feast for the senses and the shouts of vendors selling their goods adds to the energy of the market.
You can take your time exploring and tasting different produce while you search for the best bargains. However you spend your time, wandering around these fruit markets on Great George Street is an experience you won't forget.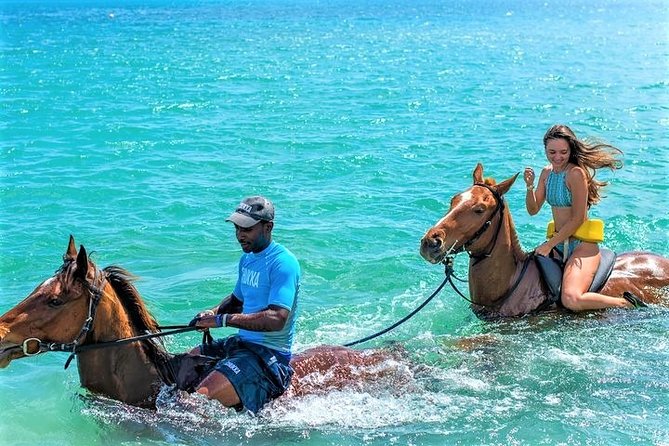 A horseback ride on the beach of Montego Bay, is one-of-a-kind experience. The warm sand, stunning ocean views, and coastal breeze is the perfect place for a horseback ride.
Along the route you'll find glistening white sand, vibrant seashells and unique wildlife, all without having to leave the beach. As your horse gallops towards the horizon, you'll experience breathtaking beauty and have plenty of opportunities for photos.
To make the experience even more special, the tour company can even organize a private picnic on the beach complete with authentic Jamaican cuisine.
With the guidance of experienced guides, horseback riding on the beach of Montego Bay is a must-do for any adventure seeker looking for unforgettable memories.
36. Take a Shopping Spree in Kingston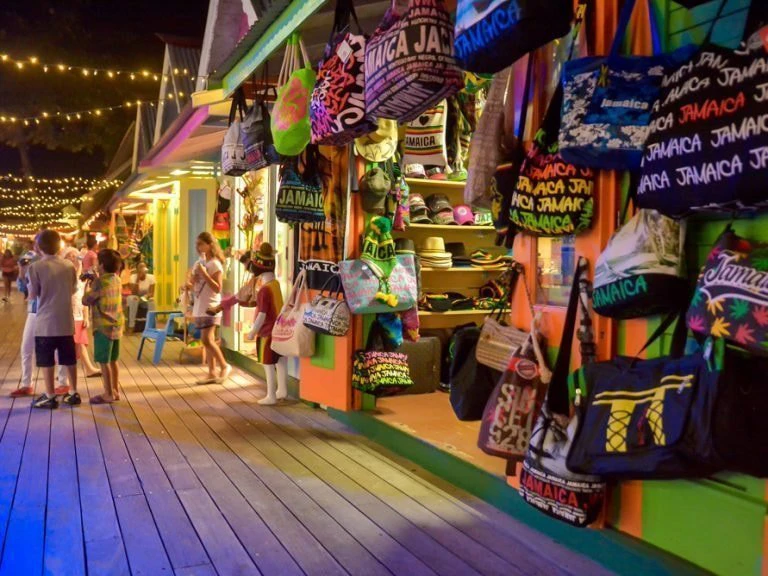 Kingston is a shopper's paradise. You can find stores carrying everything from local crafts, souvenirs, jewelry, and more.
Meander through the Liguanea and Half-Way Tree shopping districts for the ultimate shopping adventure. Every local retailer offers unique items to bring home.
Find a selection of spices, teas, and coffees for cooking, or take adornments and art with significance from the region. Local markets are a great way to experience the culture and vibrant colors of Jamaica.
You will also top designer clothes, shoes, accessories, unique gifts, antiques, specialty foods, and more. For those looking to save, there are also plenty of second hand stores, thrift stores, and discount stores to choose from.
Shop the day away and enjoy the vibrant atmosphere, great friends, and unique finds. Get trinkets and souvenirs that will remind you of the wonderful shopping experience in Kingston.
37. Take a Weed Tour– Jamaica Attractions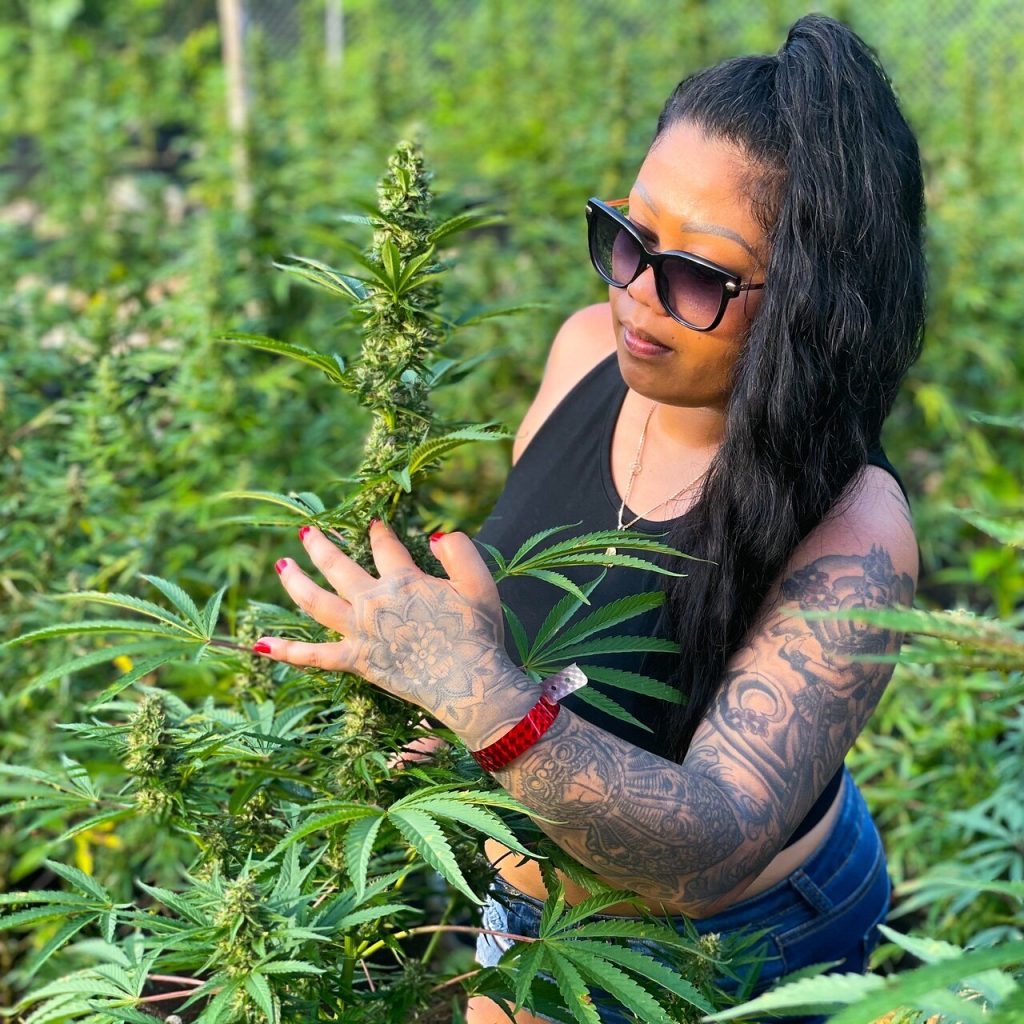 Jamaica has recently opened its borders to cannabis tourism. From exploring the local dispensaries, to learning about the history and use of cannabis, these tours offer a unique and unforgettable experience.
On your tour, you'll learn about the different varieties of plants used to make cannabis and discover methods of cultivation and processing.
You may even get to experience a smoking session with locals. Take a weed tour and get an inside look at Jamaica's vibrant cannabis culture.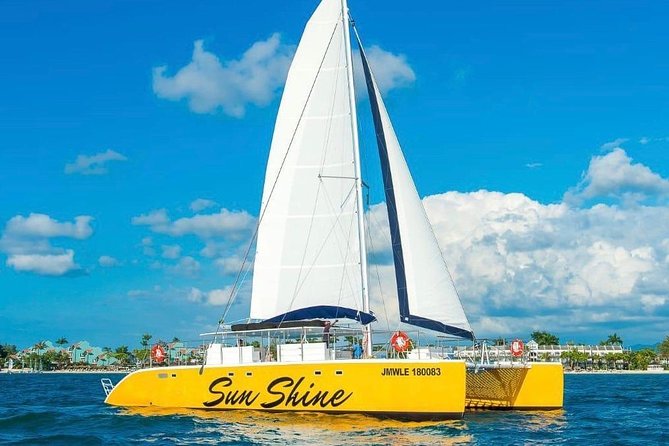 Enjoy the luxurious boats with comfortable features and the stunningly clear waters, the scenery is utterly breathtaking. Spend the day snorkeling, fishing, Kayaking, and exploring the jaw-droppingly colorful reefs while the cruise pass the coast of jamaica.
Captains can customize private tours, providing the ultimate getaway experience with unparalleled views. Enjoy a relaxing day of sunbathing, lounging in the sun, and snacking on delicious cuisine. With friendly staff and fantastic service, this is the perfect way to get to know the Caribbean Sea and take in the incredible scenery that Jamaica has to offer.
39. Have a Beach Party in Hellshire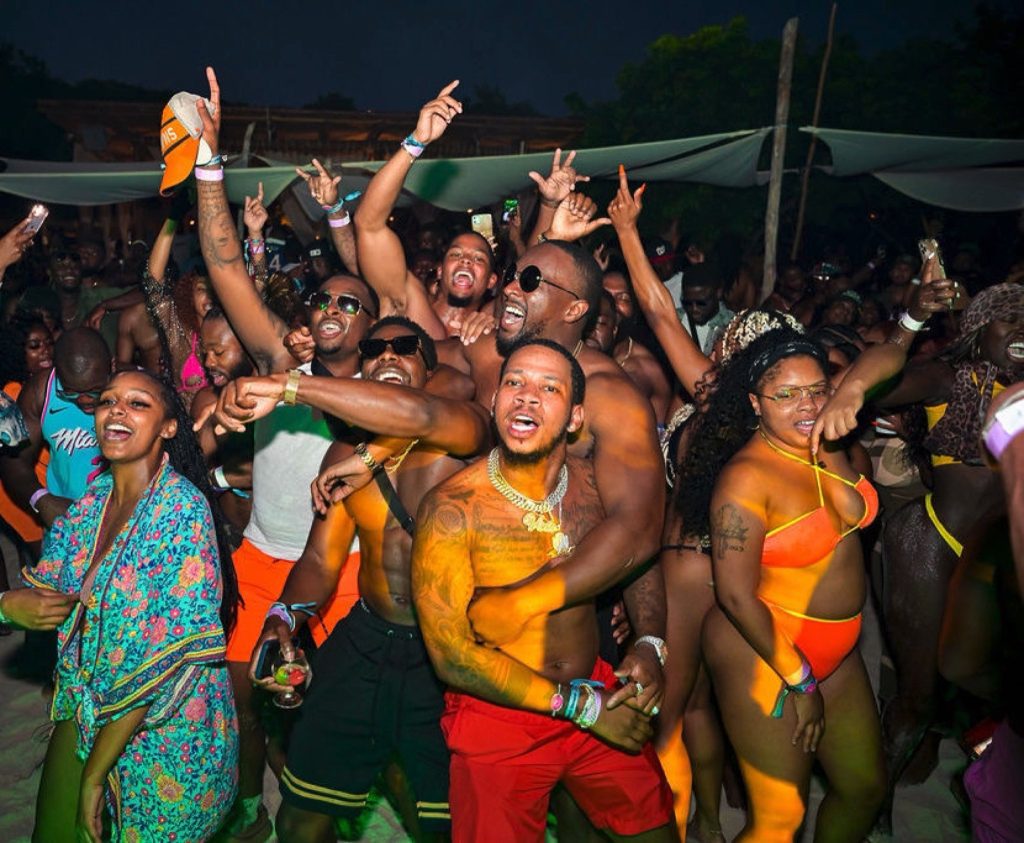 Looking for things other than sight seeing? What about partying in the beach? Jamaica is so much more than the natural beauties. The local here knows how to party!
Sip on the rum, dance in the local music while enjoying crystalline blue waters.  Play beach games, mix with locals and relax with a refreshing drink in hand. With the right food, decorations, drinks, and music, it would be a celebration that you would never forget.
The beauty of Hellshire with its scenic cliffs, white sand and azure waters would provide an amazing backdrop and provide plenty of activities for the partygoers.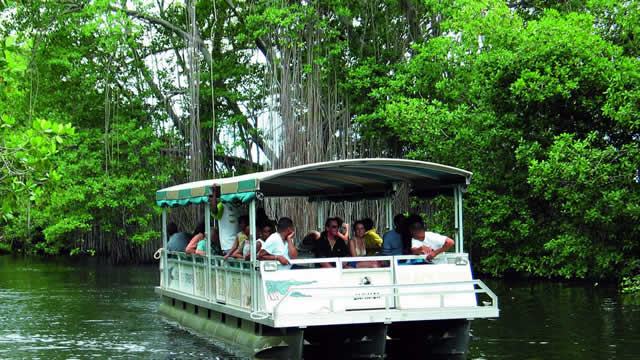 Explore the beauty and serene wildlife of this tropical island. The tour includes a safari boat ride along the Black River, one of the longest rivers in Jamaica.
Along the way, you can observe different species of birds, crocodiles, iguanas and other exotic animals in their natural habitat.
The guides will also point out native flora and historical sites. Enjoy a complimentary lunch and snacks on the boat or take time for swimming or fishing at one of the many beaches and coves.
On a Black River Safari, you'll get a unique chance to observe the beauty of Jamaica while admiring its amazing wildlife.
41. Trek up The Holywell Nature and Recreation Park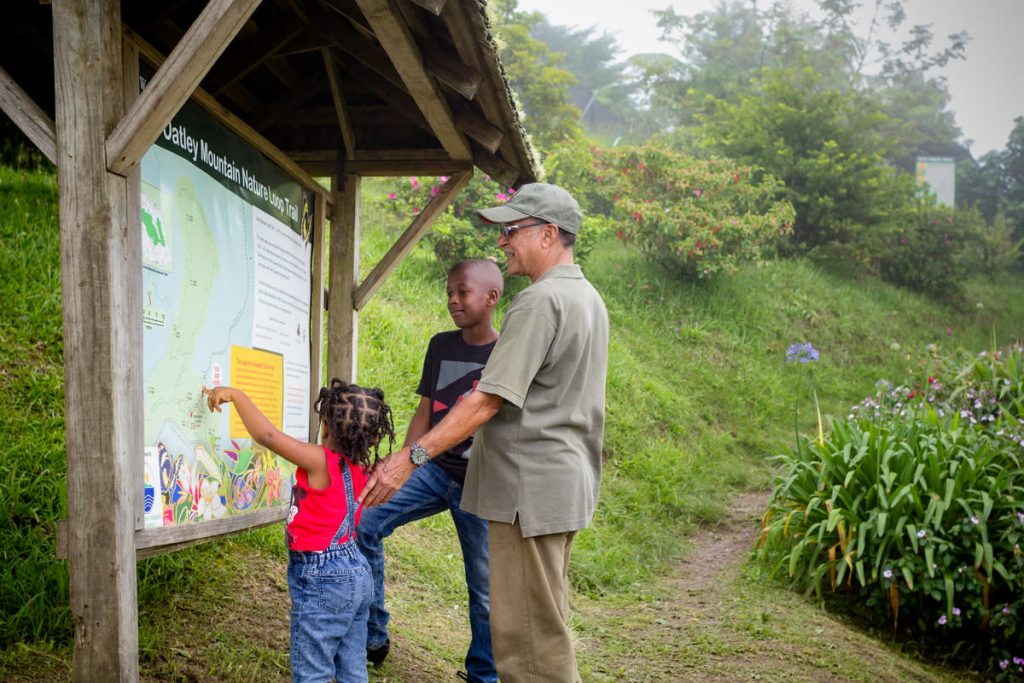 Trek up the Holywell Nature and Recreation Park is a beautiful spot located near Longleat in Wiltshire. It is an area of outstanding natural beauty featuring a large lake, shady woods, open meadows and stunning views.
There are plenty of activities to be found in the park, such as walking, cycling, fishing, bird watching, and canoeing.
There is also an accessible Bird Hide giving visitors the perfect opportunity to observe a variety of wildlife.
Additionally, there is an excellent education centre where visitors can learn about the park's conservation work.
Trek up Holywell Nature and Recreation Park is a wonderful place to explore and have a fun, exhilarating day out.
42. Visit The Historic Town of Port Royal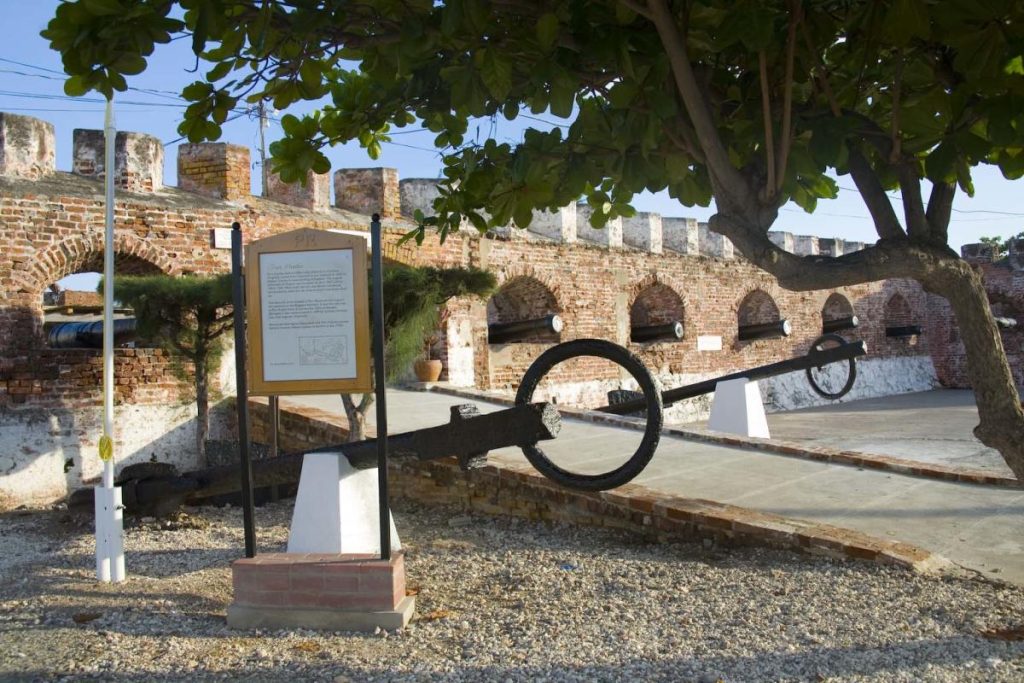 Port Royal is an historic town situated in Kingston, Jamaica. Located in the nearby city of Kingston Harbor, the area was once known as "the richest and wickedest city in the world."
Nowadays, Port Royal is a charming area filled with delightful sights to explore.
Take a walking tour of the historic colonial buildings and passageways and the centuries-old fortresses. On the waterside there is a breathtaking view of the ocean and the harbor. 
Take the Port Royal Museum tour and learn about the long history of this interesting place. There are many wonderful souvenir shops and seafood stands to sample traditional Jamaican cuisine.
A visit to Port Royal is a wonderful way to experience true part of Jamaica culture while making memories that will last a lifetime.
43. Explore the Blue and John Crow Mountains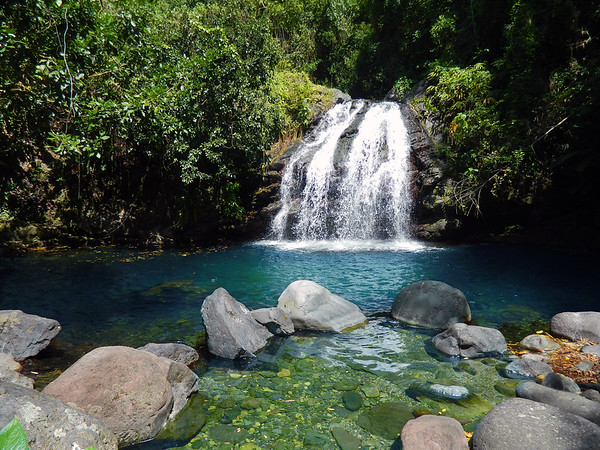 The Blue and John Crow Mountains in Jamaica are a natural wonder, just waiting to be explored. Sitting in the eastern end of the Jamaican island, the mountain range is part of two protected parks, the Blue and John Crow Mountains National Park and the Cockpit Country Protected Area.
Combined they cover an incredible 142,000 hectares of spectacular forest featuring luxurious cascading waterfalls, diverse wildlife and hidden caves.
For the adventurous, take a guided hike through the mountains and learn about the cultural and historic heritage of the area.
With its blend of nature and culture, the Blue and John Crow Mountains are a must visit to explore and discover for yourself.
44. Cruise Past Betsy Grant Reef in Negril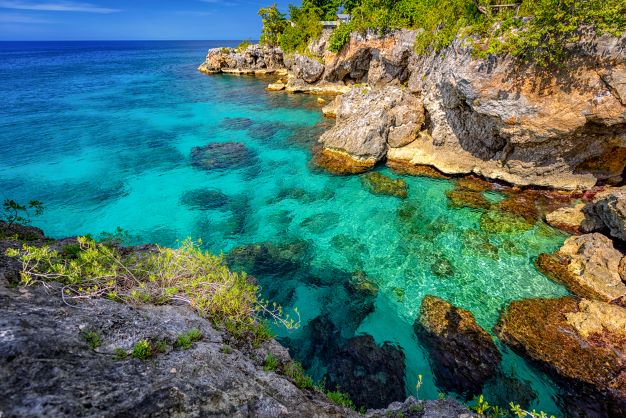 Cruising past betsy Grant Reef in Negril can be an amazing experience. It is a beautiful reef with a coral wall that goes down to 40 feet.
Here you can find brilliant reef fish such as surgeonfish, parrotfish, sergeant majors, angelfish and some gorgeous coral. The colorful fish and stunning coral will fascinate you and it is an ideal spot for snorkeling.
You can even take a ride with a glass bottom boat to check out the reef and its inhabitants from the surface. There is plenty of wildlife to observe so make sure you keep an eye out.
Exploring Betsy Grant Reef and its magical marine life is an unforgettable experience.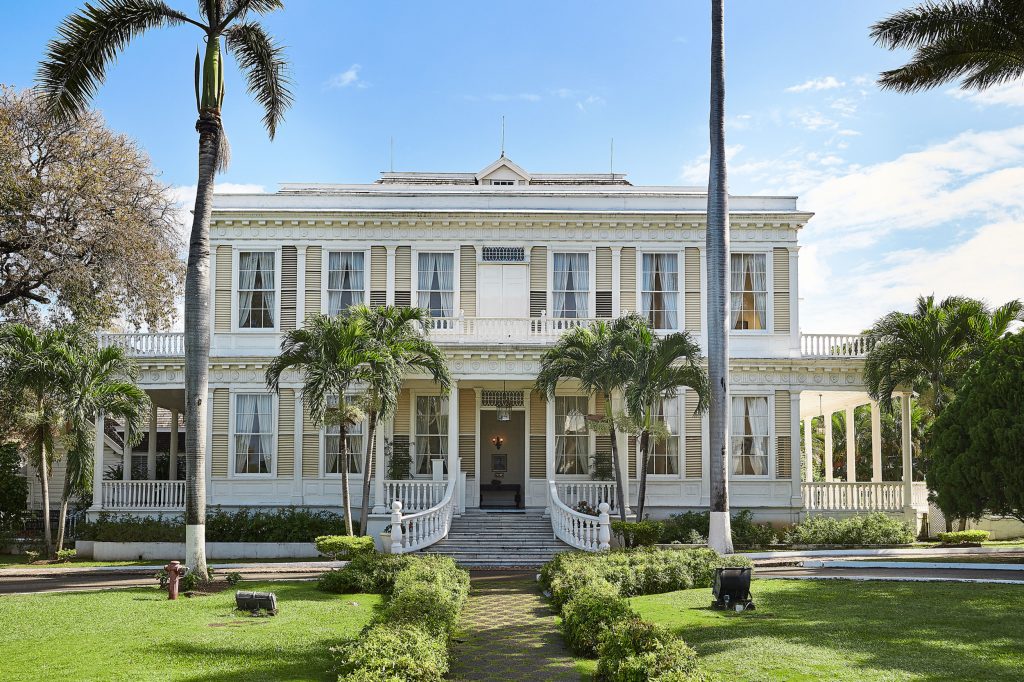 Devon House Mansion, located in Kingston, Jamaica, is a historic Georgian-style mansion and one of the most popular tourist attractions on the island.
The mansion was commissioned by Jamaica's first black millionaire George Stiebel in 1881, and has been beautifully preserved and open to the public since 1976.
The house tour takes you through the opulently decorated interiors, revealing Stiebel's wealth and success in the 19th century. Take time to explore the lush gardens, with its pond and fountain, and the magnificent Great Hall.
Devon house is also home to many Caribbean crafts and souvenir shops, a chocolate factory, and several cafes and restaurants. It's a great place to soak in Jamaica's history and sample some of its delectable local cuisine.
46. Swim in the Blue Hole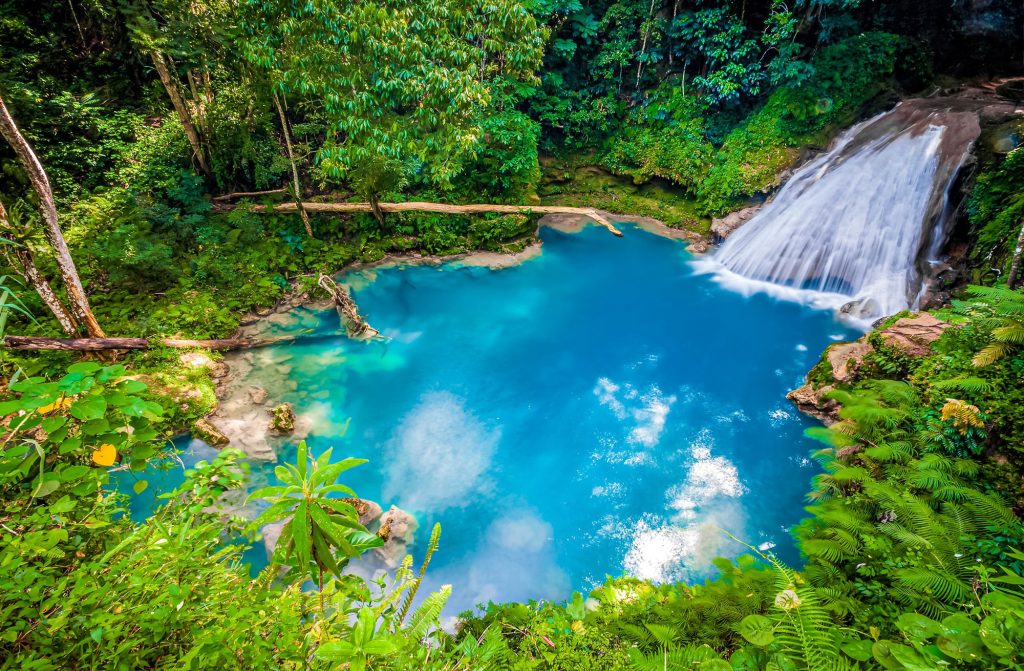 Swimming in the breathtakingly beautiful Blue Hole of Ocho Rios is something of a surreal experience. This natural limestone pool is surrounded by lush foliage and breathtaking views of the sea, creating a perfect backdrop for a refreshing swim.
The crystal blue waters offer travelers and locals alike a cool, tranquil escape on hot days. If swimming isn't your thing, simply gazing at the beauty of the Blue Hole is sure to take your breath away.
It's the perfect spot to take in the natural beauty of Jamaica, while gaining a renewed appreciation for the majestic beauty of our natural world. Truly, a must-visit location for any Jamaica traveler.
47. Stargaze From the Negril Cliffs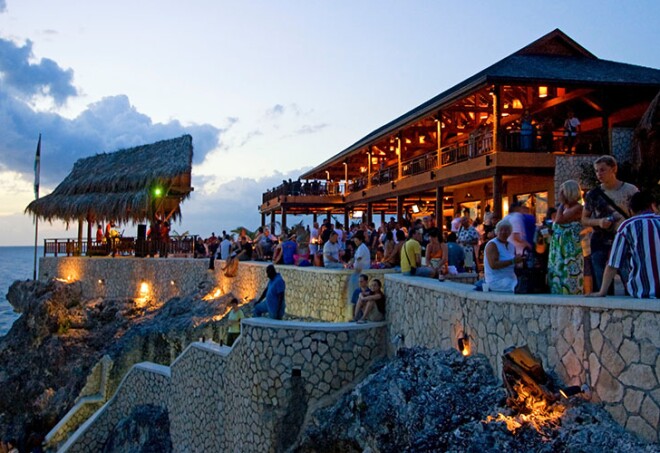 Negril Cliffs is a popular spot for tourists in Jamaica, and it's popular for a reason. The edge of the cliff is sitting high above the Caribbean Sea and considered one of the best places for stargazing.
You'll feel as if you can reach out and touch the stars. With no light pollution, you'll be able to take in the true beauty of the night sky.
Bring a blanket to lay on, and some snacks for good measure. Stare up at the countless stars and admire the constellations.
Forget about the cares of the world and simply relish the beauty of the night sky. Feel the sound of the waves crashing below, and the cool breeze gently brushing your skin. Stargazing from the Negril Cliffs will provide a memory to last a lifetime.
48. Experience Luxury at Bluefields Bay Villas – Best Hotels in Jamaica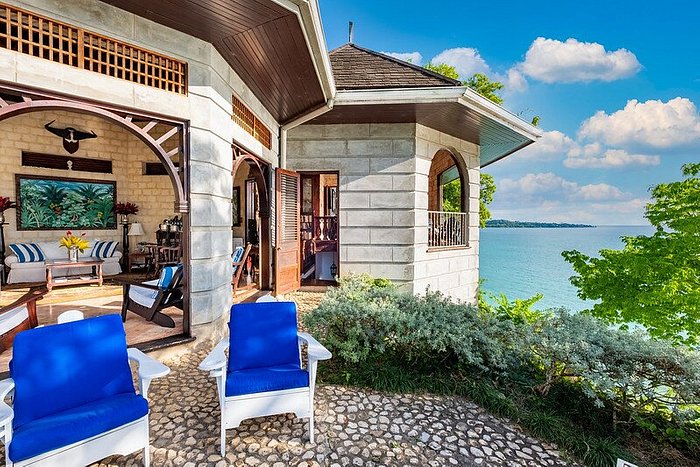 If you're looking for a luxurious experience in Jamaica, Bluefields Bay Villas is the place for you! Situated in one of the most serene and surreal places in the region, you can sip rum on the patio and soak up the beautiful sounds of nature.
Guests of Bluefields Bay Villas are treated like royalty, with a full staff consisting of a chef, housekeeper, butler and nanny ready to give you the royal treatment.
The villa, Mullion Cove, features a beach front perfect for kayaking, paddle boarding or just sunbathing. For those who want to arrive in style, Bluefields offer a helicopter transfer from the airport.
You won't want to leave once you've stayed at Bluefields Bay Villas! Book now!
49. Drinks at Pelican Bar- Treasure Beach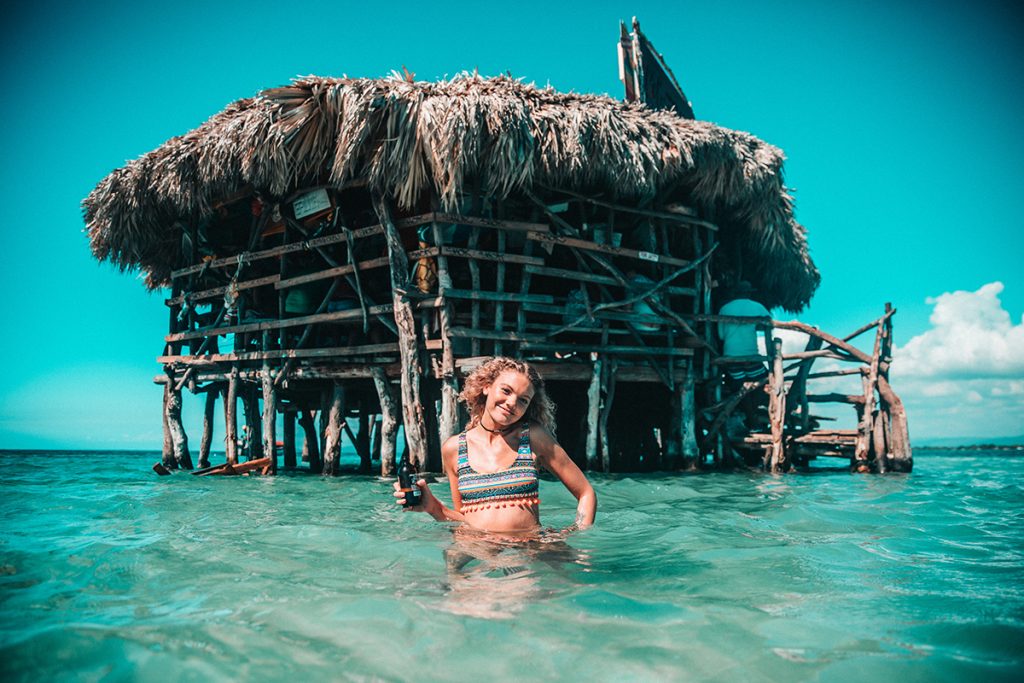 Pelican Bar in Jamaica's Treasure Beach is an iconic bar built on a wooden platform out in the middle of the Caribbean Sea.
The bar serves all types of refreshing tropical drinks, including Planter's Punch, Breezers, Margaritas and classic Jamaican rum cocktails.
Pelican Bar is an ideal spot to sit back, relax and sip on a refreshing beverage while watching the sun set. The bar can accommodate large groups, perfect for a private beach party or sunset cruise.
Locals and tourists alike flock to this secluded spot for their daily dose of island vibes.
Pelican Bar is Jamaica's true hidden gem and a must-visit for anyone visiting this beautiful Caribbean nation Visit Harwood Caves for some adventure!
50. Stroll through Emancipation Park- Kingston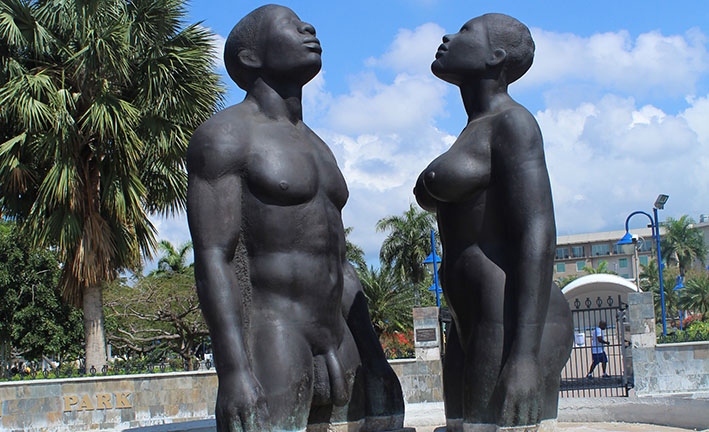 Emancipation Park is Emancipation Park is an 8-acre oasis stunning green sanctuary in the Kingston, Jamaica. It's a stunning place to stroll through and observe its rich natural beauty and rich history.
Visitors can learn about the park's important role in helping the slaves win their independence from the British.
At the center of the park stands a memorial to the freedom-fighters, and the main entrance is marked with eerie statues commemorating those who perished in the emancipation struggle.
Stroll through this park and take time to appreciate its splendid natural setting while contemplating its strong legacy of freedom and justice.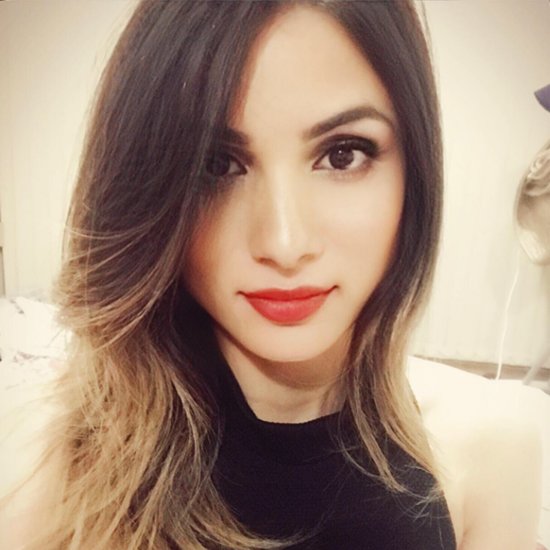 Hello, and welcome to Travel Crog, a site where I share my travel advice for your dream vacations. My name is Molly Martin, and I'm the founder and editor-in-chief of this site. I have a passion for travelling and exploring new destinations, and I want to inspire you to do the same. Six years ago, I left my job as an HR professional and embarked on a three-month trip around the world. It was an amazing experience that changed my life and perspective. Ever since then, I have been travelling as much as I can, and writing about the best things to do, see, and eat in every place I visit. Whether you're looking for a city break, a beach getaway, or a mountain adventure, I have something for you. Travel is not only fun, but also empowering and enriching. Join me on my journey and discover the world with Travel Crog. My motto is: "Life is short, travel more."