Take A Day Trip From Miami to The Bahamas

A Short Trip to Paradise Island – Miami to Bahamas Day Trips
A day trip to the Bahamas is actually a short journey to paradise. The Bahama Islands are only 60 miles away from Miami and Florida's southern coast (58,8 miles to Bimini and 96,7 miles to Freeport, in Grand Bahama island). There are crystal-clear waters in the Caribbean and peace and quiet in the Bahamas, just a short distance from bustling Miami, which is overflowing with people, traffic, and high-rise office buildings.
This place is filled with hundreds of beaches and water-related activities that will keep you entertained throughout your time here.
The Bahamas are a collection of more than 700 islands, well known for their year-round tropical weather, fish- and shellfish-centric cuisine, and breathtakingly stunning, untouched virgin beaches. A day trip from Miami to this tropical island is nothing but heavenly.
Tours & Things to do hand-picked by our insiders
The Bahamas is a fascinating site because of its deep historical and cultural heritage: The distinctive art, music, and cuisine the islands' vibrant past has produced are all around the enthusiastic tourists.
Interesting wildlife can be found on land, in the ocean, and on coral reefs, showcasing the archipelago's robust biodiversity. Furthermore, guests won't be bored with their experience thanks to activities like island hopping and a selection of exhilarating water sports. The Bahamas, in essence, have everything.
The peak season for tourism starts in mid-December and ends in mid-April in The Bahamas, and that is often considered the best time to go, as more activities are happening in the islands during this time.
Why Go On A Trip From Miami To Bahama?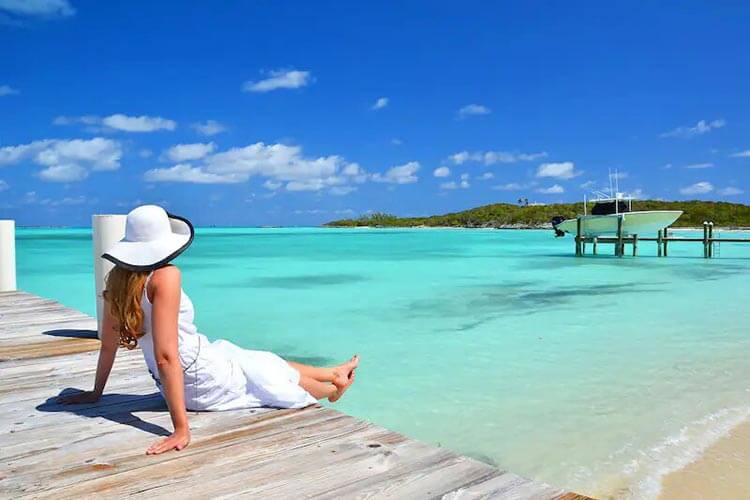 You probably picture yourself lounging on a beautiful, powdery beach or spending the entire day snorkelling in the clear, blue waters of the Bahamas when you imagine a day excursion from Miami. But the nation of over 700 islands in the archipelago is home to more than simply stunning beaches.
The Bahamas is a fantastic vacation for everyone because of a variety of gems, like its enigmatic underwater plane wrecks and diverse animals.
So, why is the day trip from Miami to Bahama becoming popular? Lately, everyone in Miami wants to travel to the Bahamas: some want to take a day trip and explore Bimini, others – the younger ones – want to celebrate Spring Break on the beaches of Grand Bahama with all-inclusive, and couples prefer to unwind on the white sand beaches and clear water to celebrate Memorial Day, for instance.
Bahamas Day Trip from Miami – one of the top things to do in Miami: Unique Bahamas Island Hopping Tours to the Exuma Cays, Harbour Island Bahamas and the Abacos Islands. Take a boat excursion to the swimming pigs, included in your Bahamas Day Trip.
Day Trip To Bahama
Bimini is the closest Bahamas island to Florida, which can be reached in two hours by ferry from Fort Lauderdale (30 to 45 minutes drive from Miami).
Balearia Caribbean, a shipping firm, has its headquarters in Fort Lauderdale, from where the ship Jaume II departs daily for the Bahamas (sometimes to Bimini and other times to Grand Bahama – Freeport).
To catch the Bimini boat, keep in mind that you must arrive at the passenger terminal three hours prior to the planned boarding time. One hour before the ferry's scheduled departure, boarding is closed. After that point, Balearia Caribbean won't permit you to board the cruise. In order to catch the ferry to the Bahamas, we urge you to be at Port Everglades well in advance.
Ferry travel to Grand Bahama from Miami-Fort Lauderdale takes three hours. It is simple to travel to the Bahamas for 2, 3, 4, or 5 days and stay in some of the hotels there because Miami, Florida and the Bahamas islands are so close together.
Continue reading to learn more about what you can do on a Miami to the Bahamas day excursion.
Looking for a weekenders bags? You may like to read our review about travel bags.
Ferry or Crusie day trip or Air Tour- How to go from Miami To Bahama?
Four ways to get to the Bahamas from South Florida for a day trip.
Ferry from Fort Lauderdale or Miami to the Bahamas
Private Contract Boat
Private Charter Plane
International Flight
FERRY- The least expensive way to travel to the Bahamas for a day from Florida is by ferry from Miami. The ferry tickets will cost you about $198- $340 plus VAT per person to visit Grand Bahama or Bimini Island (round trip).
Depending on what time of year you want to visit, different seasons have different prices from Miami (Fort Lauderdale).
CRUISE- Cruise ships have bars, entertainment, and swimming pools if you take a cruise day trip. Your vacation starts the moment you board a flight to the Bahamas from Miami. The ship typically features a small cafeteria but no swimming pool.
Cruises make for a soothing visit to nearby islands. Ferries to Freeport from Miami need as little as 2.5 hours. That will leave you with around six hours to enjoy the beaches, jungles, restaurants, shops, and Grand Bahamas casinos, a cheaper way to go on a day trip to Bahama. On the other hand, air tours are better if you want to see more than one island.
A benefit to this travel mode is that many cruises offer excellent onboard services and even luxury. Your 1-day cruise to Miami Bahamas Rates starts at $69.98 plus tax per person.
You can also book 2, 3, or 4-night cruises with a room onboard the cruise ship for as low as USD 199, making visiting the Bahamas from South Florida a cheap weekend trip.
AIR TOUR- Here is a quicker way to begin your day excursion to the Bahamas. Bahamas Air Tours offers one-day trips from Miami that, because of the reduced travel time, enable island hopping once you get to your destination. The three cays—Green Turtle Cay, Manjack Cay, and No Name Cay—can all be visited on one terrific day, thanks to the package bargains! Other alternatives this tour operator offers include snorkelling in the James Bond Thunderball Grotto, going to sand bars, and seeing stunning wildlife—all of which can be done as a one-day trip from Miami. On request, small groups can take private charter flights.
The prices for the tours range from around 500 to 1,000 dollars. The high season is considered to be January, November and December. The cheapest month to fly to The Bahamas is August. Book at least 3 weeks before departure in order to get a below-average price.
The Cost
Cruises on ferries are typically less expensive. You can frequently travel from Miami to Freeport, Grand Bahama, for about $100 roundtrip. For instance, one-day journeys to and from Freeport start at about $160 on Viator. The Balearia Caribbean ferry typically costs around $99 each way from Miami to Freeport and back. Some cruises, particularly the two-day ones, frequently include dinner as part of the fee. However, be sure to confirm that you are responsible for paying for your own meals and lodging (you usually do). A 2-day trip to the Bahamas will cost $398 + taxes (including ferry and hotel package), and a 3-day trip to the Bahamas will cost you $698 + taxes (including ferry and hotel package).
The prices for the air tours range from around 500 to 1,000 dollars. The high season is considered to be January, November and December. The cheapest month to fly to The Bahamas is August. Book at least 3 weeks before departure in order to get a below-average price.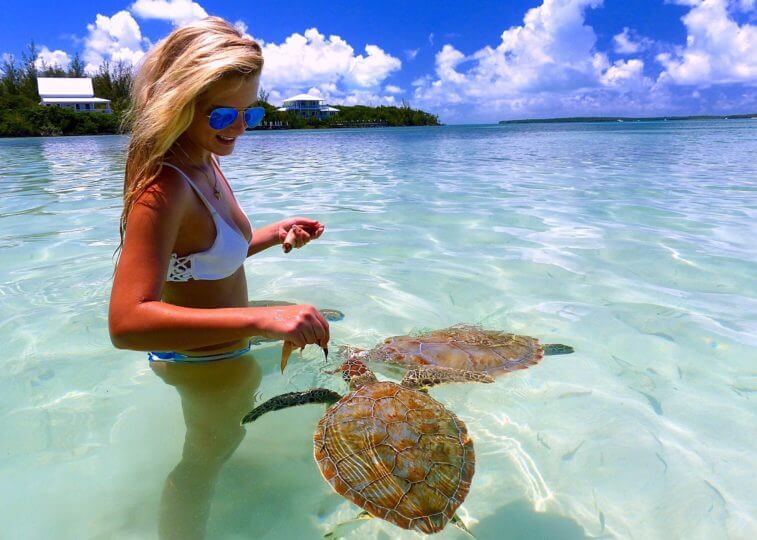 Things To Do In Bahama On A Day Trip
Now that you have decided how you want to go to Bahama, let's see what attractions and activities are waiting for you at Paradise Island.
There are even replacements for beach lovers wanting to avoid the beautiful yet often busy beaches of Grand Bahama. You look like some delightful swimming pig. It looks like some pictures now: A colony of wild pigs lives on Big Major Cay Island. They are interesting swimming companions and one of the top things to do in the Bahamas.
Guided Tour to New Providence and the capital Nassau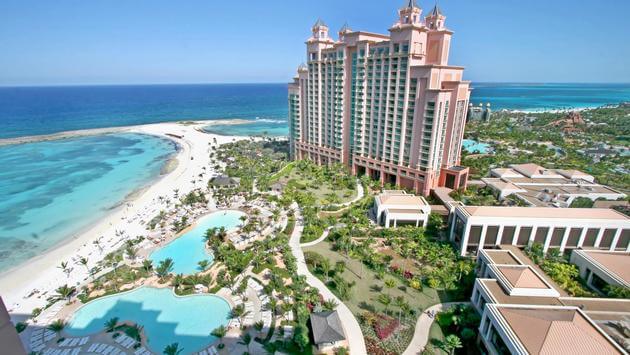 This tour will introduce you to Bahamian culture while you scooter through Nassau's tropical streets. Visit historical sites like the Queen's Staircase and Fort Fincastle, inhale the spiciness of the Rum Cake Factory, and learn about the origins of Junkanoo at the National Art Gallery.
Go Iguana Spotting at Bitter Guana Cay
Take a day trip to the Bahamas from Miami and visit the popular Bitter Guana Cay to get away from it all. The Northern Bahamian Rock Iguana, whose scientific name is Cyclura cochlea and means "circular tail" in Greek, lives in this tropical paradise with other creatures that have been around for three million years.
Bitter Guana Cay not only has Iguanas, but it also has a number of alluring beaches where you may swim and discover the colourful underwater world. Not too far from here is Nicholas Cage's private island. So, if you have sharp eyes, you might spot a star unwinding on his island.
Speedboat, Snorkel & Swimming with Pigs Tour at Big Major Cay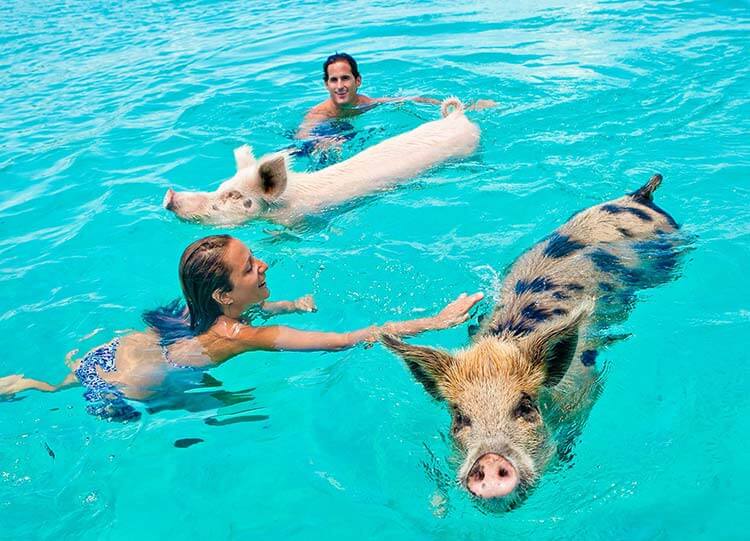 Big Major Cay welcomes you into the water with a herd of local Exuma pigs and piglets, which is frequently recognized as one of the best things to do on a day trip from Miami to the Bahamas.
There are several stories regarding how these pigs arrived on the island (from being left behind by sailors to the relocation of pig farms on Staniel Cay). Their origin is still up for debate. Regardless, we are simply happy that these adorable animals are now present to support the local economy by bringing in millions of tourists every year.
Enjoy the rush of shark swimming. Don't worry; these sharks are incredibly friendly and will even approach the docks to meet you and offer you their back to the pet. For more wildlife encounters, you can go on dolphin-watching tours too. Book your tours now!
Lunch at The Pearl Island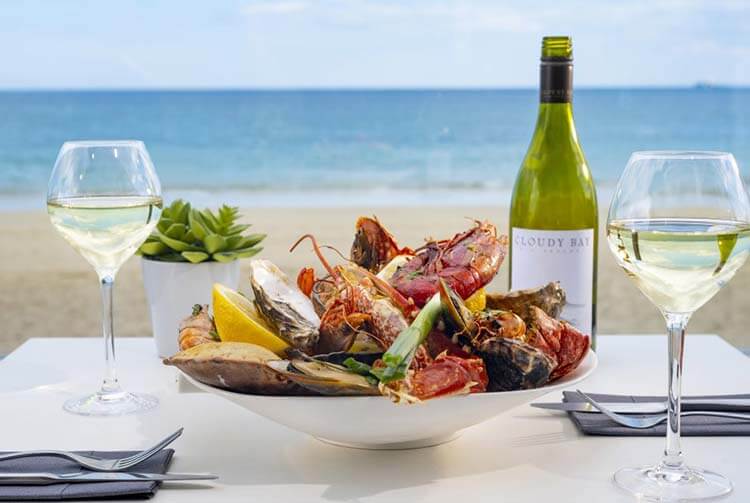 Spending a day on Pearl Island in your luxury cabana will make you feel like you're on cloud nine. Discover the island's lighthouse with breathtaking views of the surrounding seascape as you stroll along the two lovely beaches.
Embark on a boat in Nassau to begin your journey, then take it quickly to Pearl Island. Want to go swimming? Take a quick plunge in the inviting turquoise waters without worrying. Paddleboarding or kayaking are options if you're feeling adventurous.
Enjoy a typical Bahamian meal in your cabana, including BBQ chicken, fish fingers, peas, rice, and plantains. Finally, unwind and enjoy some sun towards the end of the day before taking the ferry back to Nassau.
Go For Sunset Catamaran Dinner Cruise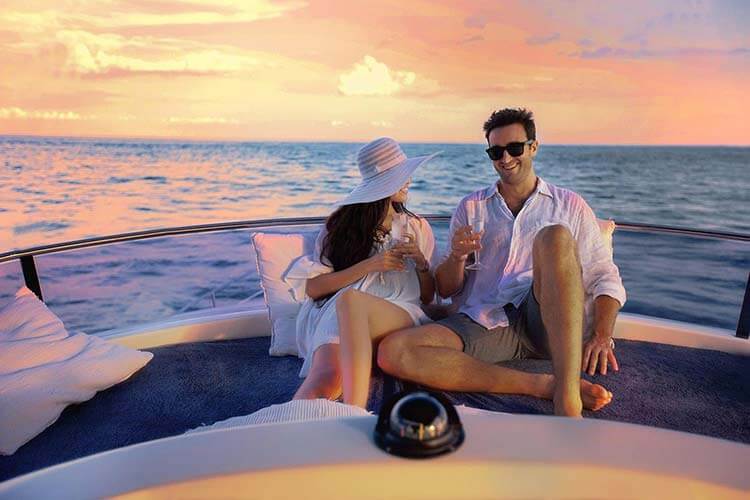 The party starts as soon as you join Seahorse Sailing for this two-hour trip. Enjoy a really unique dining experience as you sail through Paradise Island Harbor with beautiful views of Atlantis and amazing sunsets over the horizon on board our sailing catamaran, which exudes subtle elegance.
A night spent unwinding and taking in the wonders of the Caribbean is one that will never be forgotten.
Entrance to the Thunderball Grotto of 007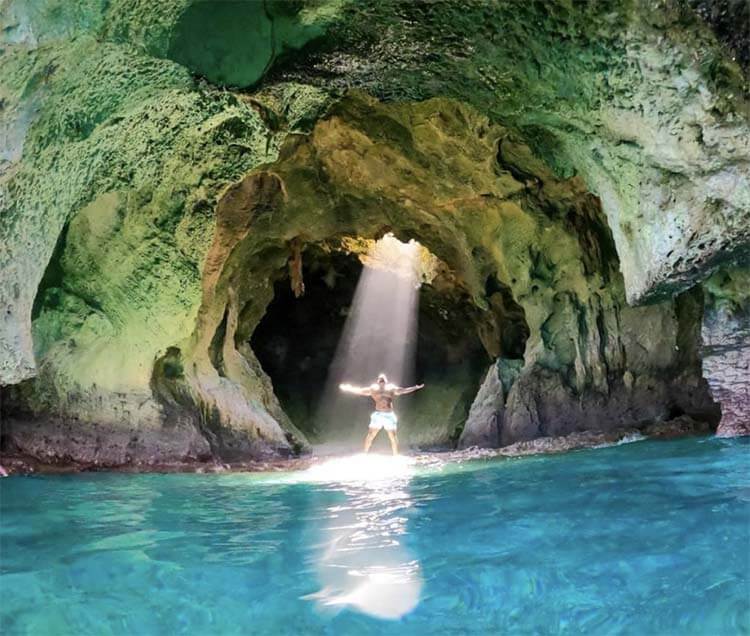 Do you recall the thrilling underwater action sequence from the 1965 James Bond film Thunderball? Now you can take a day excursion from Miami to the Bahamas and visit the shooting location.
After the popular film, Thunderball Grotto is a strange underwater cave network that will test any adrenaline seeker. Daredevils can gently scale the cave's ceiling and experience the thrill of jumping in.
Snorkelling offers a more subdued approach for people who aren't as daring.
Island hopping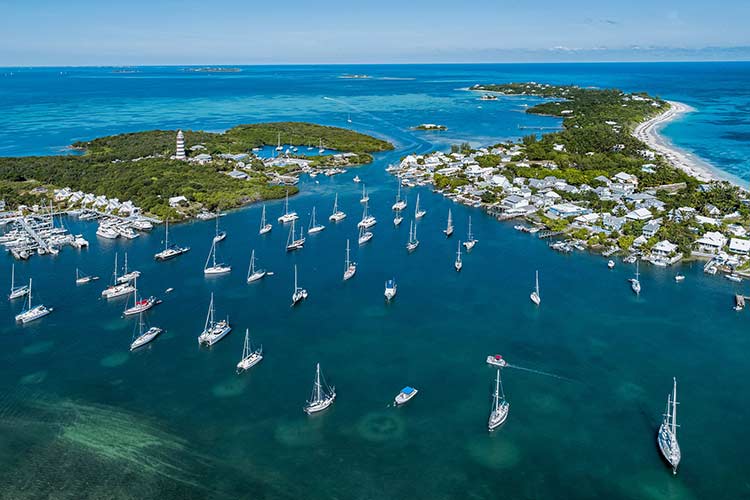 Everything will depend on how active you and your group feel and how much you want to see before booking a Miami to Bahamas day trip. You don't essentially have to choose one island to head to.
If you're opting for a one-day Bahamas ferry trip from Miami, Freeport is a good option on Grand Bahamas Island for a five- to six-hour experience on this general island. If you wish to see the Out Islands, a ferry to Bimini can take only two hours. Air tours can allow you to see some islands in one short day trip.
The fee for the in-Grand Bahamas Island travel is comprised of the price. Two-day boat cruises with an overnight stay may also allow more time for you to make small boat trips to nearby islands.
Things To Keep In Mind
Americans travelling to the Bahamas must have a passport that is still valid at least six months after the date of their return. It's advisable to include documentation of your return trip.
Remember to allow plenty of time, just as you would for any other flight, to pass through security and customs if you travel by air.
However, this information should be made apparent if you're making an air charter tour reservation. The Bahamian dollar (BSD) is the official currency of the Bahamas. However, it is also accepted elsewhere on the islands as a form of payment (their values are equal).
English is the official language of the Bahamas. Visitors will hear and be able to comfortably speak in English, in addition to a variety of vibrant local dialects.
Overall, getting to the Bahamas from Florida is fairly simple, which is another reason why these vacations are growing in popularity.
To avoid disappointment, make sure to reserve your day excursion from Miami to the Bahamas early. Once you've done that, everything else should go swimmingly (or effortlessly).
What paperwork will you need for a day trip to the Bahamas?
Conflicting to popular belief, US Residents, US Citizens, and visitors need a passport to go to the Bahamas, even for a day trip. Visitors need a valid ticket. State IDs and birth certificates are not applicable.
Any ferry that tells you otherwise does not plan on docking at the Bahamas and letting you off the boat.
You must provide the following information at the time of booking: hotel location, traveller names, nationalities, gender, passport numbers, dates of birth, and expiration date of passports.
Your reservation cannot be guaranteed without these details.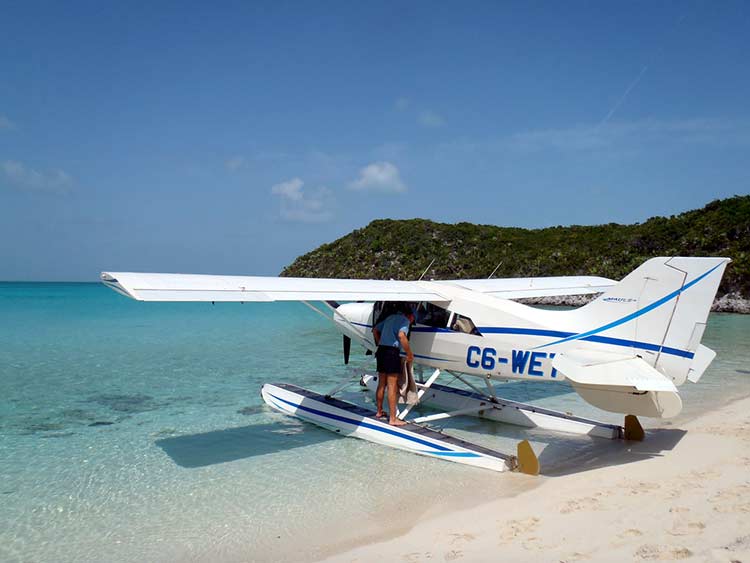 Why you should not fly to the Bahamas from Florida, United States
Ferries are less preventive about the baggage fees while also giving you a great ocean view during your Bahamas cruise. Your vacation starts as soon as you're on the ferry.
Cheap day trips by plane are not possible. A private plane trip for a one-day trip to the Bahamas averages $700 per passenger for a 6-hour day in Bimini. Flights to the Bahamas from Fort Lauderdale Airport, Miami International Airport, or Palm Beach International Airport average $250 round trip in the slow season.
Taking a ferry to the Bahamas takes an average of 2.5-3 hours, which is about how early you would need to arrive at an airport for an international flight.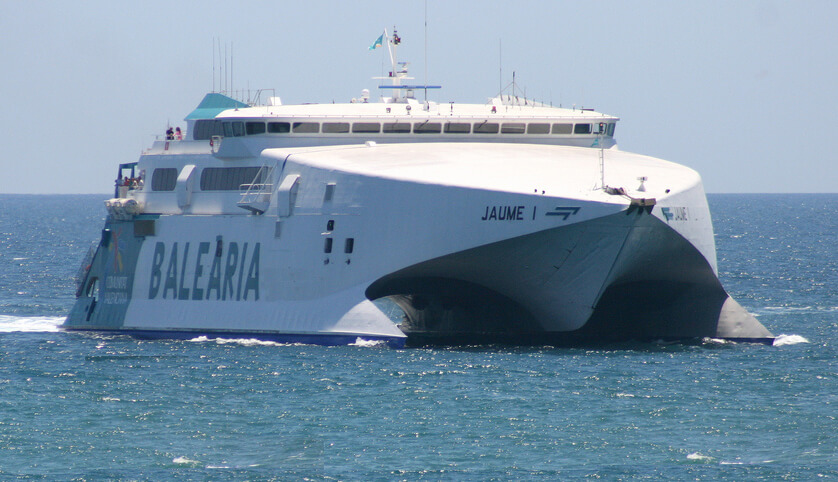 Miami Ferry to the Bahamas and Fort Lauderdale Ferry to the Bahamas
Two main ferries offer day and multi-night trips from Miami to the Bahamas. Fort Lauderdale that are credible and trusted by tourists and Floridians alike. Departing from Miami is FRS Caribbean, which only goes to Bimini, the Bahamas, the perfect setting for a day trip. (price may vary)
The most popular service offering one-day trips to Freeport is Balearia Caribbean, located on Grand Bahama Island. This can get you from Fort Lauderdale (a 35-minute drive from Miami) to Grand Bahama in three hours and 20 minutes.
Many boats claim to charge as little as USD 69 for round-trip day tickets to the Bahamas. When we examined these companies, they were not transparent about the vessel and had little to no public reviews, making us feel safe.
Instead, we opted to spend more on a larger container with a public safety record and knowledge about immigration and customs. We had thousands of customer reviews on Tripadvisor, Groupon, and Google.
FRS Caribbean
Departs: Port of Miami, Florida 9 AM and Departs Bimini at 6:30 PM.
Destination: Port of Bimini, Bahamas.
When: every day except Tuesdays.
Check their website for accessibility.
Cost: $69.95 for taxes, Hilton Resort Fee ($10) for Day Trips, and $250-$350 round-trips for extended stays (3-10 nights), not including hotel.
Departs: Port of Fort Lauderdale.
Destination: Grand Bahama Island.
When: Every Day except Tuesdays.
Cost: $119 Day Trip or $149 Multi-Day.
This information should be clear when booking an air charter tour. The national language of the Bahamas is English. Other than an array of colourful local vernaculars, English is what visitors will hear spoken and will securely communicate in.
Travel to the Bahamas from the Florida United States is very up-front. Another reason why these trips are becoming so popular. Do make sure to book your Miami to Bahamas day trip in advance to avoid disappointment. Once you have, it should be plain sailing from there.

FAQ:
How long is the boat ride from Miami to the Bahamas?
The main city of this island is Freeport, which is just 110 miles northeast of Miami, The journey by boat can be as short as 2.5 hours, so it's an excellent choice for a Miami to Bahamas one-day trip.
Is there a ferry from Florida to the Bahamas?
Operates the Balearia Alhuecemas fast ferry service between Port Everglades, Florida (USA), and Grand Bahama Island. This 45-minute ferry ride operates twice daily between Crown Haven, The Abacos, and McLean's Town, Grand Bahama Island – 8:30 a.m. and 4:30 p.m.
How much is a boat ride from Florida to the Bahamas?
1 Day cruise, leaves Fort Lauderdale Port Everglades, rates starting at $73 plus tax per person.
How far are the Bahamas from Miami, Florida?
The distance between Bahamas and Miami is 154 miles.
Can you see the Bahamas from Miami?
A developer claims you'll actually be able to see the island from the top of his new skyscraper. Bimini is just a little more than 52 miles off downtown Miami's coast (closer than West Palm Beach).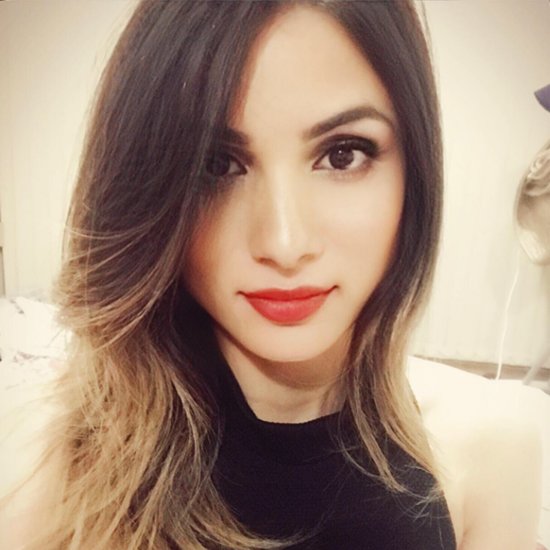 Hello, and welcome to Travel Crog, a site where I share my travel advice for your dream vacations. My name is Molly Martin, and I'm the founder and editor-in-chief of this site. I have a passion for travelling and exploring new destinations, and I want to inspire you to do the same. Six years ago, I left my job as an HR professional and embarked on a three-month trip around the world. It was an amazing experience that changed my life and perspective. Ever since then, I have been travelling as much as I can, and writing about the best things to do, see, and eat in every place I visit. Whether you're looking for a city break, a beach getaway, or a mountain adventure, I have something for you. Travel is not only fun, but also empowering and enriching. Join me on my journey and discover the world with Travel Crog. My motto is: "Life is short, travel more."