Santa Fe is a wonderful city located in New Mexico. There are so many beautiful places to visit here.
We will discuss some of these places here today.
Those who want to visit Santa Fe can visit these places if they wish to.
1. El Rancho De Las Golandrinas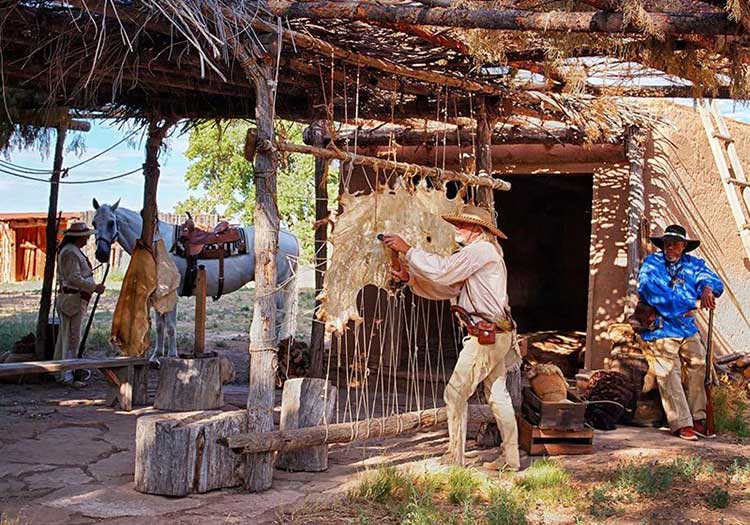 El Rancho de las Golondrinas or Swallows' Ranch is a living history museum. The museum seeks to show what life was like in the countryside south of Santa Fe in the 18th and 19th centuries. The 200-acre complex has reconstructed buildings from the early 1700s and other parts of the state. Museum staff members wear period clothing.
The museum hosts various events, including the Santa Fe Harvest Festival every fall and the Santa Fe Renaissance Fair in September.
The costumed guide here is very knowledgeable and personable, so visitors are advised to visit. Many people recommend wearing comfortable shoes because you have to walk a lot to see all the exhibits.
Address: 334 Los Pinos Rd, Santa Fe, NM 87507, United States
Phone: +1 505-471-2261
2. Meow Wolf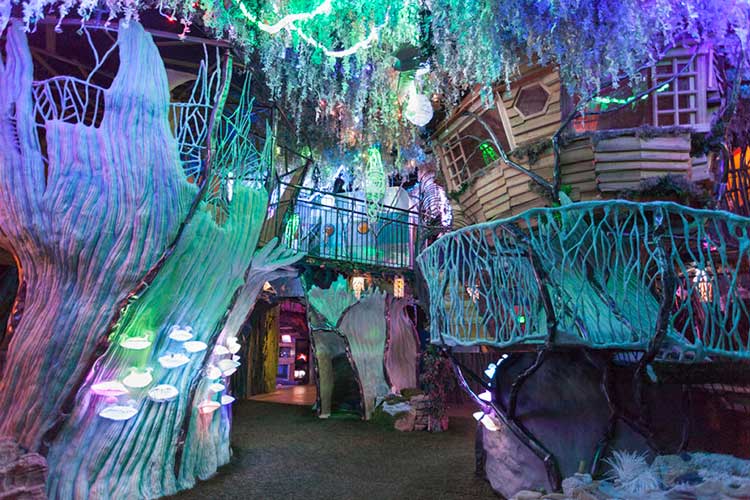 Meow Wolf is an art and entertainment conglomerate formed in 2008 with hundreds of artists. But many people use the same name to describe the group's main interactive installation, the "House of Eternal Returns." This otherworldly, over-the-top, impossibly-described immersive installation is located in a 20,000 square-foot space. It was established in 2015. It quickly became a major permanent attraction in the city, offering viewers a world tour full of scenes and settings suitable for a sci-fi movie. Here tourists will find hidden doors, other world portals, mysterious hallways, strange music, and fascinating works of art. It was formed in 2015. These wonderful exhibits quickly became a major permanent attraction in the city, and many tourists visit here every year to see them. If you want to follow the arc of the mysterious story about the "family" who supposedly lived there (and disappeared), you can, but you don't have to do it to enjoy the show.
Recent visitors have spoken of unusual experiences, different from what they have not seen, and suggest giving others plenty of time to explore. Other reviewers say it's fun for all ages, though some say tickets can be expensive for a family. They further suggest that you be prepared for crowds and visual disturbances as you enter the exhibition.
Address: 1352 Rufina Cir, Santa Fe, NM 87507, United States
Phone: +1 505-395-6369
3. Bandelier National Memorial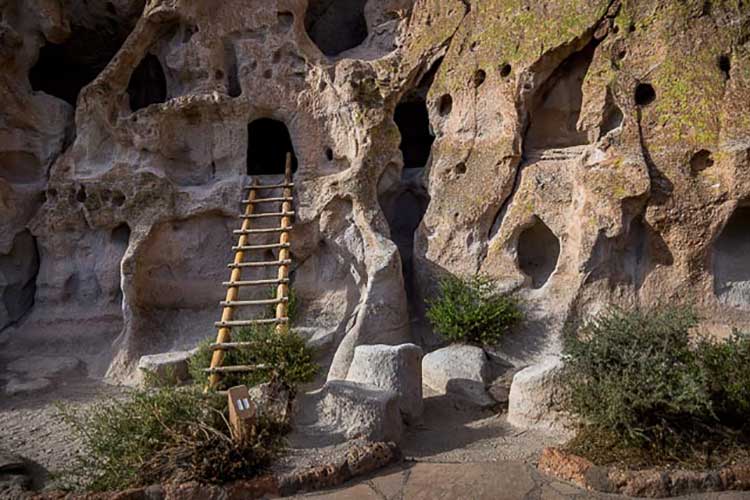 Centuries before the Europeans invaded North America, the Southwest was divided into several city-states controlled by Native Americans. At the Bandelier National Memorial, visitors can find the remains of one of these settlements. At the base of the Frizols Canyon are ancient cave dwellings and other stone structures belonging to the ancestors of the Pueblo tribe. You can follow the paved trail through the village and climb the wooden stairs to the cave by yourself to explore the settlement. After visiting the monument, take advantage of the surrounding park, the entire park with 33,000 acres of backcountry desert, wildlife, and more than 70 miles of hiking trails. Travelers say getting there from downtown Santa Fe is a bit time-consuming. The place is ideal if you want to enjoy and explore outside. The children's families say their kids love it because they can see the cave-dwelling by climbing the stairs. You have to be more discriminating with the help you render toward other people.
Located about 40 miles northwest of Santa Fe, Bandelier National Memorial is open to visitors daily from dawn to dusk. The visitor center is open from 8:30 am to 4:30 pm Daily from mid-May to mid-October; visitors must take a shuttle bus from the White Rock Visitor Center to enter the main visiting area of ​​the Bandelier National Memorial between 9 am and 5 pm. The shuttles run about every 30 minutes on weekdays and every 20 minutes on weekends. The last shuttle leaves Frizols Canyon Visitor Center at 5 pm Critics often suggest going to less popular times.
Address: 15 Entrance Rd, Los Alamos, NM 87544, United States
Phone: +1 505-672-3861
4. Museum Of Indian Arts And Culture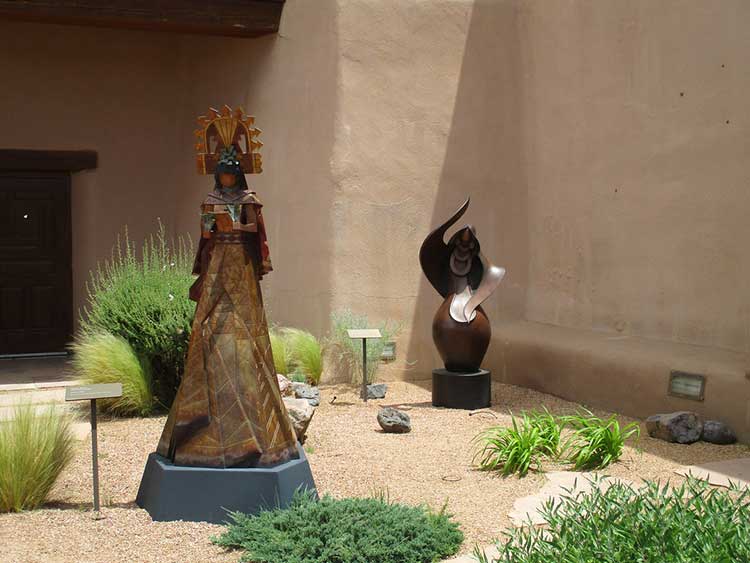 The Museum of Indian Arts and Culture, part of the Museum of the New Mexico System, has been created to tell the story of Southwestern Indigenous peoples from prehistory to the present day. Its collection includes more than 75,000 objects, including sculptures, baskets, pottery, jewelry, textiles, and an ancient 151-foot-long hunting net made of human hair. The museum hosts various events throughout the year, such as exhibitions and lectures on indigenous pottery and educational programs.
Visitors to the museum describe the institution as small, but its masterful educational exhibits are worth seeing.
Address: 710 Camino Lejo, Santa Fe, NM 87505, United States
Phone: +1 505-476-1269
5. Georgia O'Keeffe Museum
Renowned artist Georgia O'Keefe was inspired by Santa Fe's fiery landscape, and soon her portrayal in New Mexico made her one of the top artists in the Southwest. There are about 700 paintings, 140 oil paintings, more than 100 watercolors, and multiple casts of O'Keefe's three sculptures and 2,000 more works by his colleagues at the museum. This wonderful museum is spread over nine galleries.
O'Keefe fans usually enjoy this place. Many people recommend free audio tours. (Be sure to bring your earbuds.). However, some patrons say the museum is too small and should exhibit more work.
Address: 217 Johnson St, Santa Fe, NM 87501, United States
Phone: +1 505-946-1000
6. Santa Fe Skiing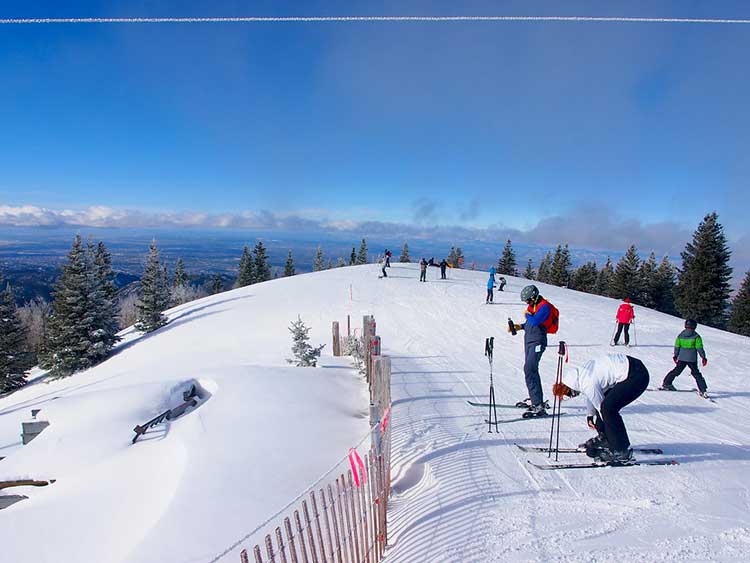 The place may seem amazing to some visitors, but it is home to some of the top ski spots in southwestern New Mexico. The ski season usually extends from late autumn to early spring, with many resorts receiving up to 300 inches of snow annually. There are four main ski areas, all limited to a two-hour drive from Santa Fe.
The nearest mountains area Ski Santa Fe (about 15 miles northeast of Santa Fe), which is home to 86 runs and 660 acres; Pajarito Mountain Ski Area (about 40 miles northwest), with 44 trails and 750 skiable acres; And Sipapu Ski and Summer Resort (about 60 miles northeast), with over 41 tracks, four terrain parks, and 215 skiable acres. Those hoping to tackle a larger mountain with more diverse terrain can head to Taos Ski Valley, a little farther north, about 90 miles north of Santa Fe, and proud of its 1,294 acres and 110 trails.
The four facilities feature all skill levels and terrain for site amenities such as bars, restaurants, shops, lessons, and much more. Visitors who have tried Ski Santa Fe appreciate the town's proximity and say that a shuttle (RTD Mountain Trail bus) runs from downtown Santa Fe to the mountains for a reasonable fee, easy to access. Skiers say the snow quality was great, the views were impressive and there were rarely lift lines.
Sipapu and Pazarito are acclaimed for being the new skiers and a good fit for the family, with travelers talking about affordable accommodation, fewer crowds, and support staff members. Meanwhile, Taos Ski Valley has earned much praise for its challenging terrain, long races, and relaxing environment.
Address: 905 S St Francis Dr, Santa Fe, NM 87505, United States
 Phone: +1 505-983-5512
7. Cathedral Basilica Of St. Francis Of Assisi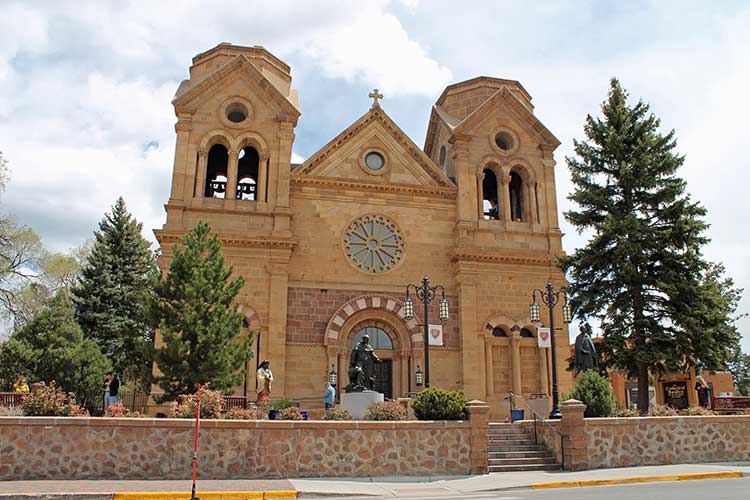 If you are an architect buff, take a few days to visit the Cathedral Basilica of St. Francis in Assisi. It is located on a block east of Santa Fe Plaza, separate from Adobe Skyline. Built-in 1869, the cathedral's main purpose was to help bring Catholicism to the Southwest. Sitting next to the cathedral is a small adobe chapel. It remains an earlier church destroyed during the 1680 Pueblo Rebellion. It contains the oldest representation of the Virgin Mary in the United States.
This magnificent historic church has received similar acclaim from tourists and Santa Fe residents. Visitors say you need to wander around, take in the beautiful stained glass windows, and find a dossier to help explain some of the church's history.
Address: 131 Cathedral Pl, Santa Fe, NM 87501, United States
 Phone: +1 505-982-5619
8. Santa Fe Farmers Market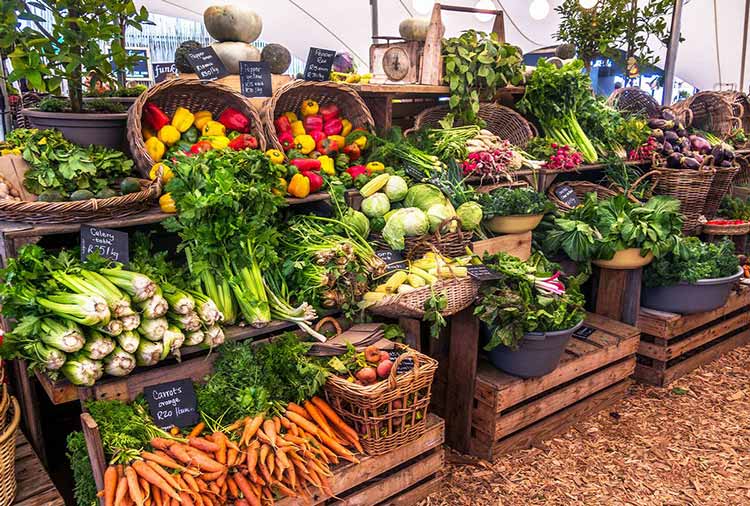 Whatever your reason for visiting Santa Fe – whether it's to see art on Canyon Road or to ski down the slope – take some time to check out the Santa Fe Farmers Market. It is open all year round. Here you will find dozens of vendors selling everything from locally produced products, flowers, and cheese to baked goods, cider, and honey. There is also a snack bar where coffee and other local food are sold to the public. At the nearby
Railyard Artisan Market, artisans sell beautiful handmade jewelry and ceramics. Recent visitors have been fascinated by this farmer's market, especially because of the variety of fresh produce and the sensual stimuli (from colorful vegetables and fruits to the aroma of fresh flowers and spices). According to some travelers, the only downside was that the place was crowded; many suggested going there early to avoid crowds.
Address: 1607 Paseo De Peralta, Santa Fe, NM 87501, United States
 Phone: +1 505-983-4098 
9. New Mexico State Capital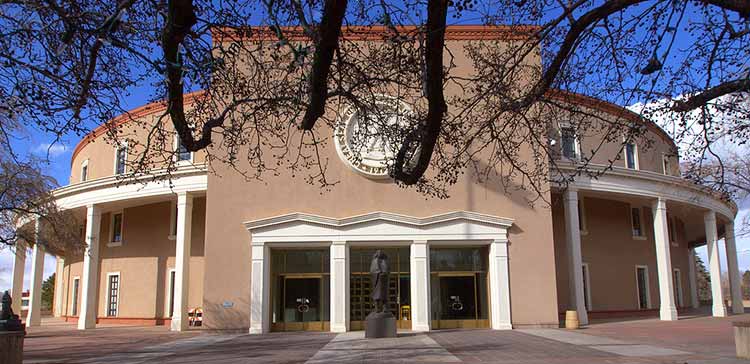 The New Mexico State Capital is known to many as the Roundhouse. McKee designed it for the shape of the sun by architect Robert E., which adorned the state flag. The 232,000 square-foot structure – the only circular capital building in the country – has a 60-foot central Rotunda. Outside of its distinctive architecture, Capitol is a sight to behold in the interests of art.
It contains about 600 works, including art collections, managed by the Capitol Art Foundation, painting, sculpture, photography, and more. Additionally, the Governor's Gallery on the fourth floor serves as an arm of the New Mexico Museum of Art and hosts several special annual exhibitions for visitors. The 6 1/2-acre-ground of the building has more than 100 native plants and the outdoor industry.
Visitors are regularly enthusiastic about the industry, and many notice that the staff is very friendly. Many have also praised Capitol's unique circular style.
Address: 490 Old Santa Fe Trail, Santa Fe, NM 87501, United States
 Phone: +1 505-986-4589
10. Palace Of Governors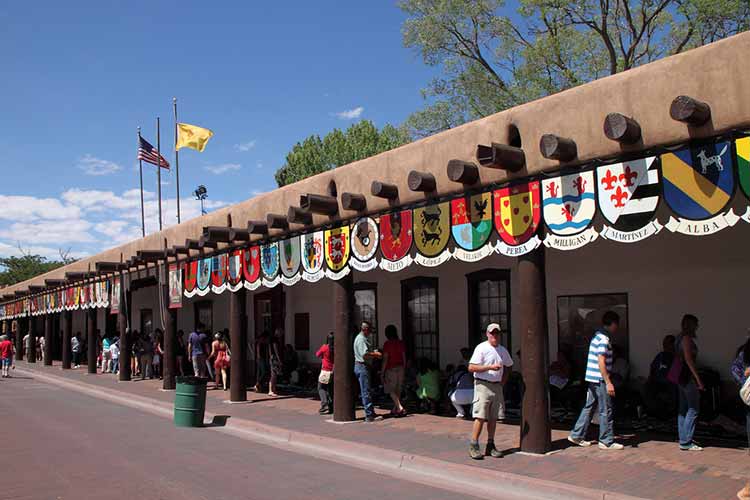 Built-in 1610, the Governor's Palace was the main capital of New Mexico. It has been in public use for longer than any other building. Its adobe structure was the site of the Pueblo Rebellion in 1680 when the Pueblo Indians successfully drove the Spanish invaders out of Santa Fe (who then fled to El Paso). Today, the National Historic Landmark displays more than 400 years of state history (officially part of the New Mexico History Museum). Outside, Native American artisans sell handmade souvenirs, jewelry, and more.
Recent travelers have stated that they have gained much knowledge by visiting the site, noting that the guides provided insights into the building's past and New Mexico history and taught vendors their various crafts and sales items (and were 'very pressed').
Address: 105 W Palace Ave, Santa Fe, NM 87501, United States
Phone: +1 505-476-5100
11. Museum Of International Folk Art
It is probably the most obsolete and diverse museum of all the museums operated by the New Mexico Department of Cultural Affairs. Southwestern art is certainly represented, but the Museum of International Folk Art exhibits more than 130,000 pieces to the public, including exhibits representing the daily life of society around the world. This museum will find African, Asian, Middle Eastern, contemporary Hispanic and Latin, European, North American, and Spanish colonial pieces ranging from household items, ceramics, and paintings to dolls and costumes. Don't worry about disturbing your kids: the huge collection of colorful toys worldwide is sure to give birth to their curiosity.
Visitors to the past museum have said everything from beautifully curated places to eclectic, with many adding that there is something for everyone to see. Visitors loved the strange, colorful art. Their opinion – they have spent more time on the show than they imagined. They suggest taking a tour for more insights into the collection.
Address: On Museum Hill, 706 Camino Lejo, Santa Fe, NM 87505, United States
Phone: +1 505-476-1200
12. Santa Fe Opera House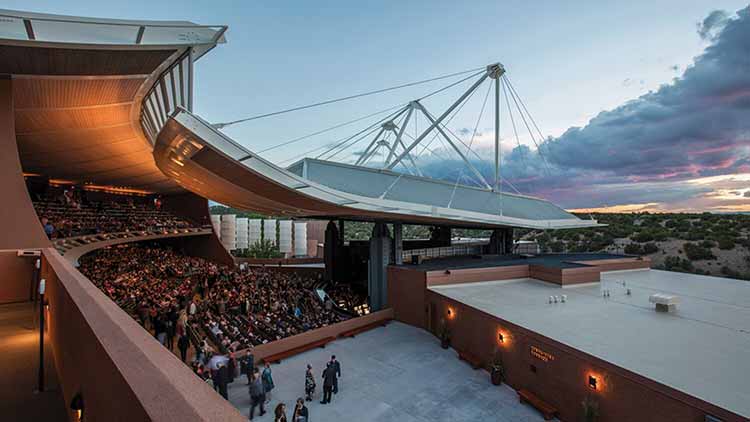 The Santa Fe Opera House is a world-famous venue that hosts a variety of opera hosts each summer. The company has been presenting operas – comedy, drama, tragedy, and more every summer since 1957 (in a series of three structures).
The current location is an open-air theatre surrounded by the Sangre de Cristo and the James Mountains, which means it shows some fantastic views and can accommodate up to 2,200 spectators. Sponsors can arrive up to three hours before the event, and many do so often, especially for picnics, gourmet meals, and drinks to tailgate in nearby parking lots. (Opera also offers special dining options for a set price, such as the Premade Telgate Picnic and the Preview Buffet Dinner.)
Recent audiences have praised Santa Fe Opera a lot, saying the singers were impressive and the setting is quite pleasant. Travelers and residents agree that tailgating is a must – people dress up in nines, sip sparkling wine and "eat chic," so plan to bring some food and drink to enjoy. Some warn that you may encounter thunderstorms, but thunderstorms create a more dramatic background during the show. They recommend getting a sweater or a wrap in case of cold in the evening.
Address: 301 Opera Dr, Santa Fe, NM 87506, United States
 Phone: +1 800-280-4654
13. New Mexico History Museum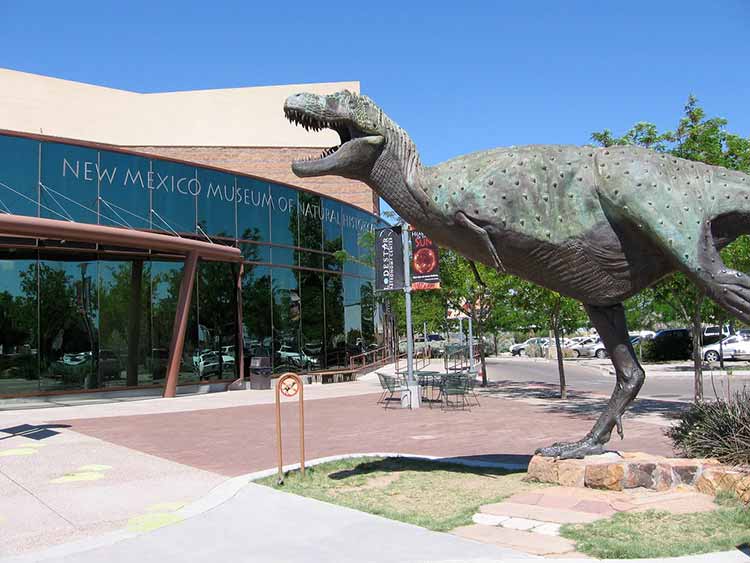 Visitors to the New Mexico History Museum will find exhibits that tell the story of the state from a variety of perspectives. Its original "Telling New Mexico" exhibition offers viewers an overview of more than four centuries of regional history. It also features a variety of temporary exhibits focusing on the state's railway industry, its role in World War I, and how the museum has collected its artifacts.
The museum's collection includes more than 1 million objects and documents, including rare 18th-century paintings, devotional art, and photographs. You will also find a work exhibition on New Mexico's printing and literary heritage. The magnificent museum also houses the Fre Angelico Chavez History Library, boasting an extensive state and regional history and culture catalog.
The Palace of Governors is part of this wonderful museum. History lovers believe that this organization does an excellent job presenting the area's history to the people. Visitors find the staff helpful and friendly.
Address: 113 Lincoln Ave, Santa Fe, NM 87501, United States
 Phone: +1 505-476-5200
Website: https://www.nmhistorymuseum.org/
14. Canyon Road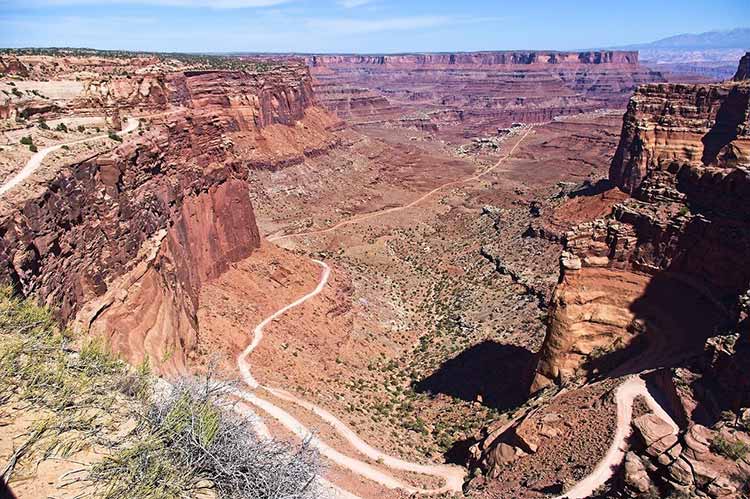 If there is any doubt that Santa Fe is a major destination for art lovers, Canyon Road dispels this suspicion. Less than a mile east of Santa Fe Plaza, Canyon Road has more than 80 art galleries selling works by renowned artists such as Fernando Botero and hidden treasures, such as handmade Hopi pottery and southwest wood carvings.
Visit the various galleries and boutiques along the road, and you will find everything from jewelry and pottery to purses and paintings. The place is amazing: many galleries are housed in historic Adobe buildings decorated with brightly colored flowers. These fine art installations are often displayed outside, and the spicy smell of pepper emanates from the top door. Here you will find food stalls like Geronimo Restaurant and Compound Restaurant.
Tourists think that the best way to experience this art district is to walk down the street, adding that it is a great way to experience art without getting stuck inside or outside a single museum.
Visitors were fascinated by everything from the diversity of art to Pueblo architecture and said that there is ample opportunity to photograph this vibrant site.
Address: Canyon Road, Santa Fe, NM, USA
15. Santa Fe Plaza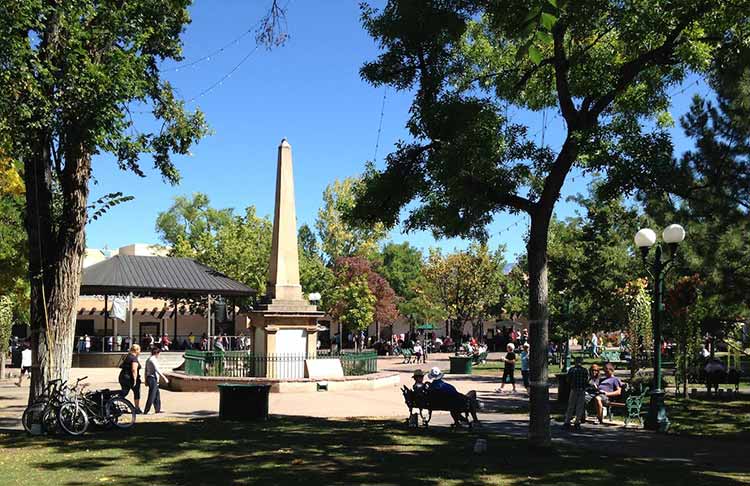 Since the city's founding in 1610, Santa Fe Plaza has survived as its cultural center. Today, surrounded by countless ancient buildings, such as the San Miguel Chapel and the Governor's Palace, the plaza has become the centerpiece of the Santa Fe theme, from live music to the Santa Fe Fiesta of September.
The magnificent A Plaza hosts Indian and Spanish markets each year and is a national landmark, concert, and community gathering. On any night of the week, there is a buzz at the plaza activities where people enjoy the restaurant, look at the galleries, and check out the souvenir shops. You save a little money to buy some trinkets while you are here. Santa Fe Plaza is full of authentic Native American crafts, but be wary of inflated prices.
Visitors say that you have to go to Santa Fe Plaza to experience the lively atmosphere, noting that there always seems to be something going on, be it a parade, a market, or a festival. Recent travelers have suggested taking the time to visit the various shops near the plaza, but be aware that these items may seem a bit overpriced. Others say it serves as a great jumping-off point for exploring the top attractions of the city of Santa Fe, many of which are available from the plaza.
Address: 63 Lincoln Ave, Santa Fe, NM 87501, United States
Phone: +1 505-955-6200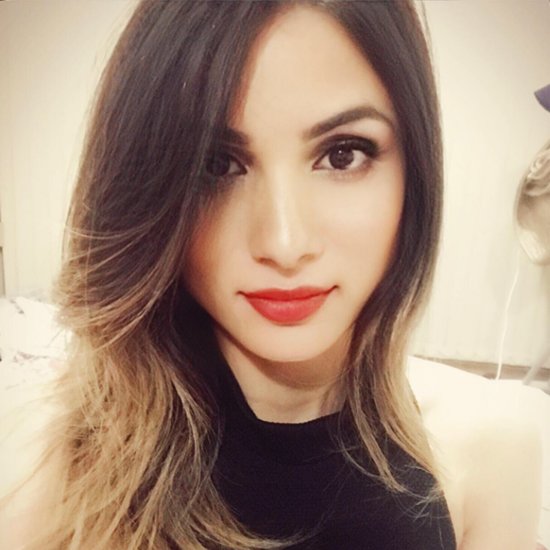 Hello, I am Molly Martin. I am from California and have been working in a company that manages money for wealthy people for the past 6 years and decided to leave my job because it wasn't doing anything for me other than making me feel stuck. So now after going on a trip around the world that made me feel empowered and coming back things weren't as they used to be at work or anywhere else so I want to change everything again. I left my job six years ago because I wanted to do something for myself and then went on a 3 month trip around the world which not only helped me realize how much more there was out there but also made me feel empowered because it was different than what everyone else does!