Things You Should Know About the USS Midway
The USS Midway is the longest-serving aircraft carrier in history. You will find it here, along with many other exhibits and artifacts that tell the story of this ship's long, storied service. Located on historic Navy Pier in downtown San Diego, this museum offers an intimate glimpse into life on board a naval vessel during World War II. If you're looking for some peace and quiet or an educational experience, then come see us! Open every day from 10:00am to 5:00pm (except Thanksgiving Day), admission is $26 per adult and $18 for children under 12 years old with a paying adult. Parking is available at nearby Navy pier parking garage for $10 – $20 per vehicle but limited availability so be sure to plan accordingly. Once you get here, make sure to pick up a map of the ship it's HUGE. You'll want to know where everything is.
The History Of The Ship
The USS Midway was the longest serving aircraft carrier in 20th century. It was commissioned on September 10, 1945. US Navy's first midwinter sub-Arctic operation. Midway was the first ship to launch a captured German V-2 rocket.
Tours & Things to do hand-picked by our insiders
The success of the trial made the dawn of naval missile warfare.Midway served with Atlantic Fleet for 10 years, making 7 deployments. It was rebuilt with an angled deck after it returned from its round-the-world cruise in 1955.
Midway is the first combat deployment of aircraft in Vietnam. 17 aircraft are lost during this cruise.Operation Frequent Wind was a chaotic two day period to evacuate refugees from Saigon in 1975. Midway is decommissioned for four years for an overhaul in 1966, while being used as a floating base for large helicopters during Operation Frequent Wind.
Potential threats to the Arabian oil supply have grown and Midway was used as a floating base Midway was the first carrier to be homeported abroad. Deployed in Operation Desert Storm and had no losses.
Lost its final mission during evacuation of civilians after Mount Pinatubo eruption. The USS Midway was donated to the San Diego Aircraft Carrier Museum in 2003It opened as the USS Midway Museum in 2004.
Why This Museum Is A Must-see For San Diego Visitors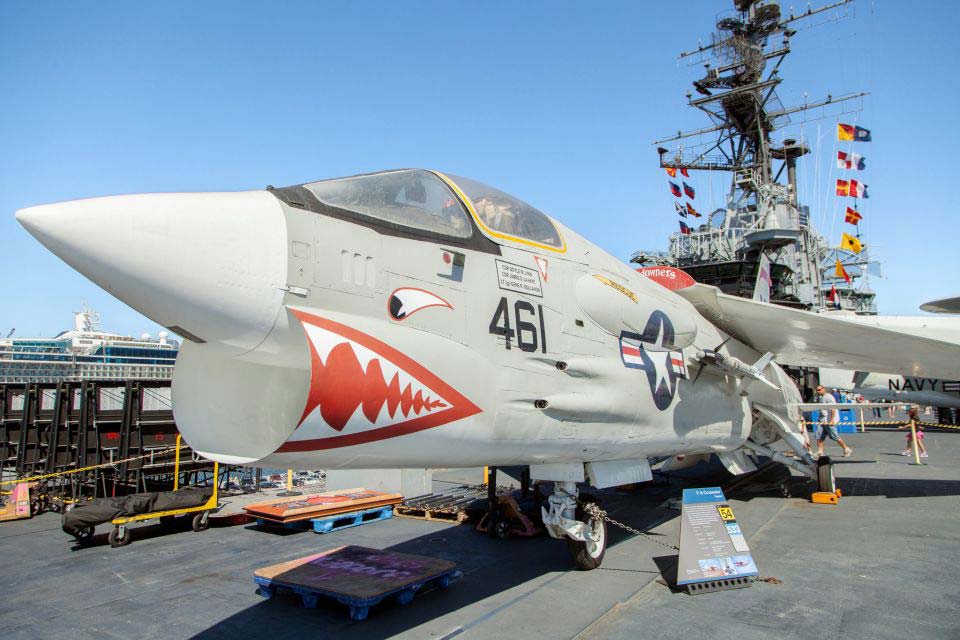 The USS Midway Museum is a must-see spot for anyone visiting San Diego. If you're not sure what to do, take a look at this list of things you should do when visiting Downtown San Diego.
Timed ticket is required to enter museum. Guests must wear face coverings, abide by distancing signage, and agree to temperature screening before entering the museum. Audio tour is a highlight so don't miss it.
Bring earbuds for audio tour. 30 restored aircraft are on display. A field trip is often visited by kids. Navy service members visit this museum often.
The USS Midway Museum is a must see for San Diego visitors because it offers an insight into the life on board a naval ship during World War II.
The museum offers interactive exhibits that allow you to explore what life was like for those who served. You can explore the bridge, the mess hall, communications tower, and more.
After exploring the exhibits, spend some time at the deck where you can take in sweeping views of San Diego with your family or friends.
How To Get There – Directions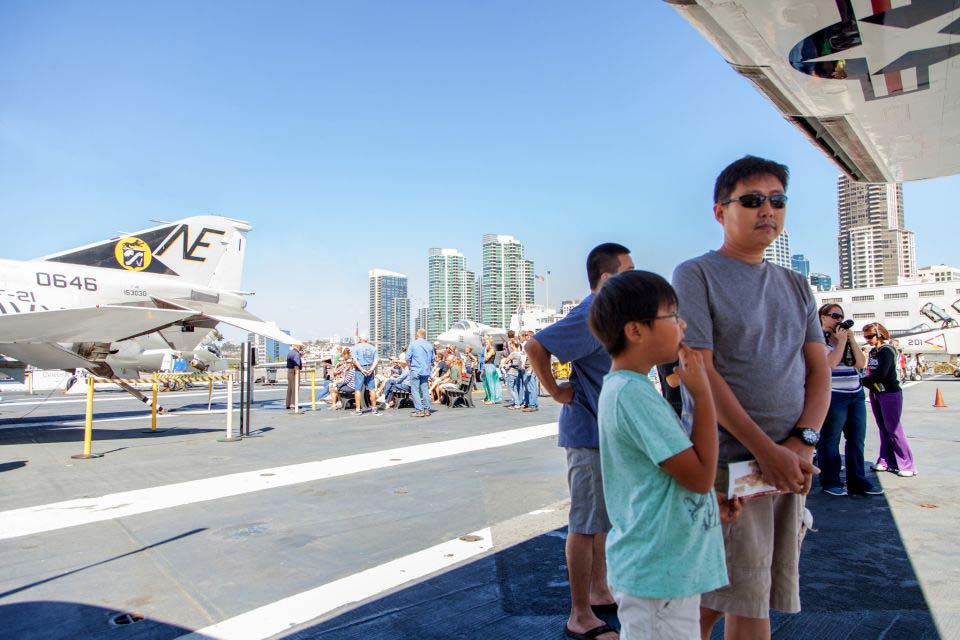 The USS Midway Museum is located at 910 North Harbor Drive, San Diego, California, 92101, alongside Navy Pier.
Parking
The USS Midway does not have a parking lot. You can park your car on Navy Pier next to the USS Midway Museum. But you cannot put an RV there.
During the summer, parking is limited. So get to the event early so you can find a spot.
Parking rates are the price you pay to park your car. The parking rates are different for special events and holidays.
You can park your car on the street near the USS Midway Museum if you put money in a parking meter. You need to read all signs carefully so you know how much time is left in the meter and how much it costs.
In the parking lot, there are handicapped parking spots near the front. People can get these spots if they show up first.
Tour and School Bus Parking
There are many buses which can drop big groups off at our ticket office, but they cannot stop on the pier. Big vehicles over 18 feet long are not allowed to be parked on the pier. The closest place for parking these vehicles is in metered spaces along Pacific Coast Highway.
The Port of San Diego is happy to start the Waterfront Summer Shuttle again. This shuttle goes on the waterfront and has a low price. The shuttle will be here from May 24th until September 2nd, 2022.
Public Transportation
The train depot and the trolley station are not far from the USS Midway. You can walk there or take a train or trolley.
If you are coming to the museum from a place that is close to downtown San Diego, you could use the Free Ride service. This uses electric cars and it goes all over downtown San Diego for free.
Tips On What To Do When You Arrive At The Museum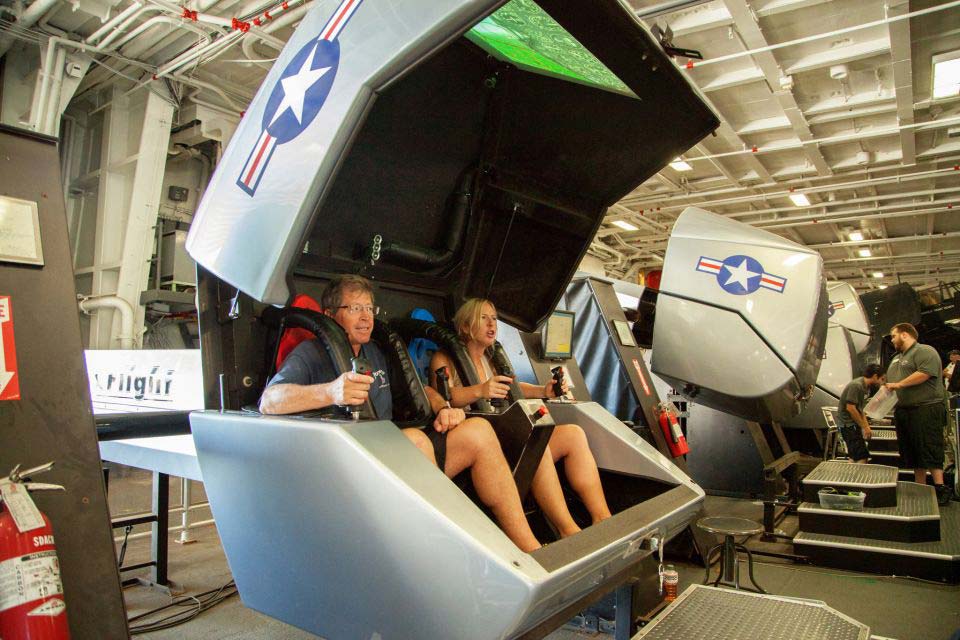 -Adults must show a government-issued photo identification to enter the USS Midway Museum. One ticket gets you into the USS Midway Museum and Navy Pier.
-There are no drink, food, or book vendors at the museum. Bottled water is available for purchase in the museum bookstore.
-Pets are not allowed in the USS Midway Museum or on Navy Pier.
-All cell phones, cameras, and bags are subject to search before entering the USS Midway Museum. Lockers are available for your convenience inside the museum.
-There is ample seating indoors in the museum's theater and on the flight deck outside. When you arrive at Navy Pier you can park either in their parking lot or on the street.
Skip the Line And Get USS Midway Museum Entry Ticket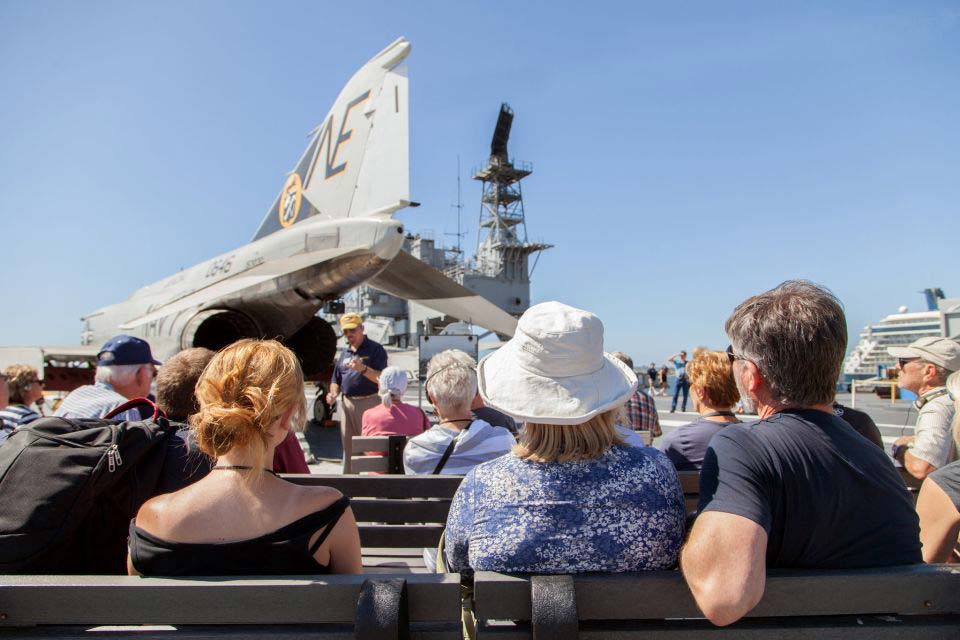 Skip the line at the USS Midway Museum when you're in San Diego.
The USS Midway is a museum that's been around since 2004. It's an aircraft carrier, and it was commissioned by the Navy on September 10th 1945. This ship has seen a lot of history – from Vietnam to Iraq, and now it can be your home away from home.
You don't have to wait in line for hours before getting inside this awesome place. We'll make sure you get right through so you can start exploring all of its exhibits as soon as possible.
Click here to skip the line at the USS Midway Museum today!
Highlights

You can skip the line to get on board.
You can view 60 exhibits.
You will be able to experience simulators and short films.
The self-guided tour is available for all visitors.
The USS Midway was the longest-serving aircraft carrier of the US Navy, and is now a Naval museum in San Diego.
It has 25 restored aircraft from WWII to Operation Desert Storm, with docents eager to share their stories, anecdotes and statistics about this historic ship.
Most visitors spend 3-4 hours exploring this historic aircraft carrier learning its history.
Included are family oriented activities like 3 types of flight simulators which allow you to climb aboard or take off on simulated missions; there are music videos, short films and more for all ages.
The Museum is located at the Navy Pier in downtown San Diego – it's an excellent way to spend your day.
Whats Included?
Self-guided audio tour
All of the services mentioned in this description
3D Holographic Battle of Midway Theater Tickets
Access to the aircraft and below deck
Meeting point:
The USS Midway Museum is located at 910 North Harbor Drive, San Diego, California, 92101, alongside Navy Pier.
Add to your Google Map
Additional Information:
Children 5 years old or younger, as well as active-duty military personnel (including reservists) with proper identification, are admitted for free (daytime entry only).
You are welcome to visit anytime during the center's operating hours (10:00 AM – 5:00 PM). Note that last admission is at 4:00 PM every day
On Thanksgiving and Christmas, the museum is closed.
Conclusion
It was a great experience to tour the USS Midway Museum. It is one of those places that you can go with anyone and have an amazing time. The veterans who work there are so knowledgeable about what they are talking about, which makes it even better for kids to learn from them as well! I would recommend this place if you want something different than your average museum visit because it's not every day you get to take a walk around an aircraft carrier.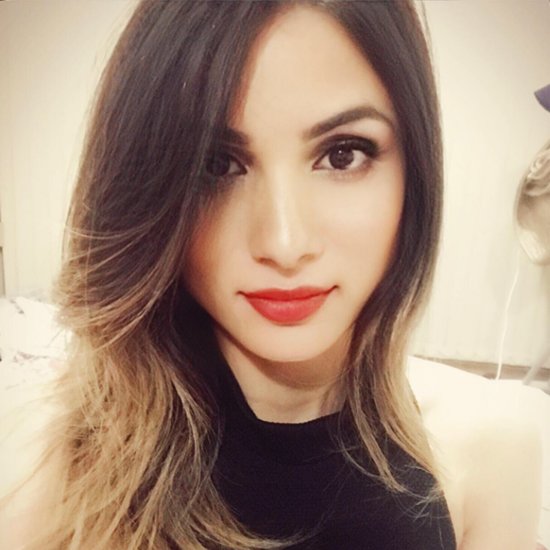 Hello, and welcome to Travel Crog, a site where I share my travel advice for your dream vacations. My name is Molly Martin, and I'm the founder and editor-in-chief of this site. I have a passion for travelling and exploring new destinations, and I want to inspire you to do the same. Six years ago, I left my job as an HR professional and embarked on a three-month trip around the world. It was an amazing experience that changed my life and perspective. Ever since then, I have been travelling as much as I can, and writing about the best things to do, see, and eat in every place I visit. Whether you're looking for a city break, a beach getaway, or a mountain adventure, I have something for you. Travel is not only fun, but also empowering and enriching. Join me on my journey and discover the world with Travel Crog. My motto is: "Life is short, travel more."