What's the fastest way to absorb the vibrant culture of Bangkok? With the ever-growing list of places to visit and exciting activities to do, the city is a bustling playground for anyone who seeks adventure.
From exploring the fiery street food and ancient temples to partying like an animal in the night street, Bangkok has it all! 
Here in this article we have the list of 50 best things to do in Bangkok, best way to get around the city, and best time to visit Bangkok! Also we will discuss the things you must AVOID while traveling to Bangkok!
Tours & Things to do hand-picked by our insiders
So let's roll and explore the best of what Bangkok has to offer!
50 Best Things To Do in Bangkok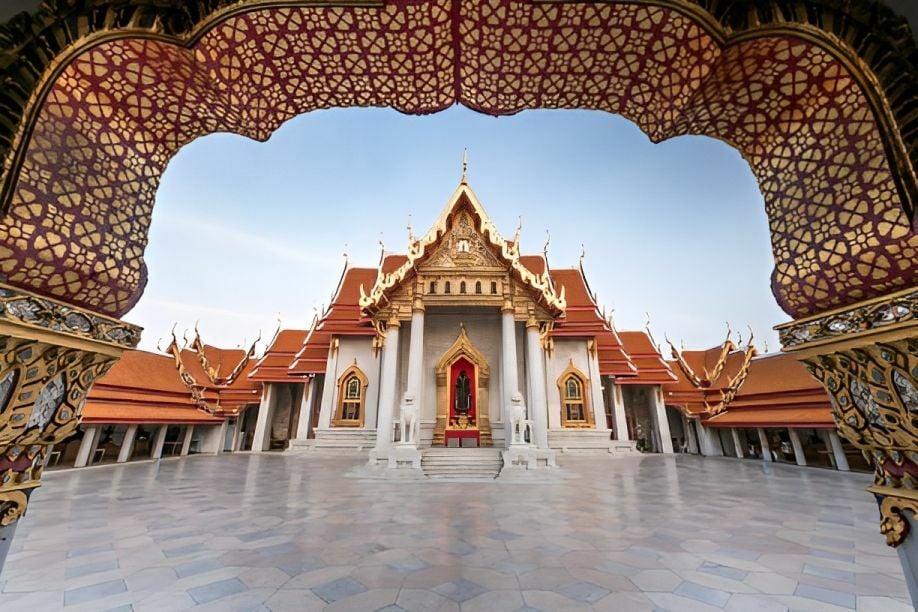 The Grand Palace and Wat Phra Kaew is in the same compound and #1 tourist attraction in Bangkok, thailand.
They are located in the heart of Bangkok. It was built in 1782 for King Rama 1, and now the palace is home to the current king, Rama X. 
Wat Phra Kaew, which translates to the "Temple of the Emerald Buddha", is home to a revered image of the Buddha carved from solid jade. It is the most sacred and important Buddhist temple in Thailand.
The Grand Palace is a popular place to visit in Bangkok.  Visiting the area is a must-do for tourists in Bangkok. The buildings on the site are an architectural marvel and feature many detailing and intricate sculpted designs.
The main buildings of the Grand Palace complex are the Chakri Maha Prasat Throne Hall, the Emerald Buddha Temple, and the Dusit Hall.
In the courtyard you'll see statues of mythical figures representing the Hindu gods. The grounds are also filled with beautifully decorated shrines and pavilions.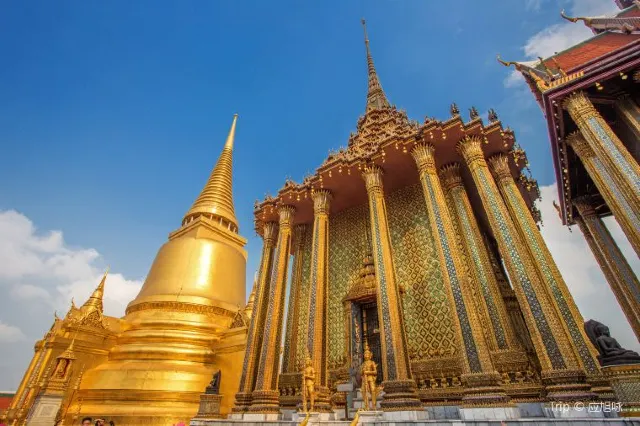 The Wat Phra Kaew is located within the Grand Palace grounds and is an equally impressive site. The temple is filled with colorful decorations, golden statues, and intricately carved religious iconography.
Within the temple is a grand audience hall that houses the Emerald Buddha and numerous altars to the Lord Buddha.
The Emerald Buddha is the most venerated in Thailand and can only be touched by the King and the crown prince.
2. Sink in Local Life at the Chatuchak Weekend Market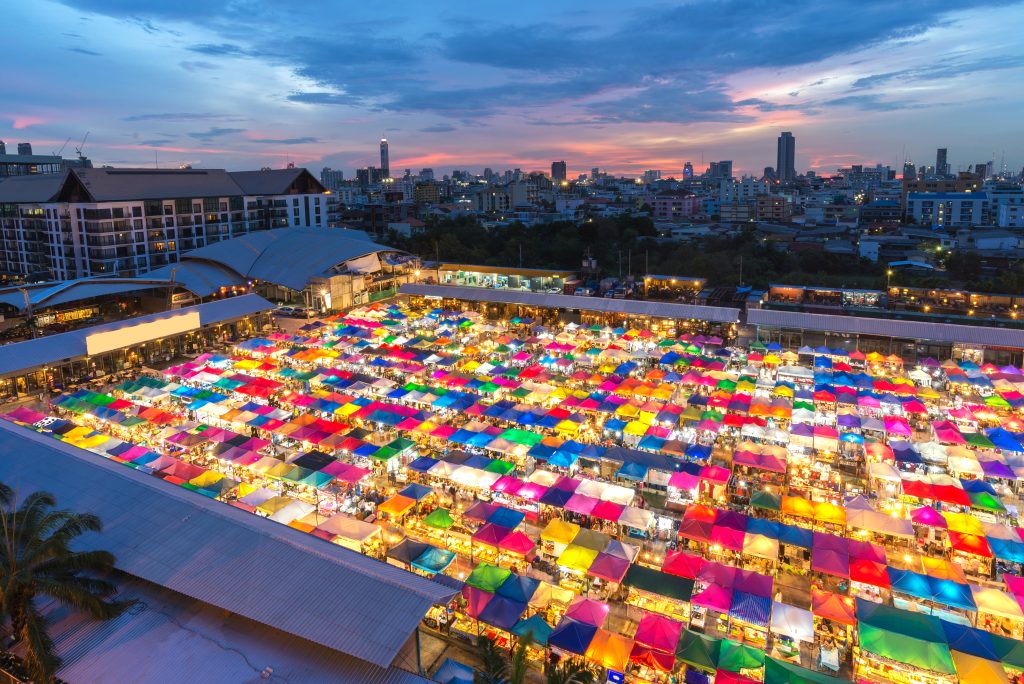 The Chatuchak Weekend Market in Bangkok,is one of the largest outdoor markets in the world. It has more than 10,000 shops and stalls and the area is 35 acres. If you're looking for something unique, you should try to sink into the local life of thai people. 
At the market, there are local vendors who sells Thai handicrafts, food, and other traditional items. You can even find odd and hard-to-find items like traditional medicine and magic charms. They have wonderful collection of thai traditional dresses, spices, jewelry, and antiques.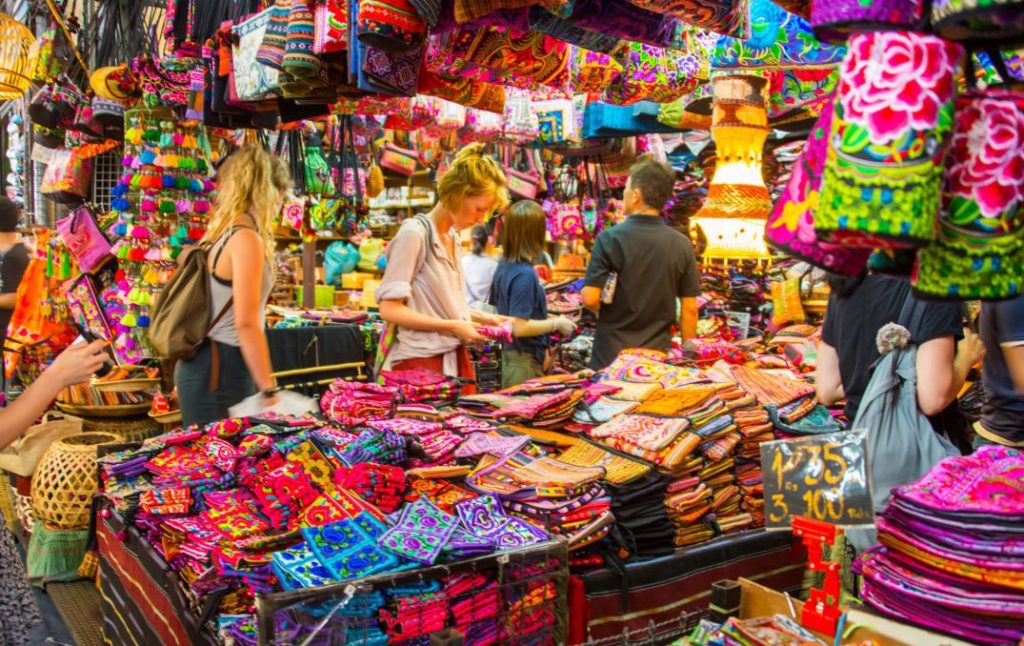 Other than shopping, there are a lot of local entertains happens at the Chatuchak Weekend Market. Experience the famous "Klong Saen Saeb Ferry" which takes you across and through a series of canals.
Once you reach there, You'll find food vendors, cafes, and restaurants. And there's live music and performances happening throughout the day. Chatuchak is open for business on Saturday and Sunday!
Of course, the best part of this place is the people-watching! You can indulge yourself in Thai culture and take in the sounds and raw smells of Thailand.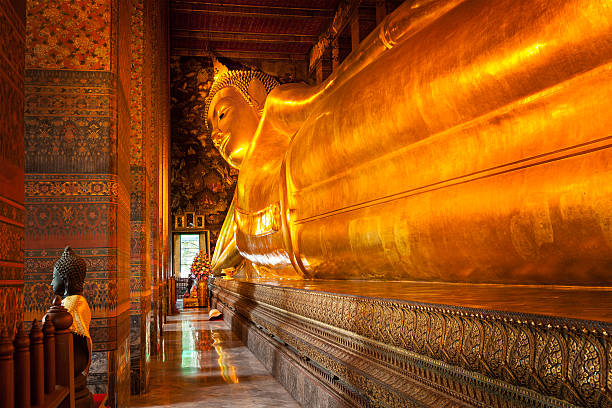 Situated in Bangkok, Wat Pho is home to the famous and awe-inspiring Golden Reclining Buddha. At 46m long and 15m high, this towering structure is considered the largest reclining Buddha in Thailand.
Carved out of gold and clad in glimmering golden mosaics, the grandiose figure of the Buddha is very impressive.
It is also known to be a representation of the passage of time as it lies reclined with one hand underneath the head and the other placed over the right knee.
This characteristic position is symbolic of the Buddha's passing into nirvana.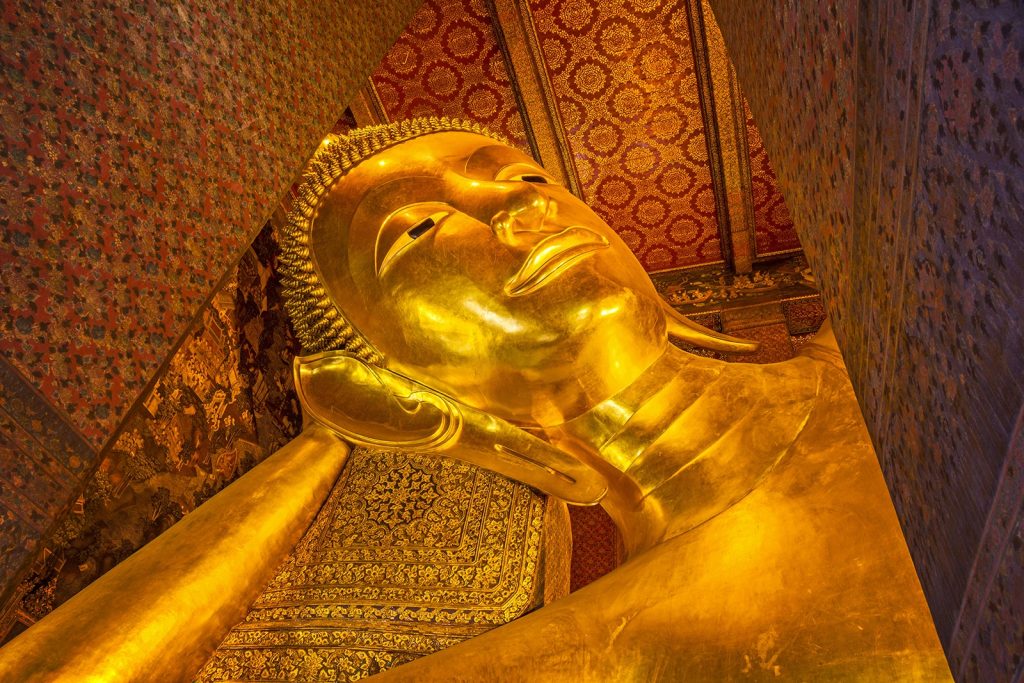 The Golden Reclining Buddha was built during the rule of King Rama III, in the 1820s and truly embodies the beauty of Southeast Asian art.
If you are seeking spiritual rejuvenation and an appreciation of Buddhist art you must visit Wat Pho. It's steadfast and filled with grace since 1832.
The site is filled with other unique statues and relics that are worth exploring. With the added bonus of the Wat Pho massage school, you can enjoy a massage while they explore the temple's grounds. Book a tour!
4. Taste Thai Street Food- Bangkok Attractions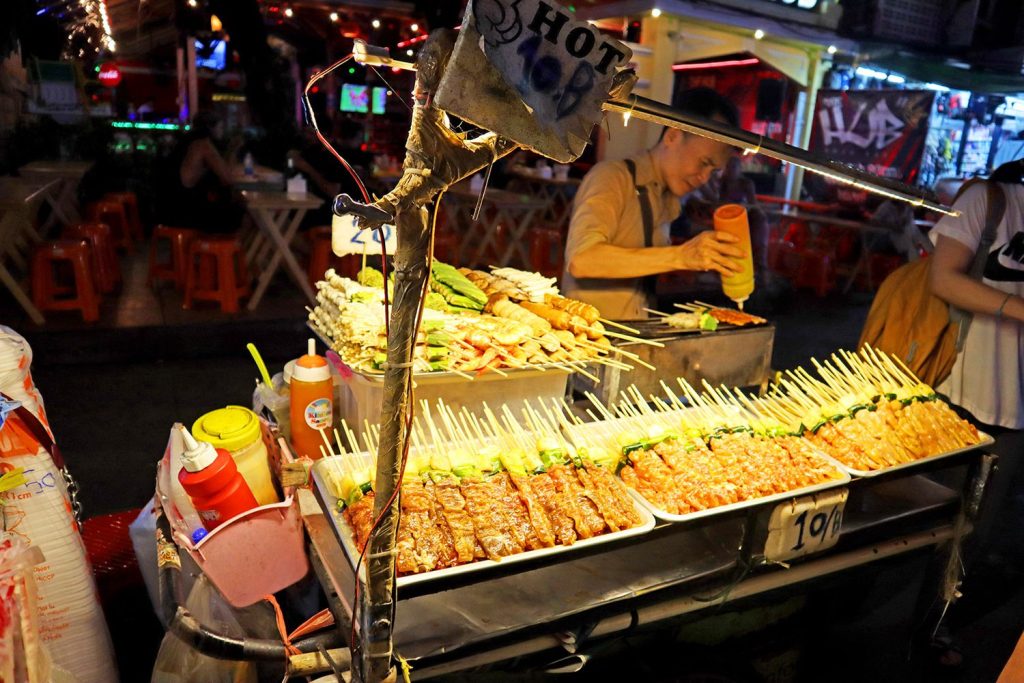 No trip to bangkok would be complete without having the street food  in Bangkok. Thai street food is widely popular and features a variety of items made from fresh ingredients. 
The most popular dishes include tom yum goong (a sour and spicy soup with shrimp), pad thai (stir-fried noodles), and khao soi (a mild curry and egg noodle soup).
The street foods in Thailand don't just refer to snack items. You can find full meals on the streets that are made up of an assortment of dishes like stir-fries and soups.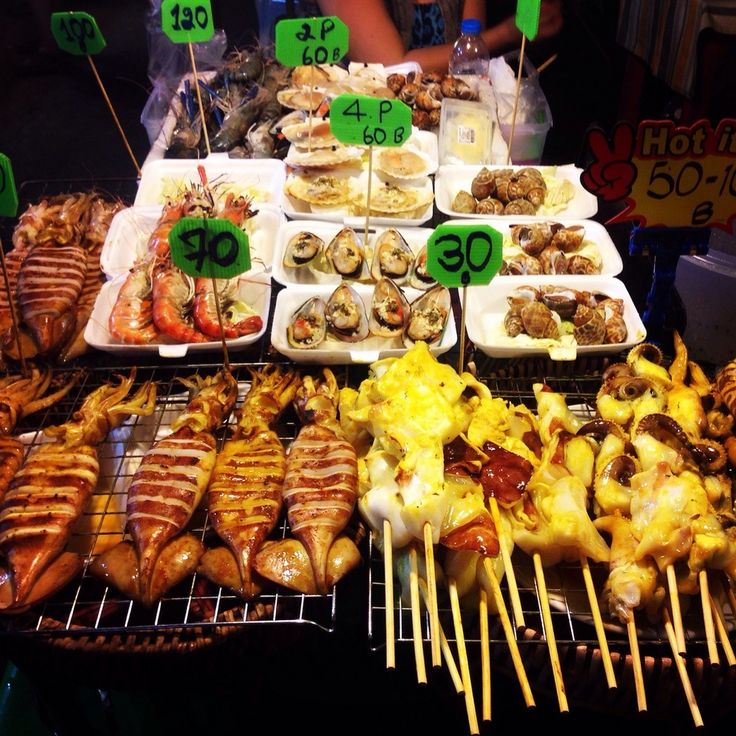 There are also specialty dishes like kao man gai (chicken and rice), gai yang (grilled chicken), and massaman kai (a spicy chicken curry).
When eating at a street food stall, expect to be served plenty of freshly cooked items and a tasting platter of ingredients like bamboo shoots, ginger, chili and lemongrass.
In addition to savoring the delicious meats, seafood, and vegetables, be sure to sample some of the unique Thai street-food desserts.
Many stalls serve mango sticky rice, a traditional dish made with sticky rice, mango, and creamy coconut milk. And it is literally the best. Hungry? Let's go to have the best street food!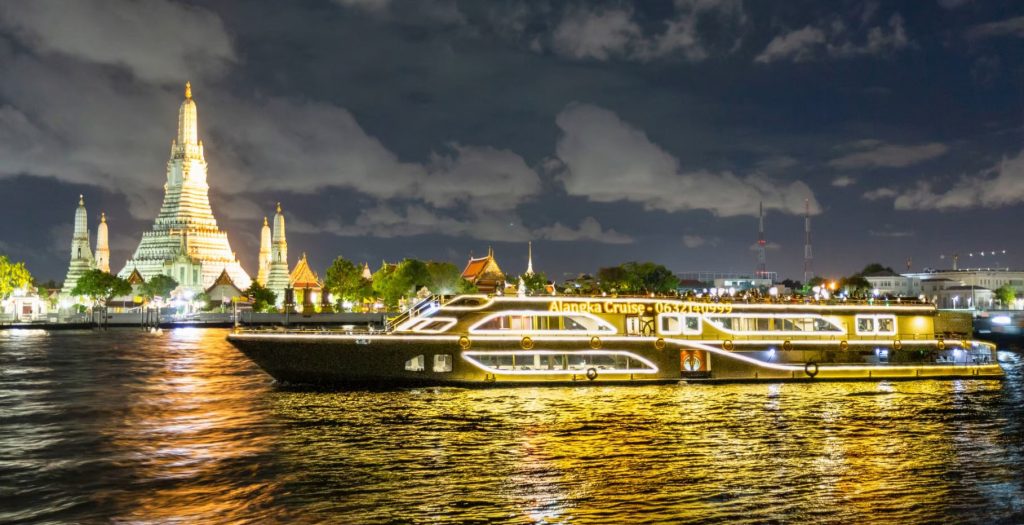 A cruise down the Chao Phraya River is one of the best ways to experience the magic of Bangkok. Its easily falls in the top 10 best things you can do in Bangkok. Stretching over 370 miles, the Chao Phraya is one of Bangkok's two major rivers.
Take a Royal princess dinner cruise. It's a slow cruise down this majestic river, lined with monuments and beautiful temples. Visitors can experience the wonders of the city's history, ranging from the traditional to the modern.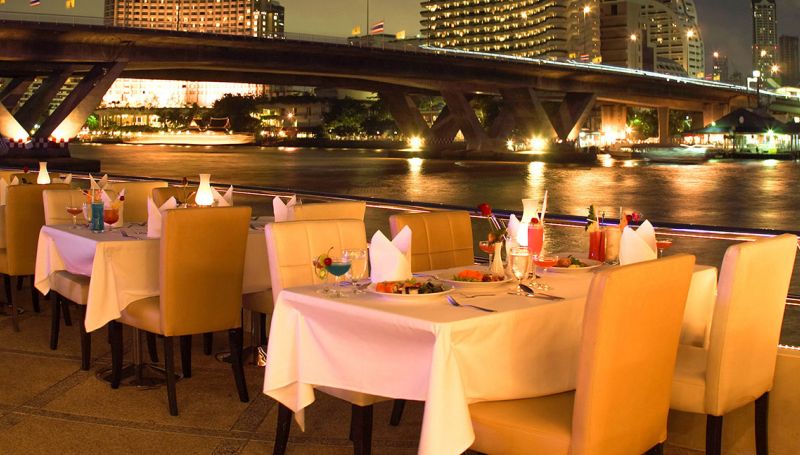 As the boat takes you along the river, large buildings and incredible temples come into view. Highlights of the journey is seeing the magnificence of the Grand Palace, the opulence of Wat Phra Kaew, and the marvel of the Wat Arun.
The cruise continues through Bangkok's famous klongs, small channels with elegant boats, colorful homes and Buddhist shrines decorated with colorful flowers. 
On the boat, travelers can enjoy an international buffet featuring a mix of traditional and international dishes. In between meals, you can wander the deck to take in the city's best views. 
It is the perfect way to experience Bangkok's unique combination of traditional charm and modern dynamism. Book now!
6. Party Late Into the Night at Khao San Road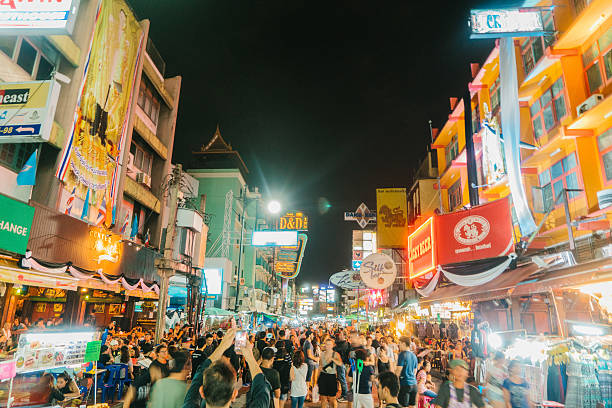 If you're looking for a wild night out in Bangkok, Khao San Road is where you should head! Dance and explore until the sun comes up. It offers an experience like no other, and will certainly provide you with a unique nightlife  view of the city.
Khao San Road is a mega-throbbing cacophony that brings together travelers from the four corners of the earth. With its Chang T-shirts, fiery Pad Thais, and electrifying nightlife, the street offers a festive experience.
A stroll through Khao San will quench your thirst for vibrancy and energy. People here are welcoming and open for conversations, so you can easily make friends. Plus, Tinder and Bumble will unexpectedly come in handy – no surprises there.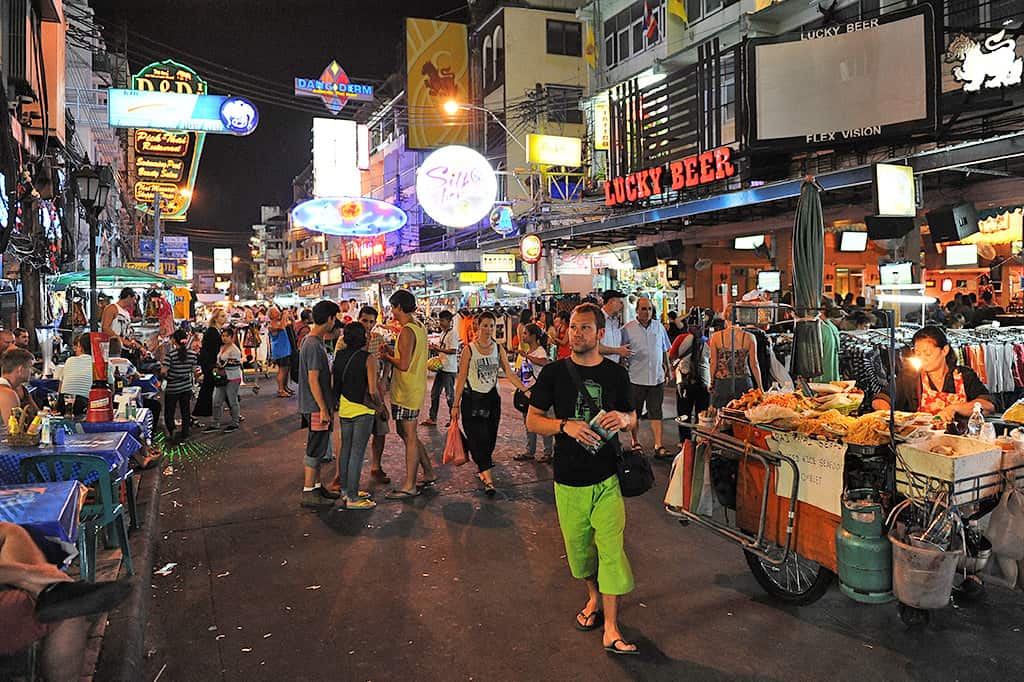 The best part? It's all pocket-friendly! You'll be able to get cheap food, drinks, and clothes, and still join the night celebrations. Whether you take a 7/11 beer or a bucket of cocktail in the tuk-tuk and head downtown, every day is a party on the Khao San Road!
All though the street is open 24 hours a day, but we recommend going htere only at night!
7. Visit the Bangkok Art and Culture Centre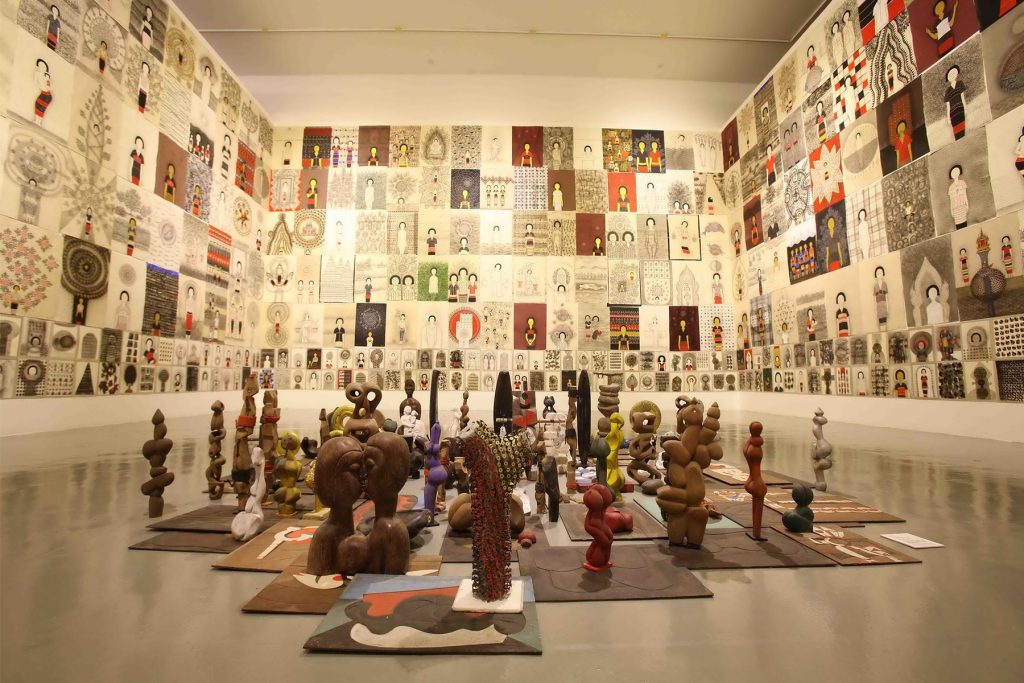 The Bangkok Art and Culture Centre (BACC) is a hot spot for art and culture lovers. The BACC is an exhibition space that presents mostly visual art, performing art, modern art, and creative design.
It also hosts various galleries, art studios, theaters, and music venues, along with workshops, lectures, and movie screenings that celebrate a wide range of artistic expression.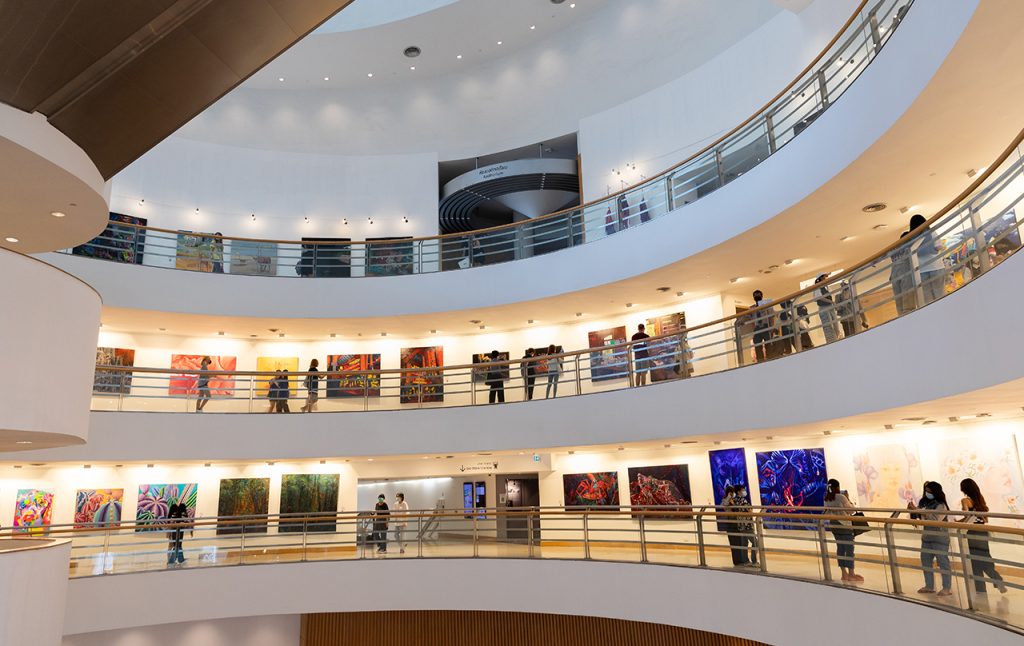 The BACC's permanent and temporary exhibitions showcase art from around the world with a special focus on the works of Thai artists. You can explore the exhibition halls and thirteen galleries located on six floors of the building. 
The BACC also holds events throughout the year. If you are an art and culture enthusiast, you must visit BACC in your trip to Bangkok.
8. See the Historic City Pillar Shrine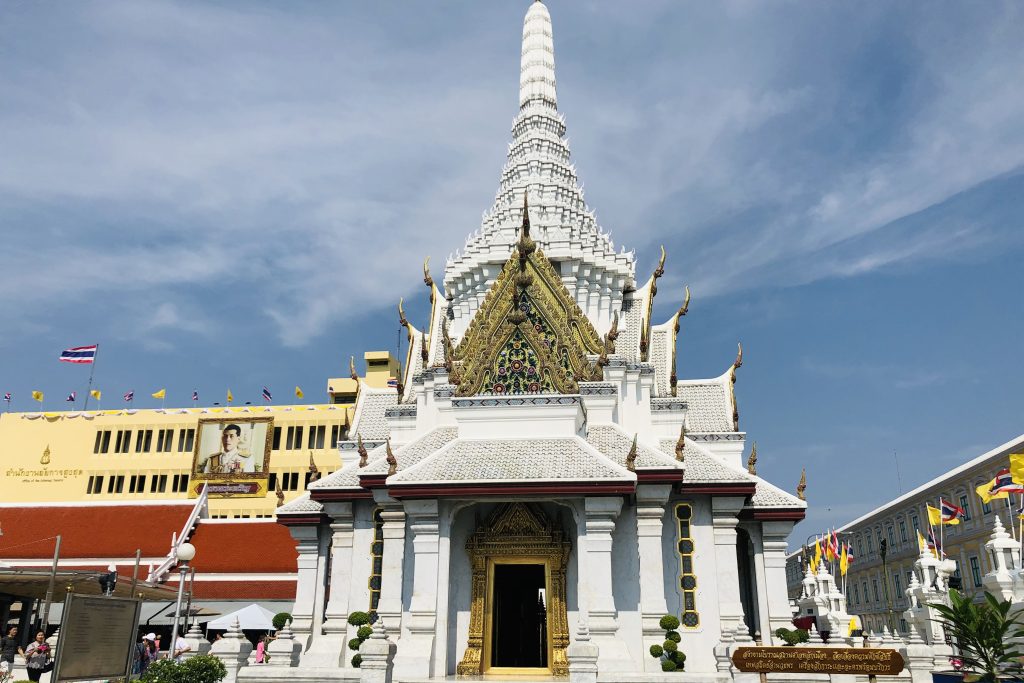 The Bangkok City Pillar Shrine is an historic site located in Thailand's vibrant capital. The Shrine was built in 1782 by King Rama I and is enshrined with five sacred city pillars.
The pillars at the City Pillar Shrine are believed to be connected directly to the city's royal palace, which is located nearby.
The pillars has intricate carvings of Hindu gods and goddesses, symbolizing the Hindu influence in Thai culture.
They are also believed to carry the city's spirit, and in time of distress.These pillars serve to protect the city from evil and bless its citizens with peace and prosperity. This Shrine has been an important site for the native people for centuries. 
  
The Thai people visit the shrine at least once a year to honor its significance. They pay their respect by making offerings such as flowers, incense, candles, and fruits.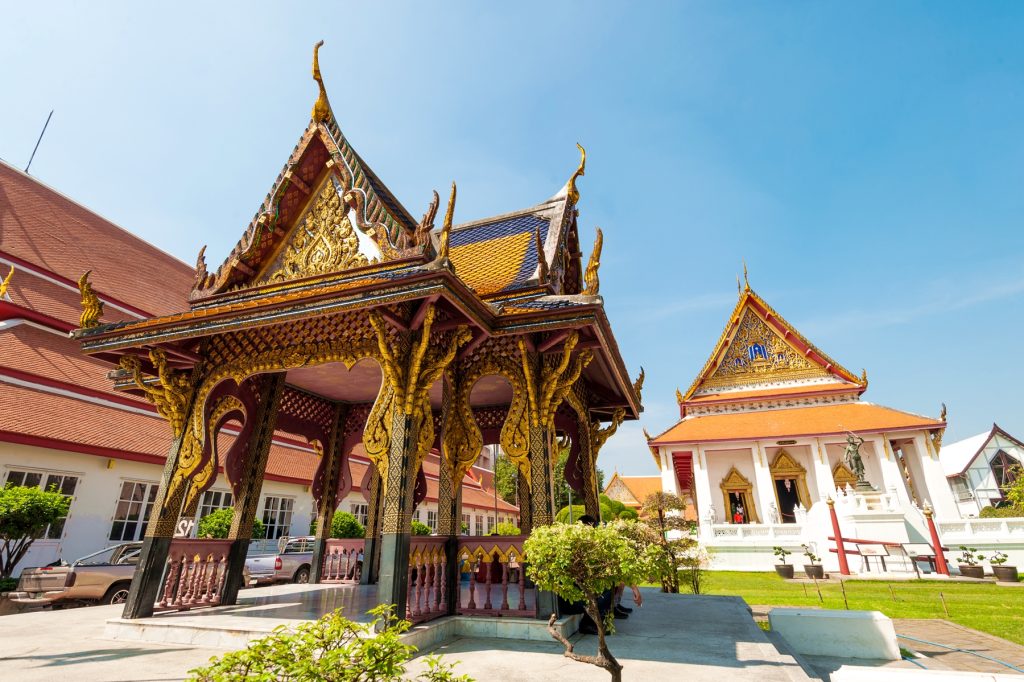 The Bangkok National Museum is one of the largest museums in Southeast Asia. It houses a wide range of pieces from prehistoric to modern times, showcasing the rich culture and history of Thailand.
A stroll around the museum's beautiful grounds will leave you mesmerized. Be amazed by the beauty of the ancient sculptures, paintings, jewelry, weapons, religious artifacts, and more.
Take a guided tour and see the ancient Sukhothai style Buddha images to 19th century murals, the museum shines a cultural spotlight through its collection.
Its halls are brimming with awe and admiration, leaving you wanting to explore more. The Museum will take you to another era of Thailand.
10. Take a Thrilling Tuk-tuk Ride– Get Around Bangkok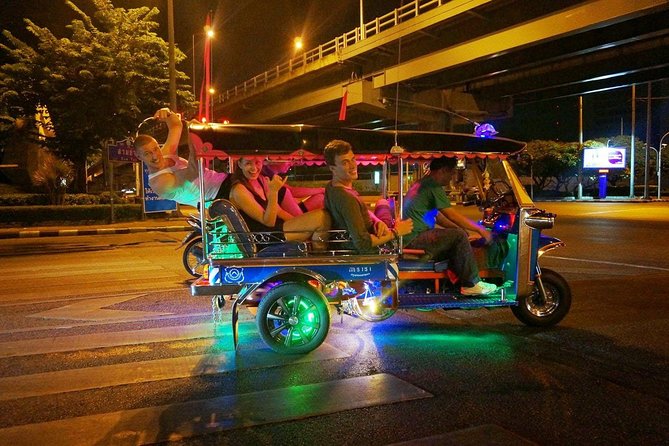 Experience Bangkok in one go by taking a thrilling tuk-tuk ride around the city. These iconic three wheeled motorized transportation vehicles are colorful and exciting and offer travelers a unique way to experience the city.
The open-air ride and the breathtaking views of the magic city and its many attractions. Tourists can book tuk-tuk rides for city tours that provide sightseeing stops at prominent sites, as well as experiencing traditional Thai culture.
They are affordable, can seat up to four passengers, and are an exciting way to get around Bangkok. Hop on and experience an unforgettable tuk-tuk ride!
11. Enjoy a Delicious Meal in China Town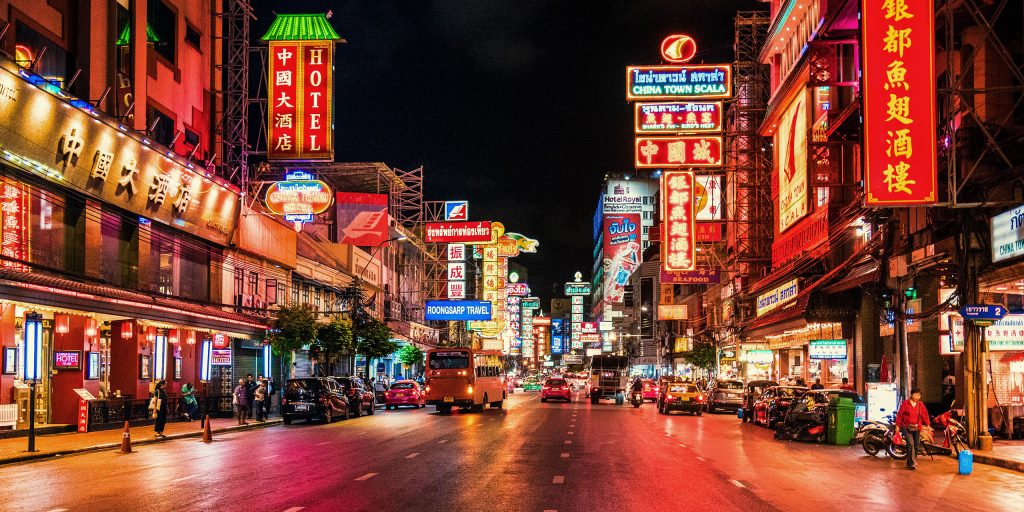 Head to Chinatown for an unforgettable experience ! Take a walk around the ornate buildings that line the brightly lit streets and take in the sights and smells of the delicious food.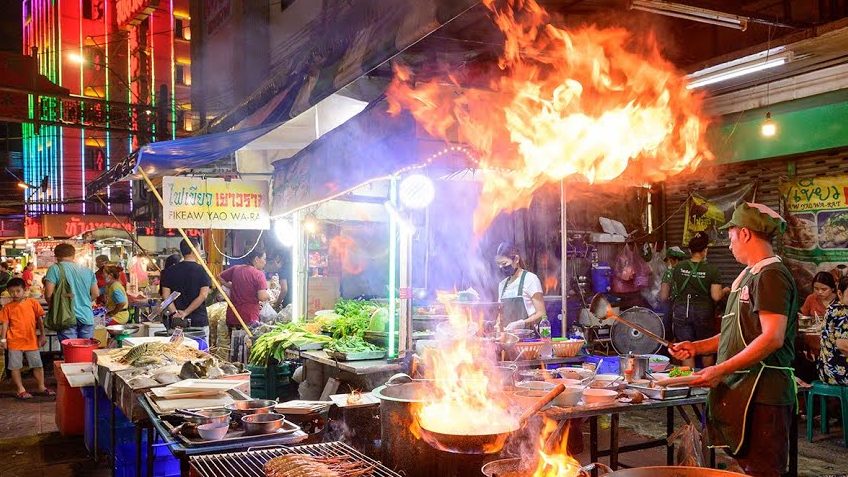 This place offers the best Chinese food. Choose from a traditional dim sum of pork or turnip dumplings, Cantonese style stir-fry noodles and Peking duck.
Explore the vibrant markets for exotic fruits like durian, rambutan, jackfruit and lychee. Indulge yourself in a savory bowl of pho, fragrant with spices and fresh herbs.
Enjoy the unique cultural atmosphere and experience the wonderful fusion of flavors that Chinatown has to offer.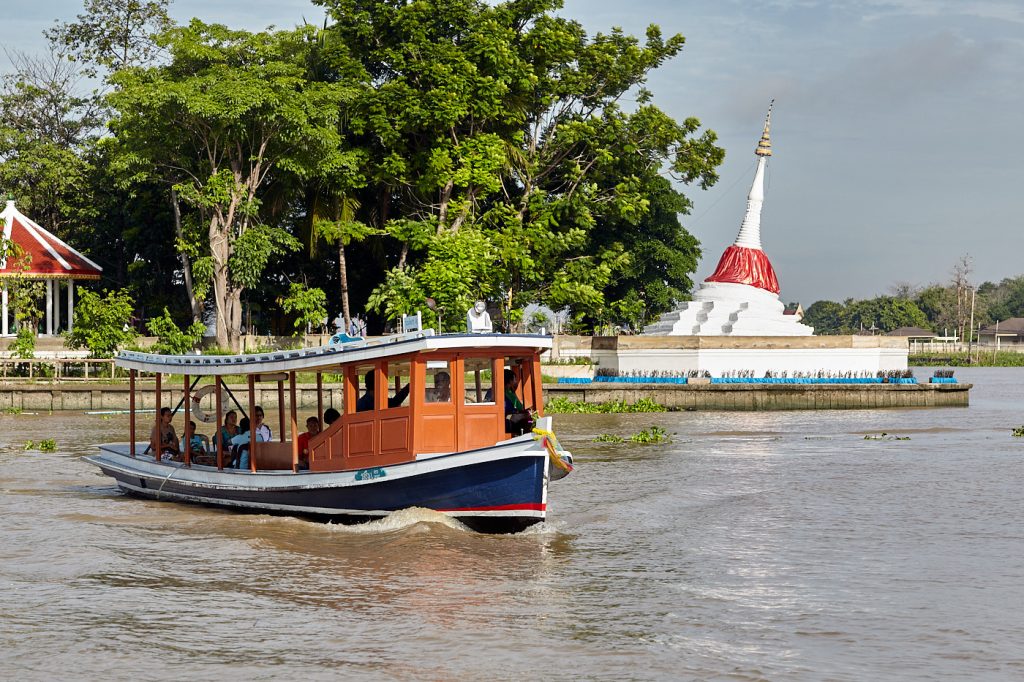 Koh Kret is an artificial island located in Thailand known for its beauty and sunny atmosphere. A great way to experience its beauty is to go on a day trip to skip to outside of Bangkok.
You can rent a private boat and sail around the various islands nearby, each with a unique geographical landscape.
The beach areas surrounding each island are great for sunbathing and swimming, and you can also visit local markets and enjoy delicious and fresh seafood for lunch.
After a full day on the sea, experiencing the amazing atmosphere of Koh Kret, you can enjoy a cocktail or two and watch the stunning sunsets as you rest and relax for the night.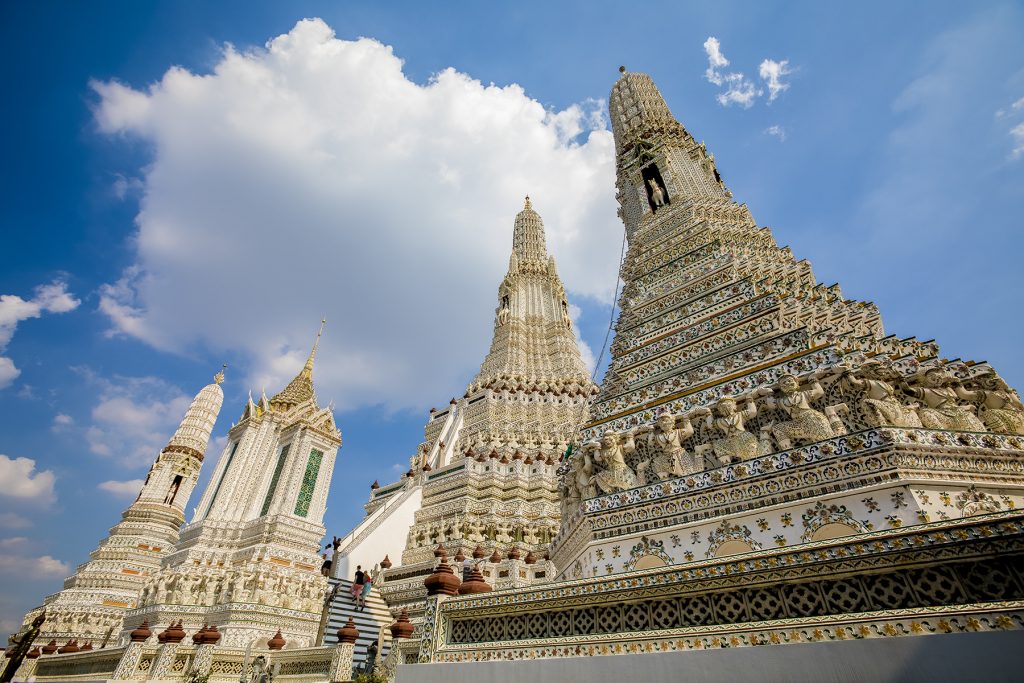 If you are first time in Bangkok then visiting Wat Arun is a must. The Wat Arun, more popularly known as the Temple of Dawn, is a towering structure along the Chao Phraya River.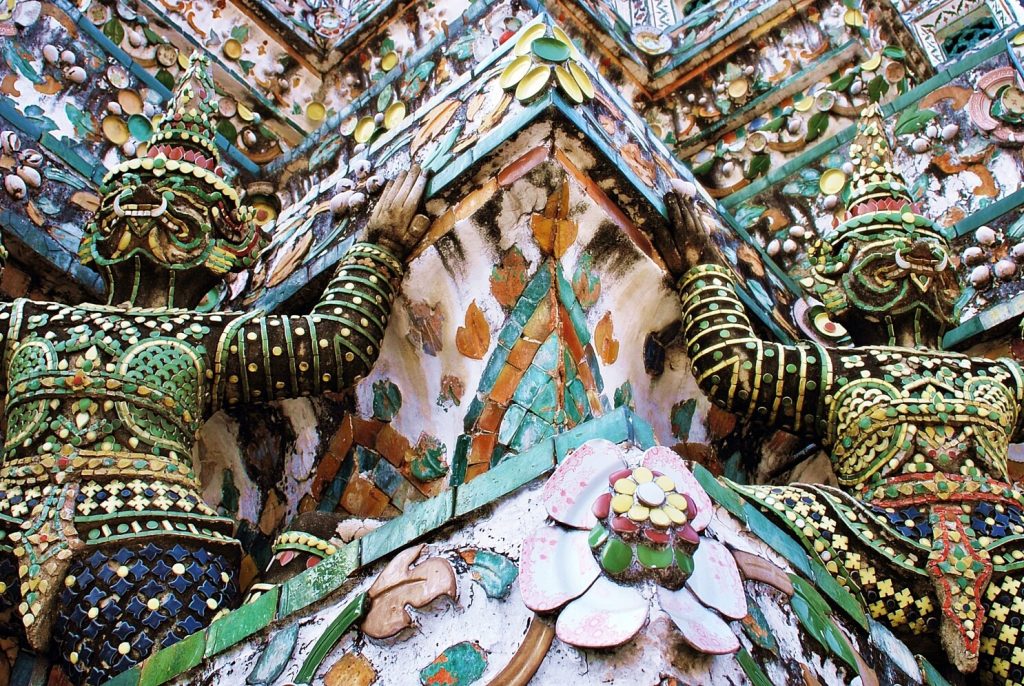 It consists of four prangs (spire structure) that are decorated with intricate mosaics of porcelain and shells. The most impressive is the prang rising in the centre which is surrounded by smaller prangs. 
Take a boat ride from central Bangkok across the Chao Phraya River to get a closer view. When you get to the temple, climb up the steep stairs to the top.
You will get a spectacular view of the temple and the city. You can feel peace and serenity in its atmosphere. Book a trip!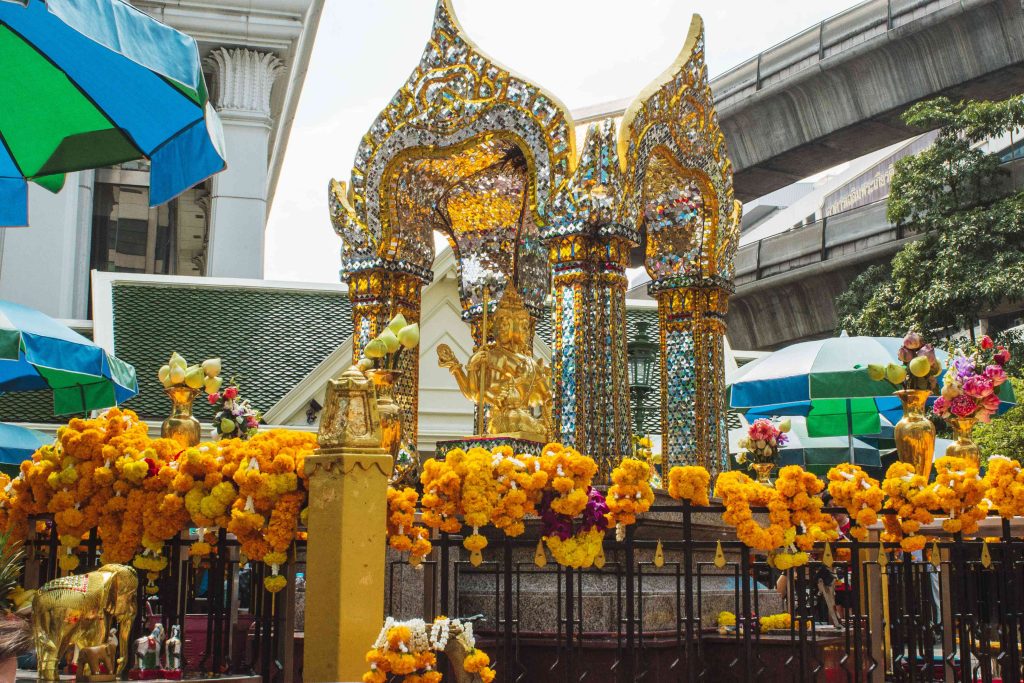 Situated in one of the busiest areas of Bangkok is Erawan Shrine. It is an iconic spiritual monument which attracts locals and tourists, alike.
The shrine is in place to pay homage and reverence to Brahma, the Hindu deity. The air is filled with incense and prayers dedicated to the deity.
People come to the shrine to give offerings and made wishes, often brought by vibrant bouquets of flowers.
The shrine also has great importance for the people of Thailand. Visiting the shrine is an integral part of the culture and identity of the country. 
While your stay in Bangkok, be sure to explore the energy of the shrine and connect with the spirit of the deity. It truly is an experience like no other.
15. Marvel at the 19th Century Architecture in Bang Krachao
Marvel at the unique 19th century architecture in Bang Krachao. Once known as "The Lung of Bangkok", this green oasis offers visitors a glimpse into the centuries-old Chinese, Thai and Lao culture.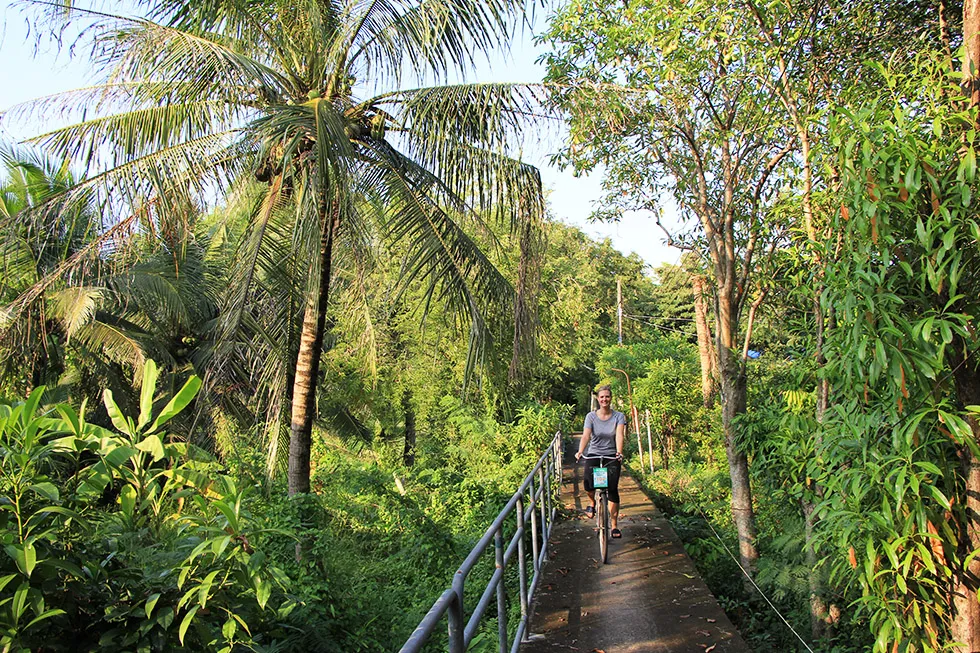 Take a bike tour and explore the distinctive curved roofs of Chinese shophouses, the ornate lintels found on Thai structures, the architecture of Bang Krachao. It is truly  a sight to behold.
You should also look out for traditional stilt-homes made of wood and tin, and magnificent late-19th century wooden temples. Enjoy your trip back in time and explore the interesting things to see in the region!
16. Visit Jim Thompson House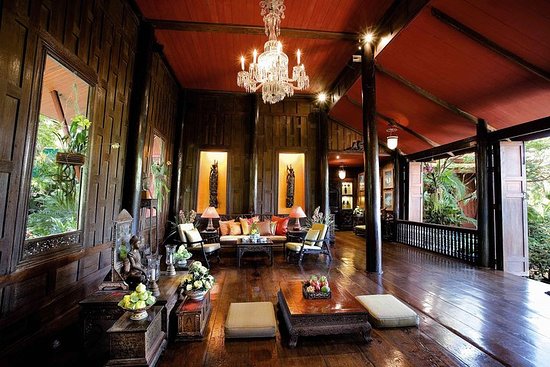 Jim Thompson House in Bangkok, Thailand, it is a must-see destination. The house is the former residence of Jim Thompson. He is a world-renowned silk merchant and collector of Thai art and antiques. 
For a deepr understanding of thai history and crafts, take a guided tour to this historic house. It is now a museum showcasing the beautiful collection of Thai art and culture.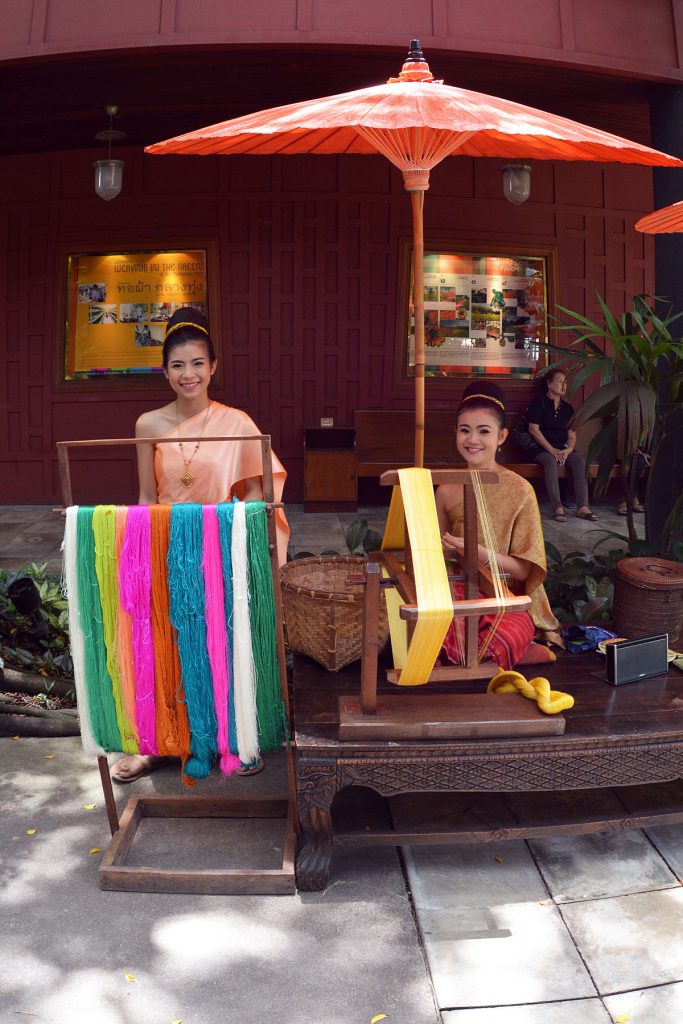 You will love the tranquil atmosphere while you walk through the various rooms and learn about the life of Jim Thompson and his accomplishments.
You can also shop for traditional raw silk, or simply wander around the ancient grounds. An experience at the Jim Thompson House is sure to Last and keep one wanting to visit again.
17. Experience a Muay Thai Match – Best Time in Bangkok
Experiencing a real Muay Thai match is an unique thing to see in Bangkok. Being in Bangkok, the birthplace of the sport allows its visitors to witness it all up close and personal. 
The match takes place in a ring with two trained martial artists trying to outwit each other with their striking techniques.
The vibe in the stadium is electric and the sound of drums and chants of the spectators add to the excitement.
Nothing beats the thrill of seeing a professional in action as they perform high kicks and use elbows and knees to win the match. Book a seat now!
18. Experience the Culture of Old Town Siam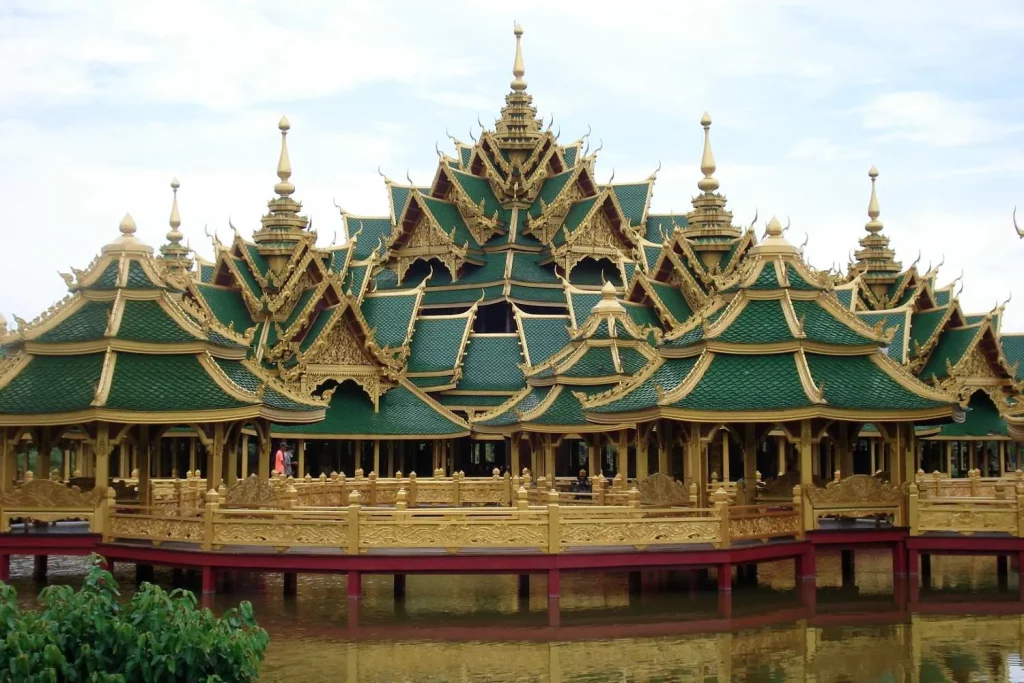 Old Town Siam is an ancient city full of culture, history, and charm. Visiting Old Town Siam is a great way to experience the old and unique culture of Thailand.
Explore the historical landmarks, century-old temples and charming streets filled with local craft shops and souvenir stalls.
The old town provides visitors a glimpse of the past. The best time to visit Old Town Siam would be during an annual festival, such as the Loi Krathong Festival, a cultural event held in November to mark the end of the rains.
During this time of celebration you can witness traditional Thai dances, take part in various activities and immerse yourself in an unforgettable cultural experience.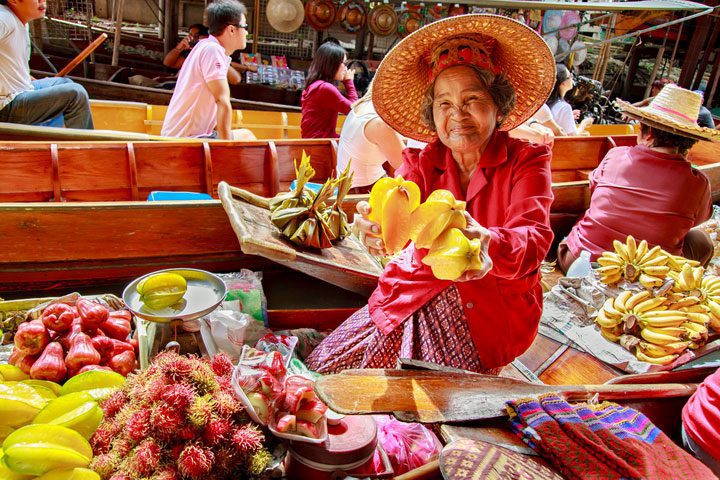 Spend the day at Damnoen Saduak Floating Market, in Bangkok. Here, boat-lined canals connect dozens of stalls offering an array of fruits, vegetables, and flowers.
Bargain for souvenirs as you wander through the vibrant market. Try the wide selection of delicious Thai street food, from seafood specialties to spicy Thai curries, and taste traditional sweets of Bangkok and Thailand.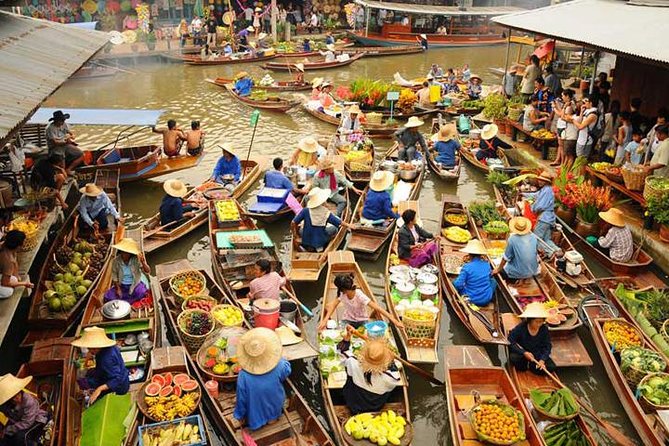 Take a private tour and get on a longtail boat and enjoy the tour through the canals to explore the nearby local villages.
Enjoy a memorable day amongst the vibrant culture and boundless beauty of the Damnoen Saduak Floating Market.
20. Fun Shopping Spree at Terminal 21
A shopping spree at Terminal 21 is guaranteed to be a fun filled experience! This mall has over 500 stores ranging from fashion and beauty, electronics and food.
Interesting thing about this mall is you can explore different floors that have unique architectural designs, replicating cities from all over the world.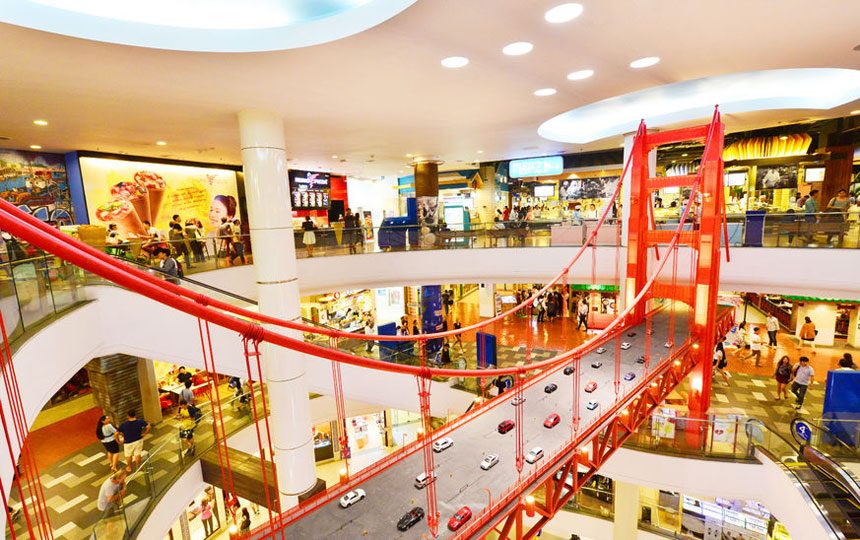 Plus, Terminal 21 has a great food court and cinema.  Make your days in Bangkok more fun planning a fun shopping day with your friends and family.
Don't forget to check out all the sales and promotional events going on, so you can save while having a great time shopping.
Address: 88 Soi Sukhumvit 19, Khlong Toei Nuea, Thawi Watthana, Bangkok 10110, Thailand
21. Explore the Famous Seafood Market at Talat Pratu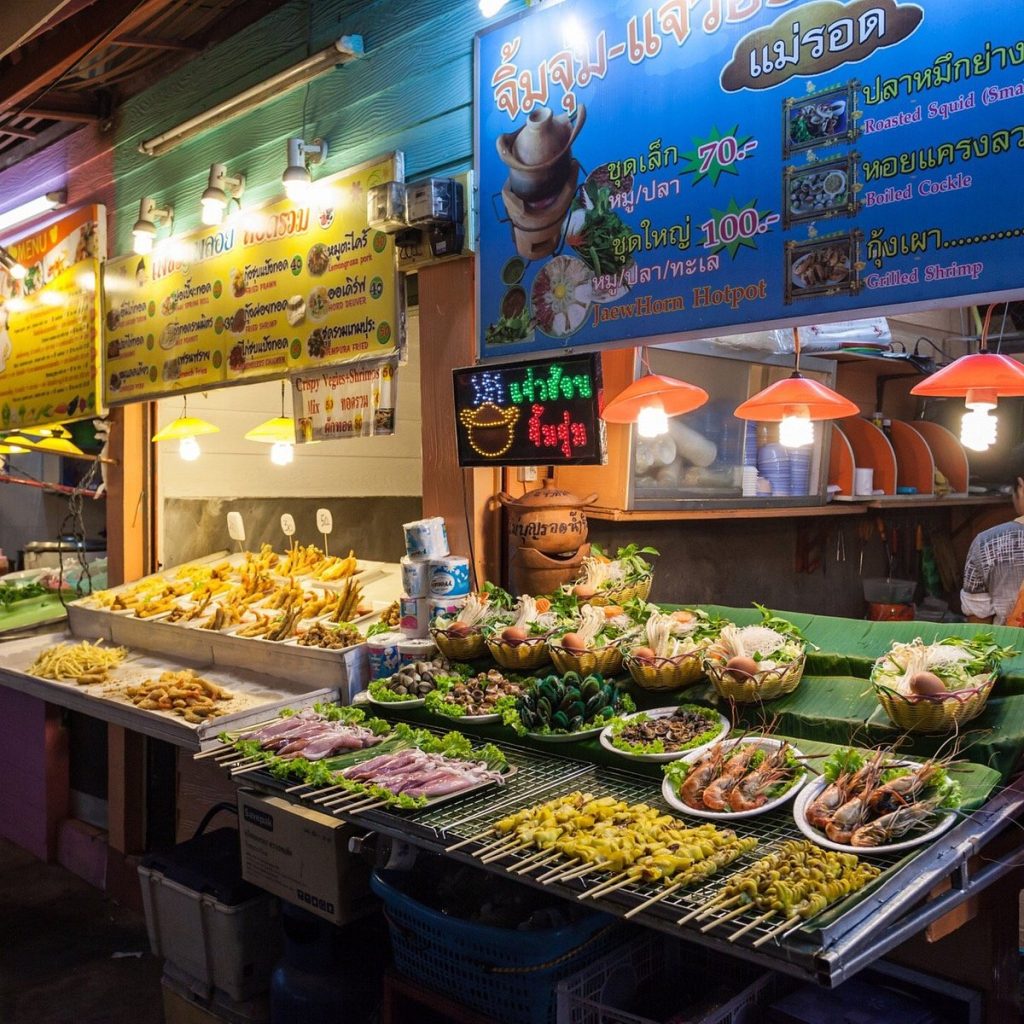 This one is for the sea-food lover- Talat Pratu is the most famous seafood market in Thailand. Here you can find a all types of fresh seafood, from the exotic and hard-to-find to the more regular one.
The market is filled with busy vendors selling everything from sardines and shrimp to mackerel and squid. The seafood is always freshly caught and prepared for sale.
Besides buying seafood, you can also get great seafood recipes from the knowledgeable local vendors. The market is open daily. Its most busy early in the morning and late in the afternoon. 
22. Take a Boat Ride to Bang Pu Nature Education Centre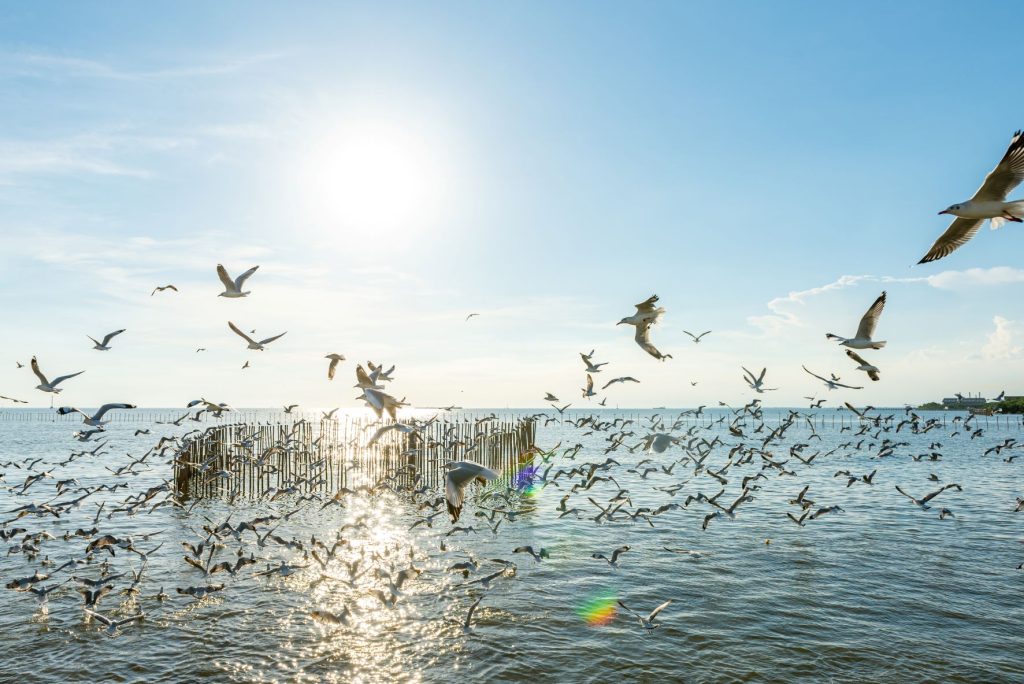 Take a boat ride to Bang Pu Nature Education Centre for a unique experience in nature and outdoor activities in Bangkok. Step onto the boat and enjoy the cool sea breeze that caresses your face and the picturesque views of the coastline.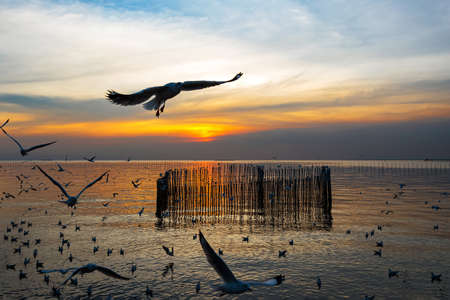 Feel the vibrant energy of the maritime city and admire its magnificent landscape as you travel. The centre offers exciting activities and programs such as sunfish feeding, guided walks, workshops, and kayak and buggy rides.
They also have facilities for camping, tree planting, and beach volleyball. Grab this chance to explore the richness of Marine ecology without compromising your safety. Enjoy a relaxing vacation and see the beauty of nature within a tightly-knit community.
23. Visit the Lumphini Park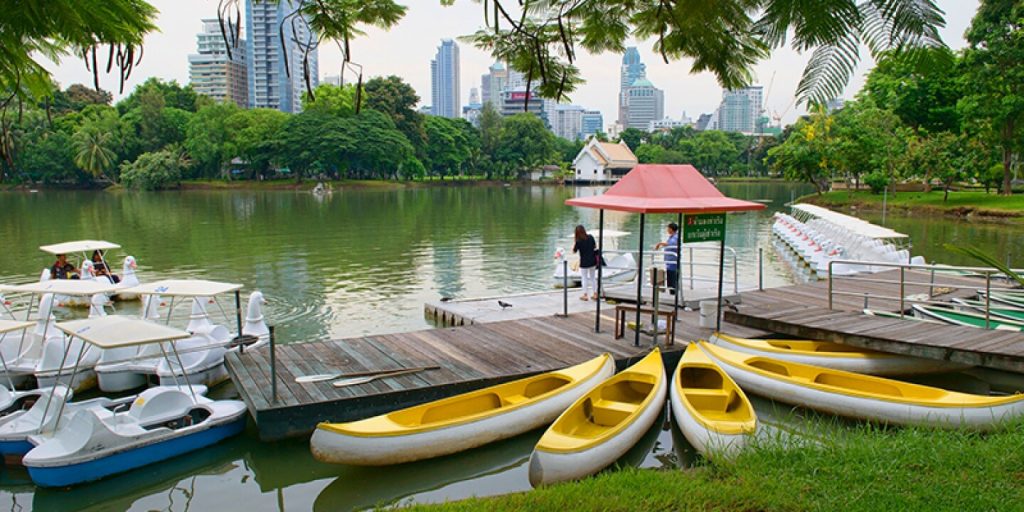 Lumphini Park is one of the most popular public parks in Bangkok. You can find a a vast range of outdoor activities. The park is located in the center of Bangkok. The bangkok residents come here for a relaxing walk, a picnic, or just to do the daily exercise.
It is the biggest park in Bangkok and the park has manicured lawns and meandering pathways, and serene lakes. Lumphini Park also offers more active fun with its cycling and boating facilities. 
They're also a great way for families to enjoy quality time together. For the more energetic, pedalling around the lake's circumference is a great way to take in the sights and lush landscapes of Lumphini Park. Not only is it a great way to burn some energy, but bike rentals are also fairly cheap. 
24. Attend the Yearly Thai Traditional Boat Racing Festival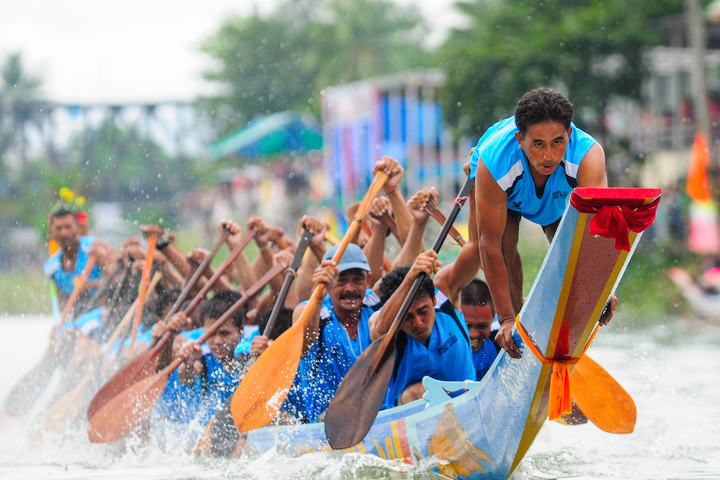 The festival is held during the country's New Year celebrations, as part of the traditional Songkran festivities. It attracts thousands of people from all over the country.
Competitors arrive decked out in ornate and colorful costumes, oars in hand and accompanied by their teams. The riverside is lined with cheering spectators ready to support the rowers.
The races are conducted on a number of different boats, ranging from the smaller single-seat crafts to the larger six-man traditional "Chang" boats.
The competition is fierce yet friendly, with the crews racing against each other for the win. Experiencing this festival is an amazing way to take part in a part of traditional Thai culture.
25. Visit the River City Bangkok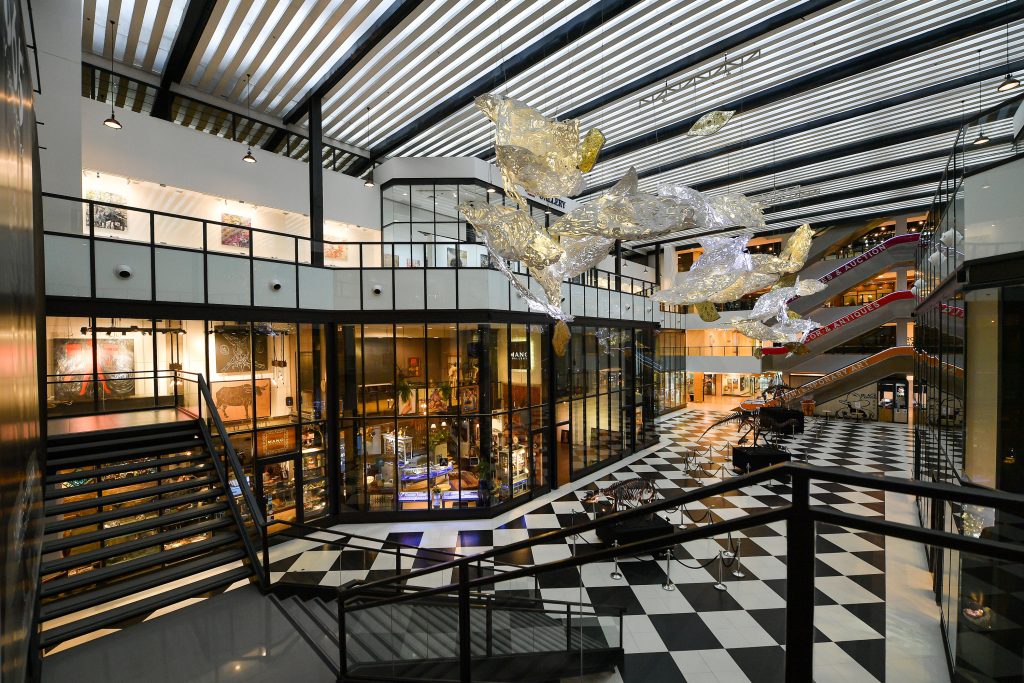 River City Bangkok is a cultured lifestyle centre for arts and antiques. It's an ideal destination for anyone who loves art, antiques or culture.
Its feature a lots of  works from Thailand and around the world. The centre also holds auctions and exhibitions to showcase their art collections. 
While immersing yourself in the art, culture, and history of the city, you can will be entertained with beautiful live music. There is also a selection of restaurants, cafes, and specialty shops for those looking for a unique souvenir. 
26. Watch the Sunset From the Peninsula Bangkok Rooftop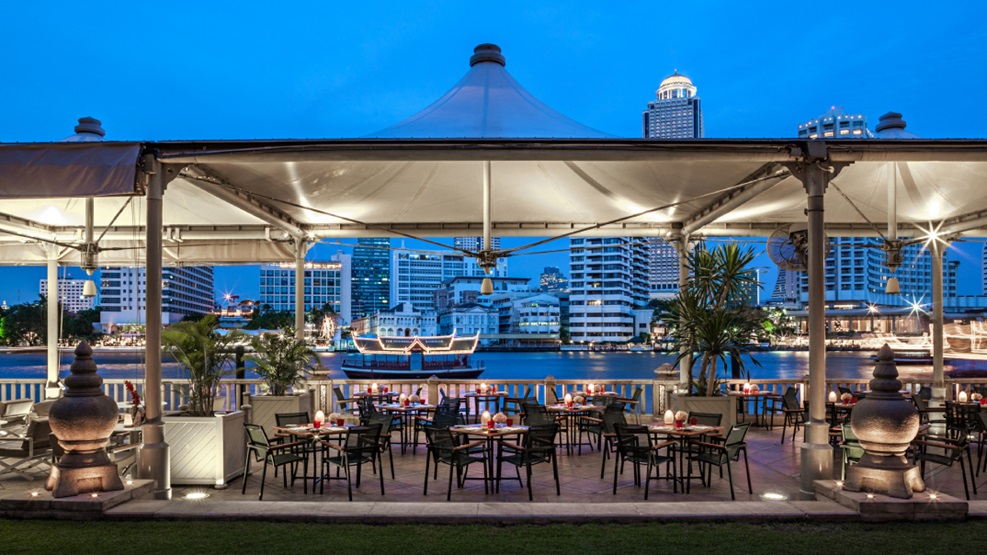 One of the best views of Bangkok is from The Peninsula Bangkok rooftop. On a clear and sunny day, you can enjoy a breathtaking sunset. 
You'll get a vast 360-degree view of the city from the 57th floor. As the sun sets and the sky turns a pinkish hue, the horizon fills with a spectrum of colorful skyscrapers and the Chao Phraya River sparkles in the twilight.
You can observe the elegant silhouette of traditional temple spires, as their golden roof tiles glisten in the fading sunlight.
The Peninsula Bangkok rooftop also features a great environment with comfortable sofas, signature cocktails, delicious tapas, and a lively music scene.
Relax and luxuriate in the wondrous sunset before you while slipping away an unforgettable evening in Bangkok.
Address: 333 Charoen Nakhon Rd, Klongtonsai, Khlong San, Bangkok 10600, Thailand
27. Have Fun Karaoke Night in the City's Bar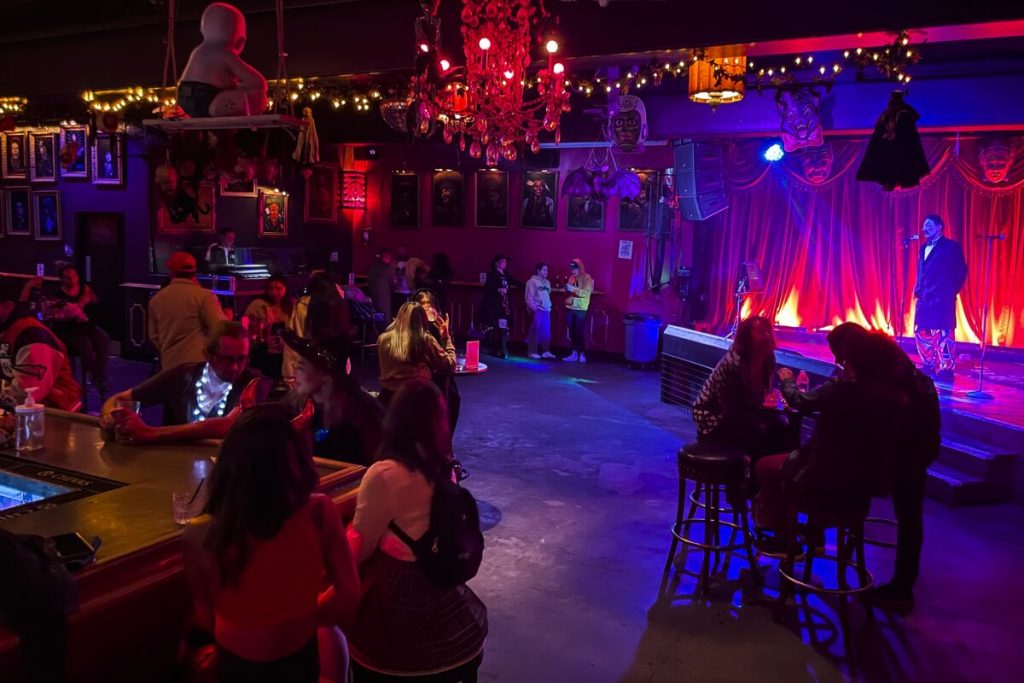 Karaoke is a great way to have fun night in Bangkok with friends. Most bar-restaurants in Bangkok offer karaoke machines and song libraries.
You can choose from the newest pop songs to old-time classics. The staff are generally friendly and social, and will be happy to help you find the right songs for your group.
Paired with affordable drink prices, it's an ideal way to spend an evening. Singers generally take turns picking a song, so you can take turns showing off your singing skills.
Just make sure to follow good karaoke etiquette and keep the sound level at a reasonable volume, so other patrons are not disturbed. Some karoke bars also offer props to make your experience more fun!
No matter if you're a karaoke expert or an amateur, having a karaoke night in a Bangkok city bar-restaurant is sure to be a great way to spend the evening. Bring some friends, order some drinks, and belt out some songs – you'll have a night to remember.
Best Karoke Bars: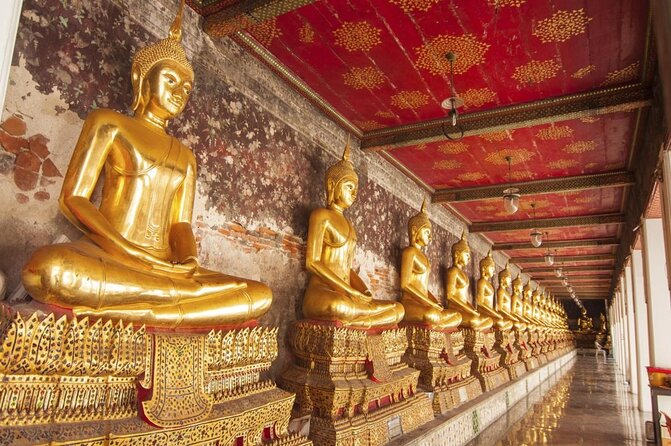 Wat Suthat is a classic example of Siamese architecture, located in the old quarter of Bangkok city. It was built in the late 18th century, during the reign of King Rama I.
It was originally constructed on the royal palace grounds and then moved to its present location by King Rama III. The highlight of Wat Suthat is its 328 feet-long red main chapel.
The inside of the chapel is decorated with murals depicting stories from the jataka-tales, and provides breath-taking view.
The main entrance of the temple is marked by a grand ornamental gate featuring intricately carved designs of gold-covered wood.
The main chapel features a 7.5-meter-high Buddha image, covered in gold leaf. The grounds also hold the ashes of King Rama III, as well as sculptures of Buddha, and 12 Chinese guardian gods.
Guests can also explore the giant swing and view the magnificent murals that were imported from other parts of Thailand.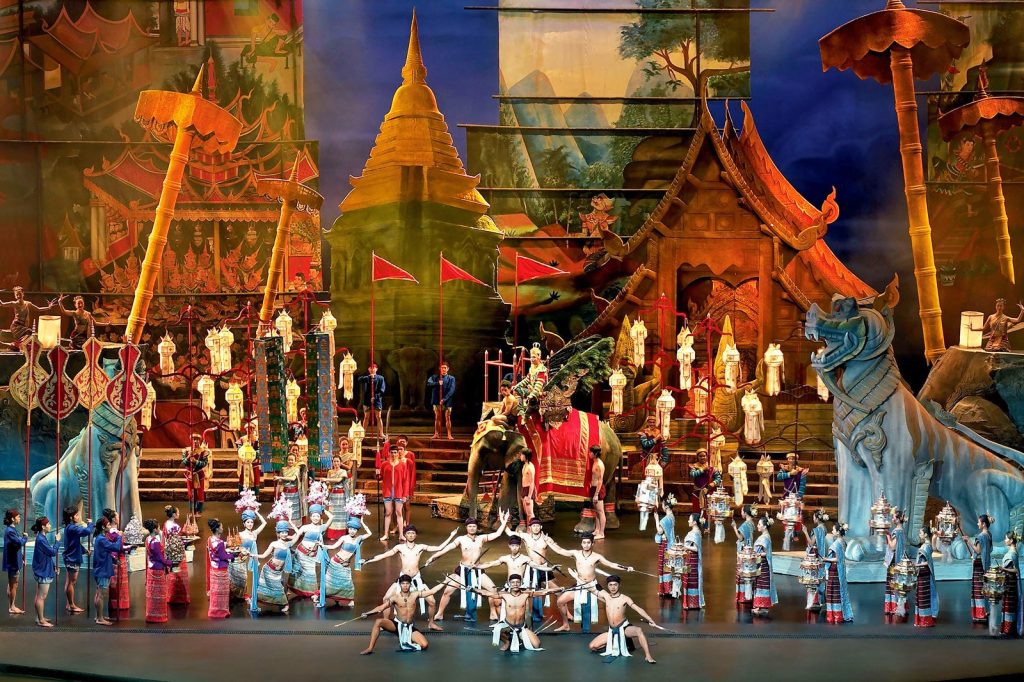 The Siam Niramit Show in Thailand is a spectacular thing to enjoy. Every night, performers from across the country come together. They put on great costumes and present a stunning show about Thailand's rich cultural and spiritual heritage.
The show is presented on a large five-tiered stage. The stage alone is 90 meters long, boasting some of the largest props and costumes in the world.
The show is at its peak during the festive season. The cast go all out with extravagant makeover and delight the audiences with their unique performance.
Along with powerful dance numbers, there are stunning acrobatic tricks that will certainly make your jaw drop. Plus, the high quality visual effects will transport you into a world of captivating illusions.
When the show ends, visitors are often  encouraged to take a tour of the extensive galleries showcasing the best in modern and traditional Thai arts. Book the best shows!
30. The Best Party Street Sukhumvit Soi 11- Bangkok at Night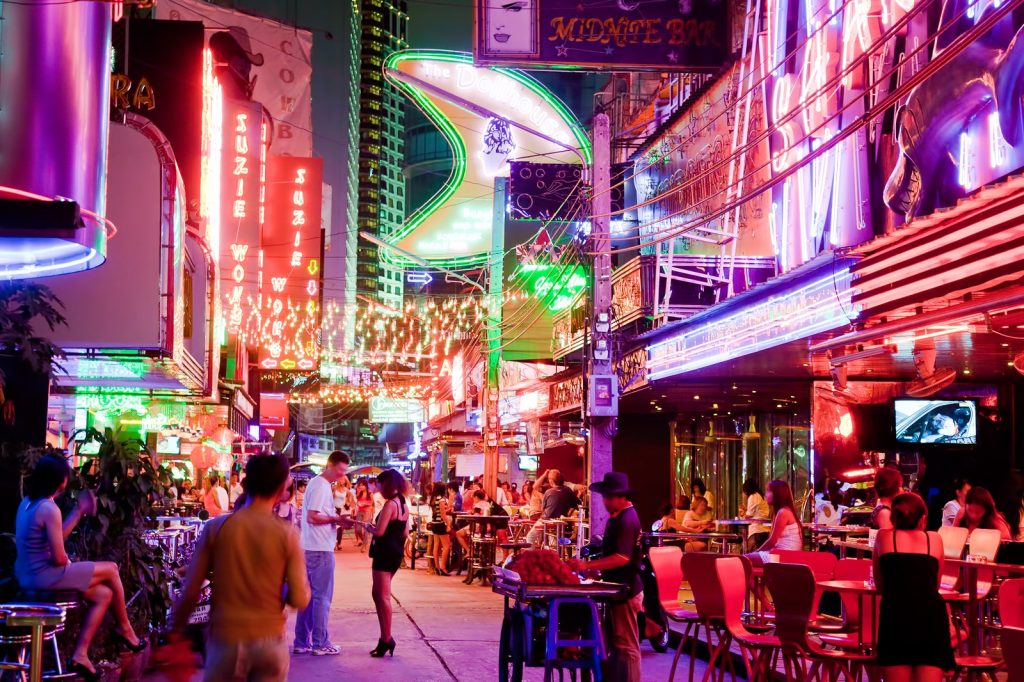 Sukhumvit Soi 11 is the best party street in Bangkok, especially at night. This street is lined with bars, pubs, clubs, and restaurants offering visitors an amazing nightlife experience.
You will experience the iconic party life of this capital city that we all hear about only at night! The Bangkok night party is like no other in the whole world.
The scintillating music and the liveliest atmosphere, Soi 11 is the perfect place to make great memories. Stylish lounges, rooftop bars, and live performance stages will keep you entertained for hours.
The food here are unique and delicious, and the drinks are pocket-friendly. Moreover, you can find many chill-out spots to take a break in between to talk and relax with your friends. 
Being located close to some of the city's best hotels and shopping malls, as well as easy access to public transport, Soi 11 is definitely the best place to party in Bangkok at night and certainly my favorite Bangkok experience!
31. Check Out the Street Performers in Siam Square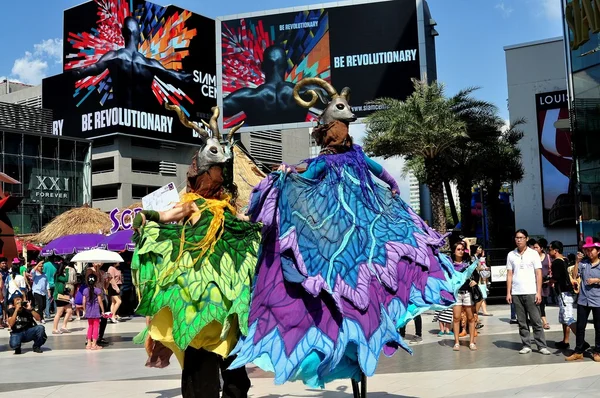 Siam Square, in Bangkok, is a shopper's paradise for locals and tourists alike. It is also host to numerous street performers and vendors offering an eclectic mix of live entertainment.
From traditional Thai dancers, to musicians and singers, to acrobats and magicians – Siam Square is a great place to people watch and be entertained.
  The street performers at Siam Square have something to offer everyone. From traditional Thai performers, to international acts, to unconventional unique acts, you will almost always find something to watch in the streets around Siam Square.
Some of the performers also offer interactive experiences, so you can learn a bit about Thai culture and even have a chance to join in the fun yourself.
Go visit the street performers in Siam Square and marvel at the variety of entertainment! You won't be disappointed!
32. Shop Till You Drop in Bangkok at Malls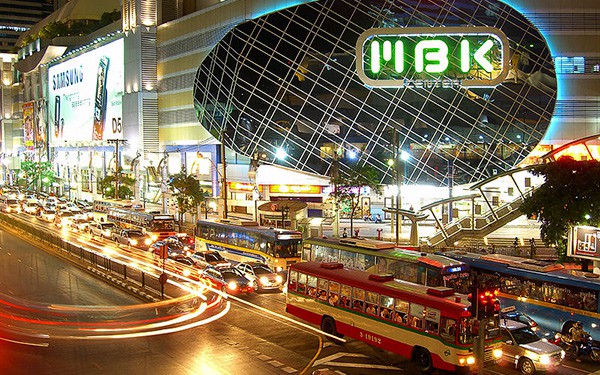 Bangkok is paradise for shopaholics! The city is filled with huge malls such as MBK, The Mall, and CentralwOrld, with endless stores and products to shop for and explore.
From the latest fashion trends to the best deals on electronics and home goods, the options are seemingly endless. 
No matter what it is you're looking for, you can find it in Bangkok. Take a few days and shop till you drop at the thriving megamalls of the city.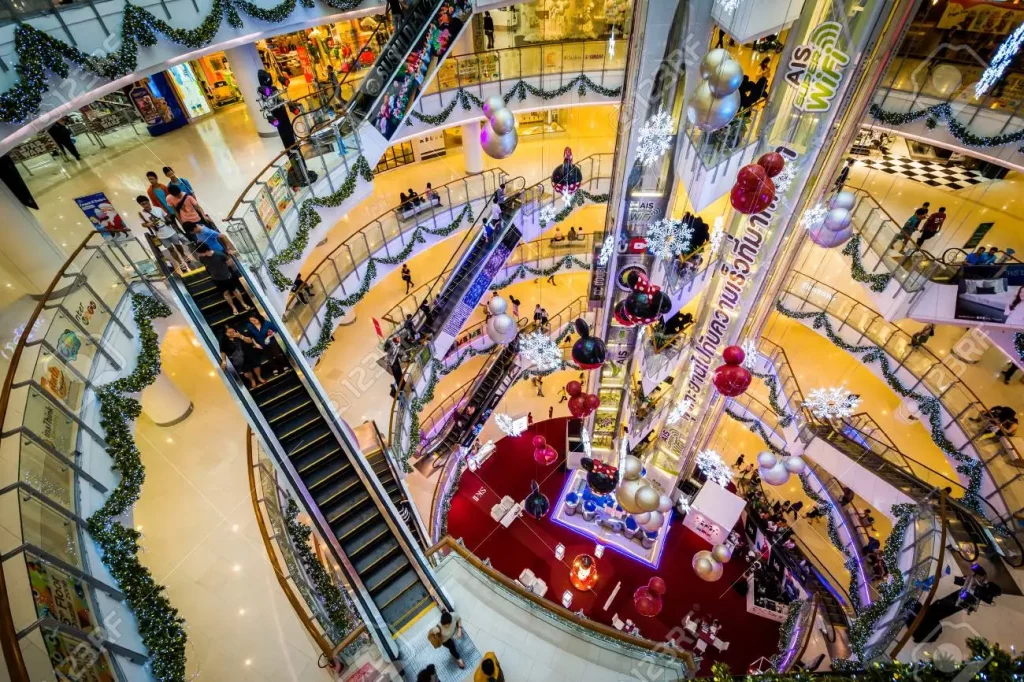 Get your hands on stylish clothing, designer handbags as well as affordable prices to high-end gadgets. Whether you're searching for the perfect gift or just browsing for a good deal, shopaholics won't be dissapointed.
Each mall has its own unique charm and specialties. From popular international brands to unique local finds, Bangkok gives you the best of both worlds. 
All the malls also include extremely good food courts as we all know shoppers need meal breaks in-between shopping.
At the end of your shopping spree, relax and unwind with a massage, have dinner and drinks at a rooftop restaurant, or just kick back and people-watch.
Shopping at malls in Bangkok has it all, and you'll leave the city feeling satisfied and happy.
Addresses:
MBK Center Bangkok : 444 Phaya Thai Rd, Wang Mai, Pathum Wan, Bangkok 10330, Thailand
The Mall Bang Kapi: 3522 Lat Phrao Rd, Khlong Chan, Bang Kapi District, Bangkok 10240, Thailand
CentralwOrld: 999/9 Rama I Rd, Pathum Wan, Bangkok 10330, Thailand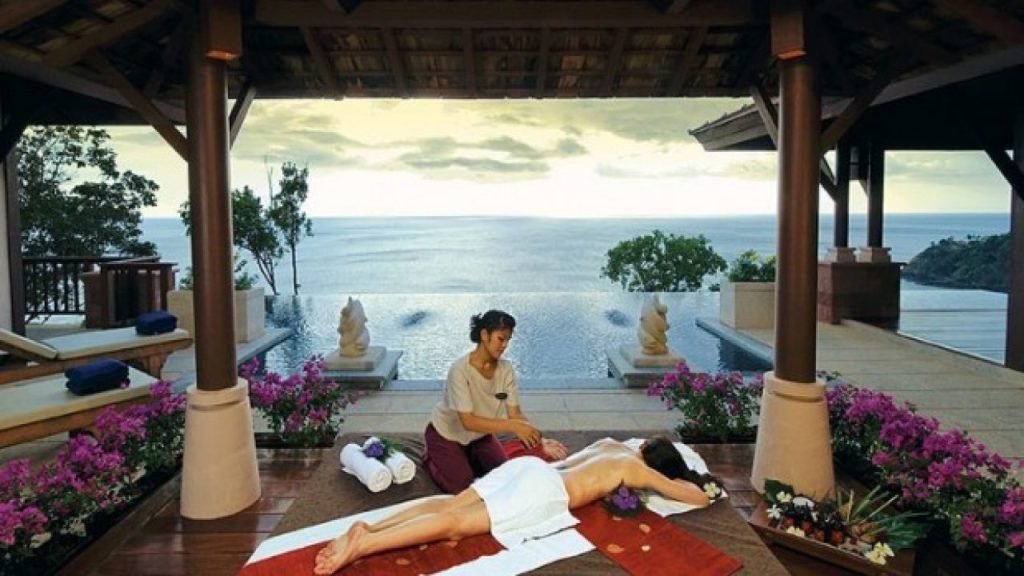 Bangkok is a city that is known for its luxury spas. Enjoy a day of pampering yourself with the luxurious treatments, such as aromatherapy, herbal baths, body wraps, facial treatments and special massages.
Popular treatments include the Thai Foot Massage, which uses a combination of stretching and acupressure techniques to help you relax and relieve tension.
You can also opt for a traditional Thai Body Massage. And trust me massage in Bangkok is literally the best.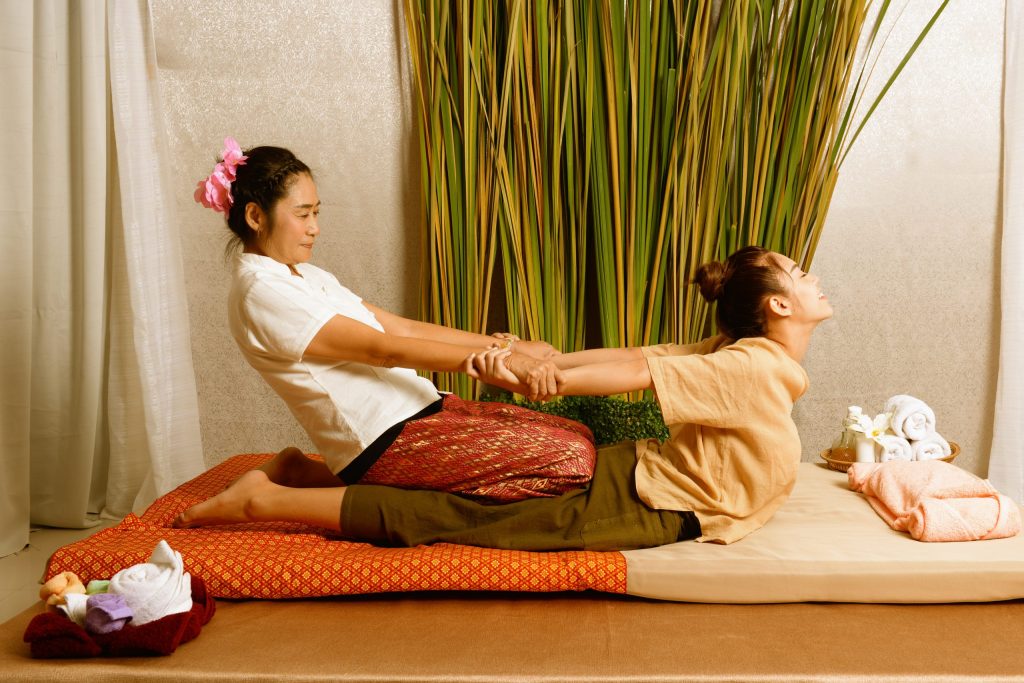 They use gentle pressure and stretching to help release trigger points, deep muscle knots and help improve your overall wellness.
Whether you're looking for a day of relaxation or just a quick treatment, taking time off for yourself at one of Bangkok's luxury spas will help you feel refreshed and renewed.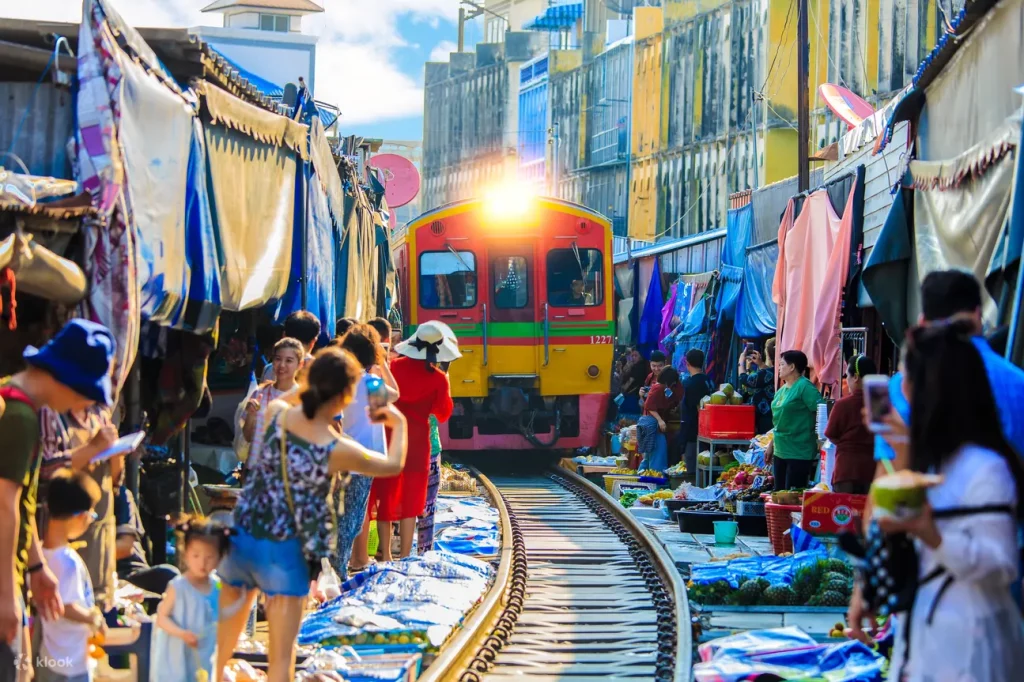 The Maeklong Railway Market in Thailand is a unique experience not found anywhere else in the world.
On the way to visit the market, you have to travel through the rural countryside of Thailand on a regional train from Bangkok – an experience that's just as memorable as the market itself. Reserve a seat for the Train Market!
Once you arrive, you will see vendors have their carts and wares inches away from the track as the train passes several times daily.
On each pass, vendors quickly pull back their carts and wares as the train passes, making for an interesting mixture of chaos and surprise to the market-goers.
Exploring this lively market and partaking in its unique atmosphere is a must for any traveler in Thailand.
35. Visit Dream World- Things to Do in Bangkok With Kids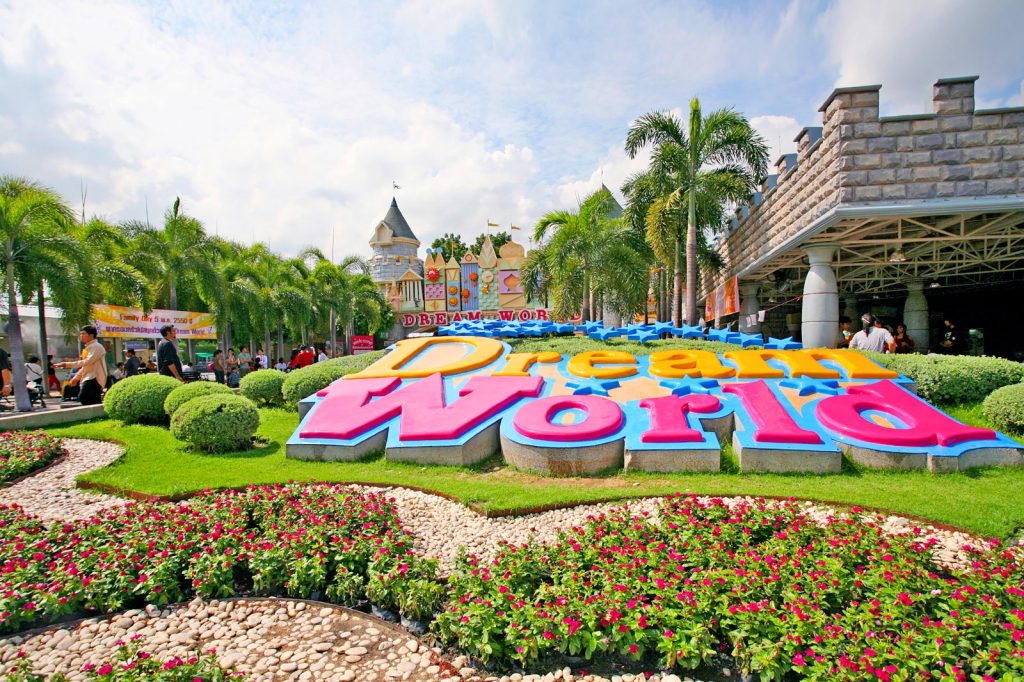 Visiting Dream World is an excellent way to have fun with kids in your visit to Bangkok. This park has something exciting for all ages and interests. Dream World features various themed parks, such as Adventure Land, Fantasy Land, and Dream Garden.
Adventure Land's rides and games are the main draw of Dream World, with roller coasters, water rides, and bumper cars. Fantasy Land, meanwhile, has a hi-tech 5D theater and a variety of fairytale-inspired attractions.
And finally, Dream Garden is a park within a park, where guests can find interactive art installations, animal shows, and traditional Thai handicrafts and shows.
36. Watch the Traditional Khon Mask Dance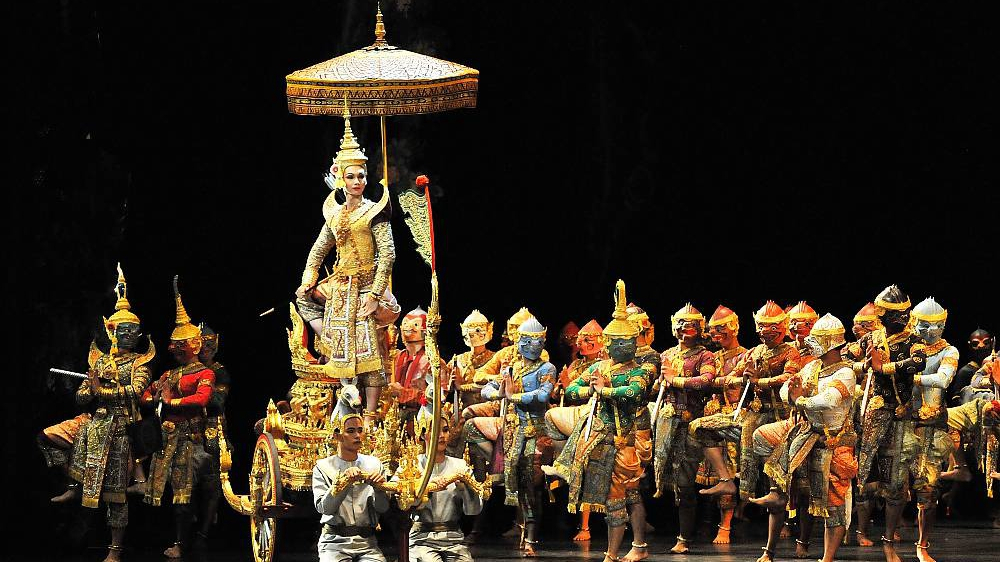 The traditional Khon mask dance is an ancient art form, tracing its origins to the 16th century in Thailand. It is a unique performance art that incorporates elaborate costumes, intricate masks, and stylized movements, in a blend of dance and theatre.
In a traditional Khon performance, the masked dancers portray a variety of mythological characters and Hindu Gods often in conflicts, usually accompanied by extensive narration and dialogue between the characters.
The performance is full of symbolism and is a great source of entertainment to audiences, as each character's story is told through their intricate costumes, movement, and masks.
The art form is still popular in modern day Thai culture, with professional troupes performing the Khon dance worldwide.
The extremely detailed and skillfully crafted Khon masks come in a variety of colors and hues, each representing a unique character.
The performers, typically dancers and actors, move in unison to intricate choreography, conveying a story to the audience through their precise and stylized movements.
The traditional Khon mask dance has been declared a Masterpiece of the Oral and Intangible Heritage of Humanity by UNESCO.
It is an important part of Thailand's heritage and culture, providing an incredible showcase of Thai music, culture, and performance art.
The professional troupes continue to keep this art form alive and to propagate its significance to the world.
37. Visit the Siam Square Night Bazaars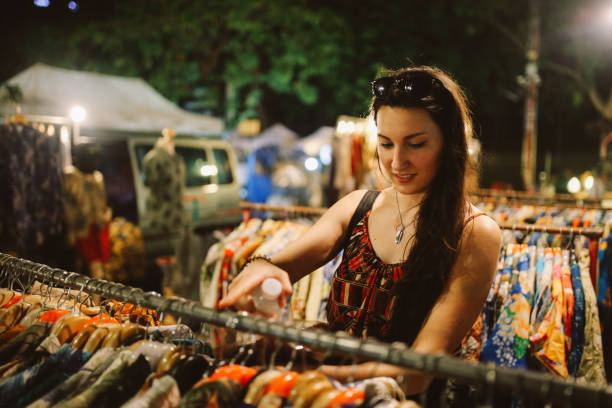 The Night Bazaars in the streets of Siam Square has a different energy. A wide variety of goods and products from all around Thailand can be found in the market, ranging from clothes to jewelry.
As you walk around, you are sure to find something special that truly captures the essence of Thailand. Many stalls also offer homemade snacks, with a large selection of freshly cooked items.
In addition to shopping and snacking, tourists can also enjoy live music and street performances.
Local singers can be heard strumming their guitars and singing heart-warming renditions of classic Thai songs.
Exciting performers, such as magicians and acrobats, put on a show that is sure to keep everyone entertained.
The atmosphere of the Siam Square Night Bazaars is truly incredible, and the market is a great place to experience Thai culture.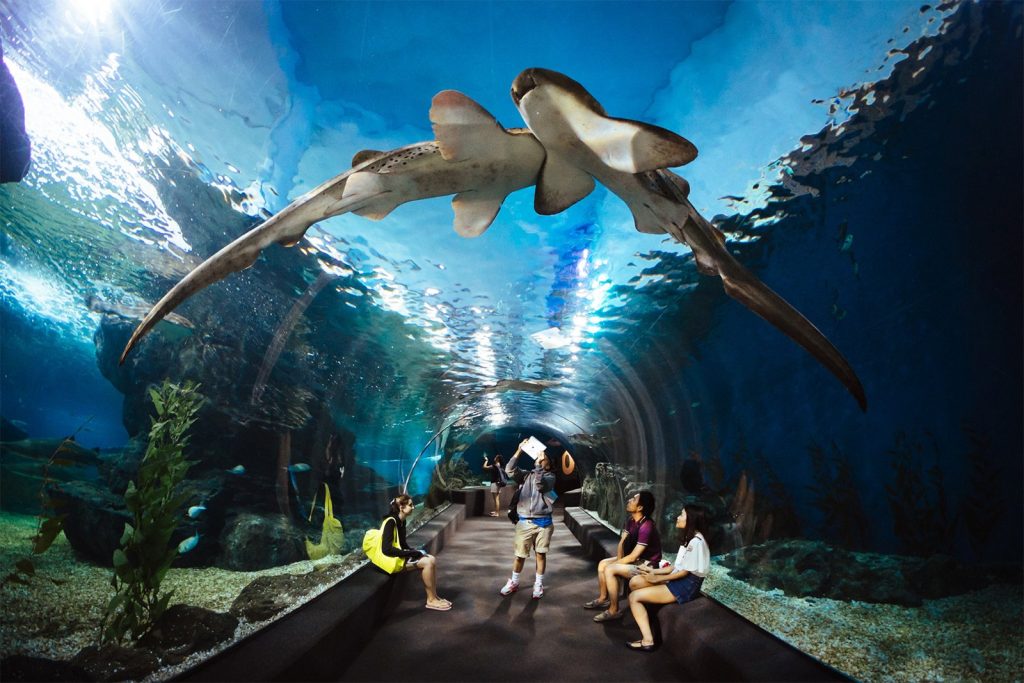 Head to the Bangkok Aquarium located in downtown Bangkok to witness the wonders of marine life! The Bangkok Aquarium is has some of the most exotic marine life in the world.
Here you will witness vibrant corals to graceful stingrays. Take a walk through the tunnel aquarium and observe the massive variety of tropical fish as they swim by.
Furthermore, you can learn about various species of marine life through the interactive exhibits and educational programs available.
Be sure to also check out the feeding programs and activities, such as touch pools and educational talks that will bring you up close and personal with the incredible creatures that live underwater.
Whether exploring alone or with your family, the Bangkok Aquarium will provide countless opportunities for educational and recreational experiences.
39. Date Night and Live Jazz at The Brown Sugar Jazz Bar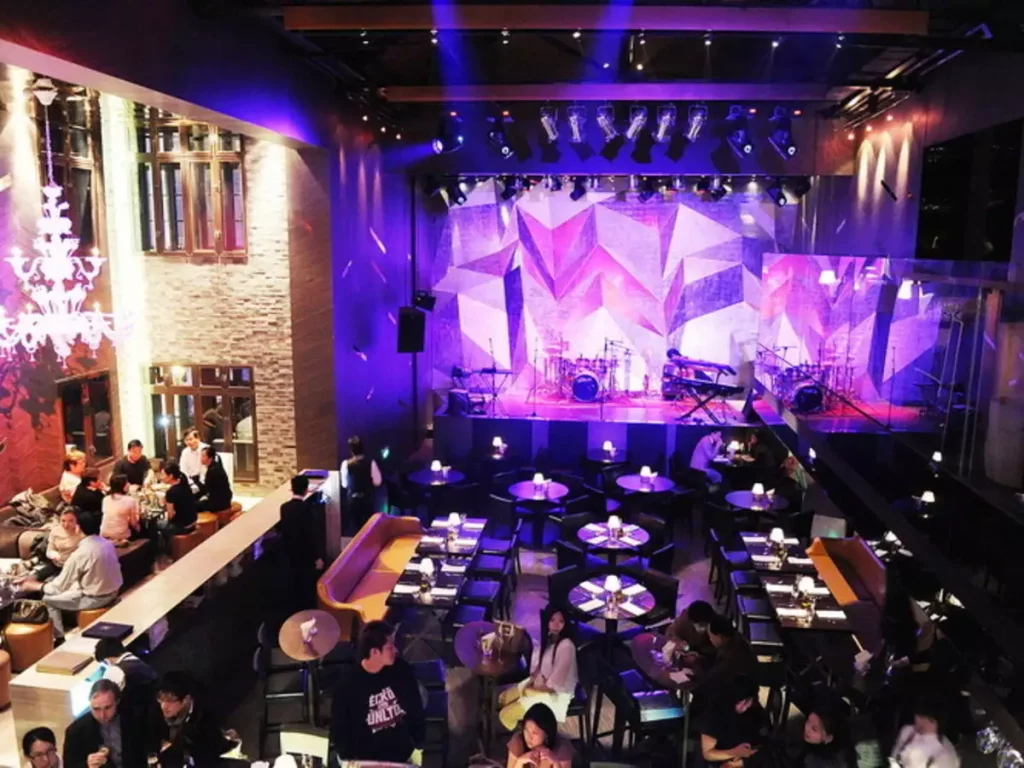 The Brown Sugar Jazz Bar is the best place in Bangkok for spending a night out listening to live jazz. Located in the hipster district of Bangkok, the bar is an intimate spot perfect for enjoying some of the city's best jazz music.
It's a very cozy bar that will give you great taste of jazz in Bangkok. On any given night, you can expect to find world-class musicians taking over the stage, backed by a local rhythm section.
The music in this bar is varies from traditional jazz and blues to modern interpretations and experimental sounds. The atmosphere in the bar is peaceful and intimate, which is perfect for date night in Bangkok.
The drinks menu carries mostly local favourites, combined with a few international twists. The snacks menu features a selection of mostly traditional Thai dishes.
Whether you come for the cocktails, food, or the music, you're sure to have a great time. Spend an evening listing to live jazz at The Brown Sugar Jazz Bar for an unforgettable evening in Bangkok.
Address: 18 ซ. นานา Pom Prap, Pom Prap Sattru Phai, Bangkok 10100, Thailand
Phone: +66 63 794 9895
40. Cruise Around the Canals of Thonburi – Flavors of Bangkok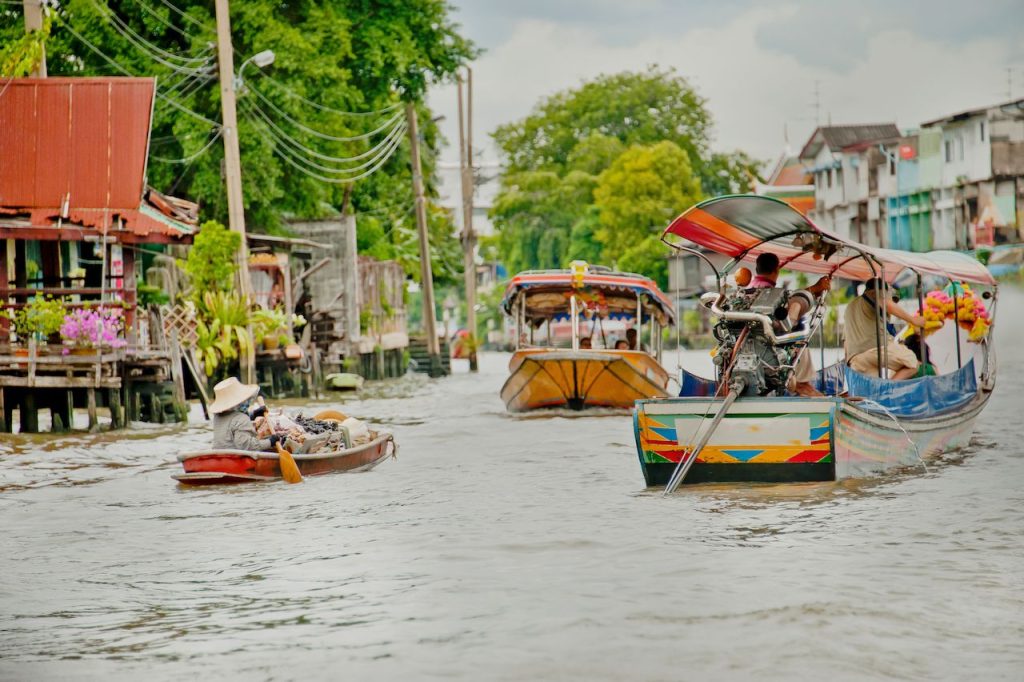 Cruising around the canals of Thonburi is one of the best things you can do in Bangkok according to lonely planet guide.
It gives a chance to admire the magnificent skyline of Bangkok up close while enjoying the peaceful, waterside atmosphere.
The canals has stunning views of historic sites, cultural landmarks, ornate temples, and local communities as you navigate your way through the waterways of Bangkok.
Along the way, your boat will pass through some of the city's most spectacular architecture. Your view will be the iconic Grand Palace and Wat Arun to the temple grounds of Wat Pho, one of the world's largest massage schools.
While cruising around, explore the floating markets. You will see locals gathering to buy and sell fresh, seafood, vegetables, and fruits.
And if you're lucky, you may even spot some of the local wildlife, including monkeys, reptiles, and  exotic birds. 
41. Get Close to Amazing Animals and Birds at the Dusit Zoo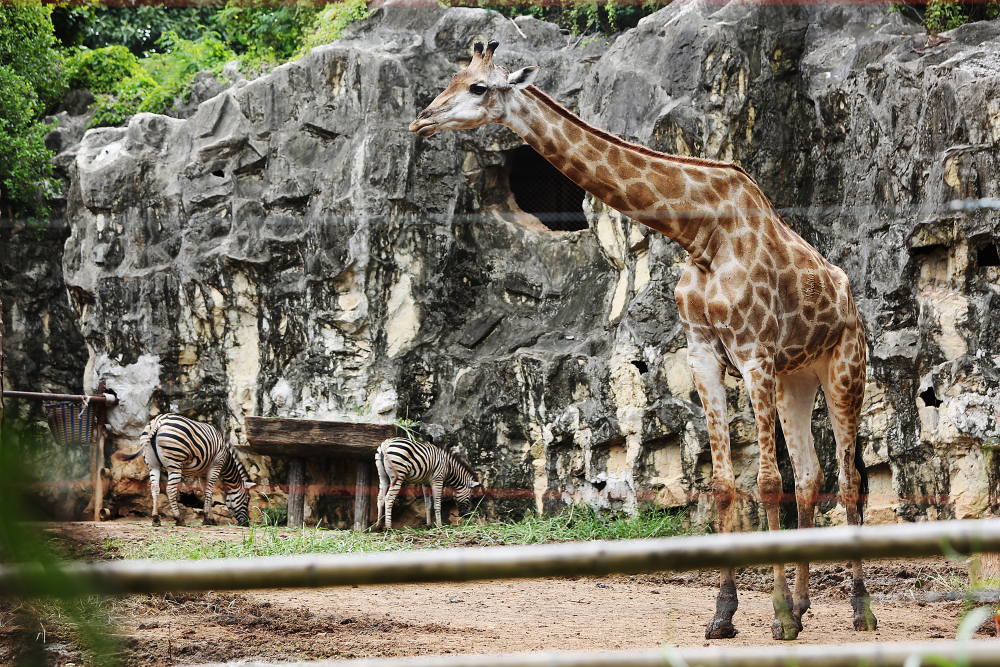 With over 700 animals, and collections featuring a wide variety of species, the Dusit zoo offers a chance to get to know the world's most striking creatures from far away places.
Here you can get up close and personal with the majestic tigers, graceful elephants, exotic birds, monkeys and many more excotic animals.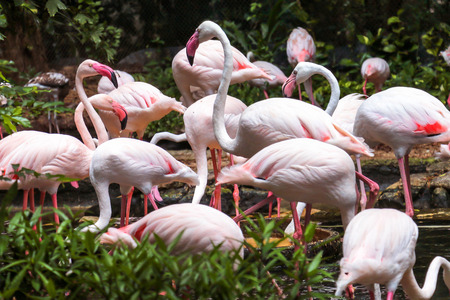 The zoo allows visitors to interact and learn more about animals that they wouldn't normally have access to. Beside that, the zoo features some of the most magnificent avian life in the world, with more than 400 bird species inhabiting the grounds.
With large open-air aviaries, visitors can observe how these wonderful birds live and fly. For those with a keen interest in conservation, there is also a breeding centre where endangered species are bred to help them retain the population numbers.
42. Spend a Fabulous Bangkok Day With Family at Safari World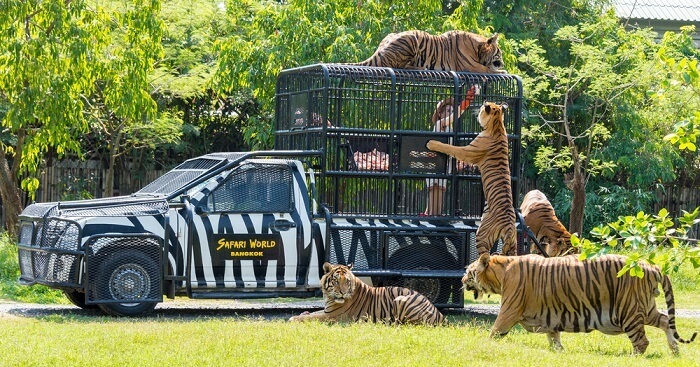 Spending the day at Safari World in Bangkok,  is a great way to get up close and personal with wild animals while enjoying a fun family day out.
Safari World is Bangkok's best and largest outdoor zoo. It includes both animal and marine parks.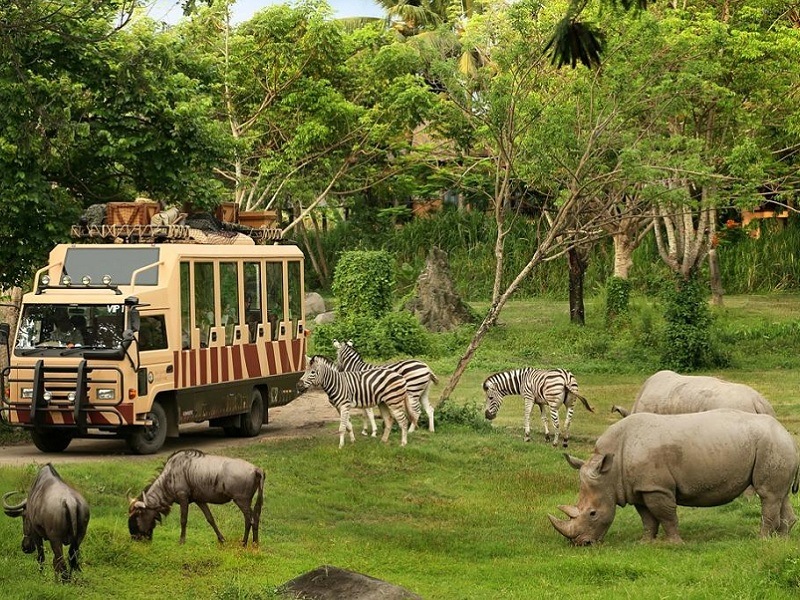 At the Safari Park, book a ride in an open air-truck and get the glimpse of most rare and exotic animals. You will be able to get an up close and personal look at some of the world's most exotic wildlife.
Your family and kids will have fun watching rhinos, Giraffes, zebras, wildebeests, and more in their natural habitats. You also get to feed some of the animals and even watch and take a photo with some of the big cats. 
The Marine Park is the other half of the Safari World experience and it is a must for lovers of sea life. Here you will get to see sea lions, dolphins, seals, and even an rare collection of tropical fish.
There is a range of entertaining shows featuring these animals and their interactions with expert trainers. You can also take a boat ride around the park or just take some time to relax and enjoy the views from the beach. 
The Safari World experience is even more exciting when shared with friends and family. It is one of the best places for families to spend the day engaging in fun and education activities. Book a tour now!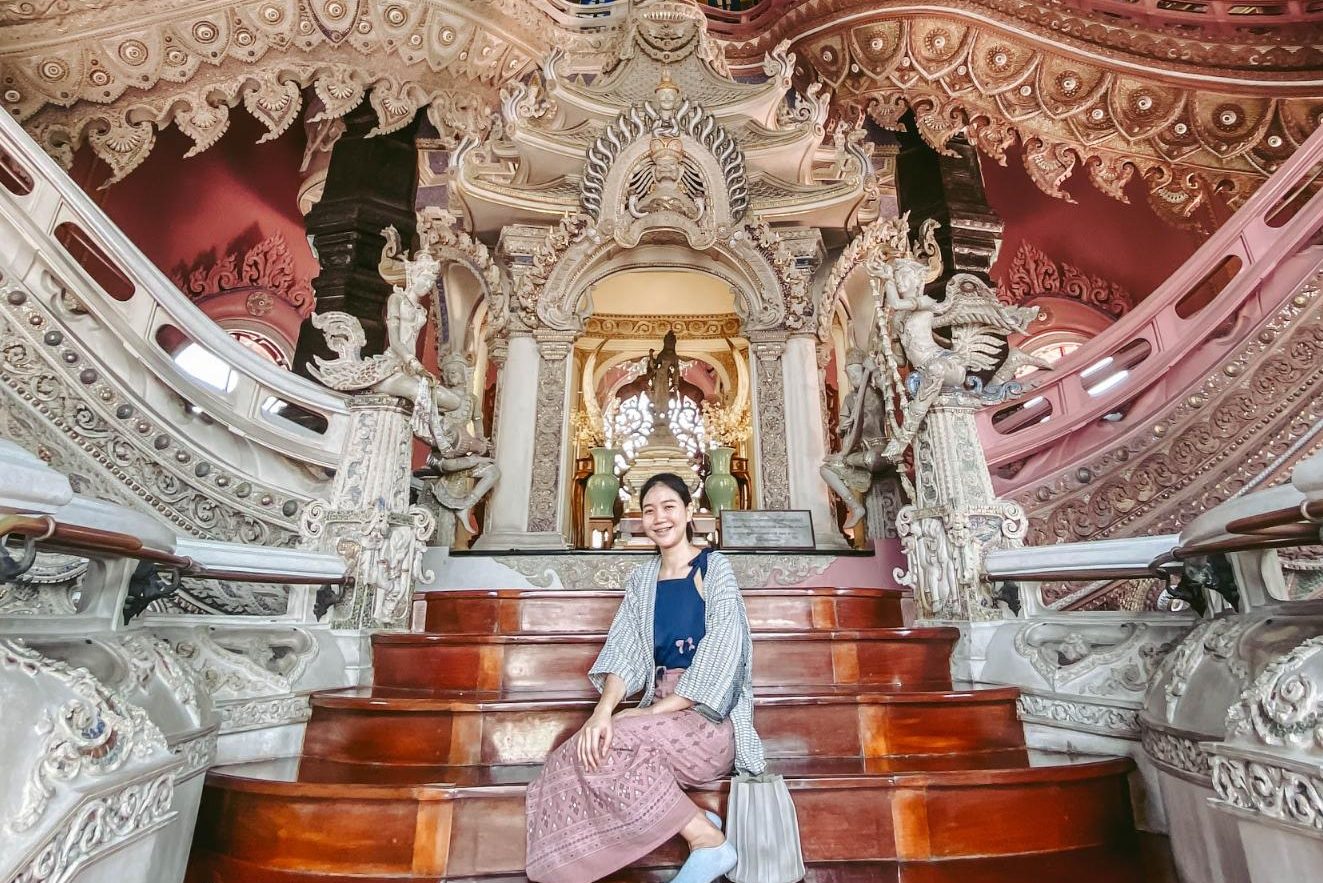 If you're looking for an impressive cultural experience to share on Instagram, a visit to the Erawan Museum is definitely a must-see.
This is one of bangkok's best museums, houses an impressive three-headed rooftop elephant with stunning interiors, believed to be the sacred vehicle of Indra, the king of gods, according to Ramayana Legend.
The elephant is often depicted with seven ivory tusks and 33 heads, filling palace grounds where gods and goddesses live.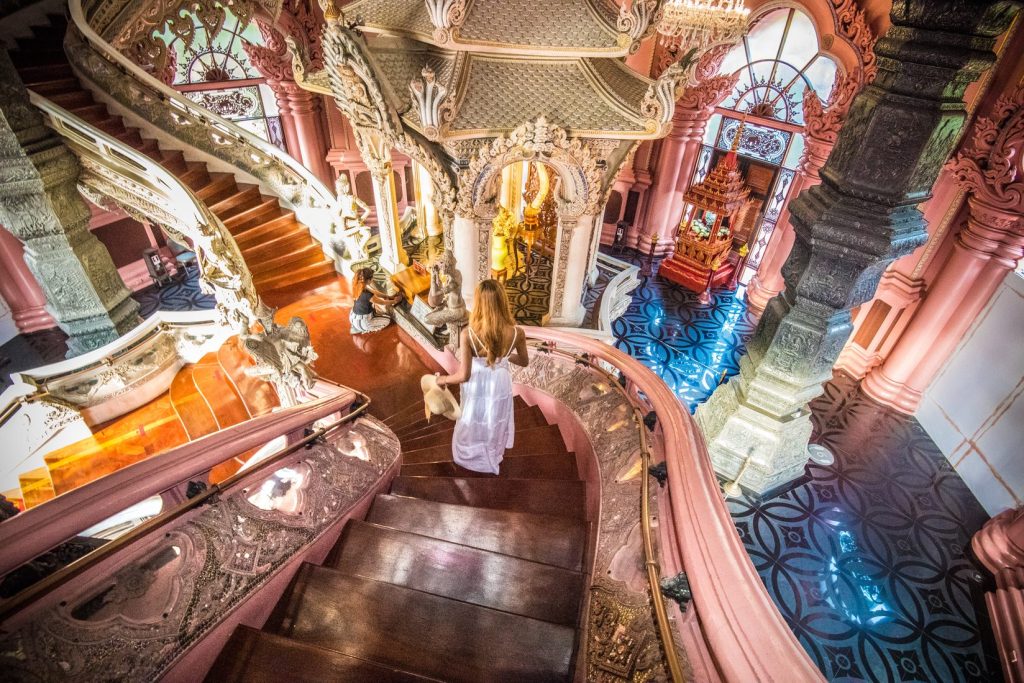 Each day, people from around the country come to the museum to make offerings to Erawan and Indra, and wish for success. You can float a small cup with a lotus flower in the nearby pond as a means of bringing you good luck. Book a tour!
Before entering the temple grounds, visitors must offer a prayer to both Erawan and Indra at two separate worship areas, outside at the entrance, and inside in front of the statue.
Entrance tickets to this museum include a free set of oblations presented to gods or deities.
44. Quirky Dinner at Cabbages & Condoms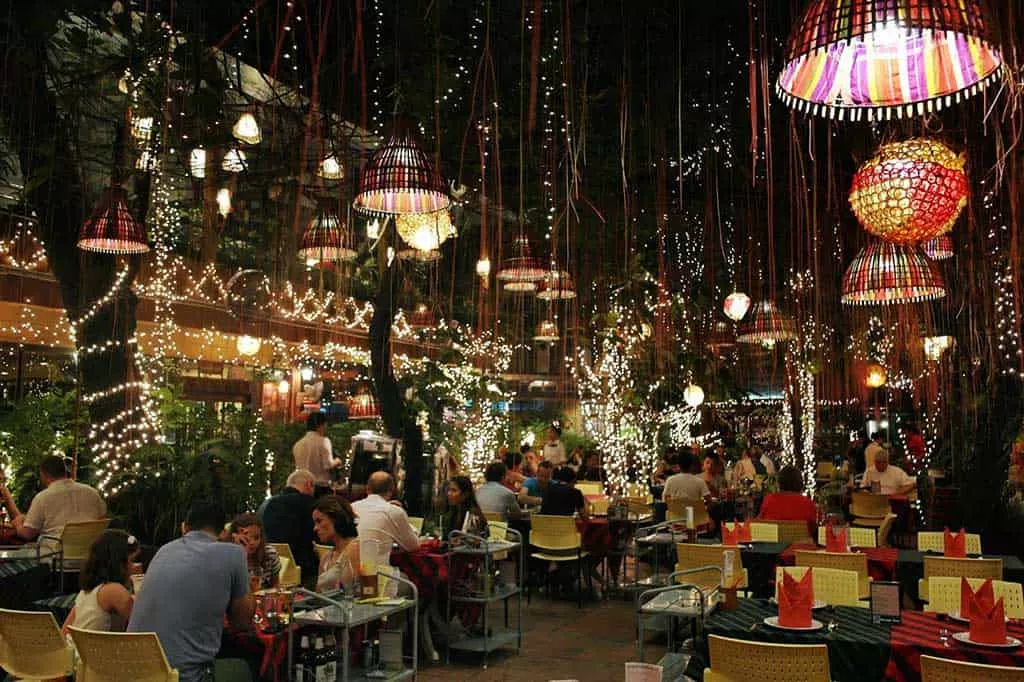 If you are planning a visit to Bangkok or any other part of Thailand, Cabbages and Condoms is the restaurant you should visit.
Started as a small vegetable stall, the restaurant has now become quite popular with tourists. The signature feature of this restaurant is certainly the condoms strewn all around (in fact, it is true to its name).
The profits earned by this restaurant are reinvested into charitable causes for young or disadvantaged people across Thailand. The most famous branch is located on Sukhumvit Road in Bangkok.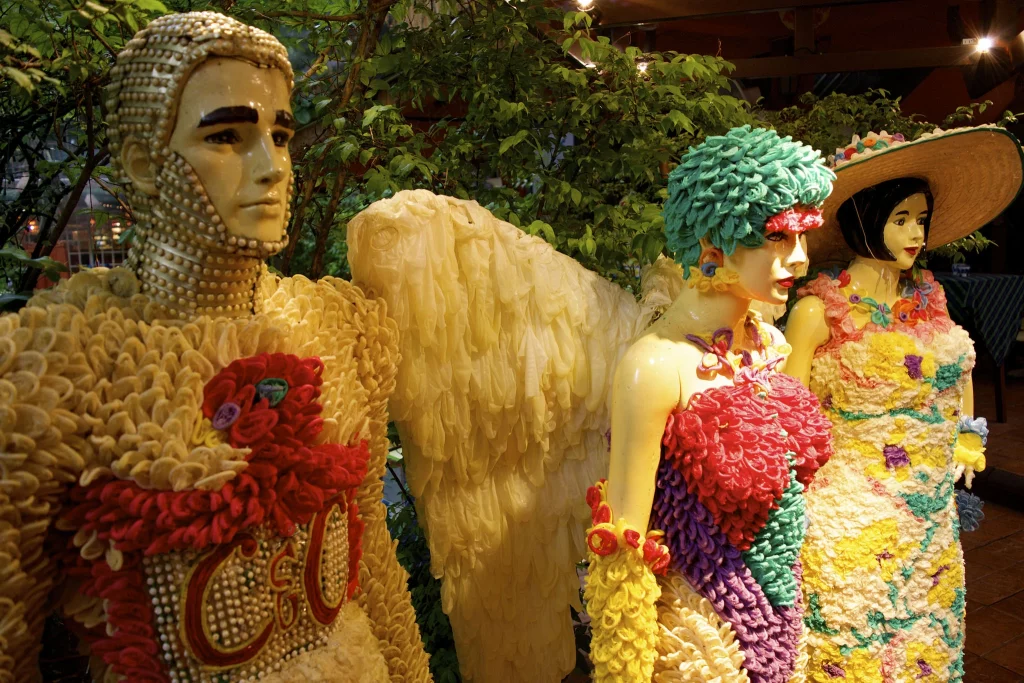 A dimly-lit path leads you to the entrance of the restaurant. As soon as you enter, you will be greeted by colorful condom costumes.
If you are lucky enough to visit just after Christmas you are sure to find a Father Christmas and reindeer made out of rubbers.
The unique décor at the restaurant includes condoms from different countries, giant condom post box and many more. Don't forget to take funny pictures with cardboard images of condoms for memories.
Address: 6 10 Sukhumvit 12 Alley, Khwaeng Khlong Toei, Khlong Toei, Bangkok 10110, Thailand
Phone: +66 2 229 4610
45. Visit the Iron Fairies for Some Unique Cocktails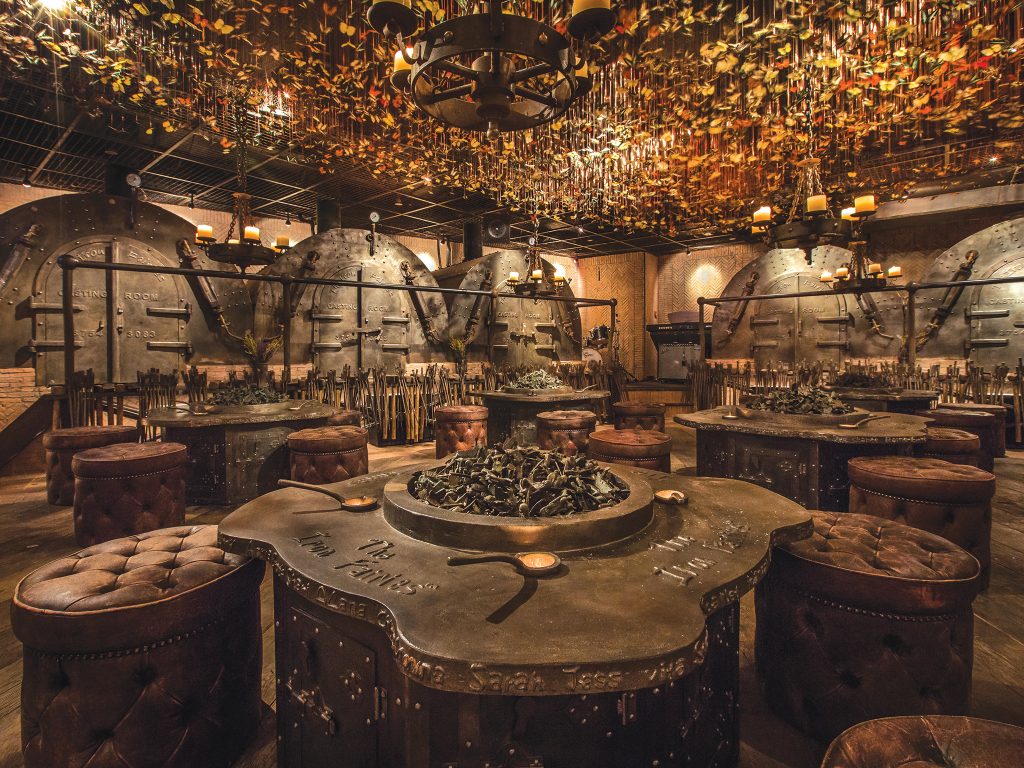 Are you looking for an exciting place to go for a night out in Bangkok? Iron Fairies is the perfect destination! Led by Australian artist and designer Ashley Sutton, this unique bar offers a food and drinks menu that must be seen to be believed.
Serving an extensive cocktail list with names straight out of a fairy tale, drinks at Iron Fairies come in at about 300 baht (around $9).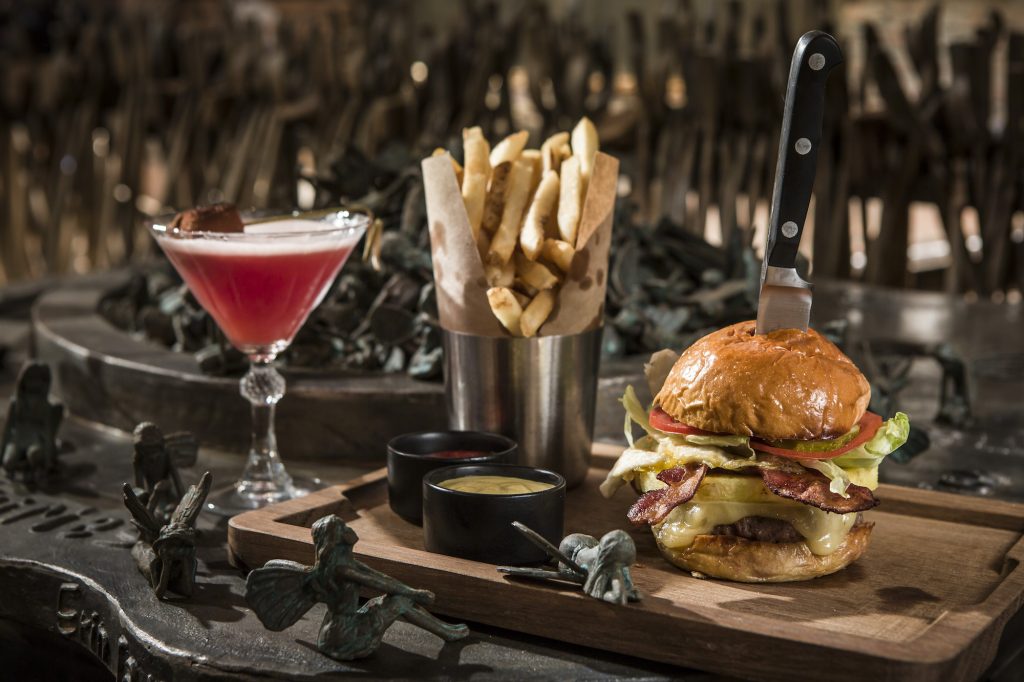 Fancy something even more daring? Then try the Absinthe cocktails, or 'Green Fairy', for the brave. If you're in the mood for something more edible, their signature beef burger is delicious and comes presented on a chopping board at 330 baht (around $10). Or, for something lighter, try a tray of oysters at 690 baht (around $21).
At 9pm each night, the atmosphere is further enhanced with live music, usually laid back jazz. Not feeling brave enough to sing?
Fear not, for on Mondays it's open mic night! Just be sure to be there before 8pm to secure your spot near the bar and the stage!
Address: 53, 1-2 Soi Sukhumvit 39, Khlong Tan Nuea, Watthana, Bangkok 10110, Thailand
Phone: +66 63 901 1115
46. Indulge in Local Snacks and Drinks at Talad Neon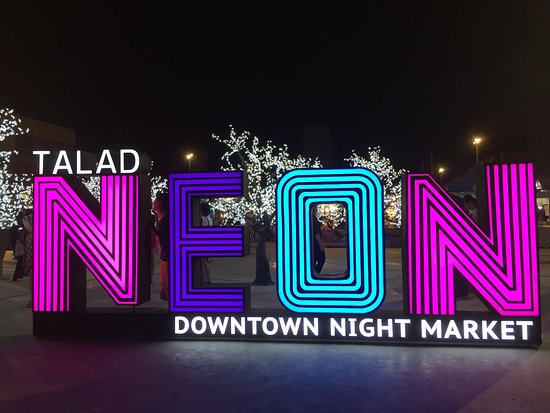 Are you in Bangkok and looking for the perfect spot for an evening out? Talad Neon is a hipster night market that could be your newest adventure.
Located near the popular Platinum Fashion Mall, Talad Neon offers over 900 stalls of food, fashion, and entertainment that will catch anyone's eye.
If you have a love of cheese, you will definitely want to make a stop at the cheese fries stall and try out this Instagram trendy dish. Hot, crisp fries drenched in nacho cheese is a heavenly combination you must try.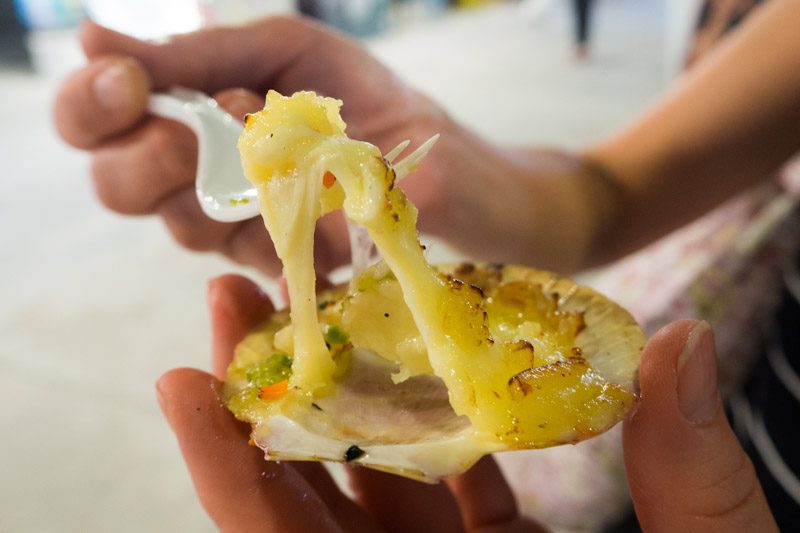 Plus, for the cheese fanatics, you can get your taiyaki with cheese fillings and watch the cheese pull Boomerang go viral on the 'gram.
If you're getting thirsty, why not get the traditional Thai milk tea where you can see bartender with his elite pouring skills?
If you are feeling more daring, you can even try out the 'Bloody' drink which is a gimmicky blood bag filled with fruit punch.
Don't forget to window shop for fashion. Talad Neon offers clothes, bags, accessories, and shoes at affordable prices- which also come with an insta-worthy hang out: a vintage barber shop in a shipping container!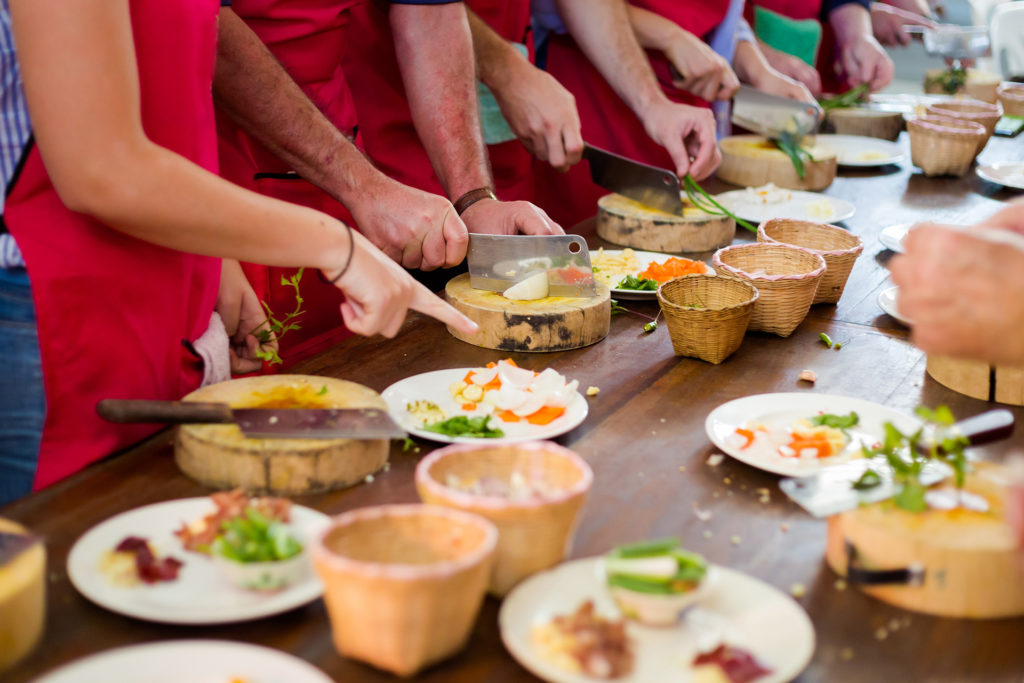 I want to go back to Bangkok again and again for my favorite thai food. Are you passionate about Thai food too?
Enroll in a Thai cooking class with a maximum of eight participants and learn to make authentic dishes instructed by a professional and certified Thai chef.
Visit the market, pick up your ingredients, and after, head back to the kitchen to work your culinary magic creating delightful dishes of your own.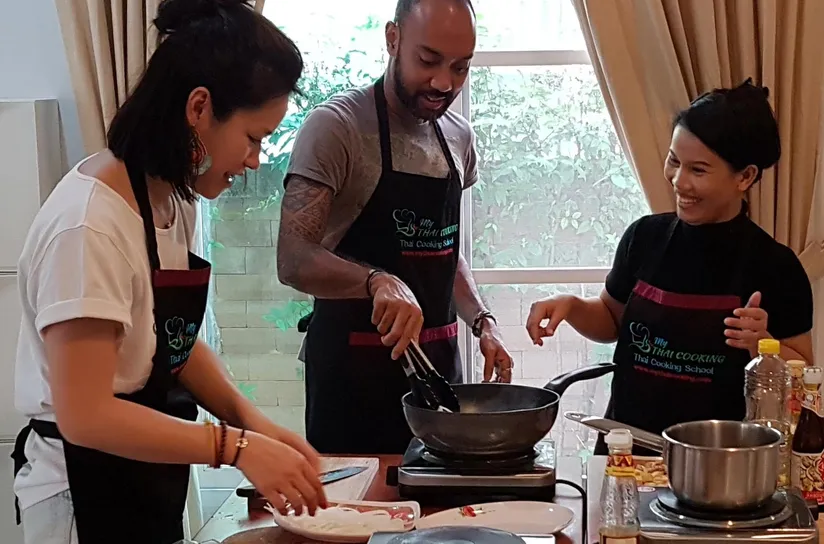 You'll learn to make curry paste, work with dough and fresh herbs, as well as prepare four traditional Thai dishes.As a souvenir, you will receive full coloured cookbooks to remember your time spent in the Thai kitchen. 
Surprise your family and friends by bringing home the taste of Thailand's traditional cuisine! Enroll now and get the best deal!
48. Fine dining at any of the chic restaurants of Silom
Silom is known for being the financial heart of Bangkok and a bustling hub for nightlife. With stunning skyscrapers, the area is dotted with bars, restaurants, and cafes, making it a great place to explore day or night.
Sirocco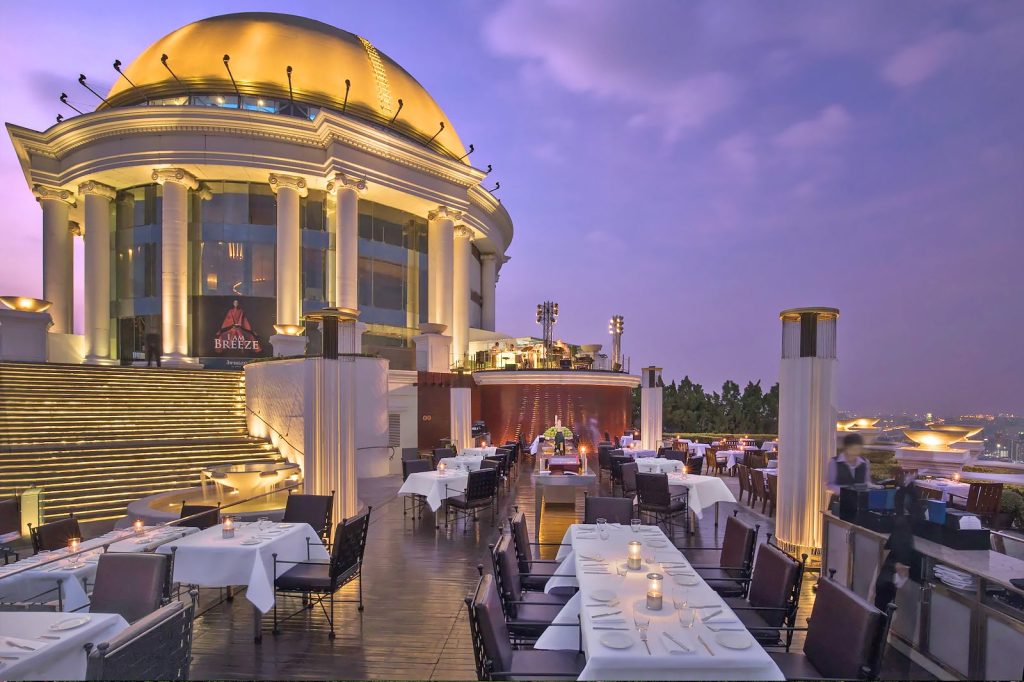 To refuel your energy levels, visit one of these top restaurants for the ultimate dining experience. Treat yourself to the highest-class meal at Sirocco, a Michelin-starred restaurant set in Lebua hotel.
Expect elegant settings, strict dress codes, and pricier dishes, such as beef sirloin, sea bass, and braised pork. To make your experience even more memorable, take a seat in their al fresco area to gain incredible views over the city. 
Address: 64th Floor, State Tower Bangkok, 1055 Si Lom, Silom, Bangrak, Bangkok 10500, Thailand
Phone: +66 2 624 9555
Somtum Der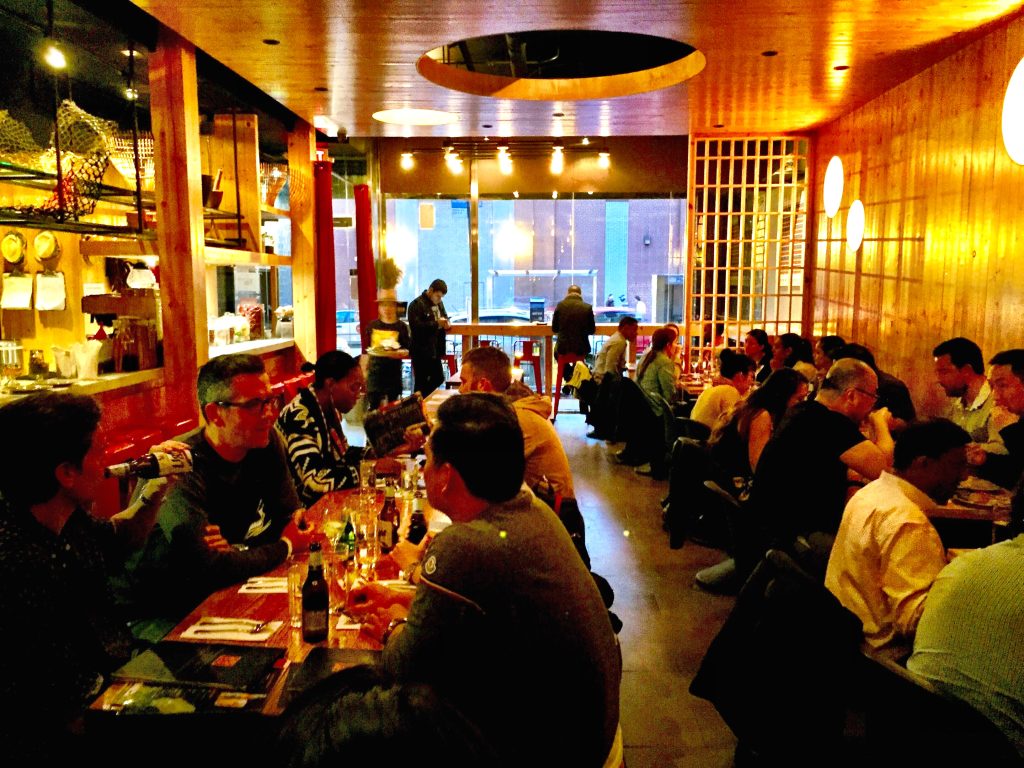 For a taste of traditional Thai cuisine, head to Somtum Der. Specialising in dishes from the Isan region, such as catfish soup and fried Isan sausage.
It's a great place to savour a local delicacy. The restaurant has a modern, rustic vibe and is ideal for lunch and dinner. 
Address: 5, 5 Sala Daeng Rd, Khwaeng Silom, Khet Bang Rak, Krung Thep Maha Nakhon 10500, Thailand
Phone: +66 2 632 4499
Eat Me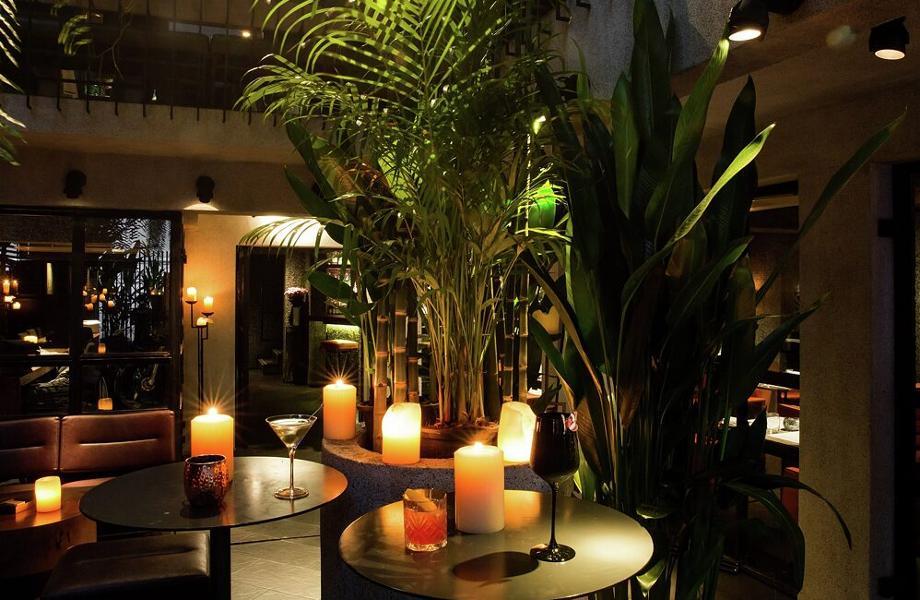 For a classic international flavour, Eat Me restaurant is the place to go. You'll find dishes like beef ragu, grilled squid, and roasted lamb, plus plenty of options for vegetarian diners. Not only that, there's an on-site gallery for you to explore. 
Address: 1, 6 Phiphat 2, Silom, Bang Rak, Bangkok 10500, Thailand
Phone: +66 2 238 0931
Zanotti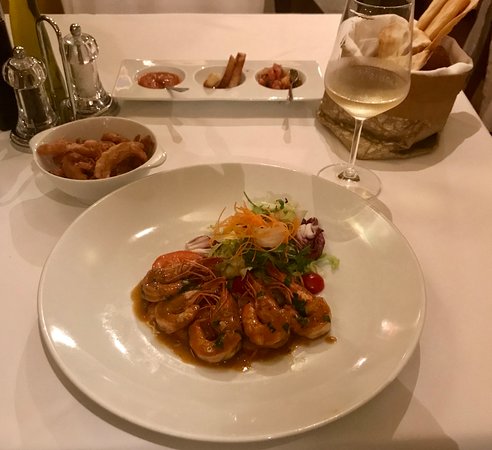 If Italian is more your style, Zanotti is authentically Italian and boasts freshly made pastas and pizzas. Take in the tranquil atmosphere of white tablecloths, candles, and flowers while tasting a mix of fresh local produce and import specialities from Northern Italy. As well as this, there's also an extensive wine list.
Address: 21 Saladaeng Colonnade Condominium, Yommarat Alley, Silom, Bang Rak, Bangkok 10500, Thailand
Phone: +66 2 636 0002
49. Get the Best views of Bangkok from Baiyoke Sky Tower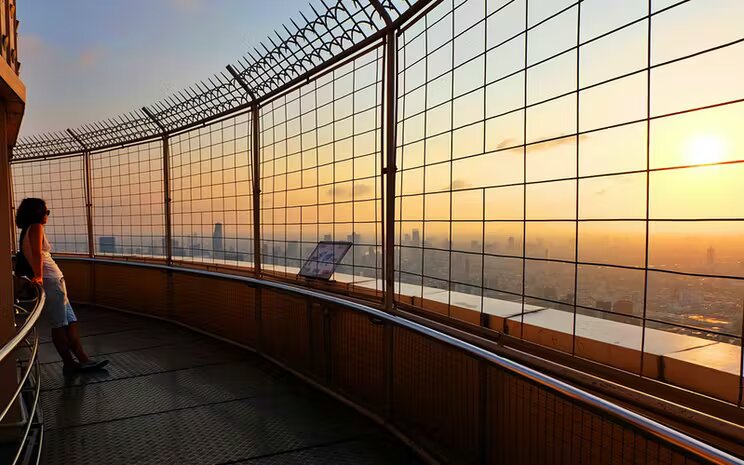 The Baiyoke Sky Hotel, the longest reigning champion of Thailand's tallest buildings, is a one-stop destination for tourists and locals who want to enjoy the spectacular views of Bangkok and the Gulf of Thailand.
With maps, computerized multimedia kiosks, and coin-activated telescopes, visitors can identify the pedestrians and buildings 250 meters below their feet.
On the 77th floor, there is the observation deck with an extra option to the revolving view point on the 84th floor, providing unparalleled views of Bangkok and its surrounding areas.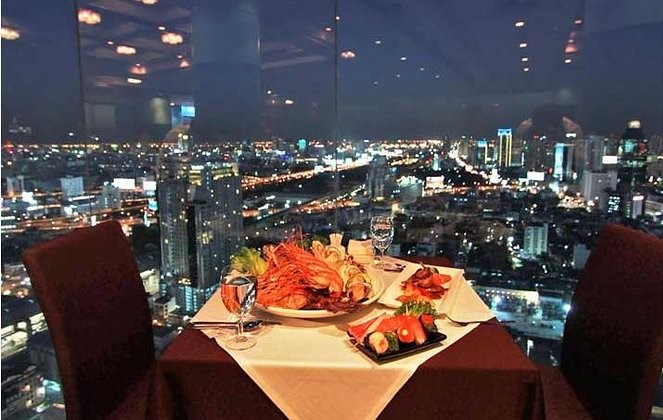 The Baiyoke tower is a must-visit for anyone looking to take in the panorama of the city and its beyond.
On the 77th floor, there is the luxurious, international buffet restaurant, Bangkok Sky, or if you're looking for a more personal, private atmosphere, the Crystal Grill Restaurant on the 82th floor offers premium Australian sirloin beef.
Address: Baiyoke Tower II, Thanon Phaya Thai, Ratchathewi, Bangkok 10400, Thailand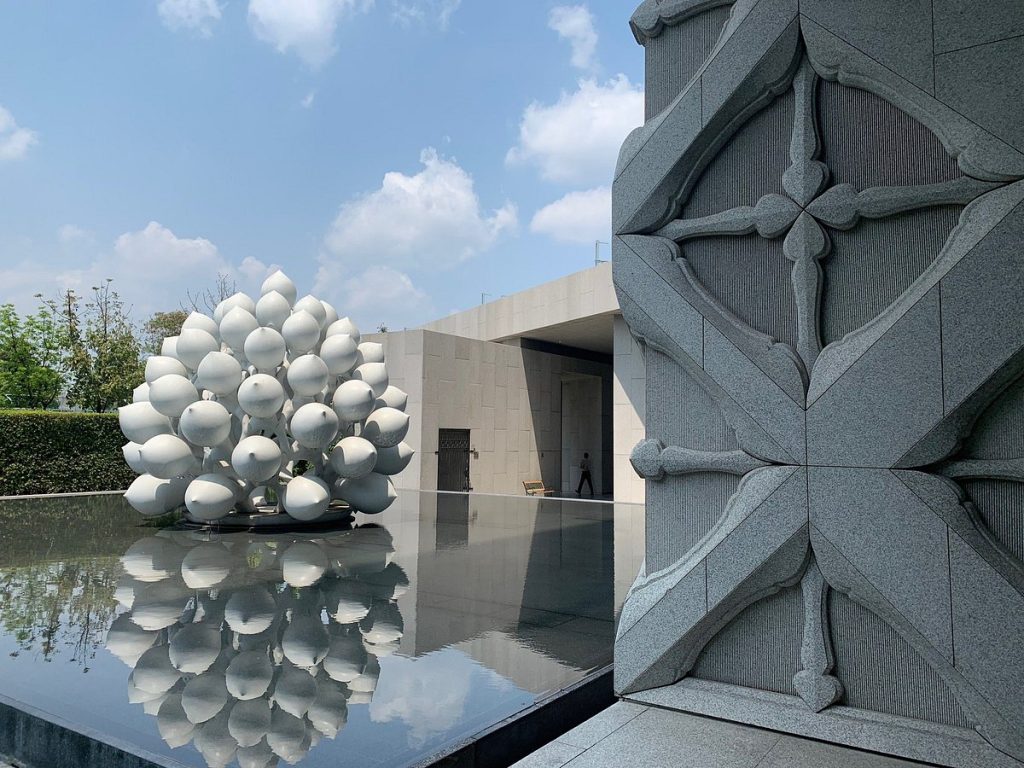 The Museum of Contemporary Art (MOCA) in Bangkok is a unique square building situated on Vibhavadi Rangsit Road. It was designed by a Thai architect to showcase the country's culture, it appears as if a block of granite was sculpted to resemble a stem of jasmine.
Inside the building, the sunlight shining in through a perforated design reflects off the clean white walls, while a lotus-inspired sculpture in the entrance symbolises the MOCA.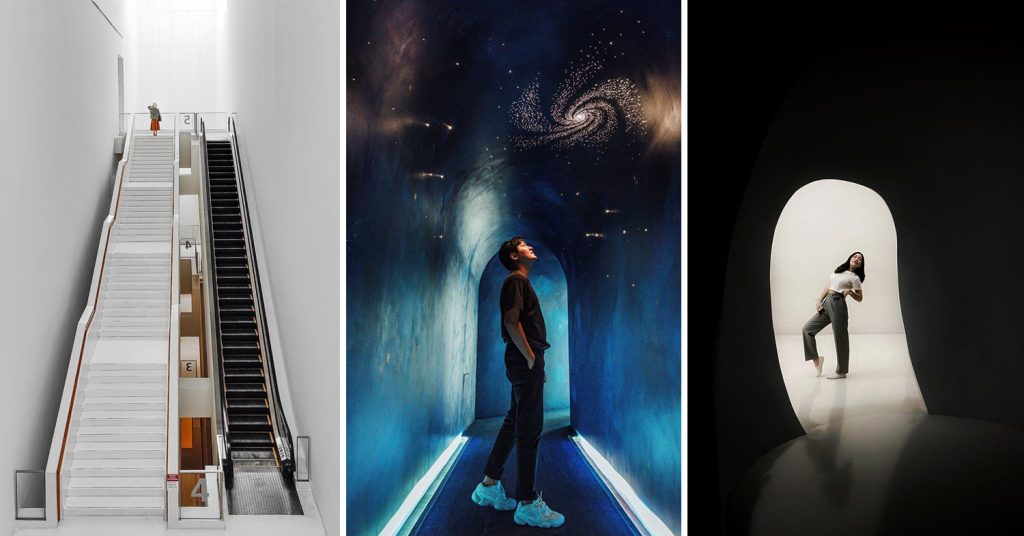 Here, visitors can view more than 800 paintings, sculptures, mixed media art and installation artworks by Thai master artists.
This Thai contemporary art museum is not only a place for art exhibition, but also consists of a souvenir and book shop, cafe, and has special facilities for disabled people such as sign language guides and accessible toilets. This allows everyone to appreciate and explore the artworks in the museum.
Things To Avoid In Thailand- First Time in Bangkok
As exciting Bangkok days are, there's an ugly side of Bangkok city too! The bustling city is filled with people from all over the world and so, the city is known for being tourist trap hotspot! While visiting bangkok there are things you must avoid to love Bangkok experience!
1. Money Exchange with Locals at the Airport: You will see locals offering you baths in exchange of dollars. Don't fall for that trap. Only use the exchange Kiosks at the ground floor. They offer better rate than the ones by the luggage pick up area.
2. Avoid Strangers Asking for 'help': Be aware of strangers who ask for help or advice. It is advisable to not engage in conversation with strangers on the street.
3. Don't Accept Drugs: Drugs are illegal in Thailand and punishments for drug possession can be quite severe. Even if offered for 'free', simply refuse and move away from the vicinity.
4. Responding to Scams: Be sure to research the cost of goods before entering a store or market to avoid being scammed. Also don't take random locals offering to be your Bangkok guide. Take guided tours with good reviews. Our travelers experience the tours we have listed and are very safe. Check here!
5. Don't Carry Large Amounts of Cash: Try to carry little to no cash and always keep your money in different locations, such as in a money belt or other secure place. Never flash large amount of money in public.
6. Choose Destinations Carefully: Be aware when visiting unfamiliar or isolated Bangkok destinations, especially during the evening or late night. Consider joining organized tours and activities.
7. Avoid Tap Water: Tap water should be avoided in Bangkok. Instead, invest in a refillable water bottle and reuse it throughout your stay.
8. Respect Cultural Sensitivities: Dress conservatively when you are out and about, make sure not to accidentally disrespect the culture or traditions when you are in Bangkok, and follow local customs and etiquette.
9. Don't use Taxis Parked by Hotels: The taxis parked by hotels don't use meters. They will charge you too much if you get on them. Ask the driver to use the meter before getting in. If he refuses, wait for another one or ask you hotel staff to get you a metered taxi.
10.  Don't Get Too Close to Wild Animals: Though Bangkok has lots of exciting outdoor activities, it is important to avoid close contact with wild animals, especially with monkeys, they can become aggressive. 
Best Time To Visit Bangkok – Traveling to Bangkok
Bangkok has a tropical monsoon climate, with hot and humid temperatures year-round. The best time to visit Bangkok is between November and March, when there is high tourist footfall and the cooler weather makes exploring the city more pleasant.
The months of December to February are especially perfect to plan a trip to Thailand, given that temperatures can drop below 20 degrees Celsius in the evenings, making it a great time to explore Bangkok on foot.
From March to May, Bangkok is hot! Bangkok in April experiences its hottest weather.  But it is also a great time to visit as the city celebrates Thai New Year. Although it is hot, the bursts of rain are welcoming and boat cruises, shopping and lounging by the pool are all activities are fun during this time. It's important to bring your sunglasses and buy a hat while you're there!
The rainy season begins in May and lasts until October, making this a great time to visit Bangkok. It is the city's 'low season', and this is when I've been to Bangkok and found excellent deals on hotels and excursions. There are difficulties but still plenty of activities to enjoy, such as shopping, visiting temples, aquariums and entertainment complexes – even in the rain!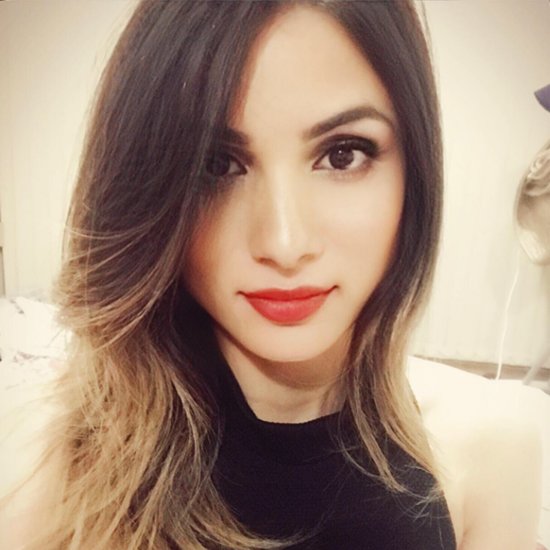 Hello, and welcome to Travel Crog, a site where I share my travel advice for your dream vacations. My name is Molly Martin, and I'm the founder and editor-in-chief of this site. I have a passion for travelling and exploring new destinations, and I want to inspire you to do the same. Six years ago, I left my job as an HR professional and embarked on a three-month trip around the world. It was an amazing experience that changed my life and perspective. Ever since then, I have been travelling as much as I can, and writing about the best things to do, see, and eat in every place I visit. Whether you're looking for a city break, a beach getaway, or a mountain adventure, I have something for you. Travel is not only fun, but also empowering and enriching. Join me on my journey and discover the world with Travel Crog. My motto is: "Life is short, travel more."