Ahoy, landlubbers! Ready to hit the high seas and explore the enchanting Mexican coastal city of Ensenada? Well, if you're lookin' for a good time, you've come to the right place! 
From its vibrant nightlife to its stunning beaches, there's so much to do and see. Whether you're a beach bum, an adventure seeker, or a food enthusiast, you'll find plenty of ways to keep busy.
Plus, the locals are incredibly friendly and welcoming, making your trip even more enjoyable. So, let's dive right in and explore all the best things to do in Ensenada, Mexico!
Tours & Things to do hand-picked by our insiders
From whale watching and kayaking to wine-tasting and exploring the famous La Bufadora blowhole, there's something for everyone. And of course, don't forget to enjoy some of the delicious seafood and authentic Mexican cuisine.
So, what are you waiting for? Pack your bags and get ready to experience the best of Ensenada!
Top Best Things to Do in Ensenada in 2023
1. Visit the Coronado Islands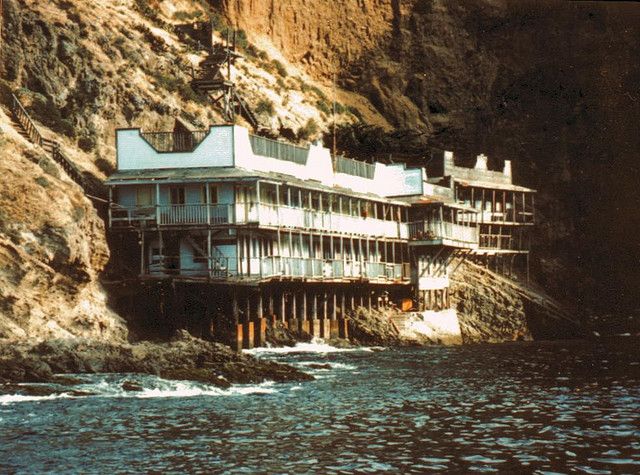 Only a short boat trip away, Mexico's Coronado Islands, off the Baja California, are known for their little isolated beaches and crystal clear, azure blue and emerald green waters.
When you get there, the landscape and amazing marine life will wow you. Coronado Island is a lovely day trip from San Diego and has miles of spacious beaches, a picturesque main town, and a historic oceanfront resort.
Take a stroll down Orange Avenue to look around the local boutiques and taste delicious local food at the cozy little bistros.
It will be difficult for you to believe that the bustling city of San Diego is only 14 miles away from the expansive scenery of craggy cliffs, natural bridges, and sea caves.
Go to the waterfront to look at the dunes and relax on one soft white sand of the island's many beaches. 
If you are staying here,  stay at the luxury Hotel del Coronado for a unique experience. The hotel once hosted the presidents and the royals.
2. Wine Tastings at Valle de Guadalupe Wine Country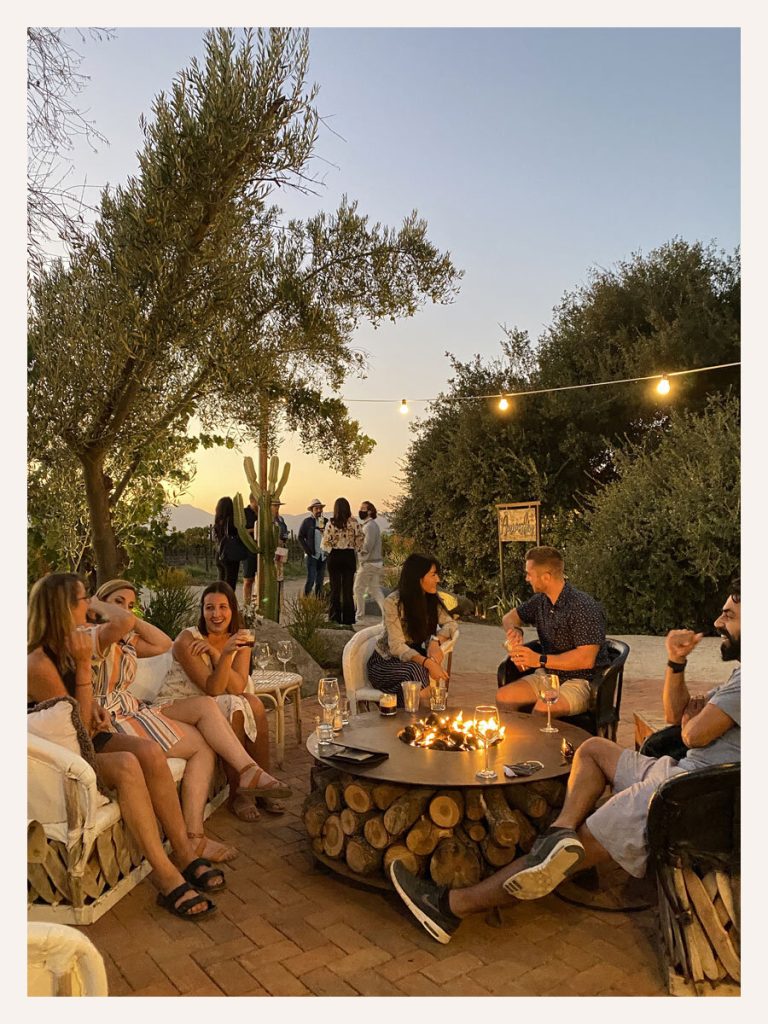 The Guadalupe Valley is one of the most popular places for tasting wine. The Valle de Guadalupe in Baja California is where 90% of all wine is produced today in Mexico today. Since the 1700s, the "Guadalupe Valley" has produced wine, giving the area a rich history.
Today, this region of Mexico has one of the continent's oldest wine-growing traditions. Following Spanish colonialism, people from other European nations including Italy and Russia, came to this region and cultivated their own unique wine types in the area's fertile soil.
Wine Valley in Baja, Mexico is easily the main tourist attraction: Lonely, pothole-filled dirt roads open up onto luxury wineries and famous restaurants. 
Near Ensenada, in the Valle de Guadalupe, there are currently more than 100 wineries, both small and large, and commercial and artisanal.
Although Guadalupe Valley vineyards have been in business for many years, it has only been in the last 15 years or so that the wines' excellence has attracted tourists from across the border.
The area has a rustic, laid-back country vibe that seems to be both carefree and chic. Imagine traveling down a barren dirt road in Mexico, only to come upon a fine dining establishment with six-course dinners with excellent wine pairings!
Although many of the Valle de Guadalupe's stunning wineries and restaurants are open all year long, the valley comes to life in Summer. We think that the best time to visit and enjoy your artisanal dining and wine while admiring the breathtaking scenery from one of the many superb Valle de Guadalupe restaurants is from June to October when seasonal campestre restaurants are open.

3. Explore La Bufadora, the Largest Blowhole in North America
About 17 miles south of Ensenada on the Punta Banda Peninsula in Baja California, Mexico, lies one of the largest blowholes known as La Bufadora.
It's the second-largest marine geyser in the world. This marine geyser phenomenon occurs by ocean waves crash into a partially submerged sea cavern, which builds up enormous amounts of air and water pressure. The only exit is used to release the air and ocean water, which causes it to rise 100 feet into the air.
It's actually very easy to visit this top tourist attraction site by yourself.
This drive has to some of Baja's most breathtaking views, especially of Bahia de Todos Santos and the magnificent mountain range at the bay's southern end.
Off the coast, you can watch big whale pods and a variety of fish and other marine life that are unique to that area. Around the area, you can kayak, snorkel, and scuba dive. If you're really feeling it, stay the night and set up a tent at this famous tourist destination. Take a deep breath, take a few pictures of the gram, and fully appreciate Baja's beauty.
Other than natural beauty, you can also enjoy the local bistros, gift shops, dive shops, and even a newly launched museum.

4. Top Attraction – El Salto Canyon And Waterfall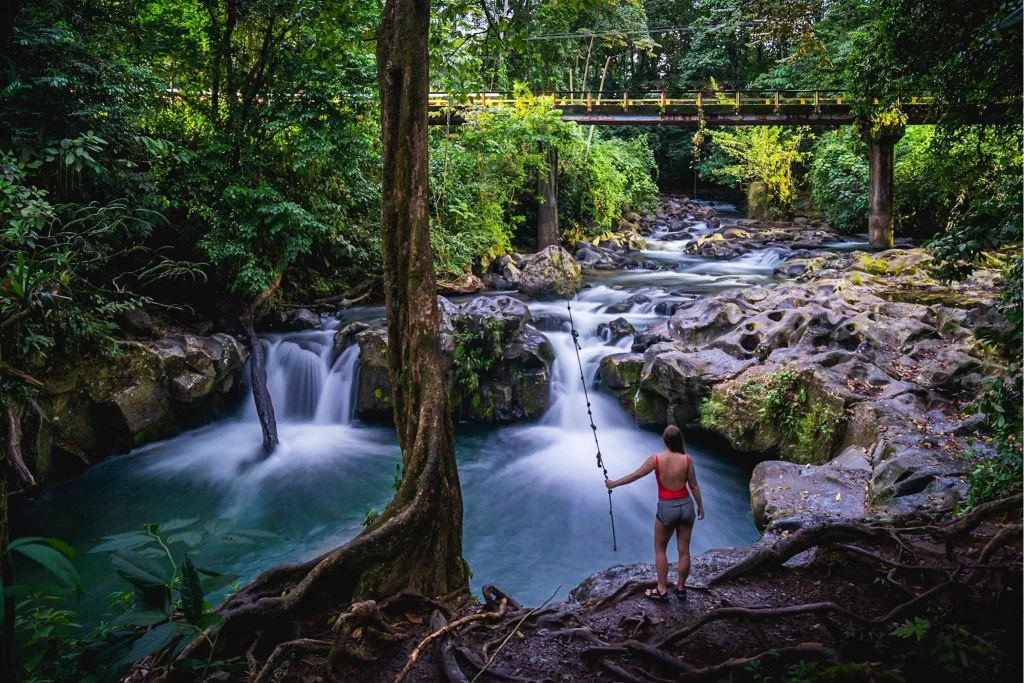 The stunning waterfall known as Cascada El Salto is located in the Mexican state of San Luis Potosi in the La Huasteca Potosina region.
La Huasteca is a geographical and cultural area in the north of Ensenada that stretches along the Gulf of Mexico and through seven states. The Huastec people, who lived in this area at the height of their civilization between 750 and 800 AD, gave the area its name.
The area has been blessed with remarkable geography that includes breathtaking rivers, huge canyons, caves, roaring waterfalls, and lush rainforest. This area is pure nirvana if you enjoy the outdoors like we do!
Even though the waterfall in this location gets diverted for a hydroelectric plant during the winter, it is still one of the most amazing natural sights you will ever see. If you go toward the end of March, the falls will be roaring, which you will be delighted to see. The waterfalls go down into a vast, open pool that is covered in the most stunning milky blue water and is surrounded by canyon walls covered with vines. 
Before continuing down the river, the water rushes over clay shelves into a number of smaller, calmer ponds. You will experience a nice feeling when swimming around in the almost silent canyon, which is a reminder of how amazing nature is. The location is mostly undeveloped, which made it even more unique.

5. Fiesta-Siesta In Hussong's Cantina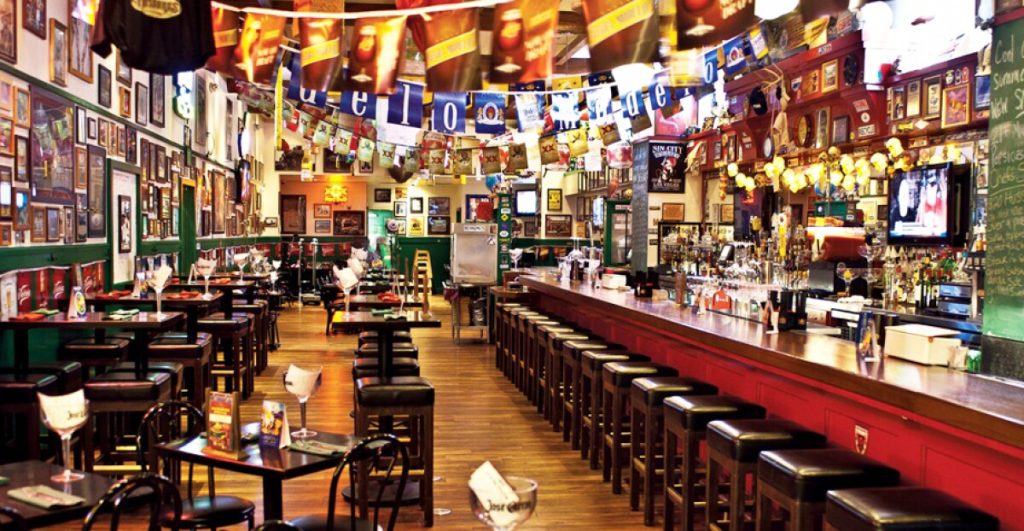 The oldest and most widely popular cantina in Baja California, Mexico, is Hussong's Cantina
Your visit to Ensenada will be incomplete without going to this iconic Cantina which is popularly believed to be the birthplace of Margarita. It's said that this popular drink was specially made in the cantina back in 1941 for the visit of a German ambassador's daughter and named in her honor. You should not leave Ensanda without taking a sip of this iconic Margarita.
The bustling, busy, sawdust-floored cantina, which used to be a stage-coach inn, gives an authentic Mexican bar vibe. There is frequently at least one live band playing there, and both tourists and locals enjoy the vibe. 
100 years ago, when a cruise ship moored in the bay, people would walk out of the dock to the street and come to this cantina for a Mexican treat.
Formerly a legendary expat bar where literary greats would discuss ideas over cocktails, is now a place where you can get wasted, act pretentious, and buy a tacky T-shirt to remember your trip.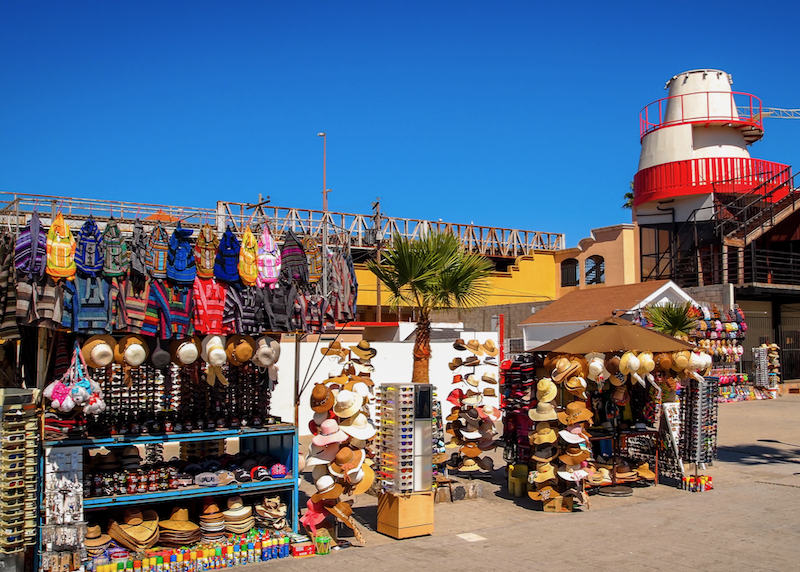 Get up close and personal with a phenomenon that shoots water more than 100 feet into the air during this Ensenada tour. Don't pass on this special Ensenada chance!
Your tour guide will meet you at the pier and drive you to La Bufadora, which is about 20 kilometers from Ensenada. Brace yourself to experience one of the largest blowholes in the world up close.
This marine geyser is unlike anything you've ever heard or seen. The blowhole makes thunderous sounds every time the water shoots out.
After your visit to La Bufadora, the tour guide will show you around the nearby flea market. You can shop and decide to stay in downtown Ensenada or you can choose to return to the cruise ship with the tour. If you choose to stay in Ensenada downtown, you will need to figure out how to get back to the pier by taxi. 
Note- We suggest having your comfortable walking shoe during this adventurous tour in Ensenada, cause you may have to walk across uneven ground or uphill. 

7. Explore Plaza Civica-Learn Historical Facts & Try Street Food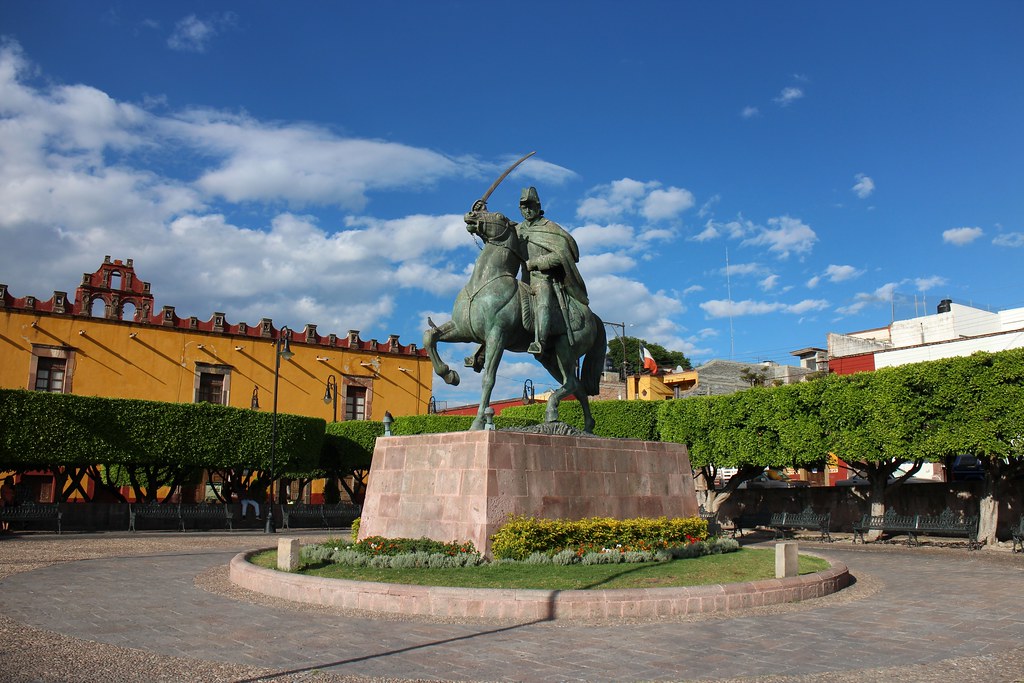 This is simply another attraction to explore while visiting Ensenada. We advise dropping by over the weekend as almost every Saturday and Sunday there are events.
Three significant figures from Mexico's violent past—Miguel Hidalgo, Benito Juarez, and Venustiano Carranza—are honored in this plaza. You can learn about their roles by reading the plaques placed under each statue.
There are details about these heroes and their contributions to the Mexican Revolution and the movement for independence.
The plaza is also surrounded by a number of benches, trees, and lovely landscaping. People can frequently be seen having meals at one of the many restaurants or taking leisurely strolls throughout the neighborhood on any given day.
Along the sidewalks, you will find many food carts selling fish tacos, ceviche, churros, and other mouthwatering Mexican foods.
There are small shops where you can browse through items like ceramics, jewelry, apparel, and mementos. Never forget to bargain for a good deal!
The plaza frequently hosts concerts by local dancers or musicians. Plaza Civica is well worth a visit, whether you're searching for a place to unwind or just want to take in some of Ensenada's culture.

8. Try the Mouthwatering Mexican Street Food at La Guerrerense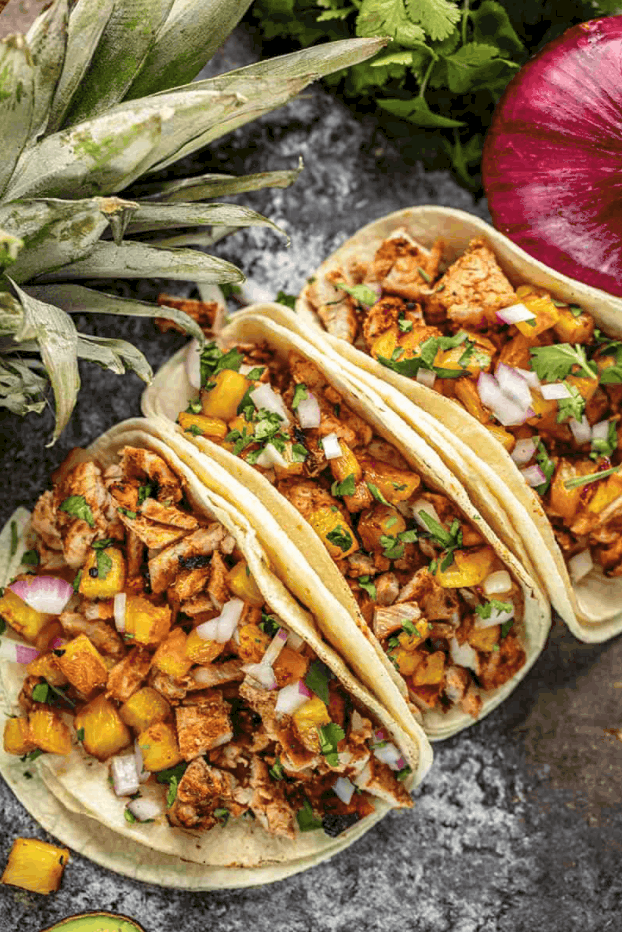 The late Anthony Bourdain said, "The best street food in the world." after savoring a meal from a certain Ensenada food vendor.
When in Mexico, eating Mexican Street food is a must thing to do. There's an OG street food vendor, named  La Guerrerense Carreta and they are well-liked for their seafood. They fetch fresh fish from the local fish market every day to offer visitors the taste of authentic seafood. Their seafood tostadas and fish tacos are to die for! Try for yourself and then you will know.
Another food truck in Ensenada that serves excellent fish tacos is Tacos Fenix. The original Baja-style fish taco is said to have been invented by this particular vendor, so you might as well check out both spots to see which you prefer. Try out some ceviche tostadas for a taste of authentic Baja food.
If you want to try out more family-oriented everyday Mexican food, then you must go to the food cart of Sabina Bandera. This family-owned food cart is in business for over 60 years. In the cart they mostly sell, snacks or Mexican street food. But if you want a proper Mexican meal, you should try our restaurant that's nearby the cart!

9. Visit the Templo De San José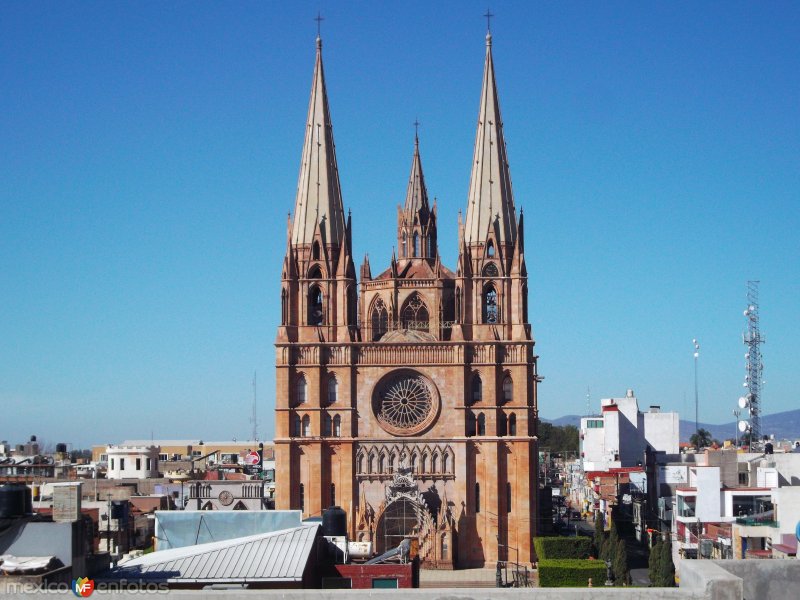 One of the popular things to do while on a trip to Ensenada is to pay a visit to the earliest church site in the city. El Templo is notable historically since it served as the base for local tribes during a revolution in 1881. The current baroque-style church was constructed in 1917 but it was founded way back in 1751.
The temple is located in front of San Jose, also known as Plaza de la Reforma Agraria, and in front of the temple, it has chairs for people to sit on and enjoy the shade of the trees as well as a lovely fountain in the center. 
You can see the towers of this church from nearly every location in Morelia since they are not only tall and stunning, but they also glow brilliantly at night. Although all of these elements were taken out in 1945, the architectural design was preserved.

10. Visit the Riviera Pacific Cultural Center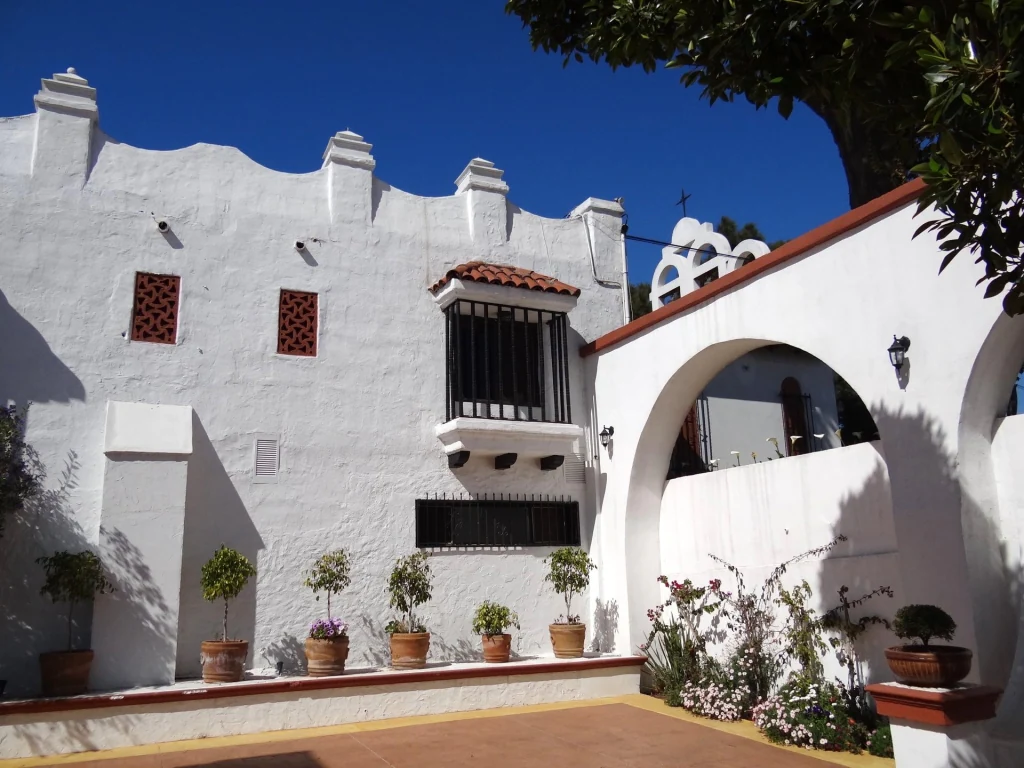 If you want to truly understand Mexican culture and traditions, you must check out this Ensenada attraction.
The former Hotel Riviera del Pacifico now houses the seaside Riviera Pacific Cultural Center.
When the hotel first opened in 1930, it served as a hotel and casino until 1935 It quickly became well-known, especially after Prohibition came to an end and thirsty North Americans crossed into Mexico to buy and consume alcohol.  During the American travel restriction, notable Hollywood and Mexican artists, including Rita Hayworth, Dolores del Rio, Lucille Ball, and Bing Crosby, visited.
After being abandoned for 40 years, you can now once more take in the Moorish architecture that has inspired scores of young people who study painting, drawing, sculpture, dance, ballet, theater, and literature. The cultural center now organizes musical performances and folklore performances. A traditional Mariachi concert is one of the best ways to experience real Mexican music and dance in Ensenada, so settle in for a show.
Learn about the indigenous communities of Baja California, especially the Kumiai people, by visiting the Ensenada History Museum, which is also housed within the cultural center. 

11. Go Scuba Diving in the Sea of Cortez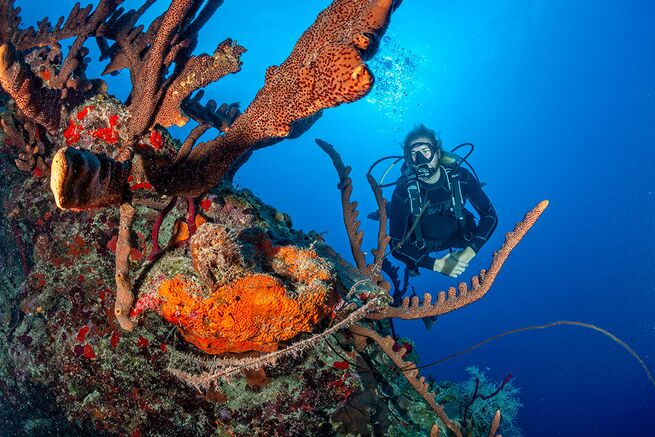 Ensenada is well known for its marine life and the dive in the Sea of Cortez has a class of its own.
With underwater setups ranging from remote islands and shallow bays to up-close encounters with outstanding marine life, you will get to experience something very unique.
In just one dive, visitors can expect to see a staggering array of living things, from tiny nudibranchs to California sea lions weighing hundreds of kilograms! The Sea of Cortez was called the "Aquarium of the World" by explorer Jacques Cousteau and has long been recognized as one of the planet's most biodiverse bodies of water.
The area is still thriving today, because of the strict protection provided by the marine park.

12. Enjoy Tequila Tasting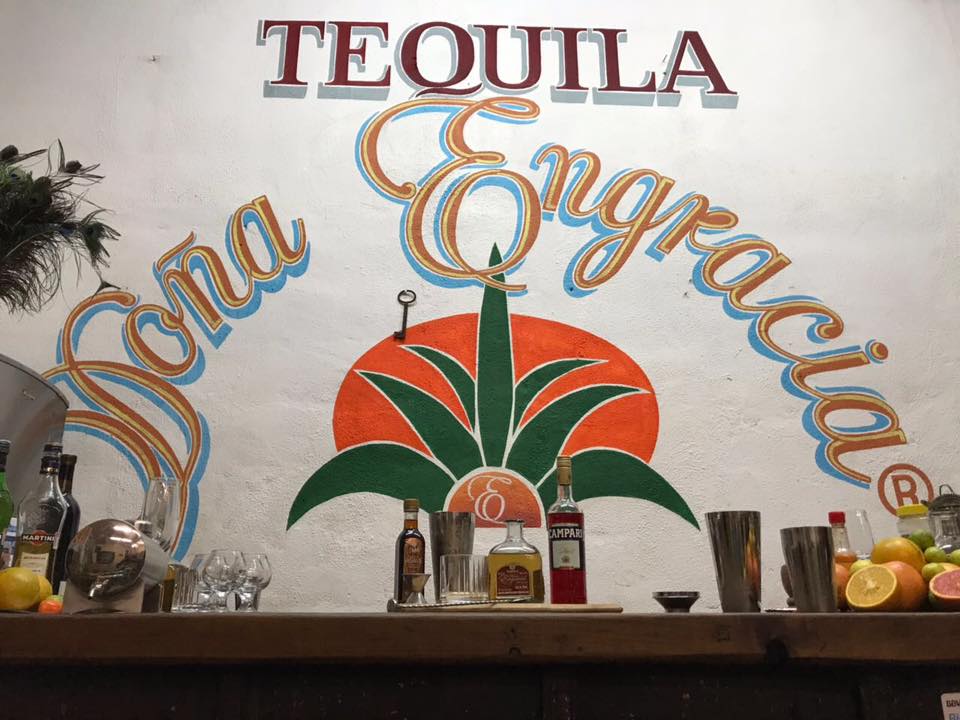 Tequila tastings are one of the best things to do in Ensenada Mexico since they are both entertaining and educational.
The best way to learn about this wildly famous Mexican beverage is to partake in a taste at one of the city's tasting rooms, whether you prefer your tequila neat, on the rocks, or shaken in a Margarita cocktail. 
You can also learn how to make this famous Mezcal beverage, which is made from the pia (heart) of the country's famed blue agave plant.
13. Enjoy Ocean Air and Salty Hair on Rosarito Beach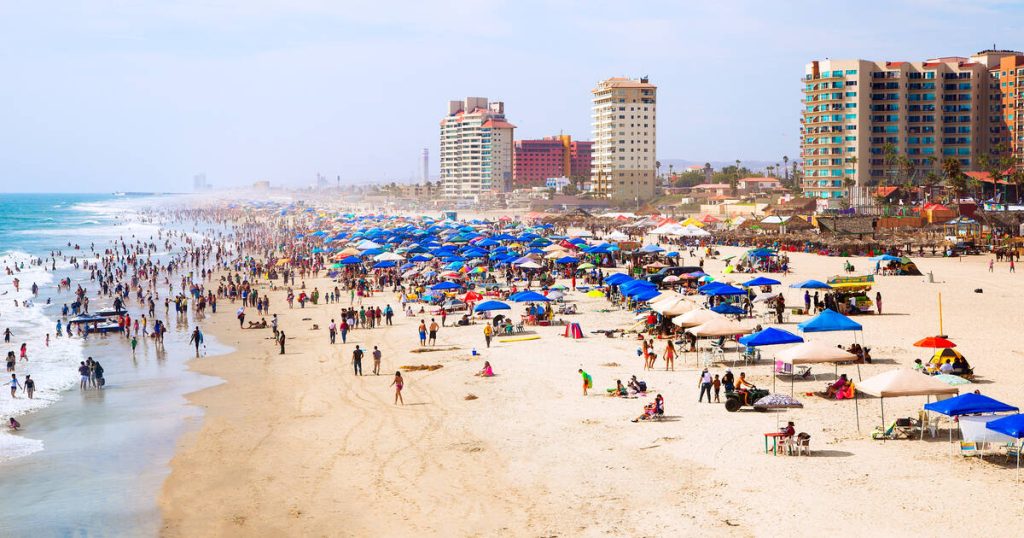 In Baja Mexico, Rosarito Beach is a well-known surfing location that you might already have seen in a lot of  Hollywood movies. The beach town of Rosarito is about an hour's drive north of Ensenada and was once a well-liked getaway for Americans during the Prohibition era.
You can go surfing, diving, and snorkeling, or just laze on the sand while sipping a nice beer. If you are feeling adventurous, take a thrilling ATV tour, or you can even ride a horse to explore the coast of Ensenada. 
When it's time to eat, head to the main street of Benito Juarez for some delectable and reasonably priced tacos. 
Although Rosarito Beach is one of the best places in Mexico all year round, this beautiful beach can get overly crowded during the summer months.

14. Take a Segway Tour of the Malecon in Ensenada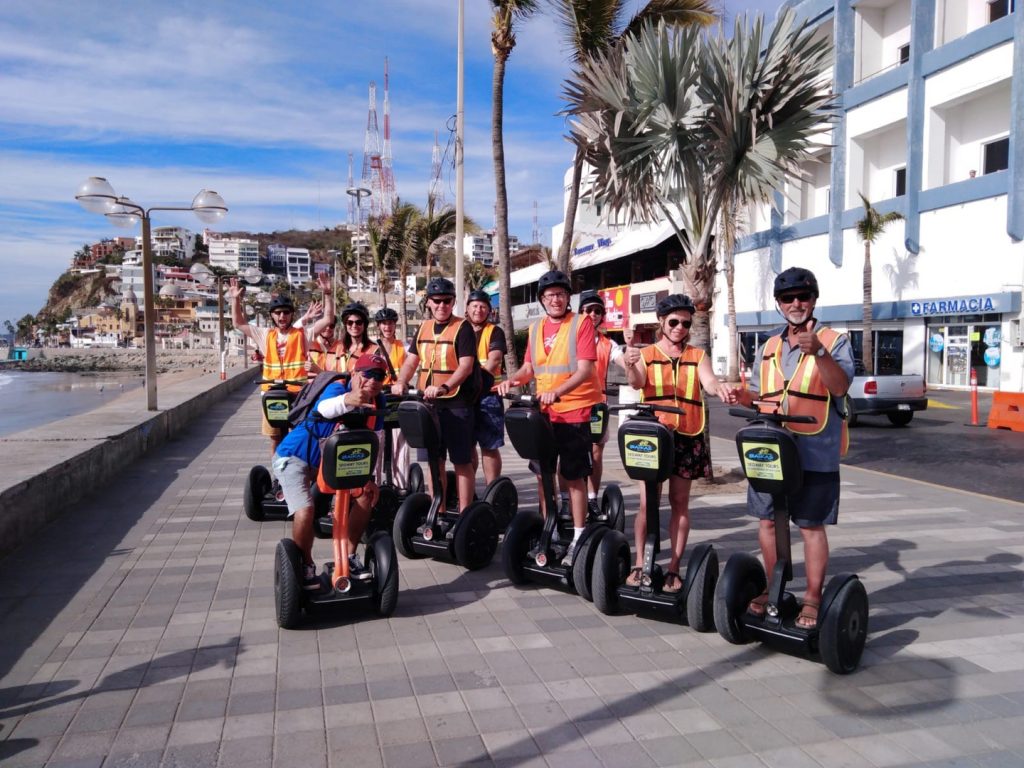 Renting a segway and traveling down the malecón (boardwalk) along the city's waterfront is one of the nicest things to do in Ensenada.
Feel the cool ocean breeze on your face as you glide through the section of All Saints Bay, passing the flag that is allegedly the tallest in the nation: the billowing Mexican flag.
Near the marina, there are numerous chairs along the waterfront, as well as taco, tequila, and ice cream, stands.

15. Learn to Make Chocolates at Maya Cacao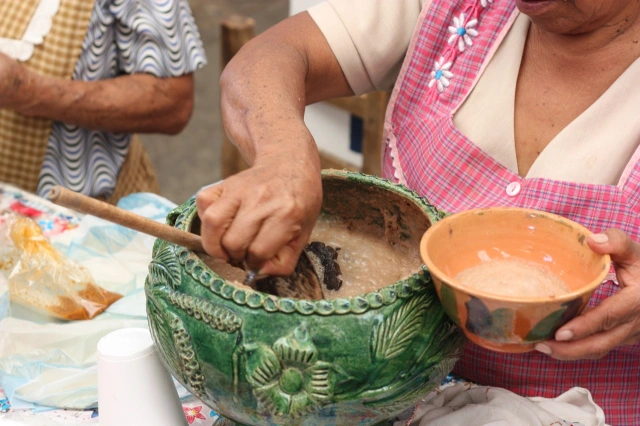 Everyone like chocolate. However, few people actually know of the Mayans' significant influence on the development of chocolate as we know it today.
Chocolate was considered a delicacy by them and had a significant role in their culture and worldview.
You can learn about the Maya civilization's long-standing tradition of chocolate production at Maya Cacao. 
Try the classic dark chocolate beverage that was once only available to the most affluent Mayas, taste cacao beans from colorful pods, and crush them with stone tools.
You can also take part in a class where you can make your own chocolate using the original Mayan recipe while learning about Mayan culture. This is one of the coolest things to do in Ensenada Mexico.

16. Visit the Ensenada Museum of History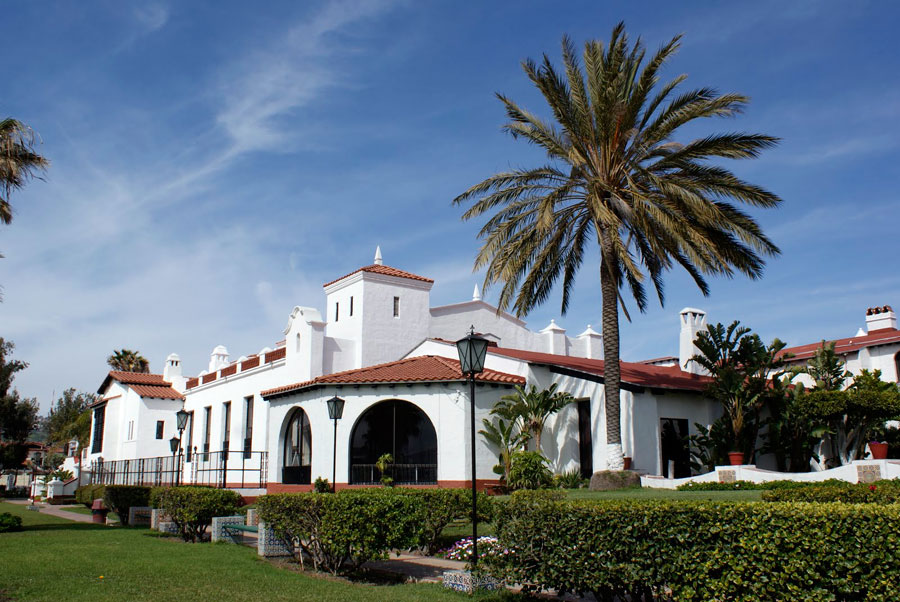 In Ensenada, there are two history museums: The Ensenada Regional Historical Museum and the Museo de Historia de Ensenada. These two are great places for tourists seeking a cultural and historical experience in the area.
From pre-historic periods to the current age, these museums will take you on a tour of the history of this lovely city and its surrounds.
The History Museum of Ensenada is a small museum located inside the Riviera del Pacifico Cultural Center. It tells the story of the colorful history of Ensenada, and the influence of European cultures in the Baja California region, and shines a light on the historical figures who played a role in the development of the peninsula.
The Regional History Museum is housed in one of Ensenada's oldest buildings. The elegant neoclassical structure that originally served as the local jail once now houses the Regional Historical Museum. The old prison cells in this museum, have paintings by former prisoners preserved on the walls. By observing the paintings, you can feel the joy and sorrows of prisoners.
This museum features fossils, bones, artifacts, and details on the environment, history, and culture of Baja California that date back millions of years.

17. Kayak in the Pacific Ocean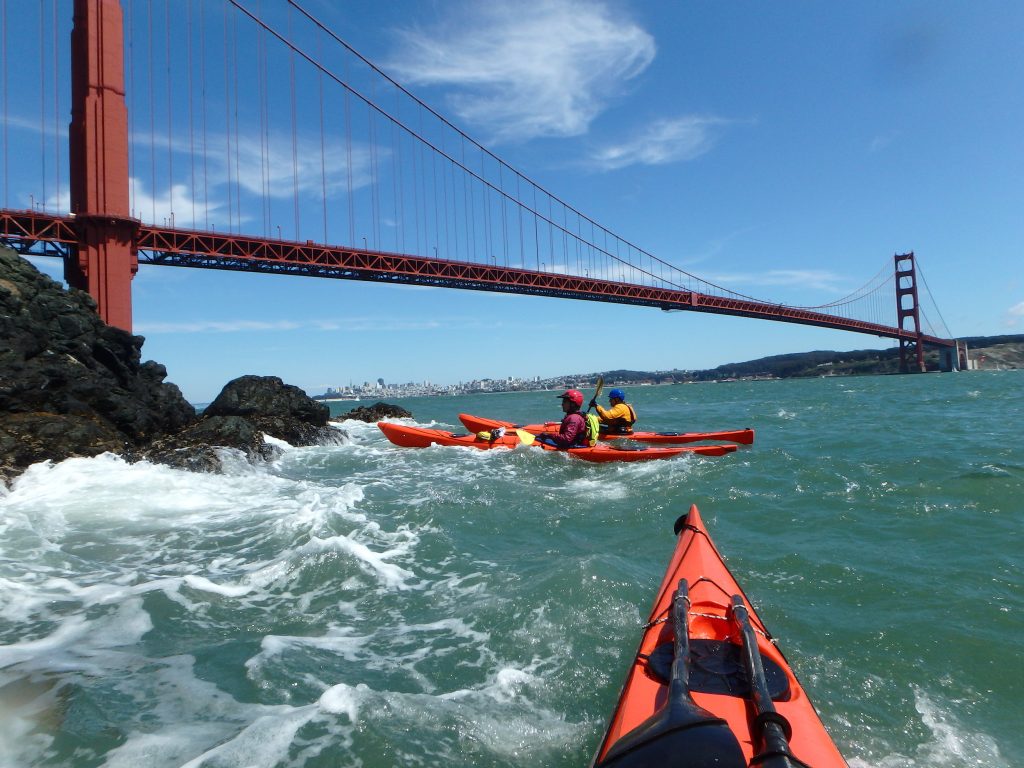 Kayaking is one of the most well-liked Ensenada attractions, so finding a watersports vendor at the closest beach shouldn't make you sweat. You have a choice between setting out on your own and with a guide.
Go with the second option if you're unskilled in the water. Take in the breathtaking scenery as you paddle down the shore. Get your swimsuits out, put on your beach hat, and then hit the water!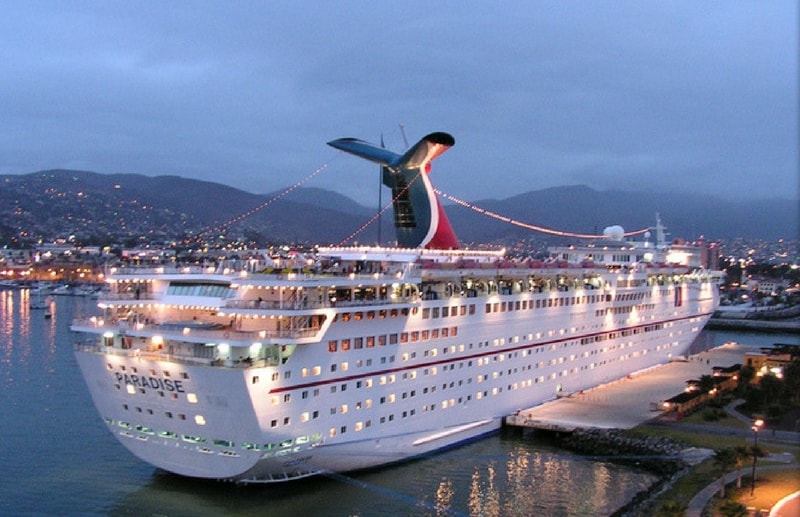 Take a 46-foot catamaran snorkeling cruise to enjoy an expedition made especially for sea lovers. While on the tour, take pleasure in the world-class open bar and snacks.
The cruise departs from Cabo San Lucas and goes on a voyage to the breathtaking Sea of Cortez. Pass through scenic beaches like Paya del Amor and El Medano Beach as you cruise around Cabo San Lucas' south coast.
Make a splash and escape the heat by stopping at Santa Maria Bay. Prepare your snorkeling equipment before heading out to look for beautiful marine life, such as angelfish and parrotfish. Sea turtles, dolphins, manta rays, and whales (during whale season) may also be seen.
On the catamaran, take in the stunning scenery and the wonderful Mexican sunshine. Enjoy great snacks while sipping on a variety of refreshing cocktails and soft drinks from the open bar. After a wonderful journey, sit back, unwind, and take in the scenery as you travel back to port.

19. Go Horseback Riding at Rancho Los Bandidos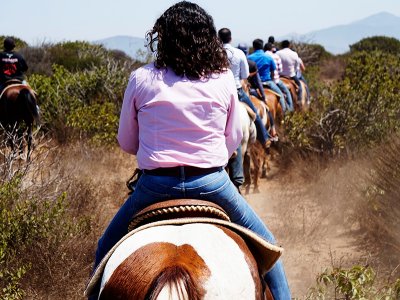 One of the most pleasurable activities in Ensenada is horseback riding. You can decide whether to improve your equestrian riding skills on a relaxing beach ride or on dry desert trails.
Enjoy a leisurely one-hour ride over the dunes and across the shallow surf on Playa Hermosa on horseback. Alternately, choose a two-hour tour through the vineyards of the hills that encircle Ensenada. For a more authentic experience, search for a vineyard horseback tour that includes a stop at a working ranch.
If you are anything like me and hate planning but want some carefree adventure, get on this day trip to San Miguel Island. 
On this van-based guided tour, discover the top attractions on the western side of the island of San Miguel. Explore the spectacular rock formations, lovely waterfalls, amazing cliffs, and well-known crater lakes of Sete Cidades and Lagoa do Fogo along the island's coast.

Visit one of the most lovely villages in the Azores, Ribeira Grande, before being surprised to see some breathtaking cliffs on the north shore. Then make your way to the interior of the island to witness Salto do Cabrito, a stunning cascade surrounded by untamed nature.
To see the most pristine and enchanting of So Miguel's crater lakes, drive to the top of Fogo Volcano. Enjoy the breathtaking views of a significant portion of the island from the peak of the mountain.
Finish the day in Mosteiros, an area where lava rocks have formed on the island's western shore producing charming little islets and natural swimming holes.
Where to stay in Ensenada?
Before packing your bag and getting on board, it's best to decide where you will stay on your visit to Ensenada and book the hotel!
The options Ensenada has to offer are endless and can get overwhelming to decide. Which location do you prefer: a peaceful neighborhood in Ensenada proper, a lively, energetic downtown area, the tranquil and rural Valle de Guadalupe, the heart of Ensenada Mexico's wine country—or a beach with easy access to sandy shores? 
If you choose downtown, here are the hotels you can book-
High End- Casa Asturias
Mid Range- Holiday Inn Express & Suites
Low Range- La Villa de Adelina
If you prefer scenic beach areas, here are the best options for you-
High End- Hotel Marea Vista
Mid-Range- Beach House by Eazy
Low Range- La Villa de Adelina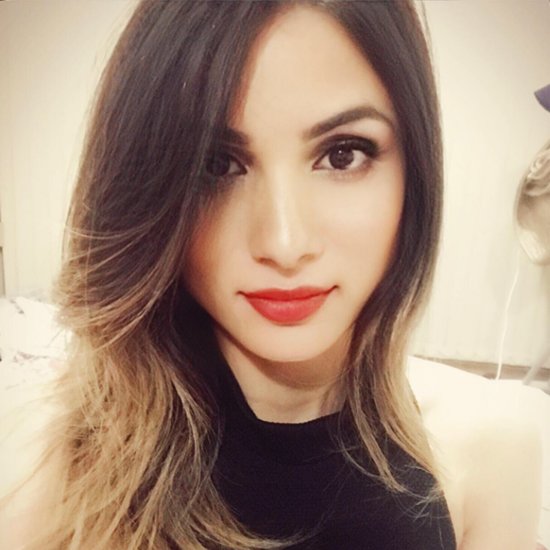 Hello, and welcome to Travel Crog, a site where I share my travel advice for your dream vacations. My name is Molly Martin, and I'm the founder and editor-in-chief of this site. I have a passion for travelling and exploring new destinations, and I want to inspire you to do the same. Six years ago, I left my job as an HR professional and embarked on a three-month trip around the world. It was an amazing experience that changed my life and perspective. Ever since then, I have been travelling as much as I can, and writing about the best things to do, see, and eat in every place I visit. Whether you're looking for a city break, a beach getaway, or a mountain adventure, I have something for you. Travel is not only fun, but also empowering and enriching. Join me on my journey and discover the world with Travel Crog. My motto is: "Life is short, travel more."