Cancun is a popular name among sea lovers. It is in Mexico, and you can find plenty of beaches here. The facilities Cancun provides at its beaches and the view of those places made it a holiday destination for sea lovers worldwide. But what are the best beaches in Cancun?
If you have a short vacation and want to admire the beauty of the fascinating beaches in Cancun, stick with me. I will give you a list of the 15 best beaches in Cancun and explain everything you need to know before visiting them.
List of Best Beaches In Cancun
Here is the list of the 15 best beaches in Cancun and the reasons why they make the list.
Tours & Things to do hand-picked by our insiders
1. Playa Delfines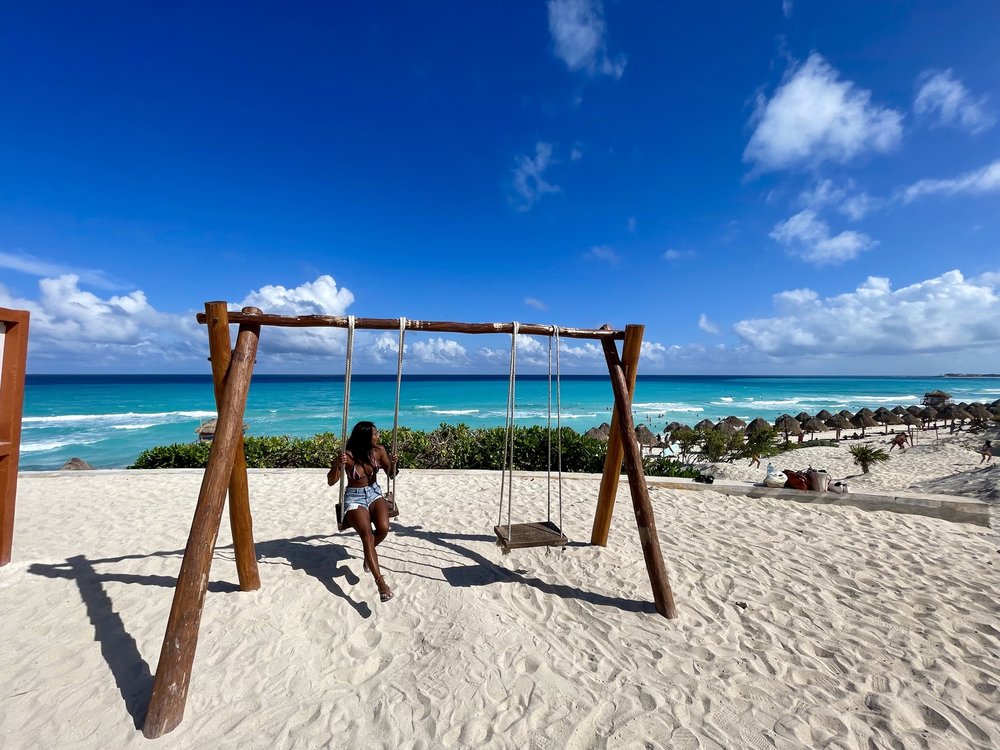 Playa Delfines is also called The Dolphin Beach. Lots of dolphin pods were seen on this beach in the past. It forced the Mexicans to name this beach Playa Delfines. However, you will barely see any dolphin pods there nowadays. But if you want to see some diving dolphins you should go to the lookout platform called El Mirador in the morning.
El Mirador is the nickname for this beach that is popular among the locals. This is the longest free beach in Mexico. The sizzling water and white powder sand make this a haven on earth. You will find free parking, free palapas, and a free child zone.
If you are in the hotel area you can take a taxi or get on a bus. You can also get there on foot. After you reach the beach there will be the beautiful blue Caribbean Sea calmness.
You must catch the most beautiful sunset from the beach. I suggest you take a jet ski spin or parasailing for more thrill! And if you are hungry try foods from the beach food vendors to have local flavored food.
2. Playa Norte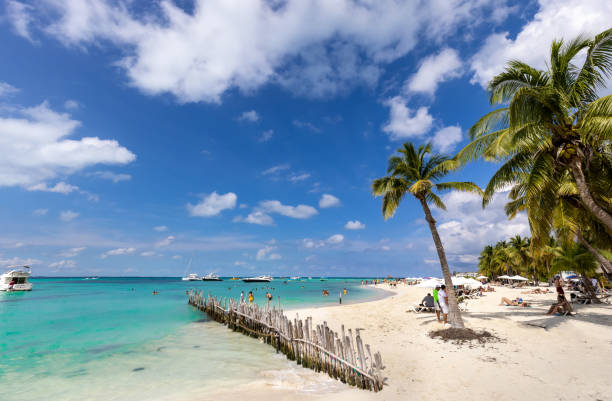 Playa Norte is a fascinating beach located on Isla Mujeres. The beach is known for its unreal beauty. It is ranked Ninth in the world's top most beautiful beaches for crystal-clear water, soft white sand, and stunning sunsets. The calm waters make it perfect for swimming and snorkeling.
You can make a reservation for a snorkeling excursion. It will allow you to observe a diverse range of sea creatures at the nearby coral reef. A whale shark tour is an excellent choice if you are at Playa Norte in the summer.
The green-flagged beach is easily accessible by ferry from Cancun. It takes 20-25 minutes to get there on the ferry. This beach is hugely popular among tourists and locals. The beach is full of bars and restaurants. They offer visitors a variety of seafood and alcohol for tourists.
3. Playa Tortugas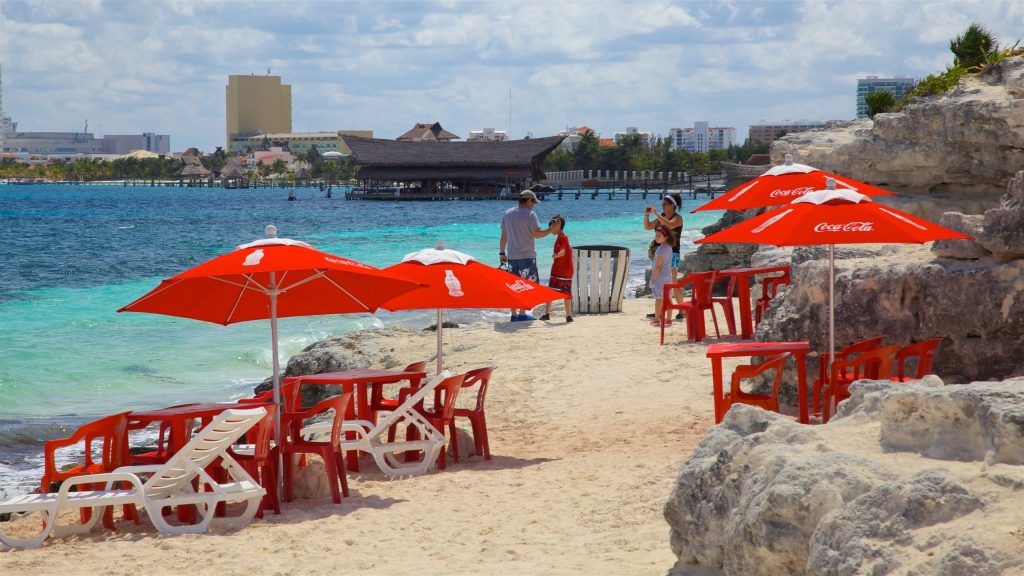 It is a lively beach located in the hotel zone of Cancun. The beach is a club itself! Lively atmosphere with various water sports and activities available. Jet skiing, parasailing, and banana boat rides are the most common. It is also a popular spot for swimming and snorkeling.
You can get to Playa Tortugas easily by bus or taxi. They offer several amenities, including beach chairs and umbrellas, showers, and restrooms. The beach is surrounded by several restaurants and bars. It is a great spot for dining and drinks.
A large area is restricted for everyone on this beach though. These spaces can only be used by the guest of the hotels. Playa Tortugas is one of the best beaches in Cancun for children and families touring.
4. Playa Chac Mool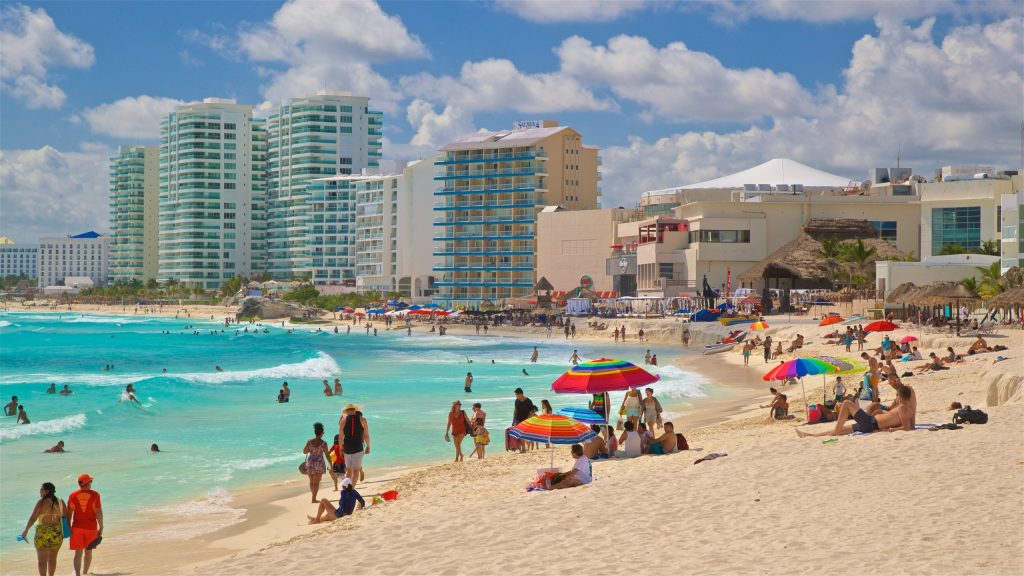 This beach is not as busy as the other beaches. It is in the hotel zone of Cancun. Like other beaches of Cancun, Playa Chac Mool is admired for its crystal-clear waters and powdery white sand. Swimming and sunbathing are a pleasure to enjoy here. It is also a popular spot for surfers.
The main attraction of Playa Chac Mool is its surroundings. The beach is blessed with lush palm trees, exotic vegetation, and stunning ocean views. You have to love the candy sky during sunset here.
5. Playa Marlin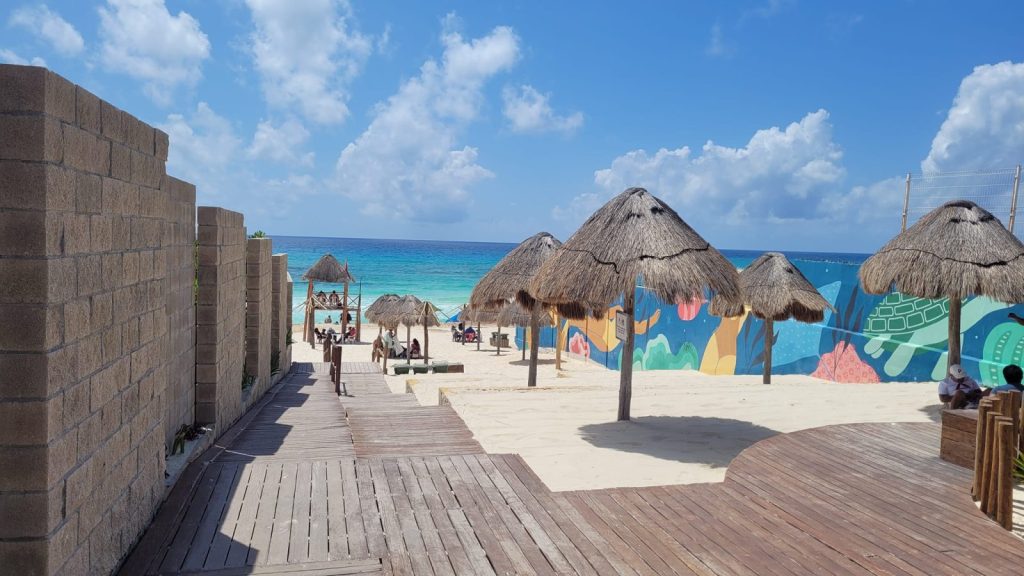 Take a 5 min walk from the Kukulcun plaza for reaching  Playa Marlin. The beach has sugar-white sand and turquoise water. This makes Playa Marlin a picture-perfect beauty.
The most popular activity at Playa Marlin is snorkeling. Playa Marlin is home to a thriving coral reef. You can observe colorful marine life. Tropical fish, sea turtles, and occasional stingrays are commonly found. The beach is also a great spot for scuba diving. There are diving companies offering tours and courses for beginners to experts.
Playa Marlin indeed provides an unforgettable experience. So why not pack your bags and head to Playa Marlin for your next tropical vacation?
6. Puerto Morelos Beach
You will find Puerto Morelos Beach in the charming fishing village of Puerto Morelos. It is approximately 25 minutes north of Playa del Carmen and 16 minutes south of Cancun Airport. This beach makes this list for its relaxed atmosphere, glittering water, and stunning views of the Caribbean Sea.
Puerto Morelos Beach is decorated with palm trees and offers soft white sand. The waters are calm and shallow. This place is perfect for families with small children to swim. 
Puerto Morelos also offers several advantages like free parking. Try to take part in snorkeling and diving.
7. Playa Gaviota Azul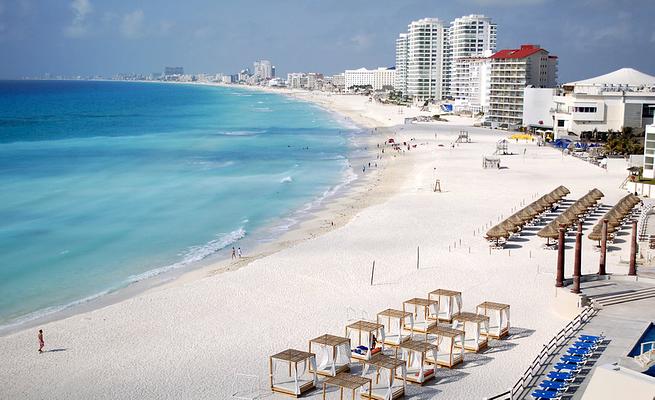 You can visit Playa Gaviota Azul as it is a short distance from downtown. White powder sand and the deep blue Caribbean ocean will help you to overcome your anxieties.
Playa Gaviota Azul is a nice place for swimming. The waves here normally lime. But the undercurrent is stronger here and should be considered. Take precautions before you get into any trouble.
8. Playa Forum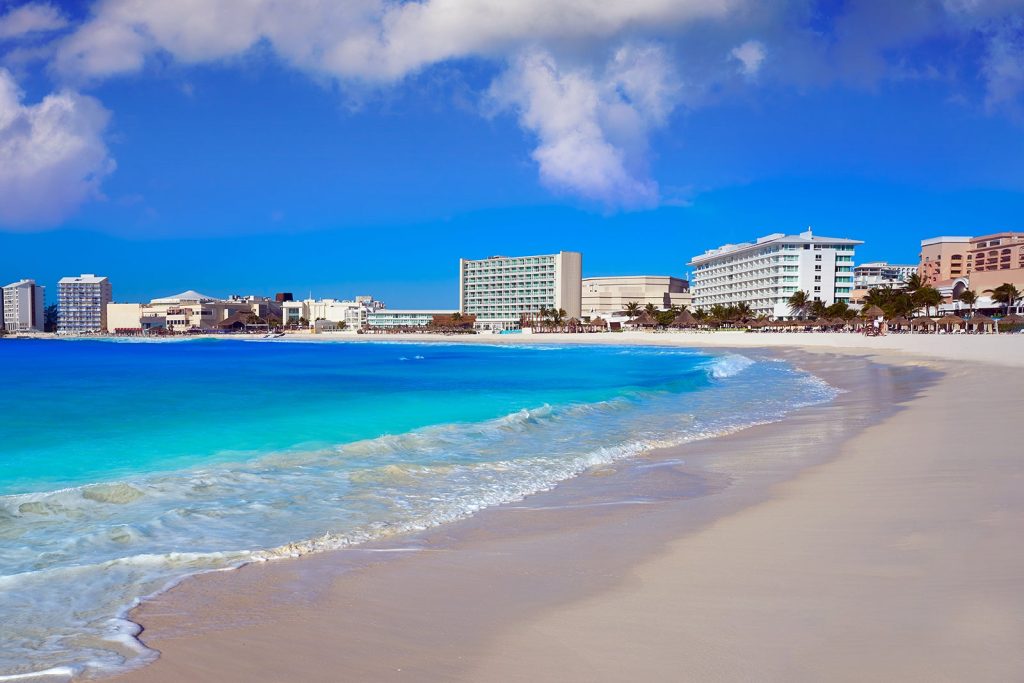 Playa Forum is one of three free public beaches of Cancun. It is in the heart of the hotel zone between Playa Gaviota Azul and Playa Chac Mool. A huge crowd gathers here to enjoy its beauty on weekends. If you like lesser crowds go on the other days
You will find hotels and party spaces around this beach. It is also a reason for the huge crowd gathered on this beach.
With limited parking areas, it's better to avoid personal vehicles. Take a taxi or bus but for a side view walk to the beach. 
In Forum Beach you can order your food and have them on the lounge chair. That's a huge plus, right?
9. Playa Caracol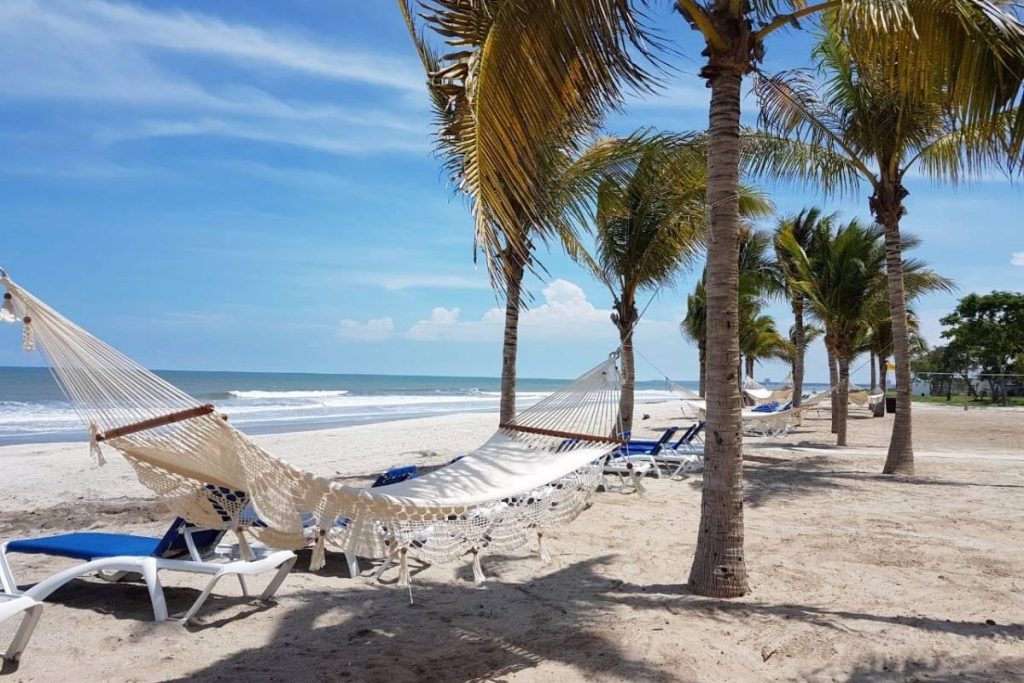 Playa Caracol is a small beach on the eastern coast of Mexico. The water here is blue and the sands are soft. This beach is covered with lush greens.
You will find many International and local food restaurants with juice corners and bars. You can have fresh seafood and refreshing cocktails. For further recreation try jet skiing or snorkeling.
Some areas of this beach might be restricted and can only be used by hotel guests. But it is a public beach and you can relax there in the Playa Caracol. 
10. Playa Ballenas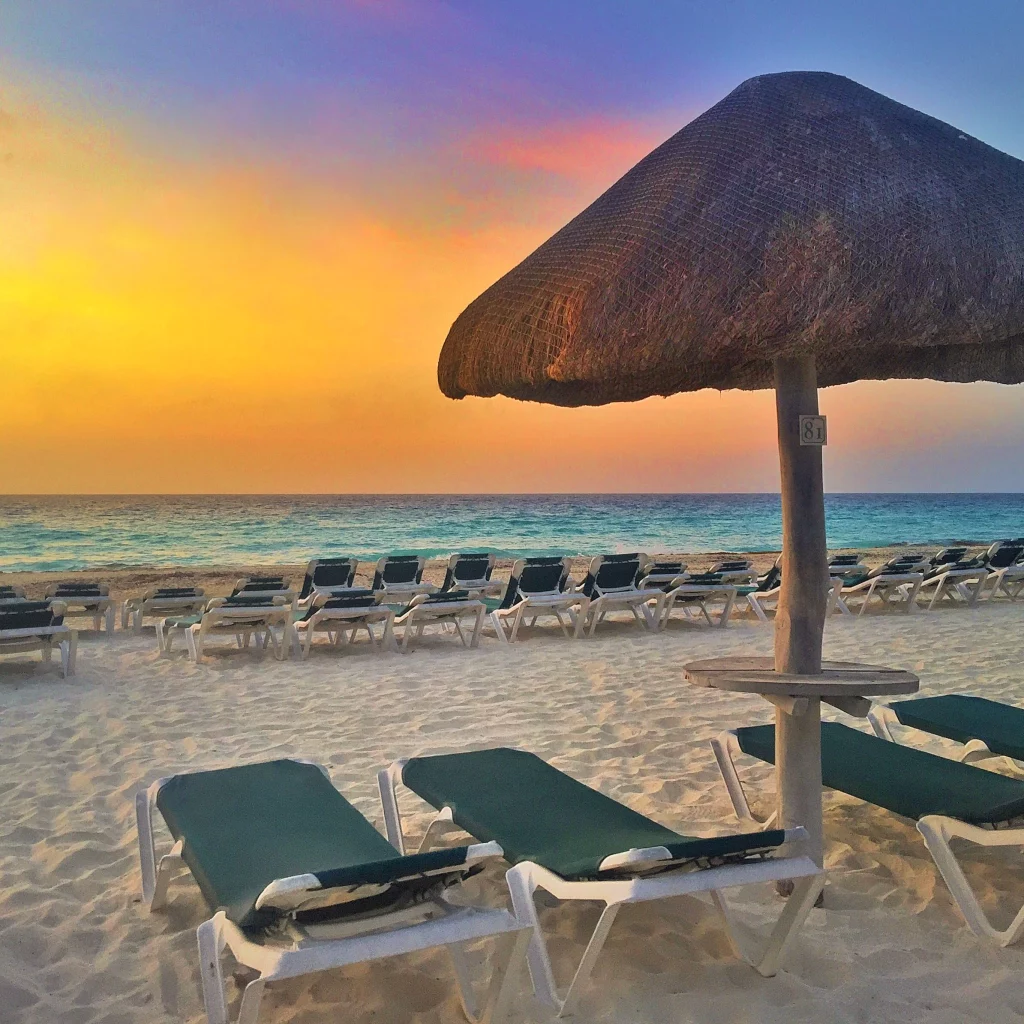 Playa Ballenas is a tranquil and lovely beach in the southern region of the Cancun hotel zone. This beach is renowned for sizzling and clear water with long stretches of white powder sand. Playa Ballenas is a calmer beach than most other beaches. 
It provides a pleasant and relaxing setting for guests to enjoy. The beach is also popular for paddleboarding and kayaking, with rental equipment available. 
You should enjoy beach volleyball and soccer on the sand. Showers, restrooms, beach chairs, and umbrellas are available at Playa Ballenas.
11. Playa Las Perlas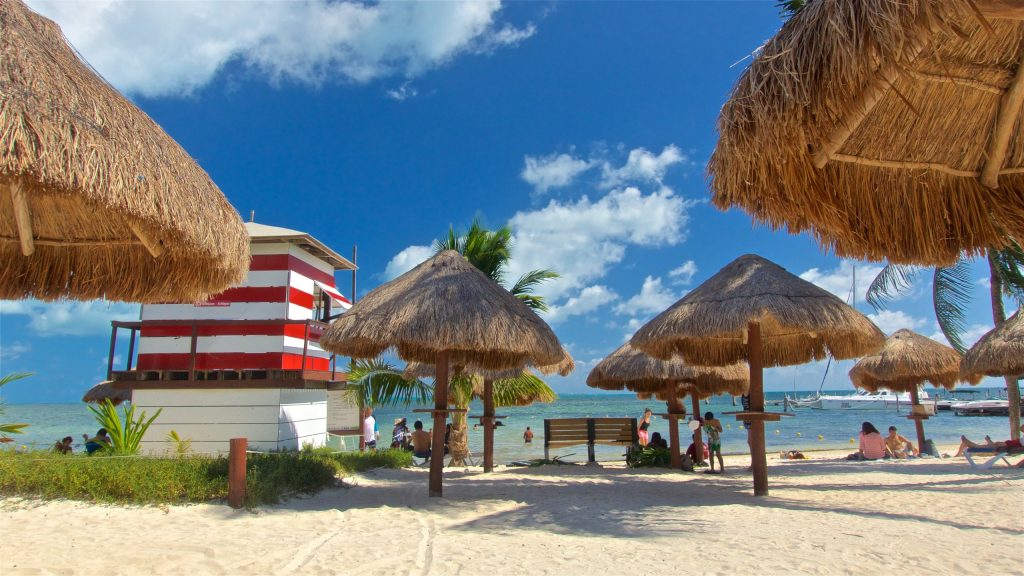 Playa Las Perlas is a beautiful and family-friendly public beach. This beach is in the northern part of the Cancun hotel zone. Las Perlas Beach is a Blue Flag area with clear water and a designated swimming zone marked by buoys. 
Rent a stand-up paddleboard or bodyboard to enjoy the small waves. Beach volleyball, a playground, and boat cruises to Isla Mujeres are all available. 
Walk south along the coast for 1.2 miles to reach Playa Linda. Free parking is within 2.5 km of Avenida Kukulkan. Free parking is accessible but restricted. 
Bring your own food and drink. You will not see many food vendors here.But must be cautious about the cleanliness of the beach. Use dustbins for throwing food or drink packets.
12. Playa Linda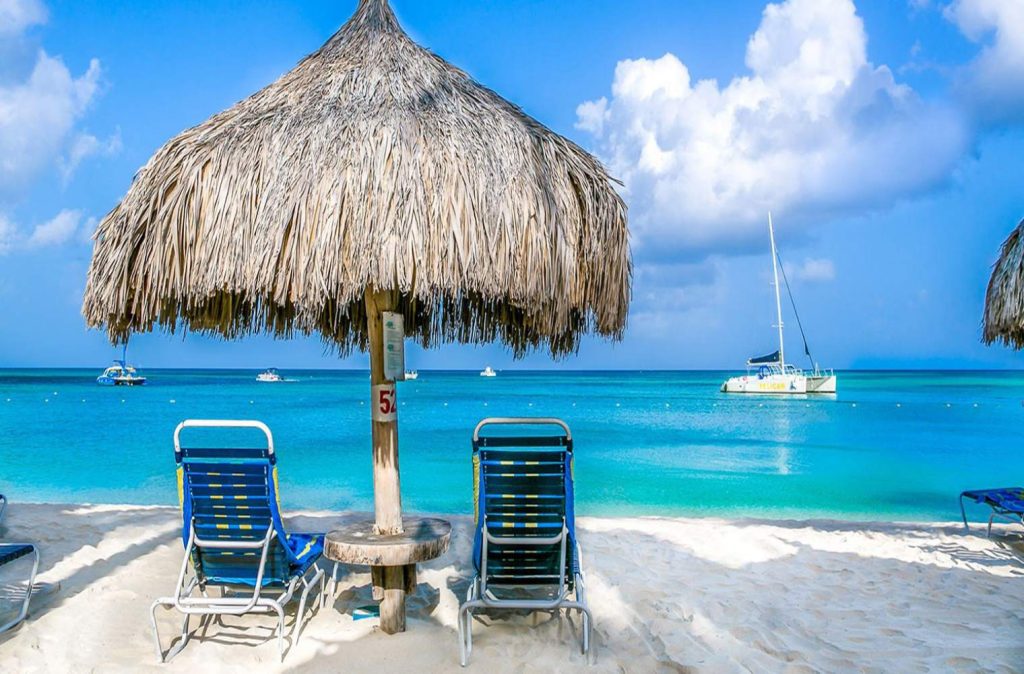 Playa Linda is a beautiful and quiet beach located in the southern part of Cancun. It is near the airport. The beach is popular for its peaceful atmosphere and clean blue water. Linda Beach is less popular among the locals. So it is less crowded.
If you are seeking a more serene beach experience visit Playa Linda. Playa Linda offers soft white sand and plenty of shade from palm trees. You can enjoy facilities like beach palapas, showers, and restrooms for free. You can also rent equipment for paddleboarding and kayaking. 
Use a bus or taxi for reaching the beach. There are several restaurants and bars. So don't worry about food and drinks.
13. Playa Nizuc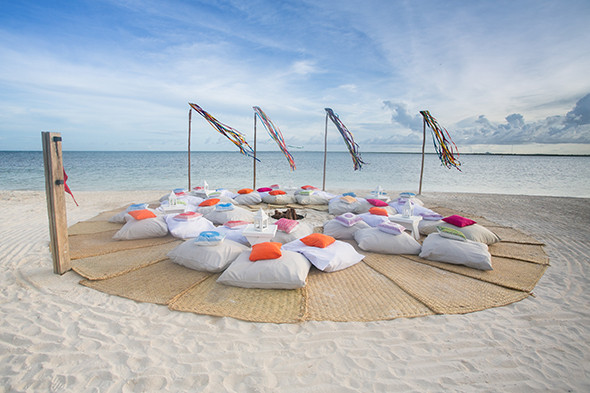 Playa Nizuc is a stunning beach at the southern end of the Cancun hotel zone surrounded by archeologist spots. The beach is part of the Nizuc Resort and Spa but is open to the public. Playa Nizuc is a great spot for swimming, as the water is calm and clear.
The beach has a reputation for snorkeling, with a variety of marine life to observe in the reef offshore. Playa Nizuc offers plenty of beach umbrellas with chairs, showers, restrooms, and restaurants.
You can also rent water sports equipment for boarding and kayaking. The beach has a huge parking lot so you can drive your car there. You can also use a taxi or bus to reach there!
14. Playa Akumal
Akumal refers to the "place of turtles' ' and it is one of the best beaches in Cancun. You have driven Highway 307 along the coastline. It is not a public beach and you have to pay M$5 for the entrance.
You will see plenty of diving institutes. Book a whole a-day package for swimming with the sea turtles. I suggest you avoid touching any turtles to avoid conflicts.
Playa Akumal is a different kind of thrill with beautiful sights. The underwater view is also something that keeps coming into your memory for a long time. Don't miss this place!
15. Playa San Miguelito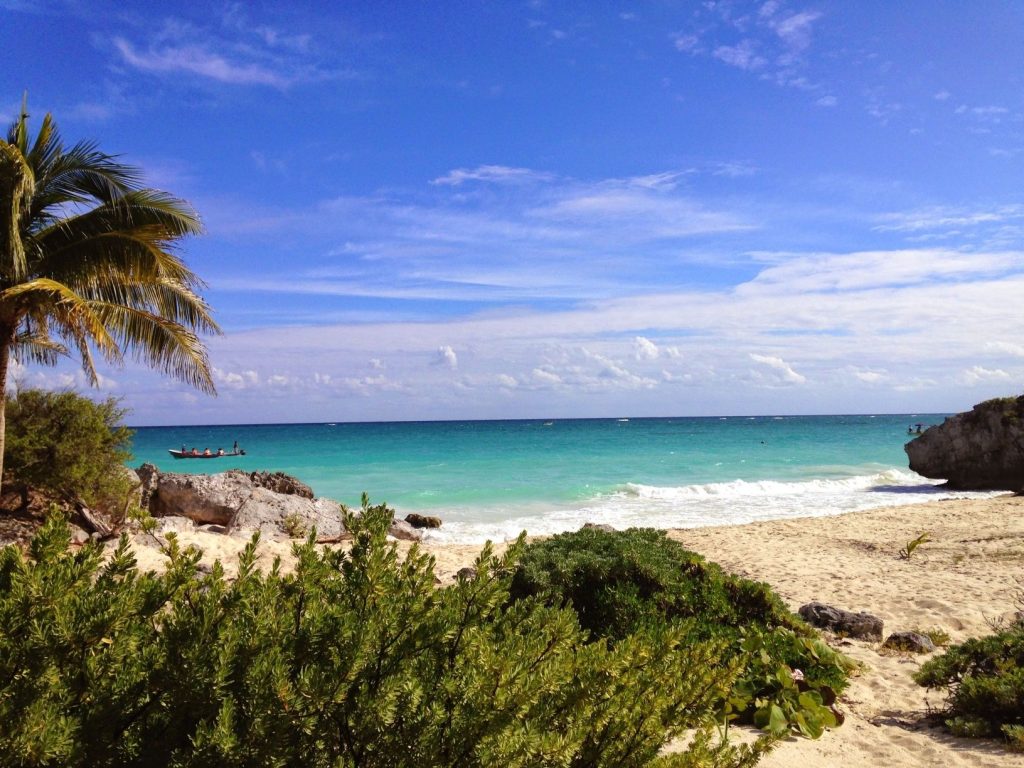 Playa San Miguelito is a small beach in the Hotel Zone of Cancun, Mexico. The beach is named after an ancient Mayan ruin(San Miguelito archaeological site). The beach is relatively secluded. It is a great option for those looking for a quieter and more peaceful experience.
The sand in Playa San Miguelito is white and powdery, and the water is clear and turquoise. You can rent snorkeling gear on the beach or bring your own if you are bored swimming.
Don't worry about the food. You will see a lot of vendors near the beach. You can have some snakes from there if you want just like all the best beaches in Cancun.
Conclusion 
Sometimes it might feel hard to wait for a bus or taxi in the street for visiting the best beaches in Cancun. If you don't like waiting or public transport you can rent a car. It will give you the freedom of free and fast movement for visiting all the best beaches in Cancun.
Try to visit all the best beaches in Cancun. Every beach is beautiful and clean with a lot of free facilities. So book tickets for Cancun on your next holiday and enjoy the seashore's beauty. You will be addicted to the freshness of the Caribbean Sea. Enjoy your holiday on the best beaches in Cancun!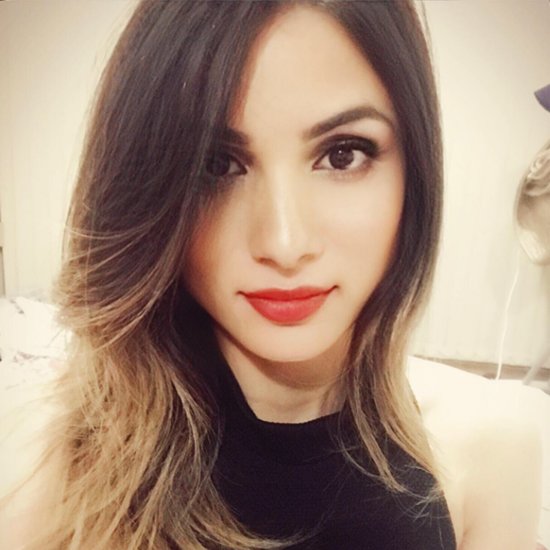 Hello, and welcome to Travel Crog, a site where I share my travel advice for your dream vacations. My name is Molly Martin, and I'm the founder and editor-in-chief of this site. I have a passion for travelling and exploring new destinations, and I want to inspire you to do the same. Six years ago, I left my job as an HR professional and embarked on a three-month trip around the world. It was an amazing experience that changed my life and perspective. Ever since then, I have been travelling as much as I can, and writing about the best things to do, see, and eat in every place I visit. Whether you're looking for a city break, a beach getaway, or a mountain adventure, I have something for you. Travel is not only fun, but also empowering and enriching. Join me on my journey and discover the world with Travel Crog. My motto is: "Life is short, travel more."