If you want to escape from your tiresome regular life and want to go for a vacation bora bora could be a great choice for you.
Here you can stay in overwater bungalows and enjoy different exciting activities. Sharks are the most exciting tourist attraction here.
Why? Cause you can get a chance to dive with sharks and you can feed the shark here. So, If you want to get some unusual experience with blacktip reef sharks in Bora Bora.
So, today I'll let you know some crucial and exciting facts about sharks in bora bora . Let's jump into the article.
Types of Sharks in Bora Bora
Most people get terrified of sharks as sea creatures. People especially got to know some scary facts about sharks from Hollywood movies. But in real life that's not all true. Sharks in bora bora will change your outlook on sharks.
Blacktip Reef Sharks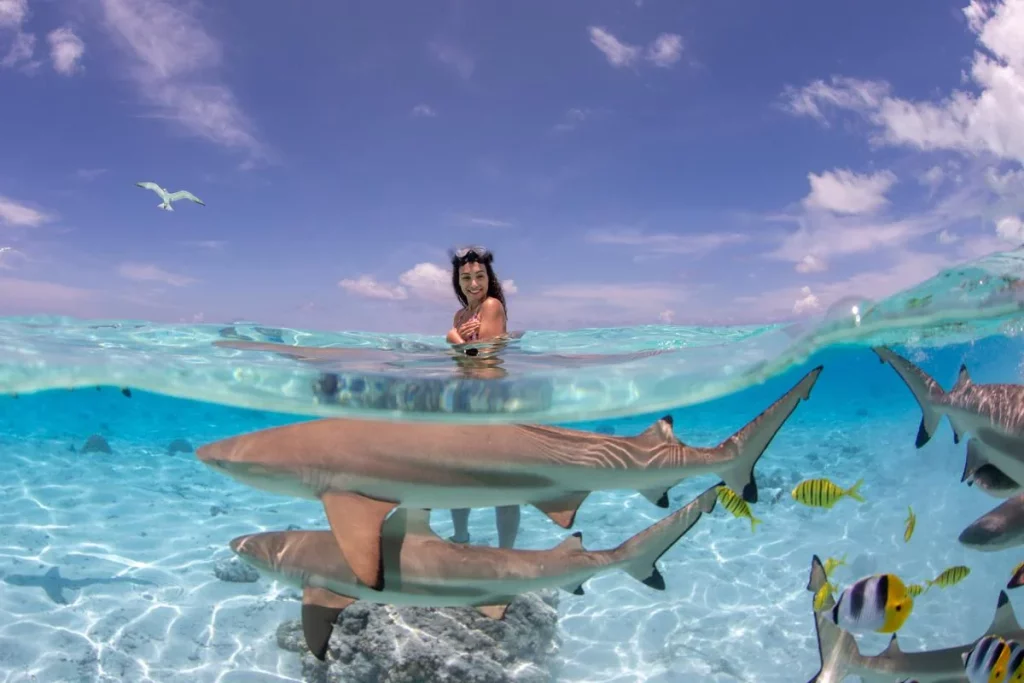 These are very common here. They are mostly calm and peaceful in behavior. They live in tropical coral reefs and love to dive into the inshore water. They are accustomed to the environment they have been living for years. They have black tips on their dorsal fins, which is also one of their unique features. They preyed on small fishes, sea snakes, birds, etc. Their length can go up to 1.6 meters. Generally, female sharks are larger than males.
Lemon Sharks
You'll also find Lemon sharks here. They are not aggressive in manner. You can go close to them on shark feeding tours. They love to eat small fish. They are used to 3 meters in height. They are not life-threatening to humans. They are clearly visible in bora bora lagoon for a yellowish tint of their skin.
You'll also find other shark species like hammerhead sharks, gray sharks, and whitetip sharks in bora bora water.
Is There Any Chance of Shark Attacks in Bora Bora
Sharks in Bora Bora are not dangerous. Especially, Black tip reef sharks are very calm and quiet. They are not aggressive. You can go close to them and take a selfie. They wouldn't mind!
There is not found any report of deadly shark attacks in Bora Bora. But as sharks are wild animals, you must take some percussion for your safety. You should avoid wearing shiny jewellery, feed them.
Is Shark Feeding in Bora Bora Safe?
There are different opinions about shark feeding in the lagoon of bora bora. Tour companies have been feeding the sharks and stingrays for many years.
Divers feed them with expert surveillance. So, taking such a step without expert guidance is not wise.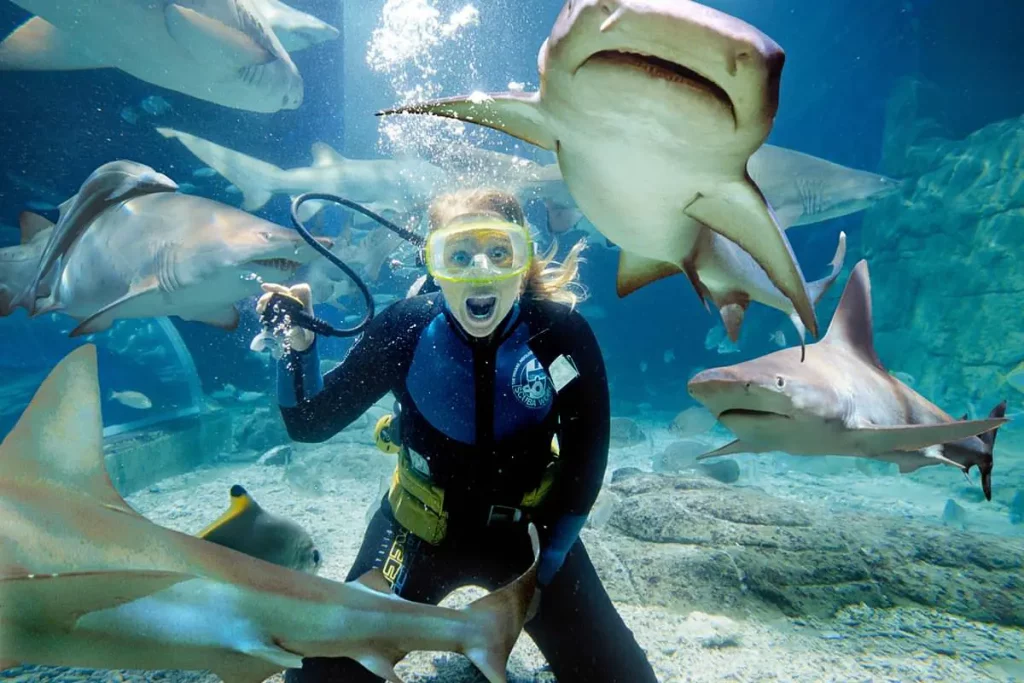 I'm sure you are pretty much excited about diving to see sharks. So, to get the best experience of swimming with the sharks here, Sharks do not swim in inshore water.
To see the sharks closely, you have to take a boat excursion. The most famous snorkel sites to swim with sharks are- Diving and snorkeling Site, Snorkeling with a small group in a cruise .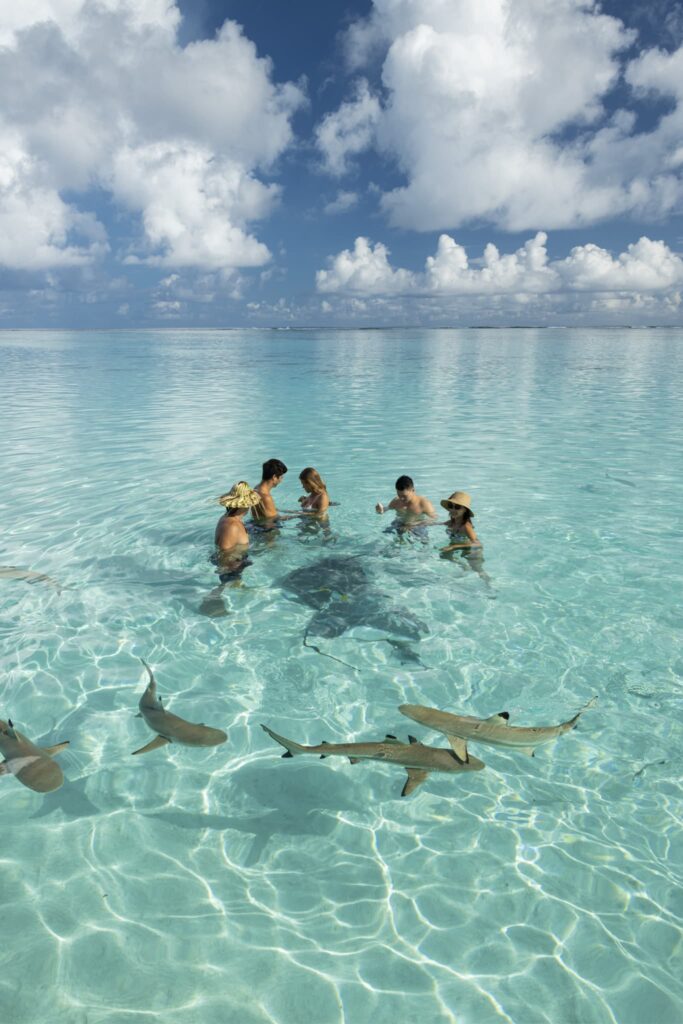 If you are thinking about which time of the year would be great to dive in the lagoon, you need not fix any specific period for this tour. Because the island water remains quite warm all over the year. It is almost 29 degree Celsius during summer and mostly 26 degree Celsius during winter. 
To ensure a safe and risk-free tour, contact a diving company. It will make your dive easygoing. You'll find different companies with attractive packages. So, you can choose one before your trip for a smoother journey.
There are so many activities you can do here. But the most popular three tours are Eco snorkel tours, Jeti Ski tours, and Private Swim with Sharks tours. But I think the snorkel tour is the most attractive one among them. Cause you'll get a chance to go close to sharks, Swimming rays and different species of tropical fishes.
Tours & Things to do hand-picked by our insiders
How much Does it cost diving with sharks?
You can customize your tour according to your time, budget, and preferences. If you want to avoid crowds and go for a private snorkel with your family, it will start at least $515 for a group of 6 people.
The standard snorkeling package costs $150 and could be up to $270 for one person. You'll get additional activities like jet skiing and a boat cruise here. But the cheapest snorkeling package with sharks starts from $100 per person.
Wrap-up
Bora Bora is not the only option if you want to make a lifetime memory by diving with sharks. You can also book a shark tour on Tahiti island in French Polynesia. It will not be less exciting than Bora Bora. Even it will be a great option for the traveler with a limited budget.
FAQ
Can I see any other ocean creatures in Bora Bora?
Yes. You can see various sea species in bora bora. Specially corals, stingrays, turtles, and dolphins are the regular inhabitants of bora bora's water. But you'll find a great number of sharks with all other sea creatures.
Is it safe to swim in Bora Bora?
Yes. of course. Thousands of tourists go there for a vacation to enjoy the water life. The water is so transparent that you can clearly see all the sea creatures from far away. It is very rare for sharks and rays, or barracuda, to attack humans. But you must wear reliable foot protection to avoid getting injured by stonefish or corals.
Does Bora Bora have great white sharks?
No. You'll not find white sharks in bora bora. Instead, you will find Hammerheads, Blacktips, Whitetips, Grey, and other species of sharks. You will also see bunches of tropical fishes and mesmerizing coral gardens there. You'll be lost to see the beauty of the underwater world.
Is Bora Bora Expensive?
Yes. It is quite expensive as you have so many activities to do here. But it will be worth your money because of its exclusivity. It will cost at least $5000 per couple. Flight and accommodation costs for one weak are added here. The cost can be doubled if you want to enjoy a luxury trip.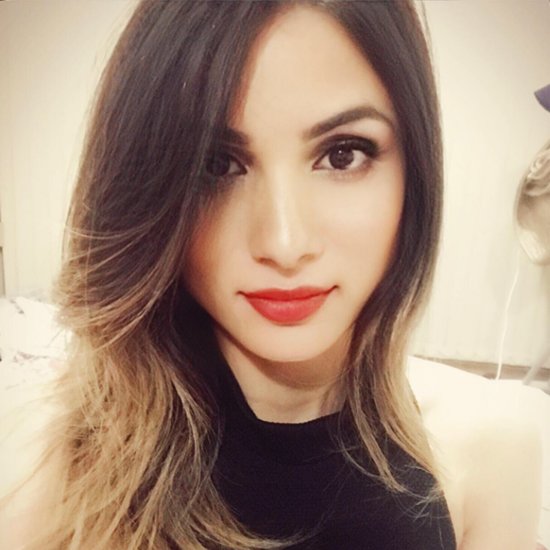 Greetings, travellers! I'm Molly Martin, the passionate explorer behind this vibrant travel platform. Alongside my team—Lorena, Jermaine, Ana, and Alen—we curate awe-inspiring travel destinations to ignite your wanderlust.
Thank you for joining us on this exciting journey. Your presence here enriches our travel community, and we look forward to inspiring your next adventure. Happy travels!