Best Things To Do In Santa Barbara During COVID-19
Santa Barbara is a city on the central California coast, with the Santa Ynez Mountains as a dramatic backdrop. Santa Barbara County, often branded as the American Riviera, is home to a beautiful landscape and great climate for living, playing, and working. This city is worth visiting. Santa Barbara is the perfect weekend getaway for its beautiful beaches, fresh seafood, ample wine-tasting options, or just to relax.
COVID-19 pandemic, which shut us all indoors for months and remains a worldwide health threat. There aren't many countries currently welcoming almost all global tourists, but as its cooler months arrive and it moves into what would normally be peak season, Santa Barbara is one of them. Santa Barbara is gradually reopening the local economy to tourism and resuming normal life. Potential impact on travel See travel advice
Recommended Article:
Popular Ways to Enjoy Santa Barbara Aside from Beach
Ultimate Things To Do in Arizona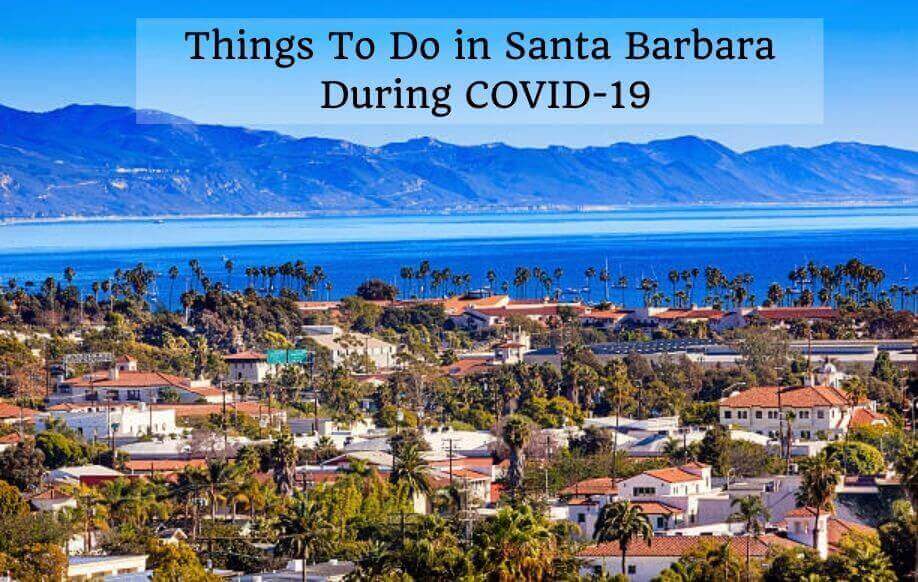 In this guide, we round-up what kind of things you can do in Santa Barbara with some tips about your safety during COVID-19.
Our Recommended activity in Santa Barbara during Covid 19
Beaches and Parks in Santa Barbara
There are four main beaches. Leadbetter, Arroyo Burro, West and East.
East Beach
East Beach is the best stretch to catch some rays without being mobbed by crowds. East Beach in the downtown area than the other beaches, offering more space to relax or take a walk along the sandy shores.
West Beach
West Beach in Santa Barbara CA is a wide beach located west. West Beach is named for the wide sandy area popular with sunbathers, volleyball players, and windsurfers. Offers a unique landscape and calm oasis for families and outdoor enthusiasts.
Moreover, Leadbetter Beach connects to Shoreline Park at Santa Barbara Point. Leadbetter's wide sands make it a popular choice for beach-going games like volleyball or Frisbee. You can easily spread out and maintain a healthy distance from other beachgoers.
Things to do near me today, beaches with kids, romantic parks, unique places to visit in the USA right now, hotels, tourist attractions: Weekend Getaways from Athens Georgia, Miami to Bahamas day trip, Near Arizona.
STEVENS PARK
Stevens Park is a continuous canyon park reaching up San Roque Canyon to the Santa Ynez Range's historic trails. There are a playground, creekside, and hiking trails through San Roque Canyon, and reservable picnic and barbecue sites.
Alameda Park
The playground at Alameda Park is known as Kid's World. It is among our largest and most popular playgrounds If you're wandering around inland, make a point to visit Alameda Park, especially if you're visiting with young kids. The various parts of the playground are designed to accommodate children from 2-12 years of age. There are nearby restrooms and reservable and drop-in picnic areas, and Alice Keck Park Memorial Gardens is right across the street.
Jalama Beach County Park
For the safety and enjoyment of all, a maximum of 8 persons and/or 2 vehicles are allowed to be at any single campsite at any time. Located one hour west of Santa Barbara, Jalama Beach Park and Campground is a secluded park where visitors can unplug and relax in nature. Each site of the park has a picnic table and BBQ pit, with hot showers, restrooms and spectacular ocean views, Jalama Beach Park and Campground have everything you need to enjoy the great outdoors.
If you don't want to visit the beach area you can do other fun things. Please read 7 Popular Ways to Enjoy Santa Barbara Aside from Beach.
Outdoor Fun in Santa Barbara CA
Camping
Whether sleeping with your toes in the sand sounds like a dream or a traditional campsite in the woods is what you need to unwind, you are bound to find something you love when you go camping in Santa Barbara. Santa Cruz Island offers Scorpion Canyon and Del Norte Campgrounds.
For some cool summer camping, hit the Los Padres National Forest. Paradise Campground features spacious sites and plentiful shade from massive oak trees. The Santa Ynez River is close by for fishing and swimming. Flush toilets, fire rings, and picnic tables make Paradise a comfy piece of tent camping heaven.
Kayaking
While paddling kayaks, enjoy a mellow day on the ocean, checking out birds, sea life, and coastal views by maintaining distance. Rent a kayak/paddle from Santa Barbara Adventure Company.
Sail Away
When it comes to socializing in a small group of three to five people, few outdoor activities can compare to sailing. Santa Barbara has one of the world's greatest playgrounds for this activity just outside its beautiful harbor. A group of three people seated several feet apart can count on the breeze.
For non-boat owners, choose from a wide variety of public cruises, take an instructional sailing course, or book a private skippered charter.
Mountain biking
Santa Barbara may be best known for its beaches, but mountain bikers have just as many reasons to visit. Just outside of town you can explore the foothills and canyons that snake their way up and down Santa Ynez Mountain range, and the Los Padres National Forest is filled with challenging options.
Santa Barbara Historical Museum
The Santa Barbara Historical Museum is located across the street and showcases numerous artifacts from the region's past and present. Both of these locations are easily accessible if you're out and about on State Street. You can also visit the Santa Barbara Museum of Natural History located in Puesta Del Sol.
Chromatic Gate
The Chromatic Gate is a one-of-a-kind sculpture located in downtown Santa Barbara, CA. The gate is made from stainless steel and made to look as if it is made from crisscrossing wooden planks. The gate is embedded right into the ground in the middle of a traffic circle and is the perfect place to rest and relax. The gate is adorned with a large manhole cover in the center of the pavement. The manhole cover creates an interesting optical illusion. Its located in Santa Barbara, CA 93103, United States.
The Stearns Wharf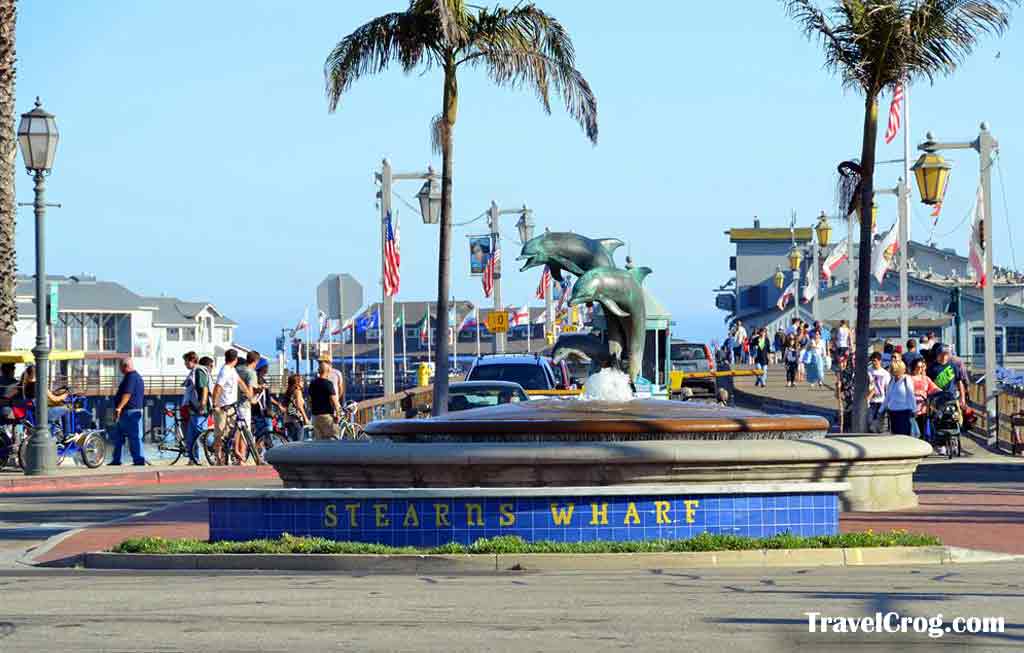 The Stearns Wharf is a prime spot for taking in Santa barbara's south coast's natural sights. This wharf stretches out from the shore into the Pacific Ocean. The wharf has a beautiful sand beach and palm trees, which make it enjoyable to watch the sunset. At the end of the wharf, there are places to watch the sunset and take in the ocean air. Stearns Wharf is a great place to spend an afternoon.
The dolphin fountain, officially known as the Santa Barbara's Bicentennial Friendship Fountain, by artist Bud Bottoms that welcomes visitors to Santa Barbara.
Moreton Bay Fig Tree
The Moreton Bay Fig Tree is an immense tree that grows in the Santa Barbara, California, area. It is located on the campus of the University of California and is a popular tourist site. The tree was over 150 years old, making it one of the oldest trees in the United States. However, after several years of drought, the tree died in the summer of 2015. Though the tree has been cut down, the tourists still come to see it. To honor the tree, many have left notes on the trunk. The leaves of the tree can be used in cooking, which is why many people come to collect them.
Santa Barbara Zoo
Santa Barbara Zoo is a nice little zoo. It's not big, but it's a nice place to visit. You could probably spend an hour there walking around and looking at the animals, but animals are also out in the "petting zoo" area. That's where you can get up close with the reptiles and birds. Then there is the petting zoo where you can feed goats and sheep.
The Santa Barbara Zoo has been able to buck this trend by redesigning and adding new exhibits to their park—the latest of which is the California Condor Recovery Center, which reopened in 2009 after being destroyed in the 2003 wildfire that burned over 80% of the park
Old Mission Santa Barbara
Santa Barbara's mission is one of the grandest, with a magnificent Moorish fountain, domed belfries, twin bell towers, heirloom rose gardens, and an abalone-encrusted Chumash Indian altar. The mission is open daily; tour its whitewashed rooms and museum or attend Sunday mass. One of 21 missions Spain built in the late 1700s to gain a foothold in what is now California, Santa Barbara's stately Spanish-Mediterranean architecture is adopted from the regal Santa Barbara Mission, Since its founding in 1786, the altar light has never been extinguished.
FAQ
What is the best time to visit Santa Barbara?
The best time to visit Santa Barbara is from March to May or from September to November. Temperatures are fairly mild year-round, hovering in the 60s and 70s, but traveling in early spring or fall ensures you won't be fighting crowds and rates will be less expensive.
Why is Santa Barbara famous?
Chill at the Beach, sandy beaches, and whether you're looking to catch the perfect wave or the perfect sunset, there are plenty from which to choose.
Is Santa Barbara worth visiting?
Santa Barbara is definitely worth visiting. Santa Barbara is often referred to as the American or California Riviera. It has several pretty beaches, lots of Mediterranean architecture, and palm trees.
What do locals do in Santa Barbara?
Santa Barbara Things to Do: Arroyo Burro County Beach Park. The Arroyo Burro Beach Park is a Santa Barbara County park located on Cliff Drive just south of Elings Park. It is called Hendry's Beach by locals, and it is a popular place for picnics and ocean activities, which include swimming, surfing, and fishing.
Where can I propose in Santa Barbara?
Butterfly Beach and Hendry's Beach are two primo locations for a stunning set-up in the sand. Upgrade your beach romance game with a "Proposal Picnic" impeccably styled by Santa Barbara Picnic Company.
Is Santa Barbara boring?
No, not boring. Santa Barbara has UCSB, with 20,000 students; City College with, even more, Westmont college: beaches, hiking trails, and lots of restaurants, music, and activity: Tennis courts, Surf, Golf courses, Botanic garden, etc. With all these attractions plus a mild climate, it's an expensive city.
Is Santa Barbara expensive?
Santa Barbara residents spend 29.43% of the median household income on housing costs, and the median monthly rent is $1,496. No other town does luxury or exudes an effortlessly chic vibe like Montecito street Santa barbara. Shop, dine and hobnob together on Coast Village Road and the Upper Village.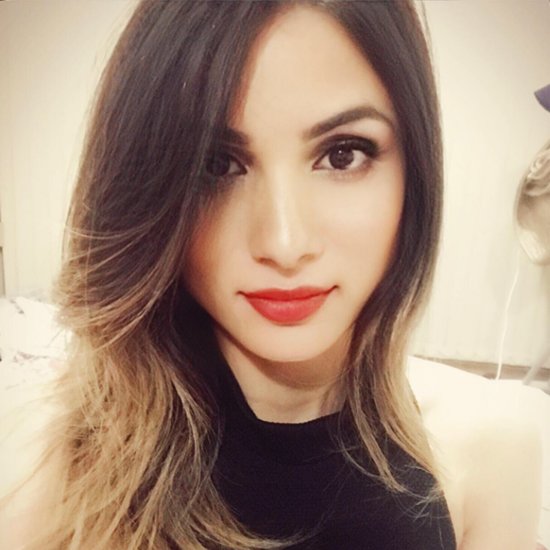 Hello, I am Molly Martin. I am from California and have been working in a company that manages money for wealthy people for the past 6 years and decided to leave my job because it wasn't doing anything for me other than making me feel stuck. So now after going on a trip around the world that made me feel empowered and coming back things weren't as they used to be at work or anywhere else so I want to change everything again. I left my job six years ago because I wanted to do something for myself and then went on a 3 month trip around the world which not only helped me realize how much more there was out there but also made me feel empowered because it was different than what everyone else does!