London is one of the best places that everyone must visit once in their lifetime. Everyone should spend at least one of their holidays in London with their family, friends, kids, and partner.
London, with its world-class eateries, unrivaled music scene, and historically significant landmarks. There's also tea. Who can forget about the tea?
London is a lovely city to visit, and getting around is a snap thanks to England's excellent public transportation. You could easily spend a week or more experiencing everything that each London area has to offer and still have money left over for your next trip.
There are many famous attractions in London that you might never get to see anywhere else. These attractions and places make everyone more excited and enthusiastic to see London.
You can see every corner and scene of London while standing in the 'London eye'. Some of the world's most precious and ancient treasures are kept at the 'British museum'.
There is also a particular museum for dinosaurs- a natural history museum. The accommodations and hotels in London are available as per your choice and taste.
London vacations provide you with the best hotels which are cheap. London has the best art galleries in the world. Many of these galleries and museums are free.
London has the world's diverse restaurants. Many bars are known for their best taste and quality of wines and champagnes.
Oxford street is well known all over the world. There are many other iconic departments like Selfridges, Harrods, oxford street, London markets, and many others where you can find the best items for shopping.
There are many other parks, rivers, theme parks, and other places included in London. If you are planning a trip to London, here's the list of things that you must visit!
1. British Museum
One of the oldest and most outstanding attractions in London, the British Museum has on display artifacts of utmost importance that were collected during the British rule over the rest of the world.
From the infamous Rosetta stone which sparked the belief in the afterlife amongst Egyptians to the outstanding and scary-looking Egyptian mummies, the lavish British museum promises a fun edutainment trip with your friends and family.
With a collection of artifacts of more than 2 million years of human life, this incredible museum is a perfect go-to location for your London excursion.
The must-see objects on display in the museum are the incredible Greek vessel depicting the Trojan war, the unreal yet beautiful Parthenon sculptures which are about 2500 years old, and lastly the ancient Egyptian mummies as well.
Tours & Things to do hand-picked by our insiders
A visit to the British Museum is a must in your London Tour package.
2. Tower of London
The land of royalty and aristocrats, London is home to a plethora of towers, forts, and palaces which are a perfect addition to your itinerary.
The most immensely beautiful is the Tower of London which is the place of residence for Queen Elizabeth II. This tower has been the location for revolutionary decisions, and meetings and features state prisons, royal documents, and more.
The tower features the most outstanding collection of jewels, the beautifully constructed white tower, a hospital block, a Queen's house, and memorial blocks worth a visit.
Tourists can spot several intriguing artifacts on display like armors, war suits, horses made of silver and metal, etc. Enjoy the engrossing views of the vivid Tower Bridge and click outside pictures with this popular backdrop.
3. Big Ben
Earlier known as the St. Stephen's tower, the renowned Big Ben is one of the magnetic attractions to visit in London.
The tower stands at a height of 94 feet and features one of the largest and heaviest clocks weighing about 13.7 metric tons with the hour and minute hands being 9 and 4 feet respectively.
Big Ben can be viewed from most parts of London city for being one of the tallest structures around. There are other intriguing spots to discover around Big Ben on your evening strolls like the infamous Westminster bridge and the diving Westminster abbey, a sacred place to offer your prayers.
If you are with your family, then discover the nightlife of London at its best on a cruise upon the incredible Thames River.
4. London Eye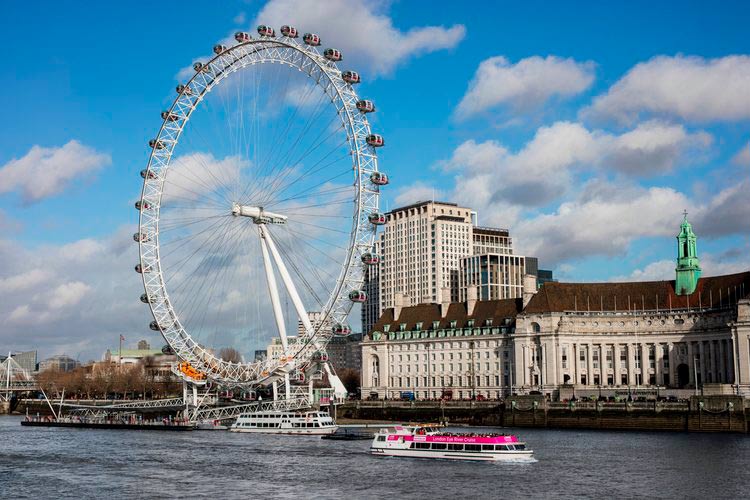 The London eye is one of the most popular tourist attractions in London. It is the world's tallest wheel. London eye consists of 32 capsules. All of these capsules are made up of glass.
You get a spectacular and amazing view of the full city. Many landmarks like Buckingham Palace, Tower Bridge, and Big Ben can be seen from the London eye.
A 4D show is run while you are riding the London eye. One of the best firework shows and celebrations is done near the London eye, visible all over the city.
This thrilling ride is only available in London packages at the best prices.
5. Madame Tussauds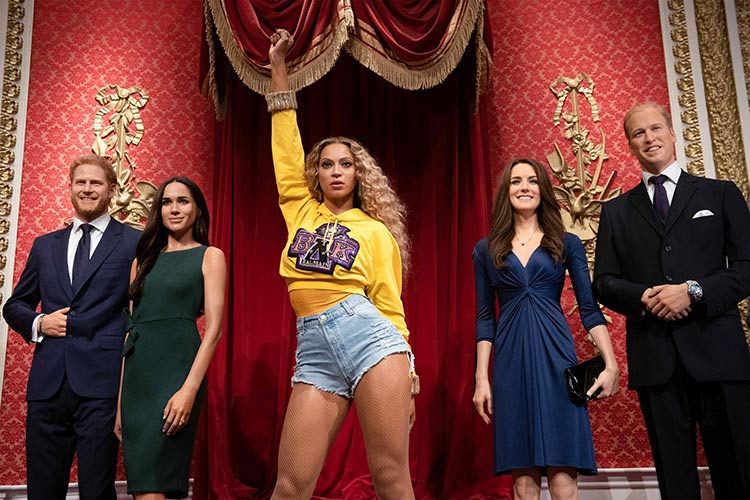 It is one of the most popular tourist attractions in London. Millions of people visit this place every year. The replicas of celebrities found in these museums are life-like.
More than 400 figures of wax are present in this museum. Wax figures of famous actors, politicians, scientists, religious figures, historical figures, and criminals are present in this museum.
The London package offers you the best chance to have taxi rides and bar experiences in Madame Tussauds. There are many marvelous 4D figurines of marvel superheroes that everyone is a fan of.
The figures that are present in this museum are divided into many categories.
6. Hyde Park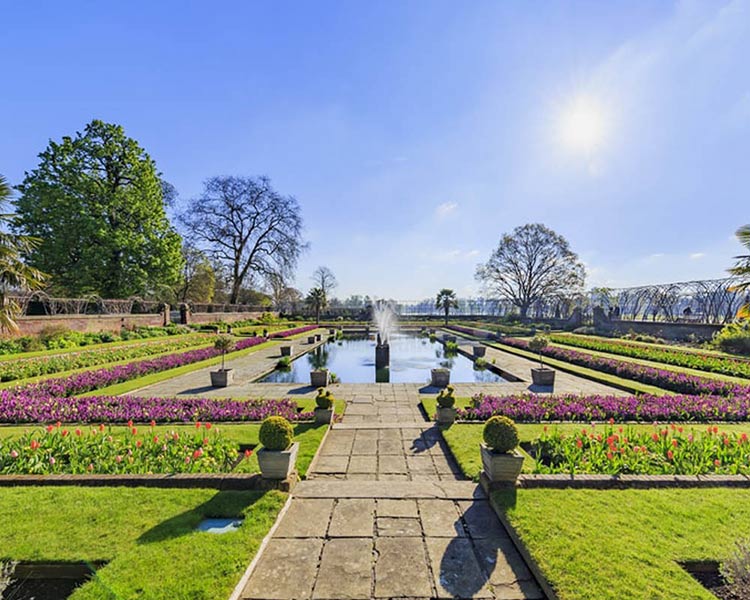 It is a significant park in central London. This is one of the world's greatest royal parks ever. There are many activities that a visitor can do, such as swimming, horse riding, tanning, boating, skating, and many more.
Many beautiful trees and flowers attract a thousand visitors from all over the world. There is also a bird sanctuary in Hyde Park. It is an ideal place for bird watchers as well as photographers.
There are many concerts, seminars, events, charity shows, and other shows organized in this park. This park is converted into a magical place during Christmas and New Year.
7. Sealife London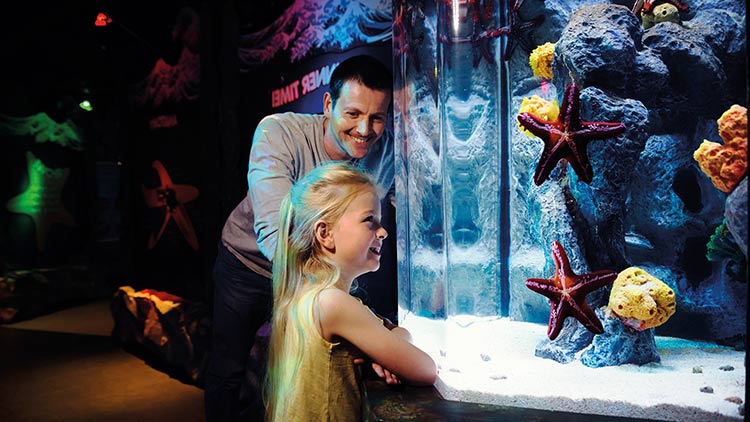 This aquarium is one of the best spots a London package can ever offer you. This place has more than 50 aquariums. More than 1,80,000 creatures live in these aquariums.
The experts give the kids educational talks, which they enjoy the most. These aquariums are home to many rainforest creatures like poison dart frogs as well as piranhas.
This place also has an Antarctica frozen world where you can see many penguins. This is the place you will have the most fun at. There are many unknown facts that you will explore.
8. Warner Bros. Studio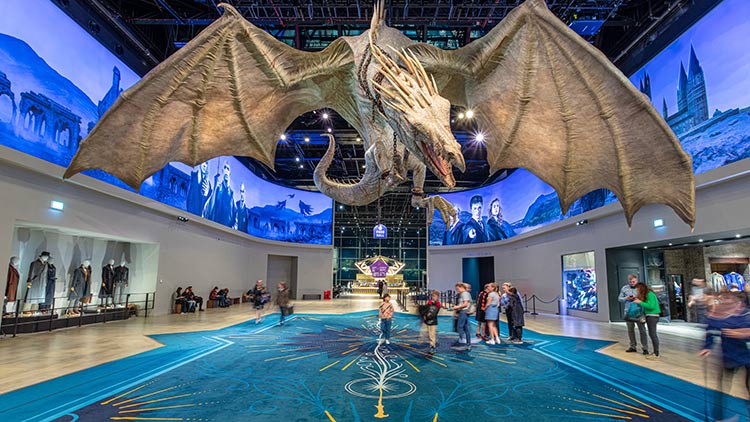 Discover what it took to bring the Harry Potter films to life at Warner Bros. Experience the wonder of the Wizarding World of Harry Potter, explore classic sets, and learn what it took to bring the Harry Potter films to life at Warner Bros.
This studio has 36 sound stages. It is one of the most remarkable filming studios. It also has 14 exterior sets. Many famous sitcoms like friends, whose most popular and well-known scenes were shot in this studio.
There are many themed restaurants also in this studio. You can have a cup of coffee and see the displays of marvels in this place.
It has the popular sets of la-la land as well as the big bang theory. The things that you can do in this studio are countless, and you will have endless fun.
9. Soho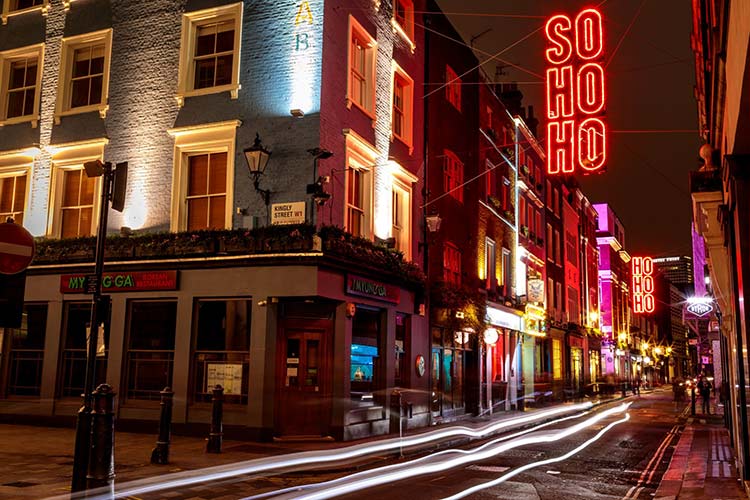 Soho has long been regarded as the heart of London's sex scene. The area is currently the most popular nightlife destination, however, there are still a few sex stores strewn throughout, giving Soho a delightfully risqué feel.
Soho is frequently regarded as the city's LGBTQ* epicenter, having a plethora of gay and lesbian pubs to visit once the sunsets.
Soho is a cultural destination with a plethora of theaters, jazz bars, and restaurants to visit in addition to bars and clubs.
It's also an excellent spot to go for a few drinks after a play or stage show because of its proximity to Leicester Square.
Soho retains its allure during the day. There are numerous music stores, modest cafes, and charming bakeries in this area. On Old Compton Street, grab a coffee and a muffin for some excellent people-watching.
10. Harrods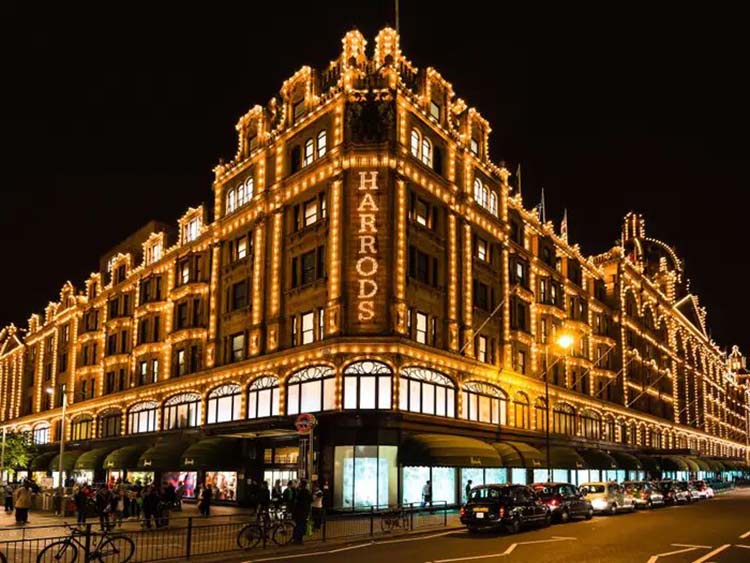 Harrods is one of London's most well-known department stores, catering primarily to the city's elite and the super-rich. Oscar Wilde, Laurence Olivier, and the Royal Family have all been patrons of Harrods since it first opened in 1824.
The luxury is distributed across several floors, which are organized stylishly through Harrods' themed halls.
Fresh meat and cheese, as well as outstanding marmalades and pates, are available in the food hall.
The Egyptian hall features lavish apparel that will make you feel like a pharaoh as you go through.
Harrods creates a selection of luxurious Christmas hampers filled with treats to make the holiday season even more wonderful.
In London's most luxurious department store, explore the premises and get lost while shopping for costly perfumes, children's toys, and even pets.
11. Buckingham Palace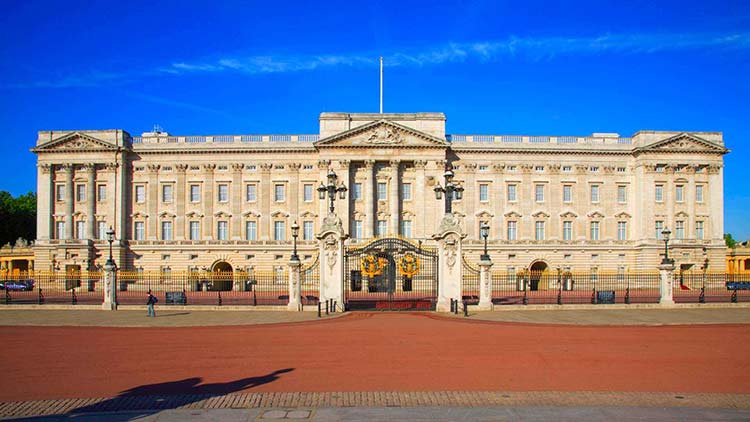 A visit to London would be completed without a stroll through Green Park to see Buckingham Palace. Since 1837, the palace has been home to the British Royal Family.
It has 775 rooms and is the city's largest private garden. Some areas of the palace are available to the public, allowing tourists to get a glimpse of the royal lifestyle.
Observe the world-famous Changing of the Guard from the outside. This operation takes place a few times a day, and it's a terrific way to see a historic custom and the Royal Guard's highest discipline – all while wearing the iconic London bearskin.
12. Galleries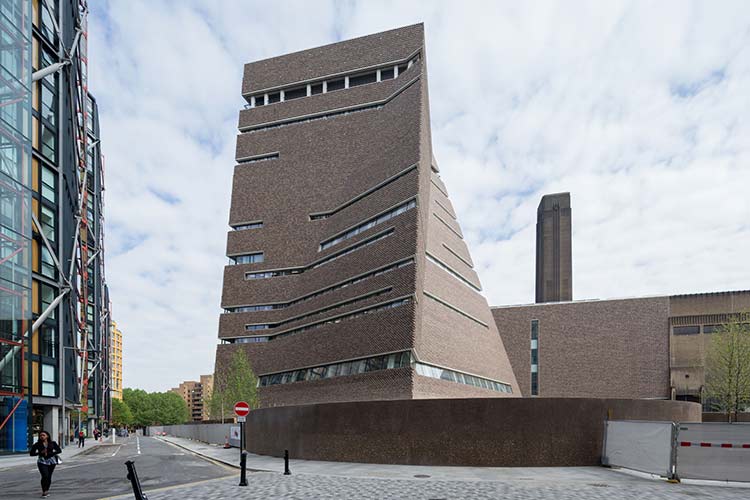 With so many galleries to visit displaying the greatest in classic and contemporary art, London is a perfect city for art enthusiasts.
Most of the city's galleries, notably the National Gallery in Trafalgar Square, are free to visitors. With works by da Vinci, Turner, van Gogh, and Rembrandt on display, the National Gallery has something for everyone.
The Tate Modern on the Southbank is a great place to go if you want to see a lot of modern art. The structure itself is a work of art, soaring over the ocean. Inside, you'll find works by Picasso, Klee, and Delauney, among others.
On every floor of the building, the gallery hosts interesting temporary exhibits, making it the ideal destination to get your art fixed.
13. Leicester Square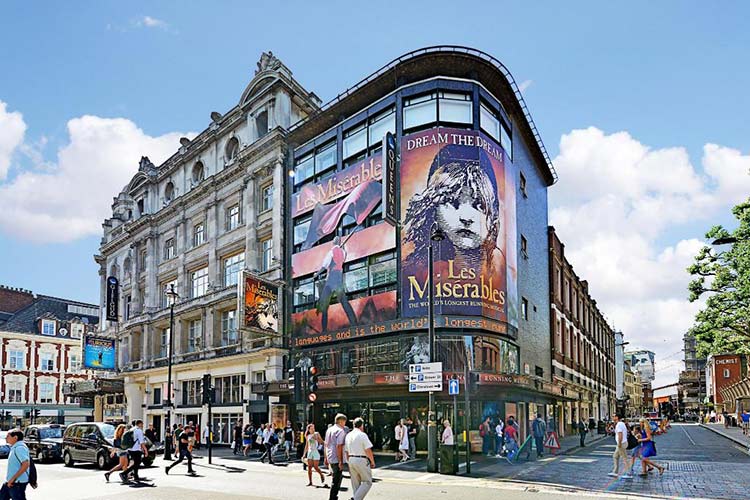 Pay a visit to Leicester Square and follow in the footsteps of Hollywood stars. The square is most known for hosting the world premieres of some of the most well-known blockbusters. In reality, since 1670, the square has been a London hotspot and a focus for entertainment since the 19th century.
Several cinemas, including those with some of the city's largest screens, as well as a range of restaurants, surround the area.
The square's central garden is ideal for cooling down in the summer or resting your feet after a long day of sightseeing in London.
Cult films, singalong screenings, and epic marathon nights can all be found at the Prince Charles Cinema.
The Chinese New Year is also celebrated in Leicester Square, where you may see traditional dancing dragons and get lost in the crowds.
14. Oxford Street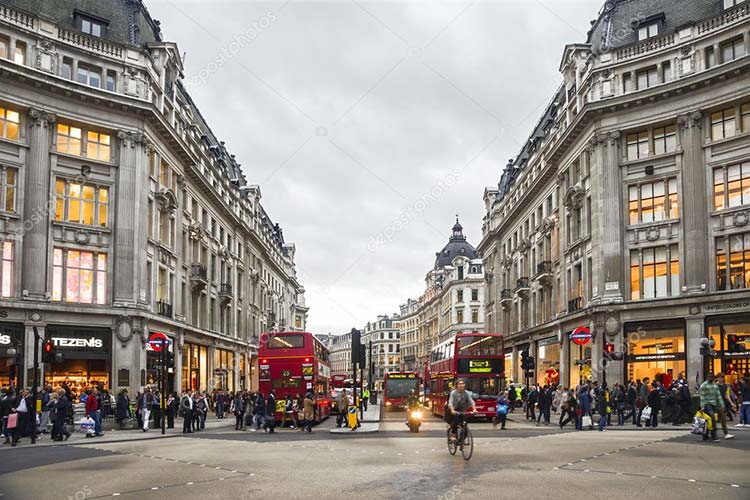 Oxford Street is not only London's most popular shopping street but also Europe's busiest. It boasts 300 stores and approximately 500,000 people each day.
Designer stores and internationally renowned department stores such as Debenhams and House of Fraser are great places to shop until you drop.
Selfridges' window decorations are intricate and gorgeous, and they change with the seasons. Interactive windows and work by well-known artists are usually featured in these exhibits.
The Oxford Street Christmas lights enliven your shopping sprees and provide some glitz to the evenings around Christmas.
15. Brick Lane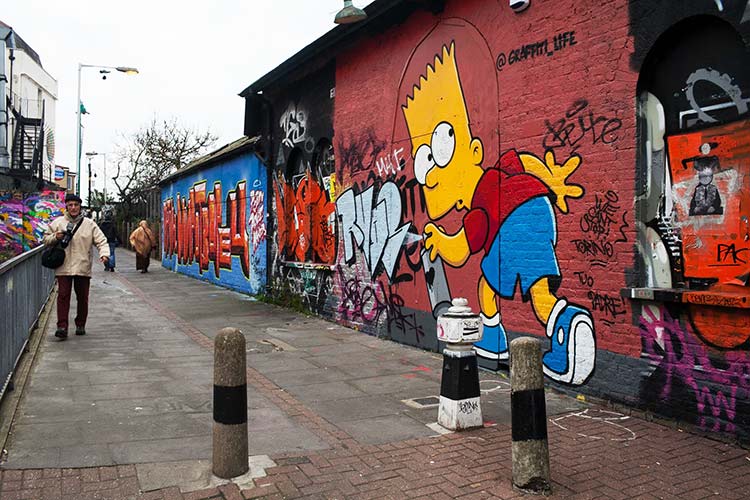 The book and film adaption of the same name made Brick Lane famous. Brick Lane is the core of London's Bangladeshi population, as the book's narrative made evidently.
Brick Lane is an unusually varied neighborhood with road signs in both English and Bengali, as well as a plethora of curry places.
This is the place to go for spicy food, but don't miss out on the authentic South Asian desserts at one of the many sweet shops.
There are also a lot of stylish bars and regular marketplaces in the area, which draw a young and fashionable audience.
If you need an art fix, stroll around the corner to Whitechapel Gallery, or look for street art on Brick Lane and its surrounding streets.
16. Baker Street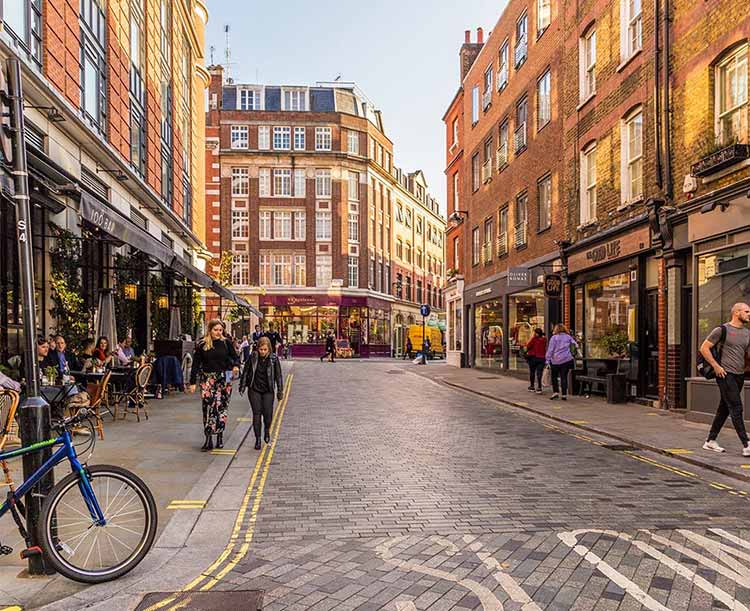 Baker Street, well known as the home of Arthur Conan Doyle's notorious investigator Sherlock Holmes, is one of London's cultural icons.
Today, a Sherlock Holmes museum can be seen at the Underground station, which has been increasingly popular since the BBC revival of 'Sherlock'.
Madame Tussauds, the world-famous wax museum where you can pose with your favorite celebrities, is just around the corner.
After that, take a break from the crowds on Baker Street by visiting neighboring Regent's Park or ascending Primrose Hill for a great perspective of London.
17. Piccadilly Circus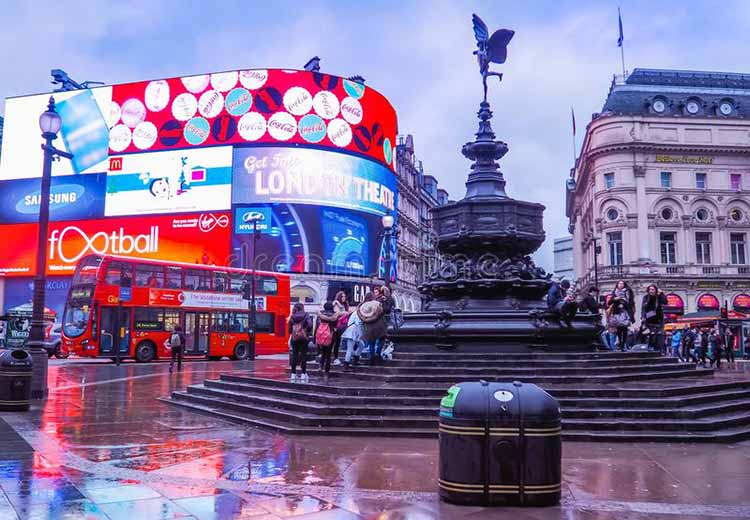 Piccadilly Circus is a square filled with brilliant lights and large electronic screens that is readily identifiable.
Piccadilly Circus has been a popular London destination since its heyday as a commercial hub in the 17th century.
Piccadilly Circus is still the hub of the West End today, with easy access to some of London's most prestigious theaters and nightclubs, including the Criterion Theatre.
The Eros Statue in the Circus Center is a popular meeting place and tourist attraction in and of itself.
Visit the Ripley's Believe It or Not museum in Piccadilly Circus to discover some new facts and see some of the strangest things the world has to offer.
To satiate any pop-culture desires, the Trocadero has a games arcade and a few specialist businesses.
18. Kensington
There are many interesting places to see in Kensington. These are the things to do in Kensington that you should not miss, from Museum Mile to beautiful parks and gardens.
There's no getting around it: this is one of London's wealthiest areas, complete with fashionable cafes, boutique stores, quaint pubs, and fine restaurants – indeed, there's even a royal palace (Kensington Palace) thrown in for good measure.
You might spend weeks exploring Kensington's treasure trove, but if time is of the essence, our top three recommendations are Kensington Palace, The Churchill Arms, and The V&A Museum. Nonetheless, this comprehensive list will provide you with plenty of ideas.
Then there's the unmatchable vibe, Kensington is boujee AF, to put it bluntly.
19. Regent's Park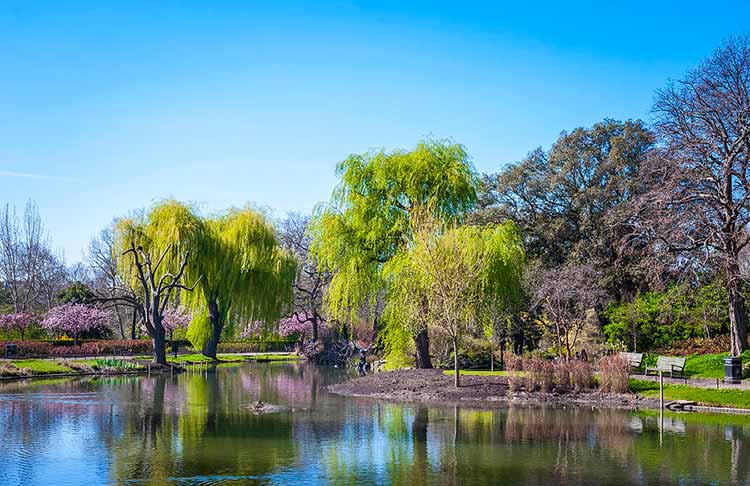 The Regent's Park, one of London's eight Royal Parks, is home to stunning rose gardens, wildlife, open-air plays, and more.
The Prince Regent's Park was planned by John Nash and is named after the Prince Regent, who subsequently became King George IV.
In the 395 acres that make up The Regent's Park, there is enough to see and do.
Take a stroll through Queen Mary's Gardens and breathe in the aroma of approximately 12,000 roses.
The park is home to a variety of species, including a colony of grey herons near the boating lake, where you may rent boats and pedalos throughout the summer.
20. London Nightlife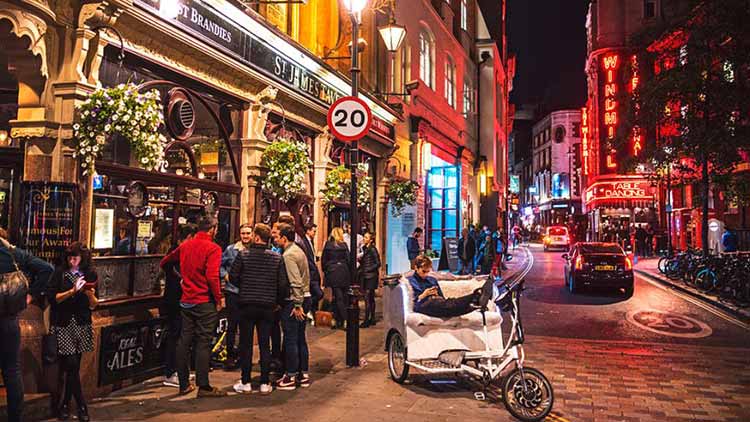 Both during the day and at night, London is a bustling metropolis. Even after dark, there is always something going on, from one-off events to club nights. As the sun sets, London's lights turn on, spectacularly illuminating the city.
There are free nighttime walking tours available, or you can take a night tour bus. Visit the Gothic architecture of Big Ben and Westminster Cathedral, or see St Paul's Cathedral illuminated at night. The lively nightlife of Soho and the West End may be found among the large neon signs.
Travel a little further out to Hampstead Heath for some astronomy, or visit Hyde Park late at night to see bats.
Finally, visit Polo Bar on Liverpool Street for 24/7 greasy spoon dining after a long day and night touring one of the best cities in the world.
BEST TIME TO VISIT LONDON
The climate of London is temperate, with moderate to high temperatures in the summer and frigid temperatures in the winter. During the winter, light snowfall is also typical. Rainfall occurs regularly throughout the year.
London experiences its first taste of spring from March to May, with temperatures hovering around 20 degrees Celsius. Longer daylight hours, good weather, and a few drops of rain (so bring an umbrella) greet you in these months.
Summer in London is nice from June through August, with a mix of rain and sunshine. Temperatures vary from 13 to 30 degrees Celsius. This is an ideal time to visit London, and go sightseeing.
Temperatures range from 11 to 15 degrees Celsius from September to November. The pleasant weather is ideal for exciting events such as Halloween and pre-Christmas celebrations.
December to February: London's winters may be bitterly cold. Temperatures range from 1 to 8 degrees Celsius on average. The city experiences a decrease in tourist visitation throughout the winter months.
HOW TO PLAN A PERFECT LONDON TOUR, AND HOW MUCH DOES IT COST?
Step 1: Plan your trip to London (and for how long)
Step 2: Reserve your London lodging.
Step 3: Make a schedule for your trip.
Step 4: When planning a vacation to London, think about how you'll move around.
Step 5: Figure out where (and what) you're going to eat in London.
Step 6: Incorporate a day trip from London into your plans.
You should budget £145 ($189) a day for your trip to London, as this is the average daily price based on other guests' costs.
In addition, the average hotel cost for a couple in London is £181 ($236). As a result, a one-week trip to London for two people costs £2,029 ($2,641).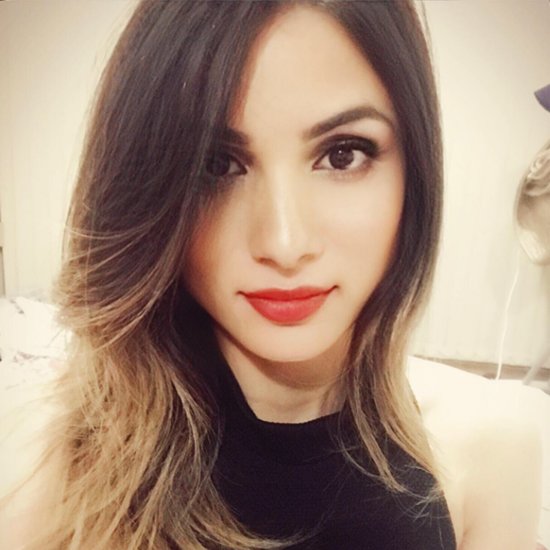 Greetings, travellers! I'm Molly Martin, the passionate explorer behind this vibrant travel platform. Alongside my team—Lorena, Jermaine, Ana, and Alen—we curate awe-inspiring travel destinations to ignite your wanderlust.
Thank you for joining us on this exciting journey. Your presence here enriches our travel community, and we look forward to inspiring your next adventure. Happy travels!