If you are here, you must be planning the ultimate tropical vacation in the tropical paradise of Maui, Hawaii.
This magical island of Hawaii offers everything and more that you need in a relaxing vacation filled with fun and adventure. 
The mesmerizing turquoise waters of the beaches on Maui, the lush green mountains, the amazing trails and waterfall, and the vibrant colorful culture, this magical Hawaiian island promises you the best time of your life.   
Tours & Things to do hand-picked by our insiders
To make your trip hassle-free, this Maui itinerary has a list of everything that you must explore. We have made the list in a way that you will get to see all sides of Maui and enjoy all the unique experiences in Maui that you will cherish forever.
So read on and plan the Maui vacation with us! Mahalo!
Best Things To Do In Maui, Hawaii
Best Beaches on Maui
1. Relax at Ka'anapali Beach or Wailea Beach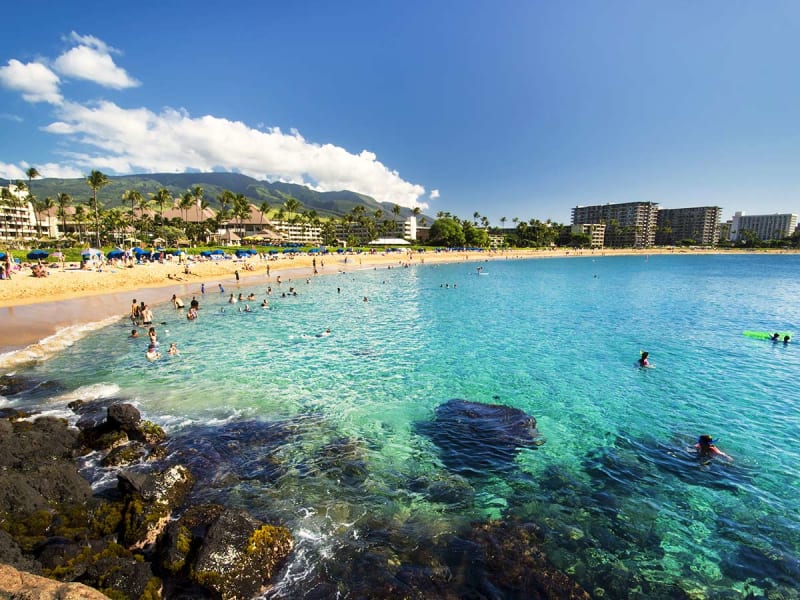 Ka'anapali Beach is considered one of the best beaches in Maui. It is small only a mile long, but it has all the fanciest hotels and resorts and tons of activities to do.
Snorkeling, hiking, sailing, swimming, and sunbathing you name it. The beach has soft golden sand and water that looks like sparkling diamonds.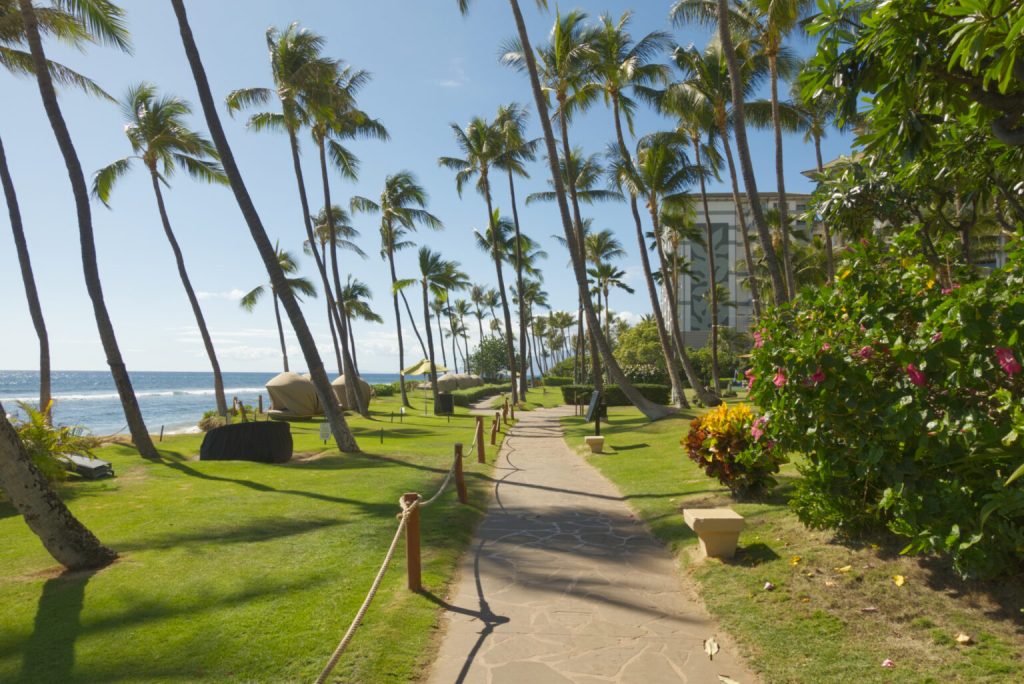 Sitting here and relaxing will just take all your worries away. There's a walking trail if you want stroll through while enjoying the wind. If you want to hit only one beach in Hawaii, Ka'anapali Beach should be it.  
Black Rock cuts through the beach and is super popular with snorkelers and scuba divers getting certified. 
Wailea Beach is like the ultimate beach for soaking in sun while having fun. If you're cool with a resort vibe (and and a little bit crowd), then this beach is seriously amazing.
Wailea means "the water of Lea," who was this goddess associated with making canoes. Before all these fancy resorts came along, this spot used to be called Kahamanini and Wailea only referred to the rocky point at the southern end of this beach.
The beach itself is super wide, with perfect sand and an ocean that's just begging you to jump in. You will have the view of Kaho'olawe, Molokini, Lana'i island. It's common to hear the sound of whales and a catch a glimps of them too.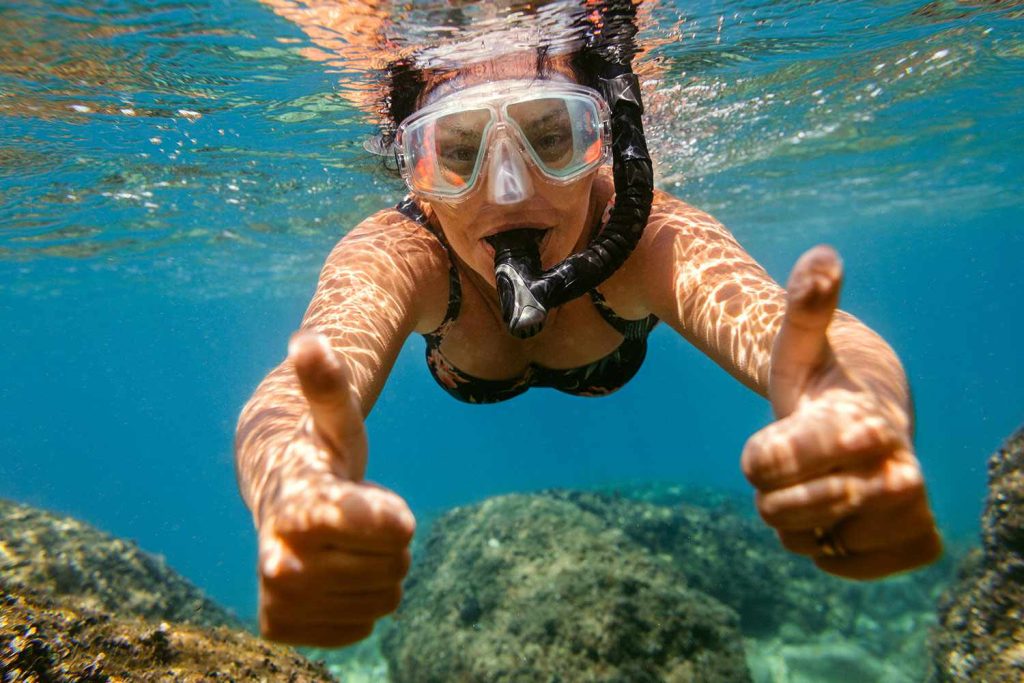 The Molokini Crater is a crescent-shaped volcanic caldera. It formed over 200,000 years ago by a volcano eruption. Scuba diving in this crater has become so famous for its wall and drift dives.
You will encounter various type of shark species, moray eels, tropical fish, manta rays, dolphins, and beautiful reefs. Within the crater, you can also search for octopus, moray eels, sharks, and a lot of exotic fish.
Note that you need scuba diver certificate to  dive in Molokini Crater but non-certified can still enjoy the experience through Snorkeling . Snorkeling in the crater gives you chance to experience the amazing marine life of Hawaii.
Most common fishes are yellow tang, moorish idol, parrot fish, black triggerfish, bluefin trevally, raccoon butterfly fish, and occasional sightings of moray eels, manta rays, and whitetip reef sharks.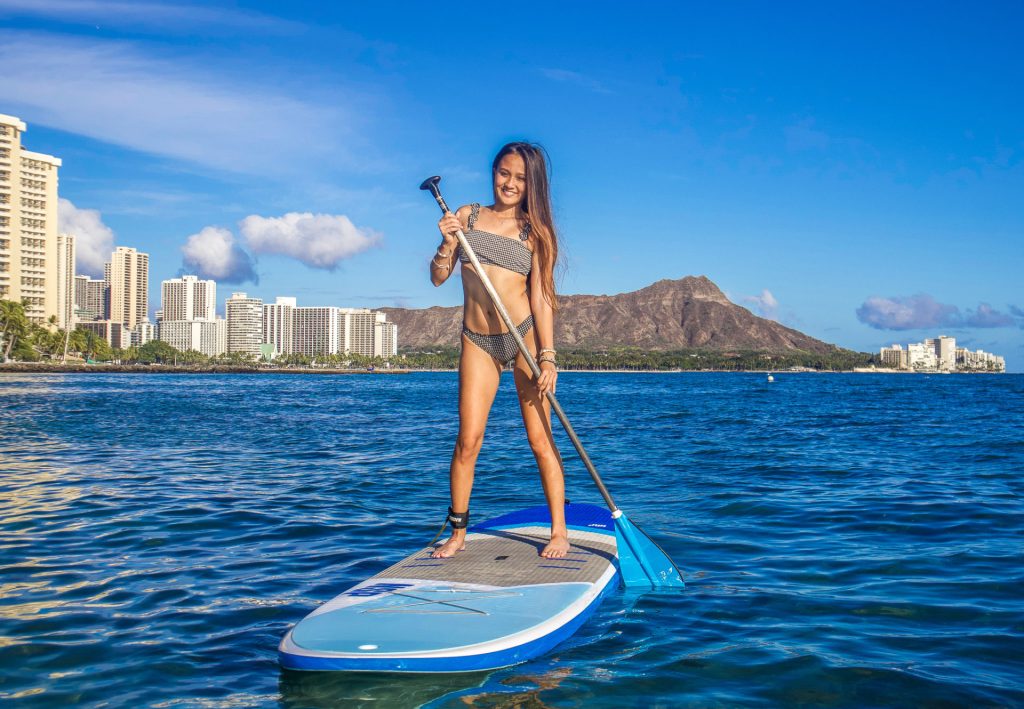 Maui is famous for surfing. Surfers from all over the world come here to ride the waves. No matter if you are a beginners or a experts, there are amazing spots in Maui where you can ride those waves.
If you're new to surfing, the coastline from Lahaina down to Ukumehame Beach Park is one of the top spots to for paddleboarding. The water is not deep and the waves are smaller which is perfect for beginners.
If you are an experienced surfer, there are some awesome spots in Ho'okipa Beach. This beach is known for its big waves and you might get lucky and see some sea turtles while surfing.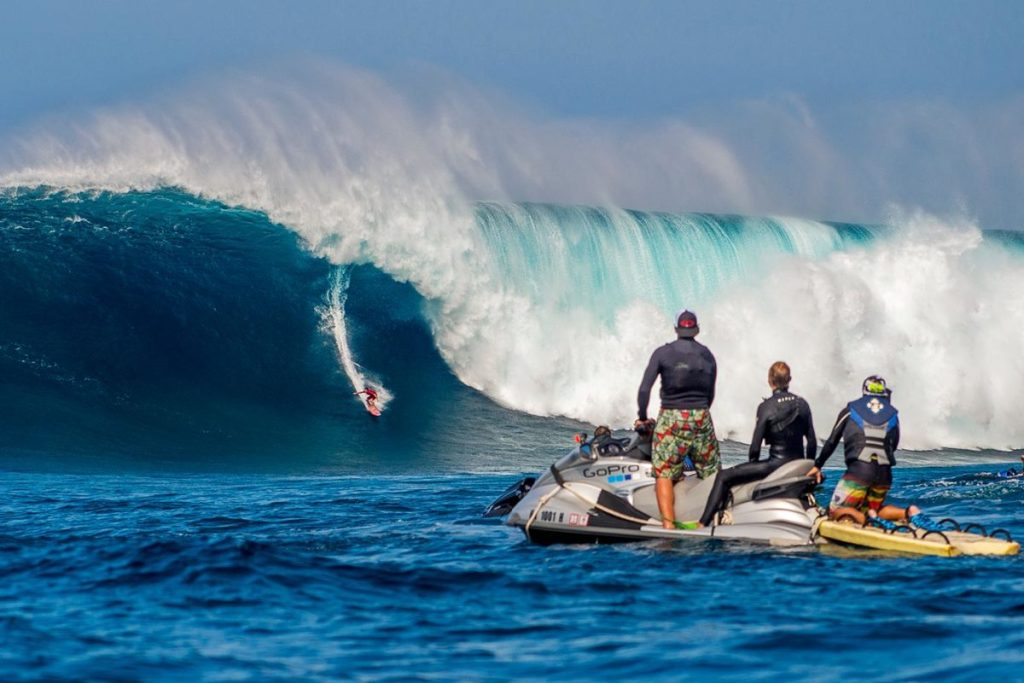 Lastly, "Jaws Beach," or Pe'ahi as locals call it, is not for the faint-hearted. This waves here are seriously powerful and should only be attempted by professional surfers.
Just keep in mind that surfing conditions vary throughout the year. From November through March, big waves hit Maui's north shore. And surfers visit Hawaii this time of the year for surfing specially.  
4. Take a Scenic Drive the Road to Hana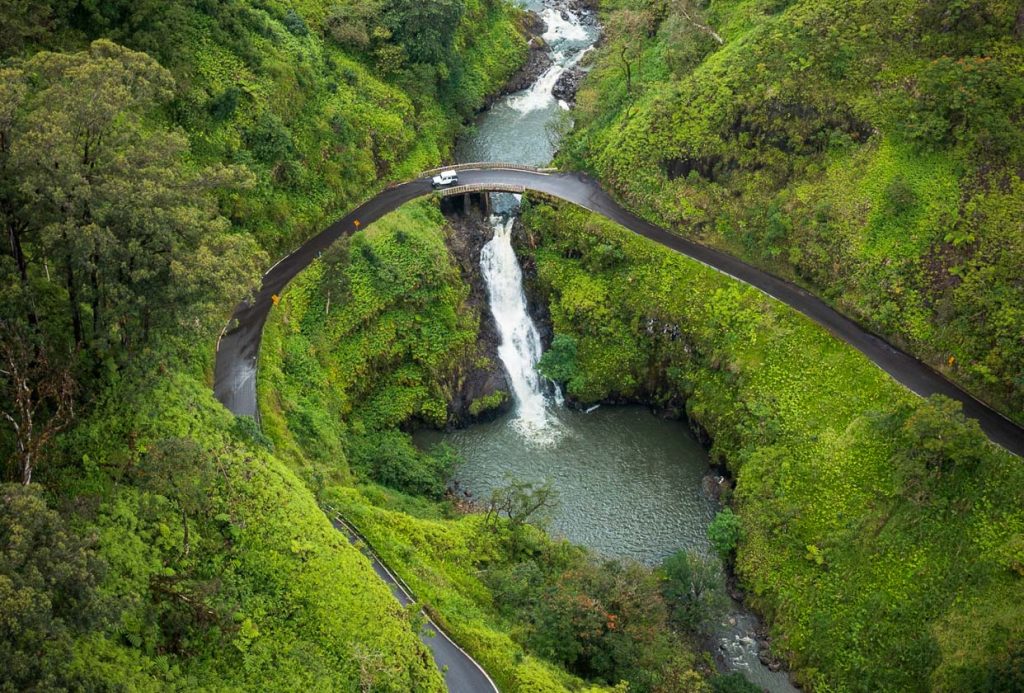 The coastal Road to Hana in Hawaii is astonishing. It's a 64-mile route on Maui that goes from the town of Kahului to Hana.
Taking a drive to this is road to Hana is the the best way to explore Maui and nearby Maui attractions. If you drive straight without stopping, it take 3 hours to get to Hana.
But as most tourist you will want to stop to hit one or two spots.  There are so many cool places to explore along the way.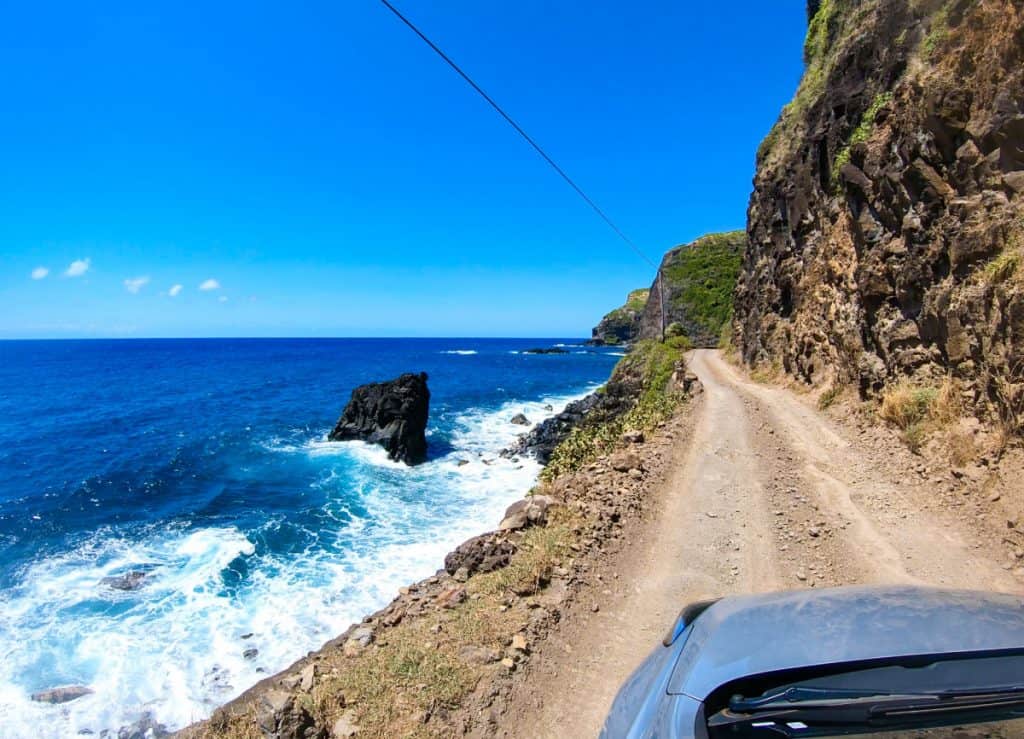 To name a few you will see rain forests, waterfalls, lava tubes, colorful tropical flowers, gorgeous beaches, and huge waves. Oh, and don't forget about the delicious homemade banana bread that you can find there! 
If you're like most tourists who do stop at various attractions along the road, it will probably take around nine hours for the whole trip.
Some must-see stops include Twin Falls, Ho'okipa Beach Park , Hana Lava Tube , and Wailua Falls. Going to every single spot would take forever. So I personally don't recommend it.
Best way is to staying in Hana for a night or two before heading back to Kahului. That way you can relax and enjoy some good food before and check out some spots on the way back home.

The Island of Maui is the best place in Hawaii for whale watching! It's like having a real National Geographic experience watching this gigantic sea creature in your eye level.
Best spot is Lahania harbor as the humpback whales migrate to these waters for mating and giving birth during winter. If you visit from December to April, you are in luck for quite a show.
6. Visit Wai'anapanapa State Park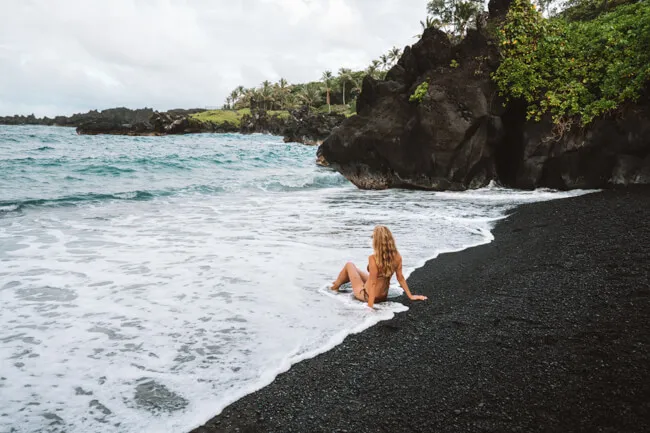 I am sure you've heard of this infamous black sand beach of Wai'anapanapa State Park. It's so ethereal although the water is pretty rough here. So be careful while visiting.  
There is more to this state park than the beautiful black sand beach. There is a cool sea cave on the right side of the beach. The opening is low so you will have to crouch down to get inside.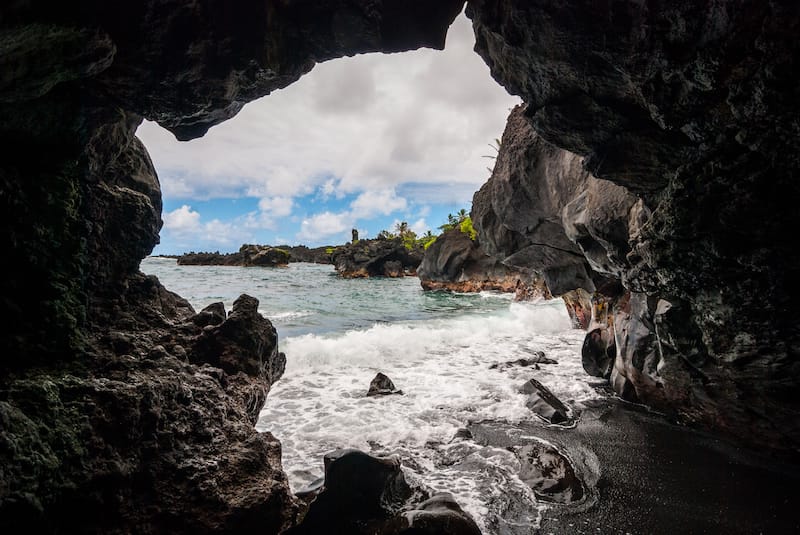 When you are inside there's a plenty of room to walk freely and enjoy the beach view like a caveman. If you are in the mood for a little adventure, you can hike and climb over rocks to reach the top of cliffs.
The view you will get from the top will take your breath away. There is a sea arch located on the cliffs too. You'll need to walk out onto the rocks to see the arch.
Waterfalls & Adventures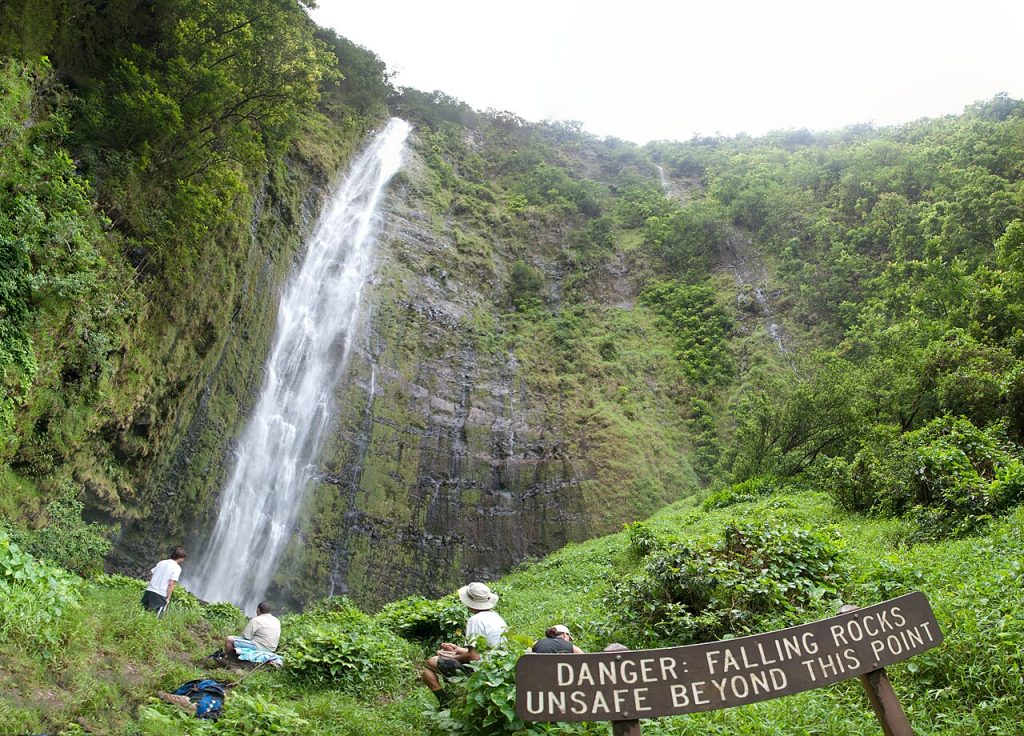 Head out on this 3.4-mile round-trip trail near Hana, Maui. It's considered moderately challenging and takes around 1 hour and 55 minutes to complete on average.
Lots of people hike here because it's so popular. The trail is open all year and is beautiful no matter when you visit. The trail is very easy to access.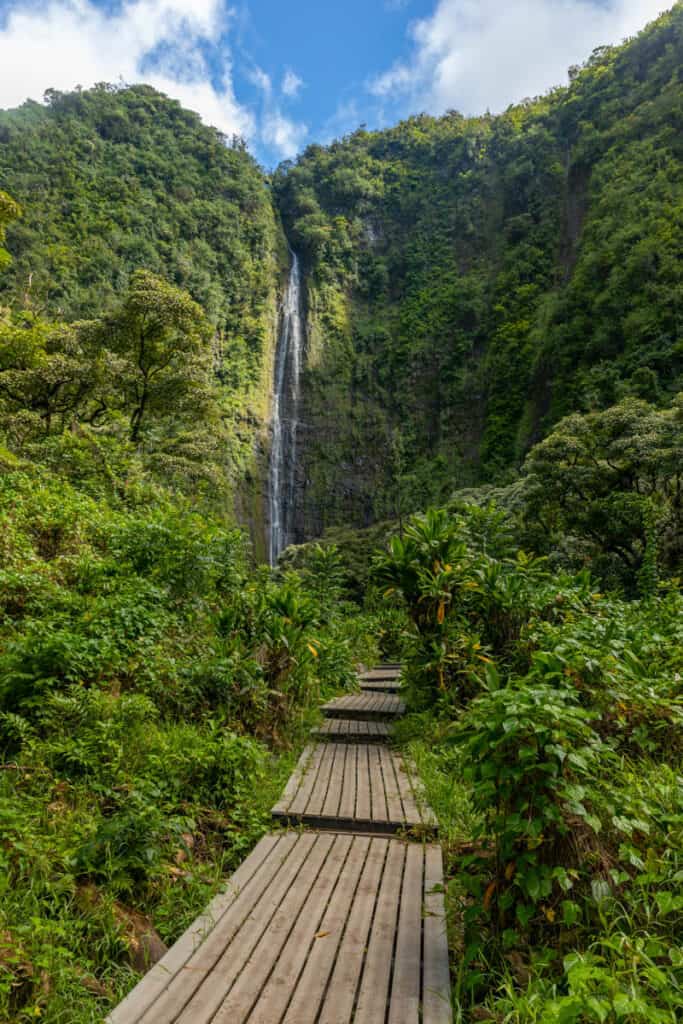 It offers the best experience of East Maui's stunning stream and waterfall hikes. The trail will take you past to many pool, a stunning waterfall, a rainforest, tranquil bamboo forest.
You will feel one with nature and absorb the peace from the nature.  Sadly dogs aren't allowed to be on this hike. So if you are traveling with dogs, you have to leave them home.
8. Puaa Kaa Falls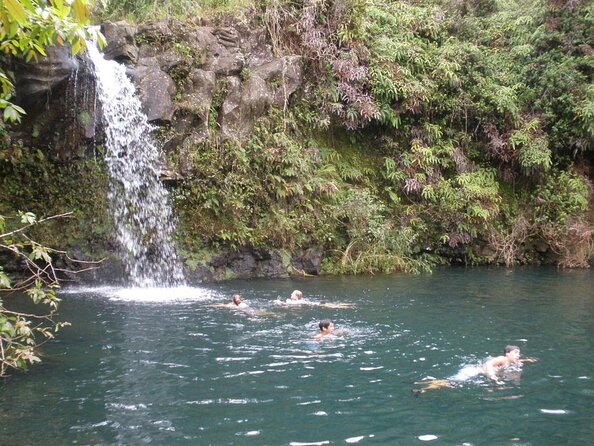 Puaa Kaa Falls, or Rolling Pig Falls, is a waterfall on the Road to Hana. It's located in Pua'a Ka'a State Wayside Park. You have to take a hike on a 0.37-mile trail to reach the falls.
The route will take you through beautiful greenery. When you reach the waterfall, you will be astonished by the melodious sound of the water.
If you are visiting on a rainy day, be careful as the trail may get muddy and become more challenging. This trail is a wonderful  spot for nature lovers who enjoy bird watching and walking through greenery.
9. Take a Dip into the Twin falls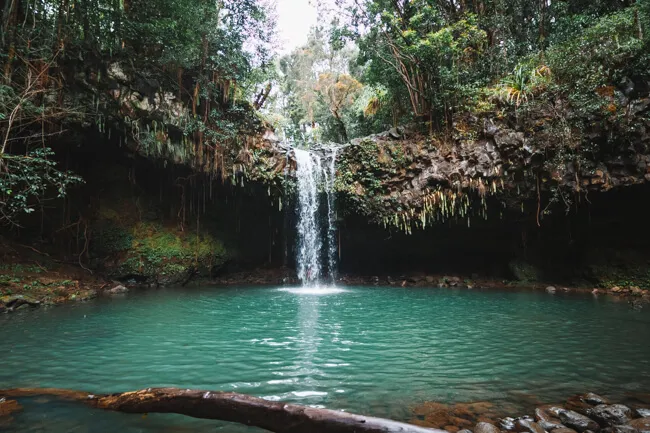 If you take a drive  on the Road to Hana, Twins Fall is the first stop. This stunning Falls is one of the busiest falls on this list. It's not to far from the Paia Town.
To get to the fall, you have to park you car at Wailele Farm. Then walk about a mile through the beautiful Maui rainforest.
And when you reach the fall, you will see water cascades into the big pool. You will be stunned by natures beauty. Take a dip in the cold water of the pool and enjoy the incredible view. 
Keep in mind that it's best to visit after heavy rain to see the falls at their most spectacular. If you are feeling adventurous, you can jump from the cliff into the pool.
10. Zip Lining or Rappel Down a Waterfall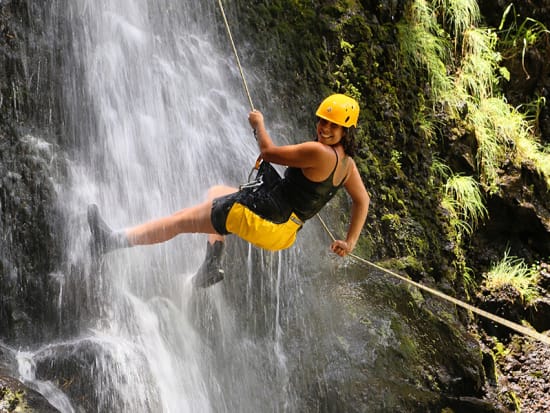 If you want to feel like a bird and soar through eucalyptus  forests, then ziplining in the waterfalls will give you an unique experience.  There are a bunch of zip lining companies.
We recommend Piiholo Ranch Zipline. They are a premium company with some of the longest zip lines on Maui.  The tours usually last 2-4 hours.  
They offer really long zip lines, racing against someone else, amazing views, or a hike through a rainforest.
You can also try rappelling down a waterfall. This lets you explore cool freshwater pools and cliffs in a tropical rain forest.
11. Seven Sacred Pools of Oheo (Oheo Gulch)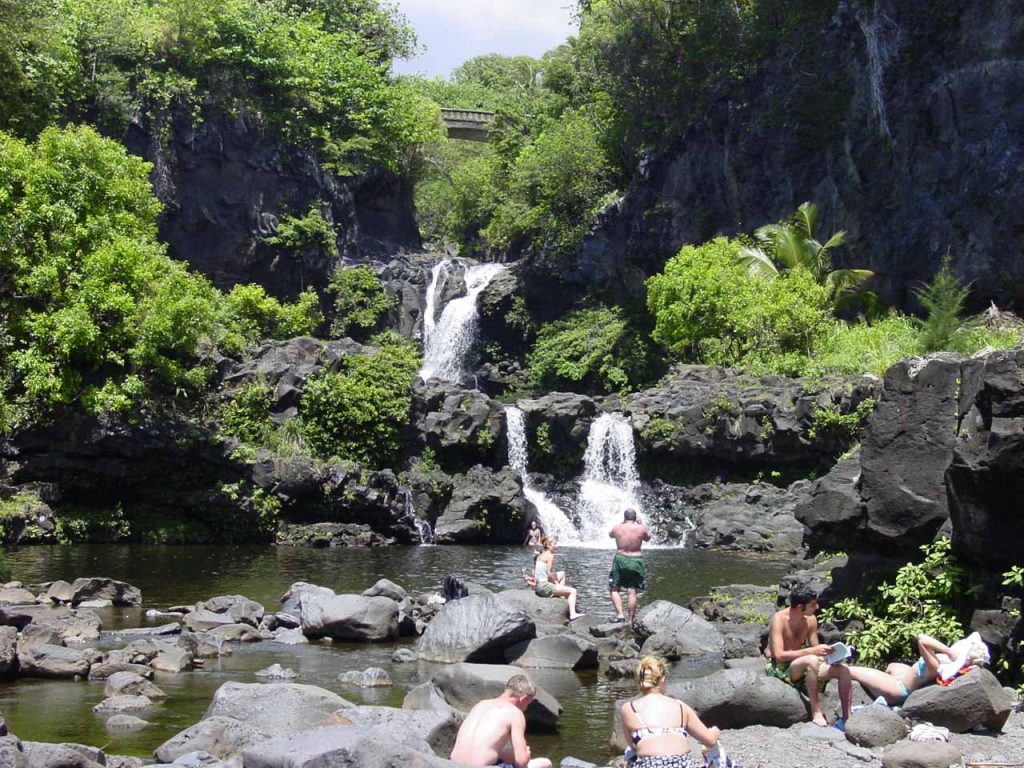 Mostly known as The Seven Sacred Pools at Ohe'o, Oheo Gulch is located in  Kipahulu District of Haleakala National Park. It's a very unique spot filled with aquatic plants and gorgeous wild flowers.
There are seven swimming pools that are interconnected by a waterfall. The view is absolutely stunning.
The water streem flows down from one pool to another until it reaches the ocean. It only takes a 15-minute hike on Kuloa Point Trail to get there!
Note that- if its raining, pools are strictly prohibited for swimming. Also jumping on the pool is restricted as the depth of the water is misleading when it's raining.
Mountains & Hikes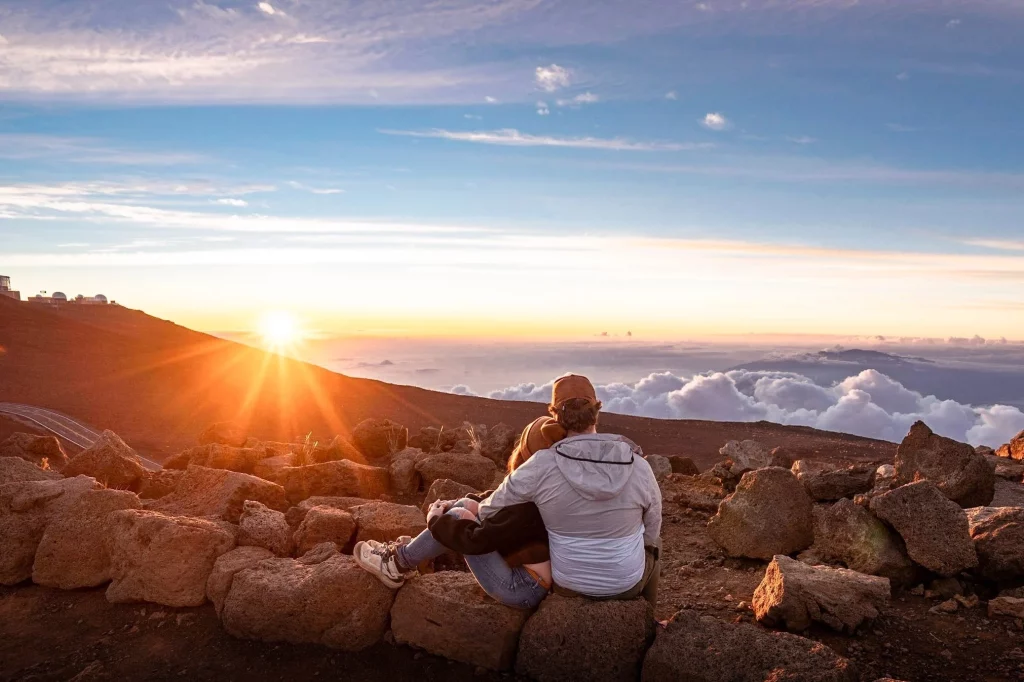 Experience a breathtaking sunrise from the top of the tallest mountain of Maui. It's known as the 'house of sun' as the sunrise here is nothing like you've here before. If you take a sunrise tour, they will pick you up at the middle of the night.
The national park is 30000 acres of public land with hiking trails. The tour will take you to the highest peak of the mountain where you will witness the beautiful orange and red colors as a new day begins.
This breathtaking view had even moved Mark Twain to exclaim, "It is the sublimest spectacle I ever witnessed." 
A common mistake that visitors often make is leaving right after the sun rises. But if you stay just a little longer, around ten to twenty minutes, you'll get to see an amazing show as the dawn colors expand across Haleakalā National Park. 
13. Visit Upcountry Maui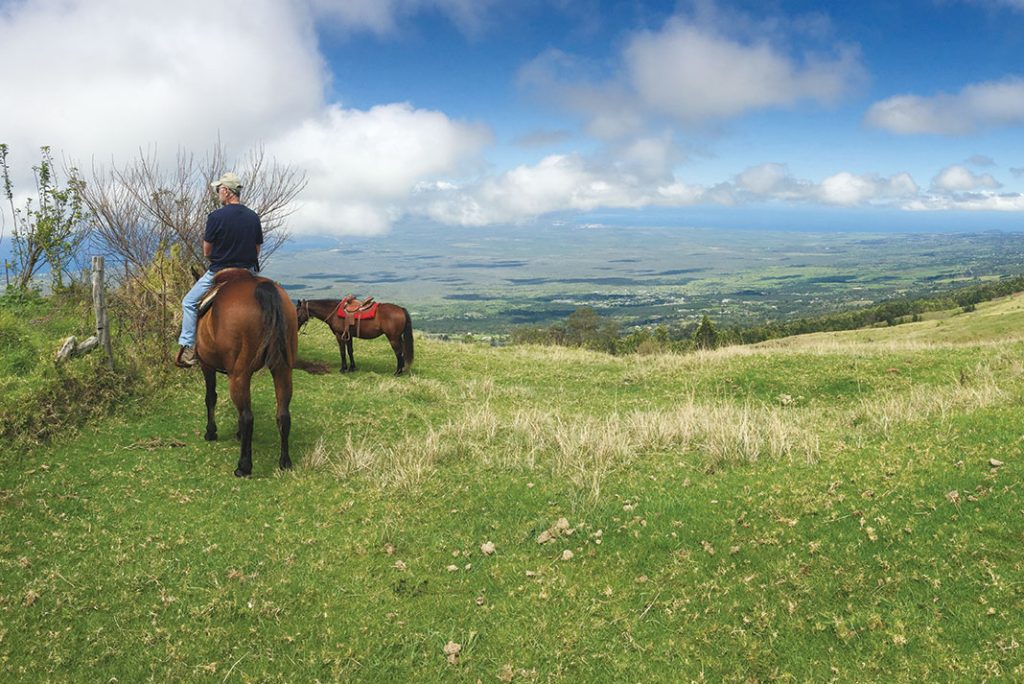 The countryside in Maui looks and feels completely divine. It has a whole different vibe compared to the coast.  Upcountry Maui is full of hills.
You will see charming little towns nestled on the slopes of Haleakala. Swirling  roads connect these towns.  They gives just the perfect view of both Maui and its tropical coastlines.
While visiting be sure to check out the towns of Makawao, Pukalani, Kula, and Ulupalakua. If you're into wine tasting, MauiWine will satisfy your thirst.  
For a picturesque background for photos go to beautiful Ali'i Kula Lavender Fields. Also must try the farm-to-table breakfast of O'o Farm. It's too good to miss.
14. Hike the Sliding Sands Trail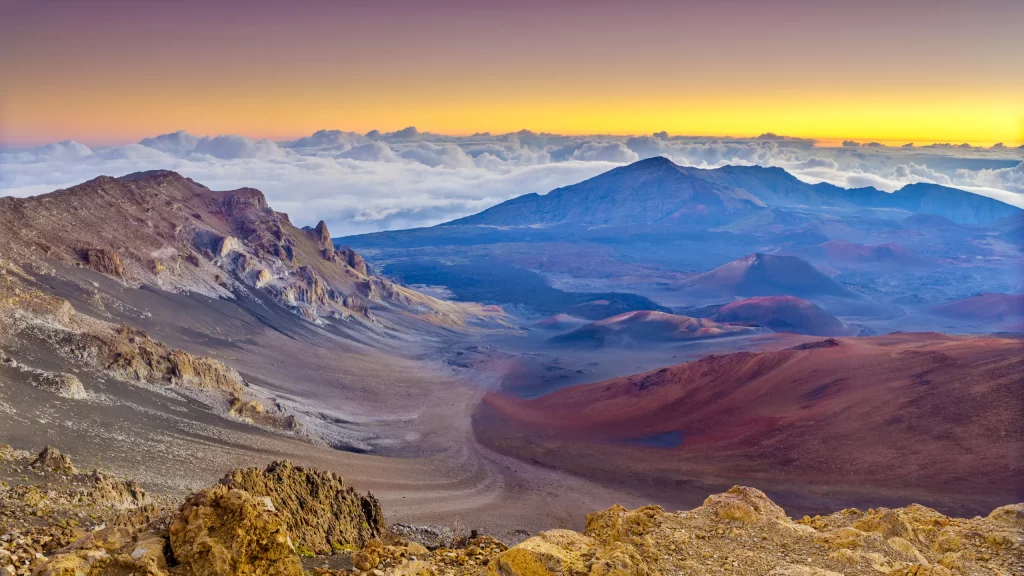 How often do you actually get the chance to hike into a volcanic crater? If you're only going to do one hike in Maui, we highly recommend the Sliding Sands Trail.
It'd been hands down one of the best things to do on Maui for me. Even one of the top hikes that I ever did in all of the US national parks.
The trail starts at the edge of Haleakala. It will take you right into the crater. The views will take your breath away. It has the view of the incredible sight of crater  and cinder cones all around.
It's a phenomenal experience and you definitely should add this to your Hawaii Bucket List. You can either hike out and-back on Sliding Sands or make it a loop by combining it with Halemau'u Trail.
15. Explore the Kaeleku Caverns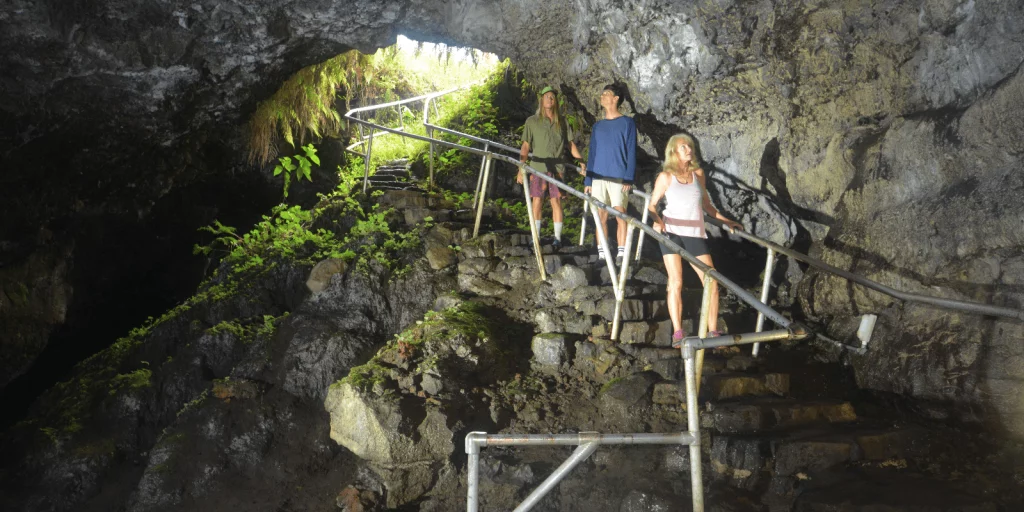 On you road trip to Hana, stop by this dark cool cave. Ka'eleku Cave is a really cool and different stop. It's actally a lava tube in Maui.
Even people who feel claustrophobic in small caves will be fine here because the cave is pretty big. Although  it's very big but its fairly easy to explore.  It's a must-visit for anyone interested in exploring caves.
16. Witness The Explosions of the Nakalele Blowhole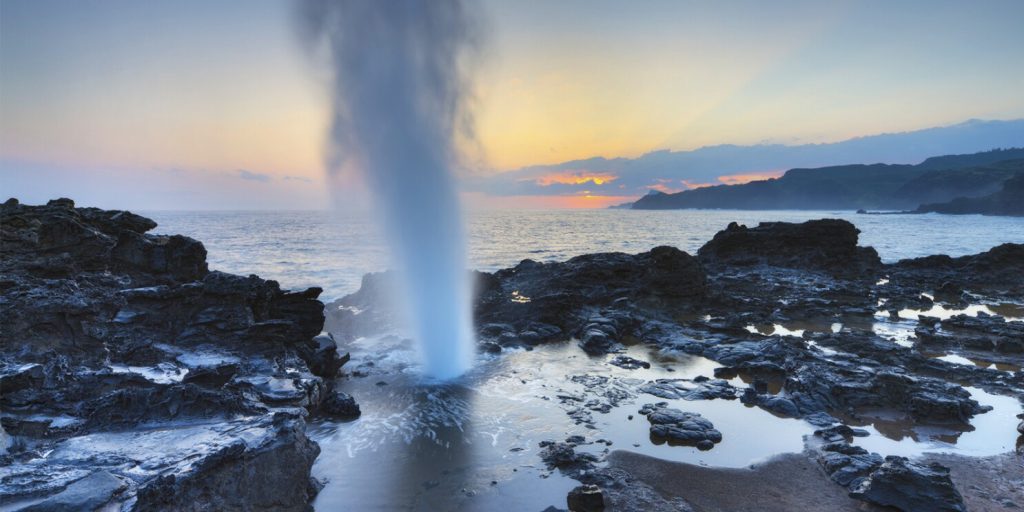 Maui has a dormant volcano which will erupt again but the active explosions are now not Lava, instead they are forceful seawater that shoots up into the air like an explosion.  
Nakalele Blowhole is a super a cool natural phenomenon. It happens when the seawater is forcefully trying to escape the lava tube.  
It's a pretty rare sight. There's only three places in the world where this happen naturally. So you don't want to miss it while you are in Maui.  
The blowhole is located in the northwest coast of Maui. It is surrounded by rocky lava formations, teep slopes, and big waves from the Pacific Ocean. 
17. Walk The Kapalua Coastal Trail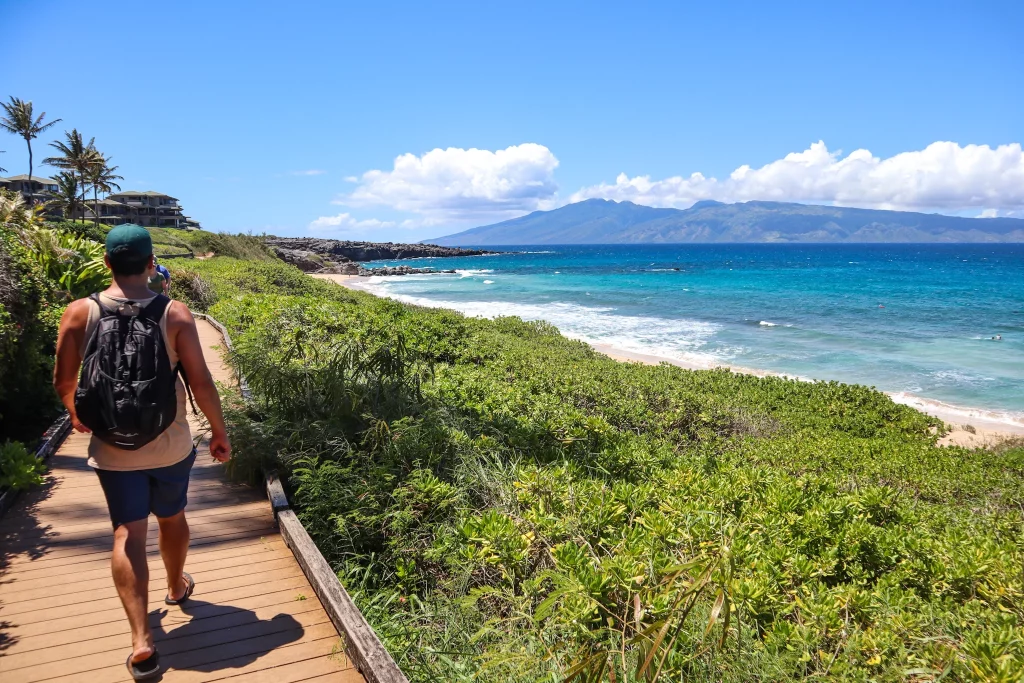 This is a very underrated short trail in Maui. It's less than two miles long but you'll pass by tidepools, beautiful beaches like Kapalua Bay Beach, and some fancy resorts where you can may be sit for a mimosa and absorb the mind blowing coastal views. 
The Kapalua Coastal Trail is about 1.76 miles long. It tarts at Kapalua Beach and ending at D.T. Flemings Beach heading north shore of Maui.
The multiple stages of the trail is the sidewalks, the rocky path followed by a sandy path and some wide boardwalks.
You can walk with you flipflops on this trail. But for the rocky parts I wished I'd worn the hiking shoes.
If you have limited amount of time and dont want to walk a total of 4 miles round trip, then best is to walk from Kapalua Bay Beach to Oneloa Bay instead.
You will reach at the nice long boardwalk along Oneloa Beach. From there turn back and retrace your steps to get back to Kapalua Beach.
This way it makes a 2-mile round trip. After the boardwalk, the trail turns into a sidewalk alongside Lower Honoapiilani Road and through the Ritz Carlton Resort, so the views aren't as good as in the first mile of sights.
18. Explore the Dragon's Teeth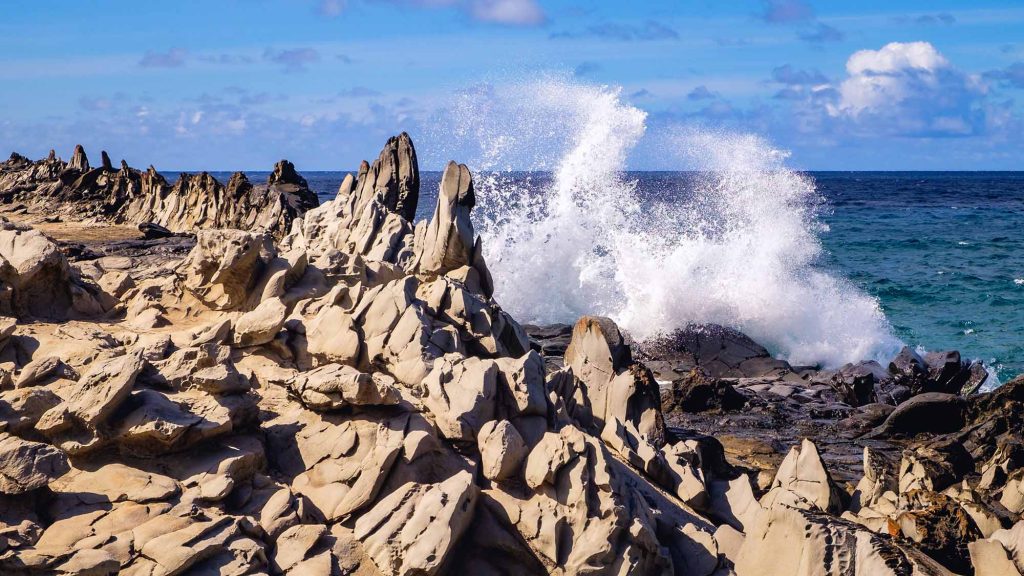 When you are walking the Kapalua Coastal Trail, there's another spot that I had to mention. The place is called Makalua-puna Point.
It's famous for its trachyte lava formations, a art of God you might say. The lava explosion created some pointed spires and they look like dragon's teeth, hence the name.
But of course you have to use your imagination to fully see it. And if you keep on walking toward the point, you'll find a huge circular maze called the labyrinth.
Visiting this place can show you, that nature is indeed a piece of Art. This point will take about 20-30 minute to explore.
And if you feel like it, you can continue all the way to Makalua-puna Point where huge waves crash against the rocky coastline.
19. Let Out Your Inner Tarzant on a Zipline Adventure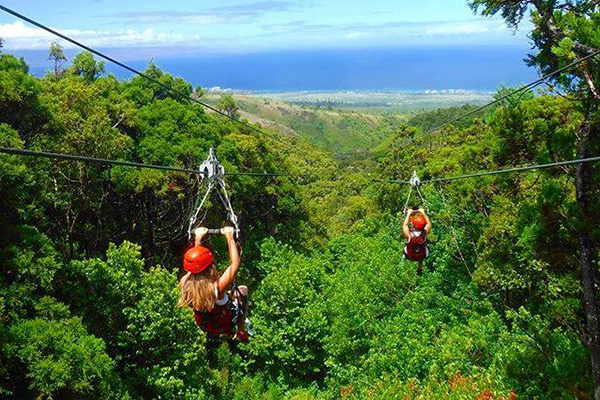 Enough with chilling at the beach and trekking? Lets buckle up for this one. If you are looking for the ultimate fun things to do in Maui, take a day trip inland.
Here you'll have an amazing time ziplining through the jungle. ?You have the option to explore places like Haleakala, Ka'anapali, or even visit the cool WW2 base which is known as 'Camp Maui'.
To make your adventurous trip extra thrilling, go for a waterfall hike and also experience a breathtaking sunrise while biking.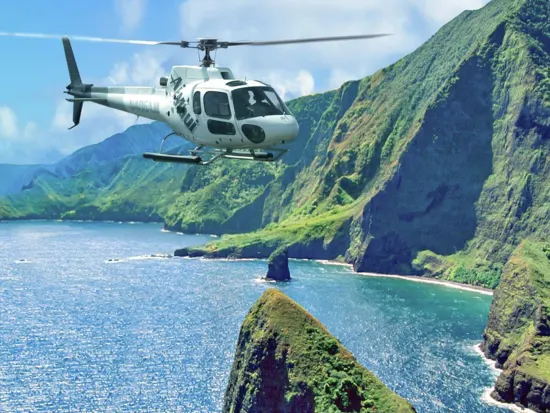 Want to enjoy something luxurious in budget? Then we suggest take a look at these awesome helicopter tours that will fly you over the most stunning spots in Maui.
You can see more than 70% of the island in these tour. A helicopter tour will let you see the places that are hard to reach and also famous places like Road to Hana, Haleakala Volcano, and the West Maui Mountains.
If you're up for it, some tours even take you to Molokai. There you can have the sight of of the tallest sea cliffs in the world.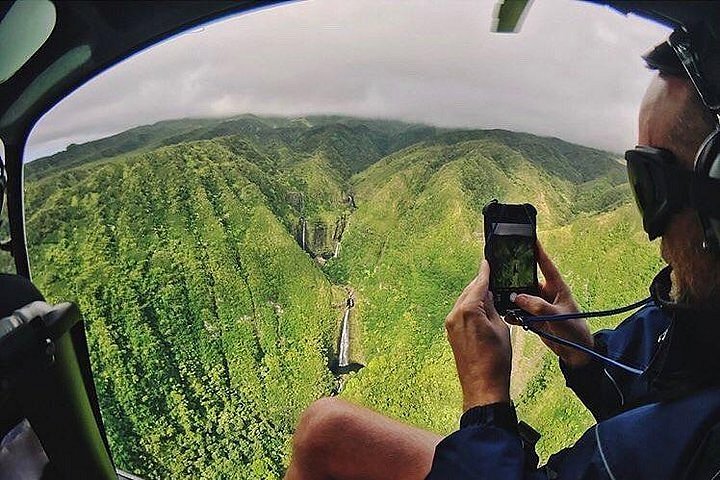 Helicopters rides will give you a memory of lifetime to cherish forever. If you are couple and want to plan a romantic proposal, the romantic setting can not get better than this.
Lush green surroundings, blue ocen below and you are in the air feeling like birds. It's also a great things to do in Maui with family. Cause everyone gets to enjoy the breathtaking views including the kids.  
Must-see Tourist Attractions
21. Visit the Maui Ocean Center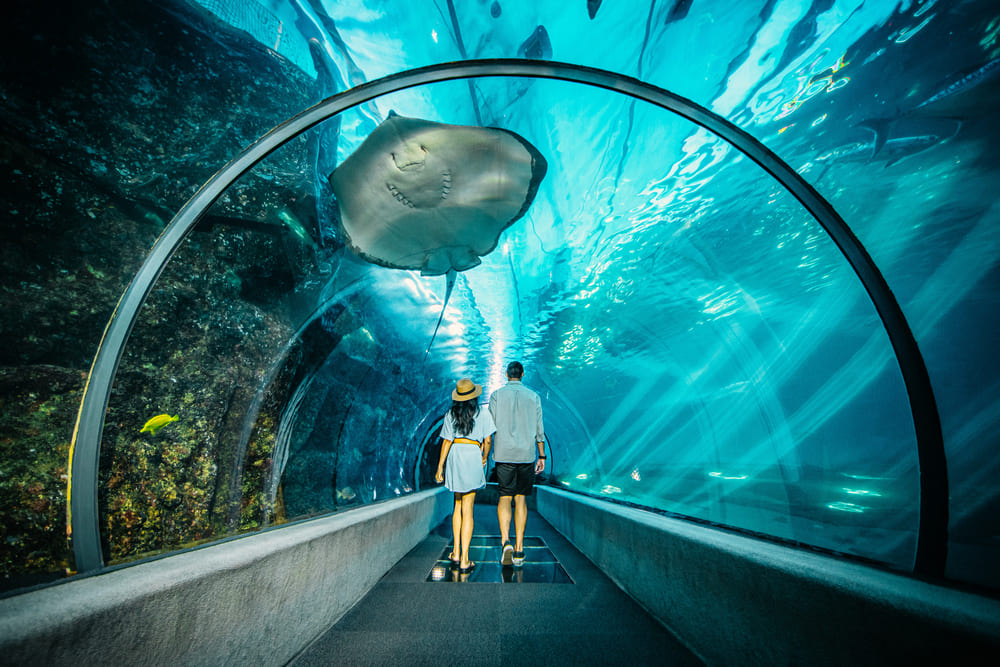 Maui Ocean Center considered one of the best attractions on Maui. It's has been made to the list of top aquariums in the world.
This aquarium has an amazing mix of native sea creatures, local culture, and teaches the visitors how to commit to protect the marine life. Visit here and contribute your part to saving the sea creatures.  
If you are visiting with the family, this place is great for kids to expand their knowledge below the surface as you explore everything beyond just the edge of the water.
You will get to see some open-ocean creatures of Hawaii up close and personal, soak in the beauty of over 60 thriving exhibits featuring one of the largest live collections of tropical coral anywhere in the world.
22. Explore Maui in budget: The Hula Hula Hopper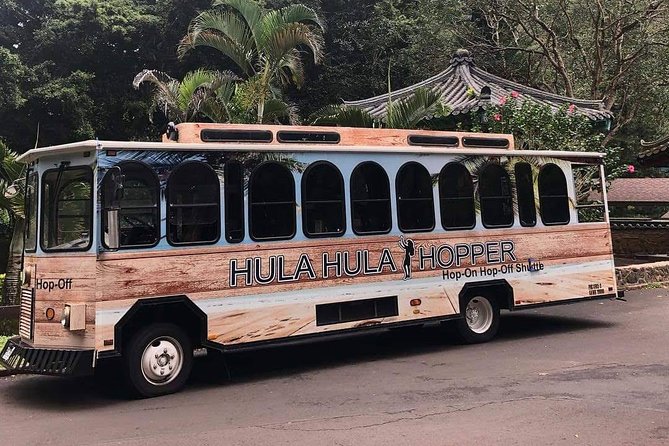 The Hula Hula Hopper is a traditional hop on hop off  Kahului to Lahaina bus connection. It's a great way for tourists to explore the Maui attractions within budget. 
You can start from Kahului. The Hula Hula Hopper runs in different routes throughout the day. You can hop off at any stop that you want to explore and hop on in another hooper bus.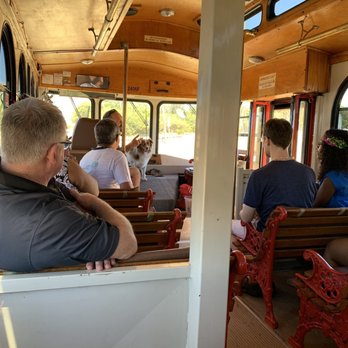 Do this till you reach your final destination, which is Lahaina Harbor. There you'll find lots of touristy stuff like restaurants, shops, art galleries, and museums.
On your journey from Kahului to Lahaina Harbors, the popular stops along the way are Paia Bay, Baldwin Beach, Sugar Museum, Tropical Plantation and more.
Once you get to Lahaina Harbor, there are even more places to check out like Banyan Tree, Baldwin Museum and Black Rock Beach among others.
23. Explore The Town of Lahaina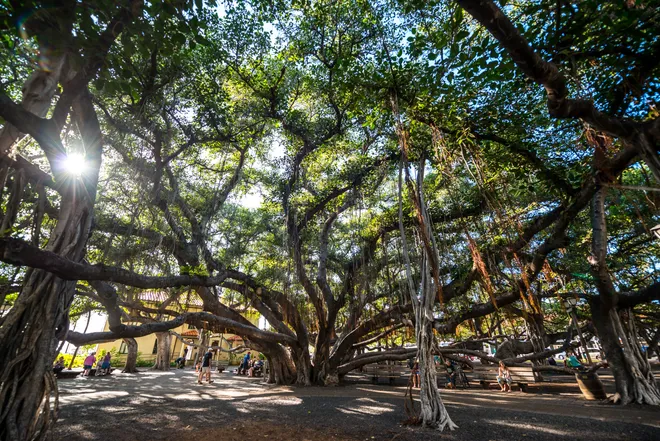 The town of Lahania is  a charming and cozy town to explore in Maui.  This town was once the capital of the Hawaiian Kingdom.
It's has got a rich history so if you're a history buff or just want to soak up some culture, visit Lahaina Banyan Court Park and Hale Paahao Prison.
The town has a lot's of shops and small restaurents that are filled with traditional Hawaiian things. You can shop for soubenir and taste some traditional Hawaiian food here.
One must thing to try here is the  refreshing Hawaiian shave ice  at Ululani. It's so good, you will come here to thank me.
And take some photos under the famous Banyan Tree. Its the largest Banyan trees you'll find in the entire United States and was planted in 1873.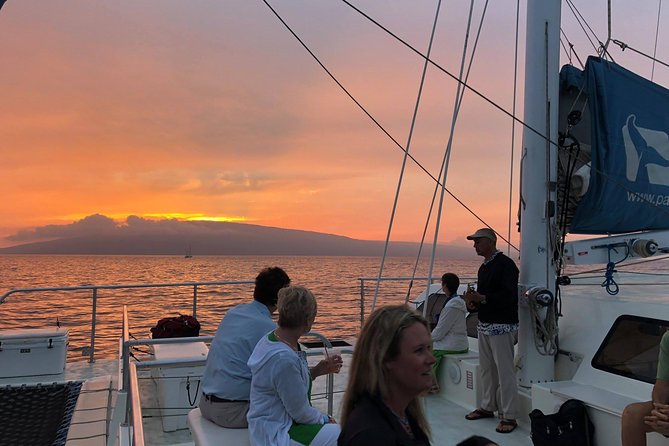 For an amazing sailing adventure from Maui go to Ma'alaea Harbor. Take a cruise and enjoy the magnificient views and jaw-dropping sunsets as you cruise towards the Molokini Crater.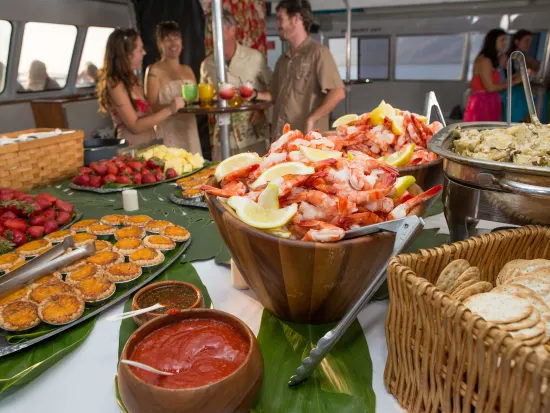 The cruise got Hawaiian craft beer and tasty mixed drinks. They also have delicious buffet spread! BBQ ribs, stir-fried veggies, coconut potatoes, and honey-glazed chicken, while enjoying the sunset!
You might get lucky to catch a glimpse of humpback whales. It's like Mother Nature putting on a show just for you.
As the sun goes down the fun starts. The cruise will  treat you to an breathtaking  traditional Hawaiian hula show as you sail away into the horizon. It will be one unforgettable experience.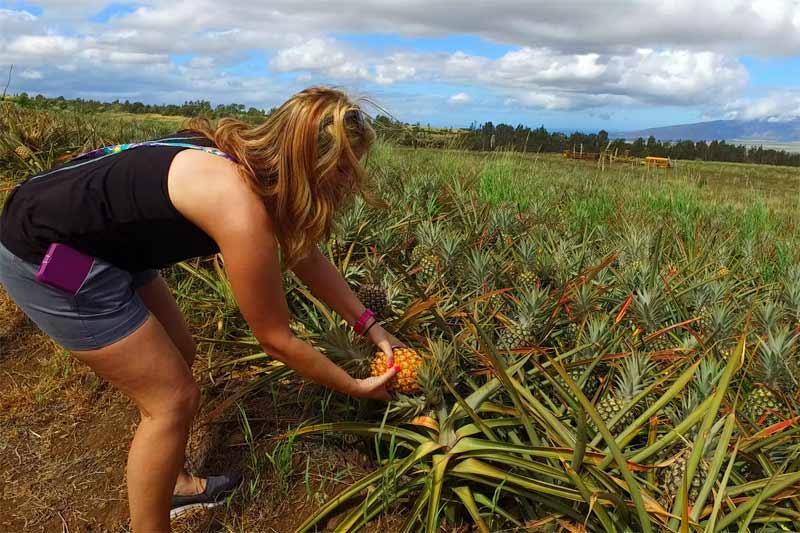 Pineapples are synonymous with Hawaii. While in Hawaii you must tour a real life pineapple farm on Maui. Maui Gold's factory harvest the best pineapples in all of Hawaii and it's a very popular Maui tour.
The Fresh pineapples are super sweet, like a dessert. Maui Gold's factory has amazing fields to see, taste and even harvest the best pineapples in all of Hawaii. So touring this working pineapple plantation and learning the history of pineapple farming is a must!
When you visit the Maui Gold Pineapple Farm, they will teach you all about how pineapples grow and how they're picked. And trust me it's not how you think.
The tour is for 1.5 hours. You'll ride in an air-conditioned bus through the fields. You even get to hop off the bus and see where they pack up the pineapples. And here's the best part – you get to take home a fresh pineapple!
26. Relax at Paia Town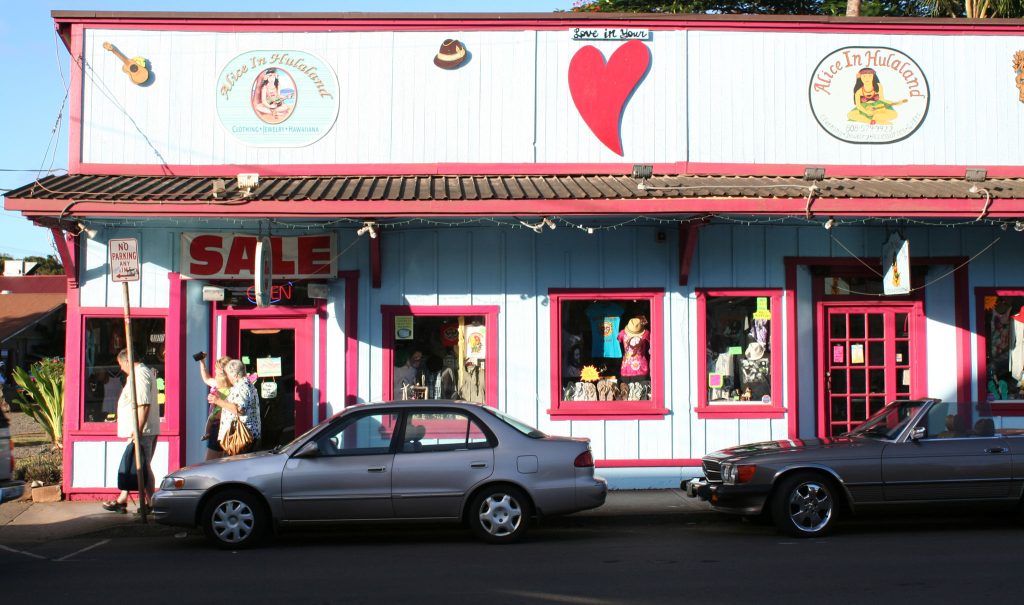 Paia is a cool little town in Maui that once used to be a sugar plantation back in the day. But today, the town got a laid-back vibe with a lot of colorful stores, art galleries, cute shops, and restaurants with delicious local food.
In addition to this, Paia has a large hippie community. So visiting here will take you  back to the 60s. You will find a lots of groovy places to eat and chill.
Some mention worthy places that you can add to your Maui bucket lists are  Mama's Fish House, The Flatbread Company,  Paia Fish Market, Charley's (where you might even spot a celeb!), Thai Spice, and Mana Foods.
There's also a farmer's market where you can buy all kinds of locally grown fruits and veggies. They've organic food options, fish, fresh juices, and even fast food options if you're feeling hungry.
If you go for a day then hit up the beach for swimming or sunbathing. Head to Baldwin Beach Park to find calm waters and stunning views. It's perfect for a chill night stroll too! 
27. Iao Valley State Monument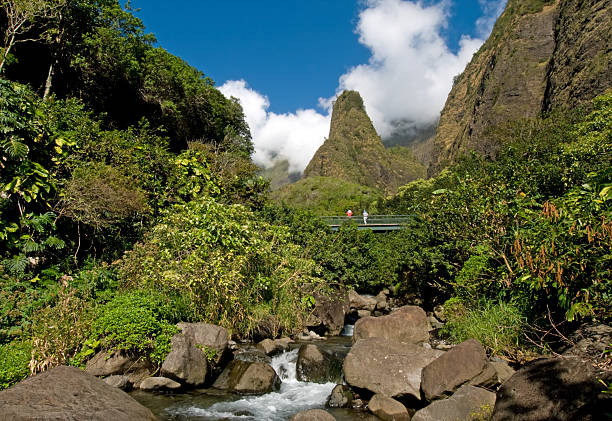 Iao Valley State Park is a very popular landmark on Maui. It's a 1,200 foot Iao Needle located in Central Maui.  
The valley is has significant value to Hawaiians. It used to be off-limits for everyone except royalty. It was used as a lookout during the Battle of Kepaniwai.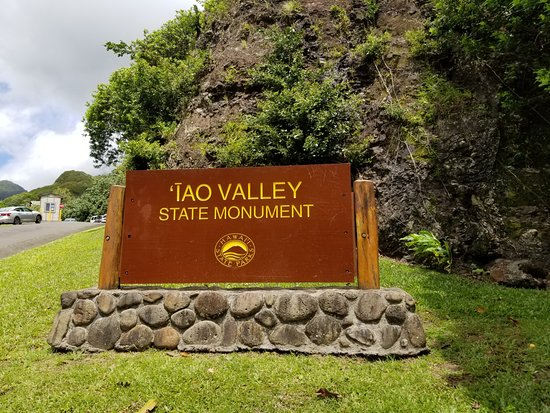 Thus the Iao Needle is an important part of Hawaiian history. The park takes up about 4000 acres acres of land on Maui.  
There's also a nice paved path for hiking. You can take the Iao Needle Lookout Trail  to see the park. There's also a half a mile Ethnobotanical Loop with lots of beautiful plants and flowers.
Since it's located in one of the rainiest places in Maui, sometimes you may find the needle all covered in clouds. If you want to see everything clearly, visit in the morning when it's sunny.
28. Garden of Eden Arboretum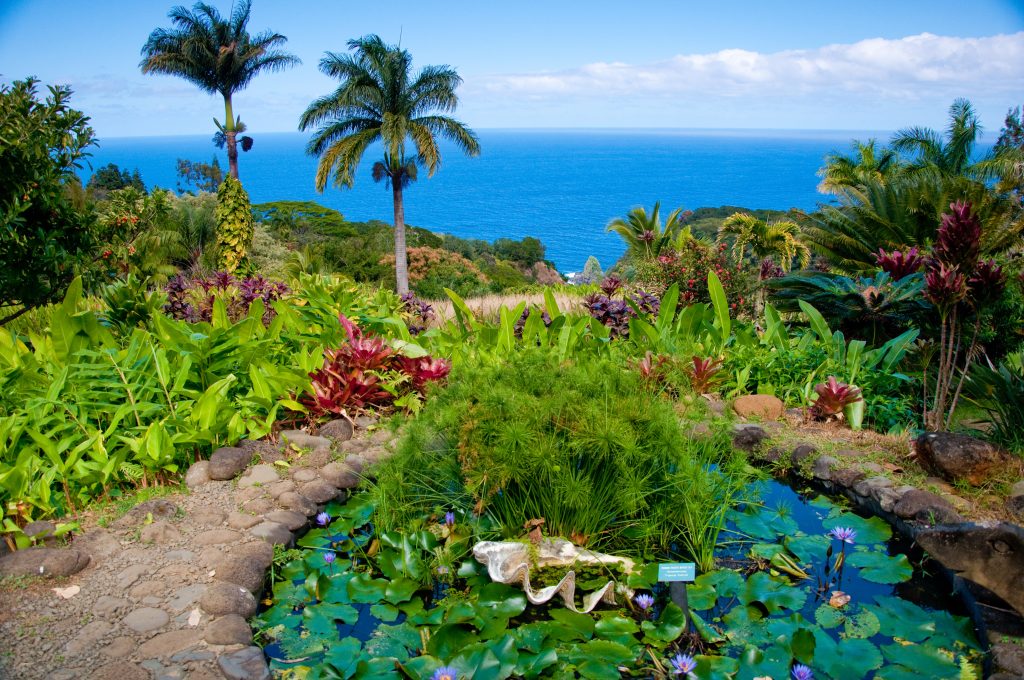 Stroll through the Garden of Eden Arboretum. You will feel like stepping into a wonder world of nature and wonder.
The main goal of this place is to preserve the local ecosystems while showcasemore than 700 plant species and flower species from different tropical regions around the world.
They've been open to the public since 1996. And till today they are adding to their collection. You can really appreciate all its natural beauty by going for a hike on one of their designated trails.
The Enchanted Forest with  mango trees, or walking through Bamboo Valley to get great views of waterfalls, everything here feel like a wonderland.
29. Visit The Maui Brewing Company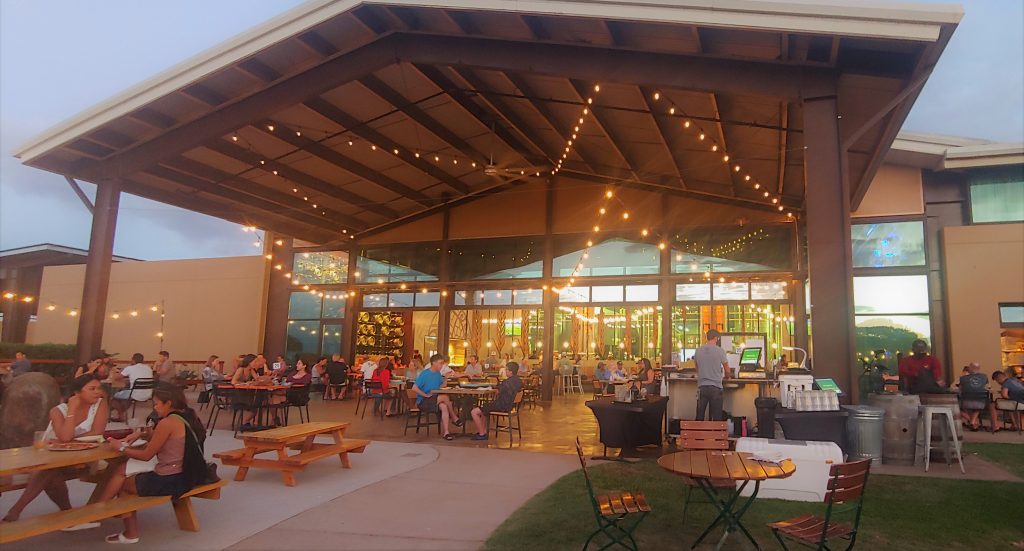 Maui Brewing Company is the biggest craft beer maker in Hawaii. Nothing is more refreshing than having a ice-cold beer and this is just the place for you.
They have several types of craft beers such as ales, lagers, and even Coconut Hiwa porter. If you like something different then must try the coconut beer.  
If you want to know more about this craft beer, you can book a  guided 60-minute tour of the brewery.
For a single low price, you can enjoy a personal tour, tasty food, and try different beers from each brewery without worrying about driving.
You can end your Maui trip with this unique tour, learn about this thriving craft beer, and enjoy scenic drives between each brewery.
Restaurants & Shopping 
30. Old Lahaina Luau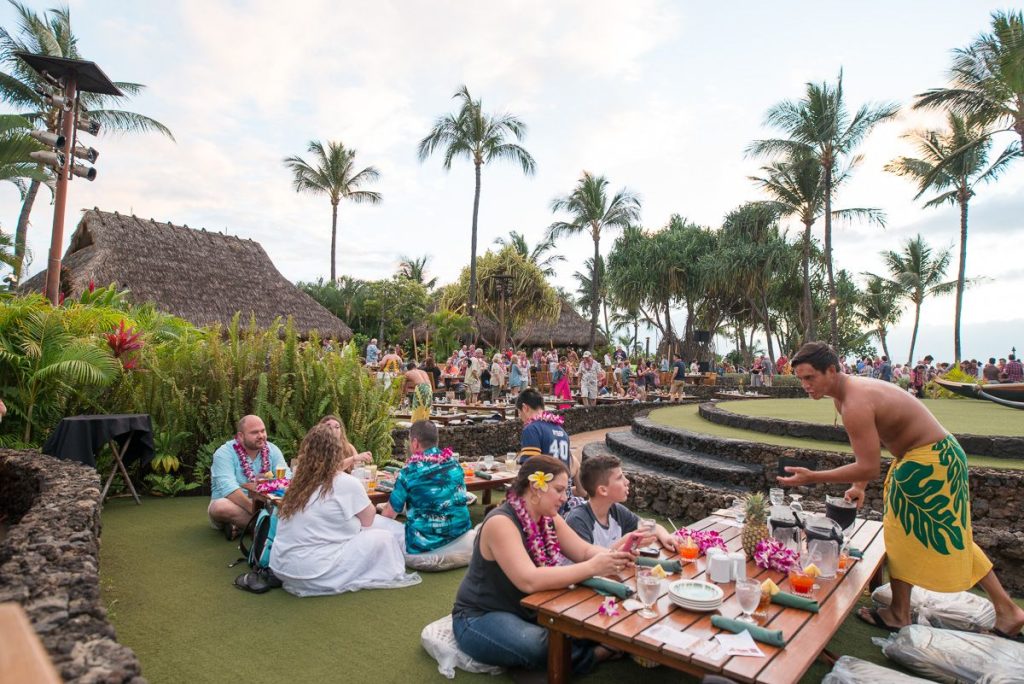 The Old Lahaina Lu'au is one of the best things to do for people visiting Maui for the first time. When you arrive, they will greet you with a orchid flower necklace and take you to a private table.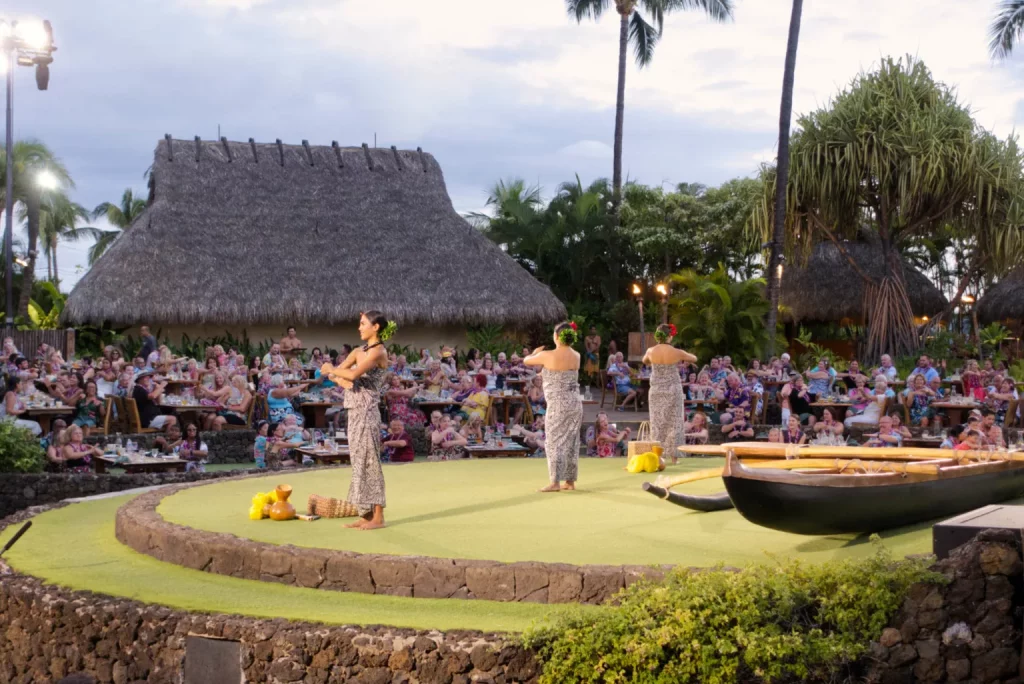 They are mostly  either on mats or chairs. When the sun sets over the ocean, the live music starts by the lu'au musicians. The performers dance hula to entertain guest.
While watching dance you will have delicious Hawaiian food like roasted pork, fresh tuna with onions, and mashed taro plant called poi.
Drinks are unlimited for those who are 21 or older and for dessert they have traditional desserts made with mango and coconut.
It's not just about the food and drinks at this lu'au! It's a total experience of the Hawaiian culture. You will see the tale of Hawaii through dances and they chants about legends, gods, and even royalty from Hawaii's past.
Although it might seem too expensive but trust me it's worth every penny. 
31. Mama's Fish House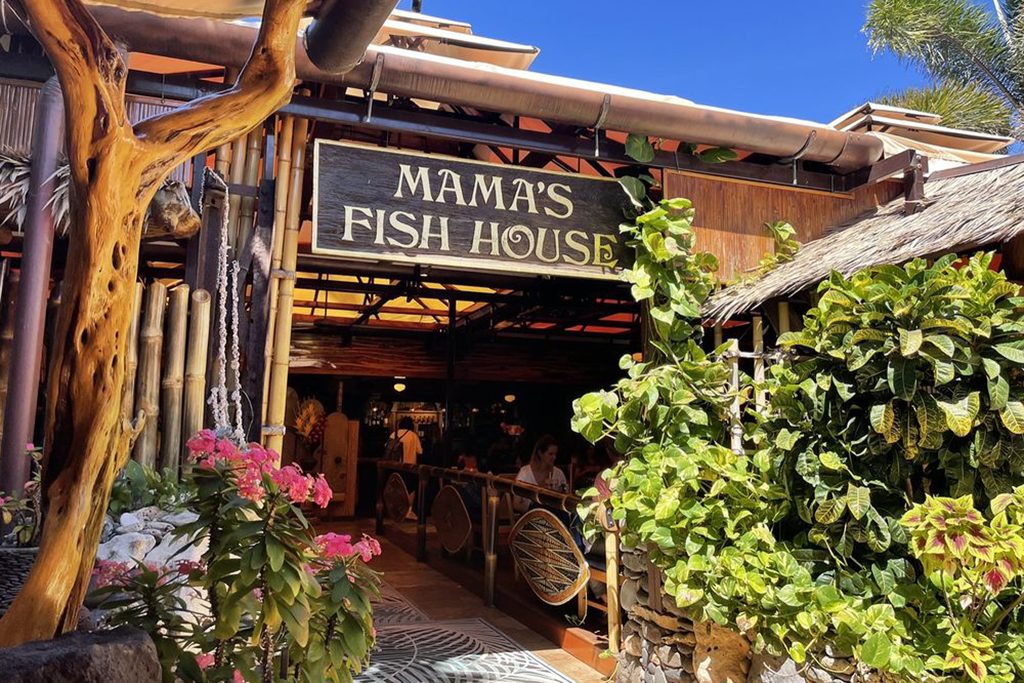 Mentioned earlier in Paias town restaurant section, it deserves to be in the list of Maui must go place to eat. It is located on the north shore of Maui.  
Mama's Fish House is really famous seafood restaurant among the locals.  It offers an authentic Hawaiian dinning experience. It has a Polynesian-inspired decor and the perfect beachfront setting.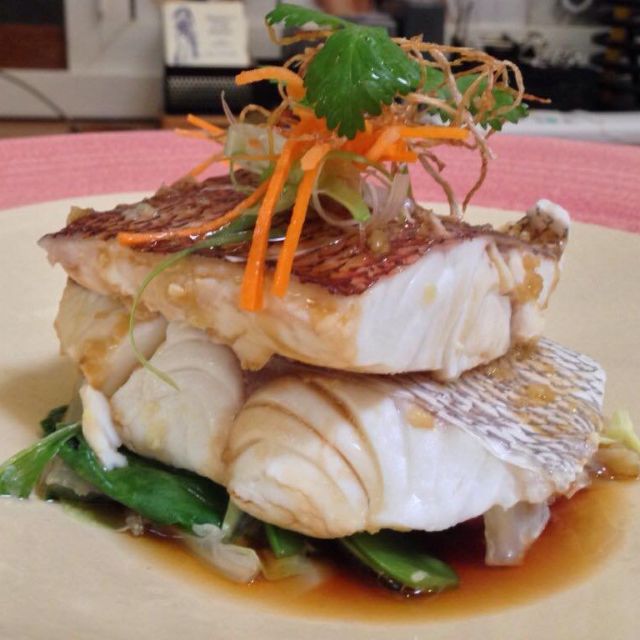 The whole vibe here capture the true essence of Hawaiian culture. You will get to try out a wide range of freshly caught fish and shellfish prepared with locally sourced ingredients.
All the dish here is filled with flavors, spices and the highlight of it all is the  traditional Pacific Rim cuisine fused with innovative culinary techniques.

32. Star Noodle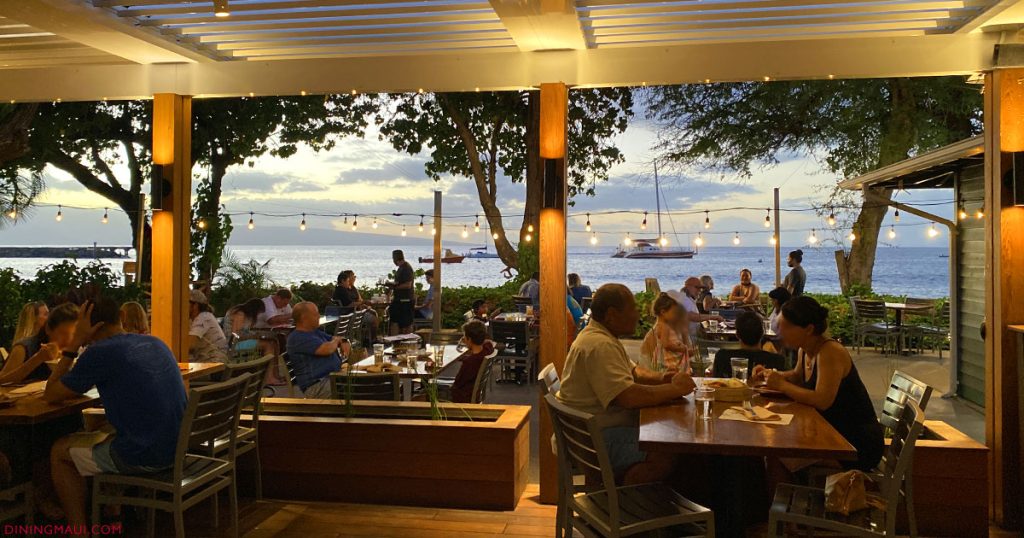 Located in Lahaina, this place has been famous among locals for Asian flavors  fusion dishes. They use local ingredients to make fusion dishes inspired by Japanese, Filipino, Chinese, Thai, and Vietnamese cuisines.
This noodle bar has the  most delicious pork bun and  garlic noodles that are to die for. Also try their handcrafted cocktails and Asian-inspired desserts. 
33. Whalers Village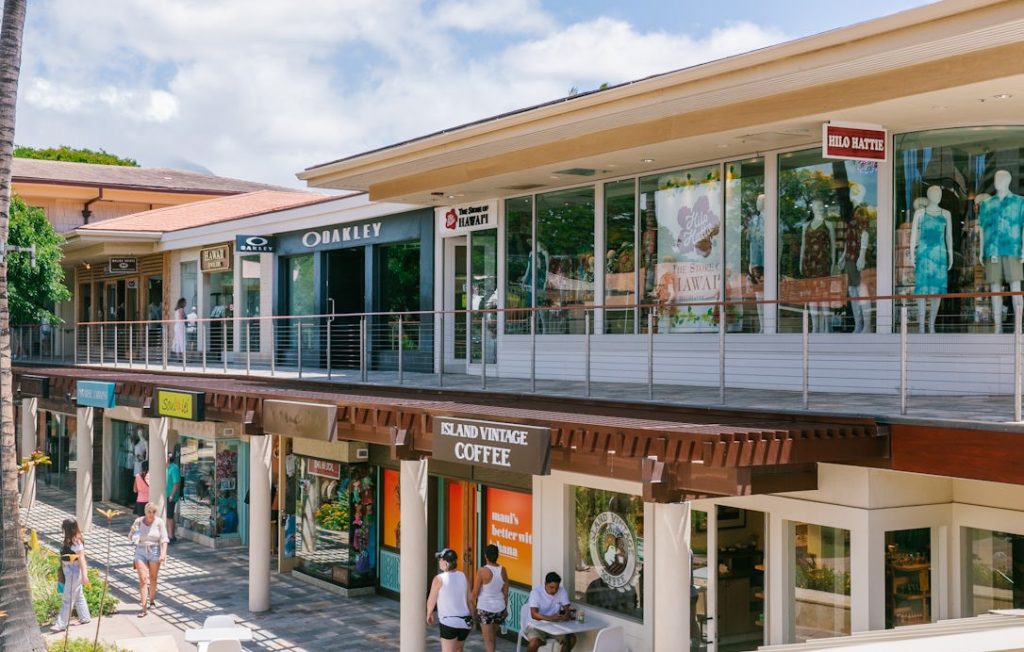 Located in the heart of Kaanapali Beach Resort, Whalers Village will give you an exceptional shopping adventure.
This destination has stored of all the luxury brands such as Louis Vuitton, Tommy Bahama, and Sephora, as well as some really well known local boutiques.
In the local boutiques you can buy traditional Hawaiian clothes, some gorgeous one-of-a-kind beach overall that you will find nowhere else.  
You can shop for hawaiian treasures and souvenirs too. While shopping here, you can also take  lei-making classes or watch hula performances.  
34. The Shops at Wailea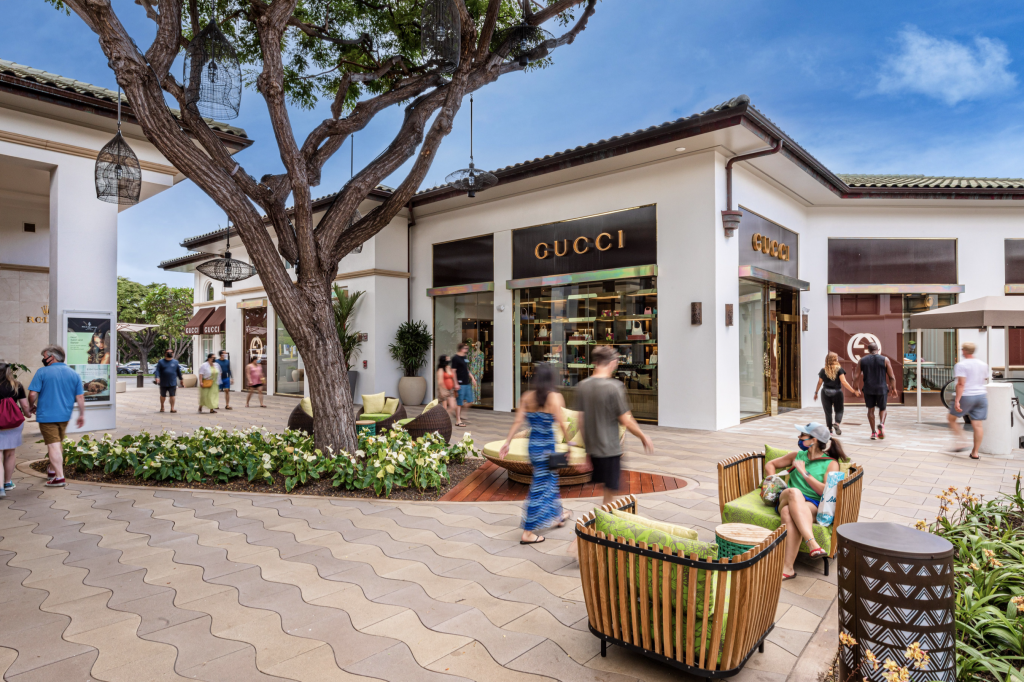 If you're staying at a fancy resort in South Maui, you'll want to check out The Shops at Wailea. It's just a short walk away and offers some amazing ocean views.
This place is like heaven for high-end shoppers who love brands like Tiffany & Co., Gucci, and Prada. But it's not all about fashion.
There are also cool art galleries showcasing local talent and fancy restaurants where you can treat yourself to a delicious dinner after your shopping spree.
35. Piilani Village Shopping Center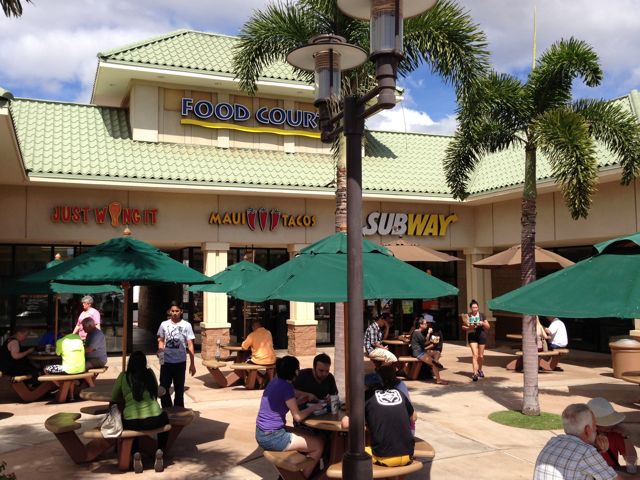 If you are into that local vibe, head over to Piilani Village Shopping Center. It's got a cool mix of small local shops, big name retailers, and tasty places to eat. What makes this mall stand out is its unique location inside an old pineapple cannery – talk about charm!
You can find everything here from trendy boutiques selling clothes to jewelry stores with beautiful Hawaiian pieces made by skilled craftsmen.
They even put on cultural events like hula shows and live music performances so you won't get bored while exploring the mall.
Where To Stay In Maui, Hawaii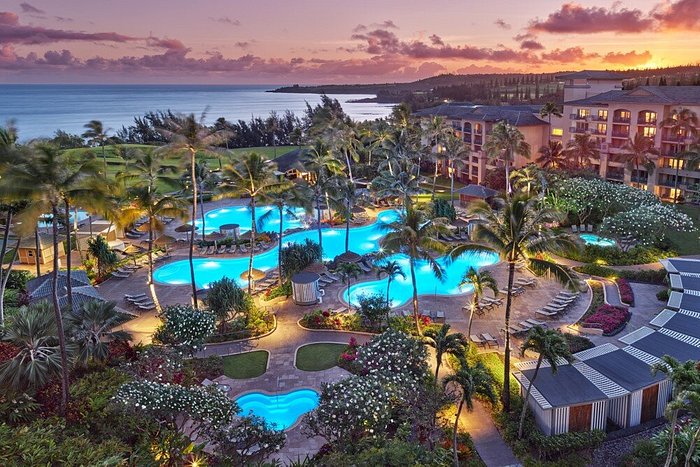 Finding a place to stay in this breathtaking island of Maui can be a little overwhelming there are lots of resorts and hotel. But we have listed the best ones for every budget.  
Budget Hotels & Resorts

1. Lahaina Shores Beach Resort: This cozy beachfront hotel has comfortable rooms with stunning pacific ocean view. It's located in Lahania. So if you're priority is to explore Hawaiian culture, foods and shop, then we suggest you stay here. Book Now!
2. Kaanapali Ocean Inn: This is a budget friendly hotel with a very cozy vibe. It is situated along the popular Kaanapali Beach. This budget friendly hotel has eveything that you need including a pool. The location is amazing. The Whalers village is close so you can explore the shopping and dinning spots there. Book Now!
3. Napili Sunset Beach Front Resort: It's such a lovely resort, situated near white sandy shores of Napili Bay. This charming resort has condos overlooking the beach. You can enjoy sunset from your bed. Perfect for couple who are in honeymoon and also in budget. The Honokeana Cove is near this maui resort. You can explore the vibrant coral reefs there. Book Now!
Affordable Luxurious Hotels & Resorts

1. Royal Lahaina Resort: This beautiful resort is located amidst a 27 acres of tropical gardens along Kaanapali Beach. Royal Lahaina Resort has such a luxurious vibe although it's not so expensive. The resorts feature  suites with private lanais overlooking the ocean or gardens. They have 3 swimming pools where you can take a dip or play some  golf at the Royal Kaanapali Golf Course. And the best part is  the stunning Kapalua Bay is just a short drive away. Book Now!
2. Aston Maui Kaanapali Villas: Another resort to check in Kaanapali Beach is Aston Maui Kaanapali Villas. This mid-range resort features one-bedroom villas. Perfect if you are traveling with family. It has beachfront pool, so you can enjoy the sunset while taking a afternoon dip.  Book Now!
3. Sheraton Maui Resort & Spa: This luxurious resort is situated on the iconic Black Rock cliff along Kaanapali Beach. Enjoy luxury in budget by booking rooms with breathtaking ocean views. They offer a lots of cultural activities like lei-making and hula lessons. If you stay there then must have dinner at their renowned cliffside restaurant. Book Now!
Luxury Hotels & Resorts In Maui

1. Hyatt Regency Maui Resort & Spa: This is one of the luxurious resorts located in Kaanapali.  Hyatt Regency offers overlooking lush gardens or panoramic view of the ocean from the rooms. You can also enjoy the impressive pool area featuring waterfalls. Book Now!
2. Four Seasons Resort Maui at Wailea: This lavish resort is located in the upscale Wailea area. The rooms here are decorated in Hawaiian theme. You will experience world-class dining options, and infinity  pools which overlook the ocean. The resort is on the beach so you will have an easy access of the beach.
3. Fairmont Kea Lani: This luxury hotel in Maui is on 22 acres of tropical landscape in Wailea. If you want a luxury residential like experience then book the spacious one-bedroom suites featuring separate living areas. From the room you will have the view of the ocean and from the living room you will have the view of the lush greenary of Maui.  Book Now!
4. Ritz-Carlton Maui: Another gem of a resort in Kapalua Bay Beach on the island of Maui. Ritz Carlton Maui is a slice of paradise. It is located in one of the most beautiful coastlines. And it's location is the main reason why tourists love to stay here. You will wake up to crystal-clear turquoise waters and feel that warm Hawaiian sun kissing your skin. Apart from the view the hotel screams luxury everywhere you set you foot. Book Now!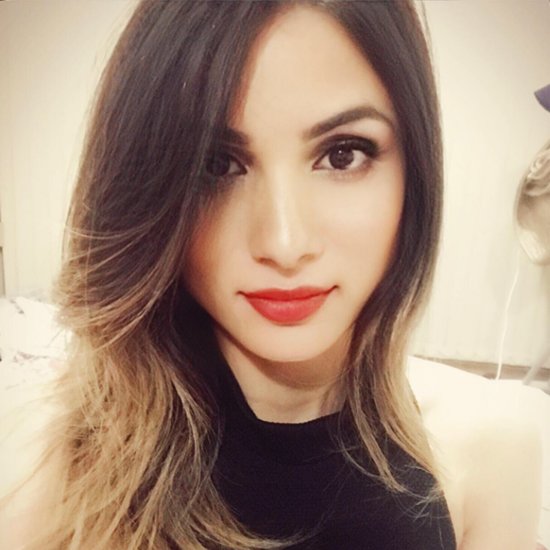 Hello, and welcome to Travel Crog, a site where I share my travel advice for your dream vacations. My name is Molly Martin, and I'm the founder and editor-in-chief of this site. I have a passion for travelling and exploring new destinations, and I want to inspire you to do the same. Six years ago, I left my job as an HR professional and embarked on a three-month trip around the world. It was an amazing experience that changed my life and perspective. Ever since then, I have been travelling as much as I can, and writing about the best things to do, see, and eat in every place I visit. Whether you're looking for a city break, a beach getaway, or a mountain adventure, I have something for you. Travel is not only fun, but also empowering and enriching. Join me on my journey and discover the world with Travel Crog. My motto is: "Life is short, travel more."