Welcome to paradise of Hawaiian Island! If you're here then you must be planning a trip to Maui. A  Maui vacation can be adventurous, relaxation with ultimate beach or absorbing the aloha spirit.
If you are wondering where to stay in Maui, then you must already have your Maui itinerary ready. If you need help with maui travel list, here are the Best Things To Do In Maui Hawaii. 
In this blog we have listed all the best places to stay in Maui from the vibrant shores of Lahaina to the tranquil peaks of Haleakala.
Tours & Things to do hand-picked by our insiders
And the list is made keeping all the budget travelers and also the travelers who loves to splurge on trips! So read on to have the full knowledge about Maui Resorts and All the Maui locations.
Best Area To Stay In Maui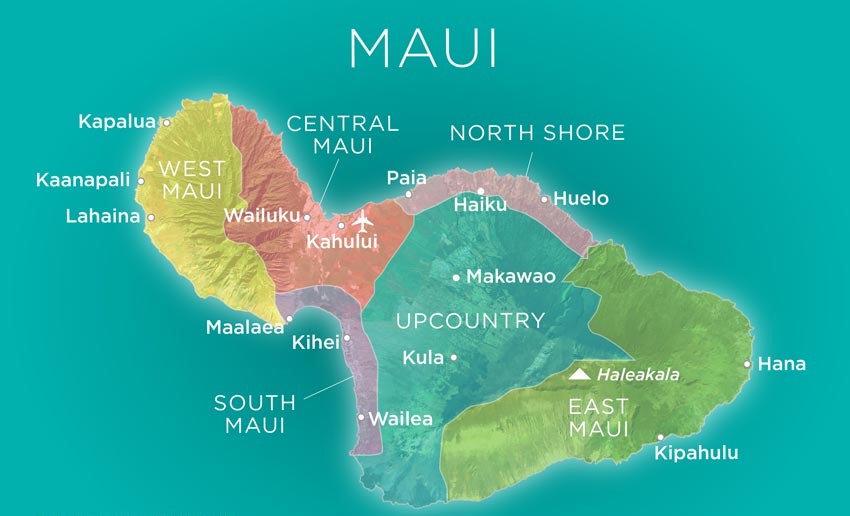 If your question is which is the best place to stay in Maui, you are in for a ride! Honestly, the place you decide to stay should match your Maui itinerary. Every area on the island has its pros and cons.
But good thing is, wherever you stay, you'll be close to beautiful sandy beaches and amazing tropical adventures while visiting Maui. After all what can go wrong in a tropical Hawaii island.
There are mainly 5 areas to stay on Maui–
1) South Maui
2) West Maui
3) Along the Road to Hana (East Maui)
4) Central Maui
5) Upcountry
As I said before, the best area for you totally depends on what you planned for your Maui trip. If you've planned a chilled out vacation where you just want to lay in beach and sip piña colada, then stick to the area of South Maui or West Maui.
If you have plans to exploring all the area of Maui have to offer and driving around isn't a problem (trust me, those traffic jams can get real), I recommend considering two base places. Spend a couple of nights near Hana after chilling out at South or West Maui. 
For budget travelers, the best deals and cheaper hotels and resorts are in central Maui and Upcountry.
Best Place To Stay In Maui-  Best Resorts, Hotels & Inns
South Maui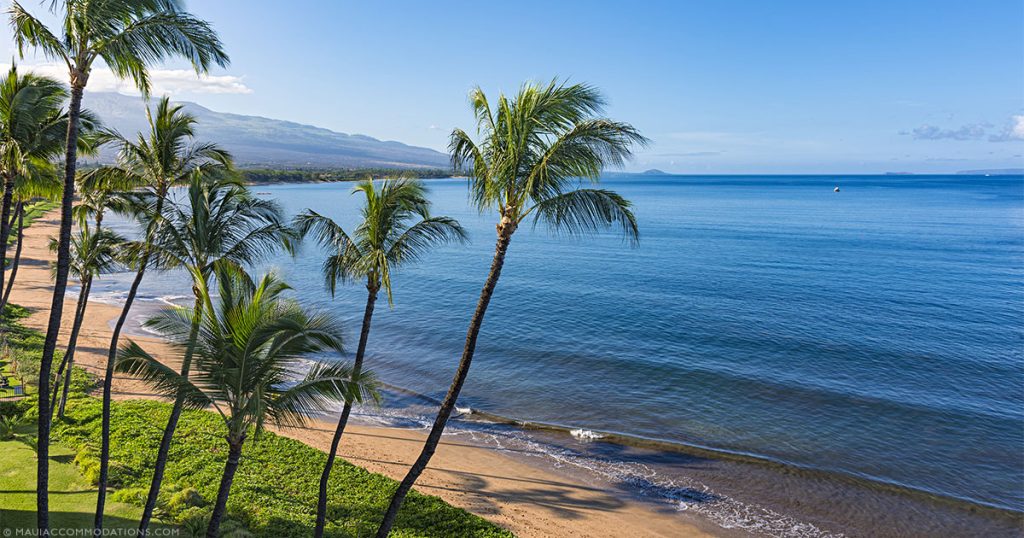 The South of Maui basically covers the towns of Kihei and Wailea. These are pretty popular places among tourists.
Who Should Stay In This Area?
This is the place for beach lovers as south maui is know for best beaches in Maui. The beaches in Kihei and Wailea are less crowded and stretch along the long coastline.
Perfect for all types of water activities and hikes in the lush green mountains. For surfing or paddleboarding, Kihei is unique.
Because the waves here is not only a surfers dream, you will spots for paddle boarding too. 
The weather is amazing here too! The sky is almost always clear and days are mostly sunny.  
The landscapes and attractions here are fantastic too. Wailea Beach is known for crystal clear waters and sandy shores.
There are plenty of opportunities for fishing, snorkeling, scuba diving, horseback riding, hiking trails with great ATV adventures!
For the ultimate luxury in South Maui, look no further than Wailea. It's famous for its fancy resorts and celebrity spotting.
If you want a perfect and upscale vacation in paradise, Wailea is where you want to be. With its five amazing beaches shaped like crescents, it's a dream come true for beach lovers.
The Wailea Golf Club is heaven for golf enthusiasts. They've got not just one but three championship 18-hole golf courses with beautiful views of the ocean. It's a golfer's paradise!
Who Should  Avoid This Area?
South Maui does have its drawbacks. This place has lack of good restaurants. So not a good choice for food vloggers or travelers who are into exploring food. This area don't have good shops. Most of the shops are filled with tacky stuffs. 
The popular Kamaole Beaches can get pretty crowded during the day. So if you prefer quieter beaches, it's best to do some research and find other options.
While Wailea is an upscale place to stay, there isn't much else to do there besides enjoying the luxurious accommodations. 
Some top attractions on Maui like driving the Road to Hana or Haleakala is too far and require a long drive from South Maui.
Unfortunately, despite what some maps might show, there is no direct road connecting South Maui to Upcountry Maui where Haleakala is located.
You'll have to drive back towards Kahului and then continue from there to reach Haleakala.
Best Hotels & Resorts in South Maui
Luxury Resorts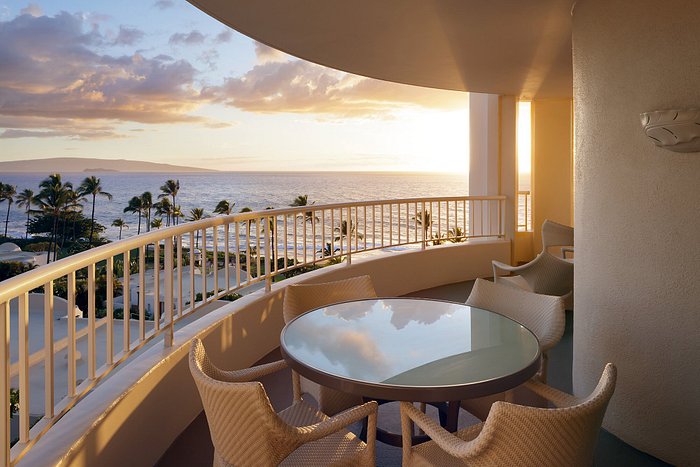 This is a luxury best place to stay on Maui. It's an epitome of luxury. The resort has breathtaking ocean view. You will be welcomed with aloha in this oceanfront paradise.
Spent sunlit days exploring Hawaiian cultural traditions, relax in outdoor spa treatments, or deep in three resort pools of this resort.
The hotel can also arrange day trips to local attractions including Molokini Crater and Iao Valley State Park especially for you.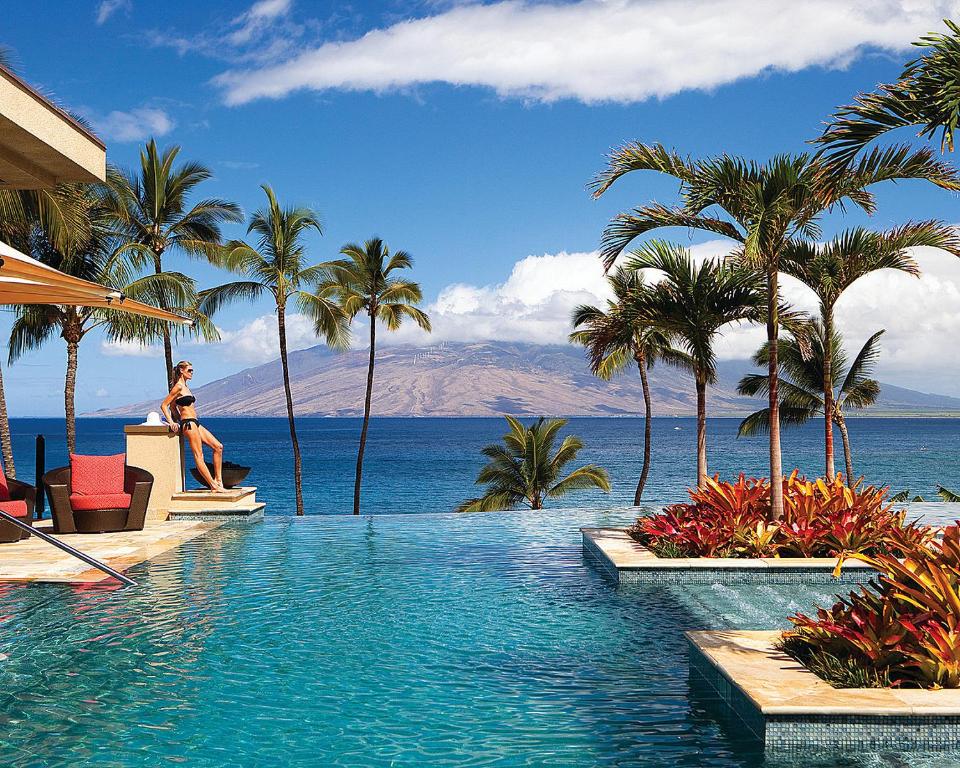 Located in the pristine shores of Wailea Beach, this world-renowned resort in Maui combines modern sophistication with Hawaiian charm. It is one of the best places to stay in west maui.
Here celebrate the wonders of Maui in the spirit of Aloha. Four Seasons Resort Maui at Wailea have luxurious suits with ocan viewand top-tier ameneties to make your stay comfortable and opulent.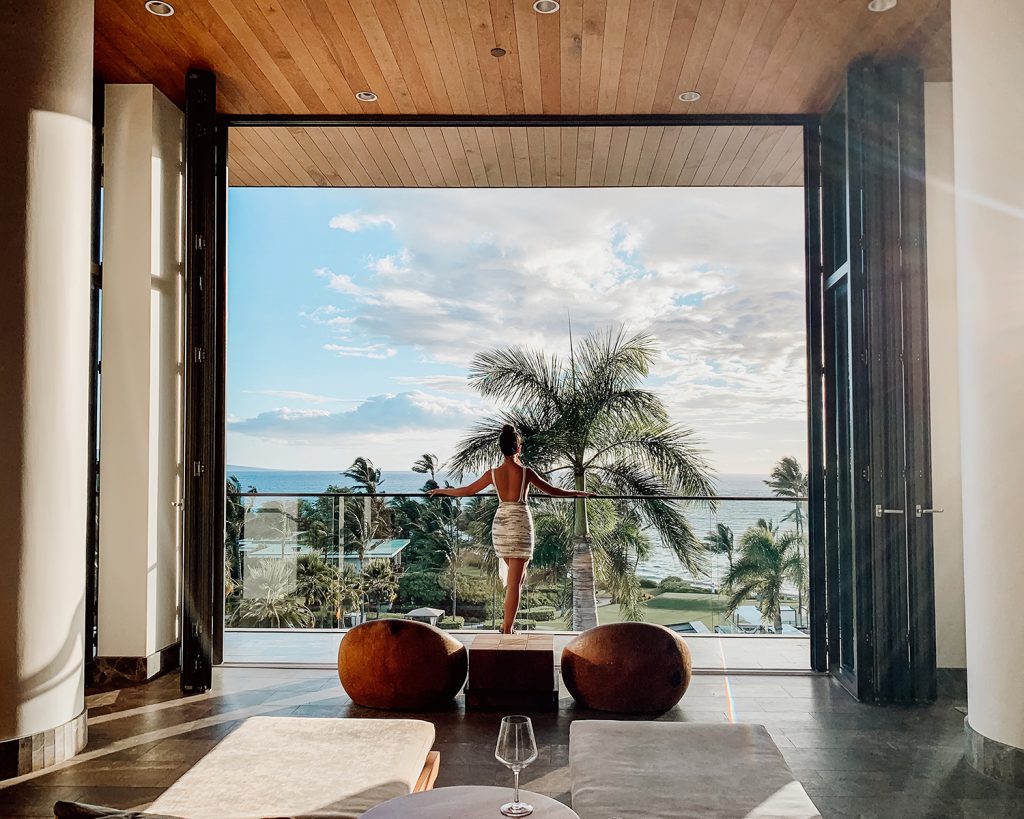 This beach resort is a popular place to stay for providing an unique Hawaiian experience. With its contemporary design and vibrant atmosphere, Andaz Maui delivers a unique boutique-style experience.
It's located right on Mokapu Beach. You can enjoy stunning sunsets while laying in your lavish bed, enjoying the resort's stylish rooms. The Maui resort is also very popular for arranging the best Luau in Maui.

Mid Range Hotels & Resorts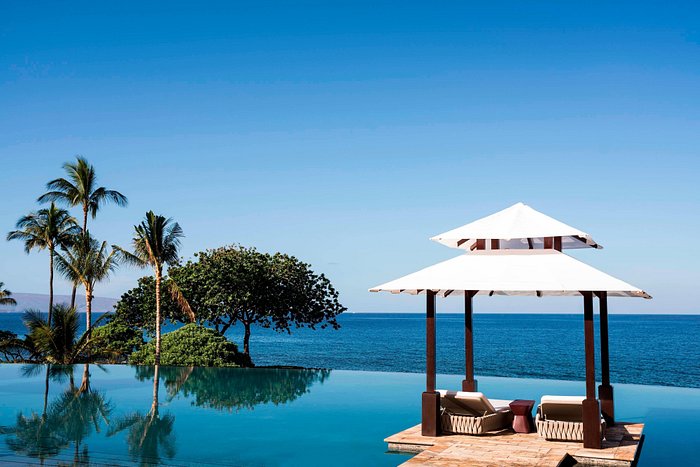 This Marriott resort is luxury in budget. Has a perfect blend of affordability and quality service in a prime beachfront location.
This Marriott property promises a peaceful and tranquil atmosphere and has access to both Wailea Beach and Ulua Beach Park. The photo of Wailea was taken from this property.
They have a infinity pool that has the view of the ocean and a range of amenities, such as multiple swimming pools, a fitness center, and excellent dining options, Wailea Beach Resort is an excellent option to have luxury and comfortable stay without breaking the bank.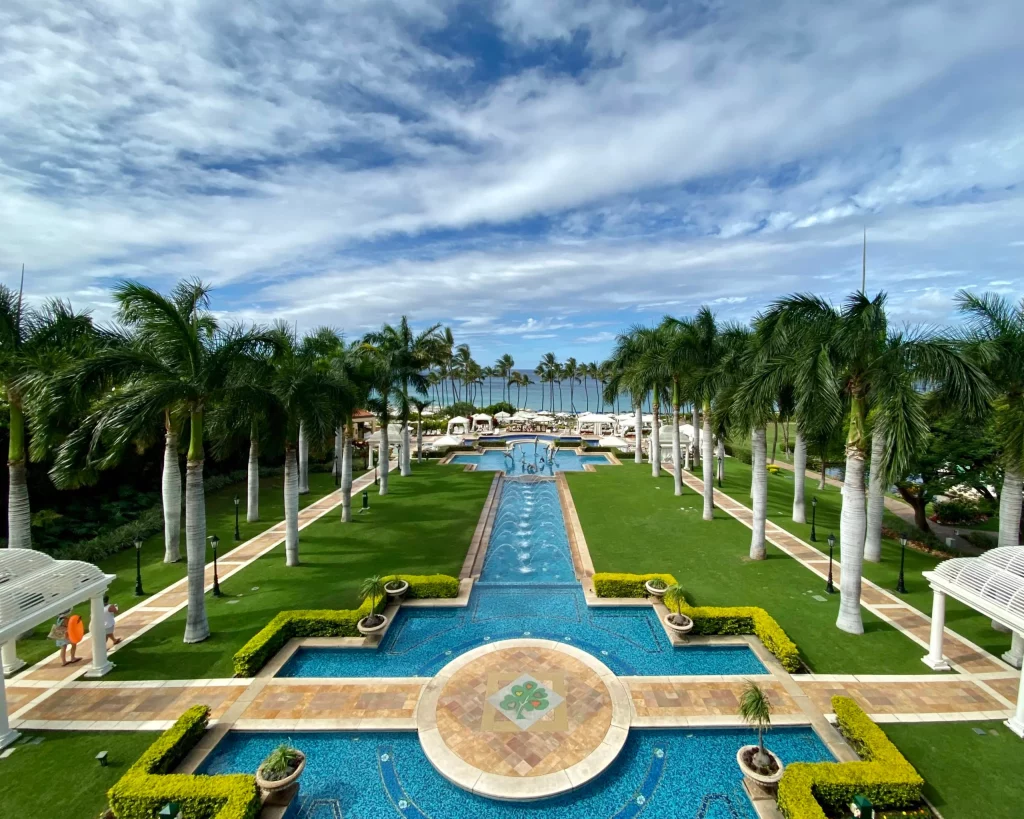 Immerse yourself in luxury at this world-class resort. This Waldorf resort is known as its shaped by nature, has a lush green garden and inspider by Hawaiian culture.
This hotel is top choice among family, honeymooners, spa goers. They have all the necessity amenities, indoor pool, luxury rooms.
The resort also arrange traditional luau at their garden which is a beautiful show.  Grand Wailea Maui, A Waldorf Astoria Resort, is the ultimate destination for a true  Hawaii vacation.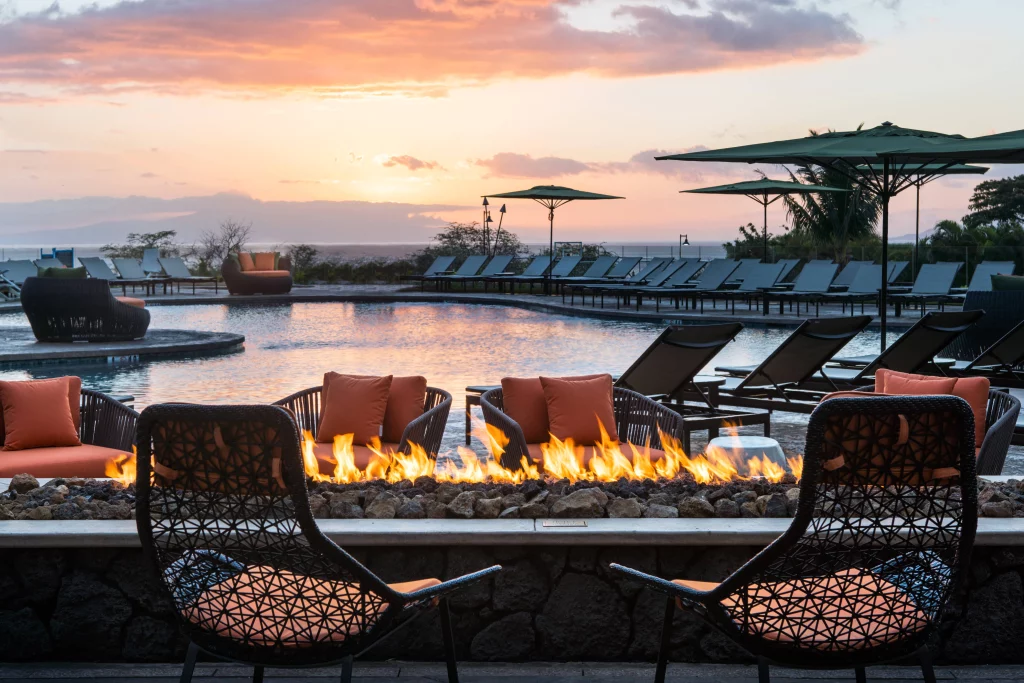 This Inn is perfect for families or travelers. They have spacious accommodations with all the comforts of home. Residence Inn has very good quality suites that feature full kitchens.
It is located near beautiful beaches and popular attractions like The Shops at Wailea. This Inn has ultimate convenience paired with warm hospitality.
Budget Hotels & Resorts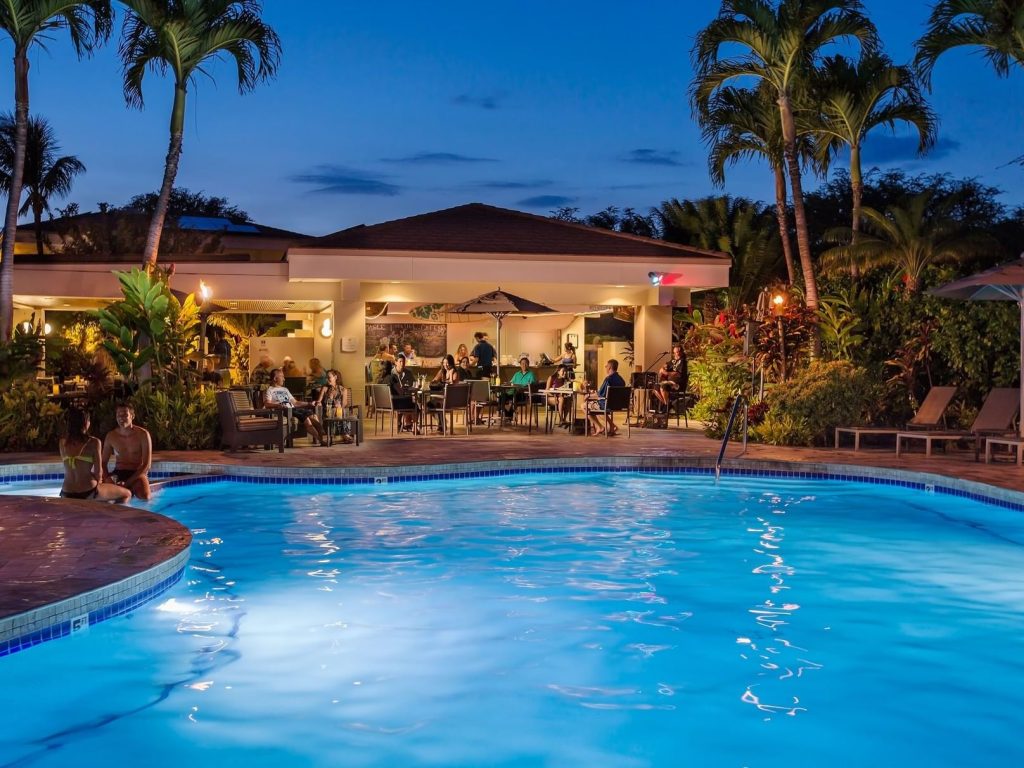 This affordable maui hotel option provides comfortable rooms at a cheap price. But I reassure you get quality service. This budget hotel in Maui is situated across from Kamaole Beach Park I, in Kihei. You can enjoy easy beach access along and even enjoy the sunset dipping in the pool area and at the onsite restaurant.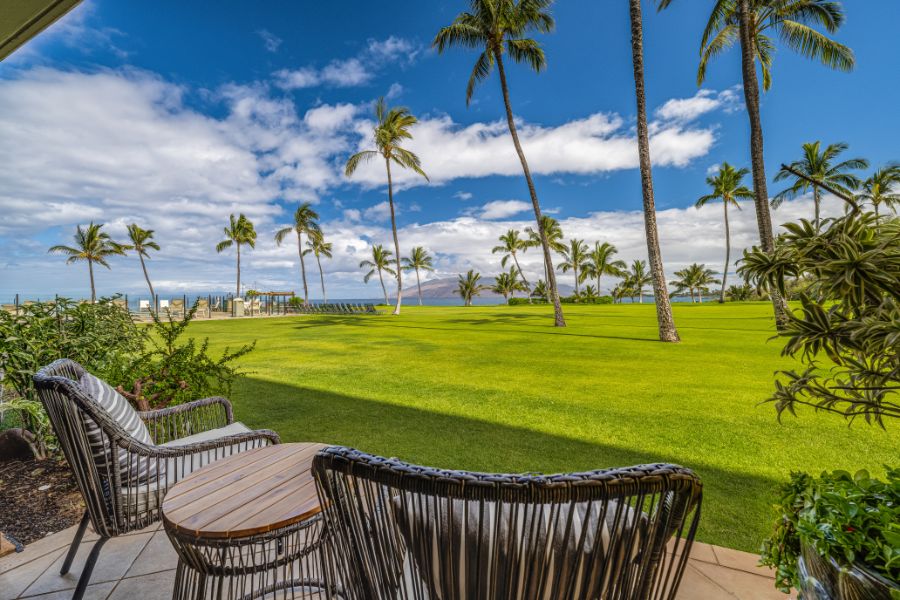 Another budget hotel to stay in Kihei. It's on the sunny shores of South Kihei, this Surfside Resort offers a laid-back atmosphere. You will get beautiful oceanfront views.
Compared to other resorts in this area, this resort is a bit small but that doesn't compromise on the service. The size makes up for it with its cozy accommodations and direct access to the beach.
You can relax by the pool or take advantage of the nearby attractions. You will find all the best shopping malls, dinner within walking distance.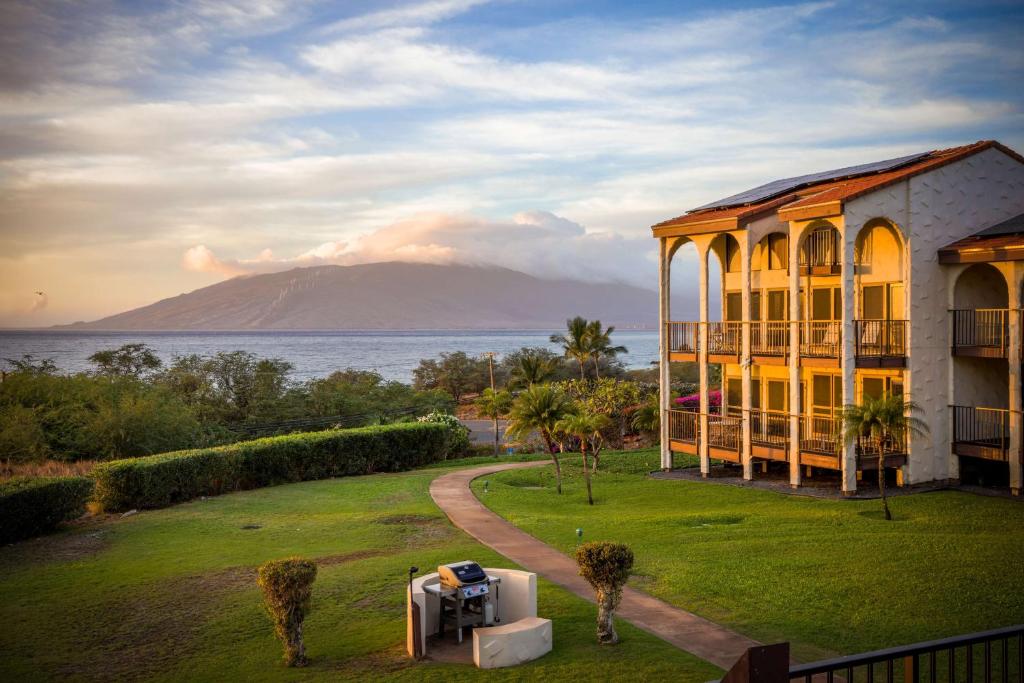 Located in sunny Kihei, Aston Maui Hill provides comfortable condo-style accommodations in maui on a budget.
Perfect for budget-conscious travelers seeking a convenient home-away-from-home experience. Each spacious unit features a fully-equipped kitchen and private lanai overlooking tropical gardens or partial ocean views.
The resort provides all the necessary amenities like a swimming pool and tennis courts, spa center. 
West Maui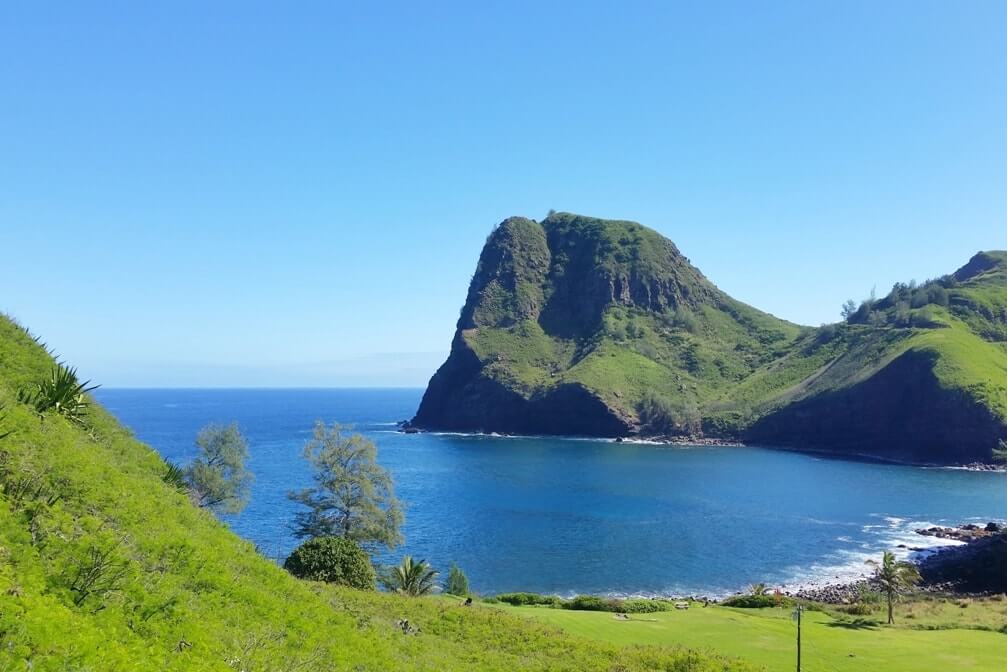 West Maui is home to unique attractions in Maui. This area of the island has a balance of relaxing atmosphere as well as lots of activities to do.
Who Should Stay In This Area?
West Maui is basically top priority among travelers who is in Maui for sight seeing. Here  the beaches here are absolutely stunning.
You've got Kaanapali Beach that's famous for its luxurious beachfront resorts and crystal clear turquoise water. In the north end of the beach theres a Black Rock which is popular tourist spot.
There are so many amazing shops, malls and boutiques where you can buy both traditional Hawaiian clothes or popular branded stuffs. 
The West Maui is the best for perfect tropical weather too. It's usually dry and sunny all year round. 
What sets West Maui apart from other area is the breathtaking views of those majestic West Maui mountains.
The mountains in this area work like a gorgeous backdrop for your photos and set the mood for your romantic getaway.
Who Should  Avoid This Area?
There are a few downsides to keep in mind before making your decision. As it's too popular among tourists, In this case, it gets pretty crowded at times.
So the traffic will be crazy when heading to popular spots. And speaking of getting around, you might have to deal with longer drives to reach some of the top attractions on the island.
You might have to rent a car, if you're looking to check out places like the Hana Highway or Haleakala summit.
Best Hotels & Resorts in West Maui
Luxury Hotels & Resorts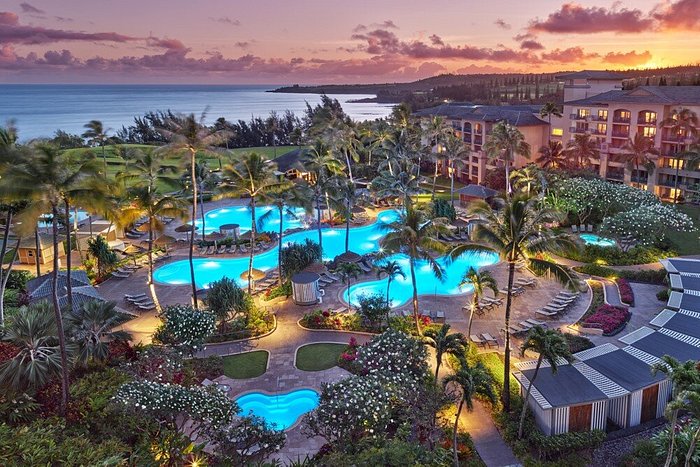 The Ritz-Carlton is here to promise you an ultimate Hawaiian luxury experience at Maui, Kapalua. The most attractive thing about this resort is it's prime location.
It will surprise you with top-notch amenities, and cultural activities. This resort offers an unforgettable escape from reality.
You can enjoy beachfront dining and spa treatments and a fitness center with ocean views and two championship golf courses nearby. So to speak, there's something for everyone here.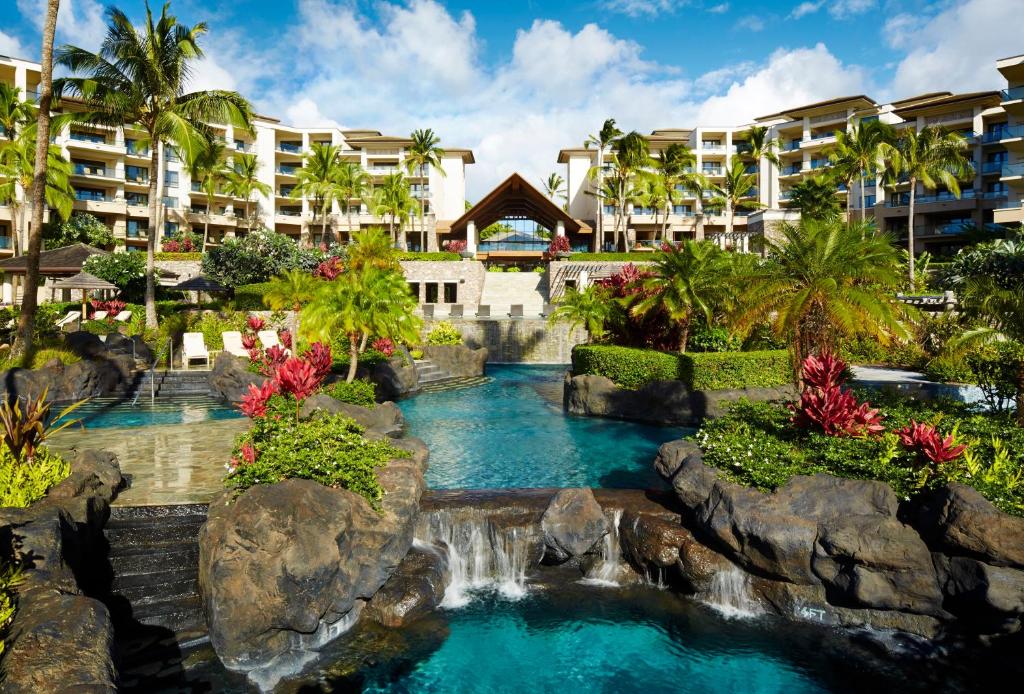 Have an urge to experience the quintessential Hawaiian getaway? You can have that at this oceanfront resort.
Situated on a breathtaking 24 acres property this ocean front resort gives you a true experience of a tropical gateaway. The spacious suites come with full kitchens.
The resort features an outdoor infinity pool, restaurant, spa.Activities such as golfing and hiking are available in the resort area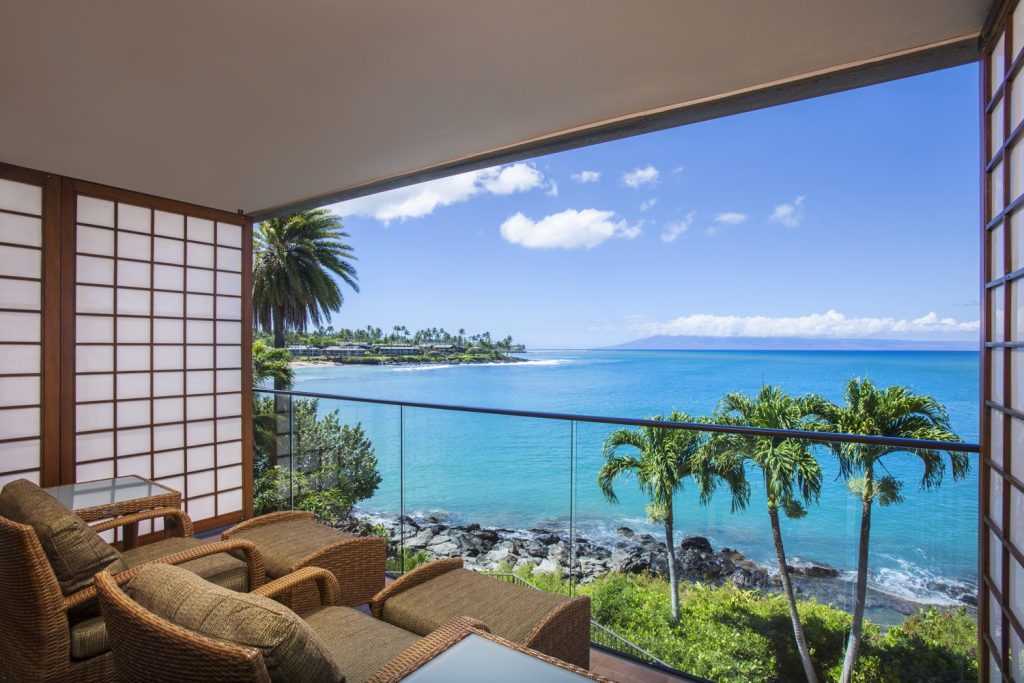 Experience the true beauty of Hawaii at Napili Kai Beach Resort. Here you'll find everything you need for a perfect vacation.
You get to have  snorkeling adventures right off the shore, four big pool to dive in, and two 18-hole golf course.
The rooms are tastefully decorated with island-inspired artwork and most of them have stunning views from your own patio. You can also enjoy delicious meals at their open-air restaurants while taking in breathtaking ocean view.
Mid Range Hotels & Resorts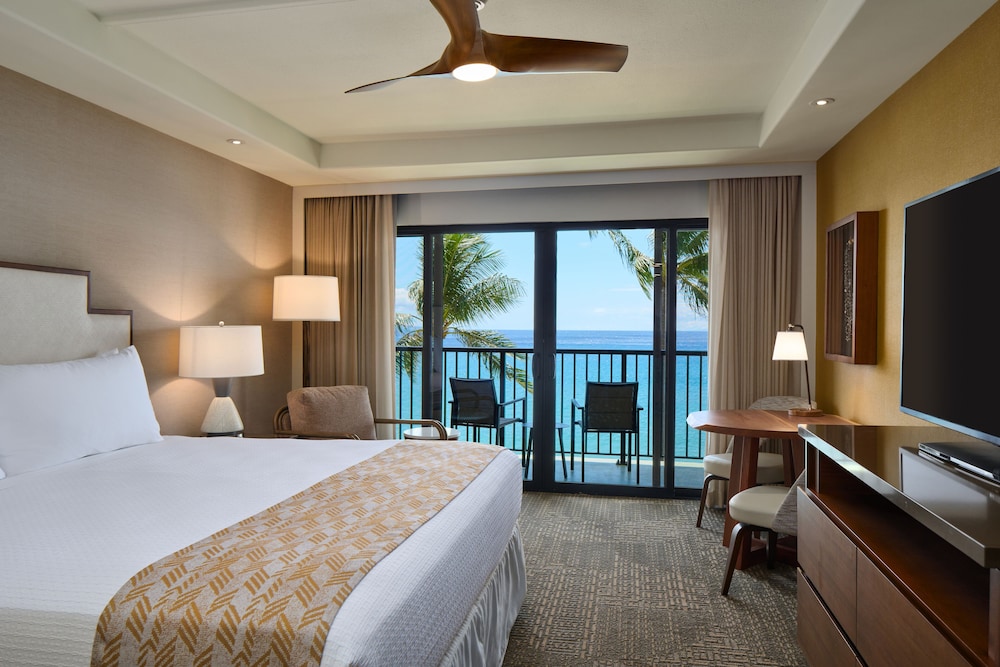 The Outrigger Kaanapali Beach Hotel is like a slice of paradise right on the beach. It's all about experiencing the true Hawaiian culture here.
You will find daily activities to do that eventually will immerse you in the vibrant traditions and customs of the islands. Make your own lei, learn hula dancing or even try speaking 'ōlelo Hawai'i, the Hawaiian language.
When it comes to dining options, Huihui is an oceanfront restaurant. Admire the ocean while you taste fresh island cuisine. If you're just looking for a quick bite by the pool, Welowelo has got you covered with its grill.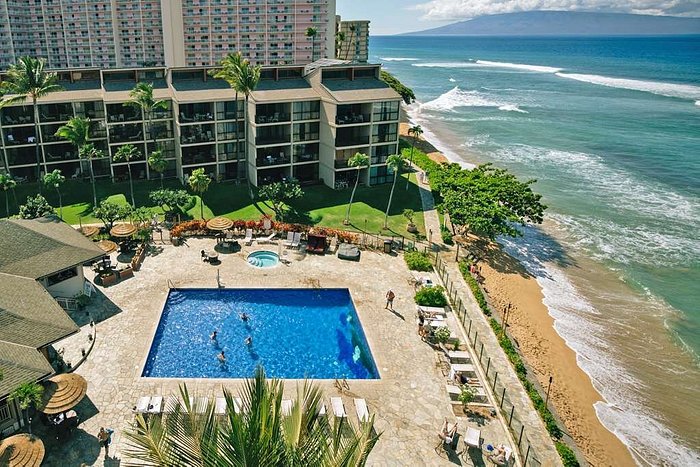 At Aston Kaanapali Shores, you'll find yourself experiencing what can only be described as the quintessential Hawaiian experience.
Situated and spread over ten acres of serene landscape with stunning ocean views, this resort truly captures the essence of Hawaii.
Relax among the tropical gardens with cascading waterfalls or dip in the oceanfront garden pools without ever having to leave the resort. This is actually true luxury within budget.
We highly recommend this resort for honeymooners. They have a fitness center, spa, two jet spas, and even free introductory SCUBA lessons and best snorkeling tours! How cool is that and also don't miss out on the cultural activities like hula and ukulele lessons right here at the resort.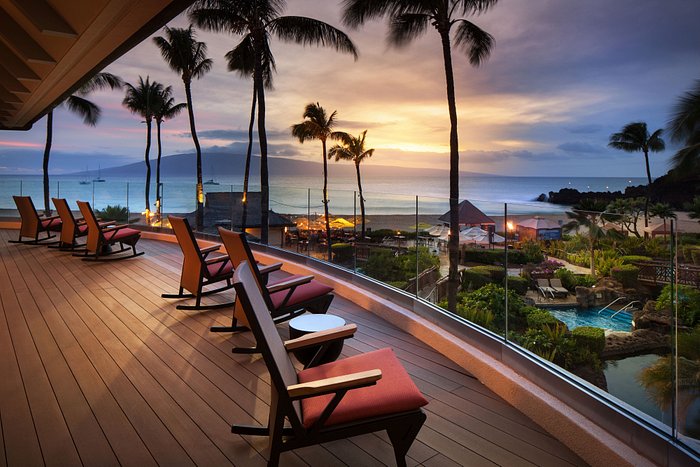 Located just few steps away from Ka'anapali Beach, you'll find this resort. Sheraton Maui is one fantactic Resort & Spa.
It's overlooking the majestic Pacific Ocean. The resort features an outdoor pool, a tennis or pickleball courts. 
Each guest room is decorated with tropical themes and features stunning Hawaiian artwork.
You'll have all the amenities you need. They've got five star restaurants and bars for you to choose from where you can indulge in craft cocktails and local bites or enjoy a cliff diving ceremony as part of your dining experience.
Sheraton Maui Resort also throws the best luau in west Maui. So definitely dont pass on that experience.
Low Range Hotels & Resorts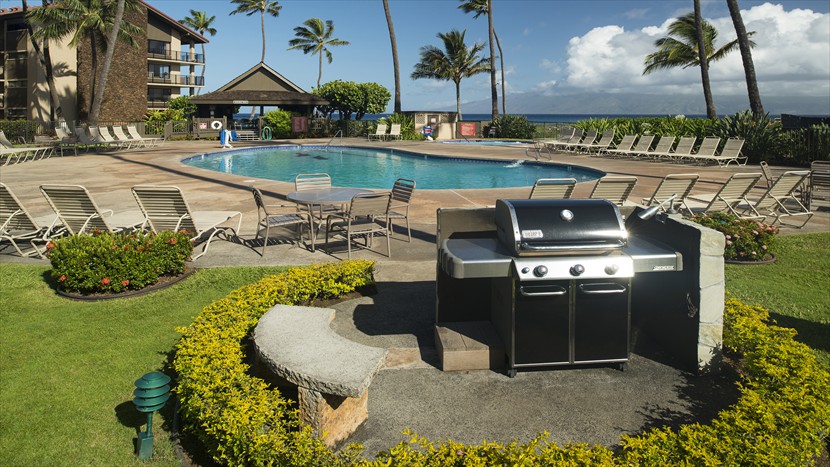 Aston at Papakea Resort on Maui's beautiful Kaanapali Coast offers a relaxing getaway. This is the resort where you will have the best stay in budget.
It's nested on 13 acres of expansive lawns and lush gardens. The two-bedroom condos all come with kitchens and in-room washer/dryers to make your stay as comfortable as possible.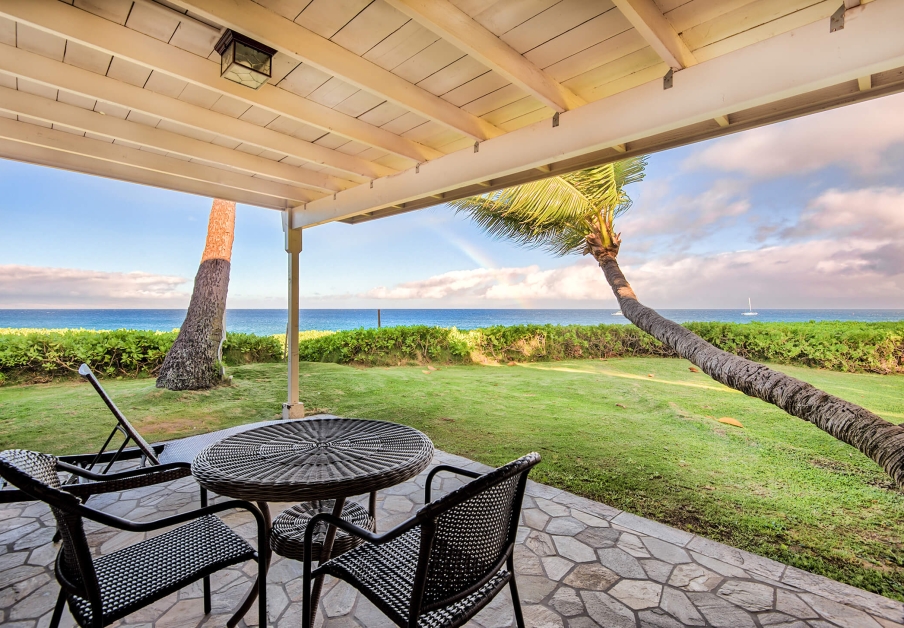 This is the best resort to stay in Lahaina. With its prime location on 27 acres of tropical gardens along Kaanapali Beach, Royal Lahaina Resort offers a unique Hawaiian experience like no other.
They arrange a popular luau in west Maui.  Indulge yourself in traditional Hawaiian ambiance. Enjoy top-notch five-star service that puts relaxation and tranquility at the forefront.
We highly recommend the luxurious guestrooms and suites in the 12-story Lahaina Kai Tower that celebrate Hawaii's artistry, environment, and culture.
Another one from OUTRIGGER family. But this one is a cheaper option with top notch service. Napili Shores Maui is an award-winning Hawaiian getaway that perfectly complements its sister property, Kaanapali Beach Hotel.
With all the attributes that have made Kaanapali Beach Hotel stand out among hotels on Kaanapali Beach, this resort gives you even more reasons to stay.
It promises luxury at a cheap price. Lush gardens spread over sprawling lawns covering breathtaking views of both mountains on land & endless view of the expansive Pacific Ocean- what more can you ask for?
Along the Road to Hana (East Maui)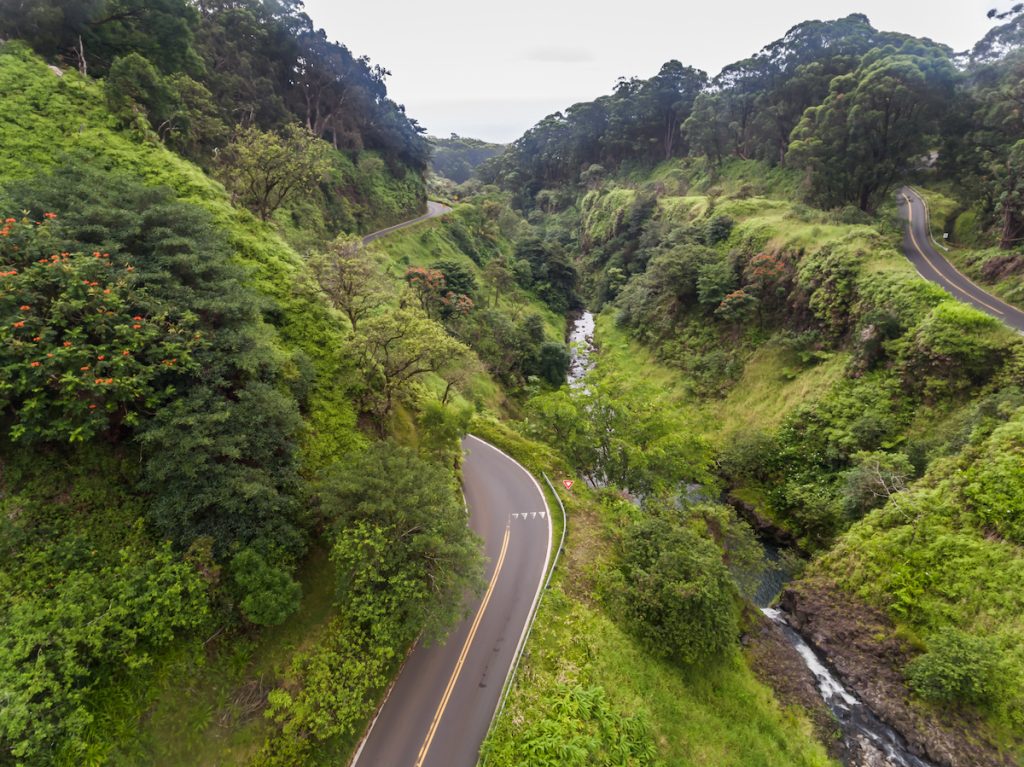 If West and South Maui is not for you, let me draw you a picture of the East side of Maui.  is A gorgeous clean road with little people and abundance of nature.
It goes all the way through the famous Hana Highway which THE Road to Hana- Most popular thing to do in Maui. Even though the views are amazing, there aren't really that many places to stay around here. You'll mostly find small B&Bs and inns along the highway, but the options are limited.
Who Should Stay In This Area? 
It's about 53 miles from Hana town to Kahului Airport (OGG) and it takes around 2-2.5 hours to drive there. But trust me, this drive is worth it.  
You'll see some of the most breathtaking scenery of  the whole island, may be of your whole life. Trust me, passing through a beautiful valley and catching those stunning ocean and mountain views will blow your mind.
This area is preferable for travelers who want a very secluded  place to stay and have a extremely private time. I would say if you are in your honeymoon, you definitely should choose to stay here even for a night or two.
Who Should  Avoid This Area?
Besides exploring the Road to Hana, there's basically nothing else to do here – like seriously nothing! Staying in east maui, adventurous travelers will get bored out of their mind if they stay in this area.
Also this part of the island gets wetter and rainier than others. That can be annoying for some people too.
Luxury Hotels & Resorts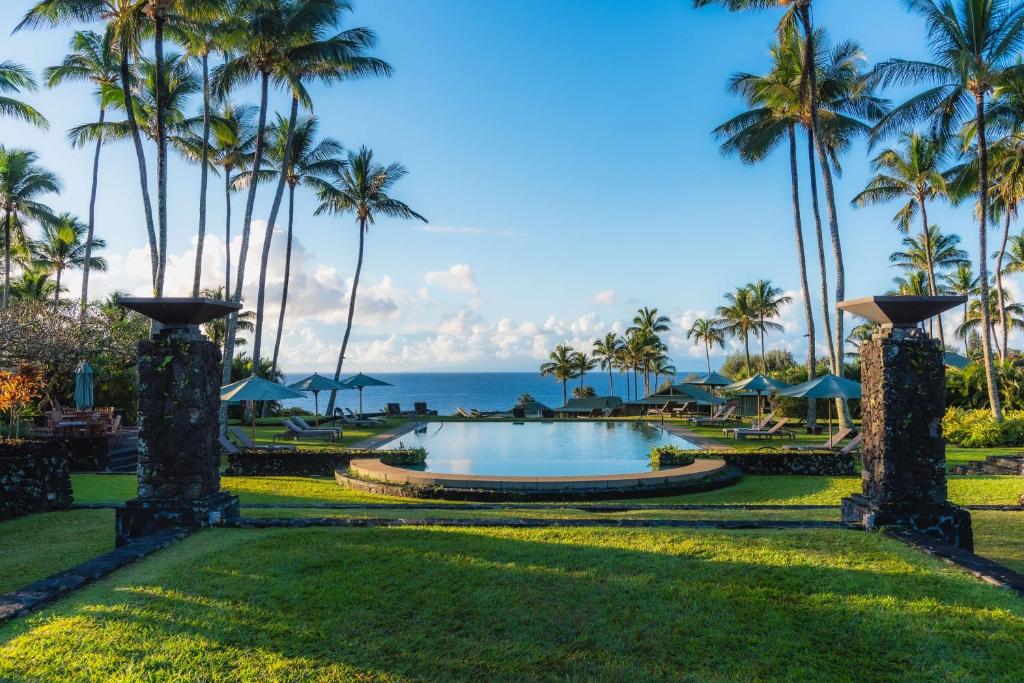 The Road to Hana is a must-see attraction along Maui's eastern coast. If you want to stay in Hana, the Hana-Maui resort is located amidst the winding roads, stunning rain forest scenery, hidden beaches, and numerous waterfalls of Hana to Maui road.
Although it's possible to complete the drive in one day, we recommend staying overnight in Hana. And you won't find any better place than the Hana-Maui Resort for a wonderful stay.  
This resort offers adventure, culinary-culture, fitness, and spa and wellness. To make the most of your experience here, we highly recommend booking an Ocean bungalow that comes with a spacious lanai.
It also has close-up views of the ocean. There are also larger suites available for families. 
Mid Range Hotels & Resorts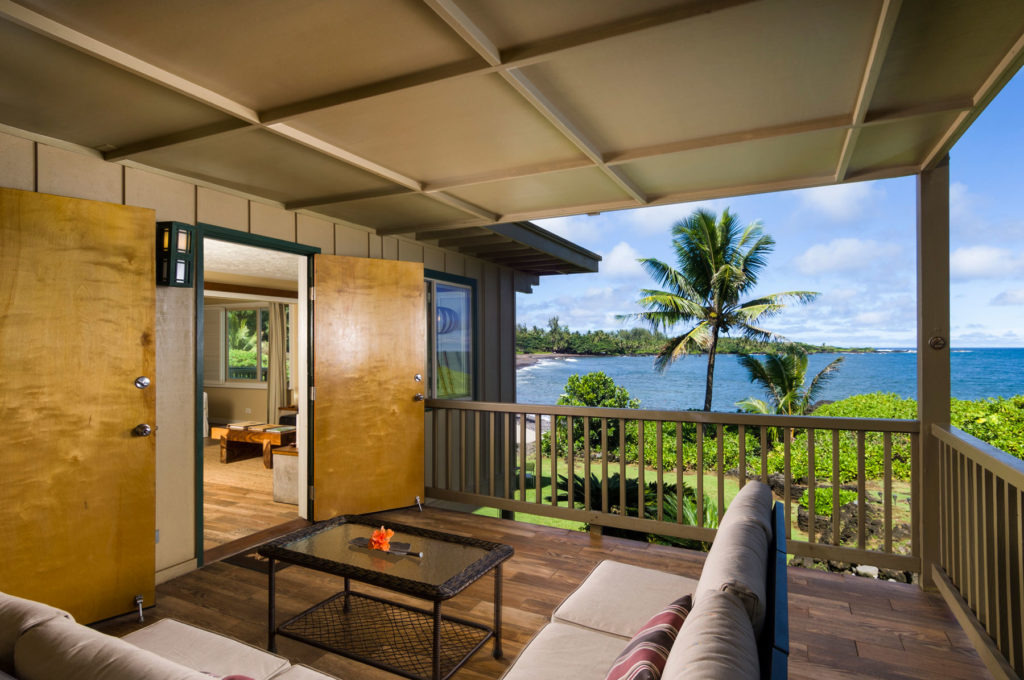 Hana Kai Maui Resort is where you'll find exceptional oceanfront private vacation rentals. It's situated on beautiful Hana Bay at Waikaloa Beach.
The first-class accommodations include studios and one- or two-bedroom units.  They have exquisite grounds with beachside barbeque facilities. perfect for a big friend or family group. Each unit also features a private lanai. 
Budgets Hotels/ B&B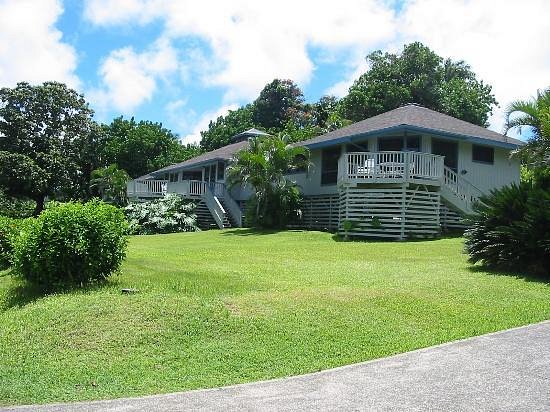 Situated right amidst lush gardens and towering bamboo, Hana Bay Hale is a charming oasis. It features outdoor porches where you can dine or relax.
You will be amazed with picturesque views of Hilo bay and Hilo town from the wrap-around front porch! All rooms at this bed & breakfast come with air conditioning and private bathrooms.
Hana Bay Hale serves as an ideal "base camp" for your adventures around Big Island, including must-see attractions like Akaka Falls, Volcanoes National Park with its active lava flows, Mauna Kea Summit, Visitor's Center, black sand beaches along the Puna coast for snorkeling.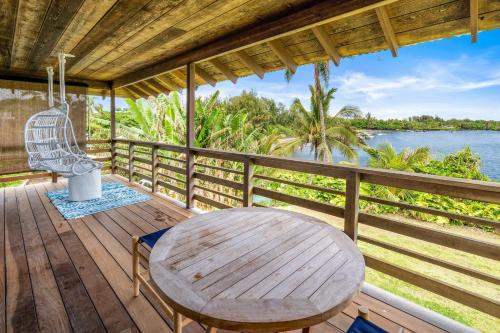 The oceanfront cottages are situated just a 10-minute drive away from Hana Bay Beach Waterfront Park. You'll love the tranquil setting of Hana Oceanfront Cottages.
They are great for spending a night in road to Hana in a very cheap price. The cottages come with fully-equipped kitchens. And you will have all the necessary amenities. 
Central Maui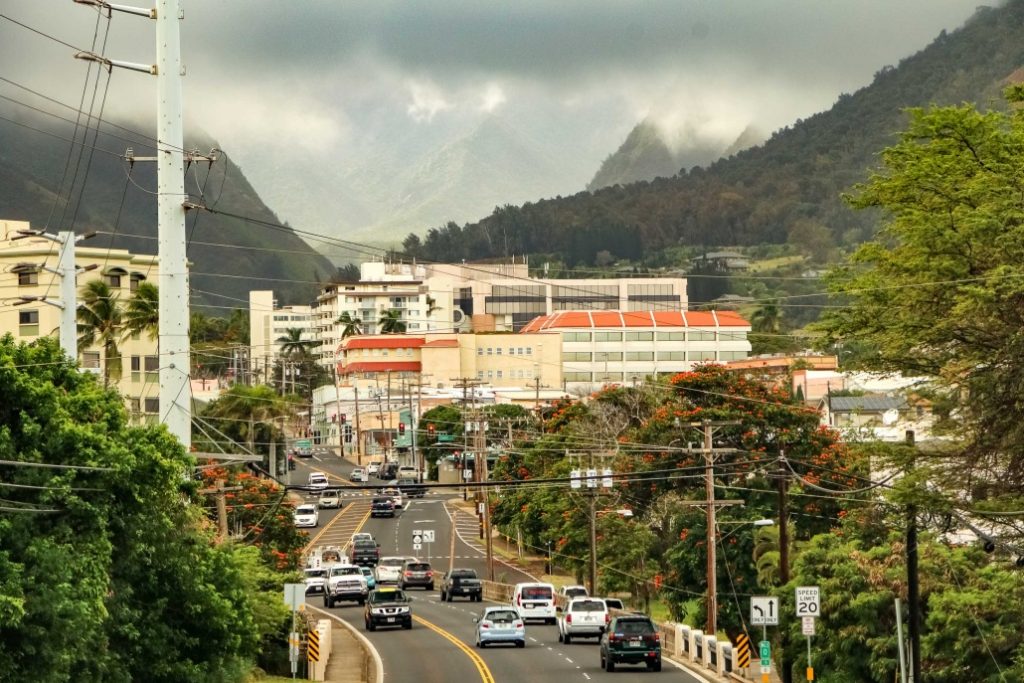 Central Maui is hands down the best are to get the authentic Hawaiian vibe and to experience life like a local.
This place has got all the cultural goodness without feeling too isolated like Hana or East Maui. It's so close to the Kahului Airport (OGG) with lots of attractions around.
Who Should Stay In This Area? 
Most tourists start their vacation in Central Maui. One of the best things to do in Central Maui is visit ʻĪao Valley State Park. It's so peaceful and secluded in there.
You will find the forests covered in fog, green valleys, and babbling streams. You can take an easy walk on a paved trail and see the famous 1,200-foot tall ʻĪao Needle. It's one of those iconic sights that just screams Maui.
One thing to keep in mind, from May 1st, 2023 you'll need to make reservations before going into ʻĪao Valley State Monument. 
Right at the entrance to ʻĪao Valley State Park is Wailuku. It's a little town and has very good shops, restaurants, and some historic sites for you to explore.
Another town in Central Maui is Kahului. It's kind of a busy place where everyone goes shopping because it has Maui's biggest mall. You can find everything you need there.
It's also where the Hāna Highway starts for the famous road that leads to Pāʻia Town and eventually the Road to Hāna. 
Who Should  Avoid This Area?
Although so many things to explore in this area, the weather can be a bother for some. Central Maui sees rain most of the time.
Central Maui is only the hustling-bustling part of Maui and lack in scenic natural sites of Maui. There are very limited option for beaches. It's not for people who opt for a relaxing vacation.
Best Maui Resorts
Luxury Hotels & Resorts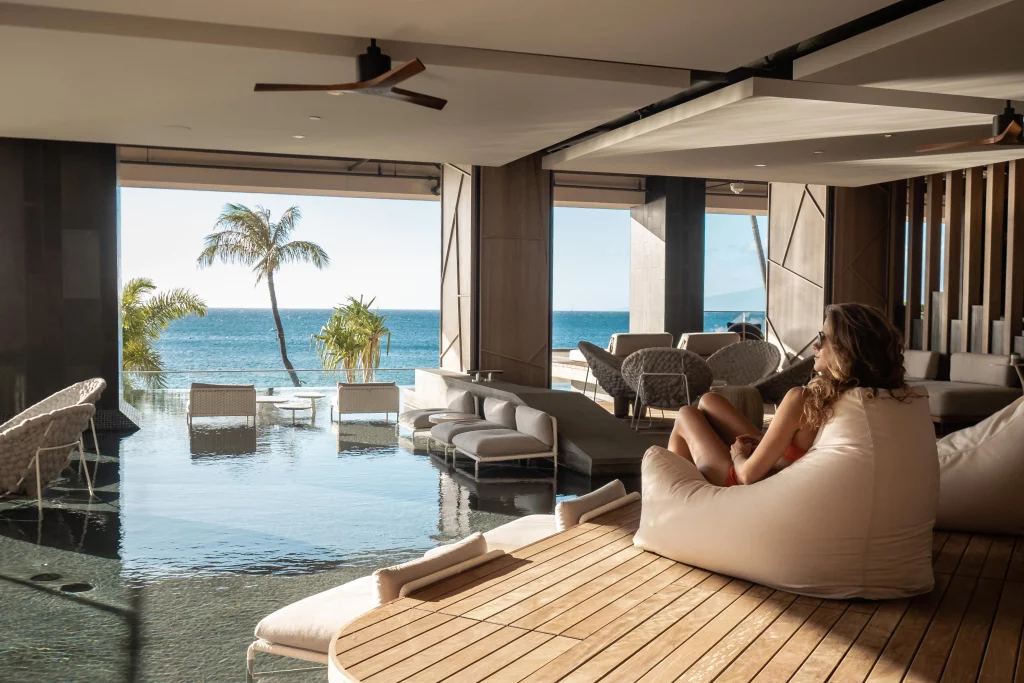 A few steps away from the Pacific Ocean and the iconic Ka'anapali Beach The Westin Maui Resort & Spa is situated. It's so far the best beach resort to stay in Maui.
Here you will experience the rich culture of Hawaii and relax with the best view. With its recent transformation, this beachfront resort will give you an unparalleled experience.  
The resort focuses on promoting wellness, sharing traditional Hawaiian wisdom, and lets the guests enjoy the nature at its best.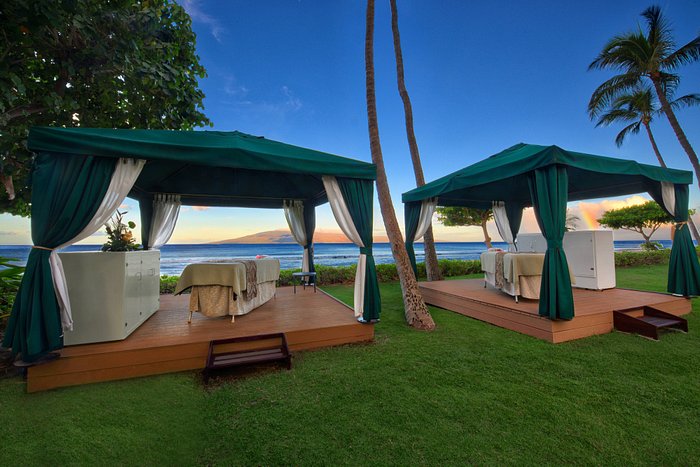 Another luxury hotel nestled along the beautiful shores of Maui.  It's a tropical hideaway where you can fully embrace the warm aloha spirit.
You will be amazed with the serene landscapes that surround you. This hotel is perfect for nature lover. No matter if you love beaches or the greens, you will get to enjoy both. 
Affordable Hotel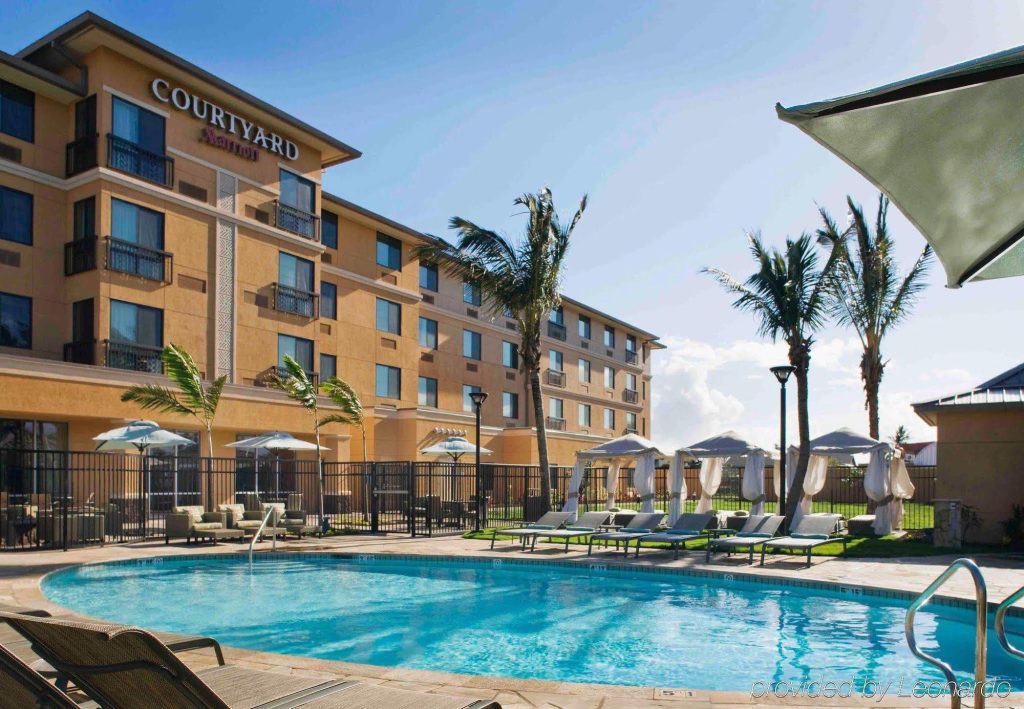 Kick back and unwind on the beautiful shores of paradise right next to the runway. The Courtyard by Marriott Maui Kahului Airport is located in Kahului, Hawaii.
It's a prime location as it is the commercial air hub of Maui Airport. This means that you'll be just a short 4-mile drive away from Wailuku.
This 3 star hotel allows you to conveniently explore all the attractions in this bustling area. With Upcountry Maui, Paia, and numerous pristine beaches within close proximity, you won't have to waste time commuting long distances. 
Budget Hotel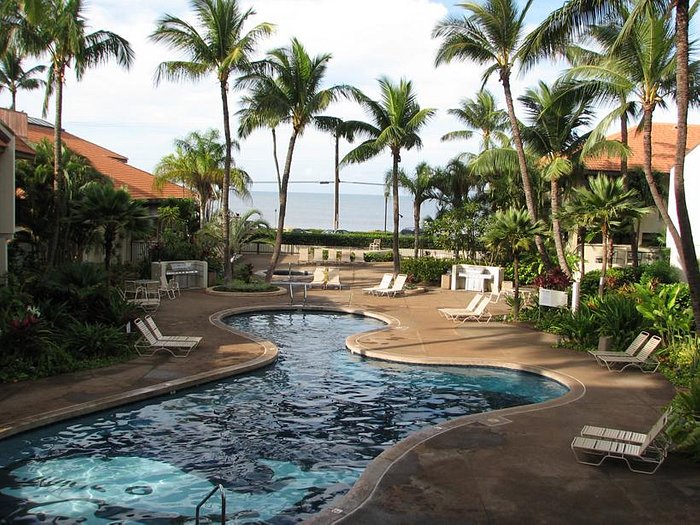 Maui Beach Vacation Club is a great spot to enjoy the beautiful southwest coast of Maui. It's a cheaper option to stay near the bustling are of central Maui.
The are is pretty cool to go out at night, and fun things to do. You will get everything you need for a perfect stay.  The hotel features spacious rooms that tastefully decorated, an outdoor pool and indoor gym. 
Upcountry Hotel In Maui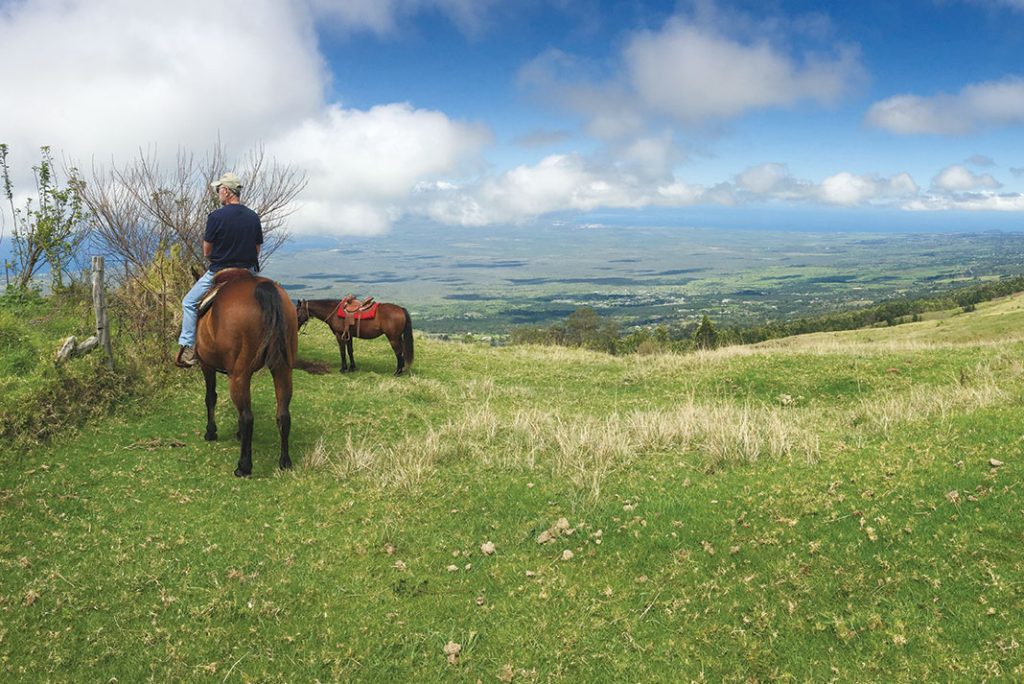 Unlike Central Maui, Upcountry is a get away from the hustle-bustle part of Maui and takes you to the natural scenic site of this Hawaiian island.
Who Should Stay In This Area? 
Upcountry is an area on the sides of Haleakala shield volcano. It's mostly rural with farms, ranches, and a couple of small villages surrounding the crater.
On one side of the volcano, there's a desert landscape while on the other side, there are rainforests and waterfalls galore. And the amazing views from Haleakala's peak is astonishing.
The sunrise and sunset here are written poems about! People even travel from far-off places like Kapalua or Hana just to catch this legendary sunrise.
Upcountry is festive. Makawao is actually the biggest town in Upcountry and it's famous for its art galleries, boutiques, artist workshops.
You will get to explore iconic Komoda Bakery that has been around since 1916. If you're lucky enough to be in Upcountry at the right time, Haku Maui offers lei-making classes every few weeks.
Maui's top farm-to-table restaurant is here too. You can take tours of many farms here including Surfing Goat Dairy, Ali'i Kula Lavender Farm, O'o Farm (known for their coffee and Maui onions), just to name a few. So in short upcountry offers all the very best things that Maui has to offer.
Who Should  Avoid This Area?
Upcountry doesn't have any beach to offer. This side of Maui is only for the bustling scene. If you just want to lay in beach and soak in sun, this are is not for you. Also if you want to shop, you have to likely drive all the way to Kahului.
Luxury Hotels & Maui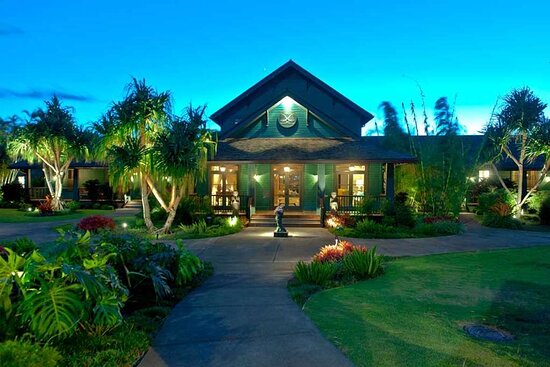 Lumeria Maui is a educational retreat center for ultimate relaxation. It's a beautiful place to stay in Upcountry Maui.
They provide a range of classes and programs such as yoga, meditation, healing arts, metaphysical studies, horticulture, culture, dance and movement therapies.  
If you are looking for accommodation during retreat or visit on the island, it's the perfect place to stay. They have   guest rooms and suites where you can comfortably stay overnight.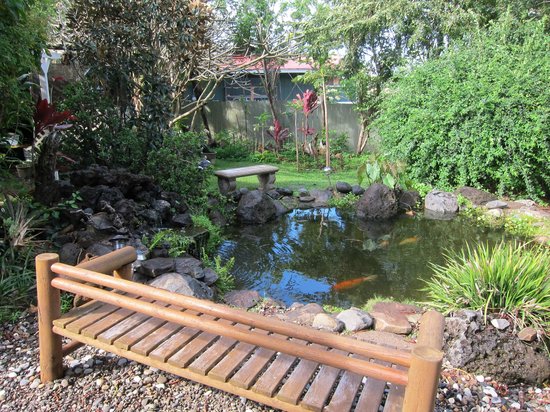 The Hale Ho'okipa Inn is a cute  bed and breakfast on the Upcountry Maui, Hawaii. It was built in 1924. This historic bungalow is now listed on the National Historic Register.
The ambience is very cozy. You will have a warm and comfortable stay in this lovely Inn. It is located on the slopes of Mount Haleakala.
From here you will have an easy access to Haleakala National Park and it is also close to the quaint town of Makawao. The central Upcountry Maui location of the Inn makes it convenient to explore the nearest tourist attractions. 
Mid Range Hotels & Inns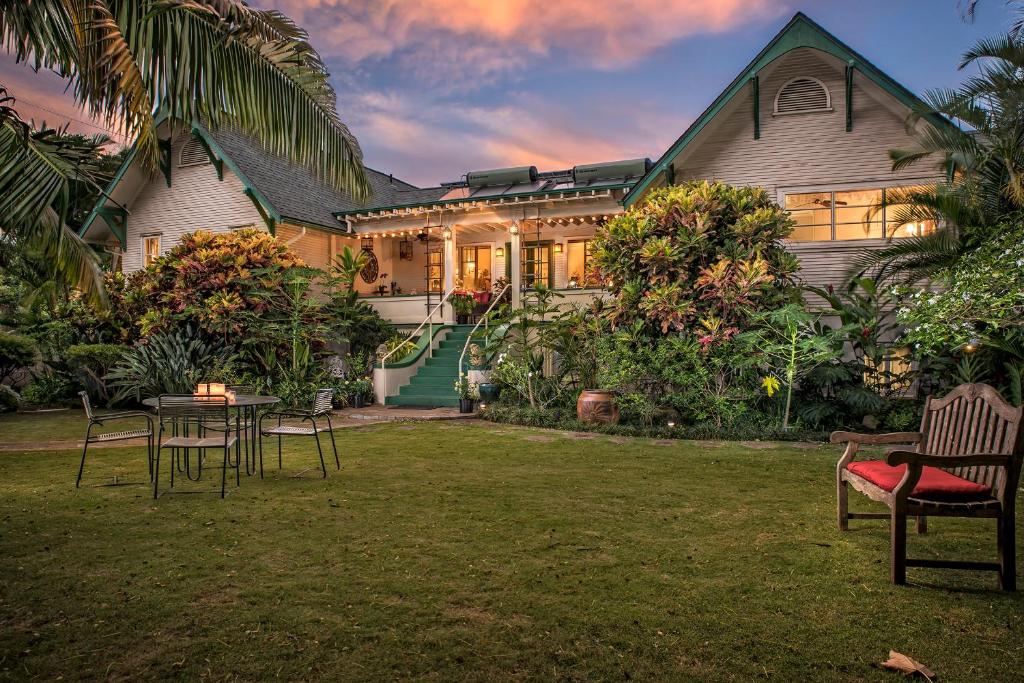 The Old Wailuku Inn is famous for its cozy rooms. If you want a comfortable homey stay, you will love it here. The Inn offers an authentic Hawaiian experience.  
This small Inn has seven big guest rooms in the main house. Then there are three small rooms in the Vagabond's House cottage.
The service here  is top-notch with luxury amenities. This features a private whirlpool tubs with stunning views. Staying at this Maui B&B will leave you feeling calm and refreshed.

Low Range Hotels and B&B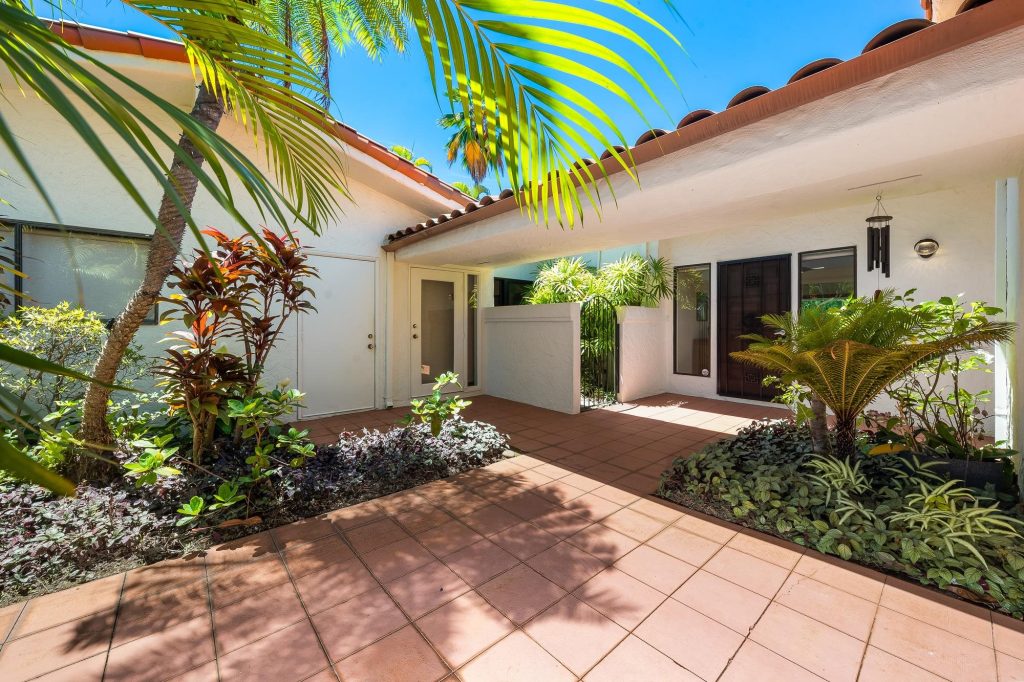 Located 10 mins from the Kahuli OGG airport, this B&B is the cheapest place to stay in Maui for an overnight stay. You can walk to the center of Wailea from here  within 25 minutes.
The Ulua Sandy Beach Park is also a short walk away. , The rooms are pretty spacious with all the necessities. 
They also have a kitchenette with a coffee maker if you prefer to make your own meals. 
The Pukalani Country Club is located in the beautiful hills of "Up-Country" Maui. It has the stunning views of the Pacific Ocean and the Valley Isle.
The Pukalani Country Club is situated at the 1,100 foot elevation level of world famous Mount Haleakala. This is an extinct volcano whose name in Hawaiian means "House of the Rising Sun".
And the golf course totally reflect this name. Designed by renowned architect Bob Baldock, Pukalani's 18 holes cover nearly 160 acres.
This exceptional setting cannot be matched by any other golf course in Hawaii – truly living up to its name "Pukalani," meaning "Entrance to Heaven."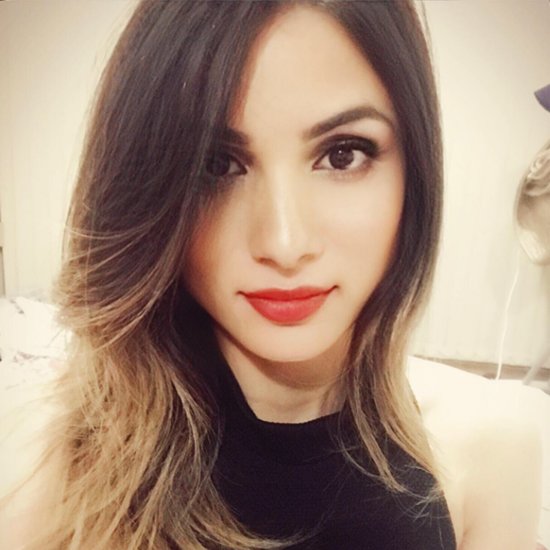 Hello, and welcome to Travel Crog, a site where I share my travel advice for your dream vacations. My name is Molly Martin, and I'm the founder and editor-in-chief of this site. I have a passion for travelling and exploring new destinations, and I want to inspire you to do the same. Six years ago, I left my job as an HR professional and embarked on a three-month trip around the world. It was an amazing experience that changed my life and perspective. Ever since then, I have been travelling as much as I can, and writing about the best things to do, see, and eat in every place I visit. Whether you're looking for a city break, a beach getaway, or a mountain adventure, I have something for you. Travel is not only fun, but also empowering and enriching. Join me on my journey and discover the world with Travel Crog. My motto is: "Life is short, travel more."