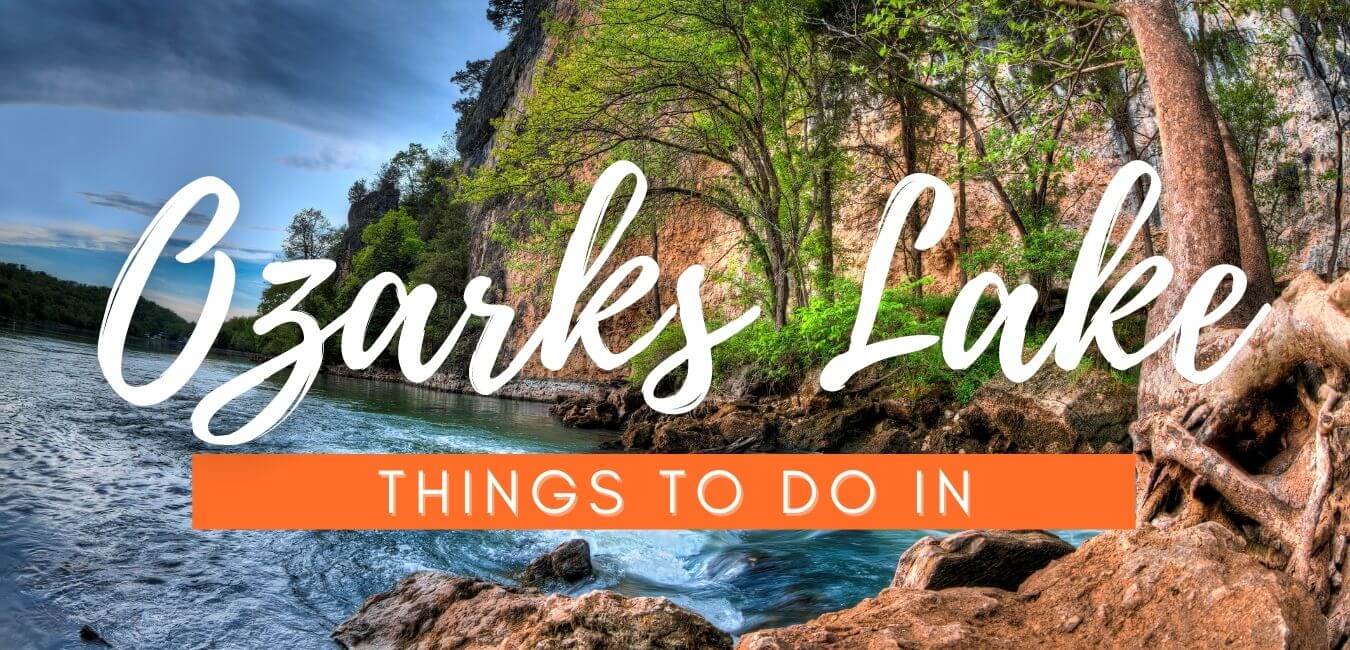 Lake Of The Ozarks Attractions
The Lake of the Ozarks is one of Missouri's most popular lakes, and with good reason. There are things to do in Lake Ozark for people from all walks of life. Whether you want to go camping or jet skiing, there are things to do in the lake of Ozarks that will suit your needs. The Lake of the Ozarks was created by Osage River in 1931. The Lake of the Ozarks is quite deep. The water depth is only 90 feet in most places and is even less in others. The highest depth is 130 feet.
The Ozarks is also home to some of Missouri's most popular attractions. The Lake is open year-round and has a large variety of fish species that call it home including catfish, crappie, largemouth bass, carp, and more. Fishing is also popular in this area as well as camping or boating on the lake's crystal clear waters.
There are many activities to do in the Lake of the Ozarks such as golfing, camping, boating, and fishing, miniature golf, tropical island cruise, water skiing, etc.
Tours & Things to do hand-picked by our insiders
Here are the 10 best things to do in the Lake of the Ozarks:
1. Lake of the Ozarks State Park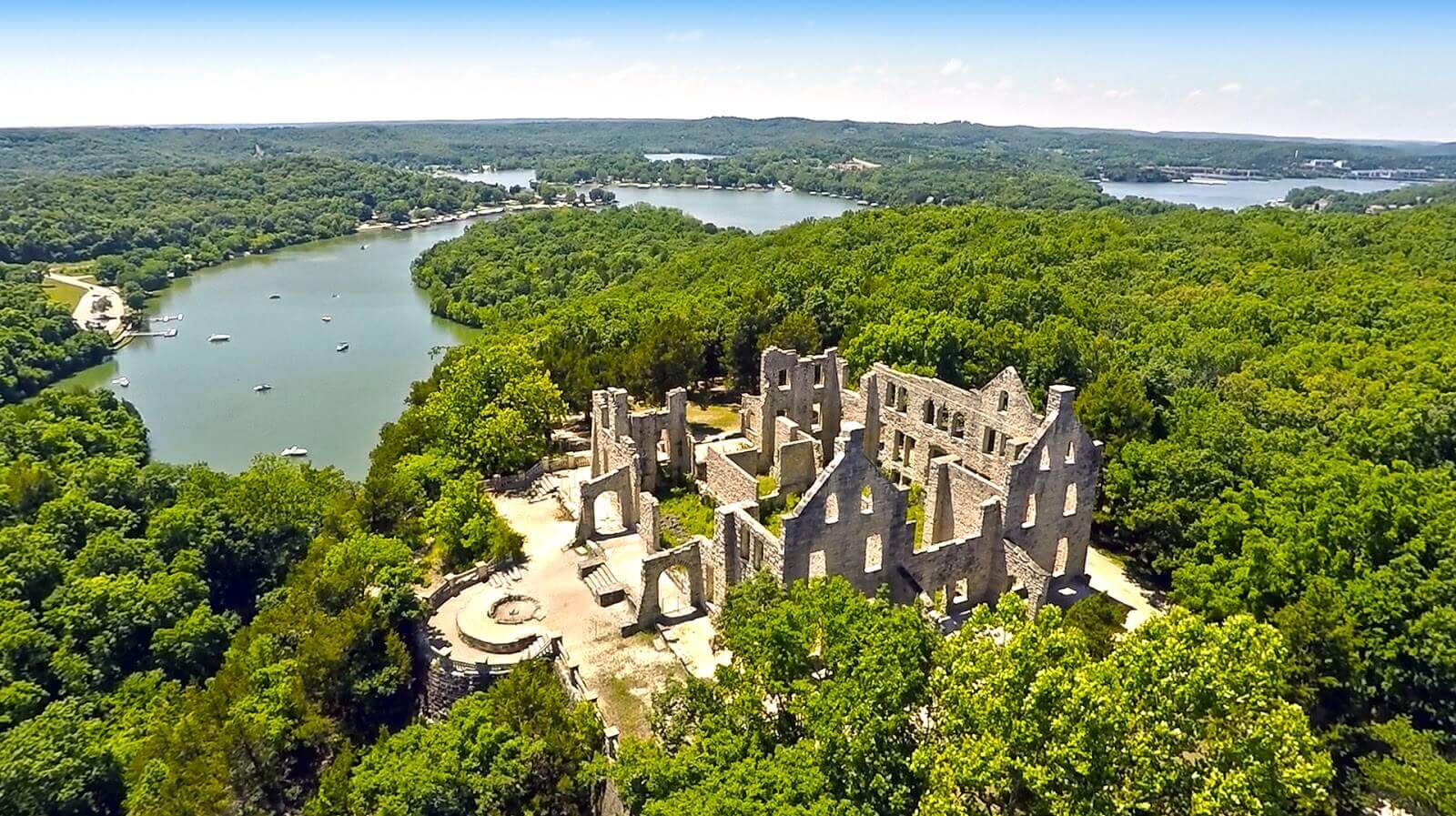 Lake of the Ozarks State Park
The Lake of the Ozarks State Park is a Missouri state park located on the southeast side of the Grand Glaize Arm. The Ozark Mountains provide beautiful landscapes, and there are 17000 acres here for you to explore. The Lake of the Ozarks State Park has two marinas with fishing supplies, boat rentals, and some insider tips.
Lake of the Ozarks State Park is a great attraction for camping enthusiasts or those who just want to spend time on beautiful natural beaches. Boat rental services are available at both Marinas A and B to get you out onto the water. Many other activities can be done here like hiking, horseback riding, wildlife viewing, birding, boating, and swimming.
The park features sandy beach areas which are great for fishing as well as diving into cool waters during hot days!
Kids will love exploring all over this 17000-acre state park where they'll find lots of other fun activities.
Trailheads on the Trail of Four Winds are marked with signs that offer information about what is found along this 13-mile trail.
The Trail of Fourwinds winds through forests, meadows, and streams while providing great views for those who hike it.
Other activities to do at Lake of the Ozarks State Park include a guided tour of Ozark Caverns or fishing in one of its many lakes.
Address: 403 MO-134, Kaiser, Missouri
2. Lake Activities in Ozarks State Park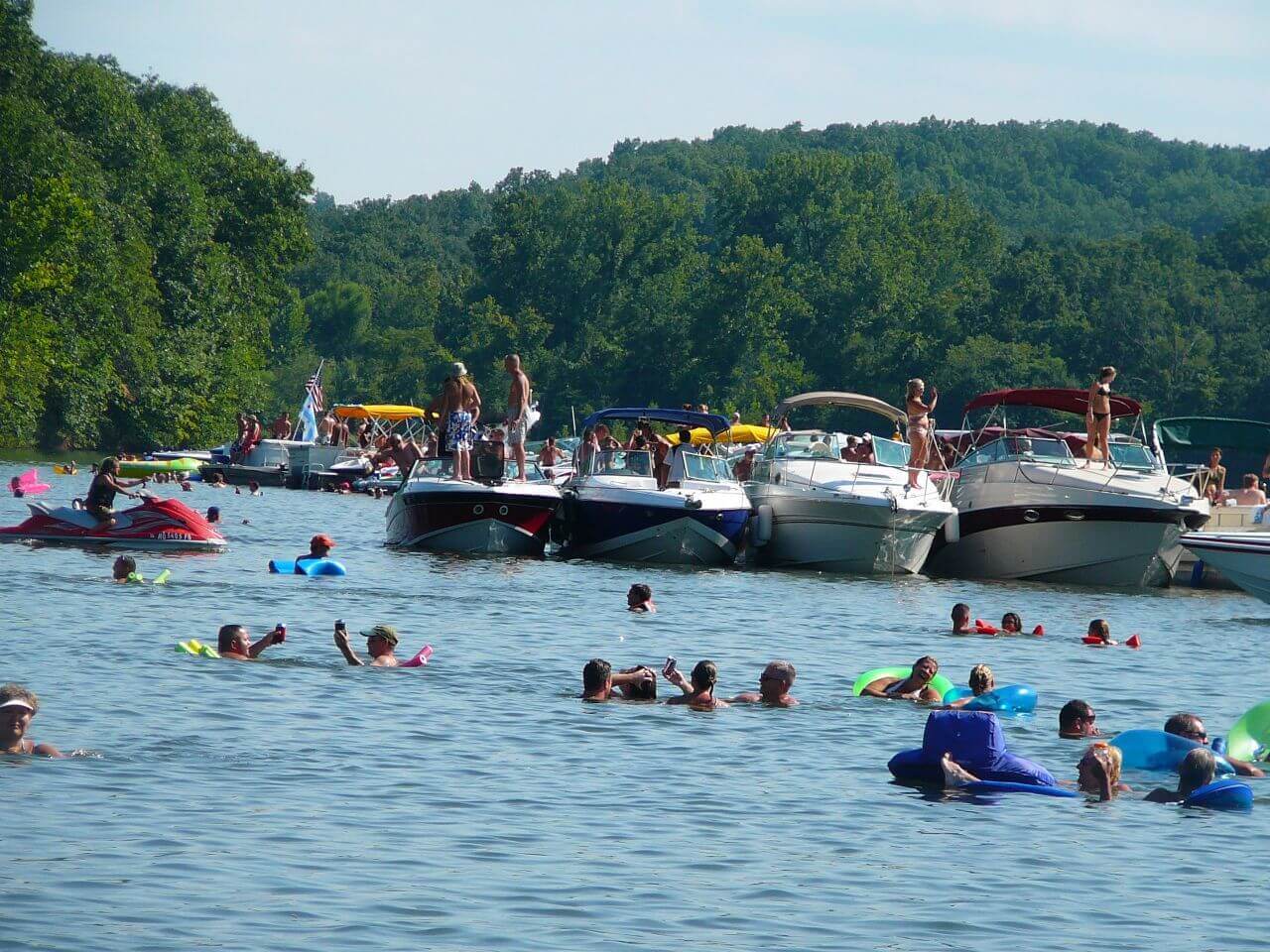 Ozarks State Park Lake Activities
Lake activities abound at Ozarks State Park. One can boat from the shore or rent a boat to explore on water, and there are plenty of sandy beaches for fishing as well! Kids will love this state park with many opportunities for exploring forests, meadows, and streams which provide great views. A guided tour of Ozark Caverns is also available here along with other fun options like horseback riding or wildlife viewing, mountain biking, a water trail, camping and cabins (even yurts!), and cave tours.
Experiencing Lake of the Ozarks should be an activity not to miss! Renting boats through outfitters such as Dirty Duck Boat Rental in Osage Beach makes it easy to get out onto the water even if you have no experience (rental includes life jackets). Fishing enthusiasts know that boat rentals are ideal for fishing from boats and shorelines. For more information visit the boat rental website at DirtyDuckBoatRental.com.
The Ozark region is home to a wide range of fish species, with some found unique to the region. The most common and popular fish species for angling are largemouth bass, striped bass, catfish, crappie, walleye, and bluegill.
A great place to stay if you're looking to explore the Lake is at the Cabins on the River in Osage Beach, MO. These cabins are only about half a block from the water and have all the amenities of home! The Cabins on the River has six cottages that will accommodate 4-6 guests with two bedrooms, one bath, a covered porch, and a living room. Each cabin can be rented for $119 per night. If you're planning on hosting guests this summer (or just want some peace for yourself), check out these cabins.
Also, you can stay at The Lodge of Four Seasons! The Lodge of Four Seasons is an elegant resort that features a championship golf course, luxury accommodations, and relaxing spa services. The Resort also has several restaurants along with meeting and banquet facilities.
3. Golf Courses at Ozarks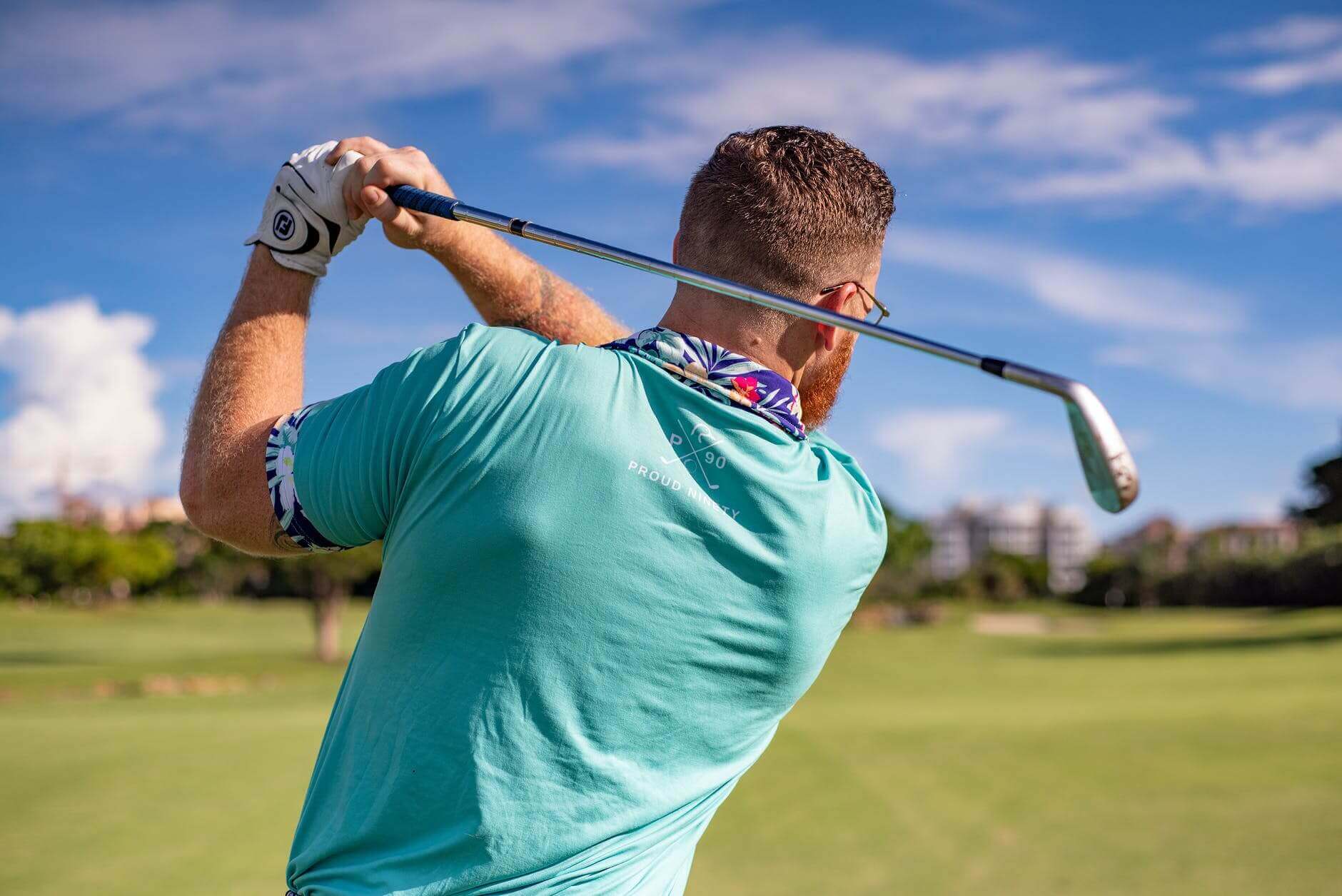 One of the most popular things to do at Lake of the Ozarks is golfing at one of many golf courses. Featuring lakeside courses with expansive views, golfing at Lake of the Ozarks is more than just the experience of swinging a club, it's an outing into a beautiful Osage Mountain landscape.
All skill levels will find something to appreciate in these dozen-plus golf courses at Osage National Golf Resort (a Palmer Signature Course). Nearly all courses are open to public play and some offer picture-perfect rounds like Osage National Golf Resort. Here there are 27 holes for you to enjoy,  an Arnold Palmer Signature Course, offer picture-perfect golf rounds.
Golfers will also enjoy Bear Creek Valley Golf Club which has a challenging course and is great for the novice. It's is located nearby and accepts public tee times.
The Ozark region offers golf courses with scenic views from all of its regions, so there's no excuse to not try this sport.
In Camdenton, Old Kinderhook Golf Course is regarded as one of the best in the Ozarks. This championship course features rolling hills and long putts with every hole providing a picturesque layout. The course is also home to a popular spa and resort.
4. Bagnell Dam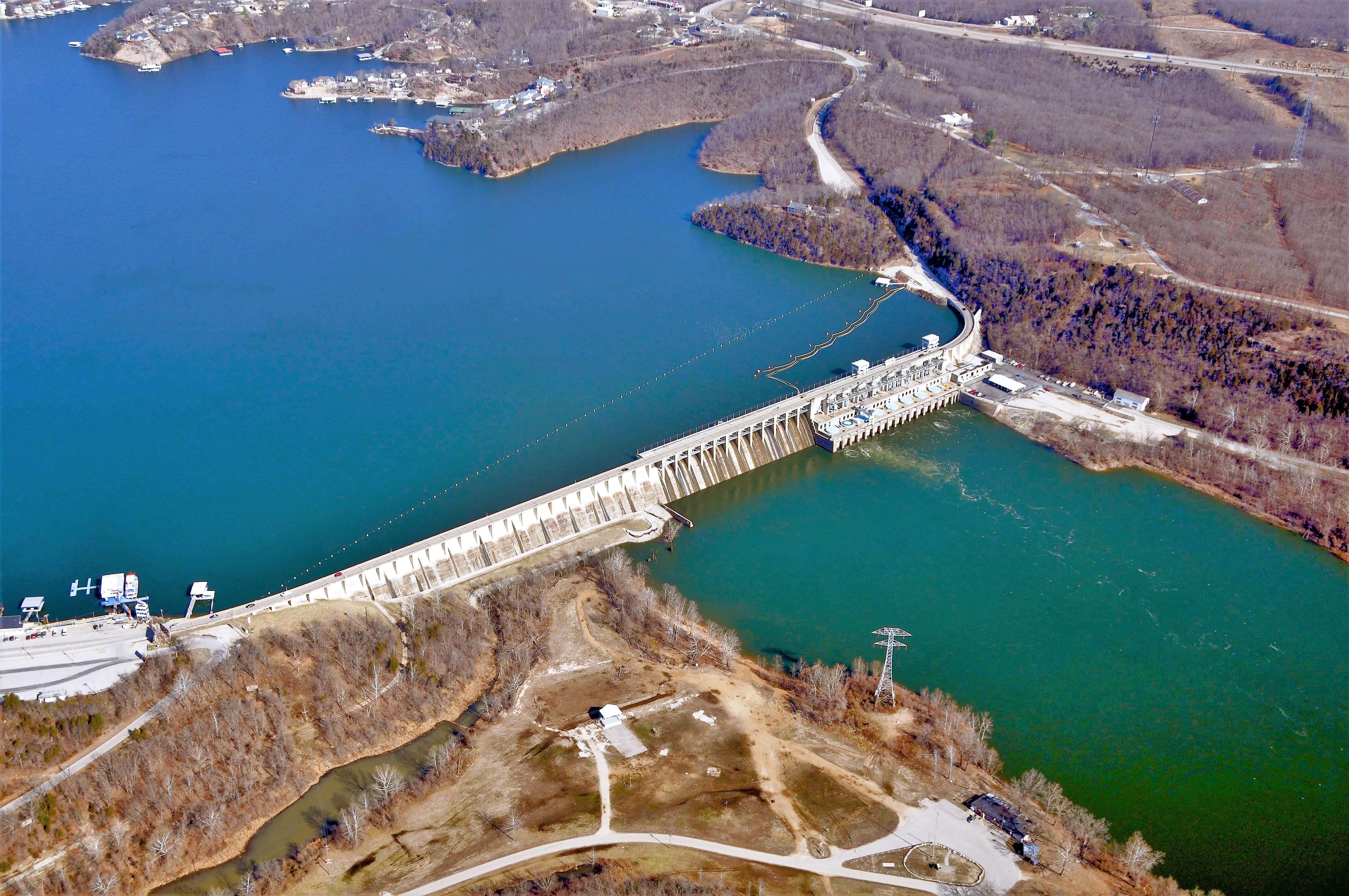 Bagnell Dam is a man-made dam that generates hydroelectric power for the Missouri River's barge traffic. Bagnell Dam also provides flood control to downstream areas. The dam is located in southern Missouri on a meander of the Big Piney River, about 5 miles northeast of Newburg. It's about 1200 feet long and 130 feet high. Bagnell Dam was built in early 1931.
Here are a few things that you can do at Bagnell Dam! Whether you're looking for indoor or outdoor activities, there's something here for everyone.
Outdoor Activities:
-Take a guided tour from Bagnell Dam Overlook on Upper Power Plant Road. The overlook is located 100 yards off Highway 7 and provides an incredible view of the facility. You'll be able to see how the dam was built and learn about its history.
-A road trip through the top of the dam and get off your car at the observation platform. This will give you an excellent view of the dam as well as the Lake of the Ozarks (on clear days).
-Bike or hike around the lake, great for a day of outdoor exercise.
-Visit the Bagnell Dam Strip on Highway 54 (the east side of the dam). This strip features classic summer fun and family-friendly restaurants, unique shops, and the Hot Summer Nights Motor Festival. Here you can get your fill from cotton candy to hamburgers!
Inside Activities:
-Take a guided tour inside one of three power plants at Bagnell Dam – Upper Power Plant Road, Middle Power Plant Road, or Lower Power Plant Rd. Tours are offered year-round by appointment only so make sure to call ahead! There's no better way than this to learn about energy production in an environmentally sound facility while experiencing all that hydroelectricity has to offer.
5. Bridal Cave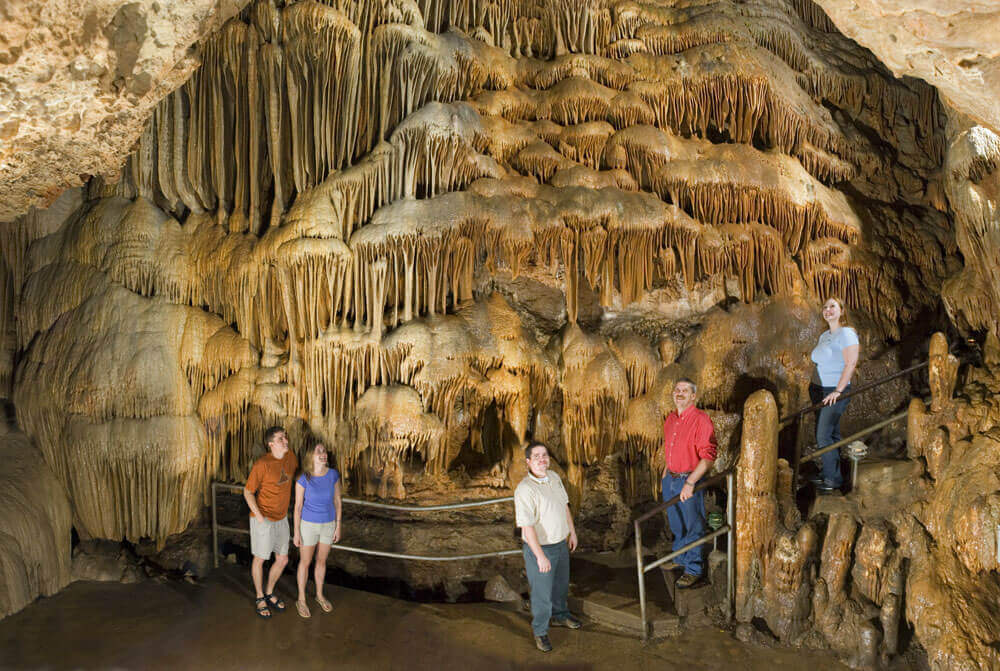 Bridal Cave
Bridal Cave is located near the city of Camdenton, Missouri, and was a part of Osage Native American culture for centuries before the lake was created. The cave's name comes from its history as a site where maidens would eat to increase their fertility before marriage.
The subterranean nature of the area makes it consistently a comfortable 60 degrees Fahrenheit all year round, and people often come here to take guided tours that showcase some of the most beautiful features in there- giant columns, sensitive soda straws, and mysterious lakes.
The cave is about 32 acres in size and can be explored by walking the loop trail. There's a variety of vegetation inside, like mosses and ferns that grow on the walls of water-carved passages. Visitors will also see evidence of other animal life such as bats and raccoons which call the place home.
Address: 526 Bridal Cave Road, Camdenton, Missouri
6. Ha Ha Tonka State Park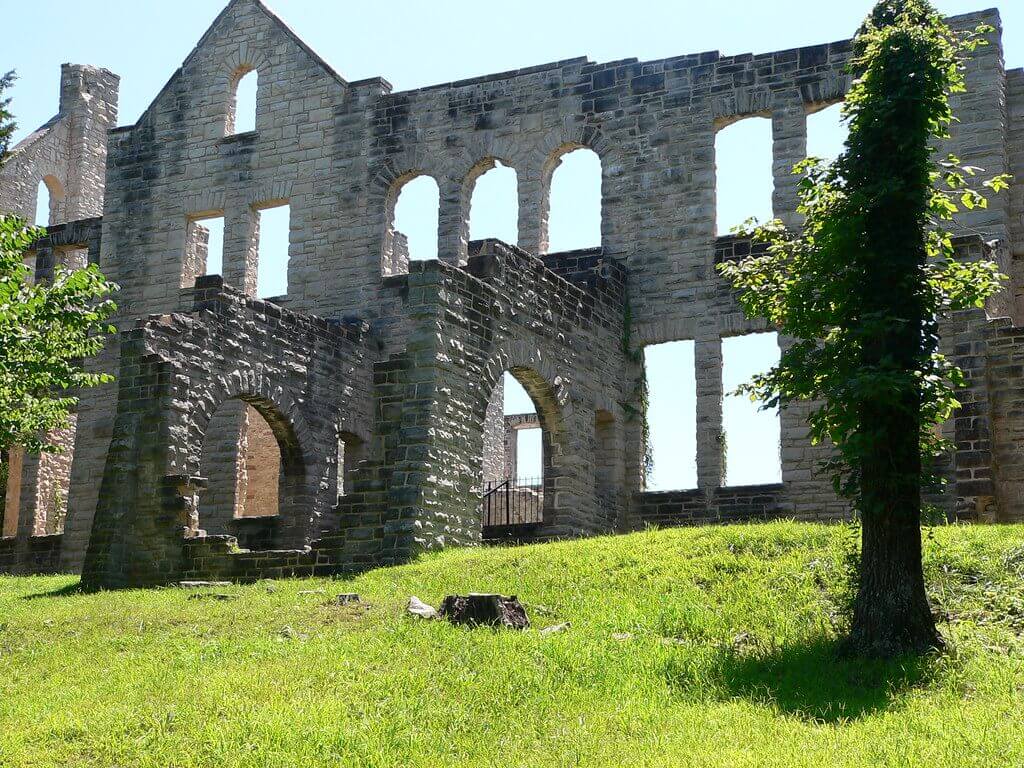 Ha Ha Tonka State Park
Ha, Ha Tonka State Park is a park in Camdenton, Missouri which contains the largest publicly-owned shelterbelts of mature trees found anywhere in the Midwest.
The 3000-acres of the park make it one of Missouri's largest and most beautiful parks. The area features many lakes, hiking trails, fishing spots, cabins for rent – all centered around a gorge with low cliffs that drop into the water below.
Ha, Ha Tonka State Park is popular with Missouri residents and draws in many visitors from across the country to enjoy its lakes and natural beauty.
The park has a variety of wildlife- deer are often seen on the trails and wild turkey, beaver, and other small animals that call this place home.
Other features include picnic shelters, campsites (both electric sites and primitive), horseback riding facilities for beginners up to advanced riders plus stable offering hayrides & buggy rides – everything you need for the perfect family adventure.
The park is home to the Ha Ha Tonka Spring falls, a beautiful waterfall that spills from one of the many cliffs into the gorge below. The waterfalls are also used for kayaking and other river activities.
Aside from exploring geological features- such as sinkholes, caves, and a natural bridge -guests can enjoy hiking also.
Address: 1491 State Road D, Camdenton, Missouri
7. The Historic Willmore Lodge at Lake of the Ozarks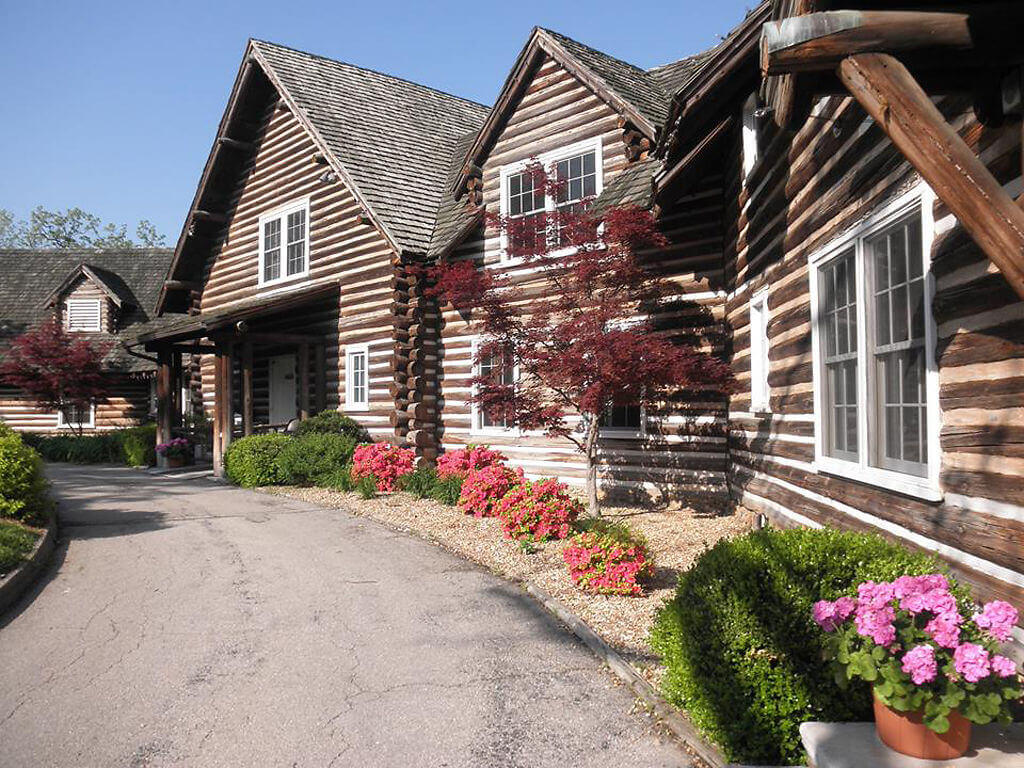 Source: Willmore Lodge
Willmore Lodge is located on the National Register of Historic Places and has been a part of Lake of the Ozarks history for over 90 years.
This striking wooden-log building was constructed by Union Electric in 1930 alongside Bagnell Dam to serve as an observation platform at the top. Visitors to Willmore can take in its rustic aesthetics while enjoying displays about this historic site's interesting past- such as how it came to be established, why that name was chosen (for Colonel William Willmore), and more. A great first stop when visiting Lake of the Ozarks!
Visitors will enjoy displays about this historic building's interesting past while enjoying its rustic aesthetics. A great first stop when visiting Lake of the Ozarks!
The visitor center at Willmore Lodge can point you in the direction of more things to check out in the area. But with any stop, the panoramic view of the lake offered by the Willmore Lodge is worth the stairs leading down to the observation deck. The lodge and visitor center are both open year-round.
Address: 1 Willmore Ln, Lake Ozark, Missouri
8. The Swinging Bridges of Brumley
Swinging Bridges of Brumley
The Swinging Bridges of Brumley are located within the southeast boundary of Lake of the Ozarks State Park near the small village of Brumley in Missouri. The bridges were built by Joseph A. Dice in the 1930s.
The Swinging Bridges of Brumley are comprised of two swinging bridges that span the Osage Creek. One is a steel suspension bridge and one is an American Indian style earth-filled cable footbridge.
Stories abound about why Dice constructed this attraction, but it's most likely he was just looking for something different to do with his time creating things out of wood from scratch. He used aspen logs in many parts because they were plentiful locally.
The Auglaize Bridge is still used as a tourist destination to this day, despite the loose planks. The whole area surrounding the two bridges is dense woodlands with many activities, such as swimming in the shallows of Auglaize Creek or camping onshore.
Address: Glaze Township, MO 65017, USA
9. Big Surf Waterpark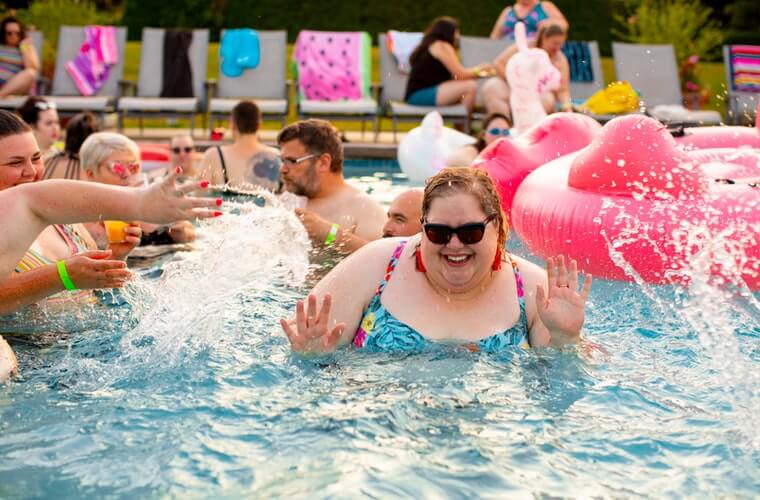 Big Surf Waterpark
Located halfway between Springfield and Branson, Missouri. – Open seasonally from May through August 18th, or by reservation year-round.
Nothing beats the heat of a Missouri summer quite like an afternoon at  Water parks. Situated just south of Osage Beach and Lake of the Ozarks State Park, Big Surf Waterpark features raging rapids, lazy rivers, and a variety of water attractions.
The adventure begins at the entrance with a giant life-sized duck and you are welcomed by our friendly staff. As you walk through, there is plenty to see from wildlife exhibits, picnic tables, an amphitheater for summer concerts, and more. Big Surf includes the three-story-high Zambezi Falls water halfpipe and the 30-foot-wide Space Bowl that patrons drop into. While you are at Big Surf Waterpark, a session in the 375,000-gallon wave pool is a must.
You'll find yourself in one of three areas: Rivertown Crossing has the lazy river; Ozark Mountain section showcases attractions like riverside rapids and slides; Western Town has shops, restaurants, and live entertainment on weekends.
There are many water attractions in each area, including tube rides or family raft rides (extra fee). There's also "Big Surf," an interactive splash pad that features tumbling buckets with tubes for kids to play inside them.
Address: 954 State Hwy Y, Linn Creek, Missouri
10. Stark Caverns Oz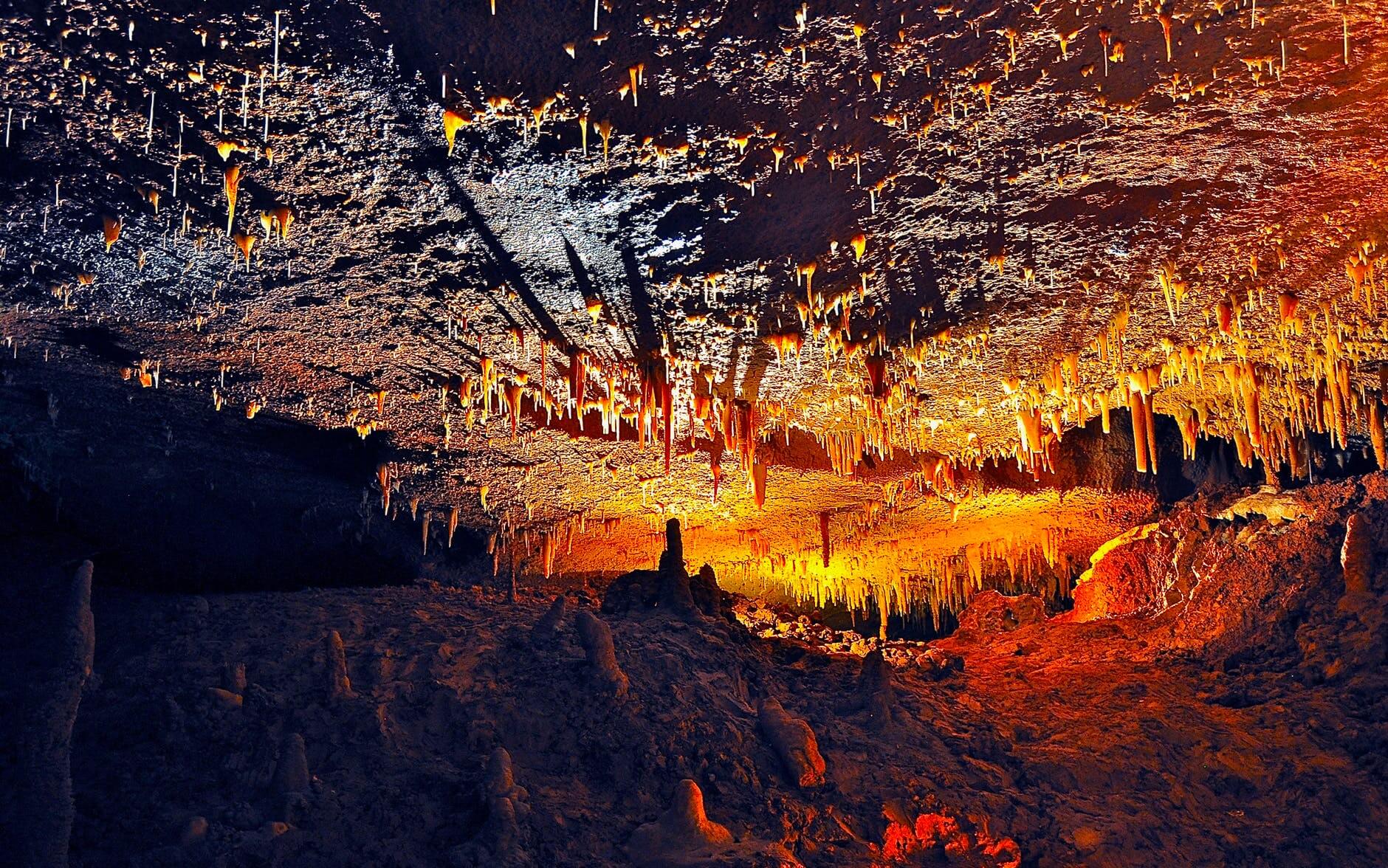 Stark Caverns Oz
Stark Caverns has been open for over 50 years. Stark Caverns offers a variety of attractions, such as tours of the caverns and cave formations, which are illuminated with electric lighting to preserve natural darkness; zip lines that follow the course of Mill Creek Canyon.
Various pathways up to spectacular overlook points where you can see more than 60 miles on a clear day at Stark Mountain or enjoy views from atop one of our two mountainside towers.
Stark Caverns also offers rappelling (extra fee) from either an 80-foot cliff into Lake Leatherwood or down a 165-foot waterfall in Stark's Gorge.
Address: 125 Cave Dr, Eldon, MO 65026, USA
11. Spa 54 at Old Kinderhook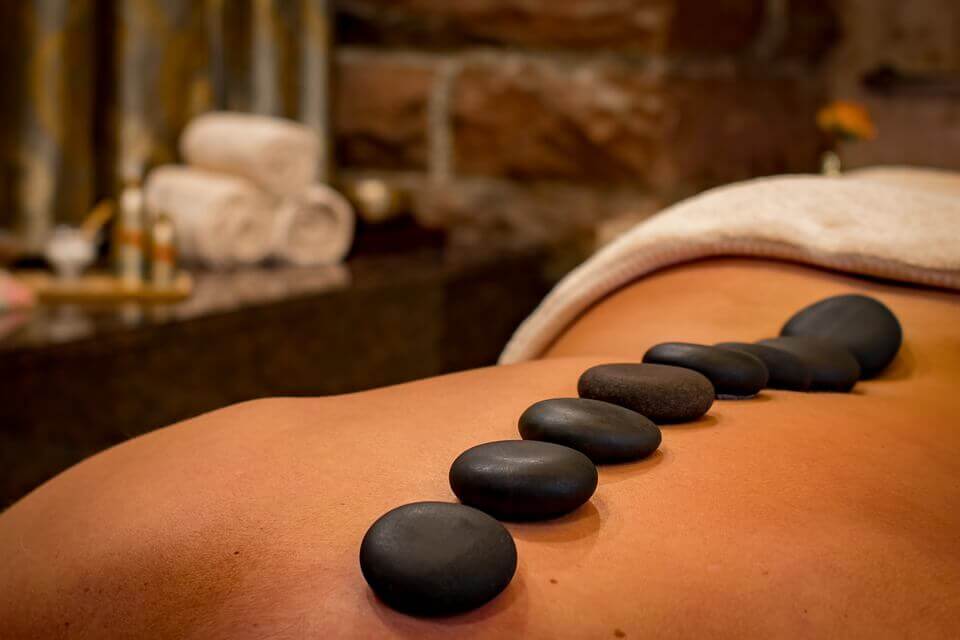 Spa at Old Kinderhook
This spa resort, located at Willmore Lodge in the Ozarks, is a great place to relax and unwind. Spa 54 offers a variety of services for guests from massages to facials to pedicures- there's something for everyone!
The following are some of my favorites:
Spa Pedicure: A traditional manicure with our signature scrub and paraffin treatment followed by an exfoliating sea salt soak, which removes dry skin cells that can cause nail problems. The polish application finishes off this wonderful experience. Enjoy it all while soaking up views overlooking Lake James (extra charge) or enjoy being pampered right on-site if you're visiting Old Kinderhook Resort Inn & Suites during the summer.
Spa Massage: Relax and enjoy a stress-relieving massage. Our therapists are skilled in Swedish, deep tissue, sports, or shiatsu techniques to help relax your muscles for an overall sense of well-being (extra charge).
Body Scrub: A treatment that begins with massaging the body using a sugar scrub made from a blend of sugar, yogurt, and essential oils. This removes dead skin cells to reveal a soft, new layer. Followed by an oil massage with more scrubbing action that will leave your skin feeling silky smooth – you'll want the treatment all over!
Address: 56 Club Pl, Camdenton, MO 65020, USA
Beach Vacations in 2022: During the current Covid environment, face masking and social distancing are necessary everywhere in the world as well as on public beaches.
Lake of The Ozarks Facts:
Bagnell Dam was completed in 1931, which officially formed the Lake of the Ozarks.
It's one of America's Top 100 Parks that offers something fun for everyone because there is so much to do!
Bagnell Dam is 2,543 feet long.
Lake of the Ozarks measures about 150 km in length with an average depth of 20 feet and a maximum depth of around 1300 feet.
The Lake of the Ozarks holds roughly 617 billion gallons of water.
The Lake of the Ozarks is the largest man-made lake in America. The surface of the Lake covers approximately 61,000 square miles and it's also one of the largest in the world.
The Lake is home to approximately 70,000 docks.
Of all people who own two homes in the Midwest, 40% own one of them at the Lake of the Ozarks.
Today, the Lake of the Ozarks is the second-largest manmade lake in Missouri (behind Truman Lake).
What To Do In The Ozarks
Discover the endless adventure awaiting you in the Ozarks! From hiking picturesque trails to exploring stunning caves, this region offers a plethora of outdoor activities. Immerse yourself in the vibrant local culture by attending music festivals and exploring charming towns. Embark on a memorable fishing trip or indulge in water sports on pristine lakes. The Ozarks promises a memorable experience for nature enthusiasts and adventure seekers alike.
How Deep Is Lake Of The Ozarks
Lake of the Ozarks, located in Missouri, reaches depths of up to 130 feet. This popular tourist destination covers an expansive area of 54,000 acres, providing ample opportunities for fishing, boating, and other water activities.
How Big Is Lake Of The Ozarks
The Lake of the Ozarks in English is a sprawling reservoir located in central Missouri. Covering a surface area of approximately 54,000 acres, the lake stretches over 92 miles with more than 1,150 miles of shoreline. It is renowned for its pristine waters, recreational activities, and stunning scenery.
How To Visit The Ozarks
The Ozarks is a sprawling mountain range located primarily in the central and southern parts of the United States. Stretching across multiple states such as Missouri, Arkansas, Oklahoma, and Kansas, this region offers a diverse landscape with beautiful forests, rolling hills, and picturesque lakes.
To visit the Ozarks in English, one can start by researching the various national parks and state parks within the area, such as the Ozark National Scenic Riverways or the Mark Twain National Forest, which provide excellent recreational activities such as hiking, fishing, and camping.
Furthermore, visitors can explore charming towns and cities like Branson, Missouri, known for its live country music shows and family-friendly entertainment options. It is advisable to plan the visit during spring or fall, when the weather is pleasant and the picturesque beauty of the Ozark Mountains is at its peak.
Additionally, tourists can engage in water-based adventures by renting canoes or kayaks to explore the region's crystal-clear rivers and lakes. No matter the chosen activities, a visit to the Ozarks in English promises a memorable experience immersed in Nature's scenic splendor.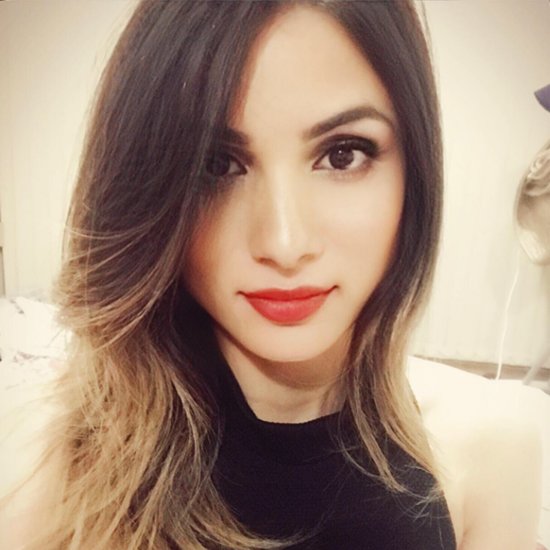 Hello, and welcome to Travel Crog, a site where I share my travel advice for your dream vacations. My name is Molly Martin, and I'm the founder and editor-in-chief of this site. I have a passion for travelling and exploring new destinations, and I want to inspire you to do the same. Six years ago, I left my job as an HR professional and embarked on a three-month trip around the world. It was an amazing experience that changed my life and perspective. Ever since then, I have been travelling as much as I can, and writing about the best things to do, see, and eat in every place I visit. Whether you're looking for a city break, a beach getaway, or a mountain adventure, I have something for you. Travel is not only fun, but also empowering and enriching. Join me on my journey and discover the world with Travel Crog. My motto is: "Life is short, travel more."