Phoenix is a popular destination for travelers from all over the world. It's a vibrant city with plenty of attractions and activities to fill your time.
Some of the best things to do in Phoenix include hiking, biking, golfing, visiting museums or galleries, or taking in some live music at one of many local venues.
You can also enjoy an upscale meal at one of dozens of restaurants on offer within this major metropolitan area. There are so many different ways to spend your time here.
If you want more information about what there is to see and do during your visit, we invite you to explore the rest of the post.
1. Scottsdale Fashion Square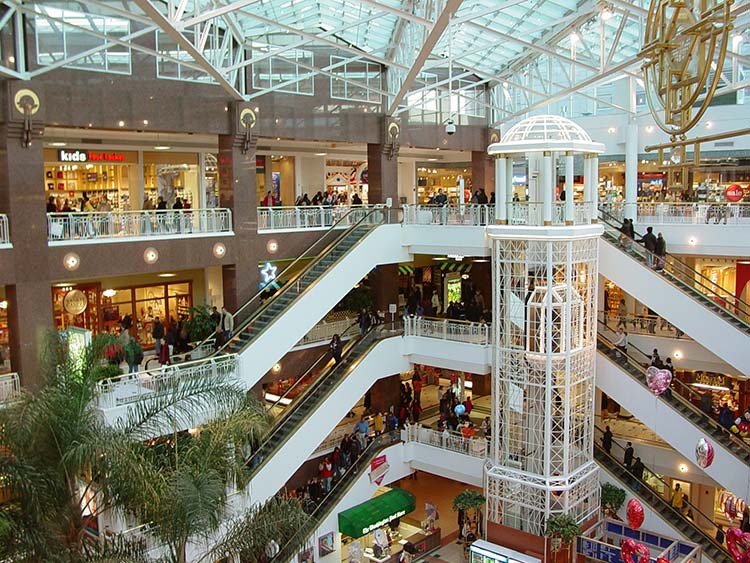 Scottsdale Fashion Square
Scottsdale Fashion Square Phoenix is a mall that has been open for nearly 60 years. It's three floors and offers 225 tenants, including six anchors: Dick's Sporting Goods, Dillard's, Macy's, Neiman Marcus and Nordstrom.
You can also find Harkins Theatres inside the mall. Some of the popular fast casual restaurants near the mall include Five Guys, Chipotle Mexican Grill Inc., Johnny Rockets LLC., Shake Shack Inc. and Panda Express Inc.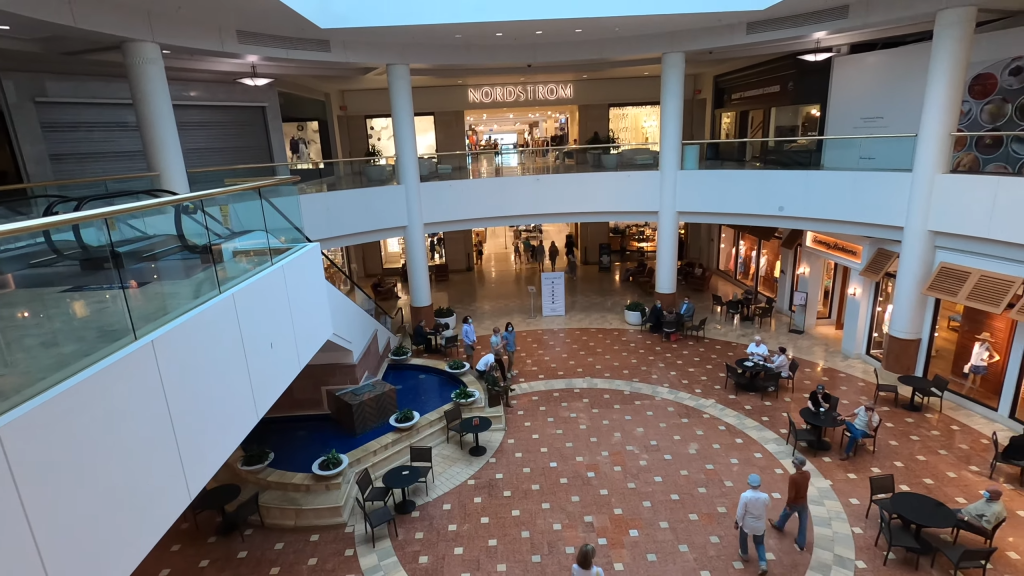 It is located in Scottsdale Arizona which is home to casinos which are a popular attraction for visitors as well as other nightspots and spas that you will be able to enjoy while visiting this destination.
It is nearly 60 years old and has been consistently evolving with expansions. There is a neat balance between premium brands like Prada, Jimmy Choo, Gucci, Burberry and Tiffany & Co., and midmarket stores like Gap, H&M, Zara and Foot Locker.
Related Post: Things To Do in Arizona
2. State Farm Stadium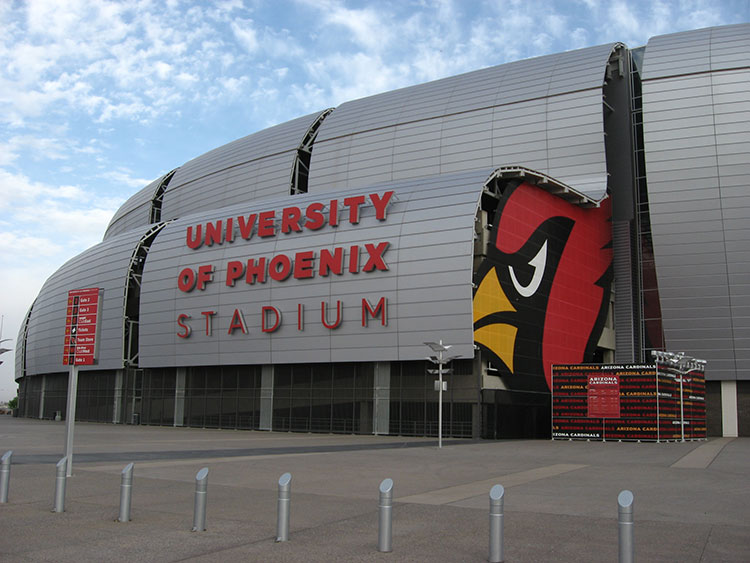 State Farm Stadium
State Farm Stadium Phoenix is a monumental piece of sports architecture and the home of the Arizona Cardinals, Glendale's State Farm Stadium.
Tours & Things to do hand-picked by our insiders
This $500m stadium can seat 64,400 for regular season games and has no obstructed seats, while the capacity can be boosted by another 8,800 for the biggest events.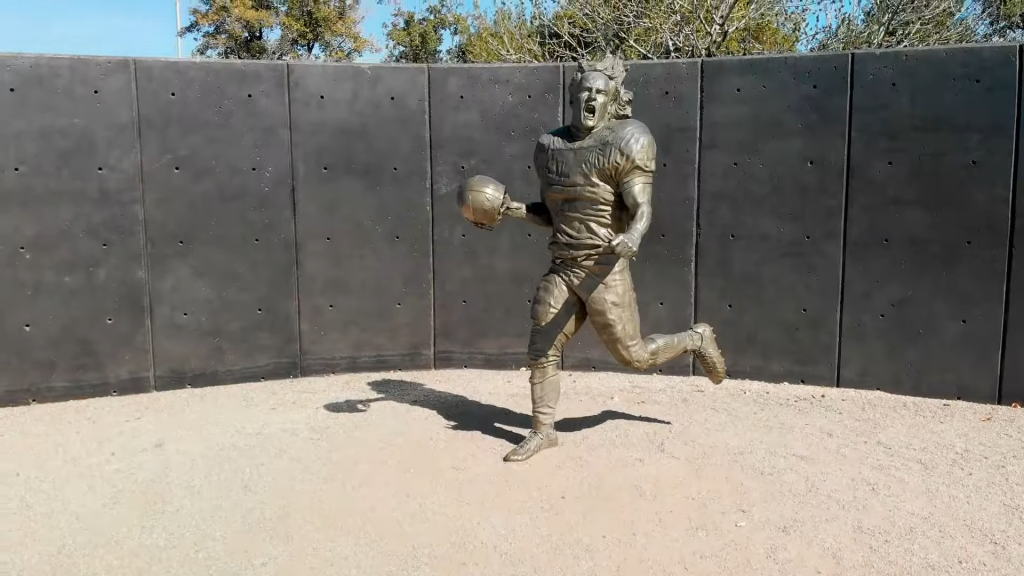 The State Farm Stadium is one of the few in the NFL with a retractable roof, and only one with a roll-out grass field. You may find it tricky to get to one of their eight regular season home games; however there are three tours a day from Wednesday to Saturday outside game days.
The Behind the Scenes tour guides you to press box, visitors locker room and out onto field to gauge dimensions this marvel of engineering and design.
3. SEA LIFE Centre Arizona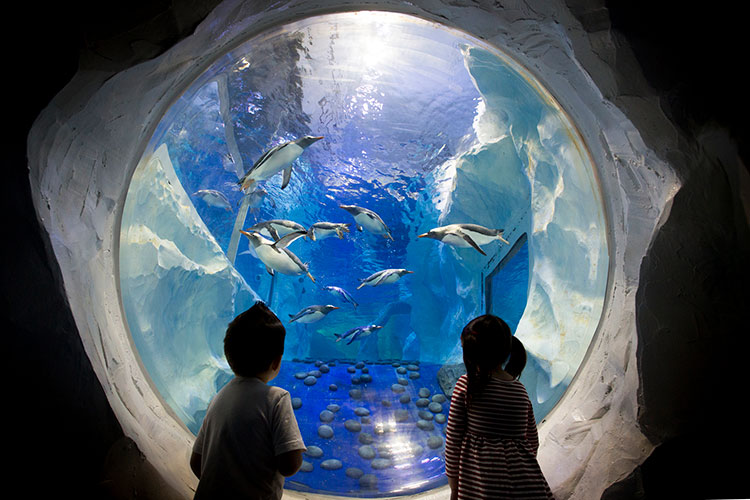 SEA LIFE Centre Arizona
SEA LIFE Centre Arizona Phoenix is a great place for travelers to visit.
Located near Tempe and an easy day out from Phoenix, this 2,415-cubic-metre aquarium holds sharks, rays, green sea turtles and all sorts of colourful tropical fish.
The stars at SEA LIFE Arizona might be the seahorses which have their own exhibit: Temple of the Seahorse and are bred at the aquarium as part of a worldwide breeding program.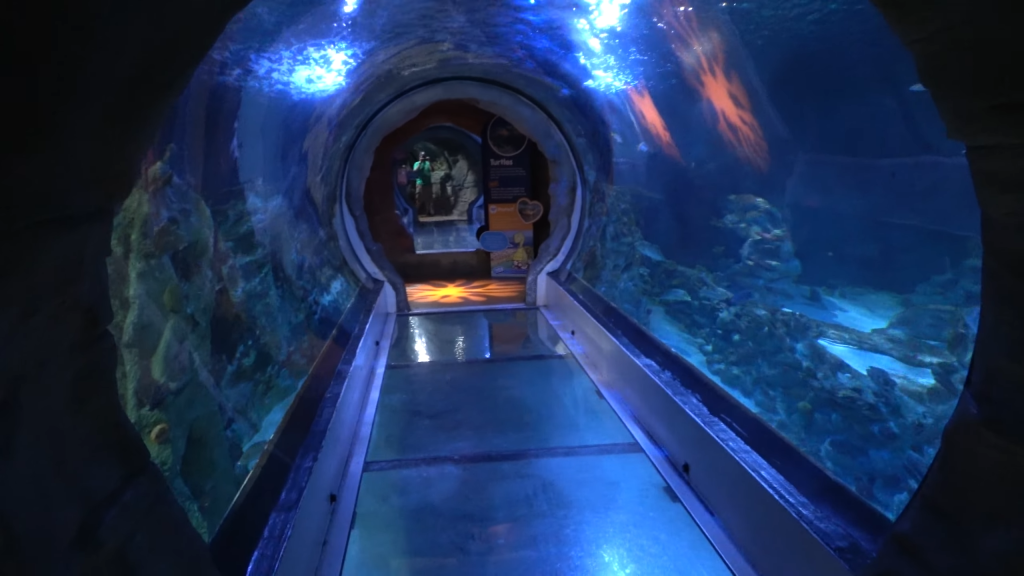 The Shoaling Ring is impressive with hundreds of barred flagtails in one silvery mass while the Interactive Tidepool lets you touch rockpool species like starfish and sea urchins.
Try to catch one of many talks or feeding times such as Ocean View for better look at the whitetip reef sharks, rays and sea turtles.
4. Heritage Square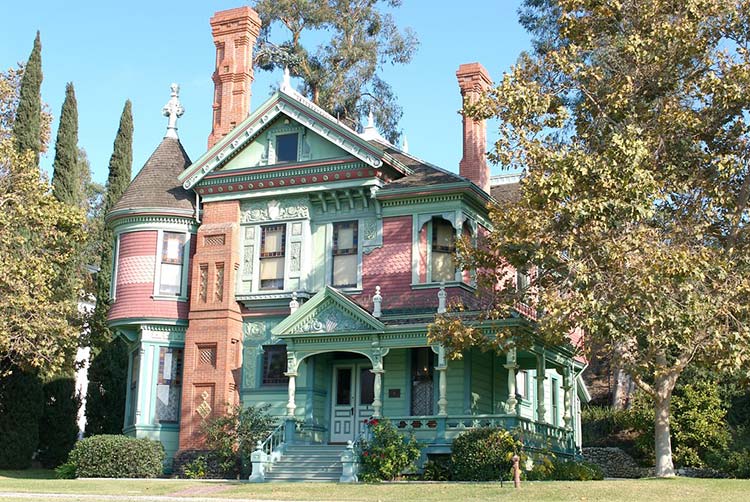 Heritage Square
Heritage Square Phoenix is an urban oasis off the beaten path with a living history lesson. Here's what you need to know before your trip!
Located east of downtown, Heritage Square has an assortment of residences and business properties raised between 1881 (Forest Burgess Carriage House) and 1923 (Hughes-Stevens Duplex).
This is the last surviving set of buildings from the original Phoenix town site, and these interesting pieces of heritage have been put to use as bars, restaurants, gift shops and museums.
The Rosson House next door will be discussed later but in the meantime stop by at the Visitor Center for a worthwhile exhibit on Phoenix's history or head over to Stevens-Haustgen Bungalow to visit the Heritage Gallery, showing how early Phoenix's original 98 blocks became the dynamic downtown of today.
5. McCormick-Stillman Railroad Park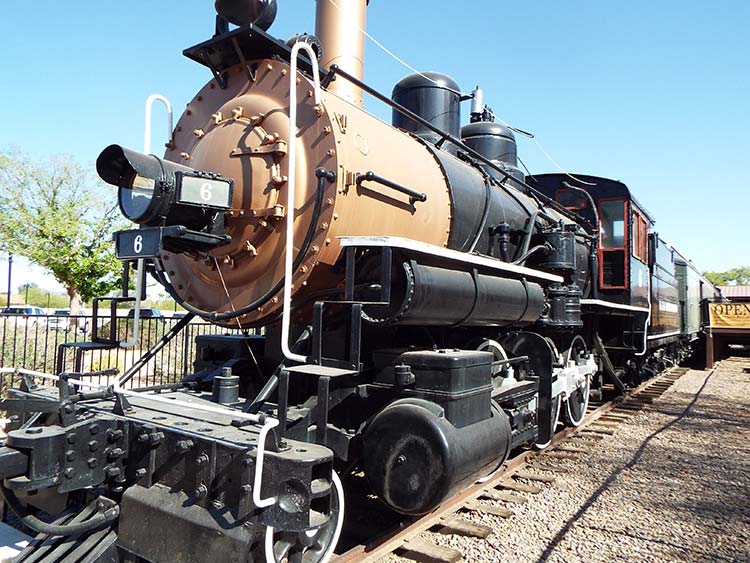 McCormick-Stillman Railroad Park
It's a wonderland for any train aficionado. The McCormick-Stillman Railroad Park is on a piece of a ranch donated to the City of Scottsdale by Anne and Fowler McCormick in the 1960s.
This park features over 40 acres of railroad, with three model railroad clubs and one that runs live steam trains, plus tons more! You can take a ride on their 15″ gauge railroad every half hour or so – we took it around the property.
If your kids like trains too, they'll love this place as well! We also rode their carousel (which has some fun characters), which was really hot outside but luckily had some air conditioning inside after we went exploring. Check out our blog post about what you can expect from our visit to this incredible park.
6. Desert Belle Cruise Sightseeing Cruise on Saguaro Lake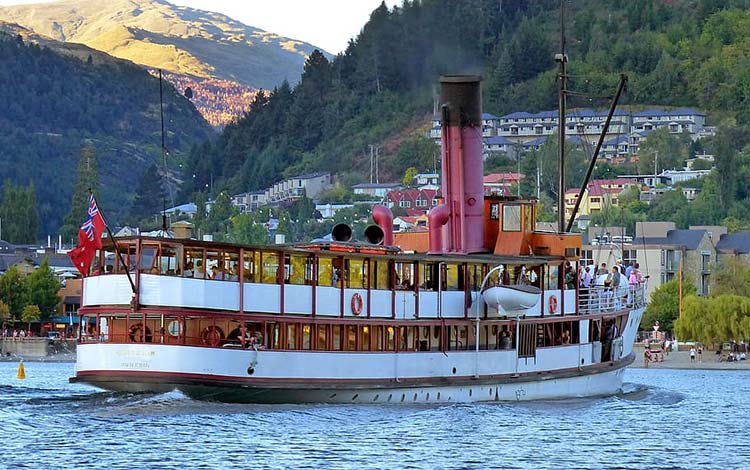 Desert Belle Cruise Sightseeing Cruise on Saguaro Lake
The Desert Belle is a sightseeing boat that has been on the water of Saguaro Lake for over 50 years.
Saguaro Lake is high up on the Salt River and surrounded by rust-coloured slopes of Tonto National Forest.
The Desert Belle offers you the opportunity to travel to this destination in air-conditioned comfort, feeling safe with plenty of shade.
It provides live narration by the captain, pointing out places of interest that you may have missed otherwise.
There's also a concession stand if you find yourself thirsty. From Phoenix, it takes about 45 minutes to get there and you can book your Desert Belle Cruise Sightseeing Cruise on Saguaro Lake Phoenix through Viator.
7. Arizona Science Center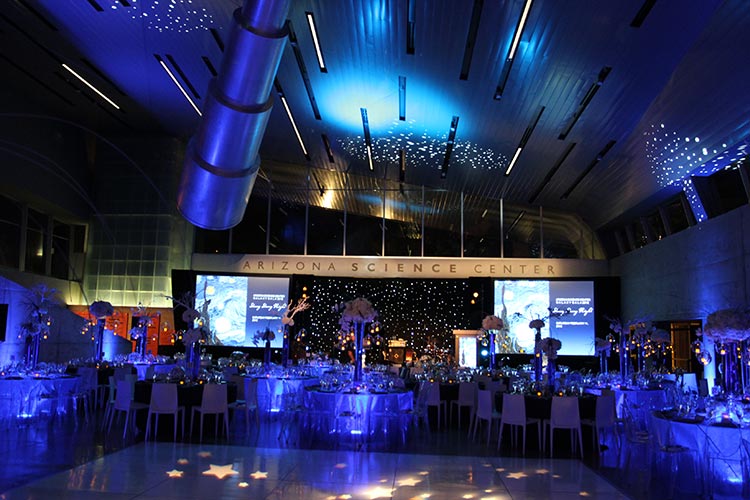 Arizona Science Center
The Arizona Science Center is one of the best science gallery. Just about as active as could really be expected, with four degrees of fun shows exhibiting regular powers like gravity, attraction, rubbing and power, Earth's relationship with the sun, data innovation and the science behind the human psyche and body.
Powers of Nature in the interim uses vivid innovation to blend twisters, out of control fires, a storm and a volcanic ejection.
Additionally here is the Dorrance Planetarium, one of the biggest and generally progressed in the United States.
The Arizona Science Center is currently hosting the first-ever exhibition of Victoria, the largest Tyrannosaurus rex skeleton in the world. This exhibition is open to the public until May 31st, 2022, and it takes visitors back to the time when dinosaurs roamed the Earth.
It brings to life one of the most significant discoveries in the history of paleontology, offering gallery visitors a unique opportunity to explore the Cretaceous period and witness the fascinating story of Victoria unfold in a captivating setting.
8. Mystery Castle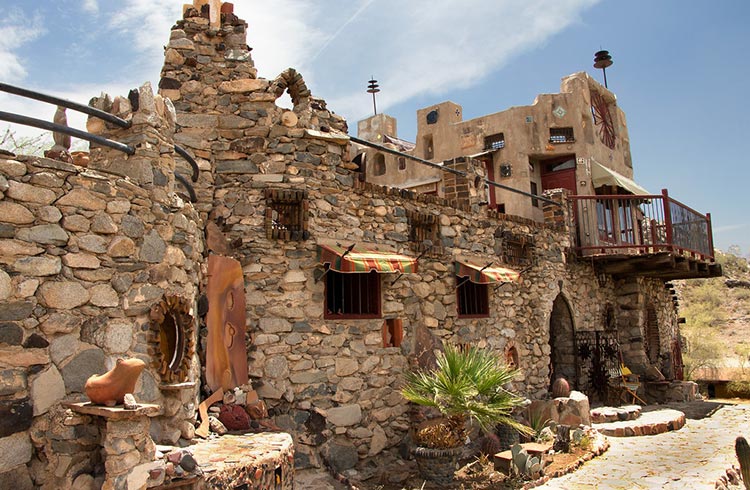 Mystery Castle
From the outset, the hideout on the slope looks dilapidated, with lopsided hand-stacked stones and stripping red-painted columns making up the outside. As I draw nearer, the interests of the creation materialize—wheel edges utilized as windows, distending shaded glass bottles wedged among stones, and even petroglyphs scratched on rock.
Mixing with the northern lower regions of South Mountain Park, Mystery Castle is a strange 18-room three-story manor, similar to a cross between a Gothic palace and a hacienda.
The story behind this landmark, a Phoenix Point of Pride, is intriguing.
On discovering that he had tuberculosis during the 1930s, the Seattleite Boyce Luther Gulley escaped his family for Phoenix without advising them, buying a mining stake and going through the following 15 years building this property on it.
Secret Castle was worked with whatever Boyce could get his hands on, be it stone, adobe, rail tracks, car parts or utility poles.
At the point when his family gotten information on his passing in 1945 they were stunned to find that he had assembled this palace for his little girl, Mary Lou Gulley.
In his will Boyce specified that if his family lived there for a very long time they could open a secret entryway in the house.
The palace contains 18 rooms and 13 chimneys, just as a prison and a wedding sanctuary. The Sand palaces, Wacky and unconventional, Gulley's downfall, The princess' palace everything is brilliantly protected.
Voyages through the Mystery Castle are accessible without reservation from October to May, and are booked consistently from Thursdays to Sundays, 11 a.m. to 3:30 p.m. Affirmation is $10 per grown-up ($5 per kid matured 5 to 12). The site isn't wheelchair available and might be hard for guests with portability issues.
9. Big Surf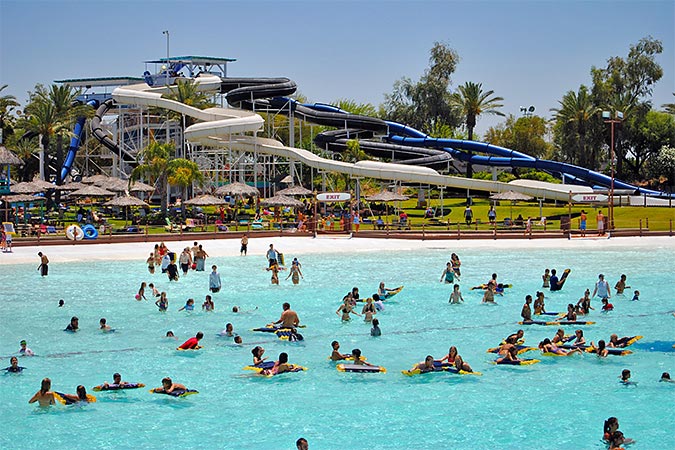 Source: Big Surf
Did you say surfboard? Believe it or not, we're carrying the coast to Arizona! Enormous Surf isn't named after the waves for reasons unknown!
Surfing in Arizona began in 1966 by Phil Dexter when he fabricated the first model of the wave pool in quite a while back yard. After three years he opened Big Surf Waterpark and it became, an objective to get a few waves, yet in addition a hit show setting. Enormous Surf has seen numerous artists including Pink Floyd, Elton John, the Beach Boys and some more!
This 20 section of land focus in Tempe, Arizona, has a large group of rides and attractions to engage the entire family – of all ages! For all ages there are attractions like the exceptionally WAVY Waikiki Beach Wave Pool, with 2.5 million gallons of water – THE spot to be on those blistering late spring days! There are additionally pontoons and boogie sheets accessible to lease!
Those small children will adore the exceptionally tropical sounding Bora Bay, with the fun tipping tree frogs. Ribbit! Every one of those little climbing monkeys in the family will cherish it!
For those children under 48″ Otter Slides are your place to be, with more modest slides dropping down into the tropical cove, and for those more than 48″ – prepare for the tempest! Tropical storm Slides are for that load of little thrill seekers that need to plunge down one of the 3 body slides – weeeeee!
Need something…SCARY! Children – meet The Black Hole! Not for the powerless of heart, you will partake in your ride on a cylinder into an extremely DARK and encased slide! We disclosed to you it was frightening!
At the point when the sun is high and you're searching for activities in Phoenix, Arizona, it's an ideal opportunity to take a sprinkle over to Big Surf! This water park is known for Waikiki Beach wave pool, positioned as the third biggest in North America! With 2.5 million gallons of water, you're certain to remain cool on a hot day.
10. Salt River Fields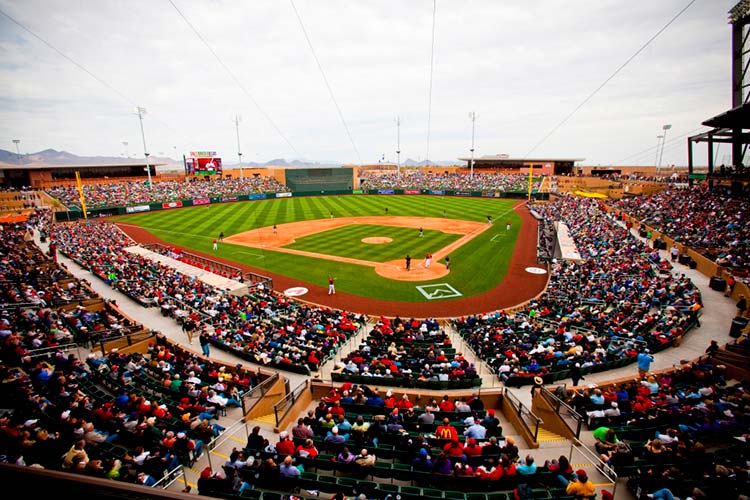 Salt River Fields
Salt River Fields at Talking Stick is the Valley's freshest and most adaptable setting. Situated on 140 sections of land on the Salt River Pima-Maricopa Indian Community in the core of metro Phoenix, it offers simple access from the Pima 101 Freeway.
Its thirteen baseball fields, concealed arena, beautiful party decks, and different parking areas are largely accessible for rental. Open a year, Salt River Fields is the Valley's most innovative objective for occasions, everything being equal, from parties to show and conferences, games, workmanship and social celebrations, or vehicle shows.
Encircled by sweeping perspectives on Red Mountain, Camelback Mountain, the Superstition Mountains, Four Peaks and the McDowell Mountains, Salt River Fields is a stand-out objective.
11. Phoenix Zoo – Fun With Kids in Arizona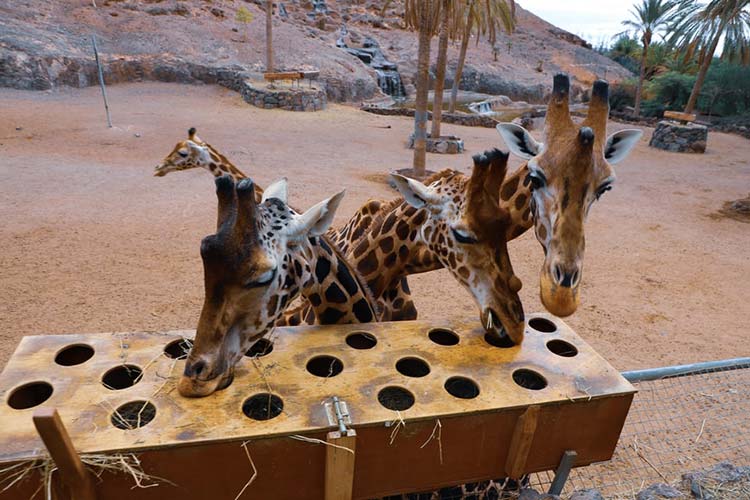 Phoenix Zoo
The Phoenix Zoo is separated into four main trails: the Africa Trail, Arizona Trail, Tropics Trail, and Children's Trail. The zoo has every one of the significant creatures you'd anticipate—giraffes, zebras, Sumatran tigers, Asian elephants, and Bornean orangutans, to give some examples—the Arizona Trail exhibits the plants and untamed life of the Sonoran Desert. There, you'll see local mountain lions, Sonoran pronghorn, javelina, catamount, and the Mexican dim wolf.
Try not to miss Monkey Village, where you can stroll in an enclosure with squirrel monkeys, or Land of the Dragons, the Komodo winged serpent display. Ace tip: If you're in a rush, avoid the Forest of Uco. The exotic creatures on this one-mile strolling trail are regularly hard to spot.
For families with little kids, plan to spend a decent piece of your visit on the Children's Trail. At the Red Barn, they can pet barnyard animals and even make proper acquaintance with Fernando, a two-toed sloth. The close by Discovery Farm offers a play region for youngsters matured year and a half to 5 years, while the Enchanted Forest has slides, spans, and a treehouse for more seasoned children.
12. Lake Pleasant Regional Park – Natural Things to Do in Phoenix Arizona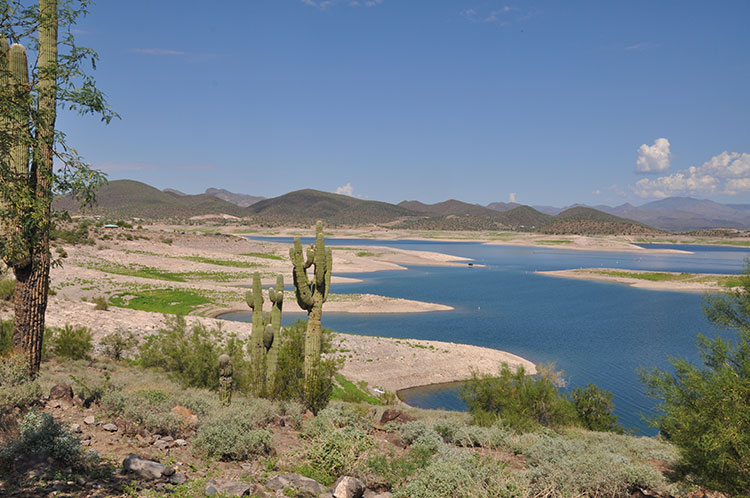 Lake Pleasant Regional Park
Lake Pleasant Regional Park is a tremendous outside amusement region northwest of Phoenix. This 23,362-section of land park is has a wonderful desert scene, hilly perspectives, and fresh blue lake water. Lake Pleasant attracts tremendous hordes of guests consistently who are hoping to participate in the numerous outside exercises found inside the recreation center, including drifting and kayaking, fishing, swimming, scuba plunging, climbing trails, and picnic destinations.
Moonlight scorpions is something for the experience seeker!Lake Pleasant guests regularly chase for scorpions close to the lake under the light of the moon. Make certain to bring a spotlight, close-toed shoes, and a touch of boldness. There's nothing very like seeing these desert scorpions right at home.
While the stars at Lake Pleasant are worth gazing at all year long, Lake Pleasant park officers regularly offer guests the chance to stargaze more than ever. Using park-provided telescopes, the entire family can see and find out with regards to the moon, the nearby planet group, and the system we occupy.
13. Luhrs Tower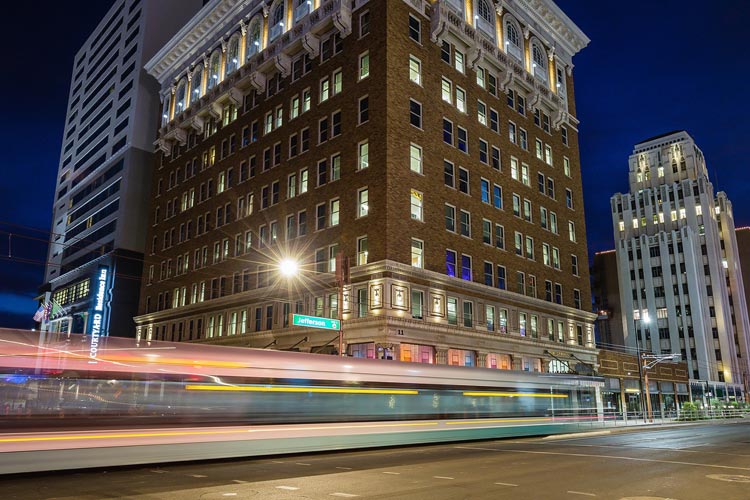 Luhrs Tower
The Luhrs Buildings sits inside a Qualified Opportunity Zone, a Trump-period government tax cut for designers who put resources into new organizations or business projects in "upset networks." The Luhrs Building is one of the main Opportunity Zone projects in the Phoenix region to begin development.
This beautiful 56-meter Art Deco tower on West Jefferson Street showed up toward the start of Psycho (1960) when Marion Crane prepares to take off with the store she should make for her chief.
The Luhrs Tower was appointed by George Luhrs Jr., an individual from a family whose past is laced with Phoenix's initial years.
14. Arizona Museum of Natural History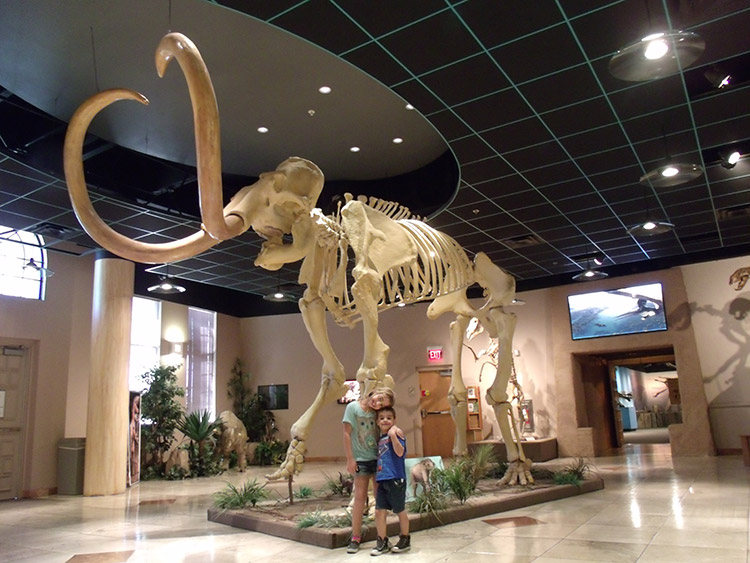 Arizona Museum of Natural History
Situated in the neighborhood of Mesa city, this museum offers Arizona's natural and cultural history with a lot of active, intelligent, sound-and-light shows.
Dinosaur Mountain features animated dinosaurs accompanied by a roaring waterfall and numerous dinosaur skeletons.
Additionally, visitors can explore exhibits on Mesoamerican civilizations, Arizona's mammoth kill sites, ancient prison cells, and a walk-through model of the Lost Dutchman Mine.
This legendary mine, located in the nearby Superstition Mountains, continues to entice treasure seekers to this day.
15. Casa Grande Ruins National Monument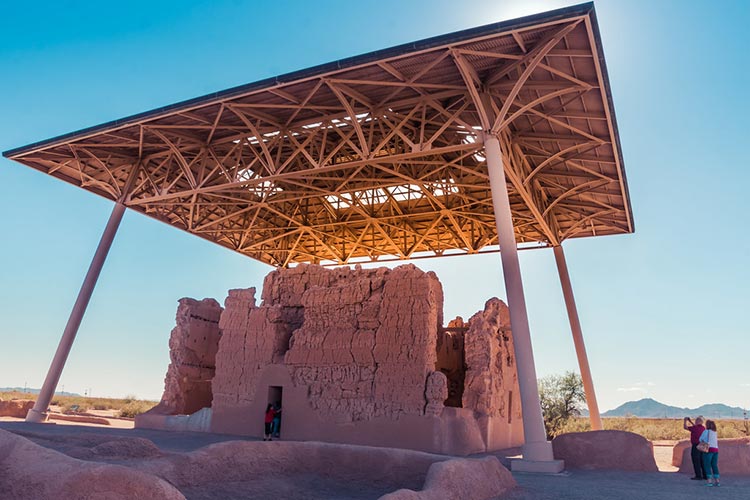 Casa Grande Ruins National Monument
Considered by most Arizonans to be a suburb of Metro Phoenix, Casa Grande is actually a fascinating little town with an interesting character, that is strongly unique in relation to its enormous city neighbor.
Today, guests can visit the big and intriguing compound with the assistance of tourist guides and an interpretive focus that offers replies to questions, and passes on you to consider a couple of more inquiries yet to be settled.
Let your interest and creative mind go out of control at the Casa Grande Ruins National Monument.
16. Phoenix Art Museum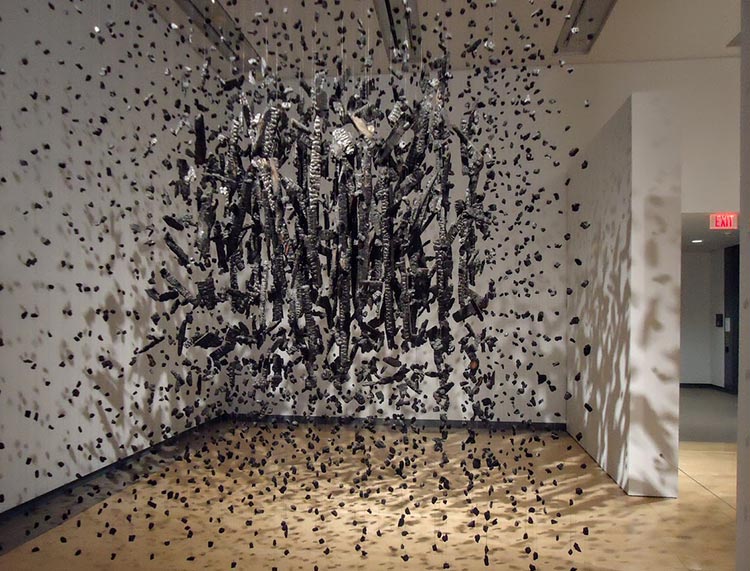 Phoenix Art Museum
Within excess of 20,000 articles in its collection, the Phoenix Art Museum is the biggest visual expression historical center among Denver and Los Angeles. Notwithstanding American, Western American, Latin American, Asian, European, present day, and contemporary craftsmanship, the gallery features an outstanding photography assortment and almost 6,000 design pieces spreading over 500 years.
Depending on how long you spend in every exhibition, you can go for an outing to the Phoenix Art Museum with a visit to the Heard Museum, where you can explore Native American craftsmanship. Other midtown exhibition halls, similar to the Arizona Science Center, are effectively open by light rail.
17. Children's Museum of Phoenix – Fun Things to Do in Phoenix, AZ with Kids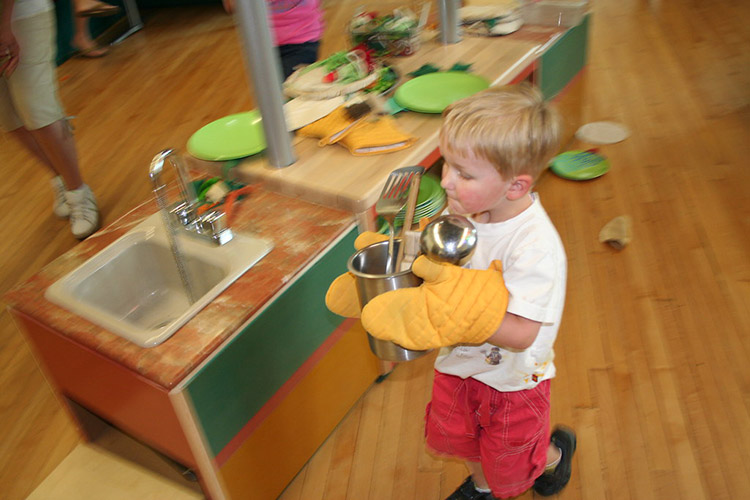 Children's Museum of Phoenix
Flaunting in more than 300 play encounters across three stories, the Children's Museum of Phoenix is a hit with kids. Crossing in excess of 48,000 square feet, the gallery offers a scope of displays appropriate for newborn children and children up to age 10. It includes a miniature market, child-sized cafe, fort building etc.
You'll discover the Children's Museum of Phoenix downtown, within strolling distance of the Arizona Science Center. There is a bistro on location; guests are additionally free to get their own food and appreciate it in the assigned eating spaces on the second floor. The gallery invites guests Tuesday through Sunday from 9 a.m. to 4 p.m.
18. Roosevelt Row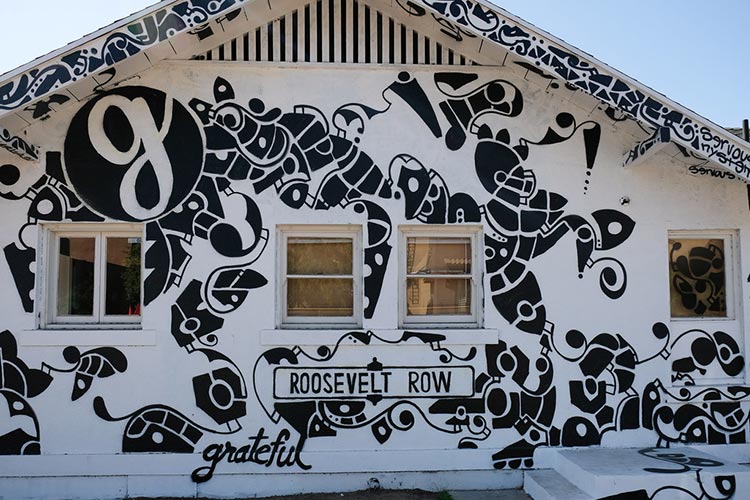 Roosevelt Row
This innovativeness-filled area connects downtown to a few residential areas. Previous homes have been affectionately changed over to cool hangout zones. Porches are plentiful among cafés and bars and shopping the crazy little store's yields shocks. Independent movies, specialty lager, art galleries, and extraordinary occasions make RoRo hot.
Regardless of whether you're liking the abundant street art of Phoenix's best art displays and historical centers, Roosevelt Row is an art enthusiast's heaven. Specially the Heard Museum of Native Cultures and Art, where guests can really get to know the society craft of the desert Southwest and buy high quality things from the present shop.
19. Dobbins Lookout
Dobbins Lookout
Dobbins Lookout at South Mountain Park is an incredible track down: it's quick, fun, and free! South Mountain Park has huge loads of climbing trails to the culmination however my #1 thing about this roadtrip objective is that you can drive up to an astonishing perspective on Phoenix!
This is a simple gorgeous-scenic drive in case you're remaining in midtown Phoenix. You should simply get your vehicle to Central Avenue—the street that fills in as the city's east-west isolating line—and head south.
Focal Avenue closes at South Mountain Park, a 16,000-section of land civil sporting office that is free to the general population. After you go through the recreation center's principle entrance door, Central Avenue becomes Summit Road, which prompts Dobbins Lookout
20. Tempe Town Lake

Tempe Town Lake
Tempe Town Lake is situated in the core of Tempe, running from west of McClintock Road to east of Priest Road between Rio Salado Parkway and Curry Road.
The more than 2-mile long lake was made by damming a piece of the dry Salt River and adding water. Today, the lake keeps on behaving like a stream to pass on water and snow run-off by bringing down the dam when required and raising it again to keep up with the water inside the lake.
An arrangement of ways permits visitors to walk, run, bicycle and more along its edges. It's additionally an extraordinary spot for electric, wind and human-controlled boats.
21. Camelback Mountain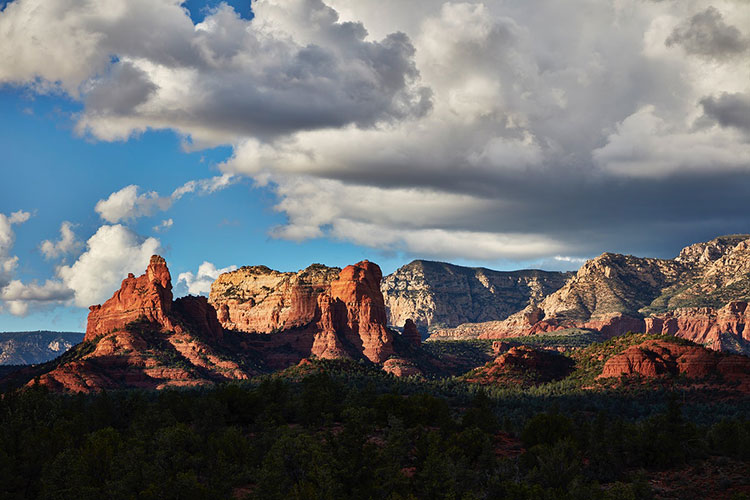 Camelback Mountain
Located in just a 20 minute drive from downtown Phoenix, Camelback Mountain is probably Phoenix's best climb and most well known attractions for great many visiting explorers every year. Two troublesome path rise 1,420 feet to a highest point taking after the protuberance of a camel's back, bearing the cost of 360-degree perspectives on the encompassing city.
Part of the Phoenix Mountains Preserve, Camelback gets its name from its two stone developments that look like the head and back of a bowing camel. It turned into a city park in 1968, and sits directly close to Phoenix's Arcadia area — an extraordinary eating spot — and the town of Paradise Valley.
22. Rosson House Museum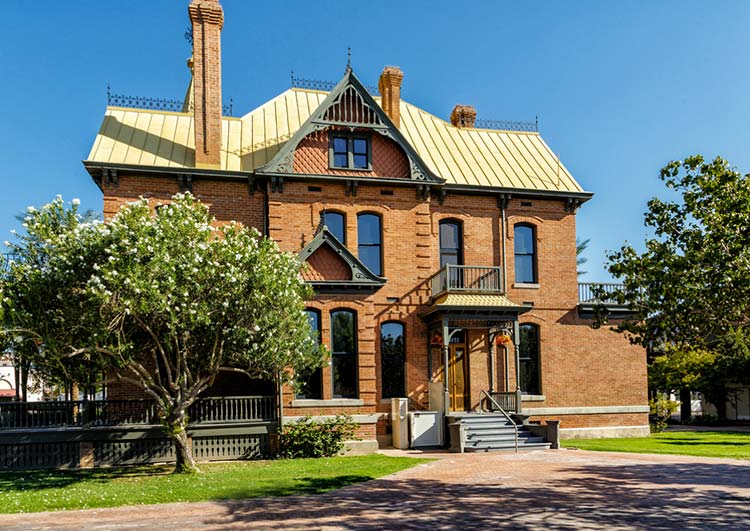 Source: Rosson House Museum
The Museum is a completely reestablished 1895 Queen Anne Victorian house exhibition hall in the core of downtown Phoenix. The Rosson House is just open through directed visits enduring around an hour. Voyages through the house incorporate every living region and proposition guests a brief look into the ways of life of early Phoenix families.
Highlighting ten historic structures dating from the last part of the 1800s to a mid 1900s, Rosson House Museum is home to a few honor-winning eateries, exquisite galleries and shops.
These well known objections are settled inside and around Heritage Square Park – an optimal area for weddings, celebrations, feasts, and other unique occasions. The Square includes the final gathering of private constructions from Phoenix's unique town site.
23. Goldfield Ghost Town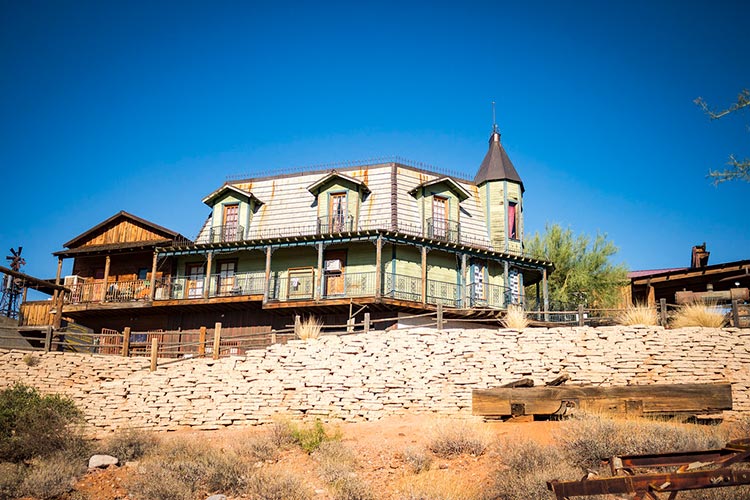 Goldfield Ghost Town
Come and visit Goldfield Ghost Town today! Stroll down Main Street, investigate the many shops and noteworthy structures. Visit the memorable Mammoth Gold Mine and visit the Goldfield Museum. Search for gold then, at that point take a ride on Arizona's just restricted measure train.
You'll likewise observe an old west weapon battle performed by the popular Goldfield Gunfighters! Go through a sensational day, wealthy in wild west history!
24. Desert Ridge Marketplace – Romantic Things to Do in Phoenix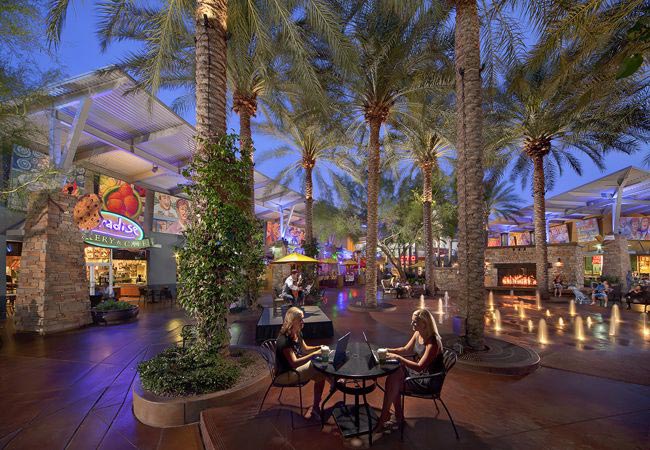 Desert Ridge Marketplace
It is difficult to imagine not discovering what you need at this 110-acresof land open air shopping center, which possesses in more than of 1,000,000 square feet of retail space.
Normally, the complicated offers places like American Eagle Outfitters and Old Navy, but at the same time there's a Pier 1 Imports, Kohls, and Target. A cinema, rock-climbing divider, and amusement focus give other recreation time prospects, and cafés sprinkled all through the property ensure that yearning is never an issue.
Outside chimneys and remarkable water highlights convey an intuitive shopping, feasting and amusement experience in a clamoring open air setting. An incredible objective for shopping, easygoing shopping and amusement.
25. Orpheum Theater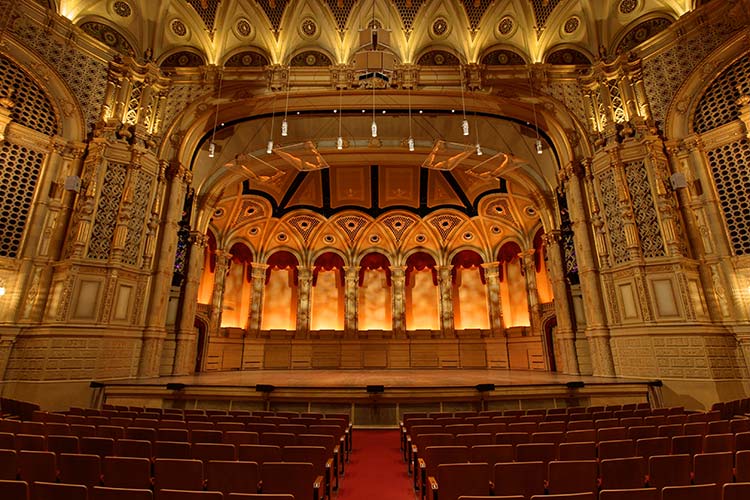 Orpheum Theater
Regardless of whether there is a show booked or not at this 1929 theater and former vaudeville house, take a free, guided visit through the revamped office. Its fancy Spanish-affected, Baroque Revival style is flush with zodiac images; and the painted roof looks like a brilliant night sky.
Tune Channing repeated her Tony-grant winning job in Hello Dolly! during the field's 1997 restoration, and the Phoenix Metropolitan Opera calls this venue home. You may likewise discover visiting acts including kid-accommodating performer Dan Zanes or Glen Hansard and Markéta Irglová, the Oscar-winning singing and songwriting team from the Irish film Once.
26. Golf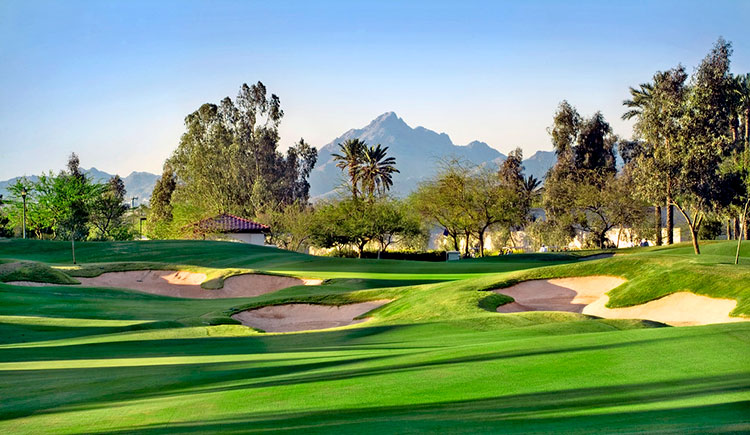 Legacy Golf Resort
Phoenix claims and works five 18-opening title courses and three nine-opening courses all through the city, including Cave Creek Golf Course and Papago Golf Course, the last of which sits close to the famous Papago Buttes in Papago Park.
In case you're an aficionado of Torrey Pines in San Diego, you might need to hit a couple of balls in Papago, since it was made by a similar individual, William Francis (Billy) Bell.
Phoenix is likewise home to probably the greatest golf visits and occasions in the country. Beginners can stroll in the strides of the professionals at TPC Scottsdale's Stadium course, home of the PGA Tour's yearly Waste Management Phoenix Open, known as "individuals' open" and the "best show on grass", which sees countless individuals go to consistently for gatherings, shows, and obviously, golf.
After the Phoenix Open in February, the LGPA Tour comes for the Bank of Hope Founders Cup toward the finish of March, while the PGA Tour Champions' Charles Schwab Cup returns in the fall.
27. Hall of Flame Fire Museum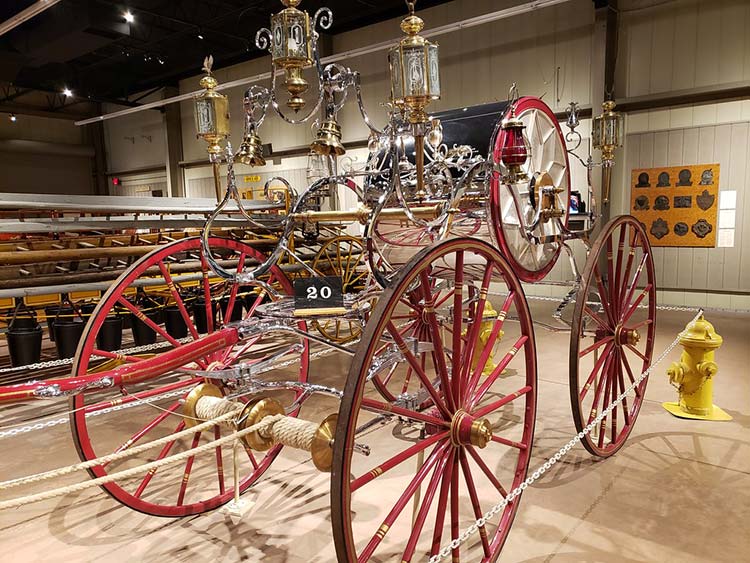 Everything's tied in with investigating the captivating history of firefighting and commending those daring people who battle the blazes at the Hall of Flame Museum of Firefighting and the National Firefighting Hall of Heroes, in Arizona!
This Phoenix historical center elements just about a section of land of fire history shows, with more than 90 completely reestablished bits of fire device in plain view that date from 1725 to 1969! Children, would you be able to envision how firefighting has changed throughout the long term?
The Hall of Flame supports the National Firefighting Hall of Heroes, which praises firemen who have passed on in the line of obligation or who have been brightened for courage, and is additionally committed to the historical backdrop of wildland firefighting in the US.
A captivating knowledge into the historical backdrop of firefighting in Tucson!
28. Japanese Friendship Garden (Ro Ho En)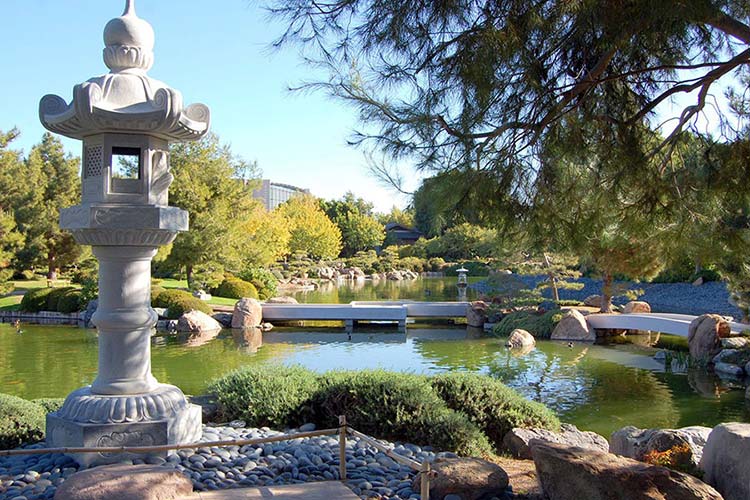 Located at the south end of the Margaret T. Hance Park, this three-and-a-half-section of land shelter is the ideal spot for occupied urbanites to dial back and think about basic wonders: a 12-foot cascade, a rough stream that streams into a koi-filled lake, a shore of painstakingly chose rocks from Arizona quarries, and stone lamps and models.
Indeed, even the nursery's true name, Ro Ho En, motivates a wonderful mentality. Ro means "heron," Himeji's representative bird, which references the town's dynamite White Heron Castle; Ho is Japanese for our own legendary winged animal, and En signifies "garden." There's likewise an on-location conventional teahouse, ideal for review the affectionately manicured view.
29. Taliesin West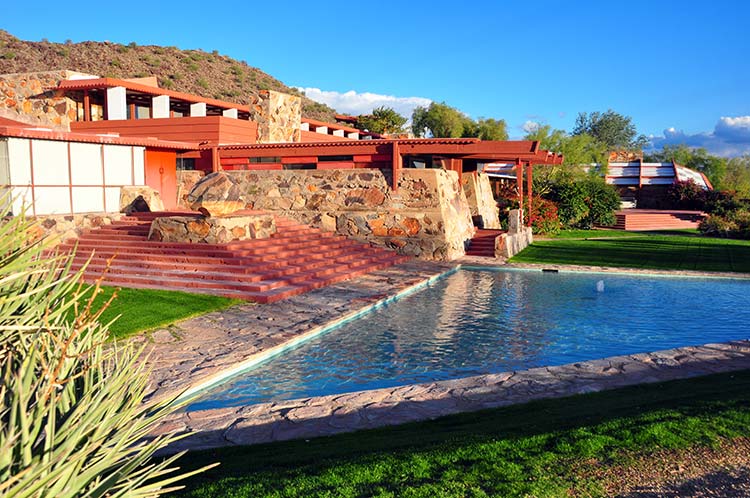 Taliesin West
Situated in upper east Scottsdale on the excellent lower regions of the McDowell Mountains, Taliesin West is Frank Lloyd Wright's desert magnum opus.
This was the compositional expert's very own colder time of year home, studio, and design grounds. Public visits are accessible year-round, offering guests understanding of Wright's solitary capacity to meld indoor and open-air spaces.
Wright fans will need to make a stop at Anneliese's Bookstore at Taliesin West, which sells the biggest assortment of items and books by and about Frank Lloyd Wright, his life, and his job in characterizing present-day design.
Taliesin West likewise plays host to various effort projects and classes for grown-ups and youngsters.
30. Grand Canyon Day Tour from Phoenix, Scottsdale & Tempe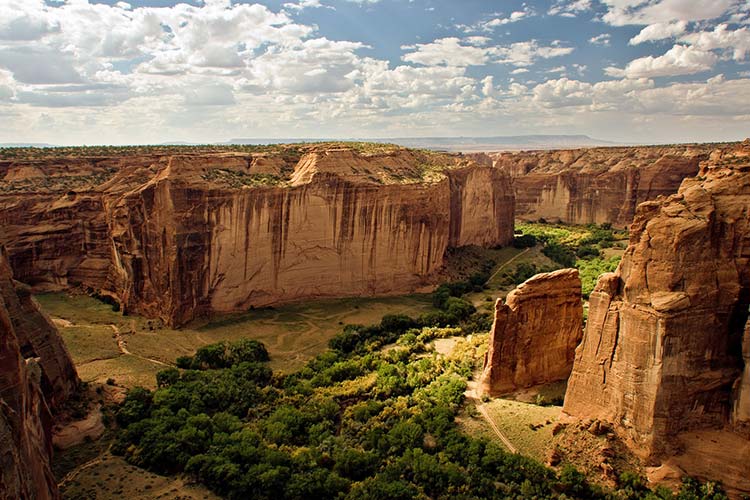 Grand Canyon Day Tour from Phoenix, Scottsdale & Tempe
This guided visit through the Grand Canyon South Rim leaves from the Phoenix and Scottsdale region somewhere in the range of 6:00am and 7:00am, and returns somewhere in the range of 7:00pm and 8:00pm. In case you're keen on adding a helicopter visit to your South Rim insight, look at our Colors and Canyons Tour.
You can even remain for the time being to add more experience to your visit through the South Rim! The master directed visits that DETOURS offers of the South Rim hit the very best activities at the Grand Canyon to ensure you see the very best sights and attractions on the edge.
Take in extraordinary views of classic southwestern scenes. Explore the Grand Canyon South Rim in this staggering visit from Phoenix that covers the most unimaginable and broadest pieces of the Grand Canyon. This day visit through the South Rim goes through roughly three hours in Grand Canyon National Park and some time on Route 66.
31. Phoenix Fan Fusion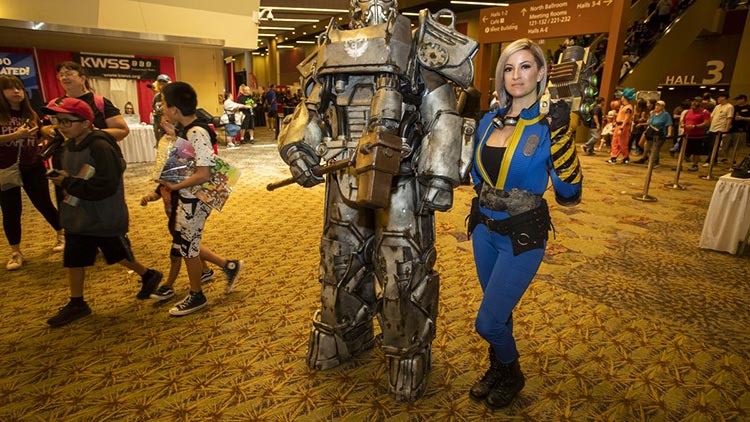 Phoenix Fan Fusion
Its name might have changed with years, yet Phoenix Fan Fusion is similarly as quirky as could be expected. It offers four days of nerdy activities, gaming meetings, boards, Q&As, cosplay occasions, and a wealth of programming.
There will obviously be special visitors, including a huge load of VIPs and celebrity comic book makers. Indeed, if a con is eventually judged on the number of huge names it highlights, Phoenix Fan Fusion is certainly going to be huge.
Nerd symbols and acting gifts like Jeff Goldblum, Elijah Wood, Paul Reubens, Summer Glau, Billy Dee Williams, Ray Park, Catherine Tate, John Barrowman, and Matthew Lewis are completely planned to seem this year. In the interim, acclaimed comic craftsmen and authors like Dennis O'Neil, Neal Adams, and Howard Chaykin will likewise be at the occasion.
It's quite possibly the most high-profile lineup of extraordinary visitors that the occasion (earlier known as Phoenix Comicon and Phoenix Comic Fest) has had since its presentation in 2002.
32. South Mountain Park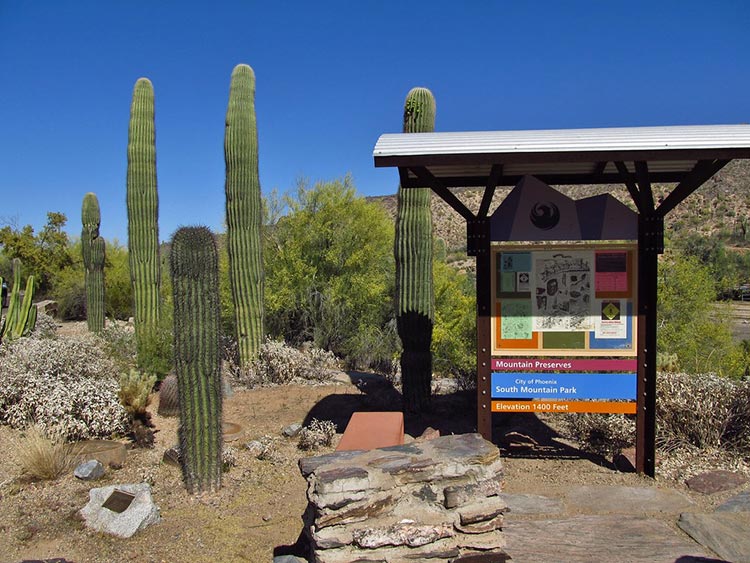 South Mountain Park
Find out the history of plants, creatures, normal history and the conservation needs of the Sonoran Desert at interpretive displays and movement stations inside the recreation center's schooling place.
Right outside the place, you'll also discover Judith Tunnell Accessible Trail, comprising of two boundary free, half-mile circles: the Interpretive Loop with unmistakable signs about local plant and creature life, and the Challenge Loop with the greatest grade of 8.5%.
33. Piestawa Peak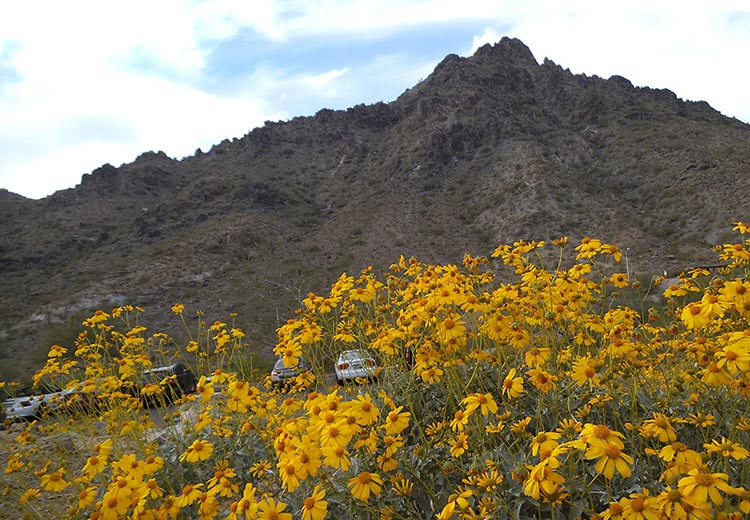 Piestawa Peak
The City of Phoenix assesses that this current highest point's path is one of the most intensely utilized in the country; it attracts an expected 4,000 to 10,000 explorers each week.
Valid, the upper ranges of the pinnacle once in a while become busy, yet an enormous parking area makes for simple admittance to the path. This trip resembles one major StairMaster, and numerous local people use it in that capacity.
Like Camelback Mountain, it offers a 1.2-mile trail climbing around 1,200 vertical feet. Lazier path branch off into the encompassing Phoenix Mountain Preserve—a superb 7,000-section of land desert wonderland in the core of the metro region.
34. Hole-in-the-Rock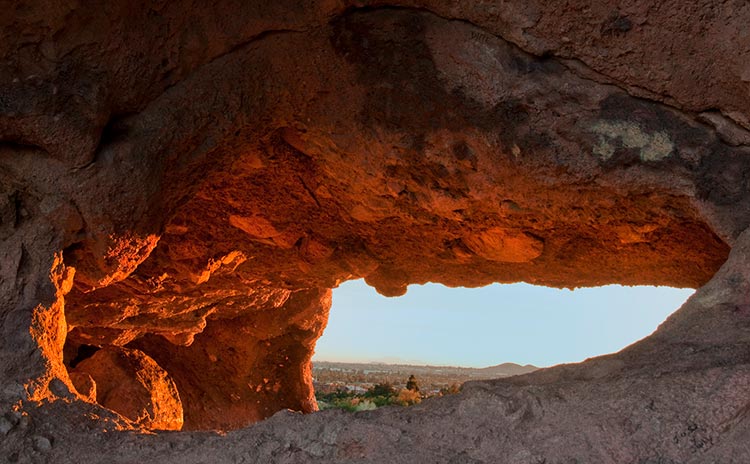 Hole-in-the-Rock
To encounter the glory of Arizona, nothing beats the Grand Canyon. In like manner, Sedona has the market cornered on desert excellence. In any case, for an open-air experience nearer to home, the Phoenix region has some extraordinary spots of its own that you need to see.
You can investigate the Hole-in-the-Rock and encompassing caverns, or sit for a bit in the shade and take in the perspectives on the desert and downtown Phoenix. The climb is a short 10th of a mile (it's right off a parking area) and just gains 200 feet of rise. You can without much of a stretch hit it while heading to the close by Phoenix Zoo or Desert Botanical Gardens.
35. Biltmore Fashion Park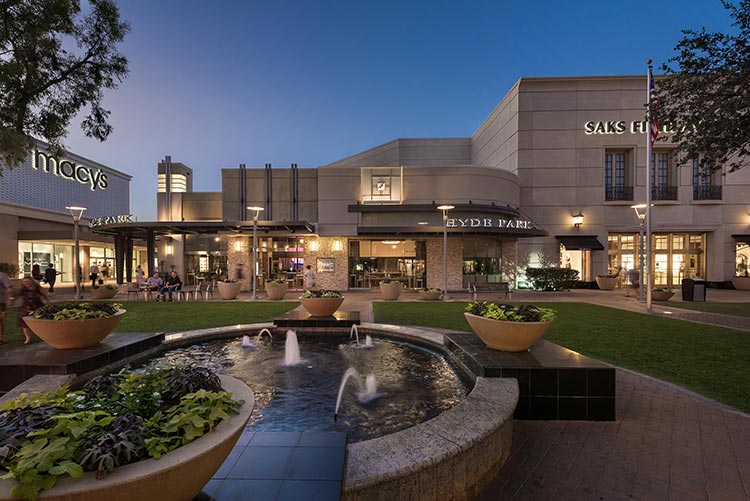 Source: Biltmore Fashion Park
Enjoy a popular shopping and eating experience at Biltmore Fashion Park, which is inside the nearness of Crowne Plaza Phoenix Airport.
Retailers run the range from Brooks Brothers, Cornelia Park, and Ralph Lauren to Cole Haan, Williams-Sonoma, and Saks Fifth Avenue, the just one in Arizona. With respect to food, the cafés are extraordinary and incorporate The Capital Grille, Stingray Sushi, and Christopher's Restaurant and Crush Lounge.
A day spa conveys a variety of medicines. Free stopping is accessible at Biltmore Fashion Park on the mall's north and west sides and in the four-level carport. The south and east sides offer premium stopping where the initial two hours are free. Valet stopping, for $6.00, can be found on the south side.
36. Heard Museum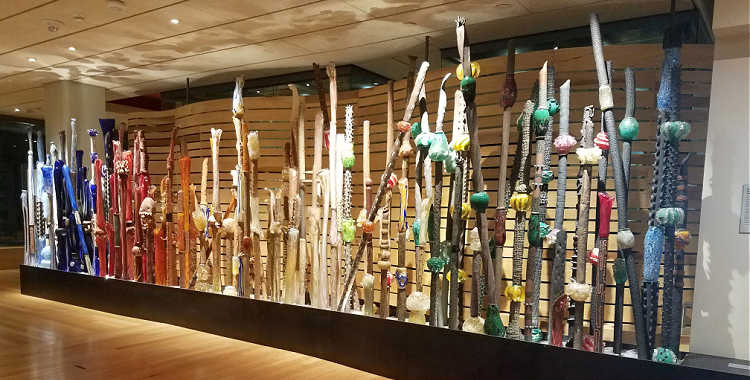 Heard Museum
Dive profoundly into the entrancing world of different American- Indian expressions and societies at the Heard Museum. Only five miles from Crowne Plaza Phoenix Airport, this edifying fascination will draw in youthful and old the same with its 11 shows that middle on familial curios alongside present day adornments and artistic creations.
Learn much more by taking one of a few inside and out directed visits. There are likewise a huge number of extraordinary occasions and celebrations consistently.
On the off chance that you drive to the Heard Museum, you'll experience no difficulty stopping. There are a lot of spaces accessible on the Museum grounds and the stopping is totally free. During uncommon occasions, for example, end of the week celebrations, you'll must be keeping watch for signs along Central Avenue for extra stopping choices.
37. Security Building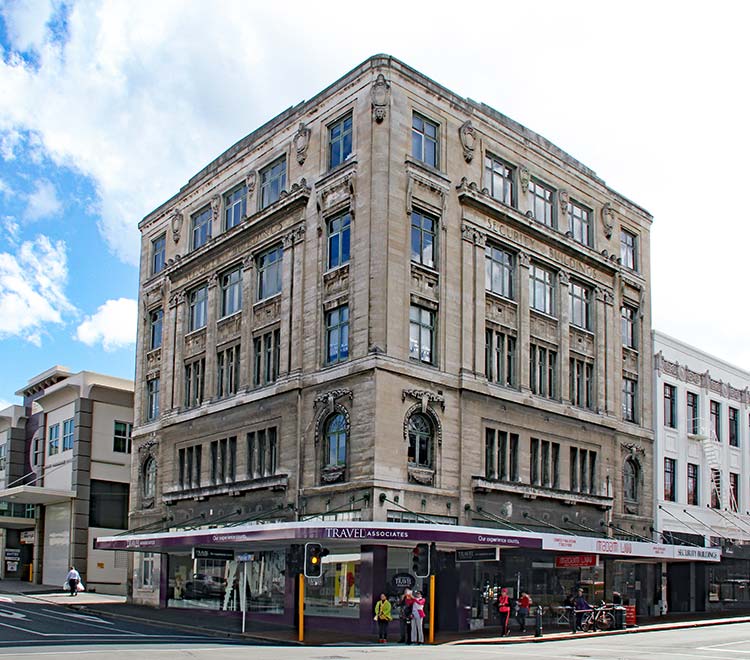 The Security Building was once considered among the most present day structures in Phoenix. Today, the design situated in the core of downtown, is reestablished to some degree to its prime.
At the intersection of Central Avenue and Van Buren Street is the Security Building. It was developed during the 1920s. It was the place of business to numerous incredible influencers of Arizona
38. Papago Park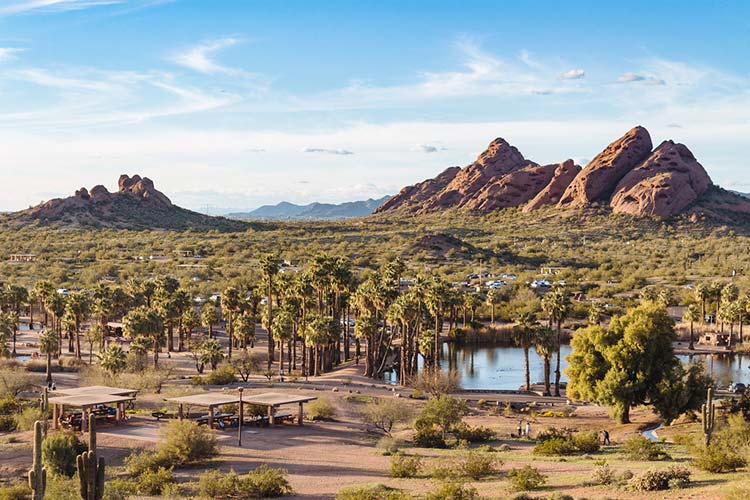 Papago Park
Only minutes from downtown, Papago Park offers uncommon climbing and a wide exhibit of sporting offices. Contained essentially of sandstone, the reach is known for its huge buttes that ascent and fall all through the recreation center. The path that join the region are for the most part simple trips.
The smooth balance and low rise acquire make it a well known spot for running and mountain trekking. Papago Park is home two of the districts most visited attractions, the elite Phoenix Zoo and the shocking Desert Botanical Garden.
Also, the recreation center flaunts a bows and arrows range, orienteering course, Papago Ponds fishing tidal pond, the Hall of Flame Museum, Papago Sports Complex, and the Papago Golf Course, home of the Arizona State Sun Devils' golf crew.
39. Luhrs Building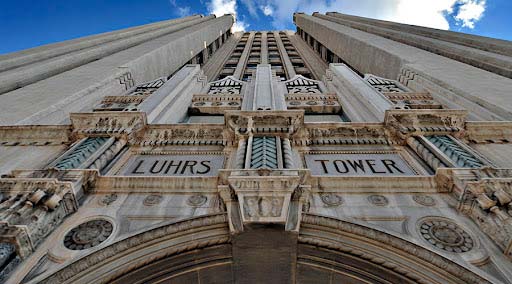 Luhrs Tower is an iconic skyscraper in downtown Phoenix. It is situated at the convergence of First Avenue and Jefferson Street, only south of Patriots Square Park.
It was founded in 1929 by George Luhrs.
Luhrs Tower is a fine illustration of workmanship deco. The structure was planned by Trost and Trost of El Paso, Texas, who additionally planned the nearby milestone O.T. Bassett Tower in their old neighborhood. It isn't shocking that the two structures share numerous engineering highlights.
The building got a lot of attraction when it showed up behind the scenes of a scene from the 1960 Alfred Hitchcock film Psycho. In the film, the person Marion Crane went across the road here to put aside an installment for her chief.
40. Tovrea Castle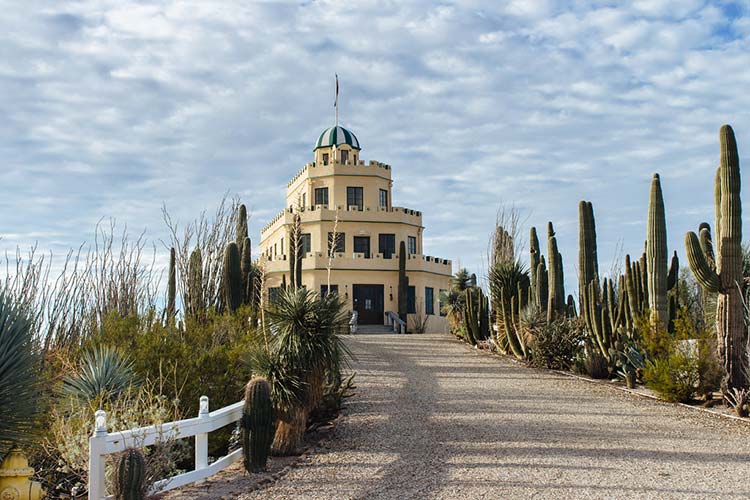 Tovrea Castle
It's one of the most novel and confounding buildings in the Valley, spotted by countless people during their every day drives. Yet, just a select number have really seen inside.
Tovrea Castle, the wedding cake-formed layered construction roosted on a little slope close to Van Buren and 52nd roads in east Phoenix, is a famous milestone that is perceptible from the Loop 202 Red Mountain Freeway. It's been a majestic piece of the nearby scene for over 90 years and is for the most part forbidden to guests except if you're adequately fortunate to score a ticket for one of its public visits.
On the off chance that you've needed at any point ever to see inside the palace, presently's your possibility. The Tovrea Castle Society, which directs and keeps up with the property, is holding a ticket lottery for visits happening this fall.
Society president Tamera Zivic discloses to Phoenix New Times they're tolerating sections from this point until Wednesday, June 30, for the lottery, which will sell 20,000 tickets for public visits requiring each end of the week from September through December. What's more, the opposition is furious.
41. Pueblo Grande Museum and Cultural Park

Pueblo Grande Museum and Cultural Park
The Museum highlights three main areas and is a fascinating encounter of the entire family. To begin with, there is an interior gallery which features different artifacts from the Hohokam public, including ceramics, instruments, gems, and that's just the beginning.
The display incorporates a wide exhibit of history about the Hohokam public just as active instruments to help you envision life during that time.
Then, there are the outdoor trails where you can stroll through the remnants of the real Hohokam town. See full adobe compounds, a ball court, gardens, and that's only the tip of the iceberg. At last, there is the kids' "Burrow It" part of the exhibition hall.
Here, find out with regards to the antiquarianism behind the Hohokam ruins by recognizing relics, concentrating on signs, and then some. Or then again even form your small-scale Hohokam town!
42. Sahuaro Ranch Park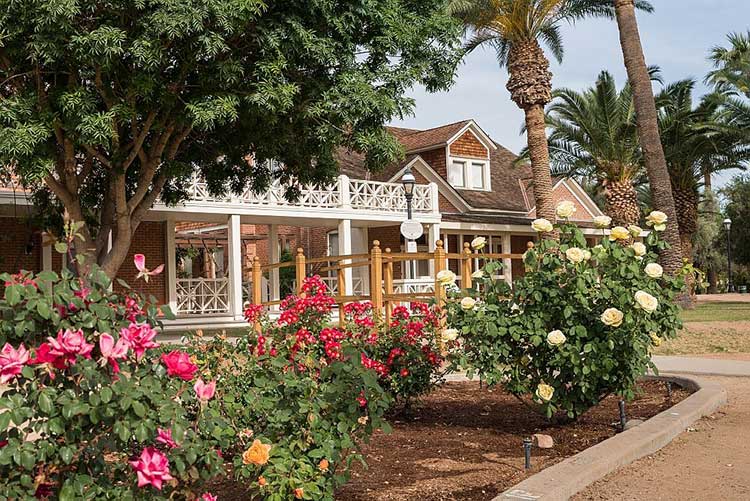 Source: Sahuaro Ranch Park
On the off chance that you live in or close to Glendale, AZ, including Peoria, most certainly look at the Sahuaro Ranch Park! This is one of my favorite things to do in Glendale, AZ and we come here frequently.
The park has a historical grain factory and farmhouse, which is something that makes it not the same as different parks nearby. It's additionally the site of numerous weddings because of its colossal rose nursery – and it smells amazing.
No matter when you visit, somebody has leased a ramada and is arranging a party. So it's an extraordinary spot for huge, open-air birthday celebrations.
In case you're a fan of picking grape leaves, you can come and choose up to 15 leaves for each individual at Sahuaro Ranch!
43. Wrigley Mansion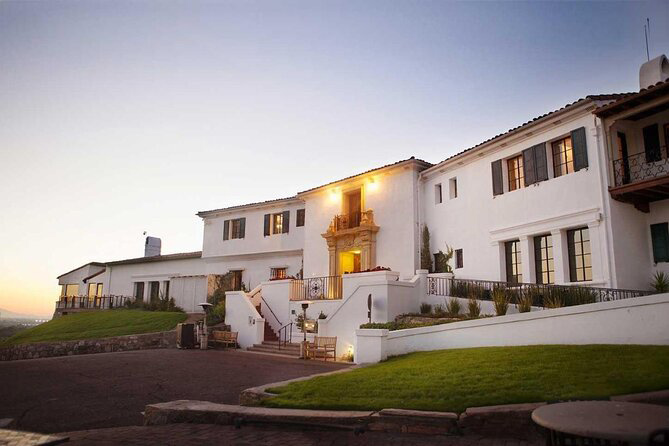 Source: Wrigley Mansion
Located on a peak nearby the Arizona Biltmore, this rich manor was worked by chewing gum magnate William Wrigley, Jr., somewhere in the range of 1929 and 1931 as a present for his loving wife, Ada.
Planned with Italianate styling, the house has such countless levels and red-tile rooftops that it resembles a whole town. The house is presently a National Historic Landmark, with the inside reestablished to its unique class. Voyages through the house are offered 5 days every week and proposition an intriguing look into the existence of the Wrigleys. Visit reservations are required.
44. Musical Instrument Museum (MIM)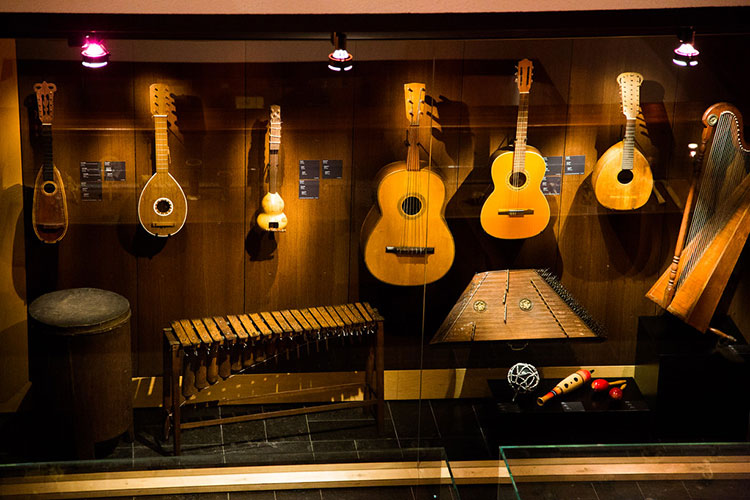 Musical Instrument Museum (MIM)
Explore the world's music and societies at the Musical Instrument Museum (MIM). MIM takes you on a journey throughout the planet. Voted Phoenix's #1 fascination by tourists, MIM shows more than 6,800 instruments and articles from each edge of the globe.
MIM's five Geographic Galleries exhibit worldwide music and societies through mixed media that permits you to hear, see, and feel the imaginative soul of individuals as they play their instruments.
In the Experience Gallery, bang a gong, play a Peruvian harp, take a stab at the theremin, and have some good times making some music on worldwide instruments like ones in plain view all through the historical center.
Visit the Artist Gallery to get a nearby gander at instruments and memorabilia from compelling craftsmen, like Elvis Presley®, Ravi Shankar, Carlos Santana, Clara Rockmore, Johnny Cash, Maroon 5, and that's only the tip of the iceberg.
The acoustically sublime MIM Music Theater offers a personal, 300-seat setting to appreciate live exhibitions all year by famous and arising craftsmen from around the world. Plan your visit at MIM.org.
45. Tempe Beach Park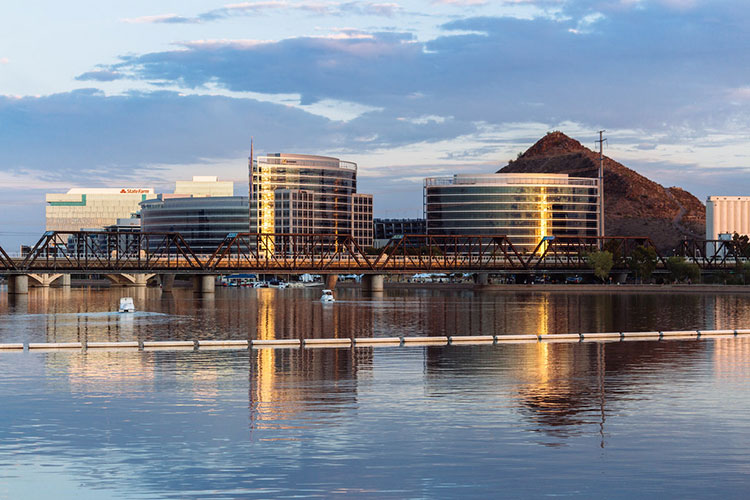 Tempe Beach Park
Whether you're looking for the best spot to ride your bicycle, climb a path, or simply a cool spot to thud down for a family outing, this charmingly arranged park, initially worked in 1931 and remodeled in 1999 as a feature of the development of the city's Town Lake project, has what you need.
With views on the Tempe horizon as a setting, Tempe Beach Park closely resembles significantly something beyond an enlarged stretch of the Salt River—which is basically what it is. The lake is something beyond lovely; it's five miles of ways for bicycling, running or in-line skating revolving around Town Lake give an incredible spot to get some great exercise with a leased oar boat or a couple of leased skates, both accessible there.
Tempe city occasions like the Tour de Fat, New Year's Eve Fete, and Oktoberfest are largely the more bubbly here, because of wide regions of green grass and another passerby connect connecting the "beach" to the recreation center itself.
46. Arizona Capitol Museum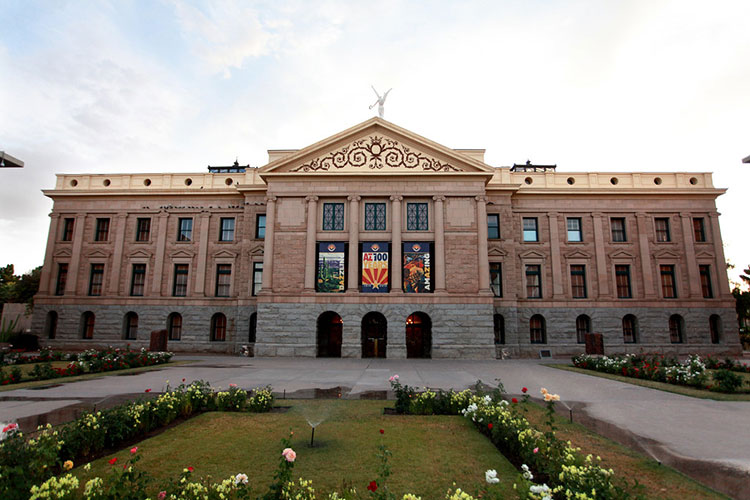 Arizona Capitol Museum
The Arizona Capitol Museum has shows on four floors. You can take the lift to the top and work your direction down! On the fourth floor, you can gaze down into the first House Chamber from the exhibition.
On the third floor, you'll find out with regards to regional Arizona, how a bill turns into law and you'll become more acquainted with individuals of Arizona. This is the level where the Chamber is found.
On the second floor of the gallery, you'll get a brief look into the workplaces, including the Governor's office, Secretary of State, and Mining Inspector. Is Governor Hunt in today?
I think he is! On this level, you'll discover works of art from the Arizona Capitol Museum assortment. Back to the fundamental floor. Notwithstanding the State Seal on the rotunda floor, you'll see things rescued from the USS Arizona after the Pearl Harbor assault and find out with regards to its set of experiences, see a show about Arizona's state images, and see an entrancing display about the Merci Train (Gratitude Train).
47. Talking Stick Resort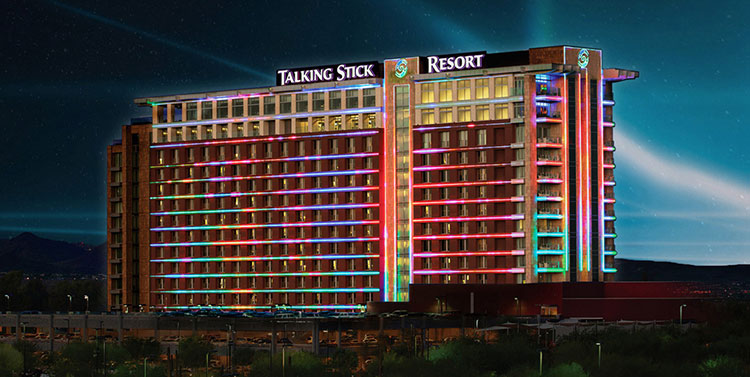 Source: Talking Stick Resort
From gaming and golf to expressions and amusement, Talking Stick Resort has outstanding options for meeting and gathering participants to cherish their experiences.
Talking Stick Resort is located only minutes from the Scottsdale Fashion Square Mall, just as numerous shops, historical centers, and displays in Old Town Scottsdale. It's additionally a fast drive to downtown Phoenix to get the Phoenix Suns or Arizona Diamondbacks in real life. The Phoenix-Scottsdale region offers various exercises and attractions for guests.
48. Castles N' Coasters – Fun Things to Do in Phoenix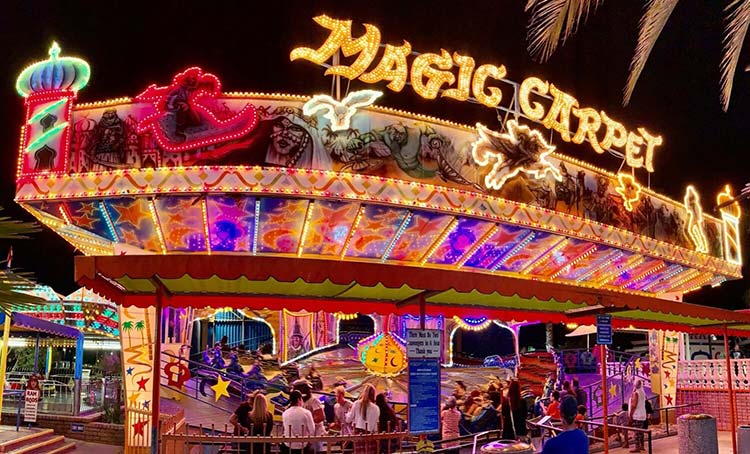 Source: Castles N' Coasters
When looking for a wild adventure and a good time for the entire family, think about a day at Castles N' Coasters Amusement Park in Phoenix Arizona. You will discover something for each individual from the family.
There is extraordinary food and tidbits. The amusement park has two Roller Coasters called Patriot and Desert Storm to excite the most stalwart thrill ride park fans.
49. Chase Field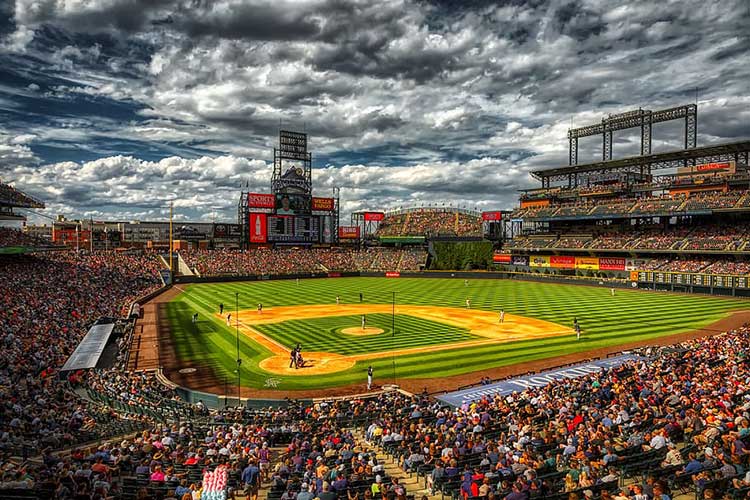 Chase Field
Chase Field, home of the Arizona Diamondbacks, is a long way from what you'd consider as a "customary" ballpark.
It's a huge airplane hangar in the desert, one with a retractable rooftop, in addition to natural grass (basically until 2019, when the group, at last, yielded to the components and introduced a counterfeit turf surface).
The ballpark is likewise huge capacity-wise, which makes it simple to score tickets commonly yet hard for the Diamondbacks to fill the spot consistently. Subsequently, the group is investigating building another ballpark somewhere else in the Phoenix region, and there have been thunderings that the establishment is being pursued by different business sectors. Consequently, Chase Field's days could be numbered very soon.
50. Paolo Soleri's Cosanti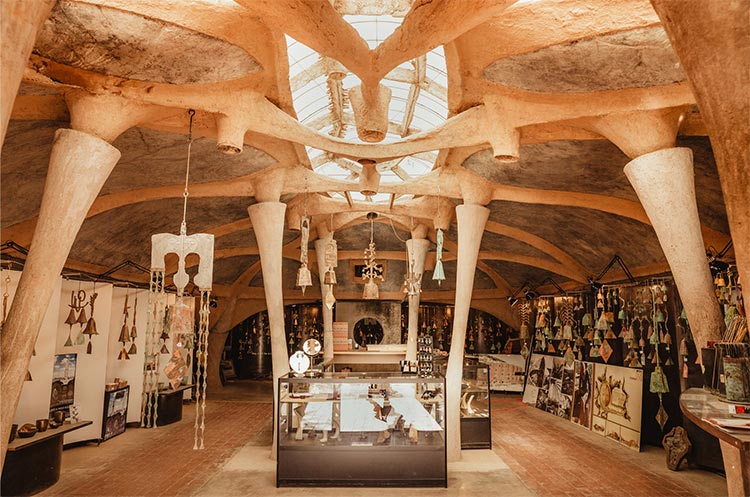 Source: Paolo Soleri's Cosanti
This was the home and studio of architecture, artist and metropolitan scholar Paolo Soleri, who spent most of his life pushing the limits of engineering, workmanship, and metropolitan arranging by utilizing Cosanti as a living research facility, from which he plotted and dispatched his notable Arcosanti exploratory city on a desert plateau north of Phoenix.
Cosanti exists today, even after Soleri's passing at 94 years old in 2013, still as that living design lab, craftsmanship studio, and guest magnet. What's more, indeed, those ringers both bronze and ceramic for which he became known–still hang imperatively.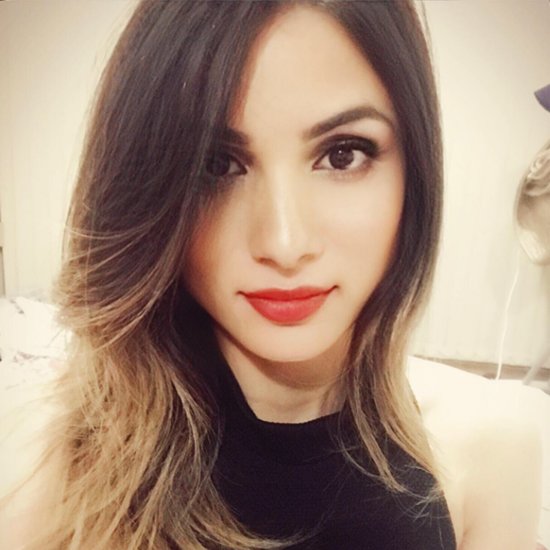 Greetings, travellers! I'm Molly Martin, the passionate explorer behind this vibrant travel platform. Alongside my team—Lorena, Jermaine, Ana, and Alen—we curate awe-inspiring travel destinations to ignite your wanderlust.
Thank you for joining us on this exciting journey. Your presence here enriches our travel community, and we look forward to inspiring your next adventure. Happy travels!