Today's tourist is better informed & more discerning about travel destinations than any generation before. As more & more people travel, the quality of the environment has become a primary concern. Today's tourist is more sensitive to polluted or environmentally degraded conditions than ever before. Such destinations have seen their tourist numbers evaporate.
In the long term tourism, one could argue, that the development will depend on the quality of the environment!
Bora Bora recognized this inescapable fact many years ago. Knowing that tourism was the economic motor of the island the local government headed by Mayor, Gaston Tong Sang, set about an ambitious programme more than 20 years ago to ensure the island's reputation as paradise on earth was justified & maintained.
Tours & Things to do hand-picked by our insiders
For 15 consecutive years, Bora Bora has been awarded the Pavillon Bleu, the symbol of an exemplary environment & of durable development.
The award recognises the installation of proper drinking water throughout the island, acknowledges the exceptional quality of the island's bathing waters through a universal system of wastewater treatment facilities & through the collection & proper treatment of household & industrial rubbish.
Public beaches are equipped with appropriate sanitary facilities, yacht clubs & other mooring options are equipped to ensure the proper recuperation of waste from boats & the list of such achievements is long & on-going.
This level of commitment to the environment is unmatched. Statistics show that 65% of French citizens know the Pavillon Bleu label & 73% of them take it into consideration when determining their travel destination.
The waters in which we swim in Bora Bora are as clean as they look exceptional: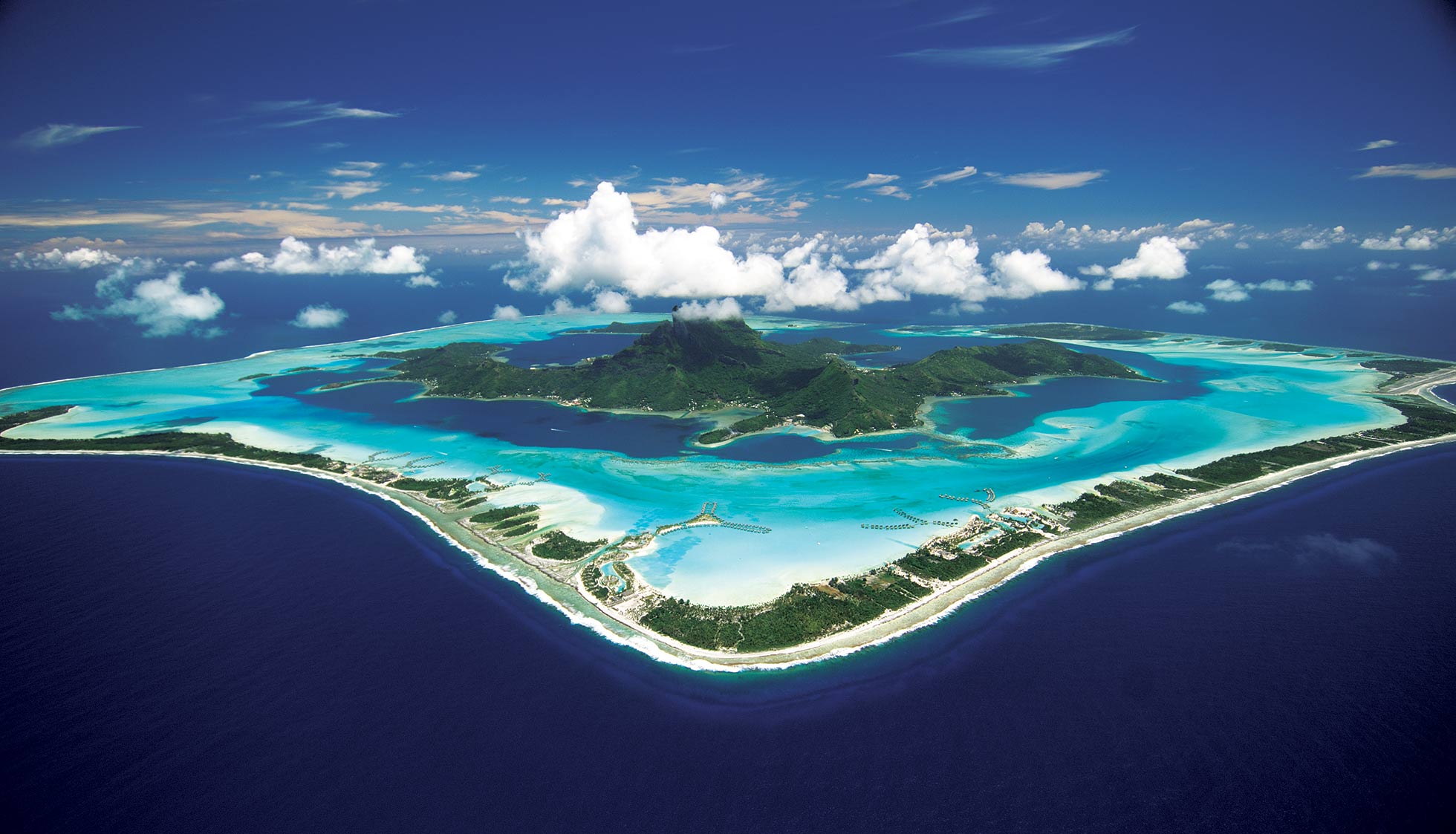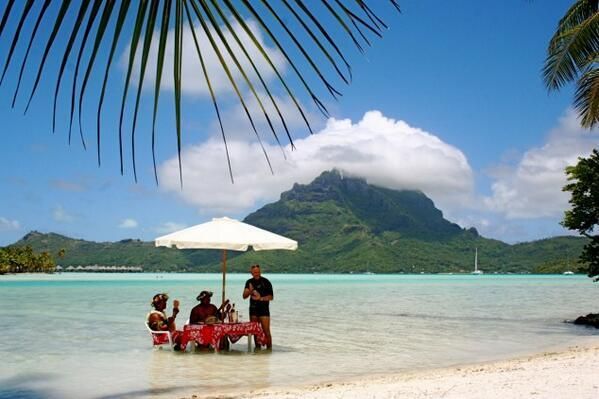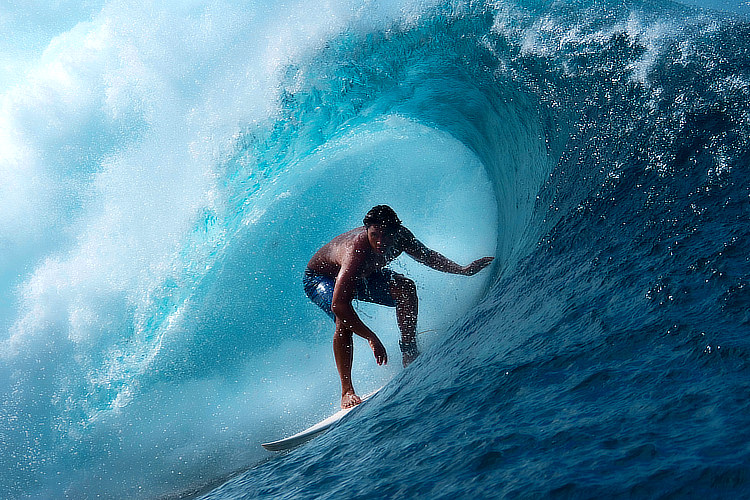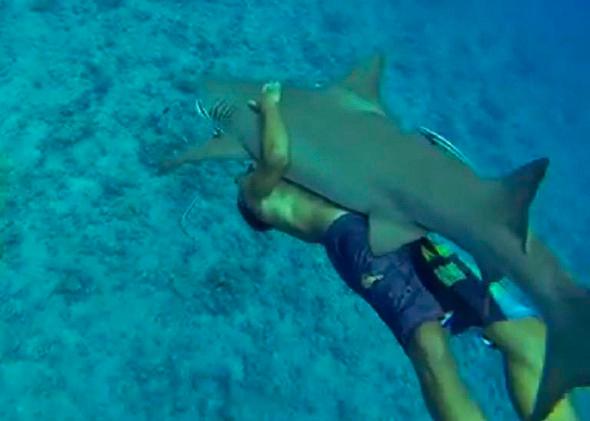 In a bold decision to see Bora Bora stay at the forefront of tourist expectations, the Mayor has recently embarked upon a substantial programme to produce 100% natural vegetables & fruit, initially for the island's school children but in turn the island's population & the tourists staying at the island's hotels & resorts. Pesticide-free food & no toxic run-off into the lagoon – excellent!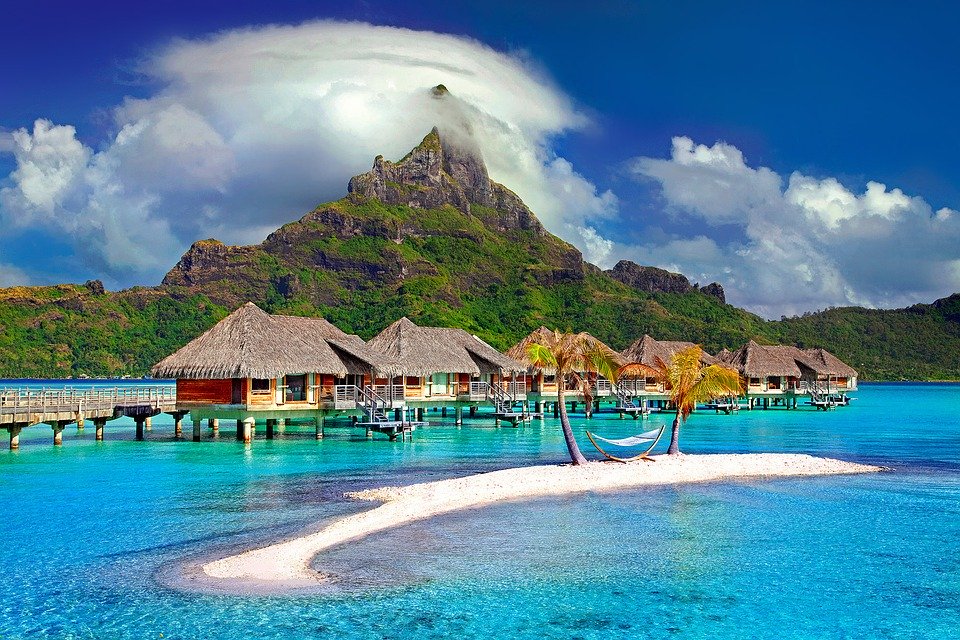 In keeping with the approach of respecting the island's environment growing support has come from the commercial sector with Avis Car Rentals recently buying a fleet of 12 Renault Twizy, 100% solar-powered electric cars & installing the necessary solar panels, 44 in all, on the roof of the company's headquarters in Vaitape to charge the car's batteries: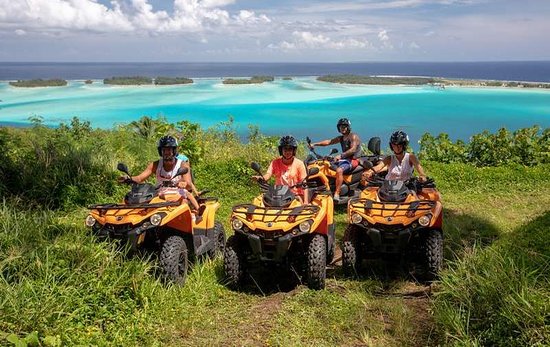 The Renault Twizy is a 2 seater fun quad with 4 wheel disc brakes, a driver airbag & capable of 45km/h with a range of around 120km. Although compact the quad is remarkably roomy, easily capable of comfortably accommodating large adults. To drive this model no drivers licence is required.
Here's one decked out in a traditional floral lei for the launch – a glass roof is an excellent option: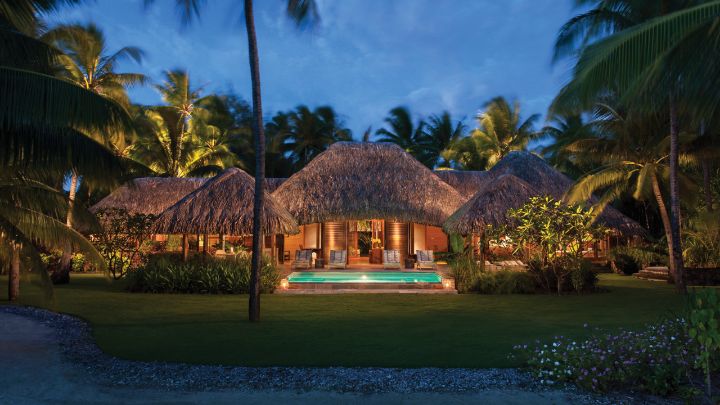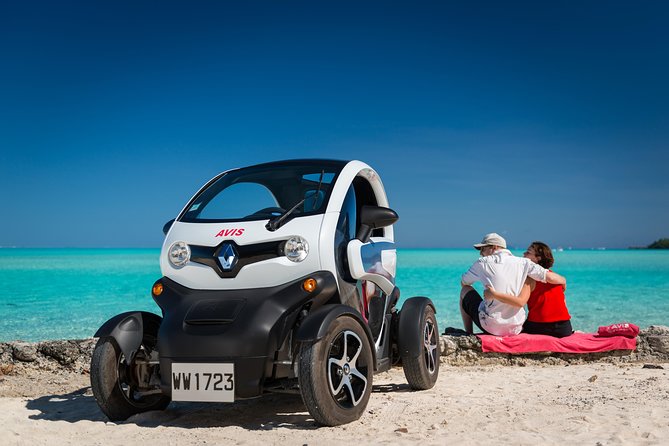 As the Mayor said Bora Bora derives its name from words meaning 'the firstborn' & this was another first for Bora.
The government has visibly supported the vision in recognizing the benefit such vehicles could provide to the outer islands & by removing all duties & taxes for such vehicles imported into Tahiti; a not-insignificant amount on the Twizy the price of which was reduced from just under 2,4million xpf to just over 1.6million xpf.
Such vehicles not only fit the vision & philosophy of the island's leaders but sit most comfortably with island lifestyle where the sun shines freely & petroleum products are expensive, delivered by boat & often in short supply.
More importantly, when compared to a Fiat Panda, the Twizy will reduce the company's usage of petrol by around 8000 litres per year, equating to 15 tons of CO2. Excellent news for the environmentally-conscious tourist.
As countries continue to develop the more informed tourist will be quick to discern who & who does not furnish an exceptional environment.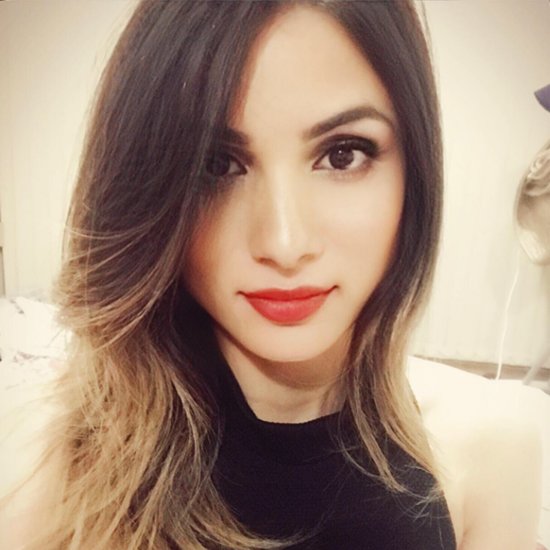 Hello, I am Molly Martin. I am from California and have been working in a company that manages money for wealthy people for the past 6 years and decided to leave my job because it wasn't doing anything for me other than making me feel stuck. So now after going on a trip around the world that made me feel empowered and coming back things weren't as they used to be at work or anywhere else so I want to change everything again. I left my job six years ago because I wanted to do something for myself and then went on a 3 month trip around the world which not only helped me realize how much more there was out there but also made me feel empowered because it was different than what everyone else does!