Are you planning your dream vacation to a tropical paradise island in South Pacific ocean? Bora Bora and Tahiti are two main idyllic islands, located in French Polynesia.
While both offer unparalleled beauty, you need to know what's best suited for your travel itinerary. In this blog we'll share in depth information on both of these islands.
We've also discussed an island that's alternative to Bora Bora and Tahiti. So read on to find out!
Vacation To The Islands In French Polynesia
Tahiti vs Bora Bora: Geographic Location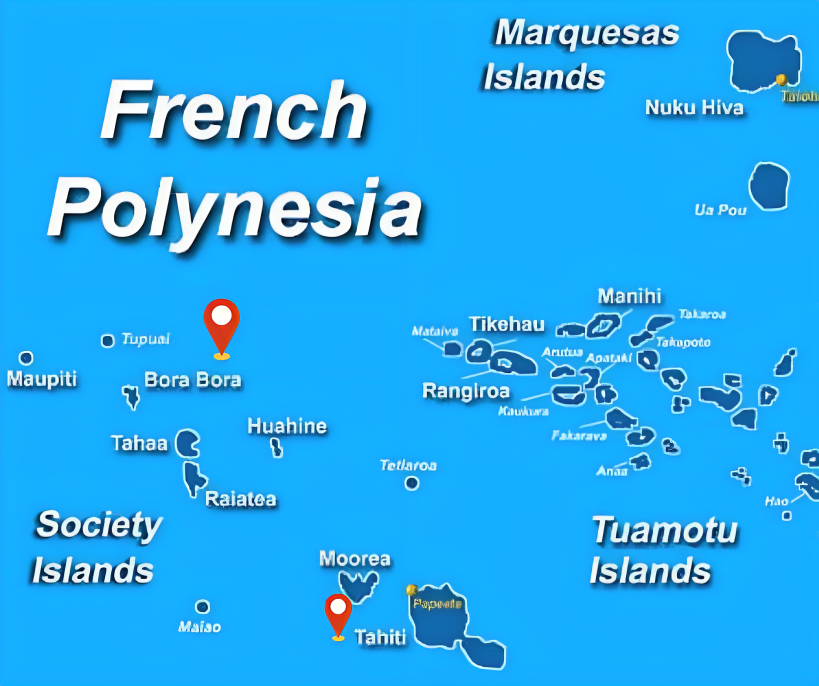 Tahiti
Tahiti is the largest island in French Polynesia. It is around 28 miles long.  It covers an area of 404 square miles. Its nearest neighbour is Moorea.
It consists of over 118 islands spread out over an area about the same size as Western Europe.  These islands are divided into different archipelagos: Austral, Gambier, Marquesas, Society, and Tuamotu.
Its highest peak is Mount Orohena and it is not only the highest peak in Tahiti, it is the highest in the whole of French Polynesia.
It is about 7,352 feet above sea level. The island is divided into two round areas centered on volcanic mountains. They are connected by a small isthmus named after the town of Taravao. 
Bora Bora
Bora Bora is a beautiful place with an epic geography. It was formed by volcanic eruption. This small island is only about 29.3 square kilometers. It's surrounded by a lot of mini islands in a gorgeous turquoise lagoon.
The highest point on the island is Mt Otemanu.  It's highest peak reaches up to 727 meters (2,385 feet) out of the lagoon. This mountain is covered in lush green hills and made of gnarly black volcanic rock.
Bora Bora vs Tahiti: Activities & Attraction
Things To Do In Tahiti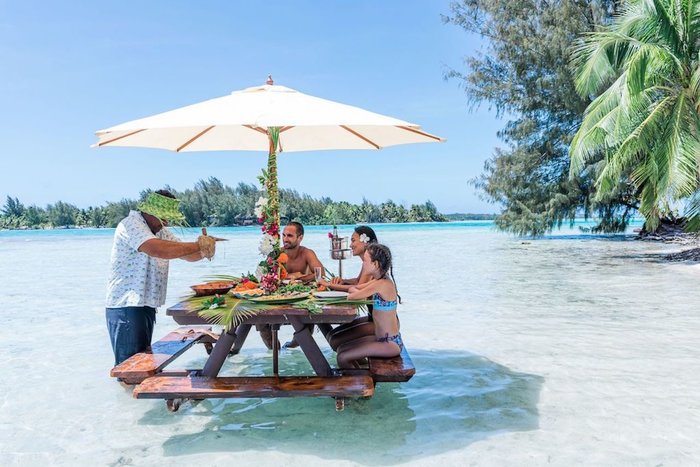 1. Best Place for Surfing- Tahiti is a dream destination for surfers all over the world. Ridding the wave in Teahupo'o is a dream for professional surfers. But if you are a beginner, you can catch some waves at Papenoo.
2. Full Day Tour of Tahiti– Across the stunning landscapes of Tahiti there are stunning waterfalls, caves, gardens, archaeological sites,and ebony sand beaches. A full day tour let you explore all of these hiddn gems in Tahiti.
3. Thrill with Jet-Skiing/Quad Biking in Moorea– For adventure enthusiasts, you can do jet skiing and quad biking in Moorea. You can find tours depart from Tahiti everyday. 
4.  Dive into Snorkeling in Moorea– Just beside Tahiti lies the captivating island of Moorea.  It offers a lots of activities including snorkeling. You can explore the magnificent lagoon of Moorea on a snorkeling tour. You can encounter the rich marine life – stingrays, blacktip reef sharks, colorful fish, and vibrant coral reefs.
Tours & Things to do hand-picked by our insiders

5. Stay in a Luxurious Overwater Bungalow Stay- When in Tahiti, you can't miss the chance of staying in a overwater bunglow.  Experience luxury and relaxation on Tahiti island or Moorea in  these unique resorts. They are best for a tranquil escape; surrounded by breathtaking views of crystal-clear waters.
6. Nightlife in Papeete- Papeete has a happening nightlife scene for fun travelers. You'll find most of the late-night fun happening along the coast, especially at the wharf where ferries come and go. Tahiti is know for Captain Cook's day. Its mostly dirty dancing bar scene unlike the Traditional Tahitian dancing. Seeing at least one night show should be in your Tahti itnerary. 
Things To Do In Bora Bora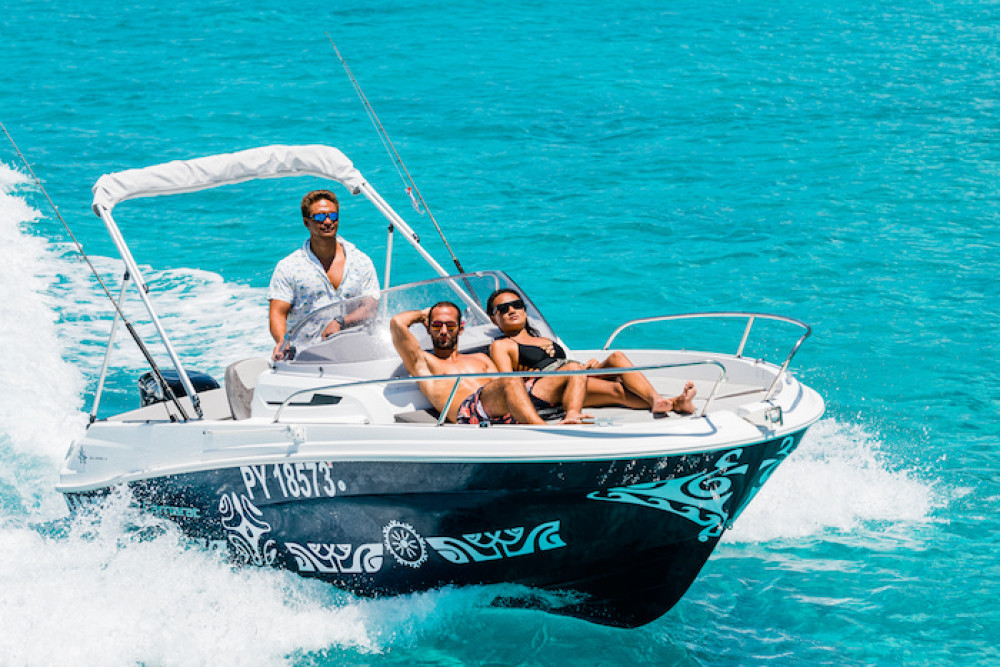 1. Go swimming with Humpback Whales– Whale watching in Bora Bora is something you must do! From July to November the whales migrate in Bora Bora. You can even hear their songs using special underwater microphones. You'll find certain tours that let you swim with them wearing snorkeling gear!
2. Stay at a Fancy Resort- Bora Bora is one of the best places for luxury overwater bungalows. They are expensive, but I'd suggest planning a honeymoon there.  It's totally worth it.
3. Take a Hike on the Valley of Kings Trail– If you want to learn about legends and history about French Polynesia, hiking the Valley of Kings at Ancesters' Peak is the place for you. The hike itself is beautiful. You'll get to see all kind of local plants.
4. Rent a Bicycle– The main island of Bora Bora is small and it can be  explored in just one day. You can rent regular bikes and electric ones too for less than $40 a day. It's super fun exploring the island while riding bike. 
5. Sailing into Sunset on a Catamaran– One really romantic thing to do in Bora Bora is sailing in catamaran.  You will experience the most beautiful sunset while sailing away. The tour include delicious snacks, sparkling wine, and music to make it an extra special experience.
6. Night Life In Bora Bora- The nights are very peaceful and secluded in Bora Bora. You can enjoy startgazing tour and learn how the Polynesians used stars for navigation. The resorts arrange romantic nights with polynesian dance and jazz music with best cocktails. You can also go to bars for drinks and Bora Bora Yacht Club Bar is a personal favourite. You can even spot celebrities here!
For more activities in Bora Bora, Read Here!
Tahiti or Bora Bora: Which is Best for Honeymoon?
French Polynesia is the popular destination among newly weds to escape for Honeymoon. And two main island in french polynesia is Tahiti's Moorea and Bora Bora. And both offers uniqune experience to the honeymooners.
Now which one of these islands are best for honeymoon completely depends on what kind of honeymoon do you prefer.
Tahiti Honeymoon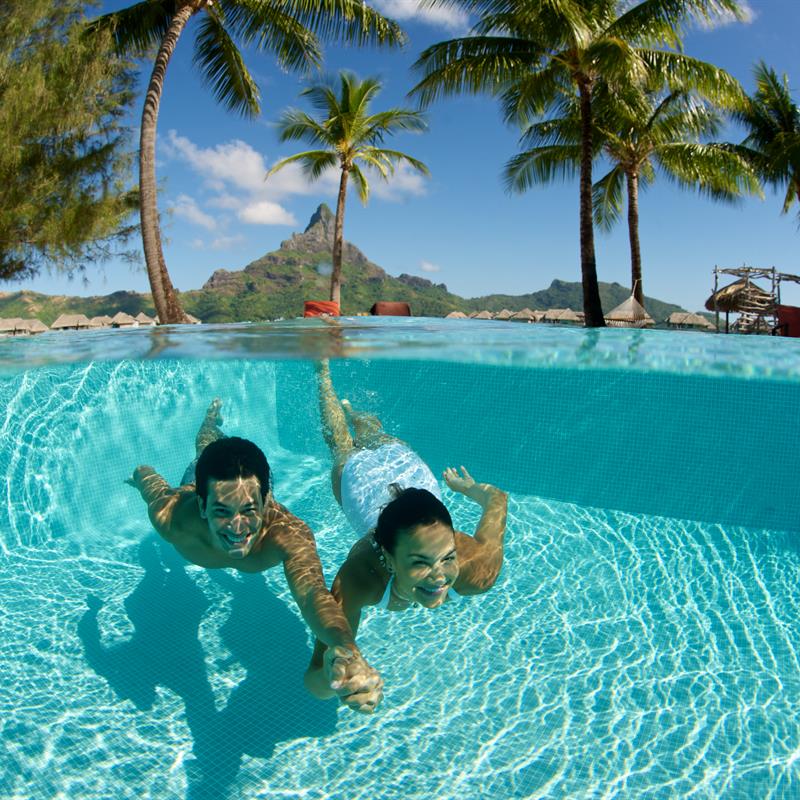 If you want to have an adventure filled honeymoon, then Tahiti is the best option. Couples can visit Moorea and experience a lot  without breaking the bank. There are tons of fun things to do both on land and in the water.
Scuba diving, riding jet-skis, quad-biking, hiking up mountains, mountain biking, and even cave exploring throughout French Polynesia to name a few.
You can also enjoying the beautiful resorts and snorkel with sharks and manta rays or explore lush hillsides for some incredible views.
This honeymoon destination is more like affordable luxury that allows you to do more than just sunbathe on the beach all day long!
Bora Bora Honeymoon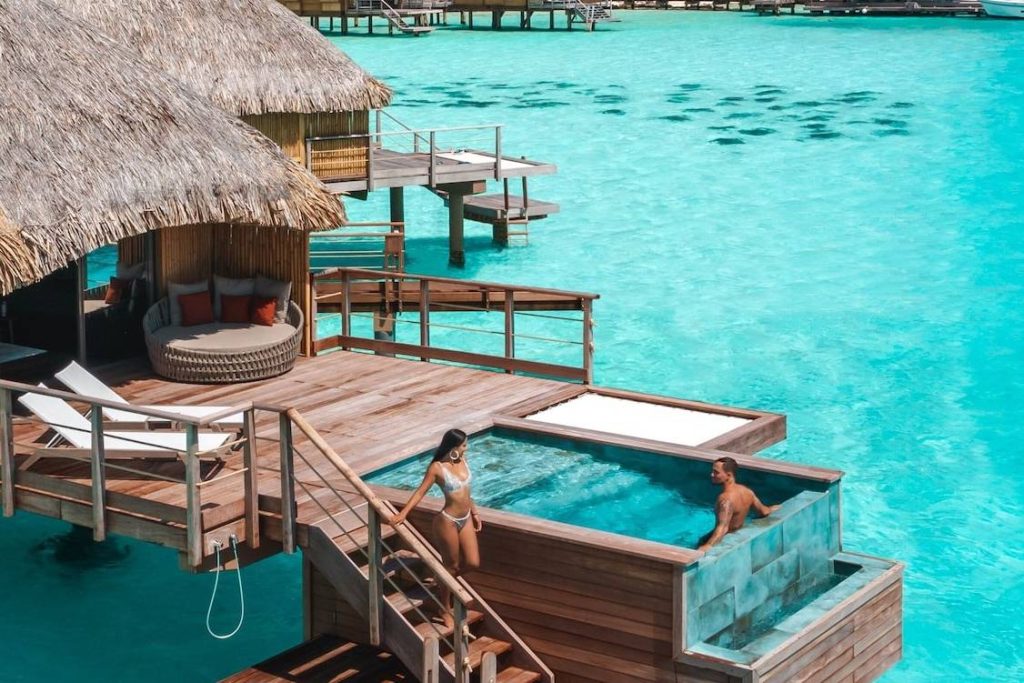 Bora bora is a tropical paradise in the South Pacific and the best place ever for your honeymoon. If you've decided to splurge on your honeymoon you should choose Bora Bora.
You'll get these amazing views of mountains, coral reefs, sandy beaches, and beautiful blue waters stretching out as far as you can see. The island is a prime spot for a honeymoon because it's sublime luxury and romance.
It's so popular among couples because everything here looks like they're designed to be romantic.
But honestly, most couples who choose bora bora, they'd rather chill by the ocean, getting pampered at a spa to get rid of all the wedding stress.  
You can have those long romantic dinners while watching the sunset at the resort. Bora Bora has such a laid-back vibe compared to Tahiti. It's perfect if you want to get away from everyday life.
The water here is crystal clear and the resorts scream luxury. It doesn't get any better than this for a dreamy honeymoon in French Polynesia!
Bora Bora or Tahiti: Best For Family Vacation?
Tahiti and Bora Bora might seem like they're only for  couples, but that's not entirly true! Lots of resorts there have stuff for kids to do. Your little ones can start snorkeling right outside their room in safe, warm lagoons.
They'll see sharks, stingrays, and turtles up close and learn a ton at the same time. It just depends on what you want from your family trip and how old your kids are. And if the hotel you choose is kid friendly.
Tahiti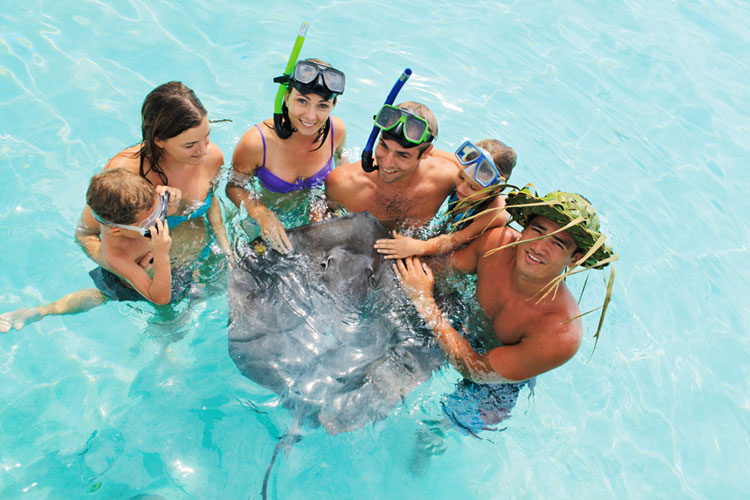 Tahiti is more appropriate place for families because it has lots of fun activities to do in a affordable cost than bora bora. The activities can be enjoyed by kids of all ages, especially little ones and teens.
Your kids will love enjoy roaming around the markets and trying local yummy foods in Papeete. And when they've had enough city adventures, you can always take them on countryside trips or may be do so water activities. 
Bora Bora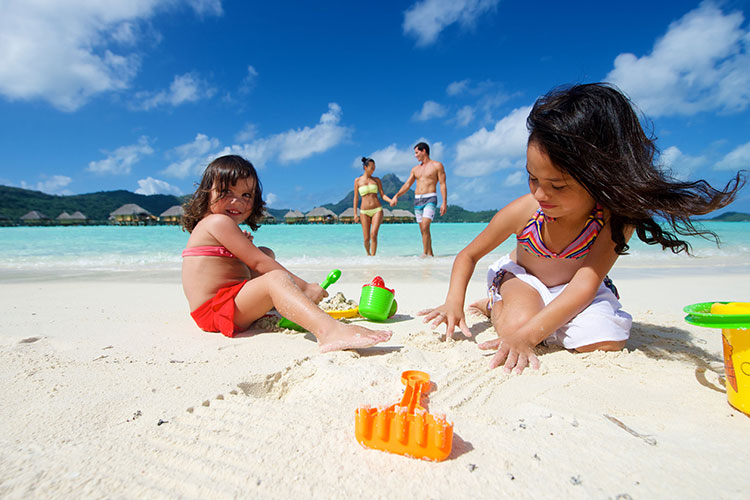 Family vacation in Bora bora is still not trendy. Bora Bora is actually a pretty good destination for young kids, especially toddlers, if a new mom needs break from everything. It has a chill and relaxed vibe that will keep them entertained. 
If your little ones are under two years old, you won't have to pay for an extra plane ticket or bed in a bungalow.
But personally, I wouldn't pick Bora Bora for family trip. My teens will find it harder to enjoy as most of the activities is very laid back and chilled.
Tahiti vs Bora Bora: Cost
 French Polynesia is not a budget destination like Bali or Thailand. But if you are wondering which is cheaper between these two island, then I'd say staying in Tahiti is usually chaper.
But don't worry, you don't have to break the bank even if you choose to go to Bora Bora. You can travel during off seasons for cheaper options.
 If you're looking for a more affordable vacation in the South Pacific, I'd suggest Fiji. It is a great option with many places to stay and direct international flights.
If you're willing to spend some extra cash, Fiji has stunning private island resorts that you can rent out to experience luxury too. You'll get exclusive access to the island and everything it has to offer!
Cost of Vacation in Tahiti
The cost of a trip to Tahiti totally depends on how long you're staying and they type of trip you've planned.  Tahiti is really crowded and busy through out the year.
The big cost is the accommodation fare. There are plenty of options for where to stay in Tahiti. You can choose fancy hotels right in the city center or more private resorts on the island. 
You can find cheaper hotels for around $100 a night, but that doesn't include food or stuff to do. If you want something nicer like a resort, you have to spend between $300 and $1000 per night.
If you're trying to stick to a budget, choose a cheaper hotel. There are tons of fast-food restaurants and affordable places to eat in Papeete city. You can usually get a meal for less than $20.
Cost of Vacation in Bora Bora
Bora Bora vacation is way more expensive than Tahiti. As I already mentioned it's famous for its fancy overwater bungalows and luxurious resorts.
These resorts are mostly located on little reef islands, so you'll have to ride a boat to reach them. If you really want a super special vacation, you could even think about renting your own private island.
To put it in simple words, Bora Bora offers more privacy hence more luxury and thus its quiet expensive. It's perfect for couples or honeymoon trips. All the fancy activities come with a higher price tag compared to Tahiti.
If you decide to stay at one of the luxurious hotels, you've to spend around $400-$700 per night. And if you want go all out, choose an overwater bungalow (which is what most honeymooners do).
It's definitely a splurge, you might have to spend upwards of $2,000-3,000 per night. But it's WORTH IT!
Most of the restaurants on the island are part of these posh resorts and it will cost $30-$50 per person. For some adventure-filled fun like an entire day snorkeling or going on a boat tour, it will cost $100-$200 per trip.
Other than that, There are no direct flights to Bora Bora. You've to get to Tahiti island first and then re-check flight to Bora Bora. That's an added cost too.
Tahiti vs Bora Bora: Best Time to Visit
Both Bora Bora and Tahiti are really close to each other, just a short 50-minute flight away. As they're so close, the weather doesn't differ much between the two islands.
The weather in French Polynesia is usually great all year round, so it's not that  big of a deal if you are wondering whether to visit Bora Bora or Tahiti. 
The high season is from May to October, so there will be more tourists and higher prices during that time in both the islands.
From December to March, it's the low season with more humidity and mosquitoes, but prices don't vary much.
If you want to avoid crowds, April and November would be the best months to visit both Bora Bora and Tahiti. Bora Bora typically has less crowd and is more peaceful as it's smaller than Tahiti.
Tahiti and Bora Bora: Resorts & Accommodation
If you're planning a trip to French Polynesia, I bet you've already dreamt of staying in luxury overwater bungalows! But let's be real, it all depends on how much you are willing to spend.
Luckily, both Tahiti and Bora Bora have some stunning resorts for honeymooners, families, and even budget travelers. So here are the top picks for each island from low range to high end.
Tahiti Hotels & Luxury Resorts
Low Range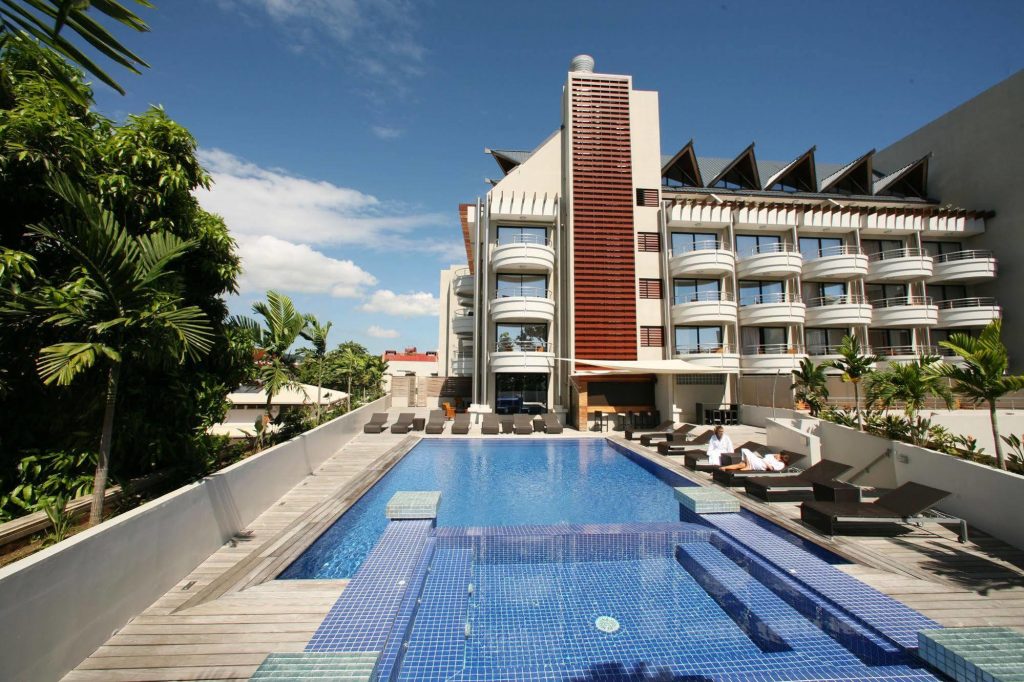 It's located in the heart of Papeete. The hotel provides affordable accommodation without compromising on comfort. You will have modern rooms with all the necessities, a big outdoor swimming pool, and a restaurant serving local cuisine. The hotel also provides easy access to the top tourist attractions. 
Mid Range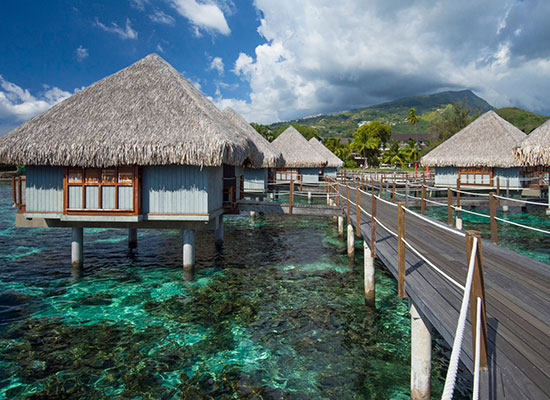 Le Meridien Tahiti is the best option if you want to experience luxury in budget. Located on a beautiful beachfront setting in Punaauia, this hotel is  the best option for travelers seeking relaxation and tranquility. The resort features large bungalows with ocean views, a big infinity pool overlooking the lagoon, multiple dining options including Polynesian cuisine, and activities such as kayaking and snorkeling. 
Luxury
Hilton Moorea Lagoon Resort & Spa is nestled amidst lush tropical gardens and located on stunning white sand beaches of Moorea Island. This 5-star property features fancy overwater bungalows. You'll have direct access to the clear turquoise water.
Bora Bora Hotels & Luxury Resorts
Low Range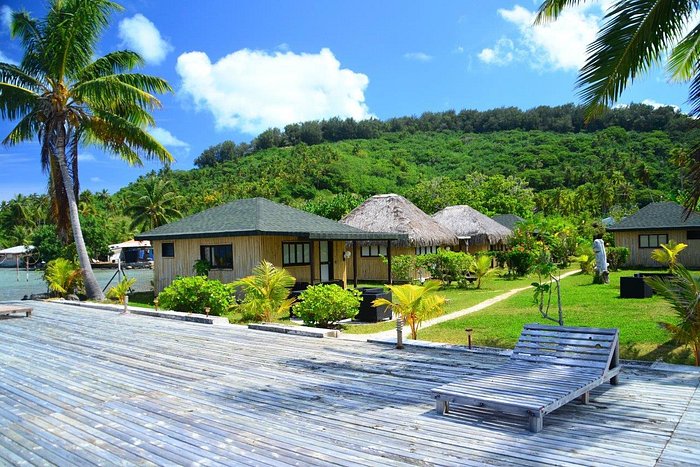 Located on the beautiful Matira Beach, this eco-friendly hotel is a budget option in traditional Polynesian bungalows. You can enjoy stunning ocean views, an outdoor spa, and a restaurant serving local cuisine.
Mid Range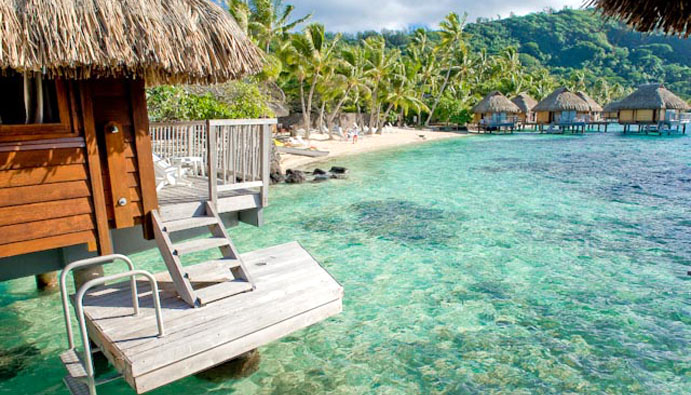 Located right beside the white-sand beach and turquoise lagoon, this hotel features comfortable rooms with private balconies or terraces. This is a very nice budget option to get over water bungalow feeling. The hotel features two restaurants, a poolside bar, watersports activities, and easy access to nearby shops.
Luxury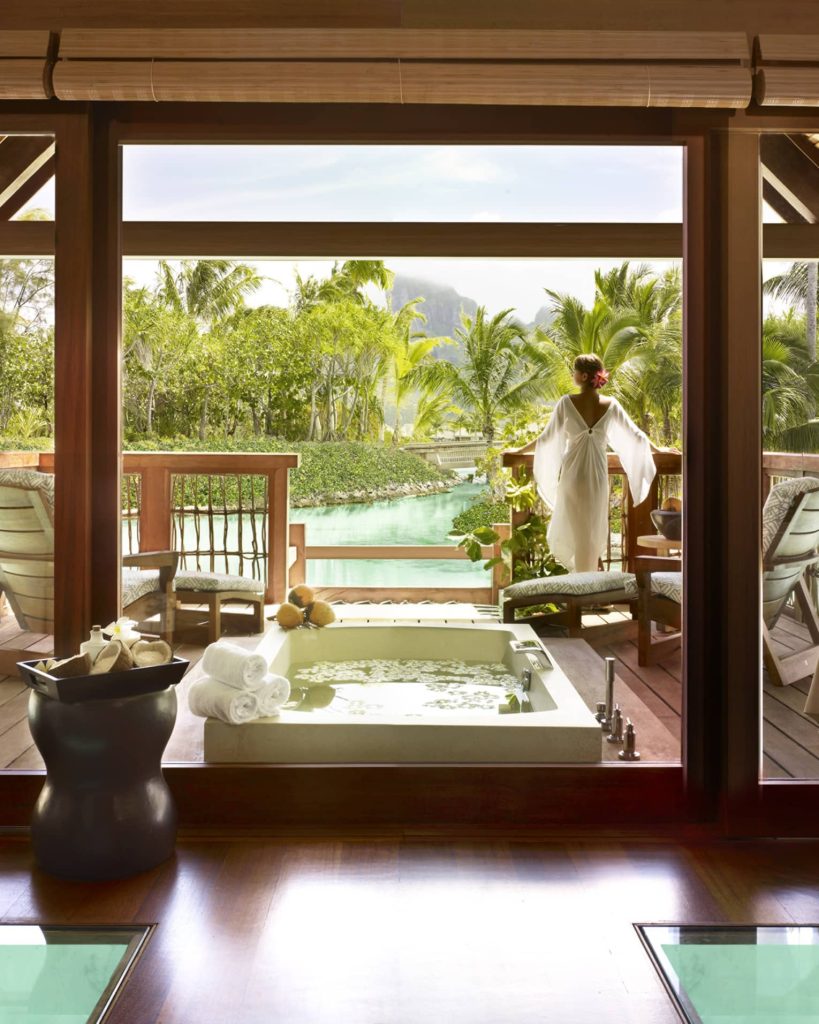 This is where most celebrities stay in Bora Bora. Need I say more?  Four Seasons Resort Bora Bora is an epitome of luxury set on its own private motu (island). This resort features over-water villas with breathtaking views of Mount Otemanu.
Tahiti- Moorea and Bora Bora : Visa Information 
Visa Requirements in Tahiti
If you're planning a trip to The Islands of Tahiti, you need sure to get a visa. It's necessary for all foreign visitors. it's easy to get just make sure your have a valid passport.  
Before you head to French Polynesia, get in touch with your nearest embassy or consulate where you live and they'll guide you on the required travel documents for international travel.
Get all the necessary documents, visas, and special permits sorted out. You also need to follow the rules and regulations based on your nationality, country of origin, final destination, and transit conditions.
Don't forget to double-check the expiration dates on these travel documents and renew them if needed.
Visa Requirements in Bora Bora
U.S. citizens do not need a visa if entering on a regular tourist passport and staying no more than 90 days out of every six months.
While visa is not required for Bora Bora, You must: 
Have a passport that's valid for at least six months after your plan to leave the country and has an empty page for a visa.
Show proof of both onward and return flights.
Carry all the necessary documents needed for your next destination.
Bring along any documents proving the purpose of your travel (like a letter from work or conference registrations).
Make sure you have enough money to cover your expenses during your stay.
It's wise to check with your airline beforehand if they'll allow you on board without a visa.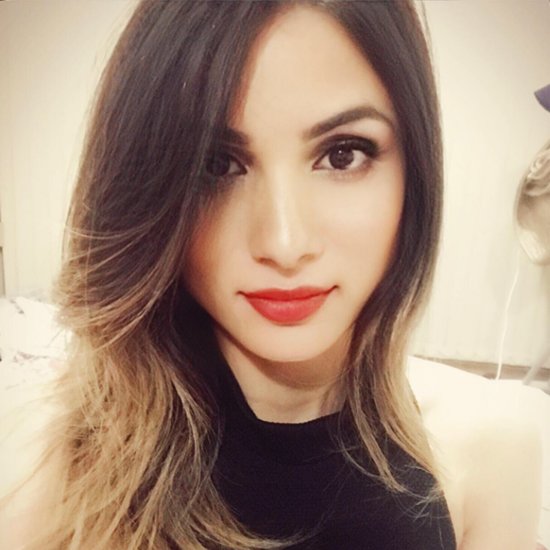 Greetings, travellers! I'm Molly Martin, the passionate explorer behind this vibrant travel platform. Alongside my team—Lorena, Jermaine, Ana, and Alen—we curate awe-inspiring travel destinations to ignite your wanderlust.
Thank you for joining us on this exciting journey. Your presence here enriches our travel community, and we look forward to inspiring your next adventure. Happy travels!