The sheer beauty of Bora Bora Island is something you'll never forget – this paradise on earth deserves its reputation as "the most beautiful island in the world".
Possessed of unique natural beauty, and one of the world's most stunning lagoon. Its wonderful motus are fringed by white sands & mystically powerful mountain scenery. Bora Bora island is a world-renowned tourist destination blessed with a kind & giving population with a rich history & cultural heritage.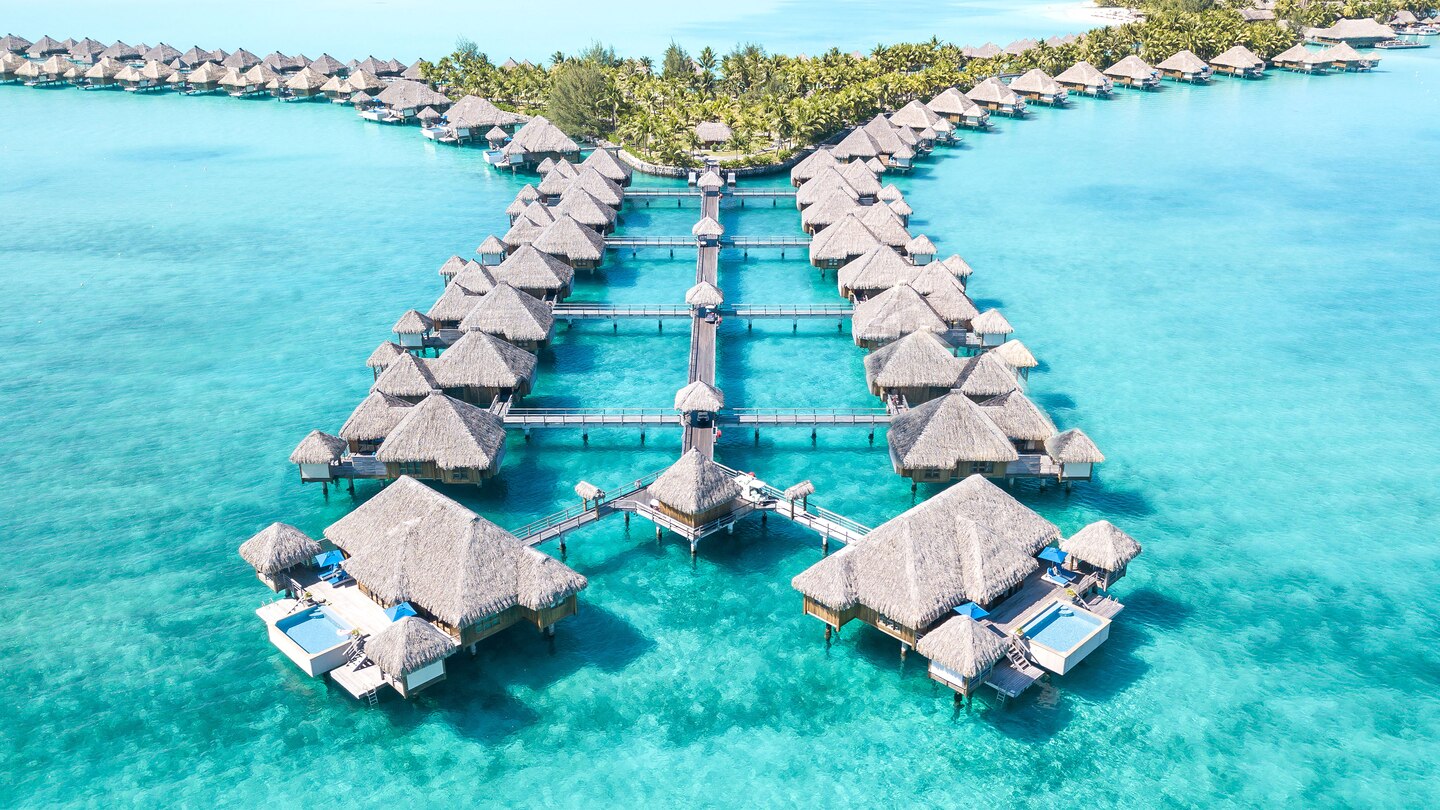 Bora Bora was formed from erupting volcanoes some 7 million years ago, the first of the Society Islands so formed. Some 4-5 million years before, say, Tahiti or Raiatea. Bora Bora was originally known as Vavau meaning 'firstborn' & then Pora Pora. The change in spelling to Bora Bora flows from an error made much later by the naturalist Lesson whilst voyaging aboard La Coquille with Dumont d'Urville. In the Tahitian story of the creation of the world, Bora Bora was the first land & as such the land of the gods. Whilst Pora Pora makes reference to the double pirogue that carried god to the island. Both facts point to the importance of the island. The spirit (manu) of god is said to have descended on Bora Bora atop Otemanu on a rainbow.
The center of Bora Bora is marked by two peaks:
Otemanu, the highest point at 727m
Pahia, 661m
These are held to have a mysterious quality that reminds visitors of Bora Bora's ancient mythical past. The island's topography with only 29 km2 of landmass, most of it mountainous, created a determined population. Renowned warriors – intent on defending their own. Family relationships were important & they remain so today.
Bora Bora island is situated in the mid-south Pacific roughly halfway between Australia & Chile. It is the jewel in the crown of French Polynesia. Bathed in the warm waters of the South Pacific… World-renowned for the beauty of its mountain scenery & being enveloped in the world's most beautiful lagoon.  It is a much-envied tourist destination, regarded by many as one of the few real remaining paradises on earth.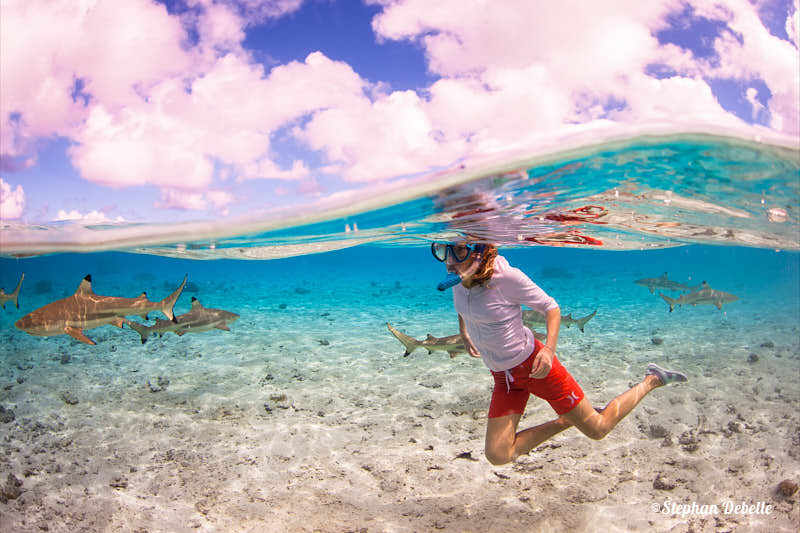 French Polynesia is scattered over a vast ocean the size of Western Europe. The 118 islands and atolls that makeup French Polynesia are divided into 5 main archipelagos;
Austral Islands
Gambier Islands
Marquesas Islands
Society Islands
Tuamotu Archipelago
The Society Archipelago is perhaps the best known as it includes the world-renowned islands of Bora Bora, Moorea, and Tahiti. Lush, dark green islands of volcanic origin, with ragged peaks thrusting upward into the skies. Approximately 60% of the population of French Polynesia lives on Tahiti, the major entry point into the region.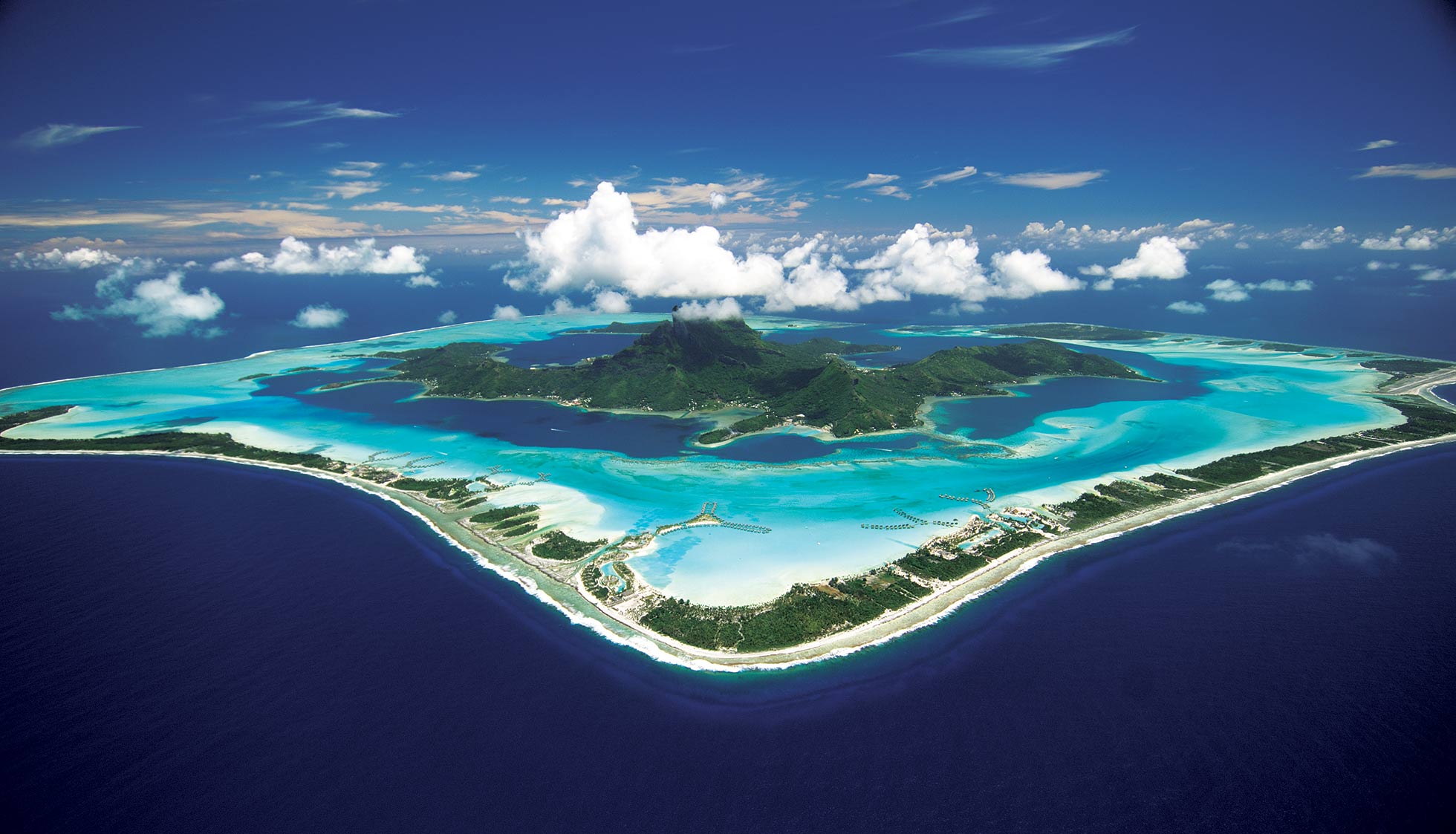 Brief History of Bora Bora Island
Starting from South East Asia, the ancestors of Polynesians sailed the Pacific Ocean for centuries. Exploring aboard massive double-hulled sailing canoes up to 25m, long known as pahi. Each canoe could hold up to 60 people & more importantly, could sail upwind. This is something the boats of Cook & Bouganville could not do almost 2,000 years later!
The island of Bora Bora was first inhabited by Polynesians who crossed the Pacific Ocean in such vessels from Tonga & Samoa around the 3rd century AD. Perhaps the world's greatest navigators of all time. It is literally staggering to consider that Polynesians could safely & with surely navigate these waters using the stars, wind, the patterns of bird flights & other aids! This, more than a 1,000 years before the first Europeans were known to have mastered sailing in their own waters.
French Polynesia covering some 5,500,000 km2, the size of Western Europe. However, the first European reported having sighted any part of it was Magellan who in 1521 sighted Pukapuka  (Tuamotu Atolls). He missed the other 120 odd islands & atolls.
In 1595, Mendana visited Fatu Hiva in the Marquesas.
Dutchman Jakob Roggeveen, in 1722, is the first European to have made reference to Bora Bora.  He did not stop on the island having confused it with parts of Samoa.
English navigator Samuel Wallis in 1767 & a year later, French navigator Louis Antoine de Bougainville both laid claim to Tahiti (Bougainville not realizing Wallis had been there before him).
Cook was actually the first European explorer to walk upon Bora Bora. During his third expedition in 1777, he came ashore to negotiate the purchase of an anchor lost by Bougainville which he found on Motu Tevairoa. He secured it in exchange for some clothing, axes, mirrors & other trinkets.
The explorers were followed by a brutal group of whalers. They brought with them not only alcohol & firearms but the disease that would nearly wipe out the local populations in French Polynesia. Bora Bora arguably lost up to 40% of its population. In the Marquesas Islands, it dropped from 80,000 to 2,000 in the century following the arrival of the whalers.
The Protestant Missionaries (English) arrived in Tahiti in 1797 & the Catholics (French) shortly thereafter. They would start to evangelize the outer islands as early as 1804 & by 1822 the first temple in Vaitape had been built by the protestants. Sadly they made a concerted effort to erase Polynesian culture. This was done through the destruction of Marae (temples) and carvings and in banning dancing and religion. The marae at the time was the center for religious & other ceremonies. Cpt Cook had witnessed a human sacrifice at a marae where the victim was held securely in place on a platform whilst the priest smashed his skull with a mace. Fortunately, many less violent Polynesian customs have prevailed. Traditional dancing, music, and arts have flourished with the Tahitian language being the predominant language spoken by locals outside of Tahiti.
Bora Bora supported Pomare in his push for supreme power over Tahiti. They were resisting a French protectorate (established over Tahiti in 1842) until the island was annexed in 1888 when its last queen, Teriimaevarua III, was forced to abdicate. The islanders continued to resist until the island was finally secured by France in 1895.
Bora Bora's intoxicating reputation as paradise on earth stems from a myriad of navigators, writers & artists. Bougainville, after staying in French Polynesia, wrote his famous "Voyage Autour du Monde" in which he created the legend of "La Nouvelle Cythere", the island of pleasures in the southern seas (Cythere being where Aphrodite, the goddess of love was born).
Herman Melville wrote two stories of Polynesian life in 1846 and 1847. In the 1890's Paul Gauguin composed the illustrated book "Noa Noa", which spoke of ancient Polynesian culture telling the story of the Areori who resided on Bora Bora and of the god's first miracle creation Noa or "fragrance." Broadway and Hollywood to have found inspiration in Bora Bora. "Tabu" was filmed there in 1928. The island's wartime history inspired the romantic Broadway musical and movie "South Pacific." De Laurentis shot "Hurricane" & "The Shark Boy of Bora Bora" there.
Bora Bora Island in WWII
Coverage of the American presence during WWII warrants being repeated here:
Following the bombing of Pearl Harbour in WWII, the U.S. used Bora Bora as a military supply base maintaining a supply force of nine ships, 20,000 tons of equipment, and nearly 7,000 men. Unaware as to why the fleet had unexpectedly arrived, the population paddled out in their outrigger canoes with floral leis as tradition would have it to warmly welcome the new arrivals. The Americans finding no effective roads & insufficient drinking water would build everything from scratch. The airstrip so constructed took only 4 months to build & was French Polynesia's only international airport until Faa'a International Airport opened in 1961. Today the same airstrip is serviced daily by regular Air Tahiti flights. Eight massive naval cannons were set up at strategic points around the island to protect it against potential attacks. The island, however, saw no combat over the course of the war. The base closed in June 1946 but many Americans chose to remain and have many descendants still living on the island.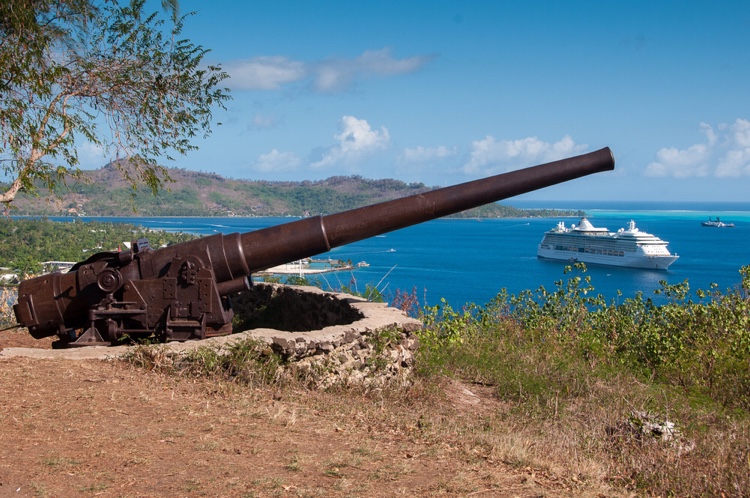 Bora Bora Island Today
Bora Bora's main island is surrounded by many stunningly beautiful motus on which some of the best hotels in the world have been constructed as can be seen in the report entitled: Motu Hopping In Paradise.  The main island is actually sinking at a rate of 1cm per century & will sink completely in around 25 million years leaving just a coral atoll……if you are still around!
The urge to party is innate for a Polynesian & today you'll still find Tahitians partying whenever possible playing their traditional pahu and toere drums and accompanied by guitars and ukuleles which migrated to Bora Bora but now combine to produce a unique Tahitian style.
The Heiva, an emphatic statement of the deep history & rich culture of Polynesia & the life of Polynesians, has been conducted annually for over 130 years. The Bora Bora i Heiva is the most authentic large-scale production of this sensational, awe inspiring event in French Polynesia as can be seen in the review of the Heiva i Bora Bora.
Bora Bora has a permanent population of just over 10,000 people. Vaitape is the island's commercial & administrative centre. The island is almost totally tourism based with produce from the island being essentially seafood and copra. Although French and Tahitian are the main languages, English is widely spoken. Public transport on the island is non-existent; rental cars, scooters and bicycles are available.
Bora Bora Lagoon
Bora Bora lagoon is three times the island's landmass & offers many of the island's most popular activities & attractions. There are tours by boat or jet-ski, tours to suit every taste & budget, dives for all levels, excitement & adventure for all.  Bora Bora has a comprehensive range of marine life – fish, crabs, dolphins in the pass, turtles, manta & stingrays, sharks, whales in their migrating season, marlin, tuna, sailfish & mahi-mahi to name a few roam the seas. Shark & ray-feeding dives & swimming with huge manta rays are very popular as is a tour of the island on a jetski, deep-sea-fishing or even surfing: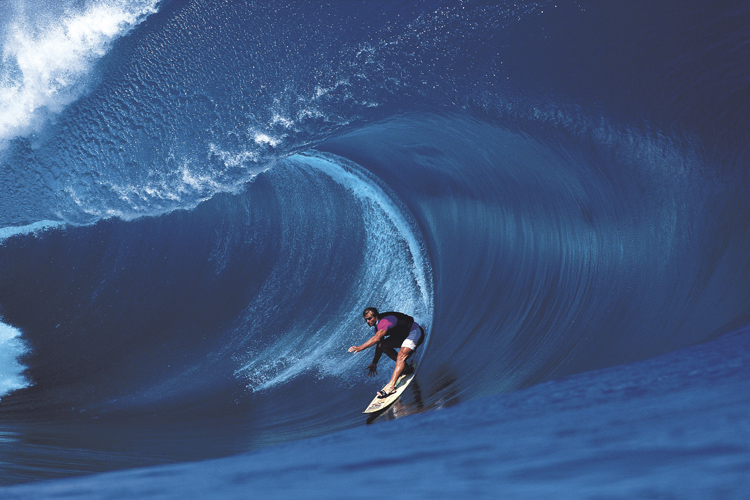 There are also some very special places to be visited in the foothills & the spectacular mountains of Bora Bora including the awe-inspiring climb to the Cave on Mt Otemanu & the ascent up Mt Pahia recently closed (September 2013) by massive fires that swept the mountain top:
Overwater bungalows originated in French Polynesia in the protected waters of the lagoon. Moorea's Bali Hai was the pioneer in adapting stilt homes over the coral, but it was in 1971 when the Hotel Bora Bora built their first luxurious overwater bungalows, that this unique style of accommodation captivated the world's jet set.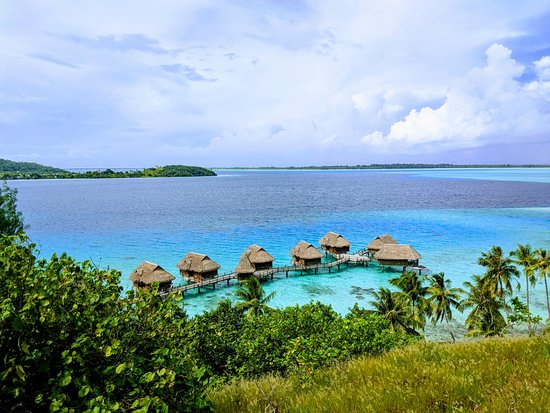 People who live on Bora Bora will tell you that the island is filled with a compelling energy; there's no other place like it on earth!
Bora Bora: https://en.wikipedia.org/wiki/Bora_Bora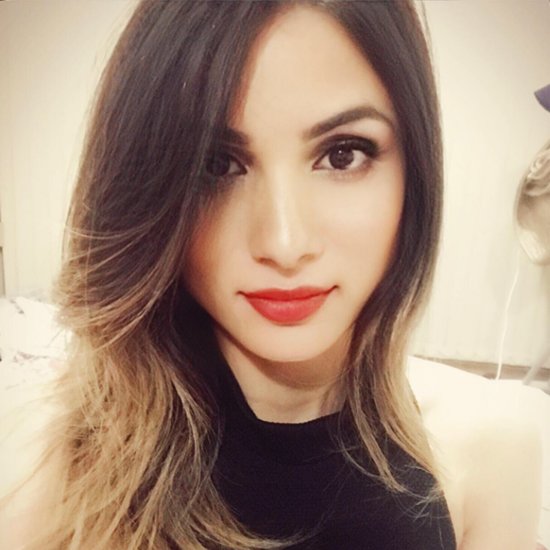 Hello, I am Molly Martin. I am from California and have been working in a company that manages money for wealthy people for the past 6 years and decided to leave my job because it wasn't doing anything for me other than making me feel stuck. So now after going on a trip around the world that made me feel empowered and coming back things weren't as they used to be at work or anywhere else so I want to change everything again. I left my job six years ago because I wanted to do something for myself and then went on a 3 month trip around the world which not only helped me realize how much more there was out there but also made me feel empowered because it was different than what everyone else does!