Are you planning a quick adventurous trip to the mountain ranges of the Dolomites? Then get ready to have a quirky journey like no other.
I've been to the Dolomites for 8 times. And everytime I can't belive my eyes that this place is actually real. I have explored this place heavy. To fully experience all the mountain fun, you need 7-8 days.
But if you want a quick trip, in this blog I have set up the full 5 days in the Dolomites road trip itinerary for you! I have listed all the best place with best food and hotels. So read on! 
The Ultimate Dolomites Itinerary: Important Things to Know
Best Time to Visit the Dolomites
The best time to visit the Dolomites really depends on what you prefer. Each season has its own charm, but for this road trip itinerary, I recommend going from the end of May until the end of September.
This is because before or after those dates, the mountains are usually covered in snow and many hiking trails become inaccessible. Don't get me wrong, visiting in winter is still a great idea, just not ideal for a road trip!
If you want to avoid crowds, it's best to go either in early June or mid-September. Personally, we went in mid-September and had amazing weather, but keep in mind it can vary from year to year.
All the photos you see in this article were taken during mid-September so you can get an idea of what the area looks like around that time.
How Many Days Do You Need in the Dolomites?
The Dolomites are seriously so stunning that its hard to believe the places are real! I've been there 8 times, and each time I was awestruck by the nature bliss. 
If you're a newbie, I'd suggest spending about 4-5 days there. This way, you'll have enough time to hit all the cool spots like Alpe di Siusi, Lago di Braies or Tre Cime di Lavaredo.
The Dolomites have endless amazing hikes if you enjoy being outdoors and trekking. You could even stay for weeks without getting bored!
Honestly, I'd say 1 or 2 weeks is the perfect amount of time to fully experience the mountains. But I understand not everyone can spare that much vacation time.
That's why I've put together this 5 day Dolomites road trip itinerary. I listed my favorite places where I will go again and again.
How to Get to the Dolomites 
Getting to the Dolomites is still tricky as it's pretty remote. As you'll see below, the best way to explore the Dolomites is by car.
Since a lot of the places are spread out and public transportation isn't available. But first things first, let's talk about which airport you should fly into.
It's easy to get to the Dolomites with several travel options available whether you're coming from far away or a nearby European country.
Tours & Things to do hand-picked by our insiders
The Dolomites doesn't have its own airport. You have to fly to the nearby cities with international airports. The closest ones are Venice Marco Polo Airport, Innsbruck Airport in Austria, and Verona Airport.
You can also take a train if that works better for you. Trains run from major cities across Europe like Verona, Venice, Milan and Paris to gateways in the Dolomites like Bolzano, Brixen or Belluno. You can check train schedules here.
Keep in mind that many of the smaller towns and alpine villages aren't connected by train. So if you want to use public transport while exploring around the Dolomites, you'll mostly have to rely on local buses.
But the Best way of Getting To & Around the Dolomites is by  bringing your own vehicle or planning to rent a car (check out Rentalcars.com for options). Unlike Switzerland or Austria, you don't need a vignette to use the motorways in Italy. If you want to take the toll roads, just pay at a booth when entering and exiting.
The Dolomites region is mostly mountain passes and alpine valleys connecting it. Some of the best destinations can't be reached by public transport.
But if you really want to make the most of the Dolomites, it's recommended to travel by car. There are also private tours available that will take you around some places in the Dolomites.
The area is also great for campervans since there are plenty of beautiful campsites in the heart of the mountains. If you don't have your own camper, you can hire one for an epic van life road trip through the Dolomites.
Just keep in mind that driving a motor home can be tricky on narrow mountain passes, so make sure you're comfortable with its size before renting one and driving around in the Dolomites.
Tip: European cars usually have smaller trunks compared to American cars. If you're like us and packed a lot for this trip, but don't want to take everything with you to the Dolomites, there are storage lockers in Venice that cost around $65 for 5 days.
Another great option would be to fly into Milan, rent a car, and drive four hours to your destination. Northern Italy can be reached through multiple airports. Whichever airport you choose, you'll need to rent a car and drive to your final stop in the Dolomites.
Here are the driving times from nearby airports:
Venice, Italy – 3.5 hours
Munich Germany – 3-4 hours
Milan, Italy – 4 hours
Zurich Switzerland – 5-6 hours
Budapest, Hungary – 9 hours
5 Days in The Dolomites- Perfect Dolomites Itinerary 
Day 1- Light Sight Seeing Time in the Dolomites
Tre Cime di Lavaredo
When you get to Bolzano station, check in your hotel. For day 1, we choose some light sight seeing.  You can either take a rental car or take a taxi from your hotel to Tre Cime di Lavaredo. It usually takes about 1 hour to travel from Bolzano to Tre Cime di Lavaredo, depending on traffic.
In the morning, you can spend a few hours exploring Tre Cime di Lavaredo. It's located in the middle of the Tre Cime Natural Park and offers hikers the chance to see three impressive peaks. The trail is famous for its beautiful scenery, but the road to get there is pretty windy.
To access the hiking trails, you can go to Refugio Auronzo by either bus or car. When I arrived, the parking lot of Refugio Auronzo was full, so we decided to park at the bottom of the mountains and take the bus up.
It cost us 3€ each, but it was worth it because we found out there was a 50€ toll fee for vans to enter Tre Cime di Lavaredo! For cars, it's only 30€, but the bus is really efficient, so if you have the time, I recommend taking it. 
As you follow the clearly marked paths, you'll be surrounded by breathtaking views of the alpine landscape. There are impressive rocky formations, lush green meadows, and crystal-clear mountain lakes all around you.
Cadini di Misurina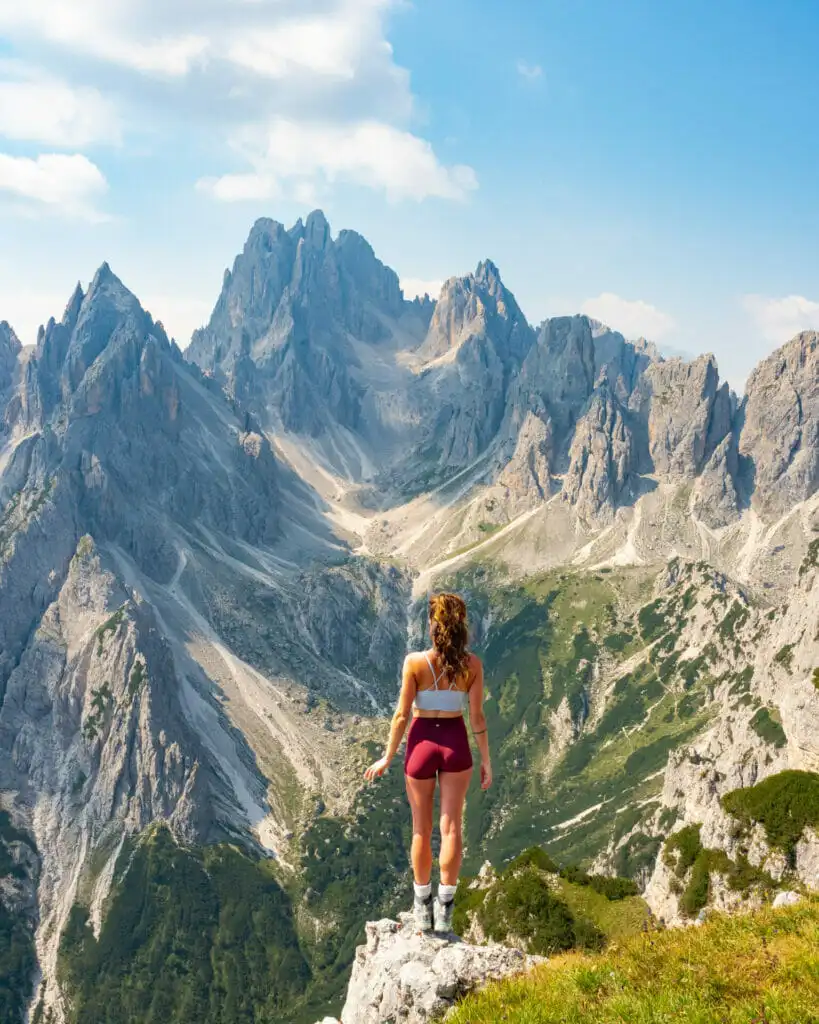 The Cadini di Misurina part of the Tre Cime hike is a secret gem that's totally worth the extra 40 minutes of hiking.
Once you're on the trail, you'll be surrounded by massive rock formations, breathtaking cliffs, and unique rock patterns. Trust me, it's hands down the easiest hike with the most awesome views in the whole Dolomites!
Lunch at Rifugio Auronzo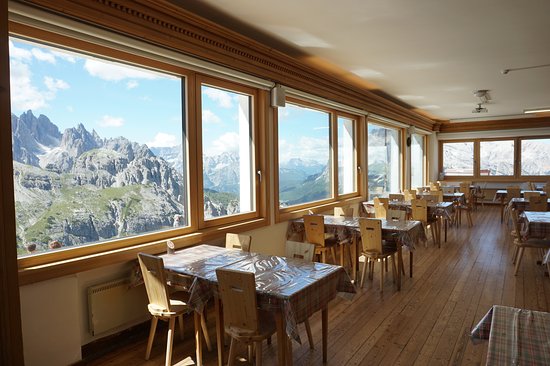 The hike at Tre Cime di Lavardo starts at the car park of Rifugio Auronzo. Just walk past the rifugio and follow the wide gravel path 101 towards Rifugio Lavaredo.
The Cadini range will be on your right, and Tre Cime on your left. You'll know you're going the right way when you pass Capella Degli Alpini. This part of the hike is pretty flat and crowded.
You'll reach Rifugio Lavaredo quickly. It's a good idea to take a break on the deck, even if you don't want a drink or snack, because the views from here are amazing.
Surprisingly, we found plenty of vegan food options available. I can't guarantee they didn't use beef stock or butter, but the main ingredients were plant-based.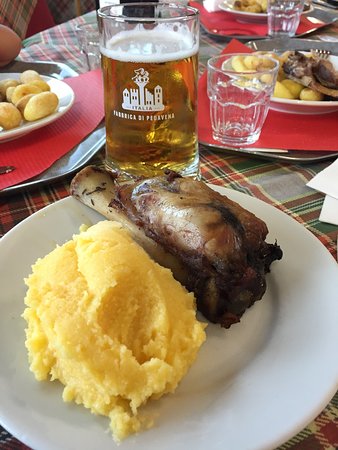 I had a delicious and simple minestrone soup to start, which warmed me up. Then I had polenta, roasted aubergine, and roasted mushrooms.
It was filling and decent, but lacked a bit of flavor. Maybe the high altitude affected the taste, and adding some salt would have helped. They offer a variety of drinks, and we had two americano coffees with soy milk.
The prices were reasonable considering the location and the potential for overcharging tourists.
Lago di Braies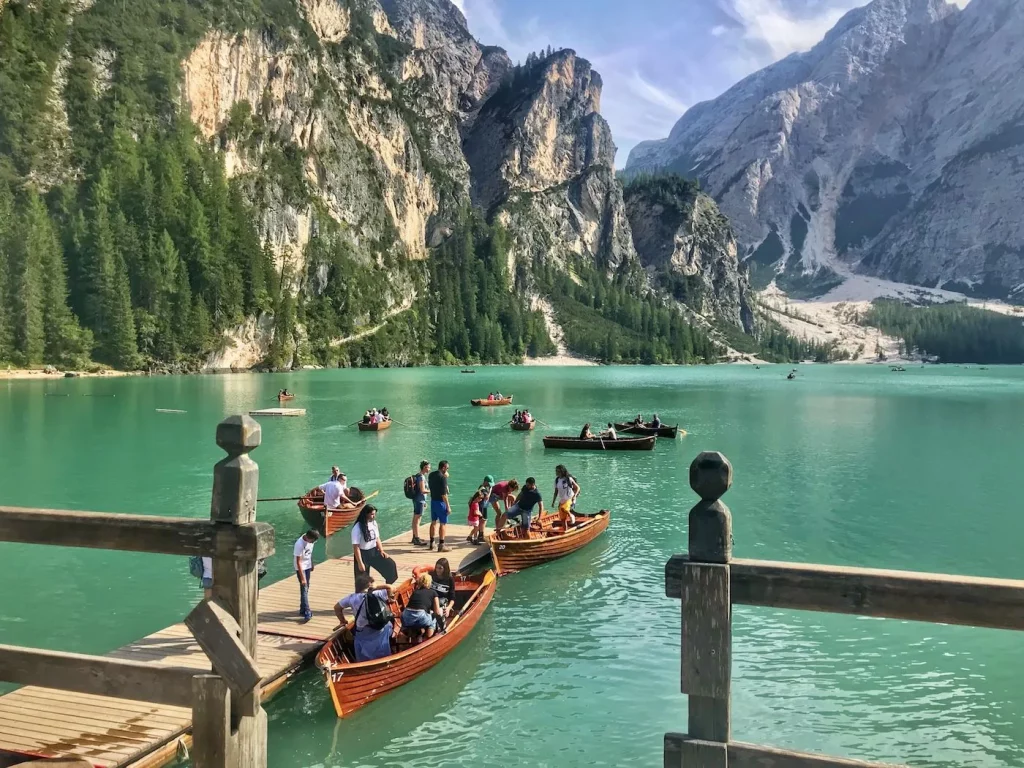 Drive up Val di Landro (Höhlensteintal), the valley between the Braies/Prags Dolomites and the Sesto/Sexten Dolomites, to Val Pusteria (Pustertal).
There are two mountain lakes right by the road: Lago di Landro (Dürrensee) and Lago di Dobbiaco (Toblacher See). One of the most beautiful spots in the Dolomites is the beautiful emerald mountain lake, Lago Di Braies.
It's best to go early in the morning because during peak season, the road to the lake closes at 10 am or earlier if the parking lots are full.
There are a few parking lots on the way to Braies, but the best choice is P2. It's the last one to fill up and it's actually cheaper than the main parking lot, P1. It's only a short walk to the lake (about 10 minutes), and there's a food truck at the entrance that you should definitely visit for a tasty snack after your hike.
To know more about this hike, Read Here!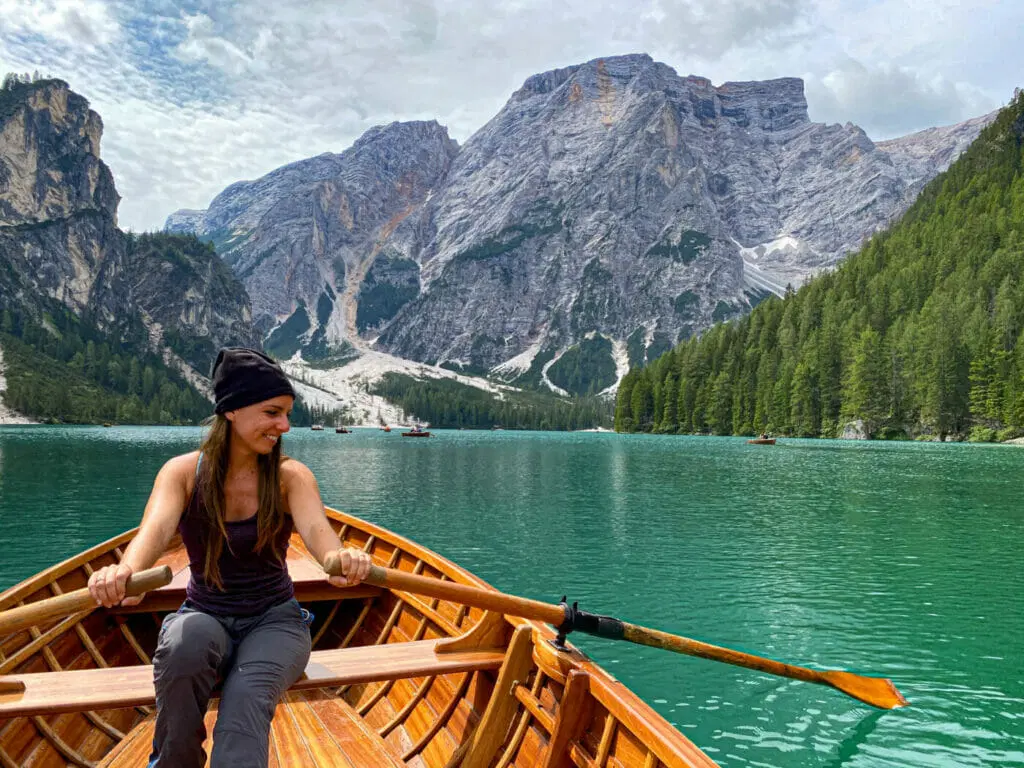 Even though this place got really crowded when we got there but it was worth seeing. If you want to rent one of the traditional wooden rowboats and go out on the lake, you'll find the rental hut at the main entrance to the lake area.
It costs 30 euros for an hour of rental, and if you go early enough in the off-peak season, you might even have the whole lake to yourself.
The hike around the lake is a little over 3km long and takes about one to two hours, depending on how many times you stop to take photos along the way.
Don't forget to check out the hidden alpine church tucked away in the trees on the western shore before you head back to your car.
Day 2- Explore Popular Hike and Popular Towns
Val Gardena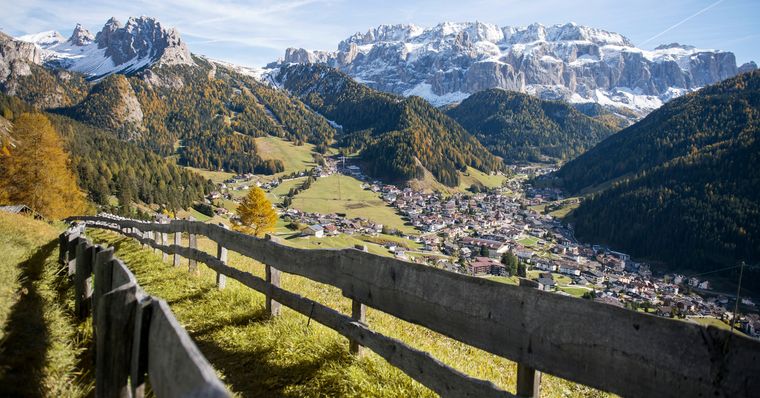 Start the day 2 of your Dolomites trip by heading to Val Gardena. Val Gardena is seriously an absolutely stunning valley in the mountains that is famous for being beautiful, having cute little villages, and tons of amazing stuff to do outside.
There are three main little villages in the valley: Ortisei (also called St. Ulrich), Selva (or Wolkenstein), and Santa Cristina (or St. Christina).
The valley is all about having a rich culture haritage, with old-school Ladin buildings, wood carving, and all sorts of traditional folk traditions that are still seen among the locals.
Hike in the Dolomites- Seceda Hike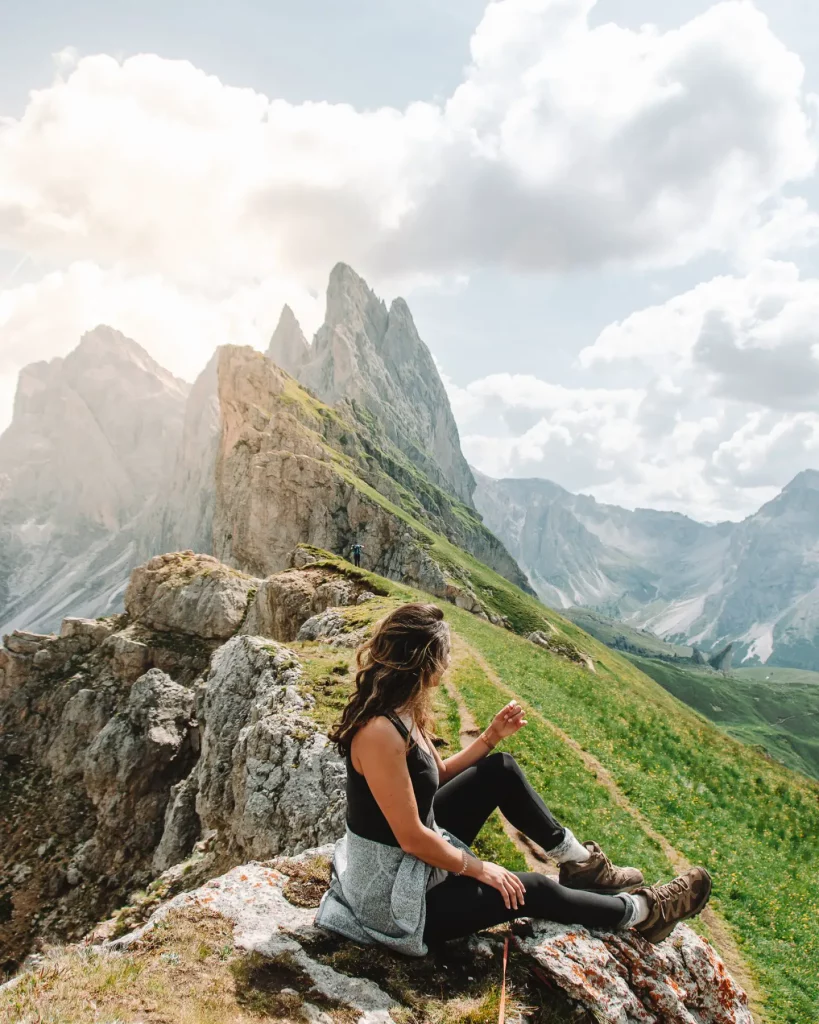 Seceda is one of the most iconic peaks in the Dolomites. It's in the Puez Odle Nature Park and it's widely popular on Instagram.
Seceda is the one of the best day hikes in the Dolomites for every level of hikers. The best part of the hike is definitely the incredible view of the Seceda ridge.
Being there feel like you are on a completely different planet with jagged Odle ridges. The rest of the trail goes through these beautiful alpine pastures with cute little huts and stuff.
To know more about this hike, Read Here!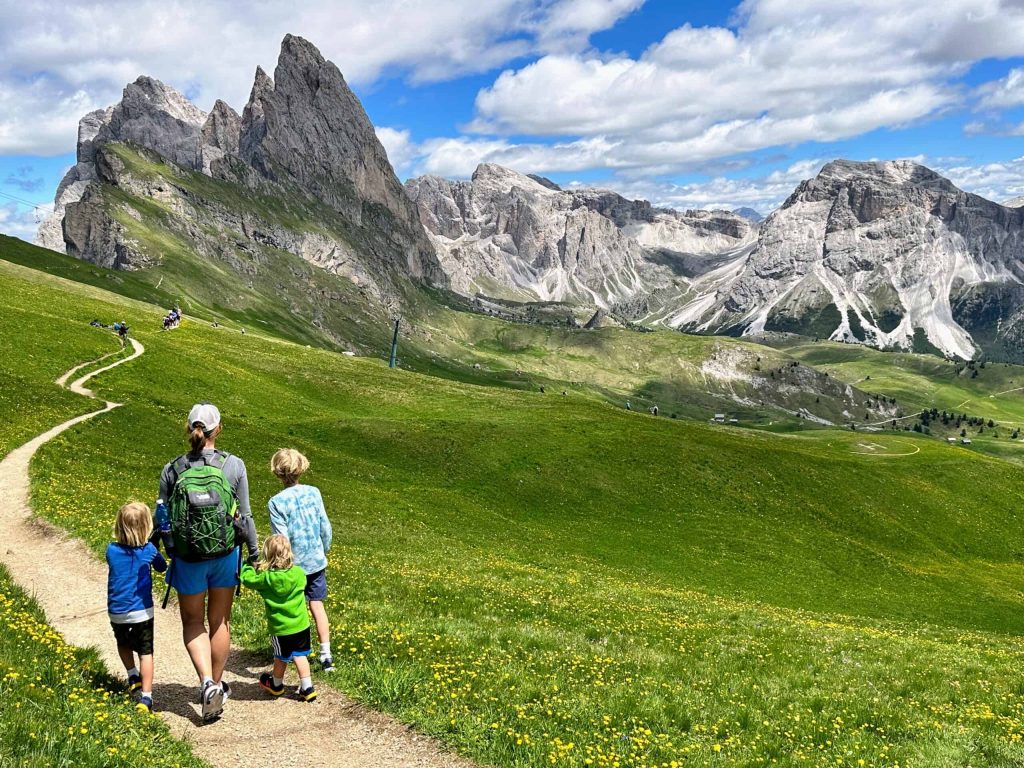 While hiking you will see rocks just pop out of the ground, like they're about to shoot up into the sky. It's crazy!
The best part about hiking Seceda is that you can totally make your own trail route. There's a bunch of different ways to get there.
It has multiple access points and cable car station. You can take the shortest super quick hike that only takes 10 minutes to get to the Seceda ridge.
If you ask me, the best way to do the hike is to start at the top of the Col Raiser cable car. Then just follow the signs to Fermeda/Seceda.
Once you get to the top, just follow the signs back to Col Raiser and catch the cable car back to the car park.  If you want to explore other famous hiking trail then check out our list of best hike in the Dolomites.
Lunch at Baita Pramulin Hütte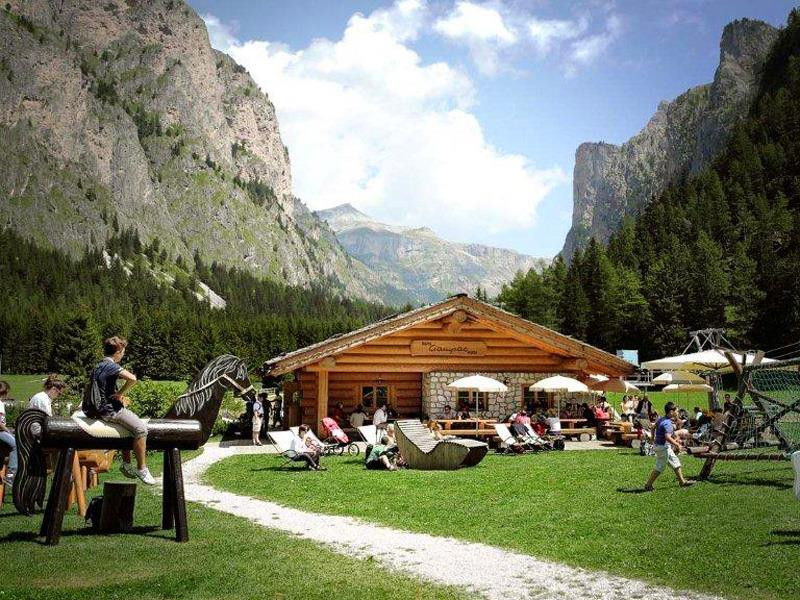 By this blog this was the sixth time in a row we've been to Val Gardena, and let me tell you, this place is the coziest and nicest of them all. The Aperol Spritz here is huuuuge and delicious, and the Thursday dinners are amazing!
But the best part is that it's located right at the end of a Col Raiser slope. It's worth taking a special trip just to check it out. It's family run restaurant, the owner is incredibly friendly and welcoming.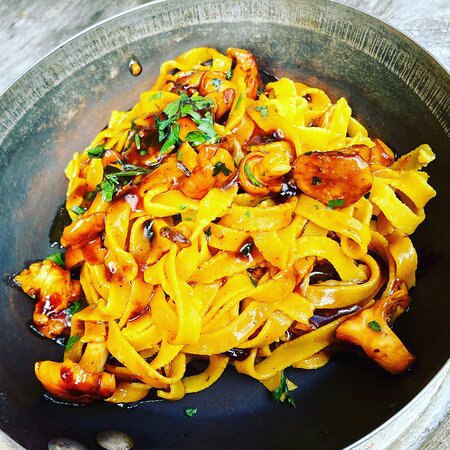 We tried their handmade mushroom pasta, and let me tell you, it's the best pasta I've ever had, anywhere. It was so good that I even called the next day to see if they are serving it, because we were dying to have more before we left!
Just make sure you check which days they serve lunch/dinner, and be sure to make a reservation, because they only have about 8 tables. Trust me, you won't regret it. I'm already daydreaming about that pasta.
Explore Town of Ortisei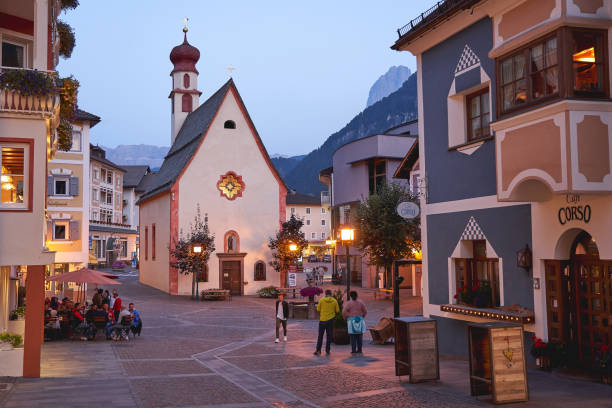 Located right in the center of Dolomites Val Gardena, the cute little town of Ortisei is mostly known for its beautiful hand-made wooden sculptures. The local families who specialize in woodcarving have kept this tradition alive until today!
Ortisei is one of the most popular places to stay in the Dolomites and is very famous among travelers because it's so close to the Seceda ridgeline and Alpe di Siusi/Seiser Alm. We'll talk more about those later!
If you have some extra time on the first day of your Dolomites road trip, it's worth taking a walk around town and checking out the traditional hotels and stunning residential buildings.
One place you absolutely have to visit is the pedestrian area between the chapel of Saint Ulrich and the Antonius Church. It's the most beautiful shopping street in the Dolomites.
Day 3- Road Trip in The Dolomites
Santa Maddalena Church in Val di Funes
On the third day of your trip to the Dolomites , plan a trip to Val di Funes in the morning. There, you will find two of the most beautiful churches in the Dolomites.
It's about a 45-minute drive (35 km) from Ortisei to get to Santa Maddalena, where you'll find the first church of the day.
This cute little church with the stunning Odle mountains in the background is like a symbol for Val di Funes. It's actually one of the most photographed place in the Dolomites. 
One thing to remember, you can't drive directly up to the church itself. You have to park your car downtown instead. There are plenty of spots available and parking is free. 
It'll only take around 20 minutes on foot to reach the famous viewpoint. The hike is pretty easy too. You just have to walk up the hill across from the church and voilà!
If you feel like checking out what's inside Santa Maddalena Church you can go for it. It's open everyday and has this really gorgeous altar done up in Baroque style, along with some stunning wall paintings.
There's this Google Maps thing called 'Panchina Panoramica' that'll help you find the viewpoint easily. Just give it a search and you're good to go! 
Church of St. John in Ranui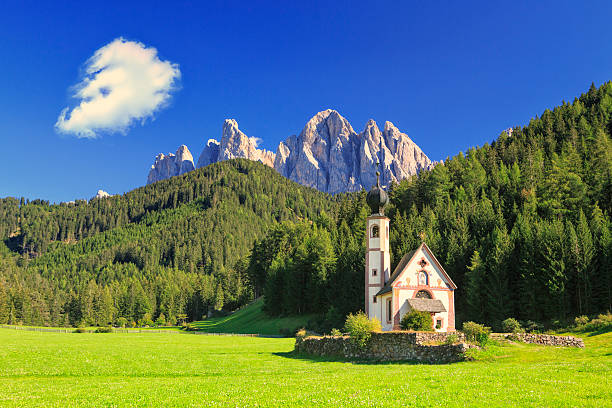 The second church we're visiting in this day trip is called the church of St. John in Ranui. It's a cute little Baroque church with an unbelievably stunning backdrop.
If you don't mind walking for about 30 minutes from Santa Maddalena, you can reach there by walking. But if you're feeling lazy, you can always head back to your car and find a closer parking spot where it's only a 5-10 minute walk to the church.
I was amazed by the marvelous wooden viewing platform that was built. It's the perfect place to take some photos of the church with gorgeous mountains in the background.
If you're interested, you can actually go inside the church for €4 per person. You can even book it for small events or weddings too!
Sunset at Alpe di Siusi- Dolomites Road Trip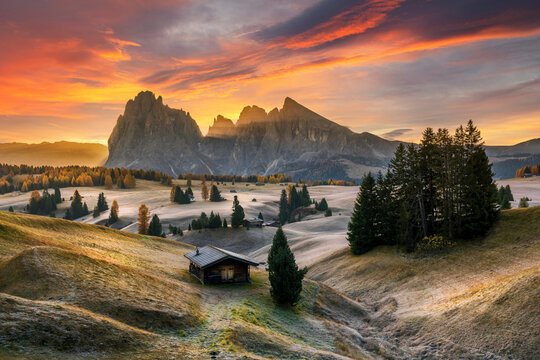 Once you're done checking out the two churches in Val di Funes, it's time to make your way to one of the most famous spots in the Dolomites: Alpe di Siusi/Seiser Alm!
Note that- Driving there is strictly prohibited. Unless you want to get slapped witha hefty fine, stick to the rule.
Your visit in the Dolomites will be incomplete without seeing Alpe di Siusi. It is actually Europe's largest mountain peaks.
It offers the stunning views of Sasso Lungo, Sasso Piatto, and Sciliar. It's definitely a must-visit on any Dolomites road trip itinerary!
There are three main ways to reach there. One option is booking a hotel for the night – in that case, you can drive up until you reach your hotel (but no further) and only do it once on arrival day.
Now, keep in mind that there aren't many hotels at Alpe di Siusi. The closest ones to the famous viewpoint (check out the picture below!) are Hotel Icaro***S and Sporthotel Sonne.
If you're coming from Ortisei, you can take a cable car up to Alpe di Siusi. A one-way ticket costs €16.90 and a round-trip ticket will cost you  €24.90.
The cable car usually runs from 8:30 am to around 6 pm, which is great for day visits but not so much for catching the sunrise or sunset.
The exact opening hours might differ depending on the season, so make sure to check their official website for the most up-to-date timetable.
If you wan to experience a sunrise or sunset at Alpe di Siusi, your best bet is to drive up to Compatsch.
Again keep in mind that between 9 am and 5 pm, driving on that road is a big no-no. But if you go earlier or later than those hours, you'll be good to go.
Once you've parked your car, get ready for about an hour-long hike to reach the famous viewpoint (as shown above). If you search for 'Belvedere dell' Alpe di Siusi' on Google Maps, they'll lead you there. The hike itself is pretty easy – mostly flat with breathtaking views along the way.
If you have some extra time before sunset, make sure to take a quick detour to the 'Malga Sanon' restaurant. There's a cute little playground with a swing in front of it. It's so fun to swing amidst of mighty mountains and also perfect for instagram worthy photo backdrop. 
Day 4- Sight Seeing + Arriving to Cortina d'Ampezzo
Lago di Limides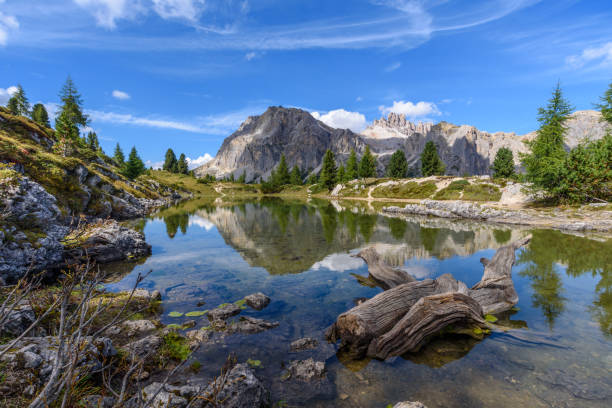 Head over to Lago di Limides. It's one of the best kept gems in the Dolomites. This stunning little lake has unreal views and reflects the surrounding mountains, like Mount Lagazuoi and Tofana di Rozes.
I don't get why this beautiful lake in the Dolomites is not popular among visitors, but that just makes it even better because you can have the whole place to yourself!
To get there, just drive to Rifugio Col Gallina and park your car across from it. Once you've parked, hike for about 25-30 minutes until you reach the lake.
It's an easy hike (about 2 km), but be prepared for some slippery slopes- make sure to wear good shoes!
Passo Gardena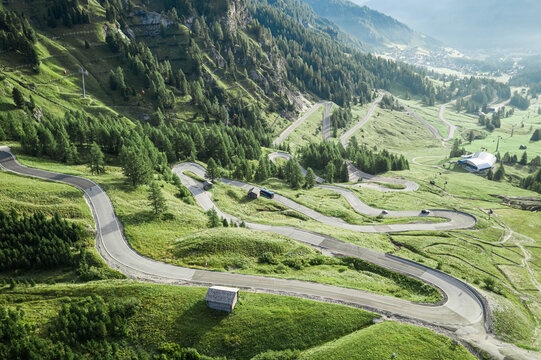 Passo Gardena, also known as Gardena Pass, is a really beautiful mountain pass that connects Val Gardena with Val Badia.
Since you're already driving towards La Villa/Cortina d'Ampezzo from Ortisei, you'll pass through it anyway. And since you're already there, it's totally worth taking a few minutes to soak in the amazing views.
There's this little hut called Rifugio Frara where you can park your car and then easily walk up to the viewpoint (it only takes a couple of minutes).
This basically is the starting point for an 11.5 km long hike. But fair warning, it's pretty challenging so I wouldn't recommend it for beginners (we didn't do it either).
If possible, try timing your arrival at Passo Gardena around half an hour before sunset. That way, you'll get to see the landscape bathed in golden hour light, which looks absolutely stunning!
Arriving to La Villa or Cortina d'Ampezzo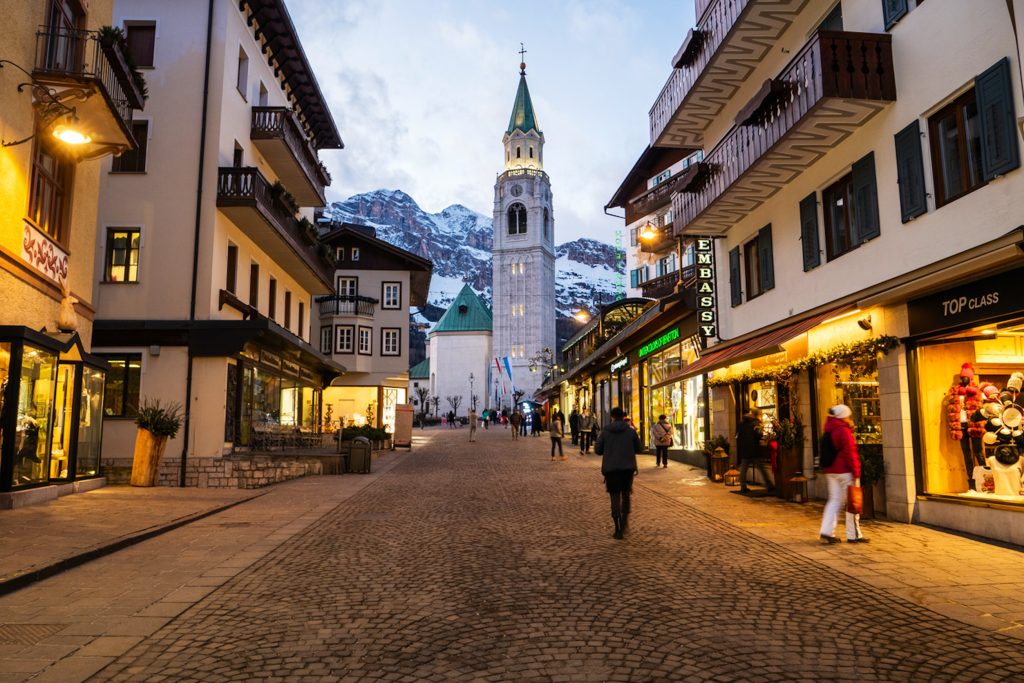 For the second half of your driving in the Dolomites, I suggest staying at another hotel in either La Villa, Cortina d'Ampezzo, or one of the nearby towns.
Basically, the places you want to visit during this part of your trip are too far from Ortisei. It didn't make any sense to us spend endless hours driving to these sights.
While most travelers choose Cortina d'Ampezzo as their go-to option, we decided to stay at Hotel La Majun in La Villa/Stern and we absolutely loved it! It's a family-run 4-star hotel where the owners actually live on-site. 
The hospitality was outstanding and the view from the hotel is simply breathtaking (check out the picture below). You can see prices and availability here.
If you're looking for something different or if there's no availability on your preferred dates, don't worry! We've got more recommendations for both La Villa and Cortina d'Ampezzo listed below.
Day 5- Relaxing and Exploring in Cortina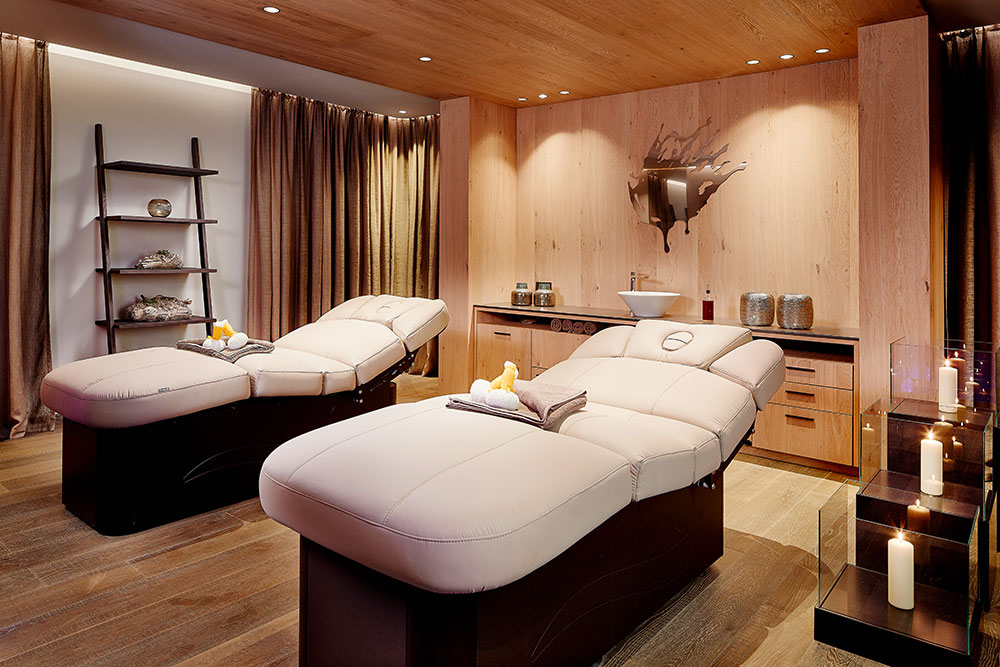 With all the hikes and skiing, you need the special spa in the Dolomites to take your stress full away before heading home.
So start your day 5th day in the Dolomites itinerary with a mindblowing spa at Rosapetra SPA Resort. With beautiful views of the stunning mountain peaks, the Rosapetra Spa Resort Dolomiti is surrounded by nature's magic.
It's not just about the location in Cortina d'Ampezzo that attracts nature lovers. It's also the spacious spa area that provides everything you need to unwind and lighten up during your break.
The warmth will help soothe your muscles and make you feel rejuvenated. Take your time, have a hot herbal tea, and let yourself fully rediscover inner peace and balance.
Explore and Shopping in Cortina d'Ampezzo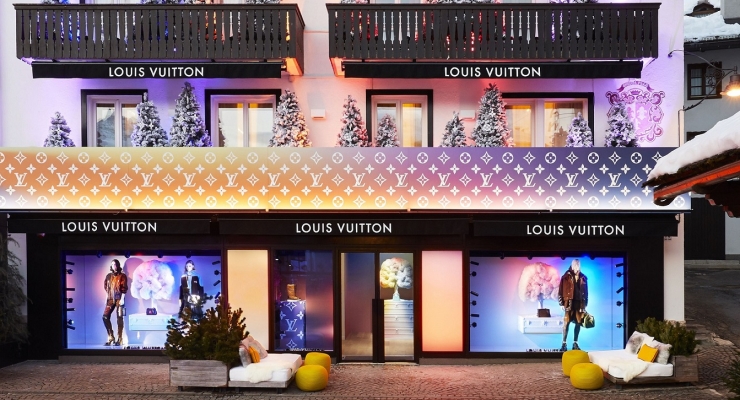 Located in a stunning alpine valley surrounded by breathtaking peaks of the Dolomites, Cortina d'Ampezzo is the place to wrap up the Dolomites vacation.
You'll love Cortina not only for its spectacular scenery but also for its local cuisine and traditions. I was particulary amazed by the shopping scene here.
Cortina d'Ampezzo is not only known as "The Queen of Italian Dolomites" but also attracts tourists with its great of small shops selling traditional products and designer boutiques. Tourists can have a great time shopping in Cortina.
Cortina has always been ahead of the game when it comes to trends and fashion.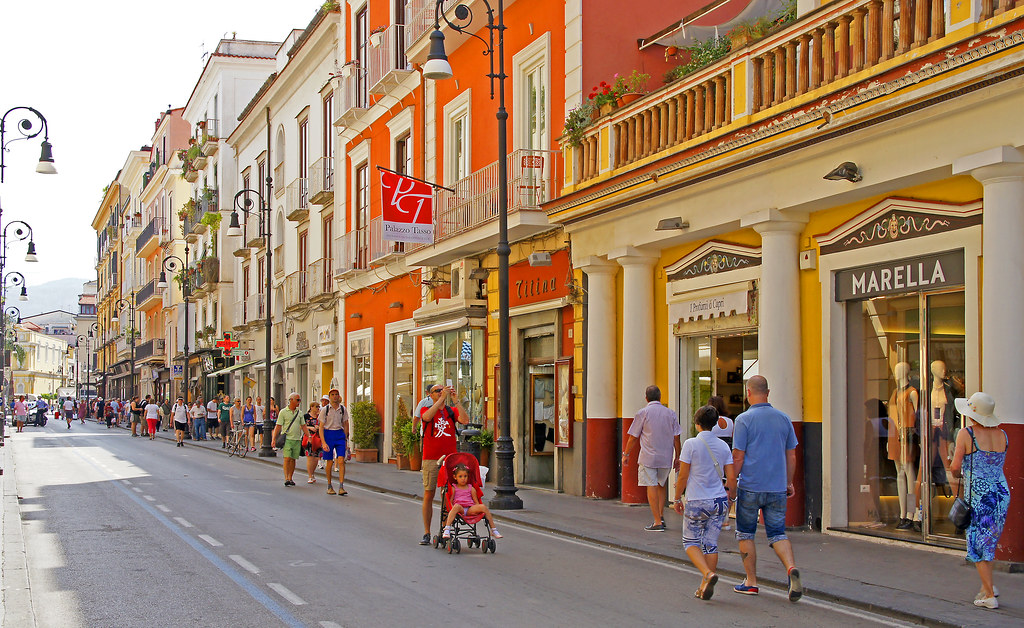 You can easily see what's in style for next season just by taking a walk down Corso Italia, the bustling pedestrian street at the heart of Cortina's social scene and the go-to spot for shopping enthusiasts.
Walk past window displays showcasing high-end and exclusive brands from around the world, alongside art galleries, famous jewelers, antique shops, and artisan workshops.
They offer a mix of past, present, and future – from old masterpieces to cutting-edge designer styles – giving shoppers an experience that caters to all tastes.
The local handicrafts, souvenirs, and gifts are beautifully crafted and finished. The diversity and beauty of Italian-made products are appreciated by people from all over the world, even those with different tastes and cultural backgrounds.
The artisans in the Ampezzo Valley create true works of art through woodworking, tarkashi (a type of metalwork), filigree jewelry, interior decorations, and more. Don't forget to visit stores that sell these amazing items.
If you find yourself missing an accessory or part for your skiing or snowboarding equipment, there's a shop where you can get everything you need.
 Here you'll find plenty of cafes and bars to grab a snack or enjoy mulled wine with roasted chestnuts. Most stores offer clothing, footwear rentals for sports enthusiasts looking to explore outdoor activities.
In downtown Cortina d'Ampezzo lies a row of stylish boutiques offering chic fashion choices alongside shoe shops, jewelers, perfume stores – all lined up beautifully on Corso Italia.
This pedestrian shopping area is considered one of the most picturesque and well-known in the entire Dolomite region.
Fine Dinning in Cortina
After exploring the breathtaking mountains and lakes in the Dolomites end your vacation with a memorable fine dining experience in Cortina d'Ampezzo. With a glass of exquisite wine in hand, sat back and soaked up the vibrant atmosphere of this small place.
As a self-proclaimed foodie, I couldn't help but indulging in the art of culinary delights in my favorite  Il Vizietto di Cortina. This popular restaurant known for its creative dishes and wonderful service.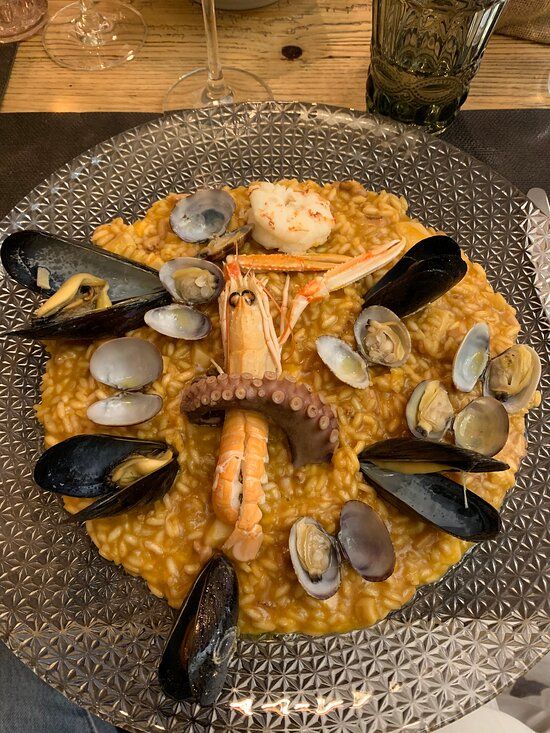 The moment I stepped inside, I knew I was in for something special. Each plate that arrived at my table was like an edible work of art. My another two favorite restaurent in Cortina is Ristorante Rifugio Ospitale  and El Camineto.
As you will sit sipping your wine and absorbing each moment of this vibrant atmosphere , trust me you couldn't have asked for a more perfect way to end your 5 days in the Dolomites vacation. The combination of alluring natural beauty with Italian fine dining experiences will truly create memories that would last a lifetime.
Wrap Up
A road trip through the Dolomites is seriously one for the books! This 5 day Dolomites itinerary will take you to a dreamy wonderland with crazy tall mountain views, stunning turquoise lakes, and mind-blowing valleys.
Trust me, you've gotta experience it to believe it! Whether you only have 3 days or a whole 5 for Dolomites travel and explore this epic mountain range, get ready to create a memory of a lifetime.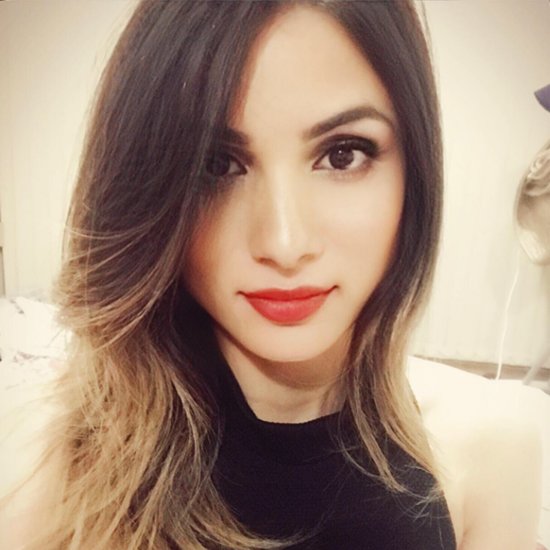 Greetings, travellers! I'm Molly Martin, the passionate explorer behind this vibrant travel platform. Alongside my team—Lorena, Jermaine, Ana, and Alen—we curate awe-inspiring travel destinations to ignite your wanderlust.
Thank you for joining us on this exciting journey. Your presence here enriches our travel community, and we look forward to inspiring your next adventure. Happy travels!