Hello my adventure seekers and nature enthusiasts! If you are planning a trip to the Dolomites, then brace  yourselves for a breathtaking journey through nature wonderland known as the Dolomites.
This Dolomites are a mountain range located in the northeastern Italy. It has the best views of landscapes, best hikes, jaw-dropping lakes, mighty mountain peaks that will feed your soul with natures flavours. 
If you're a hiker, skier, or simply an admirer of picture-perfect views, we've got you covered with our top picks of the absolute Best Things To Do In The Dolomites along with some travel tips.
So strap on your snowboard fellas and let's get this epic adventure started!
How To Get To The Trentino Dolomites
Getting to the Dolomites is pretty simple. You have a few options: by plane, train, or car.
If you're flying into Italy and the Dolomites are your first destination, it depends on where exactly you want to go in the Dolomites. In that case, you can fly into either Innsbruck, Venice, Verona, Bologna, or even Milan.
For those arriving by train, I suggest reaching Bolzano as your initial stop. From there, you can simply rent a car or take the bus to continue your journey.
And if you prefer driving yourself, just hop on the Autostrada and head towards Bolzano or Cortina d'Ampezzo. Then start exploring from there!
We've a dreamy Dolomites Trip all planned for you, check it out here!
25 Best Things To Do In The Dolomites
1. Hike in the Dolomites- Tre Cime Di Lavaredo Loop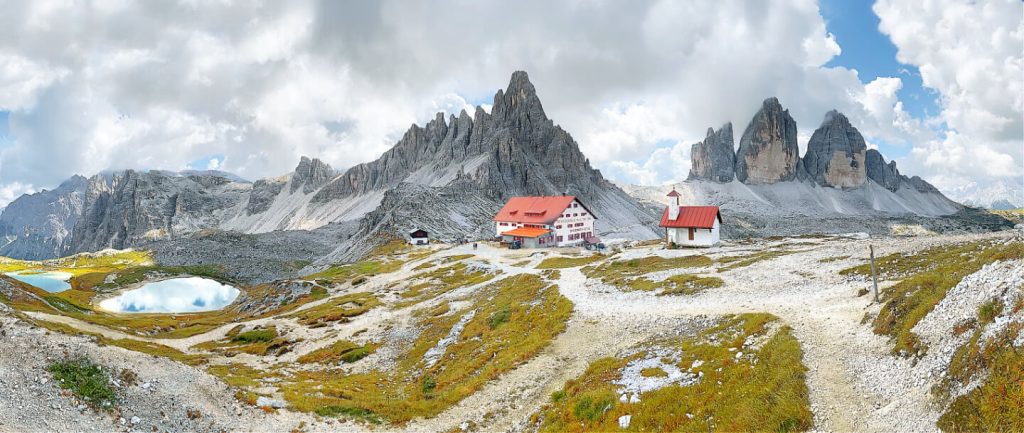 Tre Cime di Lavaredo is the best hike in the Dolomites. The loop is about 5.5 miles long.  When you reach the top, you'll be see three breathtaking huge peaks.
In late summer you will see beautiful flower fields in the trails. The three massive rock pillar in this hiking trail is known as Tre Cime.
And this is one of the most famous in the Dolomites and the iconic symbol of the Dolomites UNESCO World Heritage site.
The Tre Cime is so huge that it is spotted from other places in Dolomits. Like the trail to Lago Sorapis or from Lago di Misurina. But the only way to experience the iconic north faces is from the hiking trail.
During the entire hike, you will be amazed by the  breathtaking views of the Dolomites and you'll see Tre Cime from all different angles.
There are a few side trips you can take if you want to make the hike longer. See different viewpoints or alpine lakes.
2. Cable Car Ride Up to the Top of Marmolada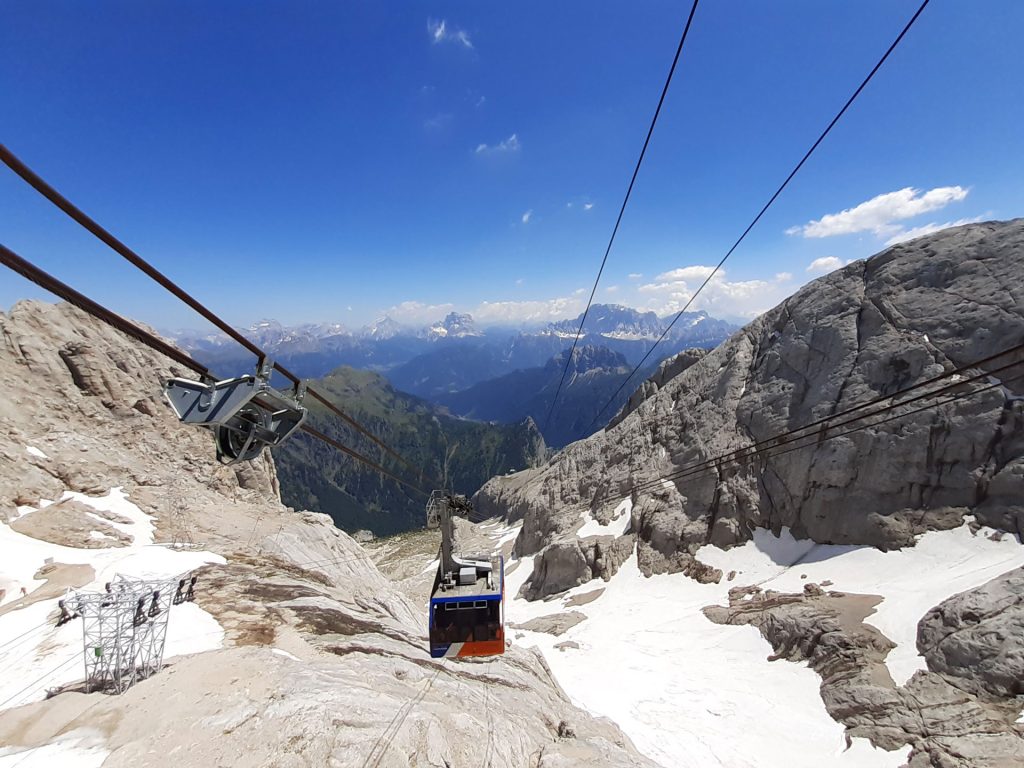 In 1979, an historice event took place- Pope Givanni Paolo II went up to Punta Rocca on August 26th to bless and inaugurate the Madonna "Regina delle Dolomiti" statue. It's one of the best things to do in the Dolomites.
It was placed in a special cave made by the Alpines of Brigata Cadore. Then, in 1982, they connected the famous Sella Ronda tour and the Dolomiti Superski with the cable cars on Marmolada. It's the highest peak of Dolomites.
On the Belluno Province side of Marmolada, there's now a modern cable car that takes you up from Malga Ciapela (1450 m) to Punta Rocca station (3265 m) in just 12 minutes.
Tours & Things to do hand-picked by our insiders
It's right in front of Punta Penia, which is the highest peak in the Dolomites (3343 m). Along the way, you'll pass through the intermediary stations of Coston d'Antermoja (2350 m) and Serauta (2950 m).
3. Explore the Beautiful Town of Cortina D'ampezzo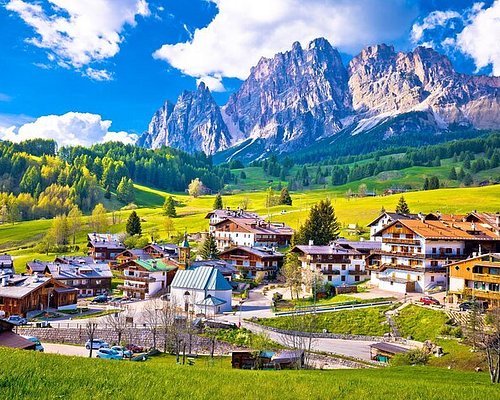 The Queen of the Dolomites is waiting for you! Cortina d'Ampezzo is one of the most popular mountain destinations in the world. It has incredible views of the Dolomites mountain range. 
Cortina is a great place to spend your winter or summer vacation. It's just a couple of hours north of Venice by car.
Whether you're a beginner or an expert, into skiing or hiking, or just want to eat and relax, Cortina is the best place to go for a weekend gateaway.
The town is surrounded by the Dolomite Mountains. Nature enthusiasts and winter sports enthusiasts every year goes to this gorgeous little town for it's stunning natural scenery, excellent ski resorts, and a fun après-ski culture.
4. Visit the Stunning Lake Lago Di Braies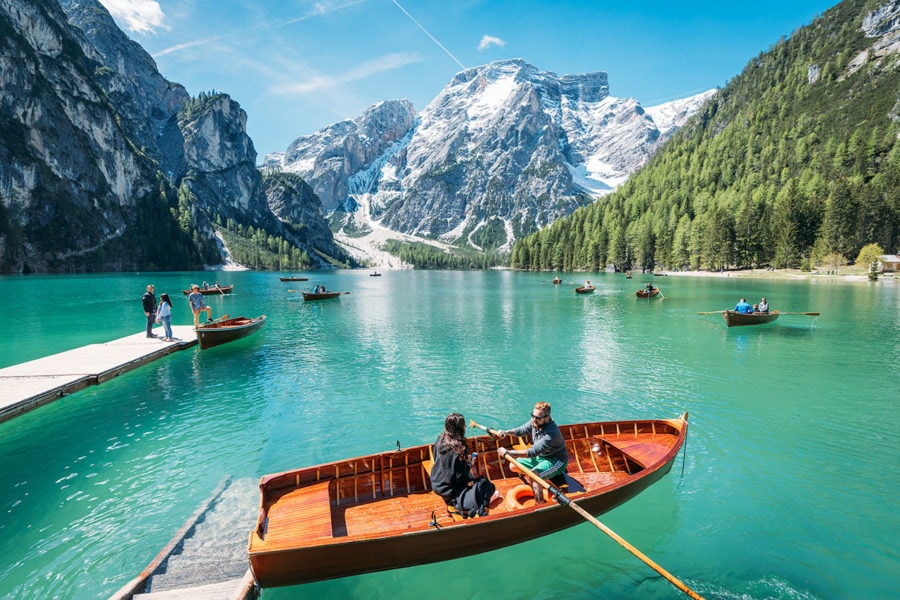 Lago di Braies, also known as Pragser Wildsee in German, is undoubtedly one of the most beautiful lakes in Italy.
If you're traveling through South Tyrol Italy and the Dolomites, visiting Lago di Braies is a must-do. This stunning bright blue mountain lake will be the highlight of your trip.
I've seen many mountain lakes during my travels, but this one won my heart. It has also gained popularity among Instagram influencers as a photography spot.
Having been to Lago di Braies multiple times myself, I wanted to share some tips for your visit. There are various thing to do in around the lake.
You can go for a hike around it and admire different views of the mountains above. But the best activity is to rent a wooden row-boat and float on its deep photogenic emerald-colored waters.
You can row all the way across to reach the beach on the other side or simply sit in the middle of the lake and drink for an hour while taking in the breathtaking mountain view!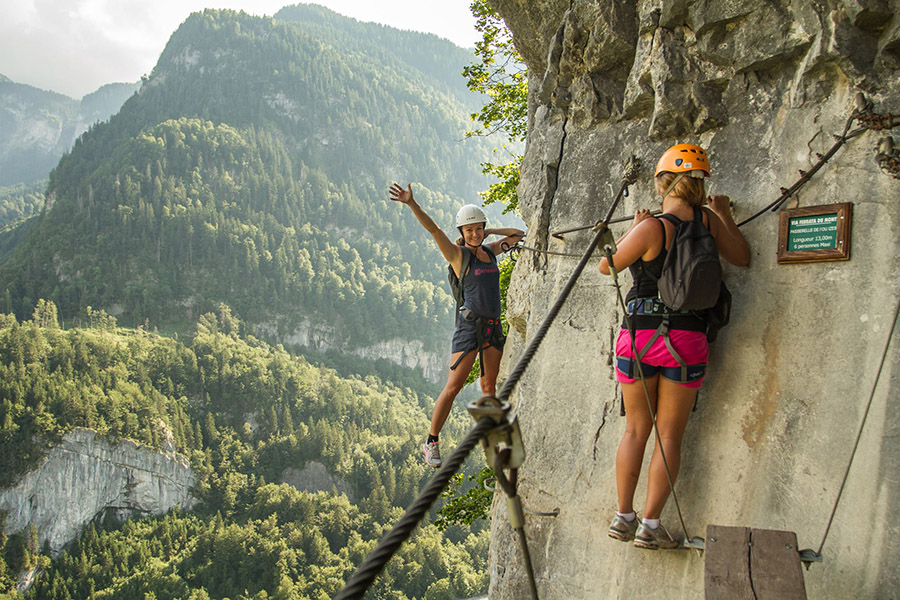 Another top things to do in the Dolomites; via ferrata is like a protected climbing route that has cables, pegs, rungs, and ladders to help you climb safely. It's really popular in the Italian Dolomites and it's an interesting alternative to just hiking.
We're big fans of via ferratas because they make you use your whole body. You'll be using your hands and arms just as much as your legs and feet when you go up the mountains.
But even though it's fun now, these routes actually have a dark history. The Dolomites were a battleground for Italian and Austro-Hungarian troops during WWI.
They'd put permanent lines and ladders on cliffs so they could move around easily at high altitudes. That's how via ferrata climbing started.
Via Ferratas can be easy or really hard depending on their difficulty level. If you're a beginner, we recommend checking out Gran Cir summit in Puez-Odle Nature Park or Santner Via Ferrata to Vajolet Towers.
If you're more experienced but not quite pro yet, try Oskar Schuster klettersteig which is an intermediate level route.
Aside from via ferratas, there are also Sentiero Attrezzato trails that are secured with steel cables but are usually less technical than a via ferrata. 
6. Take Scenic Drives- Dolomites Road Trip
Who doesn't love going on a road trip? Road trip has to be one of the top things to do in the Dolomites and I have explored the Dolomites quite heavely.
But during my first road trip there, a few places really caught my attention. I'll mention them below so that you know where to go (and be amazed) when you visit.
Honestly, no matter where you go in the Dolomites, you'll find awesome roads, breathtaking mountains, and charming villages.
However, there are certain roads that are even more incredible than others. Luckily for you, I'm gonna share those with you here.
Renting a Car in the Dolomites 
Renting the cheapest car in the Dolomites might seem like a great idea; until you realize it won't fit your big suitcase.
If you're traveling with kids, you'll need enough space for all your stuff and don't want to constantly rearrange everything. It's better to rent an SUV for most comfort.
If you're not from the EU, make sure to get an International Driving Permit along with your driver's license as it's required by law.
Best Drives in the Dolomites Region
The Dolomites have some extraordinary scenic routes for road trips, that you must explore. Below are the best scenic routes that I've personally explored and loved.
1. The Great Dolomites Road (Grande Strada delle Dolomiti)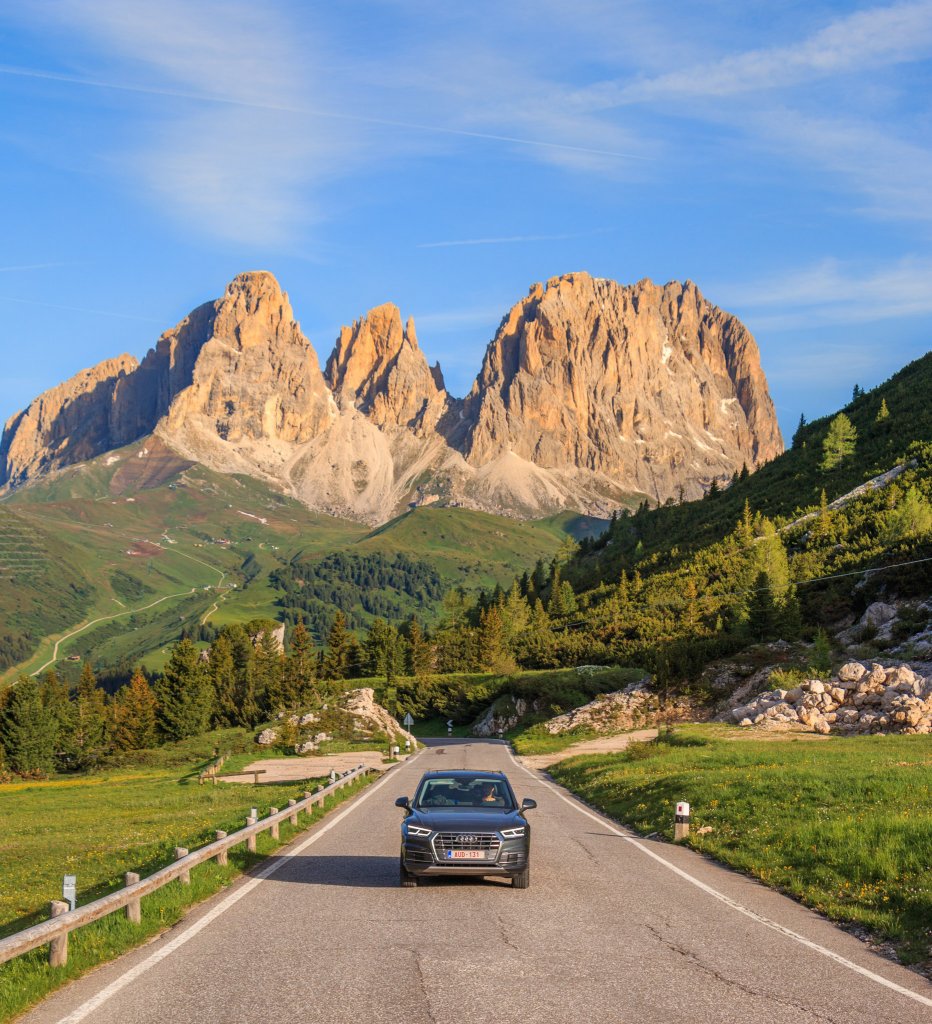 The most famous road is the Great Dolomites Road or Grande Strada delle Dolomiti in Italian. You can find different routes online, but it's about 100km long and covers many beautiful areas.
The Great Dolomite Road starts in Bolzano and ends in Cortina D'Ampezzo. There are lots of great viewpoints and resting areas to have a picnic.
We took a few days to do this road, making stops at little villages and taking lots of photos. I recommend doing it this way so you have more time to enjoy everything.
2. Sella Pass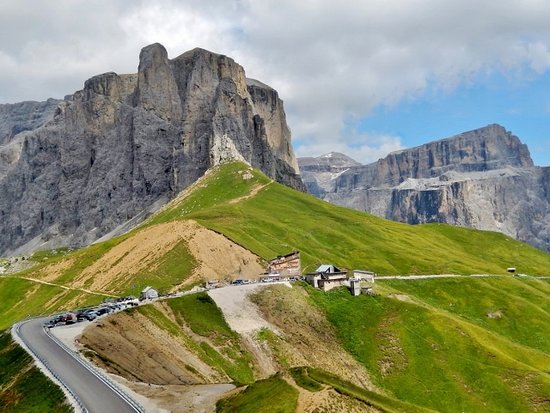 Not far from the Great Dolomites Road is Sella Pass. It's a beautiful drive with a great view of the huge Langkofel mountains which is also known as Sassolungo or Saslonch.
These mountains are stunning to look at from the Val Gardena valley. To find this road, follow the SS48 from Canazei which turns into the SS242 leading you to Sella Pass.
3. Passo Gardena
This road is full of twists and turns, so be prepared! Especially during summer when many motorcyclists and cyclists use the road.
As someone from Belgium, I'm not used to roads that go up and down and keep on turning. I don't think I've ever encountered this many turns during a holiday.
Thankfully, driving in the Dolomites with our Q5 made it much more enjoyable. This mountain pass has an elevation of 2,136 meters, so you can guess what the views from the top looks like- AH-MAZING!
To find this road, Passo Gardena connects Selva in Val Gardena valley with Corvara in Val Badia valley.
4. St. Magdalena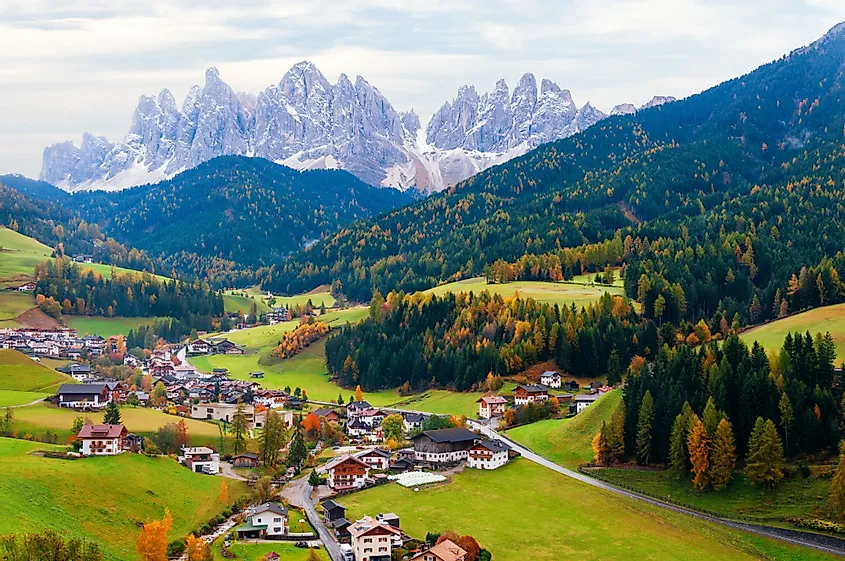 Finding this road and view was a bit challenging for us. We saw a picture we liked on Instagram and tried to locate it once we arrived. We often do this when visiting new places but finding this little street in the Dolomites took some effort.
After taking a few wrong turns, we finally found the correct spot. It was definitely worth it because the view was beautiful. So no need for you to try and figure out its exact location!
To find this road, take Magdalenaweg via Magdalena village which will lead you to small roads.the exact coordinates. It's a narrow street, so be comfortable driving on small roads.
Don't forget to include the path around Tre Cime di Lavaredo in your route. As mentioned above it's one of the most popular hiking routes in the Dolomites and definitely worth it.
7. Visit the Charming Village of Ortisei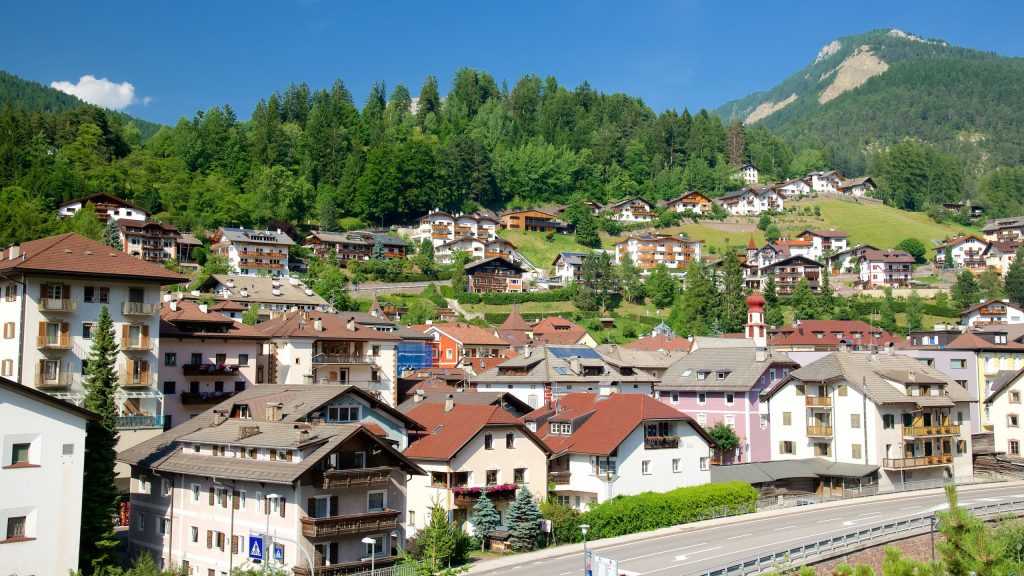 Ortisei is also known as St. Ulrich in German and Urtijëi in Ladin. It is a village in Val Gardena, Italy. It's very popular for visiting for its great location and charming town center.
No matter when you are visiting-summer or winter, Ortisei is one of the top choices in the Dolomites. It's actually the biggest and most lively village in Val Gardena.
So you'll find lots of hotels, bars, shops, and restaurants to check out. The village is surrounded by beautiful plateaus and famous mountains that are super easy to get to thanks to cable ways. You can easily reach places like Alpe di Siusi Meadows, Seceda Ridgeline, and Resciesa Plateau.
One of the best things about staying in Ortisei is that you don't even need a car! If you're an overnight guest at one of their accommodation members.
Ortisei's season starts as early as May-end until November-early, unlike other destinations in the Dolomites that have shorter summer seasons. So if you want to visit the Dolomites during the shoulder season, Ortisei is a fantastic choice.
8. Go Mountain Biking on the Dolomites Trails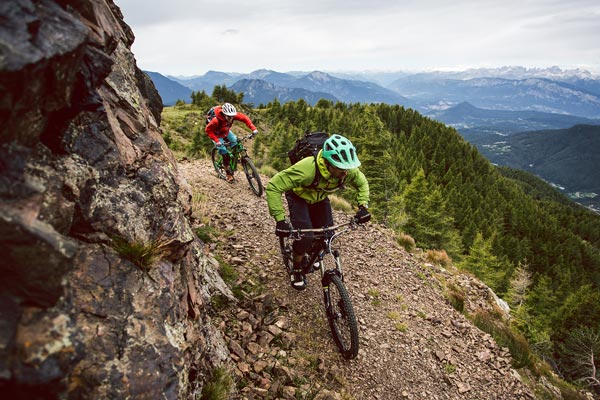 The Dolomites in Northern Italy are mountain bikers dream destination. With its stunning landscapes, endless trails, and breathtaking, it's become a must-visit destination for any rider.
The sharp peaks against the beautiful blue sky, makes an epic experience that is like no other place in the world. Some of the best biking trails are Garda Trentino, Lagorai and Valsugana, Gardena Valley, Brenta Dolomites.
With its main centers of Nago-Torbole and Riva del Garda, Garda Trentino offers some amazing peaks with stunning views. Lagorai and Valsugana are hidden gems within the Dolomites that will surprise you with their untouched natural beauty and hiking here is my favourite things to do in the Dolomites.
Cycling in front of the magnificent Sella massif group in the Dolomites is an amazing experience for mountain bikers.
The efficient lifts to the four passes- Gardena, Campolongo, Pordoi, and Sella – make it possible to complete the tour in a day starting from towns like Selva Gardena, Corvara, Arabba, Canazei or Campitello di Fassa.
9. Explore the Fanes-Sennes-Braies Natural Park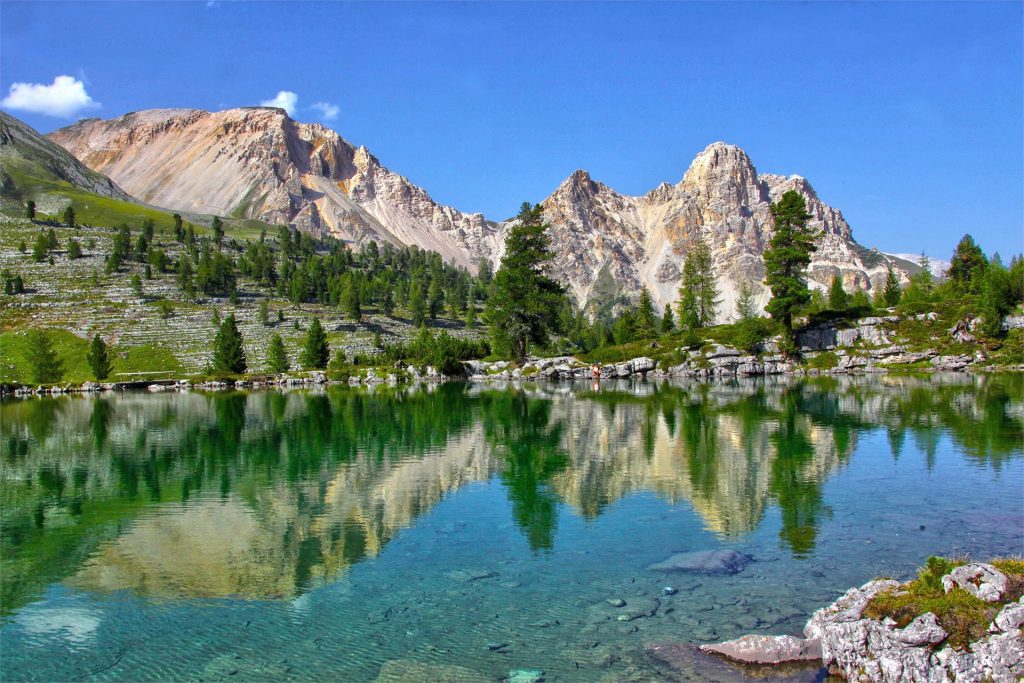 Fanes-Senes-Braies Nature Park is one of ten nature parks in the Dolomites of northern Italy. It's been a UNESCO World Heritage site since 2009 and with an area of 25,680 hectares.
The park stretches across Badia, La Val, Braies, Dobbiaco, Marebbe and Valdaora. The park is famous for its beautiful Braies Lake and its rugged mountain peaks.
There are 110 named mountains in the park, with the highest one being Hohe Gaisl / Croda Rossa d'Ampezzo at 3,146 meters (10,322 feet). Most of the park is covered by meadows and pastures which have a diverse range of plant life like leopard's bane, gentian flowers orchids etc.
This place also has different vegetation zones from forests near valleys to above 3k metres(9k feet) height. The wildlife in Fanes-Senes-Braies Nature Park represents that found throughout the Dolomites region.
10. Visit the Quaint Town of Canazei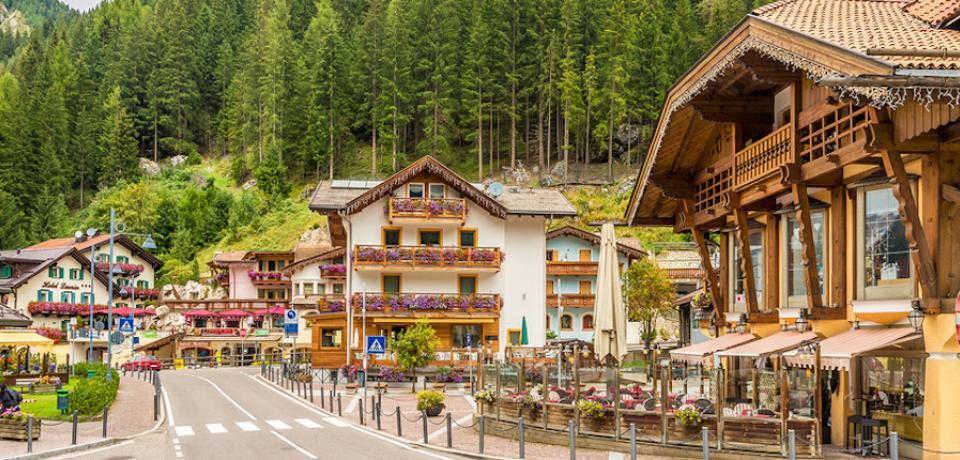 In the northern part of Italy, you'll find Canazei nestled in the beautiful Dolomite Mountains. This is a charming alpine town with stunning peaks, lush valleys, and lovely architecture all around.
It has a perfect blend of natural beauty and outdoor adventure makes it an unique place to visit. Canazei is a popular spot for visitors in Trentino vacation.  
It's mainly situated in Val di Fassa, with forest-covered slopes and towering Dolomite peaks. In winter, skiers from all over Europe come here to enjoy excellent ski centers.
And during summer it brings endless miles of scenic trails for hikers to rejoice in. Throughout the year, Canazei hosts food festivals. You can have ancient Ladin culture through delicious meals and local wine accompanied by live music.
One great time to visit Canazei is in July when they host Te anter i Tobie. It's a 3-day celebration of folk dance and live music where you can also taste typical foods like funnel cakes and puzzone di Moena cheese. Sip on some delicious Trentino wines and have the ultimate Europen vacation while you are here!
11. Go Paragliding Over the Landscape of the Dolomites
The Dolomites is undoubtedly one of the most beautiful places to fly in the Alps and in the world. Paragling is the most enjoyable things to do in the Dolomites. You can enjoy nice cross country flights and see UNESCO's world heritage site beneath you. 
Located right in the heart of Dolomites, Campitello di Fassa has four grassy launches close by that are perfect for flying.
Col Rodella is one of the launch sites that can be reached by cable car from Campitello di Fassa in less than 10 minutes.
This peak offers some of the most scenic flying experiences in the Alps.  The strong valley winds and thermals calm down makes flying very relaxing.
Note that it's important to be a skilled pilot for safety.  Buses in the valley make it easy to get back after your flight.
September-October is the only time you should go for flying.
12. Skiing in The Dolomites at Cortina D Ampezzo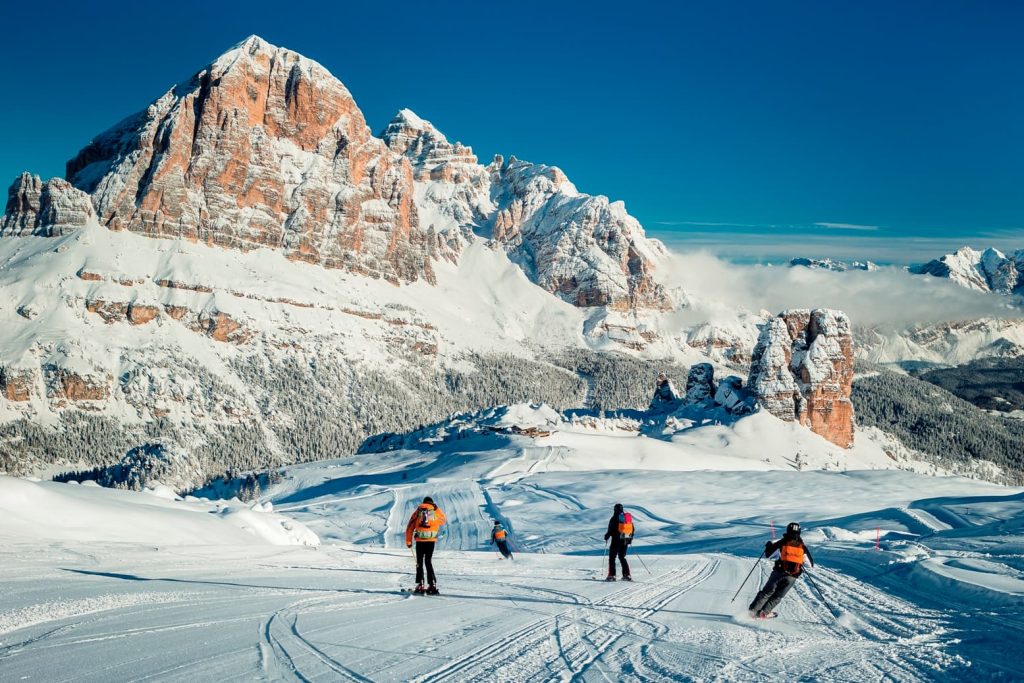 If you are a skii lover, Cortina d'Ampezzo is your dream destination for some fun in the snow. It's unlike any other place in the Alps.
It has slopes of all levels  suitable for beginners, intermediates, and experts. It's part of the Dolomiti Superski area, so you get access to 450 lifts and 1220 kilometers of pistes and trails with just one ski pass. 
Cortina d'Ampezzo isn't just famous for its skiing, it's also happen to be one of the most renowned ski resorts in Italy.
The town even hosted the Winter Olympics back in the 1950s! It's a popular spot on the World Cup skiing circuit for women as well.
But getting there can be a bit tricky since it isn't conveniently located near charter-flight airports like Innsbruck or Verona.
13. Visit the Charming Town of Val Gardena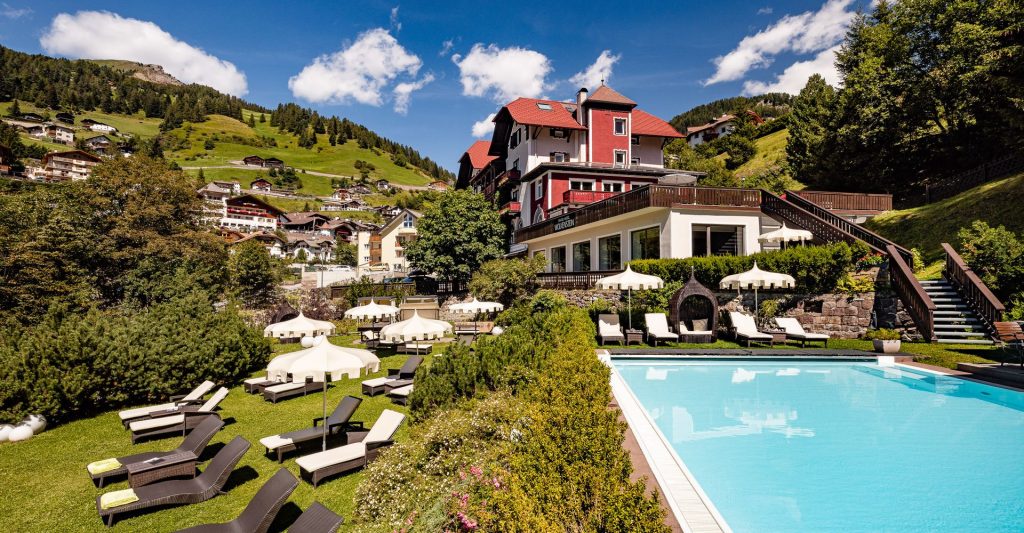 Val Gardena is a charming town in the Dolomites. It is an amazing place for a holiday. It has stunning mountains and beautiful meadows all around.
The town has three villages- S. Cristina, Ortisei, and Selva. You can go hiking, cycling, and enjoy cultural events. During winter, Val Gardena is mecca for skii lovers.
It has big ski area that is perfect for skiing fun. The famous slopes like Sella Ronda or Alpe di Siusi are accessible from the resorts you will stay in.
This small town is also well known for their warm hospitality and the long tradition of woodcarving. While here try delicious South Tyrolean food in cafes and restaurants, and learn about the local Ladin culture
14. Indulge in South Tyrol Cuisine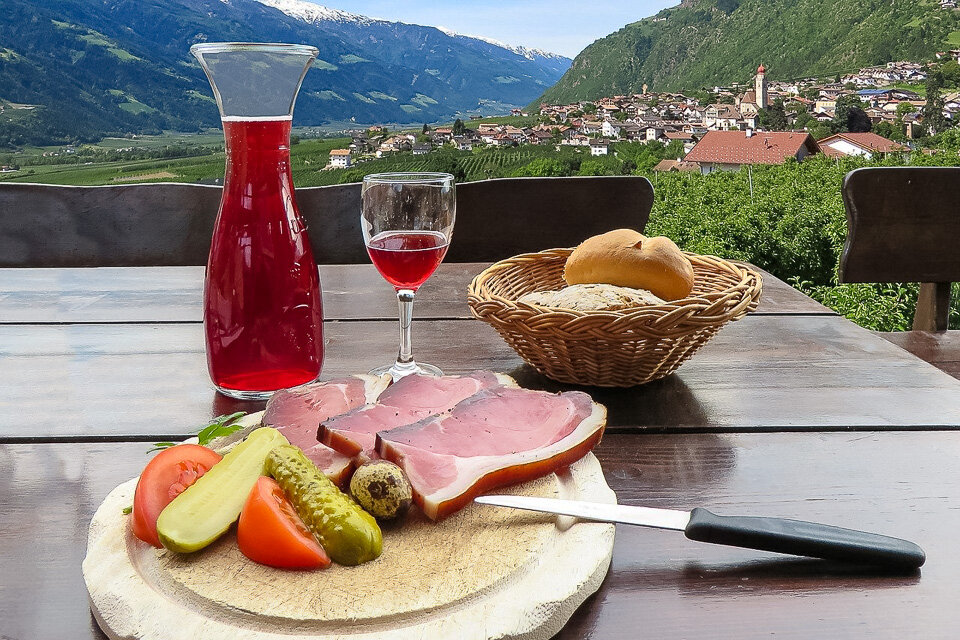 The food tradition in South Tyrol is vast. The cuisine is a combination of Italian, Austrian, and German flavors. It truly creates a unique and satisfying experiences.
There are so many delicious dishes that represent South Tyrol. Apple strudel, barley soup, dumplings, goulash, and strauben are definitely a 'must-try'.
And the amazing speck (smoked ham) and cheese is to die for! You can enjoy them with some black fennel bread or schüttelbrot.
What used to be a simple snack has now become a special dish that even gourmet lovers appreciate. Just by looking at these dishes and smelling the aromas coming from top-rated restaurants and cozy taverns will make your mouth water!
15. Visit to Lago Limedes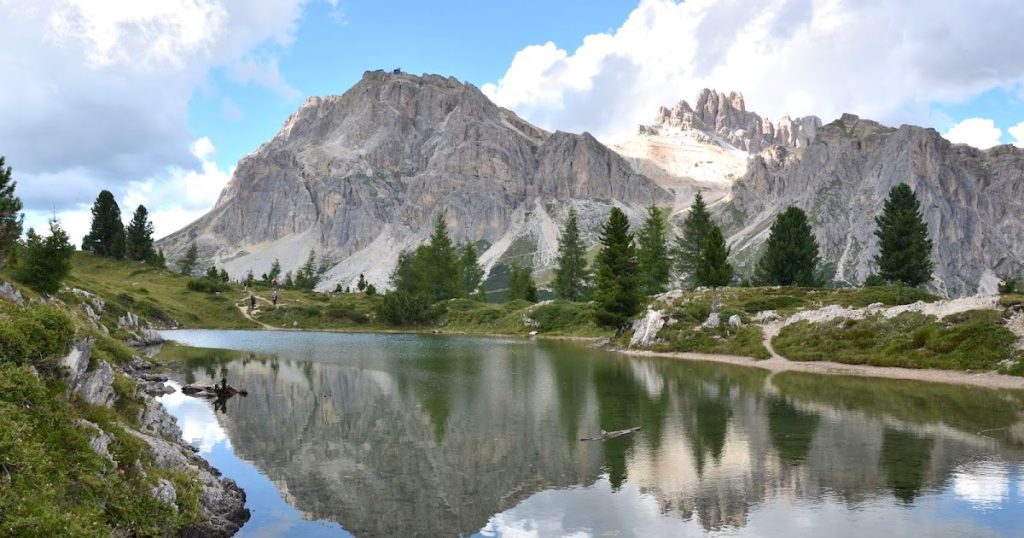 If you're in the mood for a quick and easy day trip, you should visit Lago Limedes near the Falzarego Pass. It's located in the beautiful Dolomite Mountains. The beauty of this is picture perfect.
The mountains can be amazing backdrop for your photos. Even if you're not an expert hiker, you can still enjoy all the amazing views this place has to offer.
But if you are feeling adventurous, it's easy to combine this trail with another nearby hike. The round trip is small, just a little over a mile long. So it won't take up too much time or energy.
But the beauty of the place is like no other. You'll be blown away by the stunning view of the Rifugio col Gallina region as well as the reflection of majestic peaks in the calm waters of the lake.
16. Visit the Charming Village of San Cassiano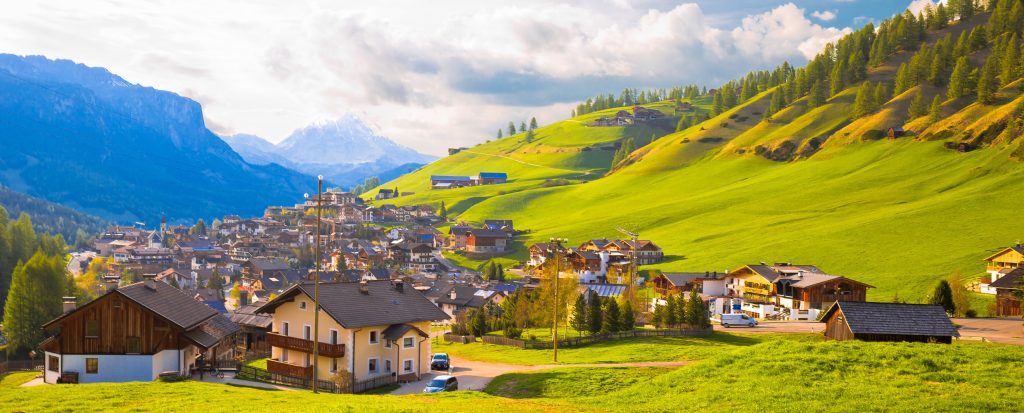 San Cassiano is a really cute village in the Dolomite Mountains that lots of tourists don't know about. It has an interesting history. The village is small and secluded and the people are very friendly.
If you're into exploring places that aren't packed with tourists, you got to visit San Cassiano. It's in this place called Alta Badia in South Tyrol, which is up north in Italy.
The mountains there are stunning and the little villages are like something out of a picture book. The cool thing is that it's right on top of this hill at 1537 meters high, surrounded by these huge peaks that go up to 3000 meters above sea level.
Seriously, the views are unreal- cliffs everywhere, green valleys down below, and crystal-clear lakes reflecting everything around them.
17. Visit the Alpe di Siusi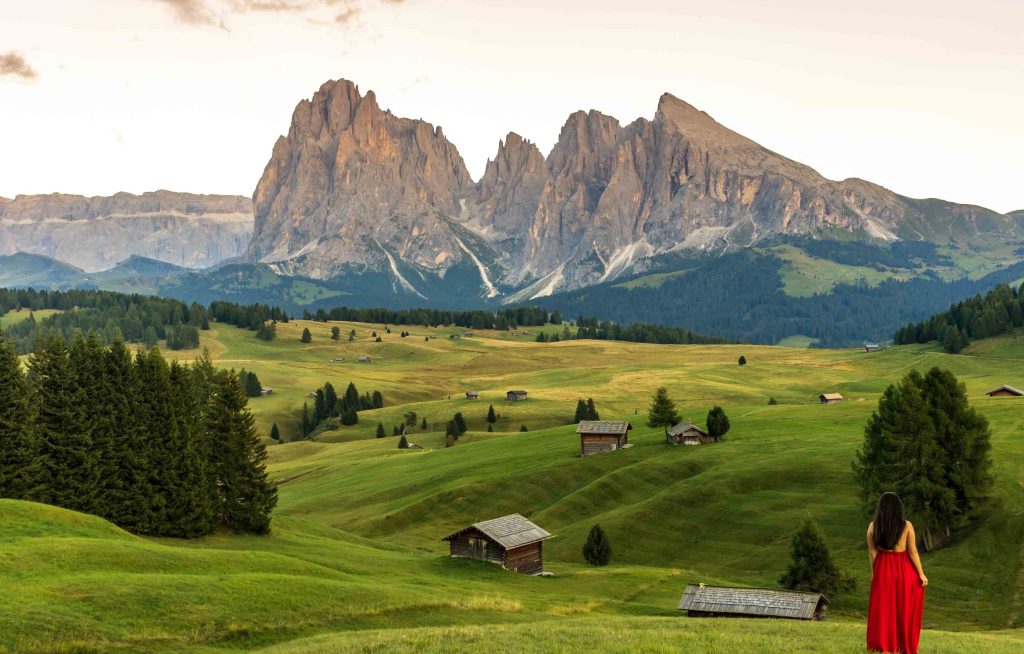 Alpe di Siusi, also known as Seiser Alm, is the biggest alpine meadow in all of Europe and it's my absolute favorite spot in the Dolomites!
The view of these rolling green hills and the sharp peaks behind them is simply breathtaking. Every time I come to the Dolomites, visiting this place is a must for me.
In fact, over the summer I even had the chance to stay there for a few nights!  You'll find cozy cabins, Rifugios (mountain huts), and hotels all around the area.
There are also hiking and biking trails that wind along the hillsides and connect small villages together. And the Sassolungo with those rocky peaks standing tall makes an impressive backdrop to this whole area!
18. Visit the WWI open-air museum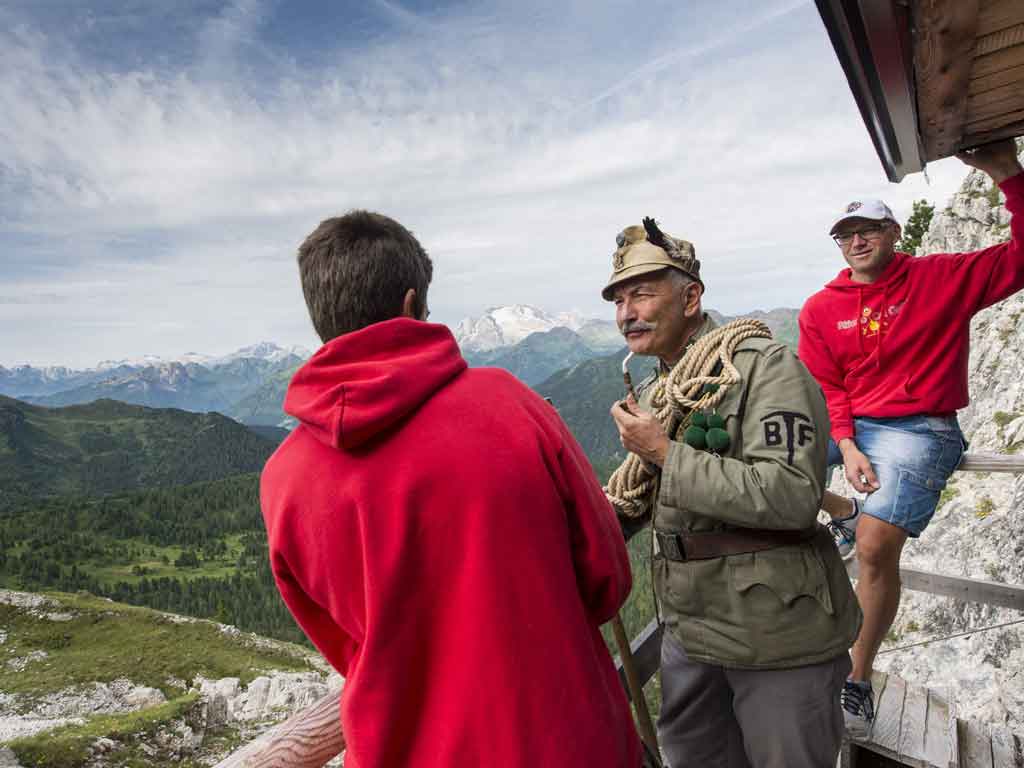 Mount Lagazuoi is like a rock castle with pointy tops, tall rocks, and military bases inside. Back in the Great War, Italian and Austro-Hungarian soldiers made shelters and places for weapons in the mountain's rocks. It became a super tough fortress.
Now, you can visit the open-air museum of The War on Mt. Lagazuoi and check out the fixed tunnels, trenches, weapon spots, and machine gun posts at the Lagazuoi Open-Air Museum.
There are lots of paths that'll give you a backstage tour of this crazy war that happened really high up. This is something totally unique in history.
Starting this summer, they have got an app that makes visiting even more modern! There are QR codes on signs along the paths will let you download texts, pictures, and audio recordings. They tell you about stuff from World War I that not many people know about.
19. Lago di Dobbiaco / Toblacher See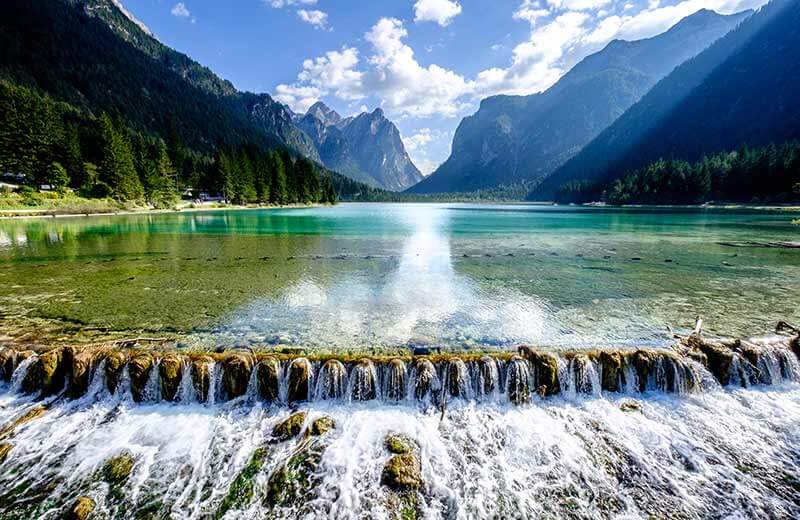 Toblah is in a serene and peaceful place in South Tyrol. Toblacher See is a small lake with great scenery. 
It's the right place for you if you want to steer clear of the touristy areas.
It's easy to reach since it's right by the main road. The lake has clear turquoise water and there are lots of lush trees and big mountains off in the distance.
The dramatic peaks of the mountains have an altitude over 4000 feet. There are so many of things to do like swimming, paddling around on boats, grabbing a bite to eat, or going for a hike in this area.
20. Drive Through the Giau Pass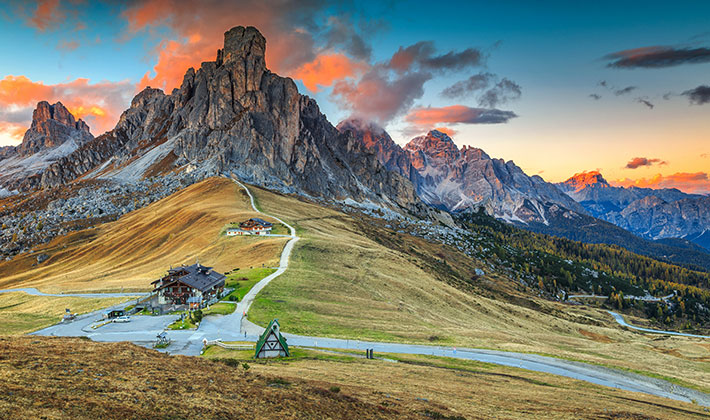 Giau Pass is this really stunning mountain pass in Italy. It's up in the Dolomites and sits at an elevation of 2,236 meters above sea level.
It's surrounded by beautiful meadows and two big mountains called Nuvolau and Averau. It's probably the most beautiful pass you'll find in the Alps. The views of the Veneto region of Italy are just incredible! 
To get to Giau Pass, there's this awesome drive that takes you about 11 kilometers through a bunch of crazy hairpin turns.
It can be a bit intense but totally worth it for what awaits you at the top. Along the way the road goes up crossing shady forests. Here you will find some amazing look out points to check out. 
Once you reach Giau Pass, prepare to have your mind blown! You'll get this breathtaking view all around you – looking down into the valley of Cortina d'Ampezzo and seeing peaks like Tofane, Cristallo, Marmolada, Croda Rossa, and Tre Cime di Lavaredo.
21. Visit the Lago di Sorapis- Lakes in the Dolomites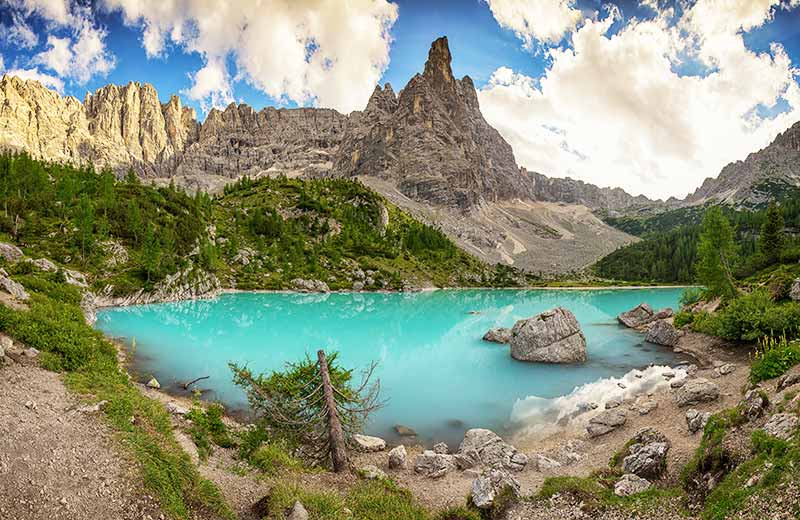 You've probably heard of the amazing Lago di Sorapis, which is less famous than Lago di Braies but in my opinion, one of the most gorgeous lakes in the Italian Dolomites.
When we were in the Dolomites, I absolutely wanted to go there and do this incredible hike to reach the lake. After that, it ended up being my favorite place in the Dolomites!
The water's blue color is simply breathtaking and I promise it looks even bluer when you see it for real! The majestic Dolomites mountains that surround this place are also stunning.
Here's why you should definitely include this hike on your Dolomites itinerary. Beautiful Lago di Sorapis is only 9 kilometers away from town.
Its towering faces serve as a picturesque backdrop for Cortina. These limestone peaks, part of the Eastern Alps, have irregular shapes and sharp edges that add to their charm.
To get to Lago di Sorapis, start your journey at Passo Tre Coci and follow the trail all the way to the lake. Along your route, you'll come across three glaciers on these mountains.  
22. Explore the Picturesque Village of Arabba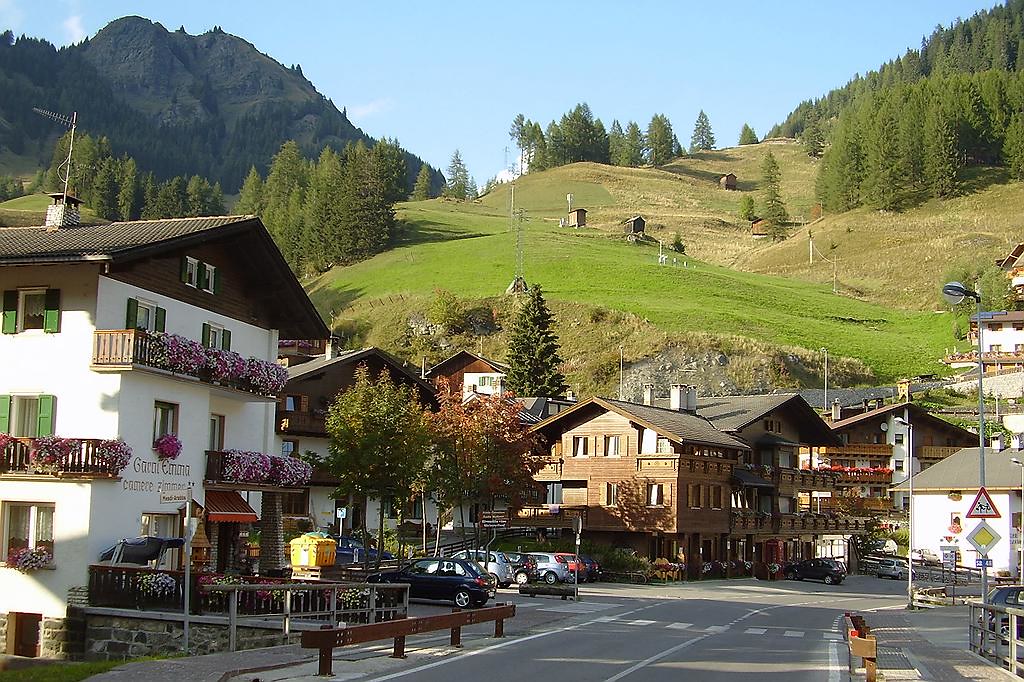 Arabba is a beautiful little village located at the base of the stunning Dolomites. It's surrounded by lush green mountains. It's located in a Ladin valley. This small village offers authentic cultural experiences.
The locals are charming, friendly, and proud of their old traditions. If you want to experience an immersive mountain village experience, Arabba is the place you must go!
During summer when the snow melts, you will find some amazing trekking and cycling routes to explore. Take a leisurely walk or bike ride through the peaceful surroundings and enjoy some breathtaking views of the Dolomites.
23. Explore the Christmas Markets in the Dolomites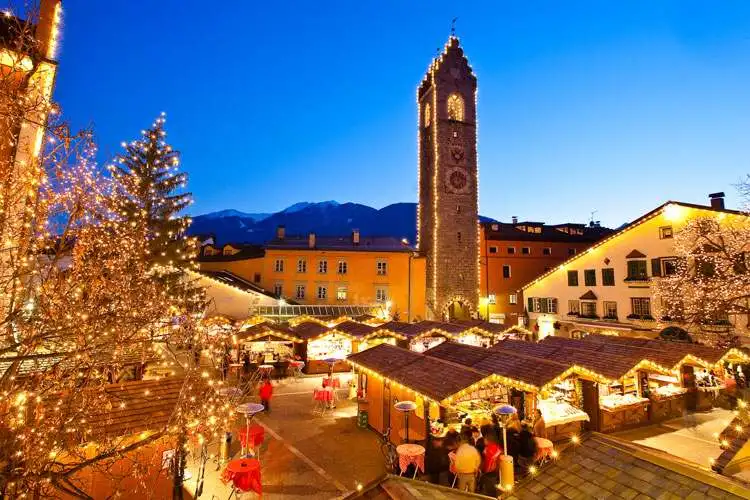 If you are visiting the dolomites during holiday season then definity visit the chritmas market to absorbe the festive vibe of the town.
For many years, the Christmas markets in the Dolomites have been inviting people to come and wander around them, soaking up the festive atmosphere.
These small markets will give you a wonderful chance to fully experience all the joy and enchantment of Christmas.
The most hyped ones are the big Christmas markets in Brunico and Bressanone, but there are also smaller ones that are definitely worth checking out during a holiday in the Dolomites.
24. Ice Climbing on the Frozen Waterfalls of Sottoguda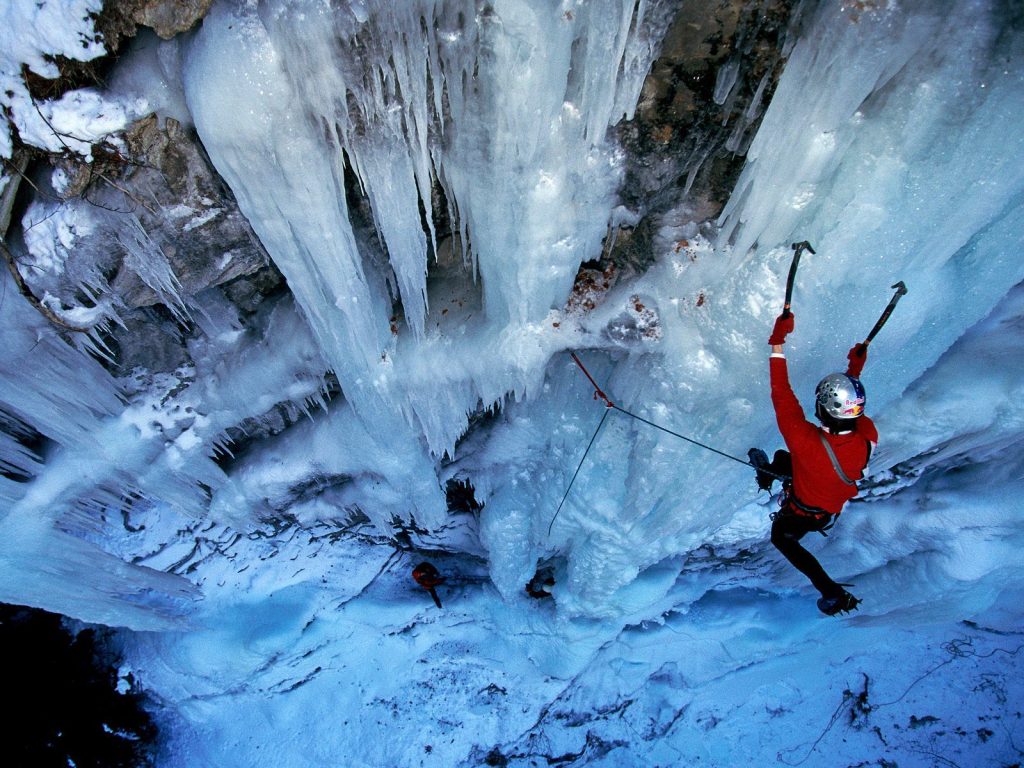 In the heart of the Dolomites, between the villages of Sottoguda and Malga Ciapela, you'll find Serrai di Sottoguda. It's a perfect place in Italy for ice climbing.
Serrai di Sottoguda is an amazingl canyon at the base of the Marmolada mountain with massive rock walls. This gorgeous mountain becomes an icy wonderland during winter.  
With 5 kilometers of frozen waterfalls it's like a paradise for people who love ice climbing. Best part about this place is it has different level of climbing route for climbers of all skill levels. 
Beginners can have their first experiences here and more experienced climbers can tackle extreme and challenging routes.
During our trip, we'd tried out single pitch and multi-pitch ice climbing, reaching heights up to 200 meters. And on top of that thrilling experience, we also got to enjoy some breathtaking scenery.
The best time to visit Serrai di Sottoguda is from December when those awesome icefalls start forming until the end of March.
25. Stay in the Dolomites Wellness Hotels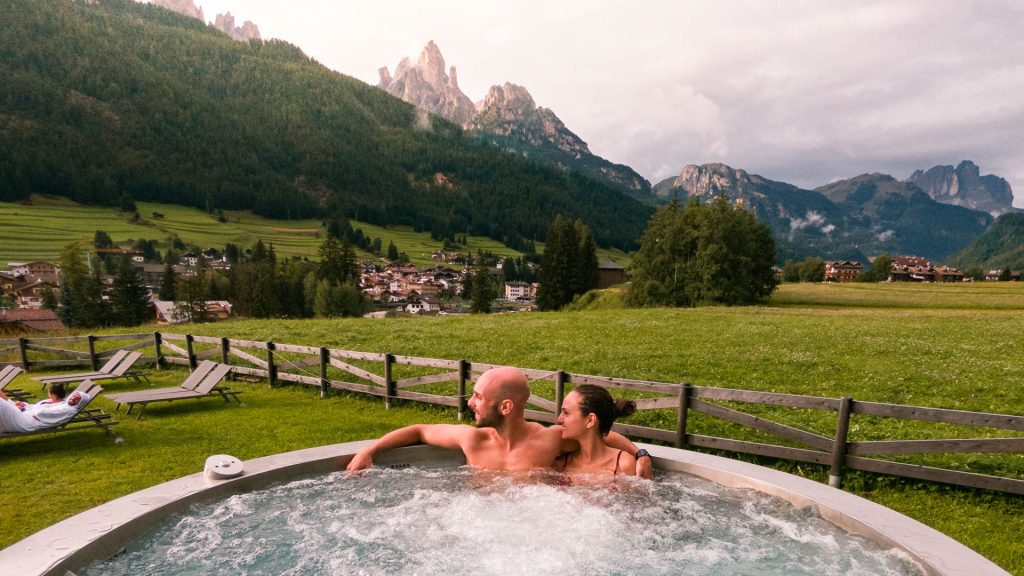 The Dolomites is a great place for outdoor adventures and also a destination for food lovers. In South Tyrol, you'll find lots of amazing 4-star, 4-star-superior, and 5-star hotels that have fantastic meals, spa facilities, and comfortable rooms.
Note that, some hotels has a policy of minimum stay of 3 to 7 days, during busy times. Most hotels in the Dolomites have at least a steam sauna, Finnish sauna, and relaxation room.
Wellness hotels usually have even more saunas, pools, and relaxation areas. They provide all the necessary amenities one might need.
These hotels often offer special alpine spa treatments too.
Why would anyone want to spend time in a spa in the Dolomites? The simple answer is because of the weather. Like anywhere else in the European Alps, the weather can be unpredictable. There will always be rainy days.
If you come to the Dolomites and it rains for several days (which sometimes happens), it can be disappointing. However if you're staying at a wellness hotel those rainy days become relaxing spa days.
If you love luxury, these are the best place to stay when you are visiting in the Dolomites: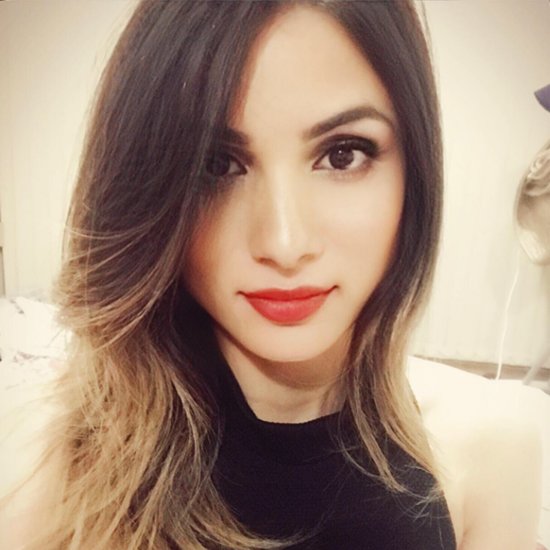 Greetings, travellers! I'm Molly Martin, the passionate explorer behind this vibrant travel platform. Alongside my team—Lorena, Jermaine, Ana, and Alen—we curate awe-inspiring travel destinations to ignite your wanderlust.
Thank you for joining us on this exciting journey. Your presence here enriches our travel community, and we look forward to inspiring your next adventure. Happy travels!