"Did you even do Hawaii right if you hadn't been to a Luau on the island?" – This is what you'll hear if your trip to Maui doesn't include a Maui Luau. It's a once-in-a-lifetime experience that you must have.
In this tropical paradise where palm trees sway, spend a festive night celebrating life with friends and family. Gather with everyone to witness fire dances in the night sky, while laughter echoes through the air.
Enjoy the big feast, mind-blowing performances, and enough aloha spirit to make even a pineapple jealous.
To make your job easy, we've compiled a list of all the authentic BEST Luau In Maui with every detail included. So get ready to have the time of your life!
What's Maui Luaus? 
A luau is  a traditional celebration in Hawaii and Polynesia. It's the modern version of the old Hawaiian gathering meal called aha'aina or pa'ina.
Luaus is a festival where people gather to have a social, cultural, spiritual manifestation and  enjoy a big feast, entertainment, and other fun activities. Guest have to wear a classic Hawaiian Lei.
Back in ancient Hawaii, men and women used to sit and eat separately at Luaus and only the royalties would have access to particular dishes.
Today, luaus are a staple for both kama'aina and tourists in Hawaii. You can find all sorts of luaus from small graduation parties to extravagant events arranged by resorts.
At a luau, you'll enjoy delicious Hawaiian cuisine like roasted pig, salmon, taro buns, taro corms (a starchy root vegetable), and coconut milk desserts.
You'll enjoy traditional fire dance and learn about the history and culture from native Hawaiian locals. There are also traditional crafts, like tattoo stickers, face painting, traditional games, and live music to enjoy.
Luau parties bring family and friends together  to celebrate life. Not only the festival feels so special but it' also a great way to feel connected to the island.  
Best Luaus In Maui
1. Old Lahaina Luau- Lahaina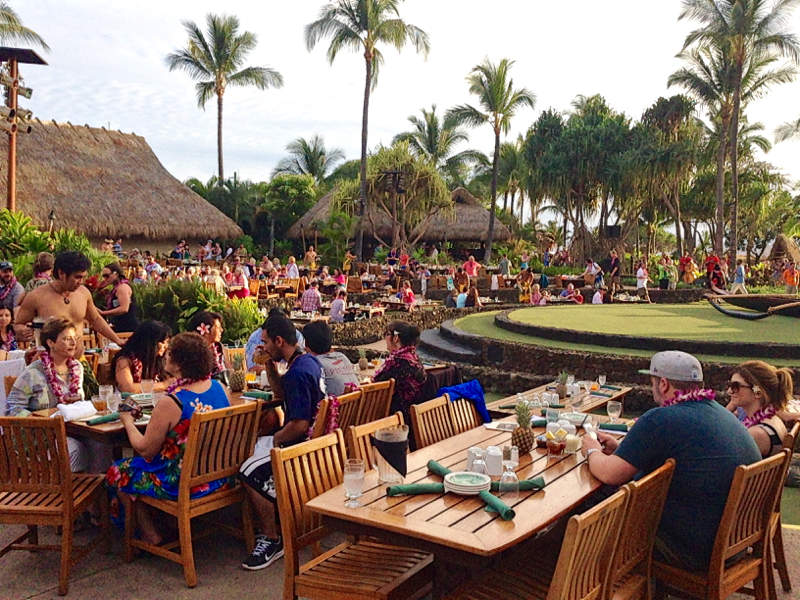 If you search "what's the best luau in Maui?"- Old Lahaina Luau is the one name that will come up.  It is the most popular luau in Mau and been around for years.
The reason it is so popular is that, you will see the reviews and how people are raving about this. This is the best Luaui to enjoy with family and kids.
The Old Lahaina Luau is nothing like you've ever experienced. You will be greeted with a classic lei and tropical drinks. They have a premium open bar, so yes unlimited Mai tai for you!
Here you will enjoy a five course meal that will include kalua pig or poi(roasted pork), Maui style fish, BBQ chicken and many desserts.
Tours & Things to do hand-picked by our insiders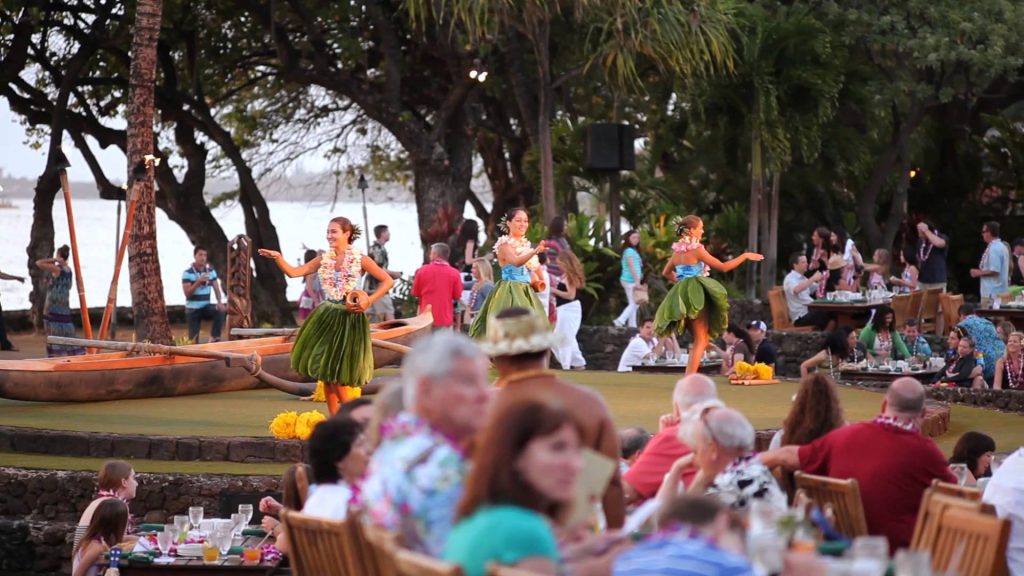 You can either seat on table or traditional Hawaiian mats near the front for an authentic luau experience.
You will enjoy live musics, fire dance, beautiful Hawaiian dance that narrates hawaiin culture. The entertainment kicks off right at sunset with Tahitian dancing.
The Old Lahaina Luau has won so many awards like "best luau in Maui" and "favorite luau on Maui" from various publications. It's a fantastic place to enjoy both ancient and modern hula styles.
Hours: 3 Hours
Price: Adults: $229.17 with taxes; Children: $139.58 including taxes.
2. Feast at Lele- Lahaina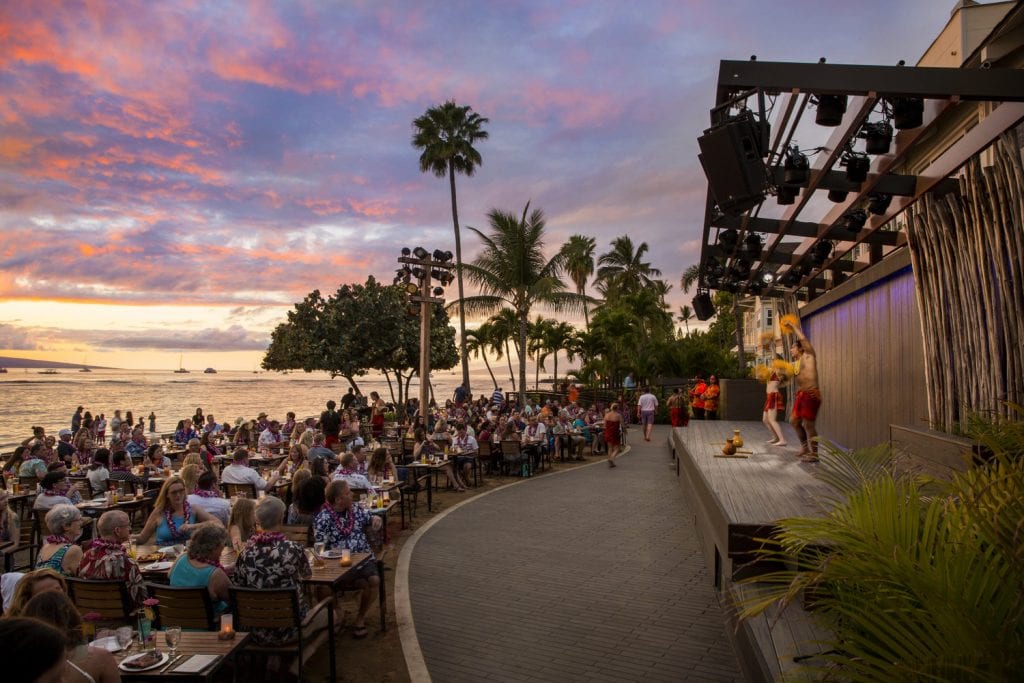 If you're in Lahaina, another great option for you is the Feast at Lele. It's not a typical luau experience though.
Instead, it's more like a dinner show where they pair each course of food with stories and dancing from the island.
So for example, during the first course, they serve traditional Hawaiian food while showcasing traditional songs, dances, and chants.
Then for the second course, they switch things up and focus on food and entertainment from present-day New Zealand (also known as Aotearoa).
It's important to note that there's not as much interaction compared to other luaus. You won't get to walk around and see an underground oven or imu here.
But overall they put all the efforts to provide you a truly enjoyable dinner show. 
3. Drums of the Pacific Luau- Kaanapali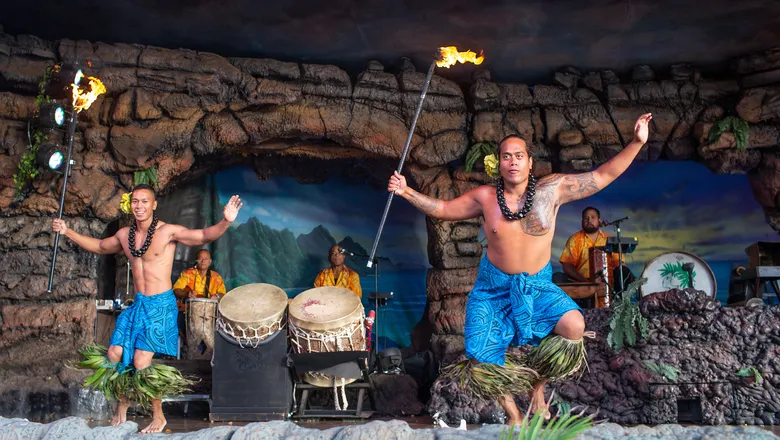 You must already be familiar with this luau as it's often advertised on Maui tourism brochures and magazines. The Drums of the Pacific Luau is organized by the Hyatt Regency Resort in Ka'anapali.
It's among 5 best Maui luau and popular for a killer fire dancing show. This luau entertainment is known as the best on Maui.
The entertainment goes down on a gorgeous stone stage and it feels more like watching a play than your typical luau. If you're staying at the Hyatt Regency Maui, you should definitely consider booking this luau in Lahaina. Trust me, it's worth checking out!
This luau is pretty unique because it features dances from not only Hawaii, Tahiti, Samoa, Cook Islands, New Zealand, and Tonga but also from the Tuamotus which is a chain of islands in French Polynesia.
They also have a Polynesian fashion show where you can see all these ways you can style a sarong (or pareo as they call it).
You can easily find sarongs all over Maui if you want to take home an inexpensive souvenir that won't take up much space in your suitcase!
Hours: 2.5-3 hours
Price: Adult Ages 13yrs & over: $210. Child Ages 4-12 yrs: $105
4. Grand Wailea Luau- ʻAhaʻaina Wailea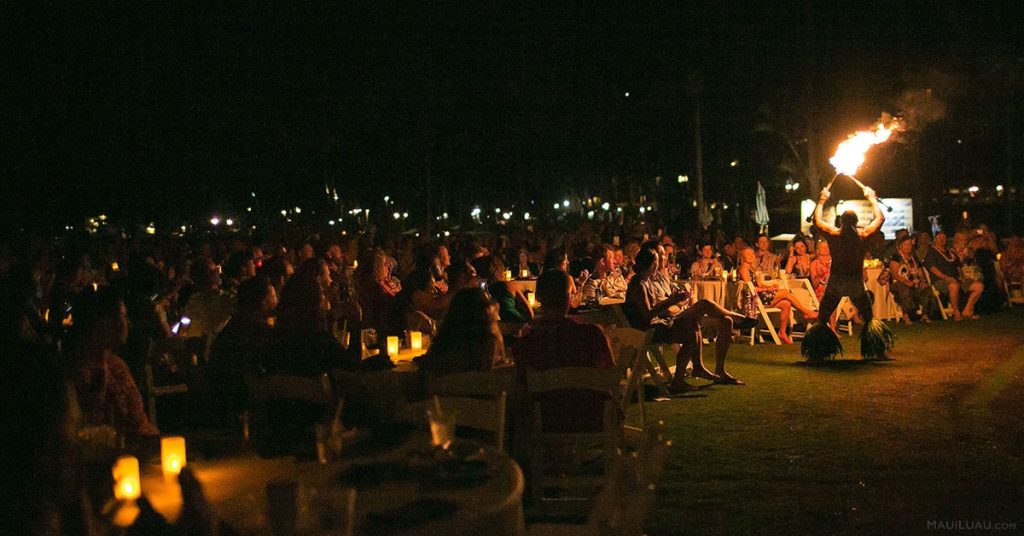 The Grand Luau also called ʻAhaʻaina Wailea. It's held on the oceanfront lawn of the luxurious Grand Wailea Resort.
It tells the story of the two founders of Hawaii- Laʻamaikahiki and Moikeha. They came to Maui from Tahiti on a canoe and made the island their home.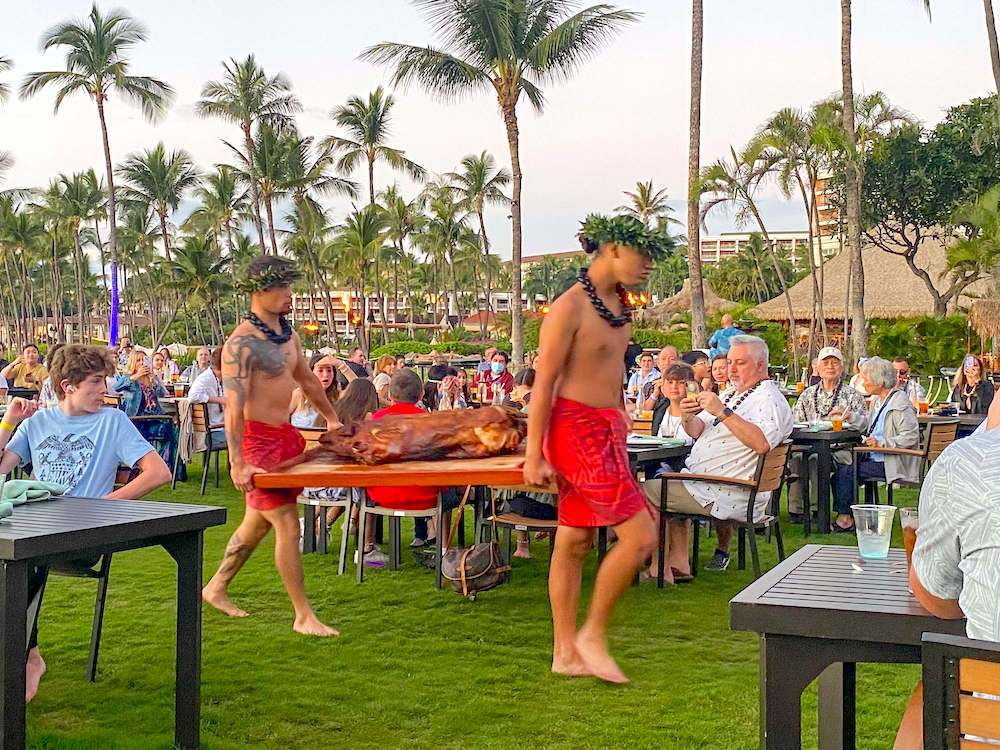 This luau offers a four-hour long event filled with singing, dancing. They also perform chanting to showcase that the early inhabitants of Maui lived in harmony.
The food they served are  traditional luau dishes like Kalua pork and poi. The also serve a delicious macadamia nut-crusted mahi-mahi and pineapple upside-down cake.
Apart from the delicious food, you can also participate in hula lessons and Hawaiian lawn games at this beautiful beachfront location. This is the best luau you can find in South Maui.
5. Maui Nui Luau At Black Rock- Ka'anapali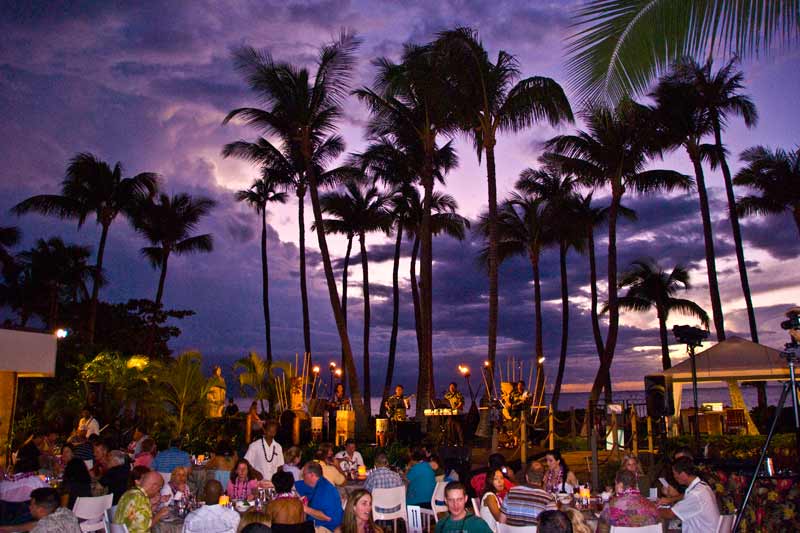 Are you staying in Ka'anapali (just north of Lahaina)? Don't worry, you don't have to drive far to find a luau. There's a amazing luau on the beach in Ka'anapali. It's called the Maui Nui Luau (formerly known as the Ka'anapali Sunset Luau)
This particular luau is popular for it's lovely location. The luau is as per other Maui luau. But what sets the Sheraton Luau apart is their incredible private lawn right next to the ocean.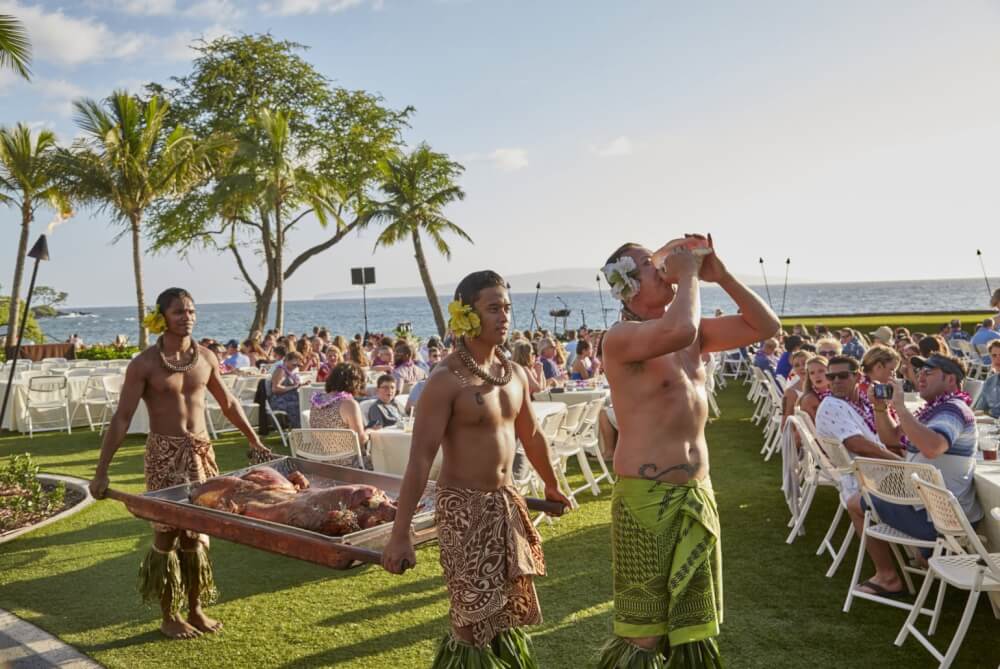 You can walk the white sand beach and dip your toes in the water while enjoying the torch lighting ceremony.  
They main entertain include funny commentary, Hawaiian and Polynesian songs, lively dance performances, and an stunning fire knife dance.
The stunning sunset views and the tropical cocktails will leave you speechless. It's a great choice for a romantic date night or a fun outing with friends and family. 
6. Myths of Maui Luau at Royal Lahaina Resort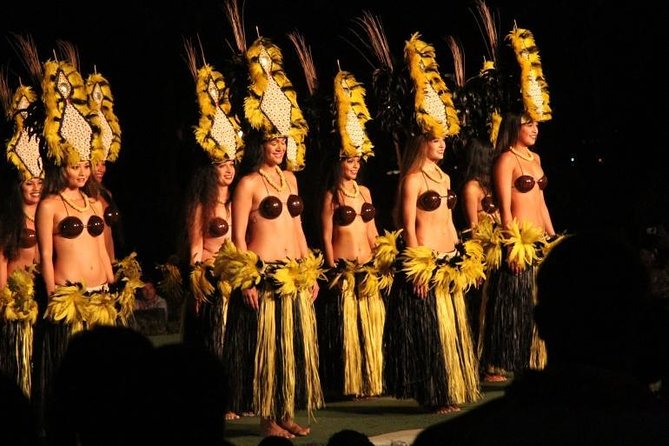 Another fantastic luau in Lahaina, the Myths of Maui Luau at the Royal Lahaina Resort. It's the only long luau that happens in front of the ocean.
The Myths of Maui Luau is budget friendly, happens in a very beautiful location and it's kids friendly too. As it takes place by the beautiful Kaʻanapali shoreline, you will get thee stunning Maui sunset as your backdrop.
You'll be welcomed with a shell lei and warm aloha as you start your evening in paradise. The amazing part is they feature  an all-you-can-eat buffet of delicious Hawaiian cuisine and complimentary cocktails throughout the night.  
If you have dietary restrictions, they offer vegetarian and vegan options and can create allergy-friendly dishes if you call ahead.
The hula performances and fire-knife dance are breathtaking. The Royal Lahaina Luau has one of the best luau shows in Maui. 
It's the only luau that happens seven days a week. So it's your best bet if you just decided to go on a luau. For the best view, I recommend booking tickets for Monday or Saturday nights when it's less crowded.
7. Te Au Moana Luau (The Marriott Luau)- Wailea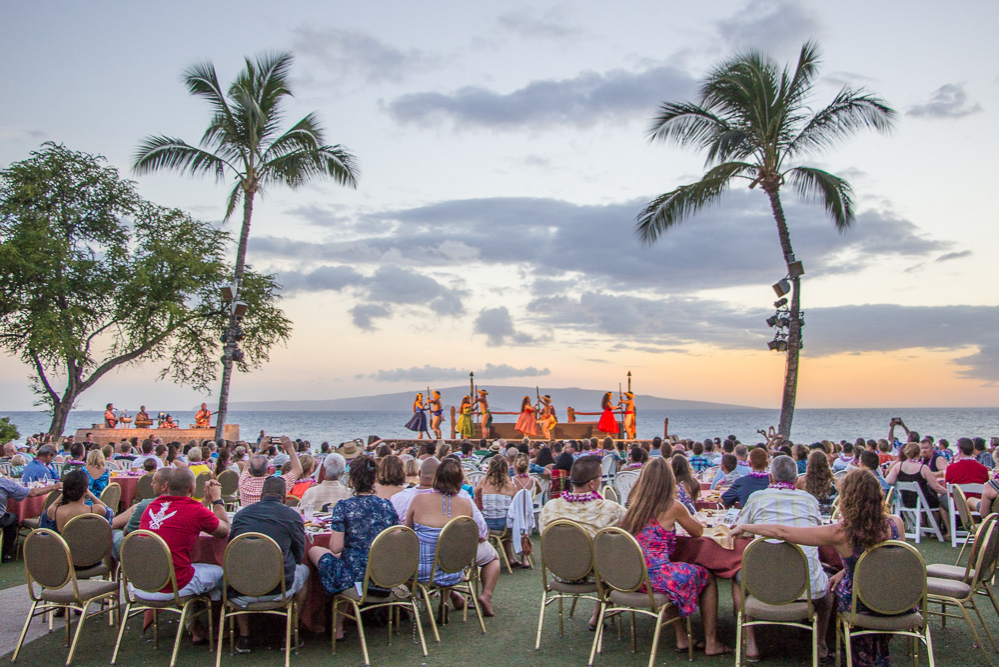 This one is for the guest of Marriott Wailea Beach Resort in Wailea. If you are stayi ng here, you are in luck.  Enjoy the  fantastic luau hosted by the Polynesian entertainment group Tihati.
And it takes place right outdoors on a lovely grassy area with an incredible ocean view. It's called Te Au Moana.
When you arrive, the performers will welcome you with classic lei and wooden fish hook necklace. You will get to enjoy all the typical luau feast like kalua pork, huli huli chicken, lau lau, Molokai sweet potato and lomi lomi fish.
This luau is pretty similar to other luau in Maui, but I will only recommend this for people living in Wailea. As there are better options in Lahania.  
8. Feast at Mokapu- Andaz Maui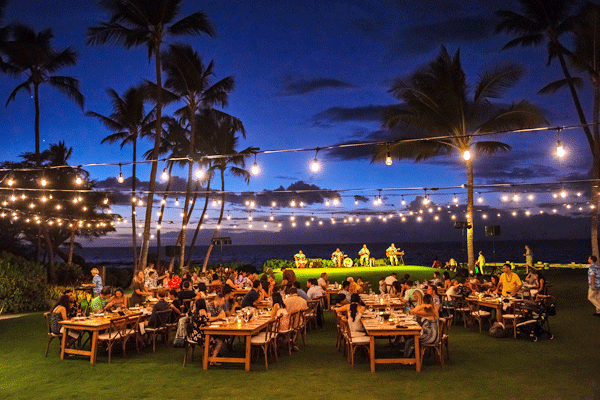 Located at the Andaz Hotel, this luau is just perfect. Well it's the most expensive luau in this list but totally worth it for the mind blowing experience.
They have fun activities before the show starts and then you get to enjoy the show. You can choose premium or classic seating.
This luau feels really cozy and intimate. Just a heads up though, they mix different groups at the tables so you won't be sitting with just your own party.  If you want to splurge on a fancy luau, this one is extra special.
The location at the Andaz hotel is super magical even when it gets dark outside. Alhough it's held at a hotel, but somehow that makes everything feel even more perfect throughout the evening.
Each table has its waiters who will bring you delicious drinks. They serve multiple dishes for each course. But the real star of the show has to be the FEAST!
The ribeye steak they serve can easily beat any top-notch steakhouse. Also the local hawaiian dishes and seafoods, and desserts are just chef's kiss perfect!  And best part? They have a open bar.
Before the luau starts, there are cool activities like getting fake tattoos and making leis. They also give you a complimentary photo.  It's hands down one of the best luaus on Maui.
9. Wailele Polynesian Luau (the Westin Maui Luau)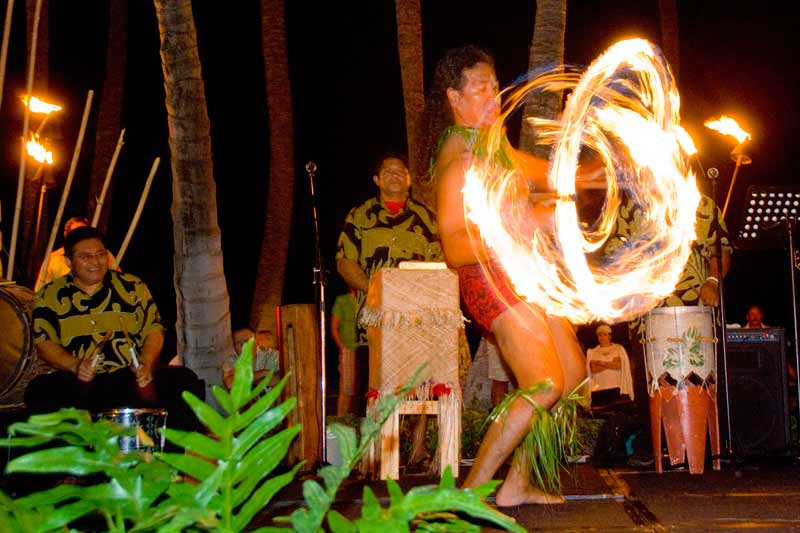 The Wailele Polynesian Luau is at The Westin Maui Resort & Spa in Kaanapali. It is held outside the resort in a very scenic garden. The luau is fantastic.
They put on a show about demi Gods like Pele and the fir God. They performers will also narrate the story of the island through their performance.
You can pick either regular or fancy seating. But if I am being honest, then I'd say the regular seat is as good as the premium one. Just make sure you book ahead.
You will get to tate atypical luau meal.The food quality is absolutely wonderful. The performers wear traditional clothes and there's an awesome fire knife dance at the end. 
10. Sunset Luau Dinner Cruise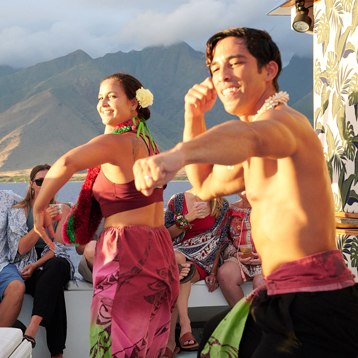 The sunset Luau Dinner Cruise held by Pride of Maui is a great way to make the most of your time here in Maui.
Going to a luau in Maui is already the most popular thing to do in Maui, and when you add a sunset dinner cruise- You get the best of both world.
Sailing and enjoying the scenic islands of Hawaii and learning about the culture through luau is really fascinating.
The entertainment begins right after the sunset. As the Hawaiian sun goes down, the fun comes up at this cruise.  You will get to enjoy the hula dance, performers telling the story of the island.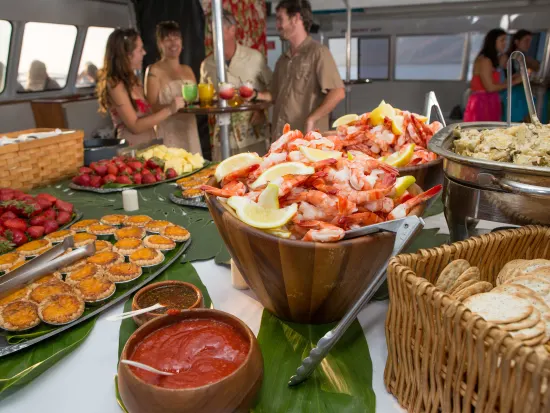 Take advantage of the buffet feast. It's so delicious. You will have almost all the traditional food and some international cuisine like teriyaki steak, seafood pasta, coleslaw with pineapple, and sweet potatoes from Molokai.
If you're visiting during winter (around December-March), then you will definitely catch the whales swimming from the cruise.
Hours: 2 hours
Price: $185
What's a Traditional Luau Food In Hawaii?
As savoring the giant feast is a big part of attending any Luau, let's discuss what you might get! We all have so much dietary restrictions and issues with 'food allergies', I am going to break down all the typical Luau food. 
At most authentic Hawaiian luaus, you'll find the following items:
Kalua Pork: This is the most famous Hawaiian luau food. It's a whole pig that's been roasted underground in a Hawaiian oven called an imu. They wrap the pig in Banana leaves. The imu is filled with hot rocks. Once they get the pork out of the oven, the meat is so tender that it falls right off the bone. It's served shredded and it's very delicious. 
Poi: Whatever luau you choose to attend, they will probably make some sort of joke about poi tasting like wallpaper paste. That joke is getting pretty old and it doesn't give poi the respect it deserves.
Poi is basically mashed-up taro root that is fermented and has the consistency of pudding. You have to actually eat it with fish or meat. It enhances the flavor and you will find a burst of flavor in your mouth.

Chicken Long Rice: Unless you go to a traditional Hawaiian restaurant, this is probably your best chance at tasting Chicken Long Rice. It's actually made with rice noodles and bits of chicken sprinkled in. And it's served with chicken broth. It's basically like a noodle soup but with more noodles than the soup. Perfect for picky eaters who don't like experimenting with food.
Huli Huli Chicken: If you like barbecue chicken with, you'll love Huli Huli Chicken. This chicken has an island twist.  It's typically chicken that has been cooked on a rotisserie with sauce. The taste may vary in each places, but you can't go wrong with this ever. It's so good on its own or you can stick it inside a roll for a little Huli Huli chicken slider!
Lau Lau: This is a super traditional Hawaiian food that you can only find at certain luaus. It's typically pork (or sometimes fish) wrapped up in ti leaves and steamed. When you see it at your Maui luau, grab it before it's finished.
Lomi Lomi Salmon: This dish is very similar to ceviche. Chopped up raw fish mixed with diced tomatoes and onions, and lots of lime juice. You can have this on its own, but best is to eat it with tortilla chips. You can mix it with poi and kalua pork to have the ultimate bite. 

Macaroni Salad: Yes, it's just what it sounds like. Basically macaroni noodles with a lot of mayonnaise and usually some shredded carrots. This is a very comfort food for us American people. It might taste a little blunt so I would say have it with meat to make the balance.

Haupia: This is the most famous luau dessert and it's made with coconut. These little white squares are like creamy coconut jello. Kids go gaga over this. It's served cold, very refreshing. 
FAQs
Is the luau in Maui worth it?
Even though the price is a bit steep, but the Luaus in Maui is worth every penny. You will get the true gist of Hawaiian culture, hawaiian food and much more by attending a Luau. It's more than just a social gathering with a promise to give you an unique experience.
What is the best luau show in Hawaii?
At the risk of being repetitive, the Best Luau Show In Hawaii is The Old Lahaina Luau. It's more than just luaus on the island, it's a whole experience . The vibes here are immaculate. But if you want to enjoy a luau in Wailea then the best one is Feast at Mokapu.
Do you tip at luau in Maui?
It's totally up to you if you want to tip at Luau. People mostly tip the bartenders at the open bars and if you want to show the performers your appreciation, you can tip them.
Is there a wait list for Old Lahaina Luau?
Yes your reservation request will be put on the wait list and won't be confirmed right away. That's why you should book your seat at the Old Lahaina Luau at least 2 months ahead.
What is a good luau close to Kihei?
Andaz Luau, Grand Wailea Luau, and the Marriott Luau are the great luaus around Kihei. They all are only 10-15 minutes drive from Kihei.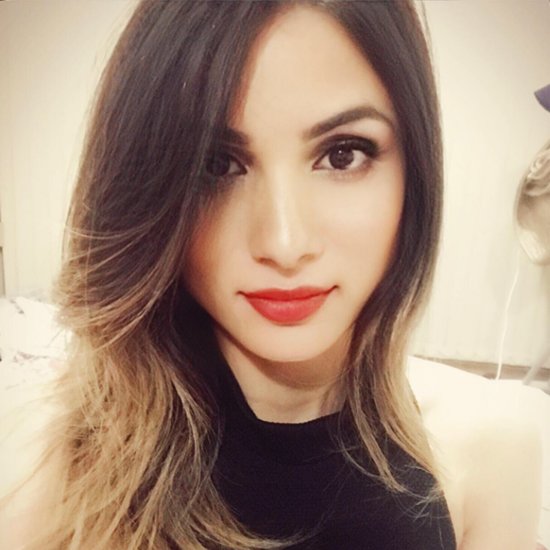 Greetings, travellers! I'm Molly Martin, the passionate explorer behind this vibrant travel platform. Alongside my team—Lorena, Jermaine, Ana, and Alen—we curate awe-inspiring travel destinations to ignite your wanderlust.
Thank you for joining us on this exciting journey. Your presence here enriches our travel community, and we look forward to inspiring your next adventure. Happy travels!