A vacation on Bora Bora is nothing but a piece of heaven in the world. It is situated in the middle of the specific ocean and is known as one of the most mesmerizing travel locations.
There have some immense places to visit in Bora Bora. To interact with sharks, visit Eco Shark and snorkeling safari. If you are someone more adventurous, try Boar Bora Jet Ski Tour, Surfing in Bora Bora or mountains gateway.
If you are more in a relaxed mood, try a beach picnic. Bora Bora's lagoon is one of the most beautiful sights, You can try activities to explore the main island here.
Tours & Things to do hand-picked by our insiders
Well, if you've decided to visit Bora Bora this vacation, this article is for you. Stick here and learn about the most recommended list of 20 things to do in Bora Bora.
Why Bora Bora?
Bora Bora is one of the most popular yet peaceful places to visit. Bora Bora is for you, especially if you want to spend your best holidays somewhere in the blend of ocean and hills.
It is a minimum crowd even in the busiest seasons. 
Bora Bora is not a very commercial place and quite tiny; that is about 6 miles only. It is full of beautiful and luxurious resorts.
So you don't have to worry about your comfort at all. You can get all the comfort inside and outside. You will get to enjoy sunny skies, blue water, windy atmosphere.
As Bora Bora is tiny, not everyone prefers visiting it. You must explore Bora Bora, if you're more into peaceful vacations. Its lagoon is quiet beautiful.
So, try fun activities to explore around the lagoon. It is not spoiled and crowded at all. People who understand the value of natural beauty must pay a visit there. 
List of 20 Things To Do In Bora Bora Vacation: Island Tour
Bora Bora has hundreds of interesting things to try. You can expect your vacation to be fun there. You just need to know little details to make a good plan.
Here are the 20 best things that are known to be Bora Bora attractions for visitors: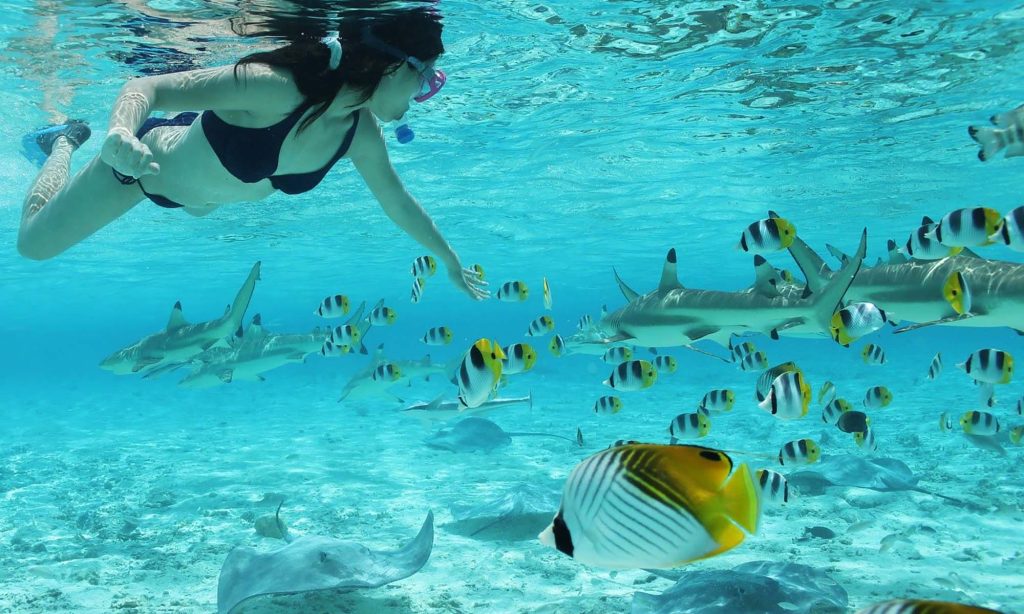 If you love swimming and want to dos something adventurous on the water, go for a snorkeling safari. Here you will get to swim and stun by little sharks.
Don't panic! These little buddies will not harm you at all. The entire experience will take two and a half hours. Here you will also see tropical fishes swimming all around you.
You can also snorkel with stingrays. Who would prefer missing this!?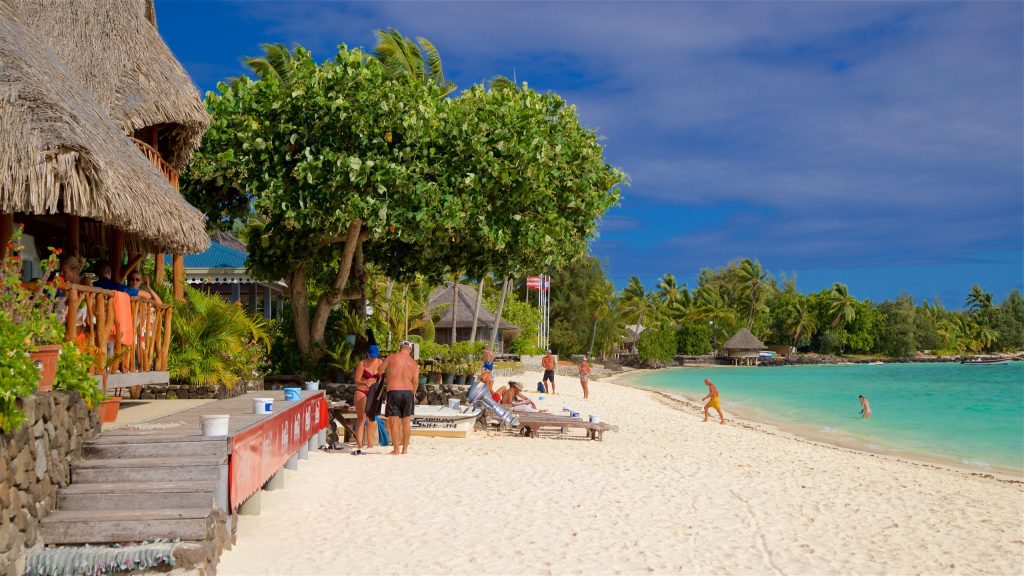 Matria Beach in bora bora is an excellent tiny place. Its amazing shoreline is the main attraction of the beach. However, this is the only public beach here. You might not get all the beach facilities like umbrellas and seats here.
So, you better carry a map and sunscreen of your own before arriving. You will also get beach bars here to grab a drink. 
3. Enjoy Bora Excursion (2 Hours To Full Day)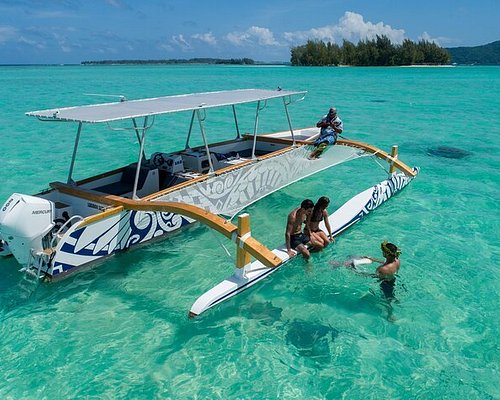 If you want to explore something except saltwater and resorts, the excursion is your thing. It will be a great adventure, and you can do it for 2 hours to the whole day. In Bora Bora, there have several tourist companies that arrange these types of safari.
Here they will give you an entire package of trekking, adventurous safari in jingles, and sunsets, and here, you will also get to know the Bora Bora people's culture more closely.
Here you can click some tour-worthy pictures as well. There will be a tour guide to help you during the entire time.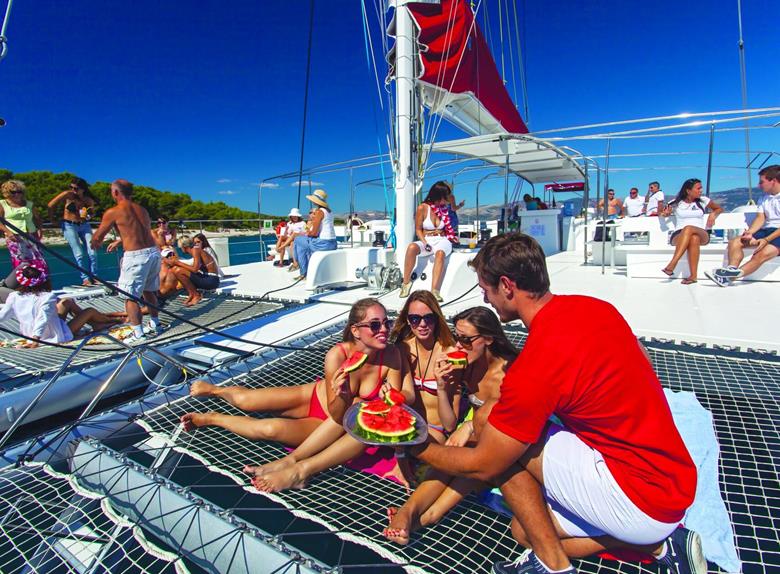 Well, if you are with your family and want to dos something more relaxing, boat tours are the pick. Rent a boat at Catamaran and explore Bora beauty of the sea.
These are comparatively more affordable than other activities. You can book the catamaran private boat tour. This is excellent for couples on their honeymoon.
Though, that will be comparatively more luxurious and expensive. These private boats will include a private captain, snacks, drinks, wine, and mesmerizing kinds of music to enjoy the incredible sunset from the boat.
📍Location | Video| Tour Ticket
5. Jet Ski: Views of The Lagoon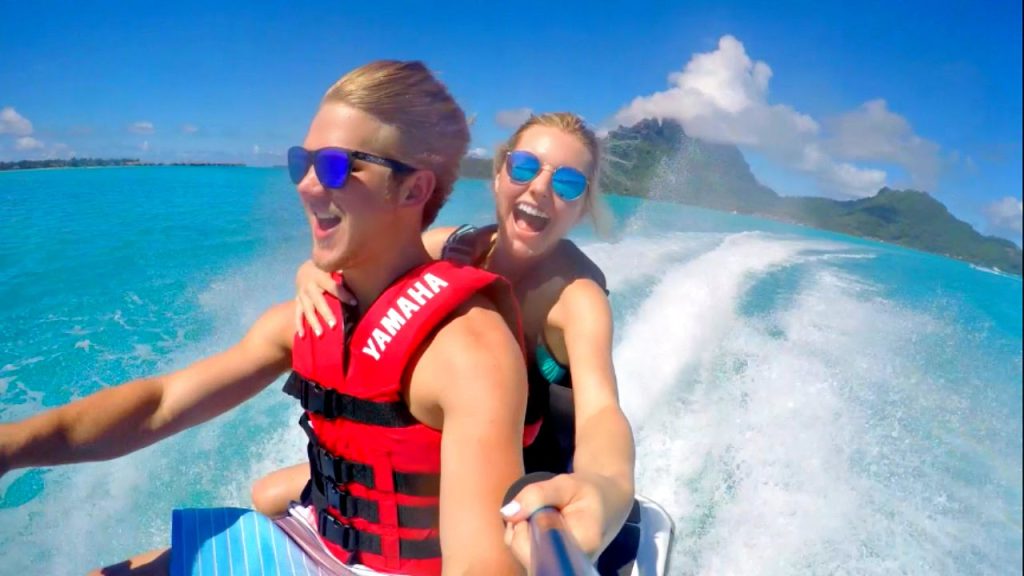 Jet Ski around Bora Bora is another adventurous thing to try on Bora Bora. This will take approximately 2 hours to give you a lifetime experience.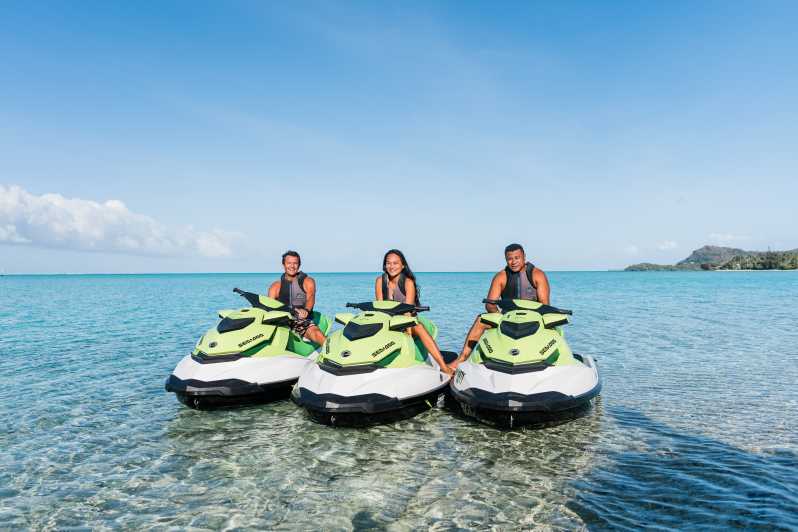 Jet skins are available in any top resorts there. While asking, you can explore the lagoon's beauty by yourself. You don't have to worry if you don't know how to jet ski.
These packages generally include the teaching process as well. 
Video of the view | Tour Ticket
6. Private Jeep Safari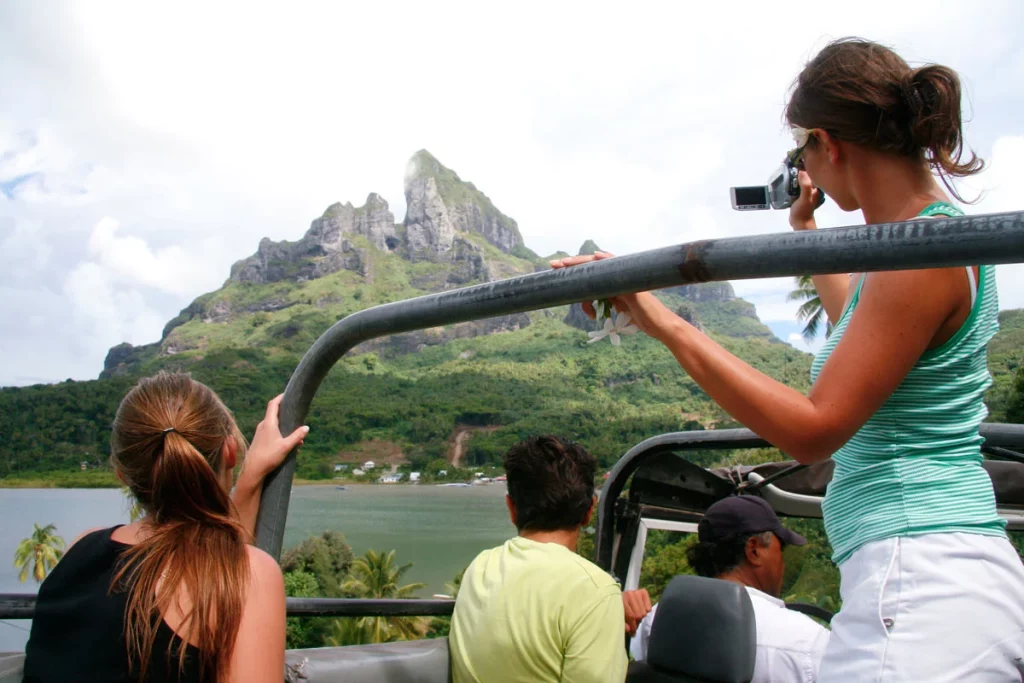 Jeep safari is something that will show you another adventurous sight of Bora Bora. If you book a private jeep safari, you can enjoy exploring some incredible points, like panoramic views of Mount Popati.
These spots have great history during World War 2. These will tell you more about Frech Polynesia's history. You can click some incredible pictures to keep a lifetime.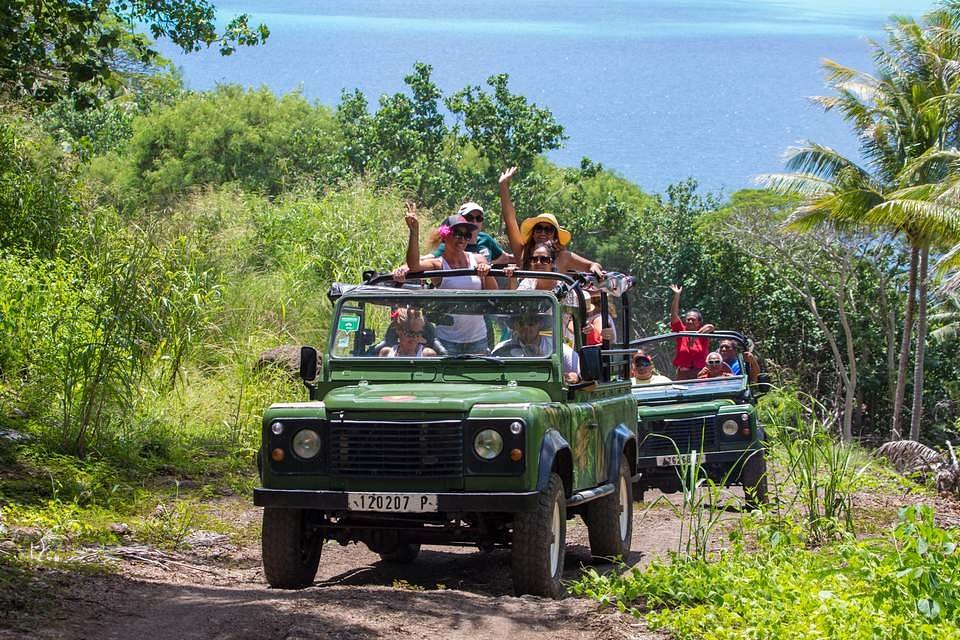 These private jeeps will allow eight people together; here you don't have to drive either. This is a half-day tour. So, you can save time for other activities around the island. 
Overwater bungalows are something that will make your holidays perfect. Glass panels bind these bungalows over the ground.
This makes you swim closer to fish, and even you can stair to them the whole time. These over water villas look aesthetic, and you can click the perfect Instagram able pictures here.
These villas have options from ultra-luxury to budget-friendly. So, you can pick your preferred package and experience a and stay over here.
📍Four Seasons Location | Website | Book Now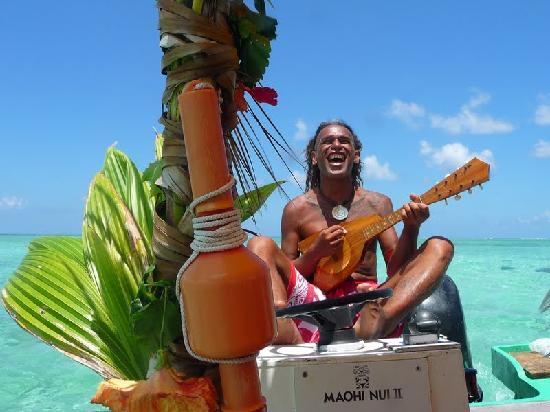 If you want to know about Bora Bora Claire, Maohu Nui is the most authentic place to visit. This place can give you every experience, from adventure, relaxation, curiosity, romance, and peace.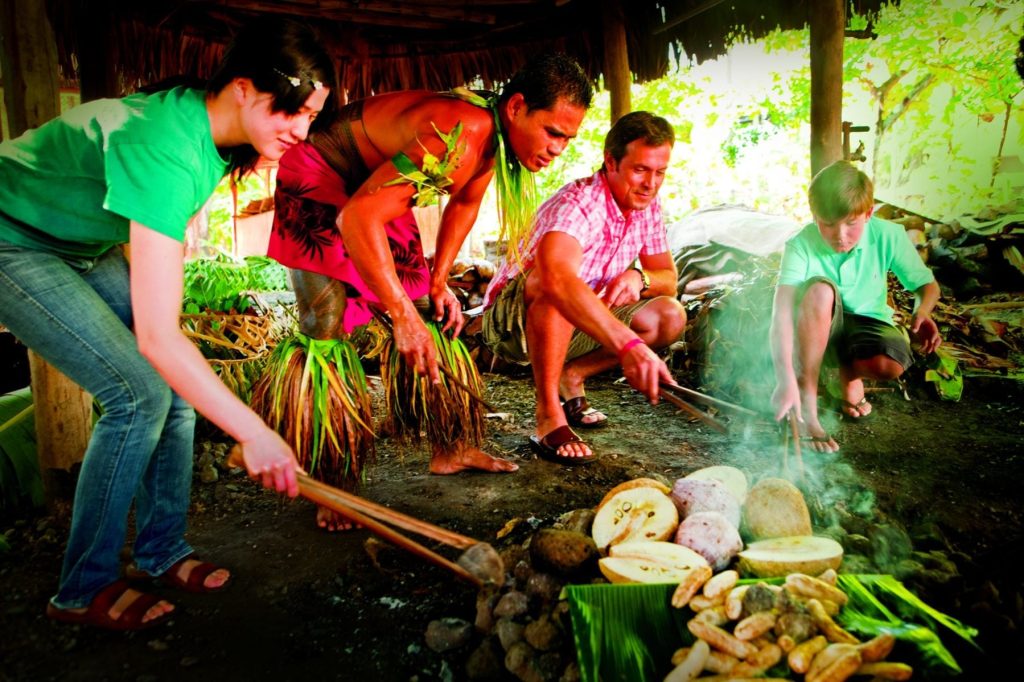 Here they have arrangements for authentic Polynesian cuisine, a lagoon excursion experience, and a safari excursion.
The cultural attraction of Maohu nui is a group of dancers and musicians who will depict the culture with their art.
Their dance is the demonstration of strength, dignity, and power of the Bora Bora people. They also have a special performance of Fire Dance that they show. 
📍Location | Website | Tour Ticket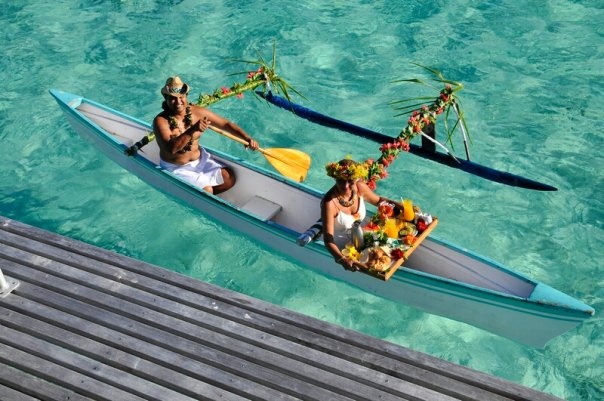 If you are searching for some fun activities on the water, Le Moana is the ultimate destination. They offer so many activities like paddleboarding and snorkeling.
You can also try deep sea fishing to have a relaxing time there. You can ride a cruise to explore the lagoon or try kayaking.
There is a Laos sub scooter drive and submarine drive to try. These sports can take to the paradise rides as well.
📍Location | Website | Tour Ticket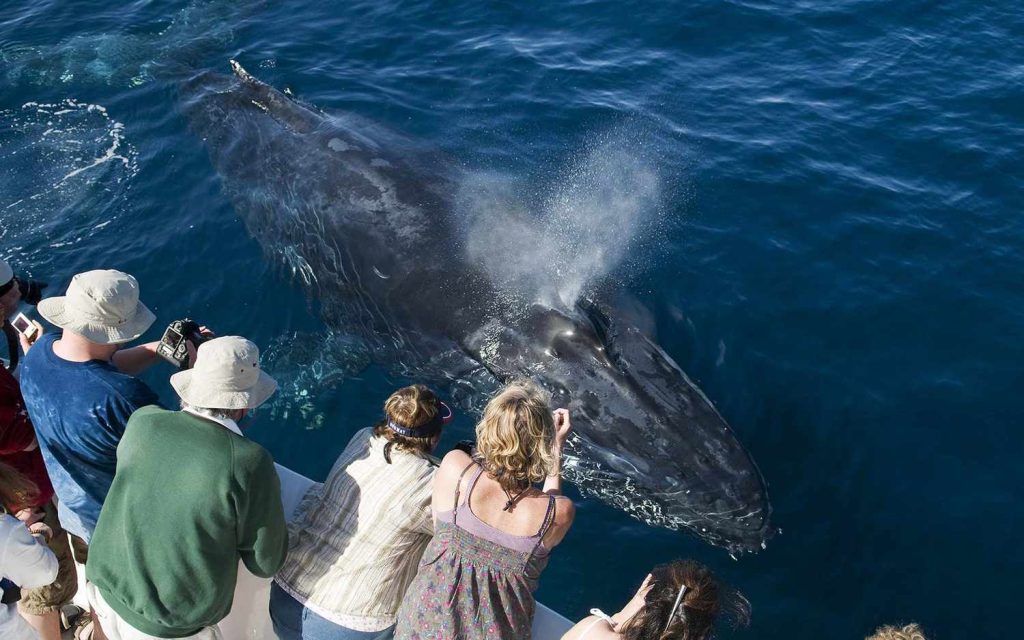 Who doesn't want to see the Whales even after coming to Bora Bora? This is one of the most exciting things to do here from July to November.
It's because this time of the year, humpback whales migrate there. These giants are quiet and gentle, and you can peacefully watch them playing and swimming.
There have a few options to watch these whales. You can try private visits, boat tours, helicopter rides, or shore watching. 
📍Location | Website | Tour Ticket
11. SUP (Stand Up Paddleboarding)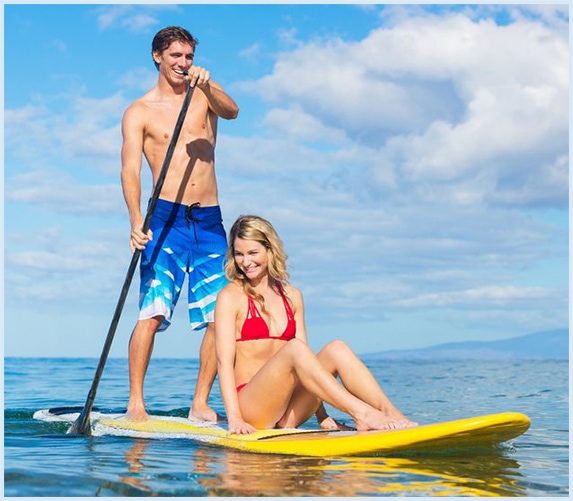 Bora Bora water is so calm that you can finally do Stand up paddleboarding here. It is not possible in all water and seems quite risky.
But Bora Bora water gives you the opportunity to experience this amazing adventure. This is an affordable activity as well.
Most resorts offer them complimentary to try o their own lakes. Even these tours will teach you first before letting your boarding the kayak alone.
It is all about balancing and is known as one of the best things about the lagoon. 
12. Get Massage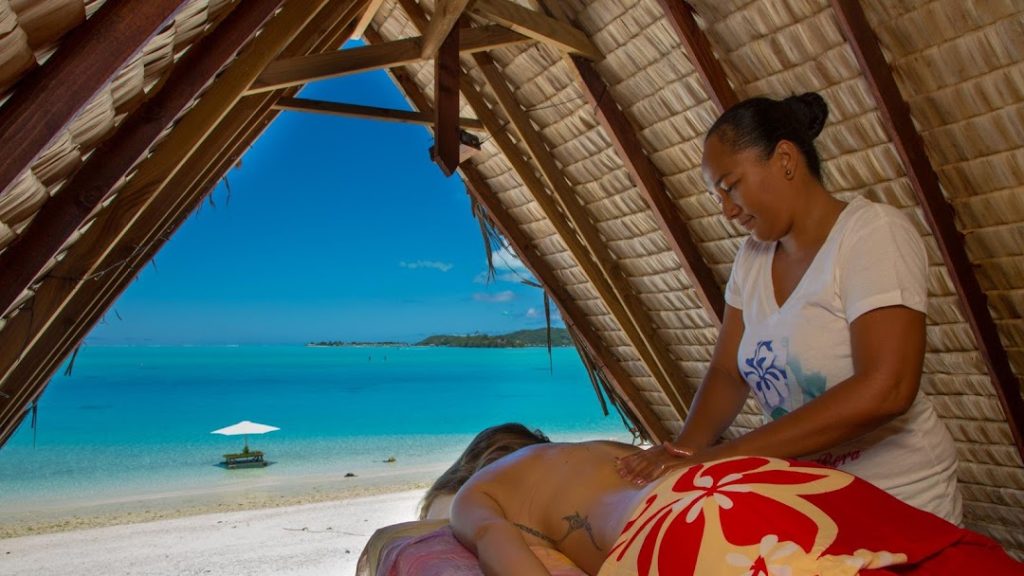 Most resorts of Bora Bora offer excellent massage facilities. This is recommended for people who want to be relaxed on their holiday. Bora spa treatments are well-rated by the visitors.
These are too that costly and ways to access as well. You can choose any type of package regarding your budget and requirement.
These massage treatments are professional and available. You will get aromatherapy, deep tissue therapy, and hot stone massage as well.
Here you can also get a couple of massages that will be more luxurious with packages. 
13. Helicopter Tour of Bora Bora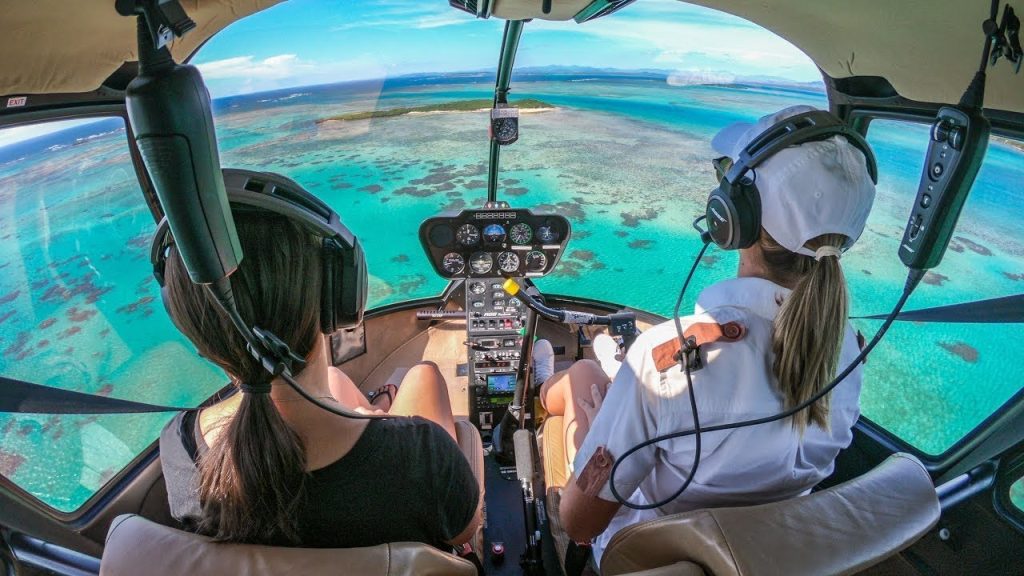 This is something unique that people try to enjoy the entire beauty of Bora Bora from a bird's eye. There have different tourist companies that will give you a chance to fly over Bora Bora.
Here you will get to watch oceans. Lakes. Whales, jungles, and training spots without doing too much struggle. Helicopter tours will require around $100 there.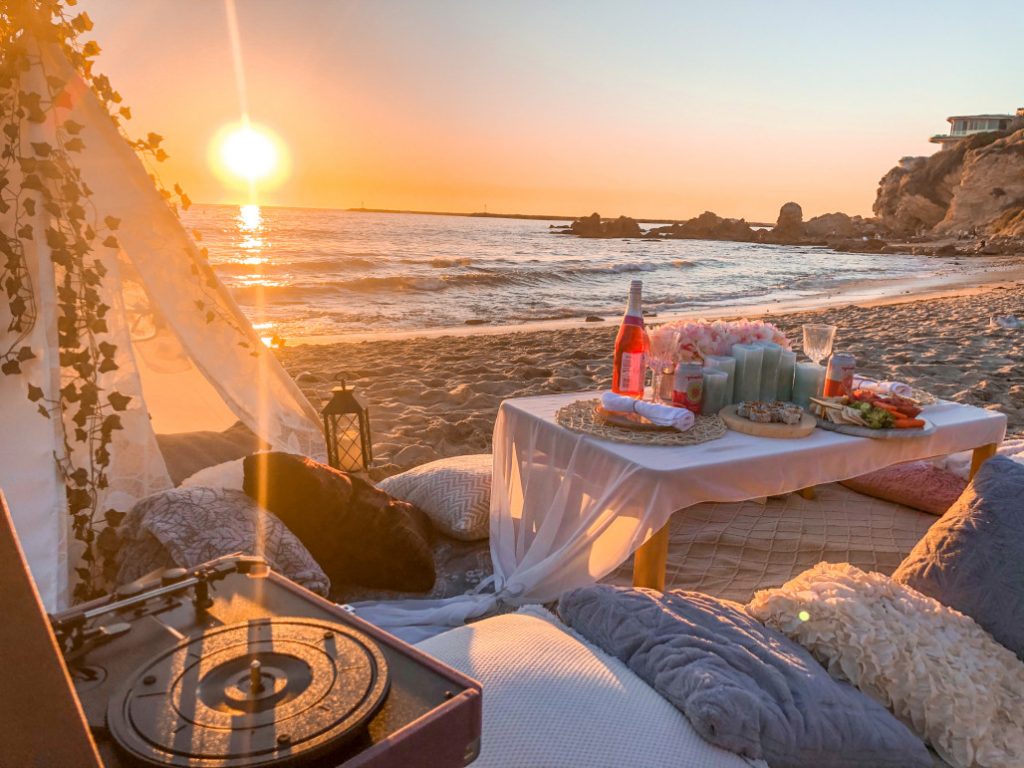 If you are on tour with your family or a small group of friends, be at the resort in the middle of the beach. A beach picnic is something you can try. Here you will get a luxury cruise and all the facilities.
You can enjoy traditional Polynesian-style food there. You can try barbecue evening as well over the cruise. The entire picnic can be done in 6 hours. So, you will get enough time to do other activities as well.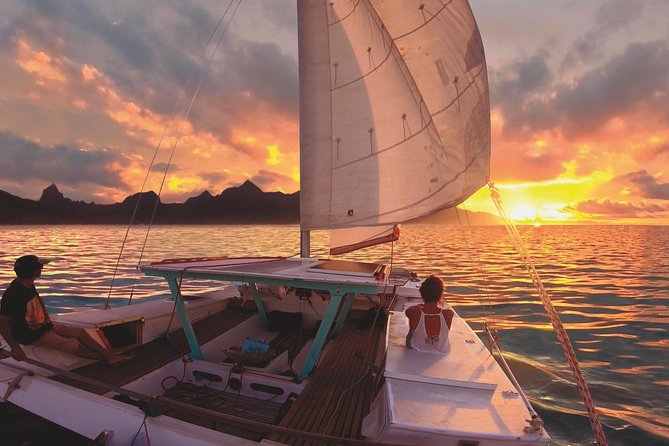 Sunset on a Catamaran is something everyone should try. It has arrangements of delicious cruise snacks and drinks. Here you can enjoy a soothing, thoughtful evening at Catamaran.
The scenario will be a lifetime thing to remember. You will be near crustal clear water that will reflect the golden rays really beautifully. They also have a package for additional romantic dinner settings for couples.
📍Location | Website | Tour Ticket 
16. Get a Self-drive Boat at Lagoon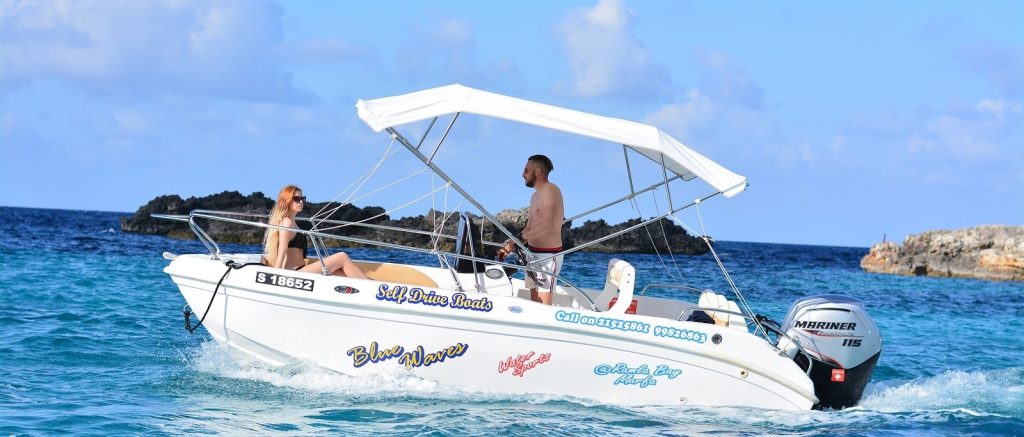 Suppose you want a more alone and private time, tent a private boat and drive it yourself. Bora Bora has severe tourist companies that offer this service.
These boats will not require any additional license to drive. You will receive enough training and additional facilities. These self-drive boats are affordable and fun things to try.
17. Aqua Safari: Get In The Water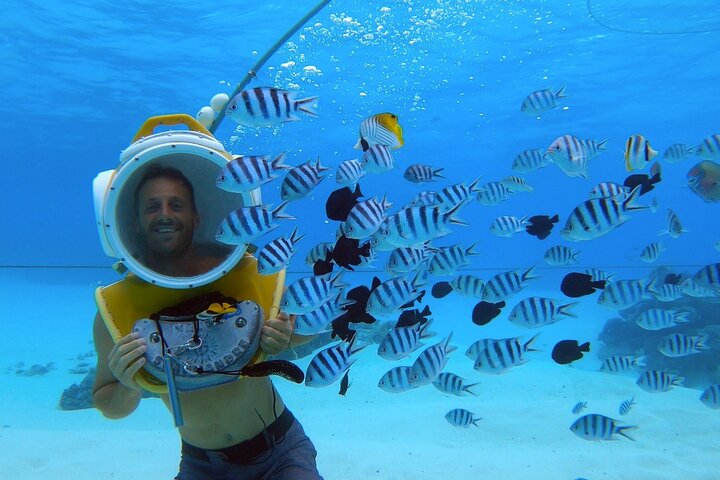 Aqua safari is another underwater adventure no one should miss. Here you will get a scuba helmet and additional requirements to visit underwater.
You can reach 10 feet deeper into the ocean and explore colors under ocean water. This entire activity will take about 3 hours, and you can be underwater for 30 minutes.
The Aqua safari experience will cost around $100 per person. It can take you closer to marine life. 
18. Mount Otemanu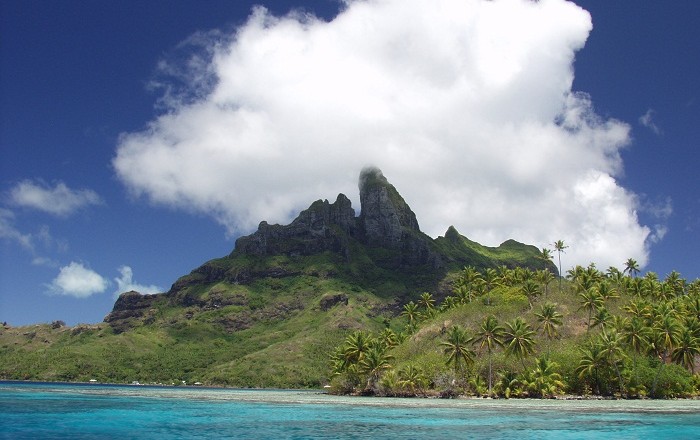 You can hike on Mt Otemanu for a half day or a full day. This is located at the island center and has a stunning view. You have to hike 2,400 square feet above the lagoon to enjoy the mesmerizing view.
This is recommended for visitors who want to knwo about hills and seas closer. However, you can also explore the mountain by skipping hiking. It offers boat tours as well. 
19. Bora Art Upstairs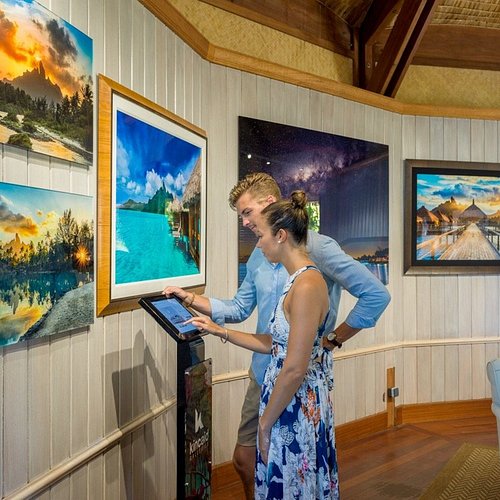 Suppose you are more of an artistic person and want to have an art gallery date. Visit bora art upstairs. Here you have to make a private appointment to explore his artworks.
Alai Despert is a well-known artist who moved into Bora Bora in 1990. Some of his famous paintings were also exhibited in USA campaigns. 
You can easily enjoy the rest of your day by doing other activities in the city. You can also visit Kincuian Galleries, art die pacific and white valley. The entire tour will take 1 to 2 hours.
📍Location | Website | Tour Ticket
20. Explore Tahiti Pearl Market
Well, coming on holiday includes shopping as must do a thing. Experience the beauty of Bora Bora Tahiti pearl market is an interesting side of the entire island.
This market is a place dedicated to authentic Tahiti pearls at affordable prices. Even if you're not in the mood for busying pearls, pay a one-hour visit to learn about the tradition of Boar Bora pearls here. 
📍Location | Website | Tour Ticket
Wrap Up
If you are in the mood to explore the island, bora is something you must go on. Here you have learned about the 20 best things that will help you in the way to explore activities and things.
You can also try the coral gardens, bicycle rides, or explore bora lagoon. Bora Bora Marana beach resort, intercontinental bora bora resort, bora bora marara beach resort, le meridien bora bora, turtles at the bora bora, Four season Resort, and bora bora lagoons, bora turtle center, bora bora excursion, sea turtles at the bora, bora bora yacht club, bora bora jet ski, bora bora itinerary, explore cruise around the lagoon,  try cruise around the lagoon, tahiti nui helicopters are something that will give you an entire package of perfect holidays. You can also wander around the island.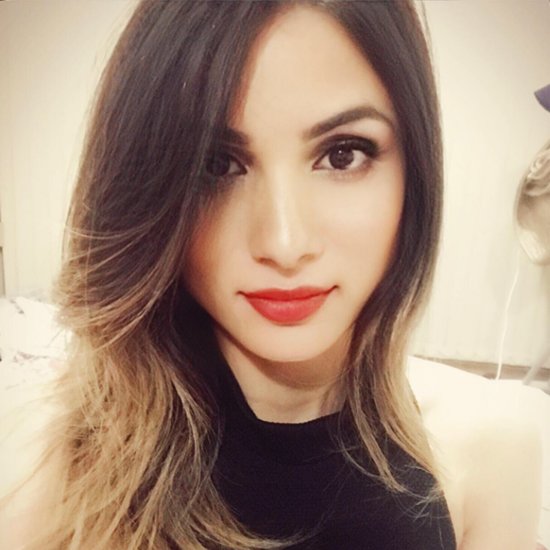 Hello, and welcome to Travel Crog, a site where I share my travel advice for your dream vacations. My name is Molly Martin, and I'm the founder and editor-in-chief of this site. I have a passion for travelling and exploring new destinations, and I want to inspire you to do the same. Six years ago, I left my job as an HR professional and embarked on a three-month trip around the world. It was an amazing experience that changed my life and perspective. Ever since then, I have been travelling as much as I can, and writing about the best things to do, see, and eat in every place I visit. Whether you're looking for a city break, a beach getaway, or a mountain adventure, I have something for you. Travel is not only fun, but also empowering and enriching. Join me on my journey and discover the world with Travel Crog. My motto is: "Life is short, travel more."