15 Best Things To Do In Poway, CA
Situated in San Diego County, Poway offers the best of both worlds to its visitors with its big-city amenities as well as the wide-open green spaces. The city is only a half-hour drive from downtown San Diego.
There's plenty of things to do there. Fishing and hiking are popular activities here. It also offers great parks and restaurants, plenty of stops and shops along the way, in addition to the up close and personal experience of watching whales and dolphins. This can be a great experience for the entire family.
Below are 15 of the best things to do in and around Poway, California.
1. Take A Selfie At Potato Chip Rock
Source: Potato Chip Rock
I am sure you have seen pictures of Potato Chip Rock, even if you are unfamiliar with it. The iconic rock formation known as Potato Chip Rock is the defining landmark of San Diego County. Hiking up the rock and summit of Woodson Mountain is fun, and there are a couple of different ways to reach it. Due to its steep gradient, the hike is strenuous, but it is otherwise well marked and manageable. If you are planning your trip, make sure you arrive on time (keep reading!).
Where is Potato Chip Rock located?
In Poway, about 30 minutes north of San Diego, hikers will reach Potato Chip Rock. Potato Chip Rock can be reached in several ways. This route offers the most scenic views as well as facilities and restrooms. The guide will provide you with a few other options.
The GPS will direct you to one of the other trails if you type in "Mt. Woodson Trailhead" or "Potato Chip Rock Trailhead" into it.
Address: Ramona, CA 92065, USA
2. Enjoy A Live Show at PowPAC Community Theater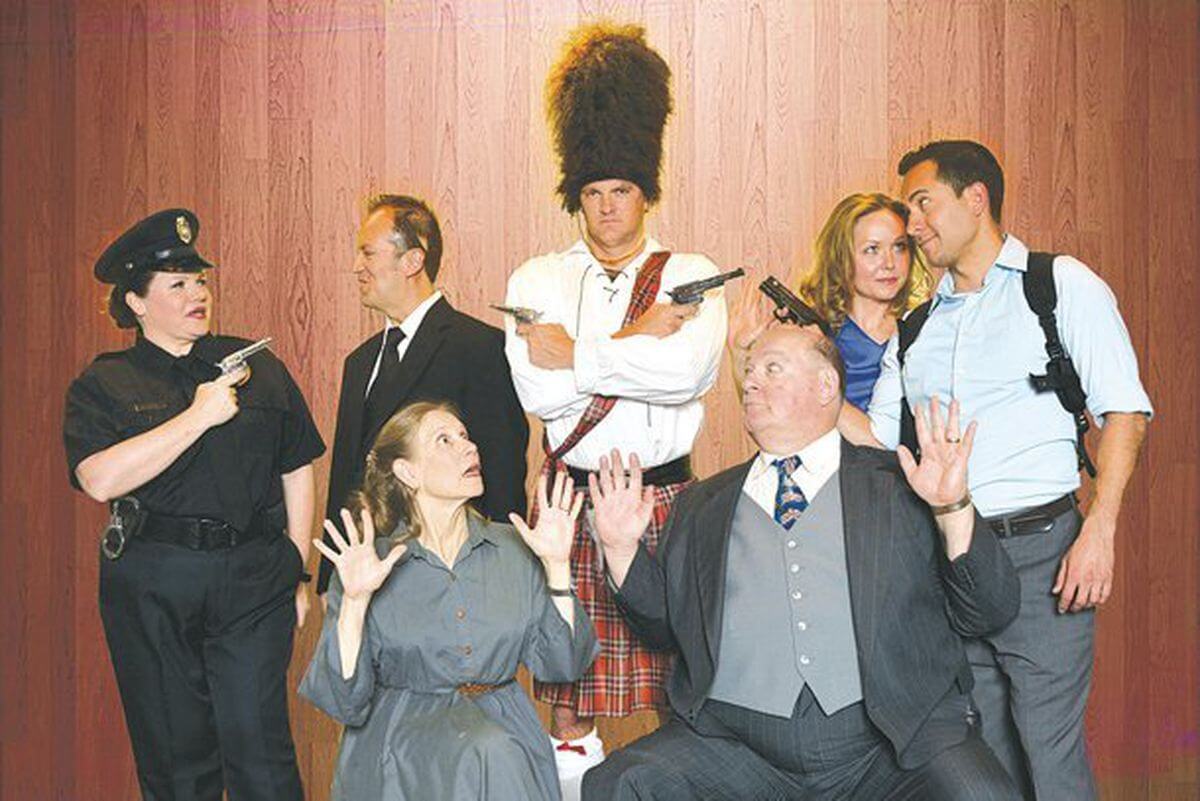 Source: PowPAC Community Theater
Located in Poway, California, the PowPAC Community Theatre is a non-profit arts center. Company performers have acted in Cat on a Hot Tin Roof and A Steet Car Named Desire, to name just a few.
As a prize-winning venue, Poway PAC Community Theatre provides visitors and residents with quality entertainment.
With 71 seats, this intimate theater has presented a variety of dramatic, musical, comedic, and children's performances since the early 1980s.
Address: 13250 Poway Rd, Poway, CA 92064, USA
Tours & Things to do hand-picked by our insiders
3. Tee Off at Maderas Golf Club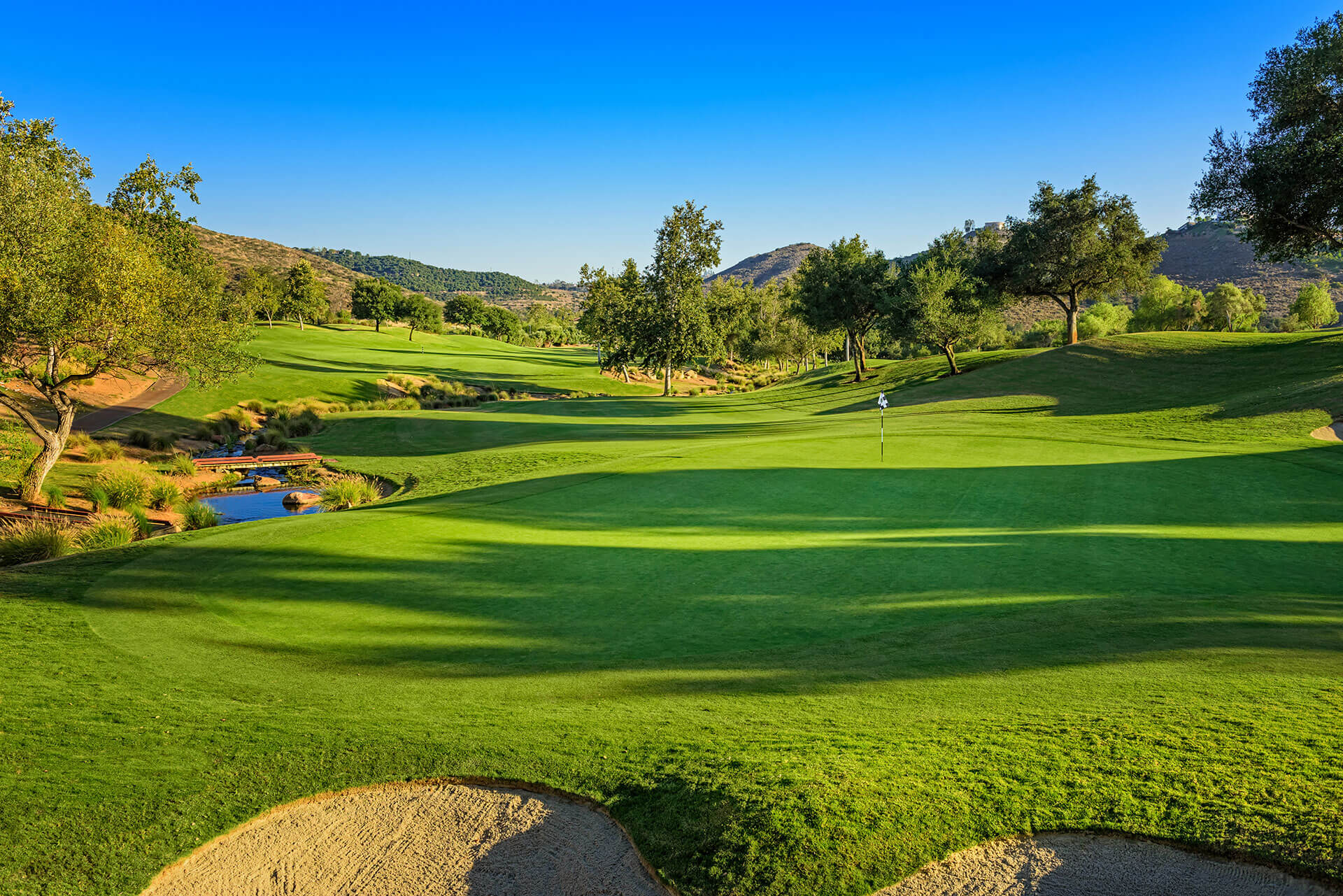 Source: Maderas Golf Club
Maderas Golf Club, a masterpiece by Johnny Miller and Robert Muir Graves, is located in the hills on the outskirts of Poway near San Diego.
A few of San Diego County's best golf courses are located on this course. The terrain is beautiful and challenging, featuring cliffs, streams, rock outcroppings, and forests.
The course has three lakes, several waterfalls and over 40 acres covered with native vegetation. Maderas offers players a unique combination of golf course strategy and championship design.
The clubhouse features an upscale restaurant, The Grille, which is a popular venue for local weddings and other celebrations.
Address: 17750 Old Coach Rd, Poway, CA 92064, USA
4. Retail Therapy at Carmel Mountain Plaza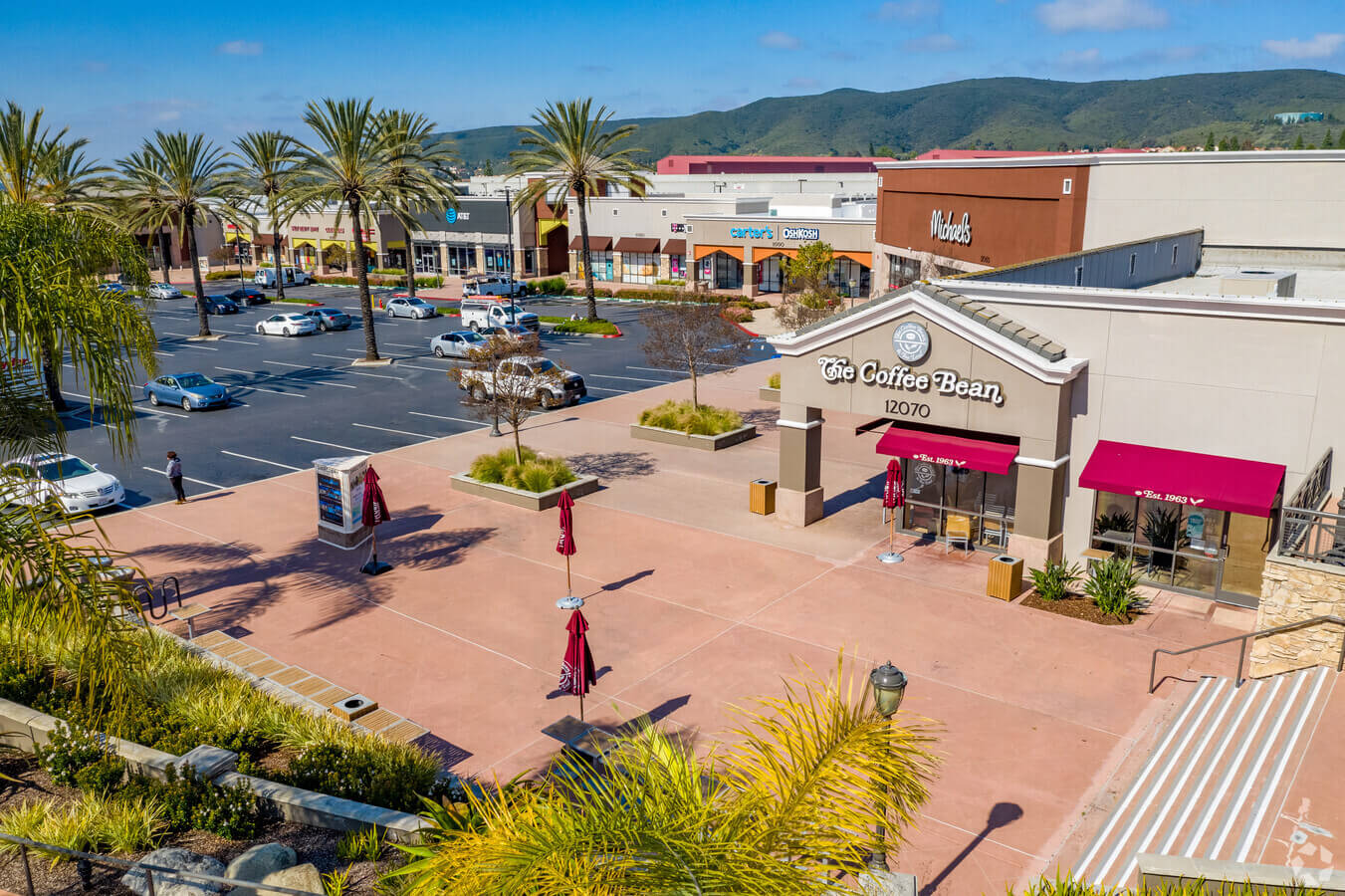 Source: Carmel Mountain Plaza
Carmel Mountain Plaza was built in 1993 and had 532,418 square feet of retail space. The collection of stores, restaurants, theatres and services includes California Pizza Kitchen, TGI Fridays and Pacific Theatres 12-plex presentations, and Panera Bread and Barnes & Noble. There are also more than 65 other speciality stores and restaurants.
Address: 11602, 12174 Carmel Mountain Rd, San Diego, CA 92128, USA
5. Enjoy La Jolla Kayak Cave Tour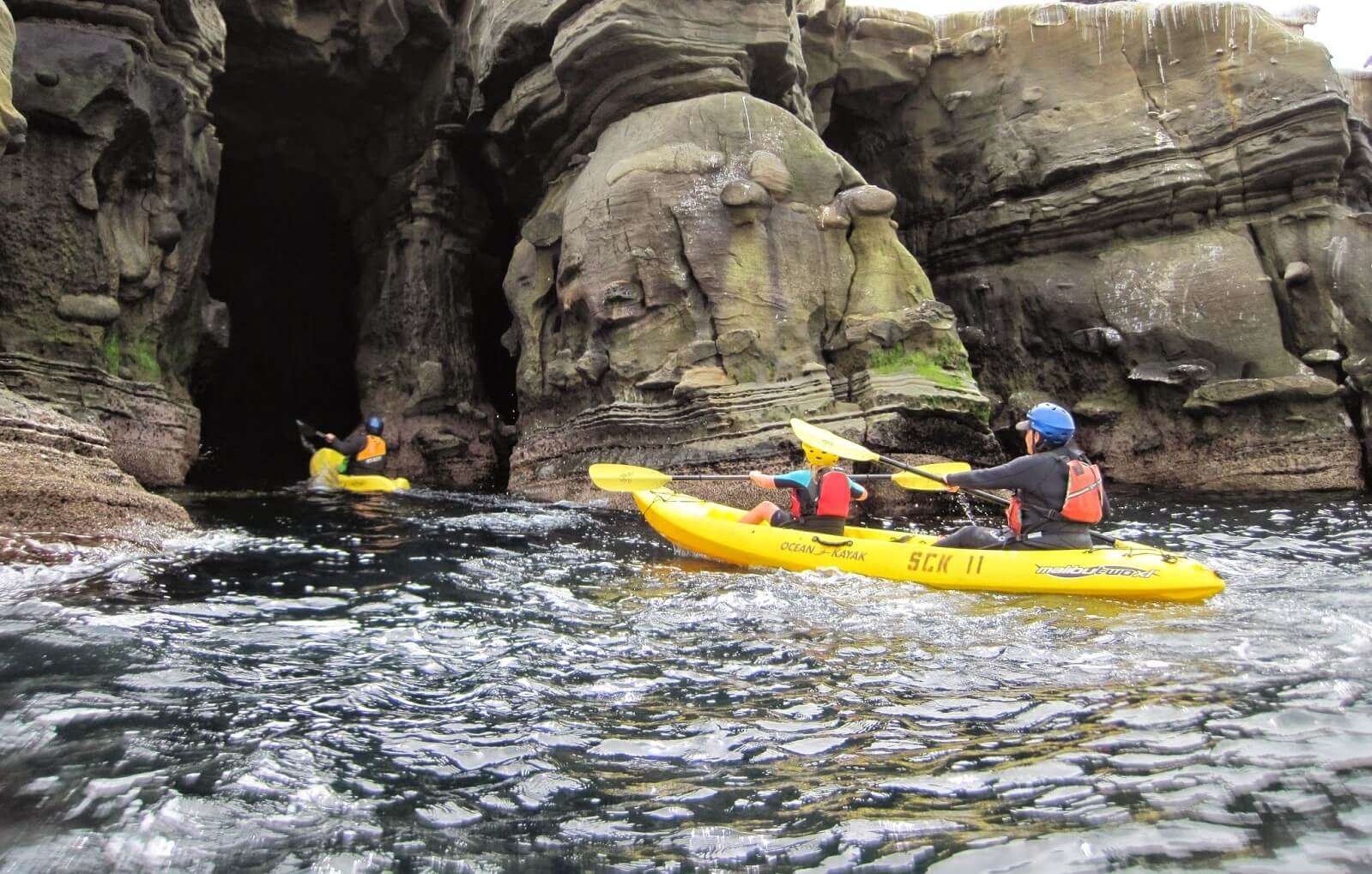 Source: La Jolla Sea Cave Kayaks
Kayaking through the Ecological Reserve and along the La Jolla Sea Caves is one of our most popular activities.
Check-in at our storefront, where you'll be fitted for a helmet and a personal floatation device (PFD) before your La Jolla kayaking tour begins.
Once you are introduced to your guide, you will walk together to the boat launch area (1-2  blocks). You will be greeted by our staff and matched with a paddle.
In preparation for ocean maneuvering, your tour guide will offer you a 10- to 15-minute paddle lesson.
Address: 2164 Avenida De La Playa, La Jolla, CA 92037, USA
6. Spend A Day Old Poway Park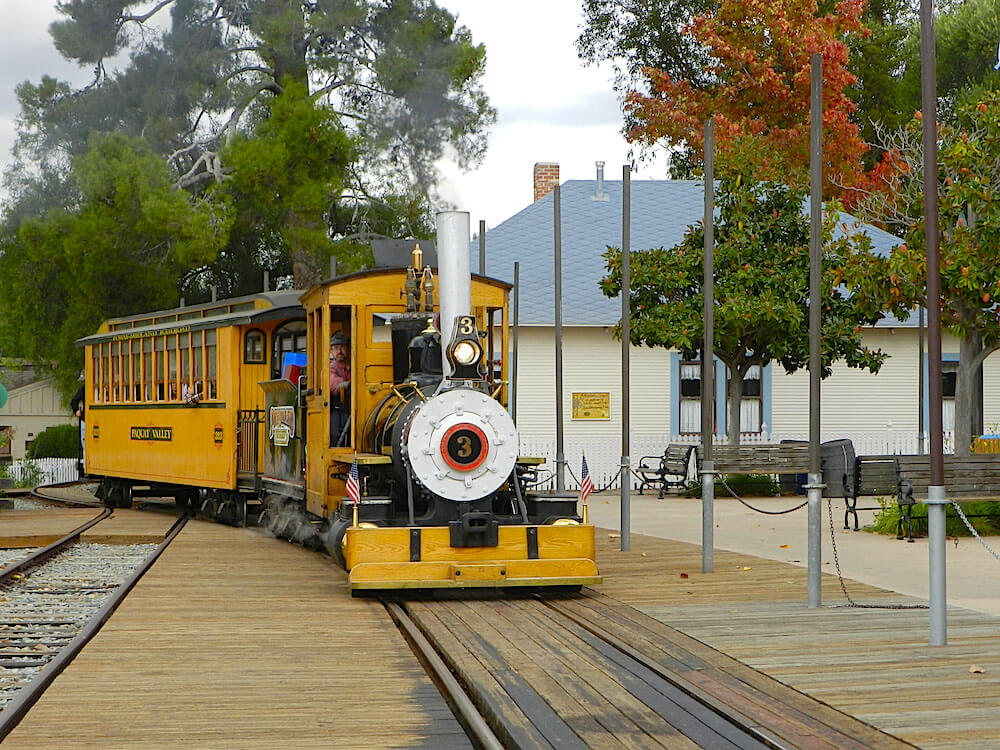 Source: Old Poway Park
There is limited access to Old Poway Park. We will continue to close the Nelson House, the Museum, and the Wool Barn until further notice.
Farmers Markets are open from 8 a.m. to 2 p.m. on Saturdays, and are considered an essential part of staying at home orders. From noon to 1 p.m.
We have beautiful paths for you to walk along or you can enjoy a peaceful picnic in the park. It is possible to ride the Poway Midland Railroad around the park during the weekends.
Poway's Heritage Museum provides an opportunity for visitors to learn about the unique history of the city, and the Nelson House provides a look at life in early 20th-century California.
Our Saturday Farmers Market features local and organic produce and artisan foods, while our seasonal Boardwalk Craft Market offers a variety of handmade crafts made by local artists.
Address: 14134 Midland Rd, Poway, CA 92064, USA
7. Go Hiking at Woodson Trail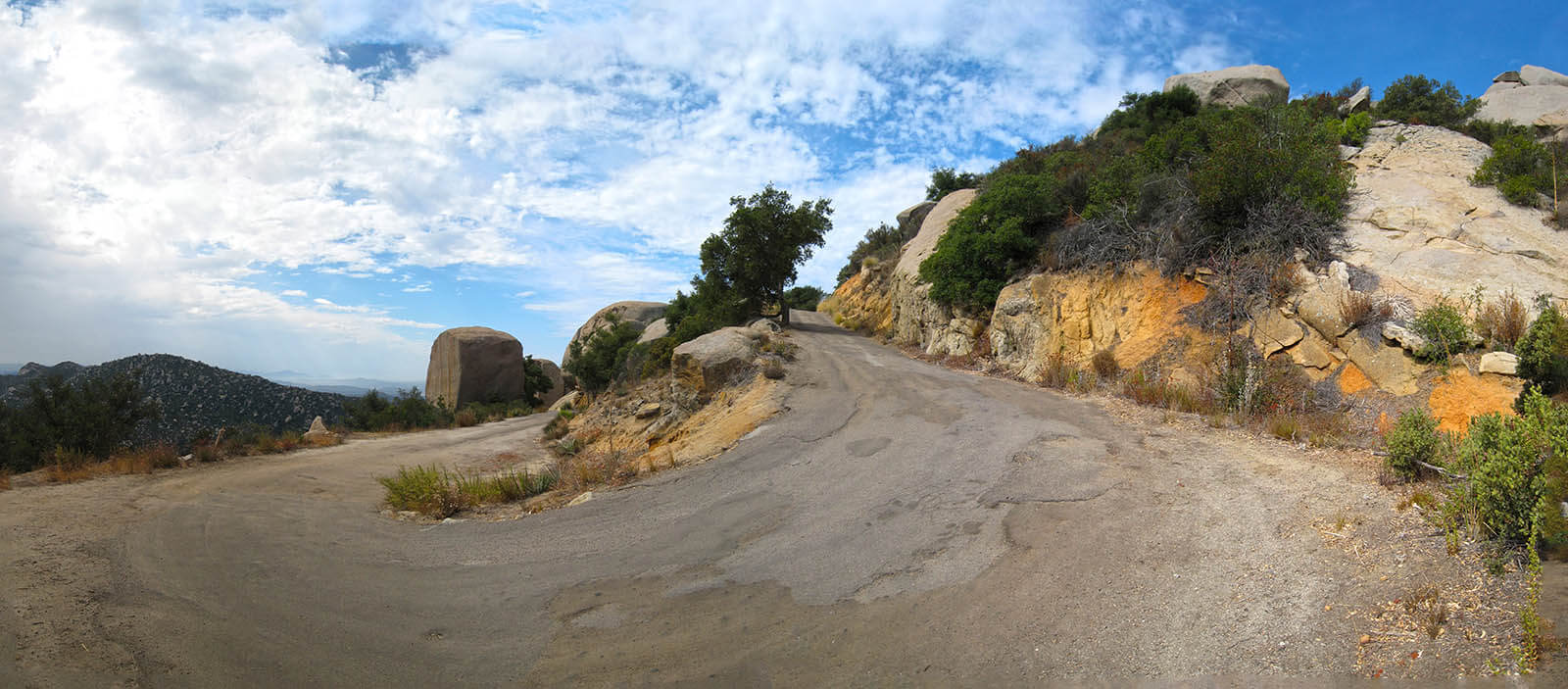 Source: Woodson Trail
At the east end of Lake Poway, you'll find the Mt. Woodson trailhead. The hike to the Mt. Woodson Summit starts from the Lake Poway staging area and has an elevation gain of 2,000 feet.
On average, it will take 3 to 4 hours for this 8 mile round trip hike and is only suitable for experienced hikers. 6.5 miles and 1,800 feet of elevation gain make up the Mount Woodson Trail, a moderately difficult trail.
Beginners should avoid it because it has a number of steep uphill segments. Despite this, Mount Woodson is the highest peak in the area, and it offers an irresistible challenge to many hikers, especially as it ends with an unnerving rock formation called Potato Chip Tock, which looks like a potato chip growing out of a huge hole.
There are alternative patches of chaparral where wild flowers grow and granite boulders can be found. You can enjoy spectacular views of Lake Poway and Palomar Mountain from the trail. Trails are easy to follow and well maintained, but they go through mostly dry and hot environments, and require a lot of water. Poway, California
You are reading "Fun Things to Do in Poway, California this Weekend with Friends" Back to Top or More places to see near me today, what to do, weekend trips
8. Spend a Sunny Day at Blue Sky Reserve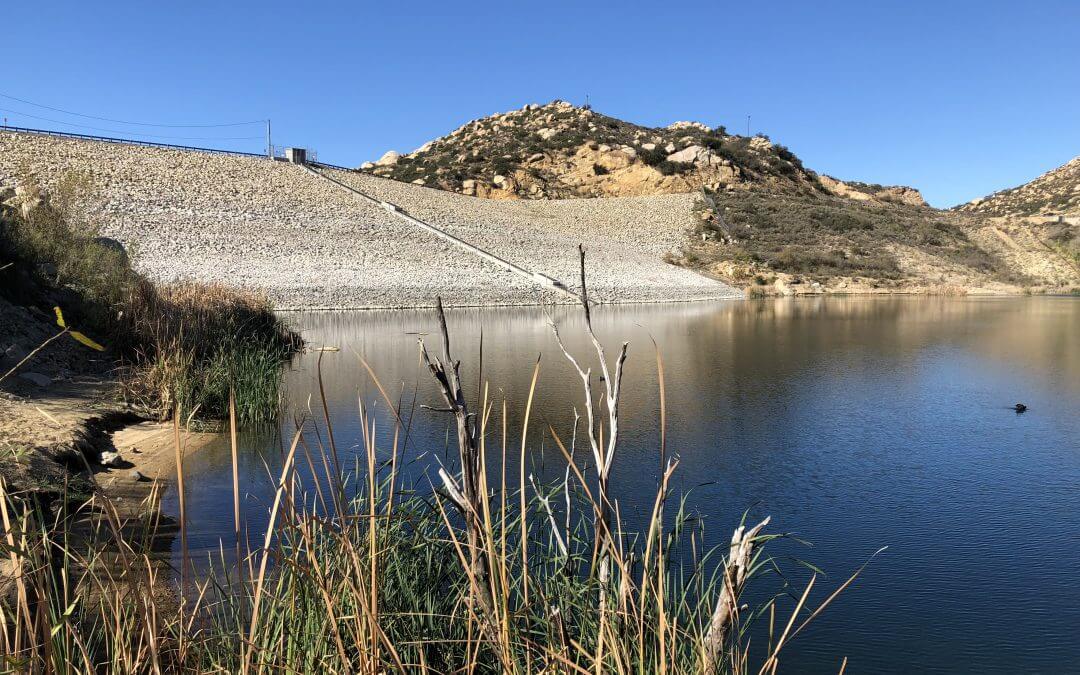 Source: Blue Sky Reserve
Canyon Blue Sky Ecological Reserve has a surface area of 700 acres. They offer hands-on experiences, such as identifying plants and animals and assisting with resource preservation. We invite the whole family, the children's class, or the scout group to enjoy this unique habitat on a hike or during a nature program.
This large ecological reserve boasts a number of natural features. You can hike through the area and see a wide range of plants and animals in different habitats.
Among the natural features you'll encounter along the way are oak trees, eucalyptus groves, chaparral, coastal sage scrub, and wildflowers.
Located next to a creek that runs through the canyon, one of these scenic trails follows its path. Occasionally, guided hikes are available, accompanied by knowledgeable guides who provide information about the plants and animals indigenous to the area.
Address: 16275 Espola Rd, Poway, CA 92064, USA
9. Enjoy a Meal at Mainstream Bar & Grill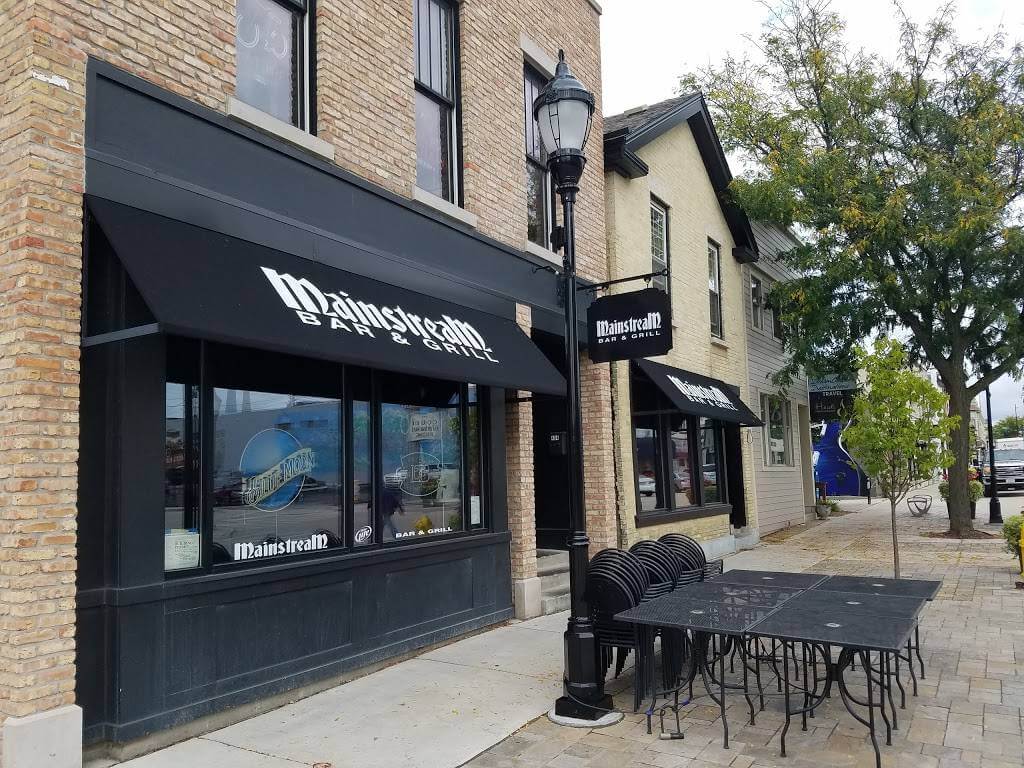 Source: Mainstream Bar & Grill
Those seeking a delicious meal as well as a lively and comfortable atmosphere should stop by Mainstream Bar & Grill.
A variety of meals are served at this eatery each day, including breakfast, lunch, and dinner.
Menu items include appetizers, burgers, sandwiches, soups, salads, pasta, seafood, and grilled items. Some of the more popular entrees include jambalaya, blackened mahi-mahi, and meatloaf.
On tap at the full bar, there are many craft beers and cocktails to choose from. The hotel has a patio and throughout the week, there are live music and trivia nights.
Address: 13385 Poway Rd, Poway, CA 92064, USA
10. Go Hiking at Iron Mountain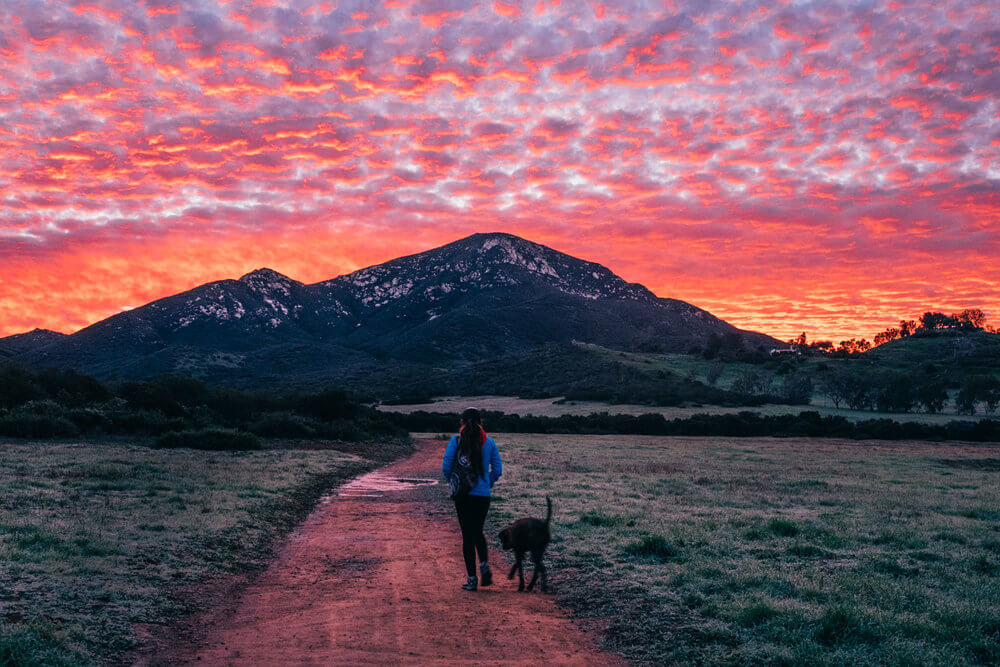 Source: Hiking the Iron Mountain
Near Poway, California, you can find 8.4 kilometer Iron Mountain Trail, a heavily trafficked out-and-back trail with scenic views. The trail is accessible all year long and is mostly used for hiking and running. There is also a dog trail on this property, but dogs must be on a leash.
This hike offers sweeping views of Northern San Diego County and is one of San Diego's top hikes. The Catalina Islands and Mount Woodson can be seen from the trail on a clear day.
Hikers can access the Iron Mountain trailhead just south of Poway Road at the intersection of CA – 67, just west of the Boulder Oaks Preserve. This hike is in the sun most of the time so be sure to bring plenty of water and sunscreen.
Initially flat, the trail heads east along a wide sandy trail.  It gradually gets steeper. There are some very rocky and washed-out sections, which requires sturdy footwear.
Soon after the Ellie Lane Trail is reached, hikers turn right and proceed to Iron Mountain.
The summit can be reached after numerous switchbacks. Additionally, visitors can access the Wildwood Mountain trail and Ellie Lane hiking trail from the trailhead at Iron Mountain.
Address: 14847-14909 California Hwy 67, Poway, CA 92064
11. Enjoy The Best Sushi at Poway Sushi Lounge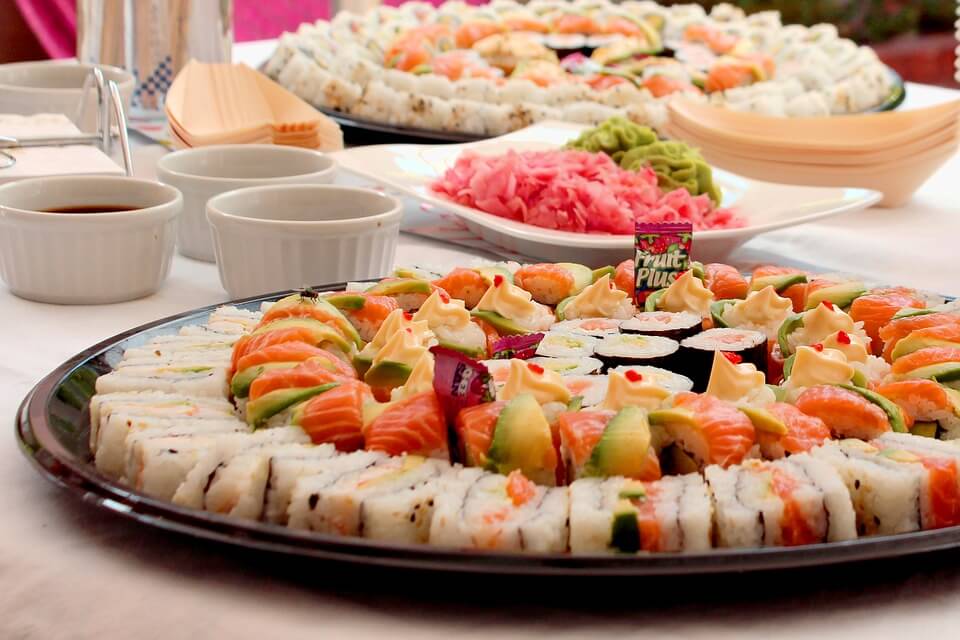 Poway Sushi Lounge
With a wide range of sushi, sashimi, and other Japanese favorites, the Sushi Lounge is a popular Japanese restaurant in Poway that opened in 2006. Its lounge-like setting provides an inviting atmosphere and a relaxed atmosphere in its large and modern space. Ingredients that are fresh and of high quality are the focus of their menu.
The extensive menu includes a variety of sushi rolls, bento boxes, sashimi, small plates, salads, and more. You can choose from inventive variations on their specialty rolls, including the Happy Wife, a roll with tempura sweet potatoes, cucumber with salmon, avocado, spicy yellowtail, albacore, fresh cilantro, and jalapeo  sauce.
Address: 12622 Poway Rd, Poway, CA 92064, USA
12. Indulge in Seafood Buffet at Brigantine Seafood Restaurant

Source: Brigantine Seafood Restaurant
A popular California seafood chain restaurant, Brigantine in Poway, is located in Creekside Plaza. It's one of the city's favourite places for surf and turf, as well as a place where you can grab friends or bring your family for Sunday brunch.
Several seating options are available in the indoor dining room, including velvet banquettes and a table at the oyster bar. Enjoy afternoon cocktails on the patio while watching the people go by.
You can find a great selection of freshly shucked oysters there. Bri's famous fish tacos, which are served with corn tortillas, cheddar cheese, salsa fresco, and ranch dressing, are a big hit with most people.
There's no shortage of delicious, fresh dishes on the extensive menu, from the superb filet mignon to the marinated swordfish. Wines and local craft beers are available, as well as fun customized cocktails.
Guests are attracted to Poway Brigantine Seafood because of its three-course menu options and daily specials. Nearly every night, they dine at Brigantine Poway, whether it's the $2 fish tacos on Taco Tuesday or the $2 cocktails on Thirsty Thursday.
Aside from its oyster bar, the restaurant in San Diego offers calamari strips, swordfish tacos, and Poway's fish and chips.
Address: 13445 Poway Rd, Poway, CA 92064, USA
13. Visit The Museum of Creation and Earth History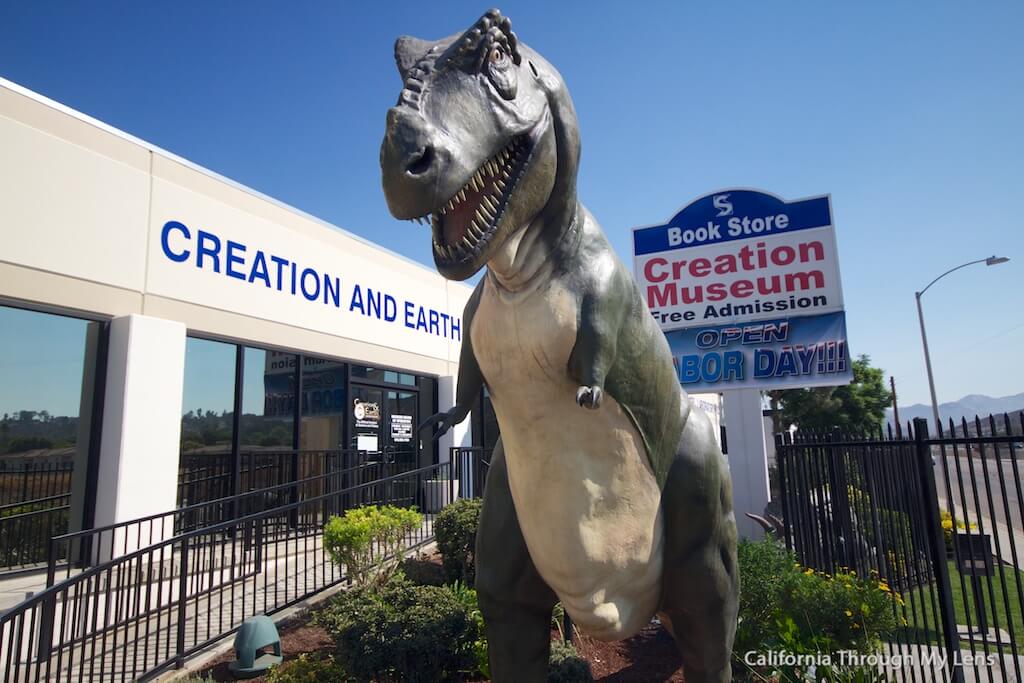 Source: Museum of Creation and Earth History
My first encounter with the Creation Museum was just by accident. An app called Roadside America popped up while I was driving around San Diego. While I was in the area with some time to kill, I decided it was worth a shot as I didn't know what to expect. All the information is here.
The Creation and Earth History Museum was founded in 1992 by Dr. Henry Morris' Institute of Creation Research. The ICR has developed and grown its exhibits over 16 years with the aim of providing believers with evidence of the Bible's accuracy and authority through scientific research, educational programs, and media content, all of which apply a strict biblical  framework. Scantibodies Laboratory, Inc purchased the museum and all of its contents following ICR's move to Texas in 2008.
The exhibits display evidence in chronological order so you can discover all the evidence as you explore them. Visitors can view a full-size tabernacle, a display about human anatomy, and a dinosaur garden among other exhibits.
Address: 10946 N Woodside Ave, Santee, CA 92071, USA
14. Spend a Fun Day with Kids at Uptown Jungle Fun Park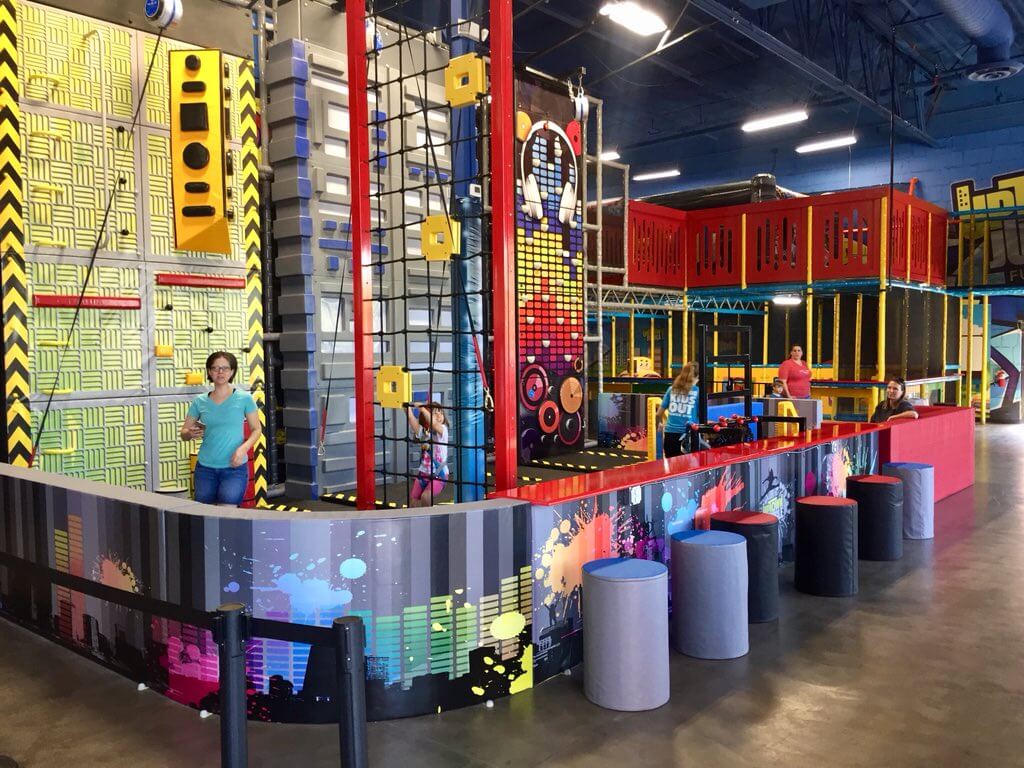 Uptown Jungle Fun Park
It is popular to go to Uptown Jungle Fun Park when visiting the Poway area. Children of all ages can have fun at this indoor amusement centre in nearby Santee.
There are several trampoline areas, climbing walls, slides, play structures, and an obstacle course on site.
Parents can kick back in the Adult Lounge using the free internet while their kids make new friends and get some exercise.
Address: 39493 Los Alamos Rd, Murrieta, CA 92563, USA
15. Go for Family Lunch at Hamburger Factory Family Restaurant

Source: Hamburger Factory Family Restaurant
With a choice of sundae sizes, you can create the perfect meal for your group. The park also offers train rides on weekends, a farmers market, and a craft fair. We look forward to becoming your favorite restaurant when you come to Hamburger Factory.
A popular destination for families and friends after they've spent a day playing in Old Poway Park is the Hamburger Factory Family Restaurant.
This Old West-themed restaurant offers a large menu of American favorites in a quirky atmosphere. Their fantastic signature hamburgers are the start of everything. You can choose  between one-half pound and one-quarter pound sizes. There is always a choice between tater tots, coleslaw, steak fries, potato salad or chips with the burger.
Since 2005, Rancho Magazine has voted this restaurant as having the "Best Hamburgers" in Poway. On Mondays, when there is a 20% discount on burgers, we recommend coming. Burgers are not the only thing offered here; they also offer sandwiches, salads, and barbeque ribs, chicken, steaks, etc.
Address: 14122 Midland Rd, Poway, CA 92064, USA
Here are 15 things to do in Poway, California. Back to Top or A list of fun things to do around me & Other ideas for affordable vacation spots
Days trips from, local getaways, budget hotels, hotels near me, dinner near me, breakfast nearby, takeout, most popular small towns, things to do near me, driving in movies, beach and sunsets, state parks, romantic escapes with pools.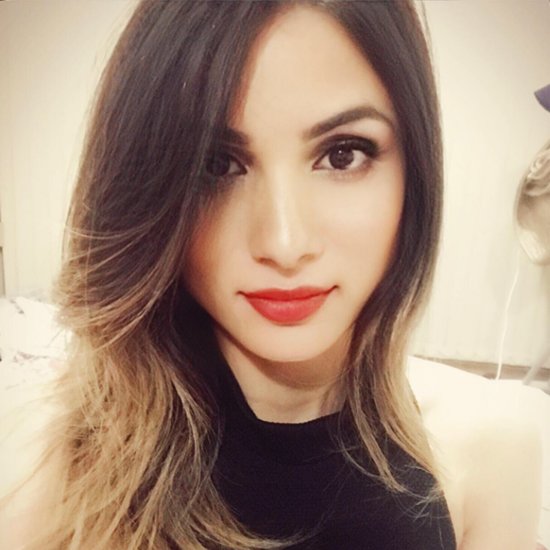 Greetings, travellers! I'm Molly Martin, the passionate explorer behind this vibrant travel platform. Alongside my team—Lorena, Jermaine, Ana, and Alen—we curate awe-inspiring travel destinations to ignite your wanderlust.
Thank you for joining us on this exciting journey. Your presence here enriches our travel community, and we look forward to inspiring your next adventure. Happy travels!