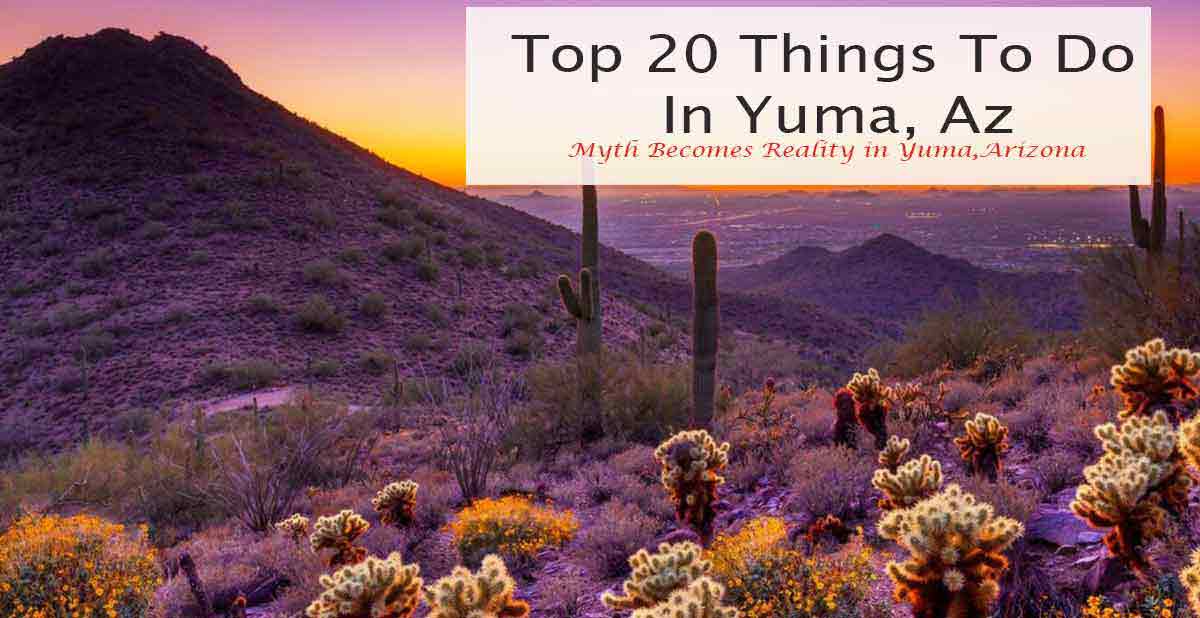 Things to do in Yuma Arizona 2023
Yuma is a city in southwest Arizona. Overlooking the Colorado River, Yuma Territorial Prison State Historic Park is home to the preserved cells and guard tower of a Wild West–era prison. Today's Yuma is a famous city that recognizes its deep history with plenty of museums, parks, and heritage areas. It is a fun place to visit with its vital riverfront, and many parks and recreation areas. There are of course lots of fun things to do in Yuma AZ.
So Here Are the 20 best and fun things to doing Yuma, Arizona.
1. Gateway Park
Gateway Park is located at the end of Madison Avenue in downtown Yuma, on the banks of the Colorado River, and is shaded by the famous 'ocean-to-ocean' bridge. This is a very nice linear park in the downtown historic district of Yuma. Facilities include a picnic area with grills, fishing pier, playground, beach, and restrooms.
There is a lovely sandy river beach, very popular for building sandcastles and swimming in the summer. The bridge was renovated and reopened to vehicles in 2002 after 14 years of pedestrian and bicycle-only traffic. The Territorial Prison Historic Park is just east of Gateway Park and within walking distance.
2. Yuma Territorial Prison State Historic Park
No longer in service, The Yuma Territorial Prison played a big role in the history of the Old West, inspiring fear in those on the outside of the law. During 33 years of running, it held 3,069 prisoners, among them were 29 women and 111 of which died serving their time.
Today, the prison is controlled by the Yuma Crossing National Heritage Area, serving as a museum that tells the story of this interesting part of Wild West history. The prison was a good stop.
You can go inside the old cells. The museum is very informative. It was very interesting to see the actual prison cells and the solitary confinement cell. Lots of information on prison life there. Definitely worth seeing.
3. Sanguinetti House Museum and Gardens
This museum shows a variety of experiences in early Yuma life inside a former top citizen's home in the early to mid-twentieth century. This museum shows a variety of experiences in early Yuma life inside a former top citizen's home in the early to mid-twentieth century.
The original adobe house of merchant E.F. Sanguinetti now serves as a museum exhibiting his life. Follow his story to discover how Sanguinetti came to Yuma with nothing but became an influential businessman impacting the community he had come to love. This is a small museum with a small entrance fee.
A must visit when you come to Yuma. The guide volunteers were informed and interesting. Arizona Historical Society Sanguinetti House Museum & Garden is open: Tue – Sat 10:00 AM – 3:00 PM.
4. Castle Dome Mine Museum & Ghost Town
Located in the Castle Dome Mountains, this ghost town recognizes the pioneers who came to make their fortune from silver and copper. In 1878 a thriving mining town larger than Yuma is today a ghost town and a museum showcasing the way of life of a mining town.
There are about 50 buildings that were brought from different locations in the area to form the museum. The town is a collection of buildings and equipment that have been gathered and built in a tidy and informative display of mining history.
Staged and equipped to portray life in a mining town in the mid-1800s. The town looks almost frozen in time, it's almost hard to believe that the miners, post office workers, bartenders, and customers are not going to return at any moment.
One can wander through the blacksmith shop, sit in a church pew, look at the dining rooms, or saloon. On the bright February day, it was an enjoyable way to investigate this quaint town.
5. Cocopah Museum – Indoor things to do in Yuma
Built-in 1996, the Cocopah Museum and Cultural Center feature exhibits on history and culture, meeting spaces, and a gift shop. the Cocopah Museum & Cultural Center is surrounded by a 1.5-acre lushly forested park full of Sonoran native trees and plants. Within the park, visitors can see a replica of a Cocopah traditional dwelling and Ramada.
The museum has a number of historical tribal exhibits that showcase Cocopah family structures, as well as the way of life, traditional clothing, everyday objects, musical instruments, veteran and warrior displays, beadwork, and tribal tattoos.
Guests may purchase authentic Cocopah beadwork, Native arts and crafts, Native American music, jewelry, novelty items, and much more at the Gift Shop.
6. Imperial Sand Dunes Recreation Area – Outdoor things to do in Yuma
Located in the southeast corner of California, the Imperial Sand Dunes are the largest mass of sand dunes in the state. This sandy wonder is known as the Imperial Sand Dunes Recreational Area and is one of the most popular film locations for movies involving sandy settings.
A favorite place for off-highway vehicle (OHV) enthusiasts, the dunes also offer fabulous scenery, opportunities for solitude, and home to rare plants and animals. There are several camping areas including Buttercup, Grays Well, Gecko, and Roadrunner; all sites have parking pads and toilets.
7. Yuma Quartermaster Depot State Historic Park
Yuma Quartermaster Depot State Historic Park, formerly Yuma Crossing State Historic Park, and now one of the Yuma Crossing and Associated Sites on the National Register of Historic Places in the Yuma Crossing National Heritage Area.
It is an Arizona state park in the city of Yuma, Arizona, US. It is home to some of Arizona's oldest buildings, where you can soak up information and follow the history of the Colorado River and its crucial crossing in Yuma in the time of the Old West.
To keep the children engaged, head to the Yuma Crossing area to learn about the railroad, see the original pivot point, and board the steam train on display.
8. Yuma Crossing National Heritage Area
The Yuma Crossing National Heritage Area has the distinction of being a National Historic Landmark, highlighted by a system of riverfront trails and parks, two state historic parks, and a historic downtown entertainment district nestled along the banks of the Lower Colorado River.
For more than 500 years, these rocks provided the only river crossing for more than a thousand miles, affecting the history of the entire area. This crossing was important for the lives of the local Patayan and Quechan tribes, Spanish explorers, adventurers traveling to the Wild West, and for those joining the California Gold Rush. Fort Yuma Crossing was built in 1848 to protect emigrating travelers from Indians.
9. The "Official" Center of the World
Jacques-Andre Istel has officially established the Center of the World here, and he has built a town around it to bolster his claim (The Center of the World is also said to be elsewhere, making it easier for those who wish to be centered). He's the mayor.
That's his signature on the official certificate you receive for standing at the Center of the World. Just a quick drive from Yuma in Imperial County, California, this seemingly random point has been approved as the official Centre of the World by the Californian state and the French government.
You will also find a set of granite pyramids meant to depict the history of humanity, a church, and of course a plaque marking the spot. This fantastic place is only open from March to December, but you will get a certificate when you visit.
10. Yuma Proving Ground Heritage Center
Located in the former post headquarters building on YPG's Main Administrative Area, numerous exhibit galleries guide you through over 70 years of history.
The Museum showcases events ranging from 1942 to the present day, with exhibitions showcasing the Desert Training Center, the Yuma Test Branch, Camp Seeley, the Yuma Test Station, and the Proving Ground.
There is an exhibit on Tests of the '50s and '60s, as well as an exhibit that is a tribute to the victims of 9/11. The last room of the Museum is dedicated to the commemoration and recognition of Vietnam Veterans.
11. Colorado River State Historic Park
The Colorado River State Historic Park tells the story of the past, present, and future of the Colorado River. The park is the original home of the Yuma Quartermaster Depot, an Army supply depot that operated from 1865-1883. You can also learn about the Yuma project, which set out to irrigate a vast area of land in Yuma County and California, through the use of dams, canals, siphons, power plants, and drains, to enable year-round farming.
If your budget or time-challenged this is a great stop. The staff is beyond helpful and friendly. Certainly a significant site in the history of Arizona, It serves to preserve its historic structures and interpret the site's diverse history. You can see Covers wagons, cars, boats southern Pacific like a time traveler.
12. Imperial National Wildlife Refuge
The Imperial National Wildlife Refuge protects wildlife habitat along 30 miles of the lower Colorado River in Arizona and California, which spills into both Yuma County, Arizona, and Imperial County, California.
Great place to see Sand Hill Cranes flying over the Colorado River Be sure to visit at dusk to see thousands of Sand Hill Cranes. Within the refuge, you can enjoy boat trips, fishing, hiking, and camping. Wandering the painted desert trail is a must for newcomers.
13. East Wetlands Environmental Restoration Area
The Yuma East Wetlands is 1400 acres of riparian habitat on the Colorado River in Yuma, Arizona. The area is bound to the west by the historic Yuma crossing and to the east by the confluence of the Gila and Colorado rivers.
Yuma East Wetlands Restoration activities were initiated in 2004 and nearly 400 acres have been transformed from a trash dump filled with hobo camps into a mosaic of marsh, mesquite, cottonwood, and willows which provide habitat for an array of wildlife species.
You can see ducks and a rabbit playing. It is right below the Yuma Territorial Prison and finished up the tour nicely. The walk along the river in this park is very pretty and peaceful. There were lots of birds but the signage indicates there are numerous animals you might see.
14. West Wetlands Park & Centennial Beach
The 110‐acre West Wetlands Park is a jewel and beloved by the citizens of Yuma. It is opposite the East Wetlands, the West Wetlands Park is just across the river. This is another ideal picnic spot and place to cool off.
It also has the delightful Centennial Beach which was developed for the town's 100th anniversary.  The 30 acres of the "lower bench" are restored with native trees and grasses, and an additional 30 acres of the "upper bench" are developed with a lake, picnic ramadas, parking, lighting, and landscaping
15. Yuma River Tubing
Yuma River Tubing is a company that specializes in tube rentals for a fun relaxing float down the Colorado River in Yuma, AZ. From April to September in the sunny summer months of Arizona, Yuma River Tubing offer an excellent alternative way to experience the Colorado River. This is the best way to float down. Totally stress-free.
16. Yuma Conservation Garden
An educational hub and community treasure, this botanical garden is a secluded spot no more than 4 miles outside of Yuma. The display is a range of antique farm machinery, for those interested in old trucks and tractors. Nearby are two airports which make for some interesting plane watching, while you can also feed the ducks or stroll the nature trails.
The Conservation Garden (once just known as the Duck Ponds) at the fairgrounds, is always a good spot to just pull off with young kids to visit the fowl and take in some sights of the landing aircraft at MCAS. It will be loud, rest assured- those planes are coming in low. There were tons of gorgeous desert plants and paths to walk around.
17. Martha's Gardens Date Farm
The Medjool dates are some of my favorites and Martha's Gardens offers succulent dates that are not dried out. Wonderfully moist with great flavor. If you have never visited a date farm, it's worth the drive out of Yuma.
With 8,000 date palms swaying in the wind, looking almost like a mirage in the hot desert sun. It is hardly surprising since dates require continuous sunshine and Yuma holds the title of the sunniest place in the world.
The peak season runs from September through to April. Martha's Gardens is a popular place to stop for a date shake or for a tour of their beautiful desert oasis.
18. Salvation Mountain, Calipatria
Salvation Mountain serves as the entrance to Slab City in the extreme south of central California. The "city" was formed on the scars of the concrete slabs of a long-gone naval base that used to live in this section of the desert.
It has turned into a wonderful, interactive piece of art that welcomes you into an "alternative living community" to put it very kindly. A hippie who loves Jesus began to pout buckets of paint on hay and other reclaimed junk from the desert.
The artwork is cool because it is so strange. The mountain itself can be climbed, so long as you "follow the yellow brick road." There are people there, tourists, artists, and some local slabbers.
19. The Camel Farm
The Camel Farm is a roadside zoo in Yuma, Arizona, with a long history of violating federal animal-welfare laws. Even though there have been years of U.S. Department of Agriculture (USDA) inspection reports citing the facility for neglecting animals.
Lots of camels that you can touch and feed. A variety of other animals as well. Nice place to bring your kids as they can get up close to the animals. A fun way to spend a couple of hours inexpensively.
20. Party Ponies Yuma
Wonderful ponies and horses bring lots of smiles to faces of all sizes. Party Ponies Yuma brings ponies to you for birthday parties and special events at your home, business, family reunion, school, church, or local park. Unicorns are available too! You can enjoy having the petting animals at your function with or without pony rides.
FAQ
Is Yuma worth visiting?
Yes, Yuma, Arizona is worth visiting. Yuma is known for being the sunniest city in the world, with an average of 4,000 hours of sunshine each year. It's also known for its history, museums, architecture, parks, and pleasant winter weather.Yuma is a favorite destination for retirees in RVs, known as snowbirds, during the winter months because of the pleasant winter temperatures. It's also very affordable, with housing expenses 13% lower than the national average.
What is Yuma known for?
Yuma is known as the "Sunniest City on Earth," according to Guinness World Records, Yuma promises sunshine and warm weather at least 91% of the year, making this city a premier travel destination year-round.
Is Yuma AZ a good place to live?
Small Desert City is among the best places to live in Yuma, AZ. The city is located at the southwest corner of Arizona. The best part about this city is that it is near a river allowing the area to have a cooler effect during summer. Also, the area is very affordable, and the cost of living is not high.
How far is the Mexican border from Yuma?
7 miles, Algodones is located 7 miles south of ​Yuma, Arizona off Interstate 8, but you will be crossing the border at Andrade, California in order to access a small Mexican town located in the state of Baja California.
Is Yuma the hottest city in the US?
The hottest city in America is Yuma, where 90°F or higher temperatures are typically recorded 175 days per year. … The highest temperature ever recorded in the U.S. was 10 degrees higher, in Greenland Ranch, California, also known as Death Valley.
What restaurants are in Yuma Arizona?