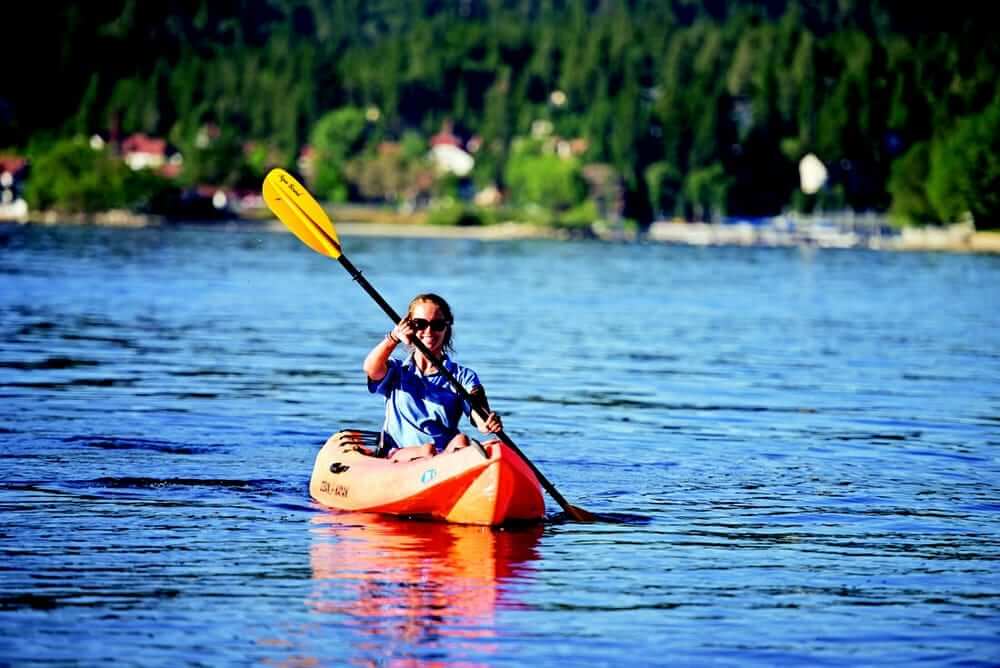 Best Kayaking Spots in California
There are many locations where you can go kayaking in the state of California. In fact, The best kayaking spots in California are scattered throughout the state, and the best way to find them is to see what others have found to be the best. Some of these spots are well known, while others are almost unknown but have the best kayaking in California.
If you're a novice paddler, the waters of Northern California can seem intimidating. But once you get the hang of it, you might find yourself longing for the feeling of gliding atop the San Francisco Bay on a warm summer day. Below is a list of kayaking spots in Northern California that are most beginner-friendly, along with tips for how to make the most of your trip. Also, Lake Tahoe, Mono Lake, and Lower Scotts Flat Lake are the best lakes in California for Kayaking & Canoeing.
Tours & Things to do hand-picked by our insiders
As a matter of fact, if you're looking for great spots to kayak, look no further than this list of the best kayaking spots in California.
1. LA River Kayak Safari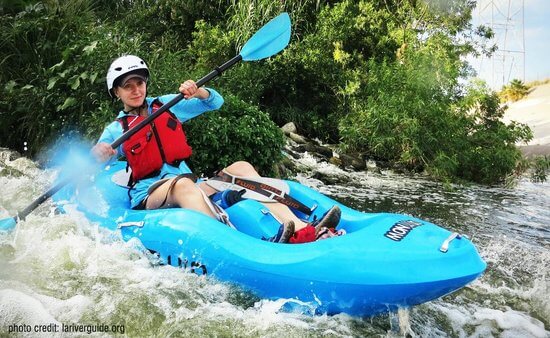 The Los Angeles River Elysian Valley is where LARKS operates. Many factors have adversely affected the riverine ecosystem, including river channeling and industrial pollution. As a result, it has now been protected by the Clean Water Act. The river bend in the Elysian Valley has acted to reduce the damage, and the surrounding area is home to fish and birds. LARKS tours include canoe and bike trips through the area, enriched by guides that explain how river lore affects the area's urban culture. Tours are between 2-3 hours long and leave at midday and sunset and are suitable for beginners as the rapids are small.
2825 Benedict St, 90039 Los Angeles, Phone: 213-447-6731
Things to do near me this weekend, things to do this weekend near me, weekend getaway, top weekend getaways: Ohio, from San Francisco, from NYC, Texas, Florida.
2. Adventures By The Sea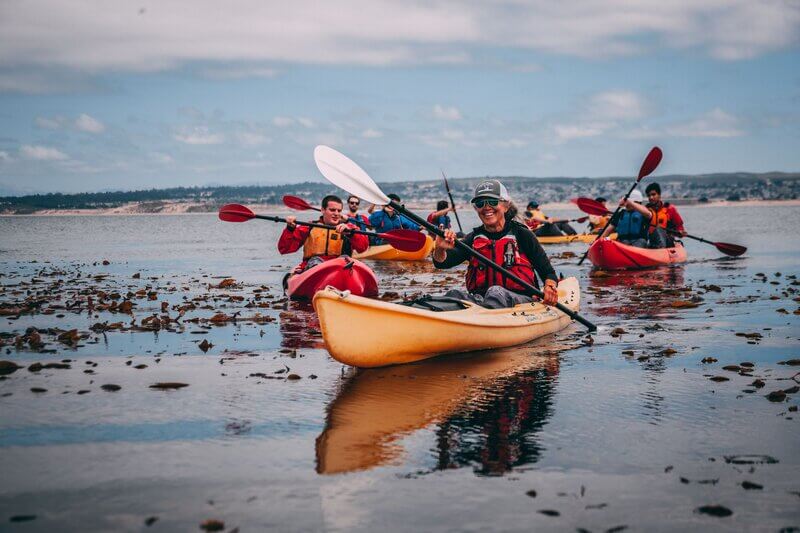 This adventure company offers a wide range of scuba diving and snorkeling experiences based on the Monterey peninsula. Over the past 30 years, they have offered tours on land and at sea. There are six bases throughout the country offering a wide range of services. Guests will find kelp forests and animals like otters on the kayak tour that departs from Cannery Row. The better option for seeing marine life is Breakwater, where it is possible to observe sea lions, harbor seals, and otters. The Lovers Point Kayak/Bike service offers both kayaking and biking. You can rent bikes, kayaks, paddleboards, 4x4s, and electric bikes from the company.
299 Cannery Row, 93940 Monterey, Phone: 831-648-7235
Things to do near me today, sandy beaches, romantic parks, unique places to stay right now in the USA, hotels, tourist attractions: Santa Barbera, from Boston to OR, from NC to NJ, from Houston to GA.
3. Bike and Kayak Tours, Inc.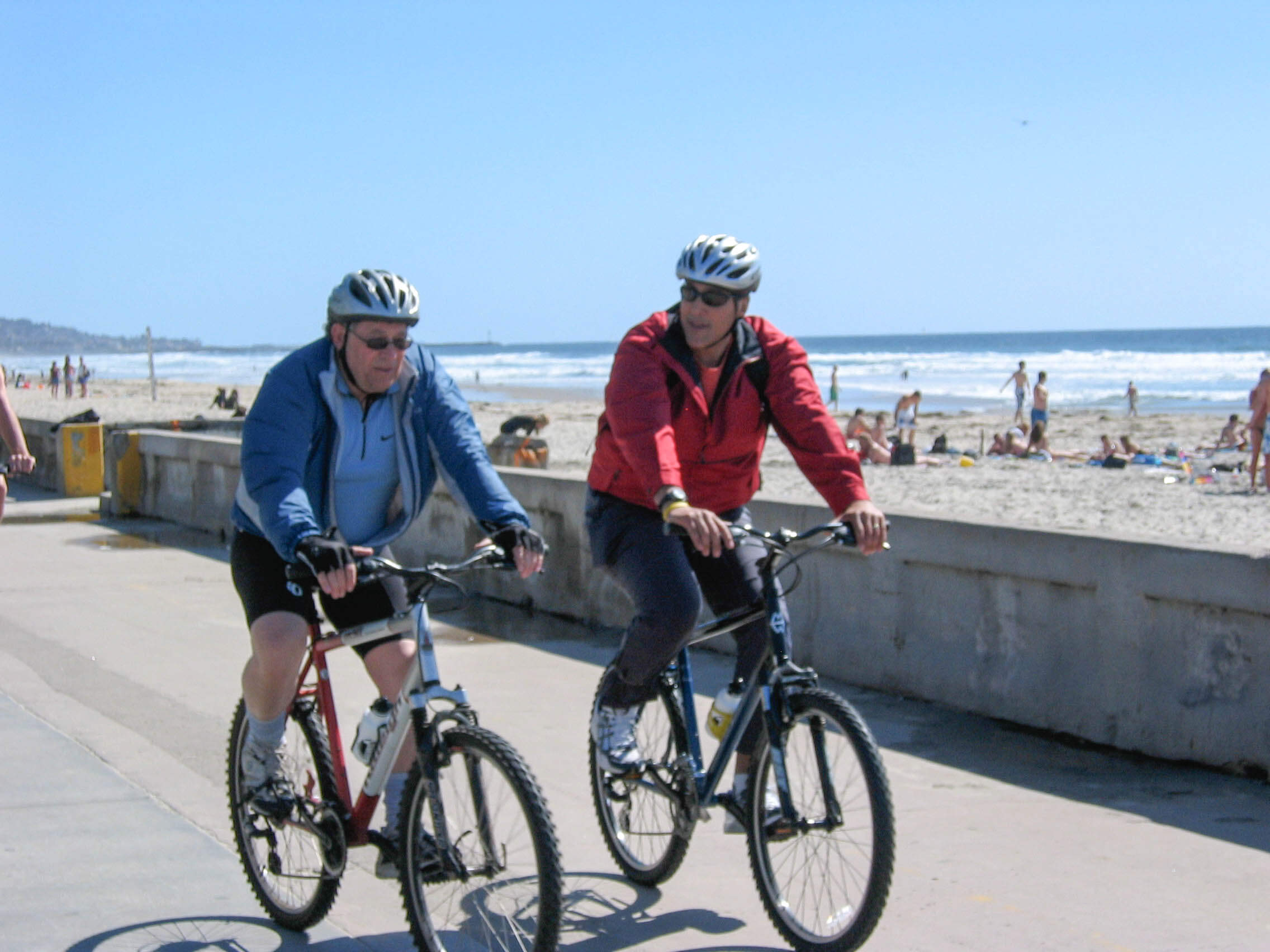 Located in San Diego, this company offers guided tours of the San Diego shore in motorcycles, kayaks and snorkels, and rents out equipment for self-guided excursions. They make sure you have a good time and are aware of the region's terrain and wildlife. During one kayaking tour, seven caves are explored as well as the surrounding area. At Leopard Shark Encounter, you'll kayak and snorkel with these gentle creatures. The area is also home to stingrays, dolphins, sea lions, and Garibaldi. Photographers can be hired to take pictures of the experience. Digital and GoPro cameras can be hired.
2158 Avenida De La Playa, San Diego, CA 92037, Phone: 858-454-1010
Weekend getaways near you, what should be done in small towns, local attractions for families, friends, and couples; Poconos, CA, TN, MI, OC; All Inclusive; Family-friendly weekend getaways, NJ, NC, VA, TX, OH.
4. Wild Blue Adventures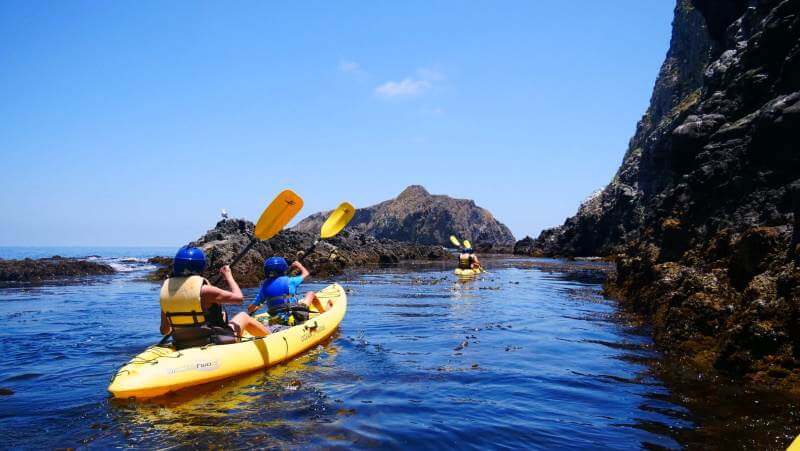 Based in Oxnard, right outside Los Angeles, this company offers excursions to the Channel Islands National Park and Marine Sanctuary. When the California Grey Whale and its calves migrate between December and April, whale sightings are guaranteed. 4.5 miles away from Frenchies Cove, the kayaking excursion includes transportation by boat back to the mainland. A 53 feet Sunfish vessel carries passengers among the islands. Sunset cruises can accommodate up to 49 people. However, passengers must provide their own beverages because catering cannot be arranged.
Wild Blue Adventures, Channel Islands Harbor, Phone: 805-585-5060
You are reading "Best Kayaking & Canoeing Activities Spots in California this Weekend with Friends," Back to Top or More places to see near me today, what to do, weekend trips.
Places near me nearest romantic getaways today at night, local wedding venues, outside, best small beach town, restaurants, things to do with kids near me, staycation, beaches, resorts near me, how do I plan: Cincinnati, MD, OR Beaches, Things to Do in Gatlinburg, Indoor Amusement Parks, WI, Orlando, Texas Beaches.
5. Cal Coast Adventures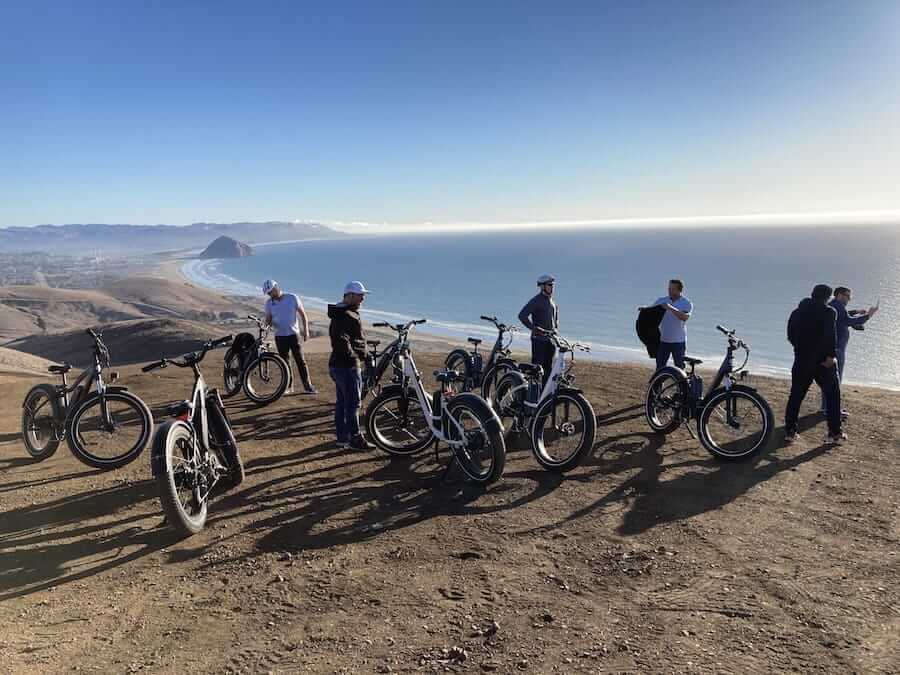 Cal Coast offers beach related services such as kayaking, biking, surfing, paddleboarding, and equipment rental. The company operates in the Santa Barbara area and promises a different view of the city. The shop stocks beach cruisers, electric bikes, mountain bikes, and hybrid bikes, along with road cycling tours departing from customer-selected locations. An expert guide leads the Bike and Beverage Tour, which is a good way to discover the beer and wine market. During the event, you will be able to attend tastings and go behind the scenes to two local breweries and two wineries. Group bookings are also available. Bubble Soccer is another activity the company offers.
736 Carpinteria Street, Santa Barbara, CA 93103, Phone: 805-628-2444
Adventurous places to visit near me today, where should I go this weekend for fun, famous for, what can you do in for free, kid-friendly, hotels open near me, resorts near me, time zone, best restaurants near me, natural wonders: Iowa, WI, FL, Beaches near DC, From New Orleans, ME, FL, Carlsbad, CA, Malibu.
6. Central Coast Kayaks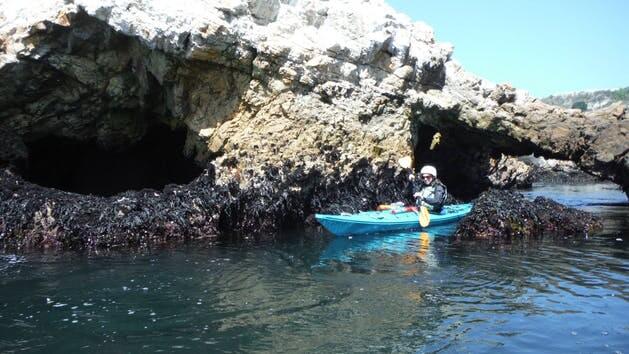 Based off the coast in the middle of Los Angeles and San Francisco, this company was founded in 1993. They offer kayaking and stand-up boarding lessons and tours, rentals, fishing expeditions, and fishing equipment. On the kayak tour at Avila, a visit to the bay and the lighthouse date back to the 19th century. During the naturalist tour, participants will kayak for 2.5 hours alongside seals, otters, and dolphins. On the cave excursion, a variety of grottos and arches can be found in the cave and rock gardens, and kelp forests. You can book kayak fishing trips between April and December. The best time to catch salmon, halibut, and sea bass is during summer and fall.
1879 Shell Beach Road, Pismo Beach, CA 93449, Phone: 805-931-6348
You are reading "Best Kayaking & Canoeing Activities Spots in California" Back to Top or More must-do for couples, what to do near me, places to visit this weekend.
Fun things to do today, where can I go for top-rated things to see near me, places near me, hotels near me, with the toddler, social distancing, list of, stuff to do near me, rentals, beach, and last minute resort ideas for couples, places to hike near me: Charleston WV, Pensacola, Baton Rouge, Colorado Springs, Santa Barbara CA, New Orleans, Philadelphia, UT, AZ, From NYC, CO, Dauphin Island, Provincetown.
7. North Stanislaus River Rafting and Kayaking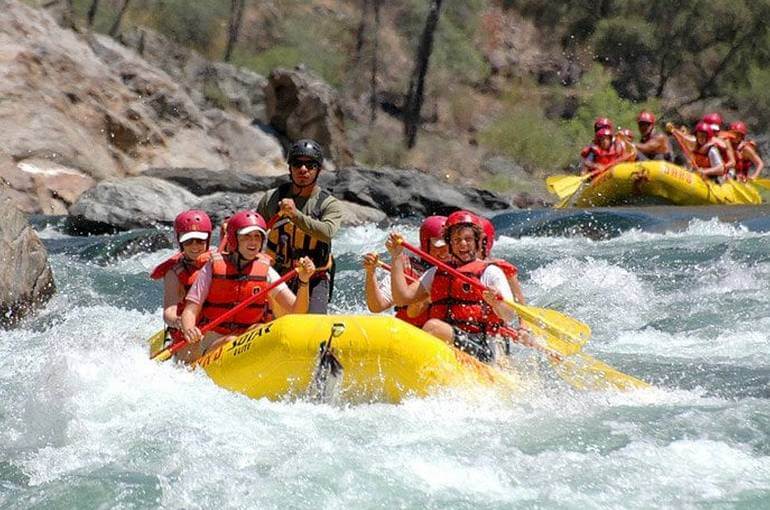 The North Stanislaus River is the longest river located entirely within California. This perfect river for rafting and kayaking is a great family activity.
Rafting and Kayaking on the North Stanislaus River is a great experience for any visitor to California. The water is clean, clear, and refreshing. The river can be divided into three sections; the upper stretch that is challenging for beginners, the middle area that is great for beginners, but experienced rafters can also enjoy, and the lower stretch that is safe for anyone.
The upper area is best for experts, and rafters that are used to tougher conditions. The middle area is more for those that want a leisurely trip, or are nervous about being in fast-moving water. It is a great place to start if you have never rafted before, or are at all afraid of rapids.
8. Almanor Census Designated

Almanor is a mostly-flat lake on the Stanislaus National Forest in California. Its rocky shores are perfect for starting and ending an adventure, as there are no boulders or other obstructions that would need to be crossed. The lake is 15 miles long and two miles across, and you can kayak all the way across it in a single day if you have the stamina. It is also a great place to fish if you need to kill a few hours. The lake is famous for its quiet water, but if you happen to arrive at the lake at a popular time of the year, you may be annoyed by how many people are on it. But remember, that's because the area is a popular tourist spot, and the summer crowds typically only thin out the further you get from Lake Almanor.
9. Yuba River North Fork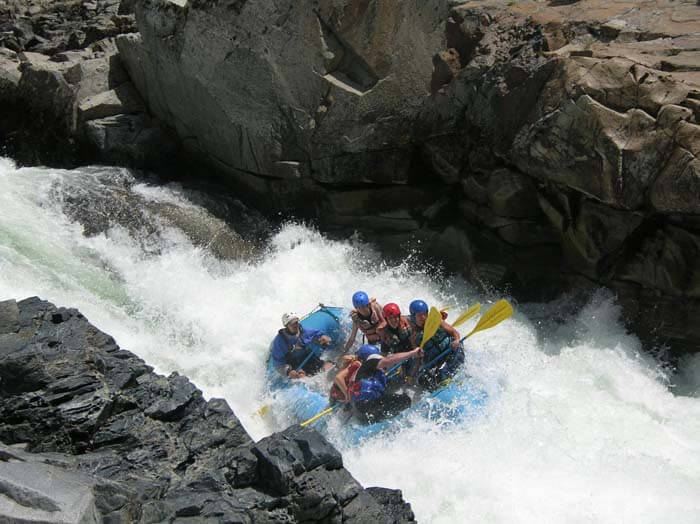 This 7.9 mile section of the Yuba River in Sutter County offers one of the most beautiful and scenic kayaking spots in the entire state. As you float along the river, you'll see waterfalls, birds, and vegetation. The entire kayaking trip takes about 4-hours round-trip and is well worth it. Plumas Lake Kayak Loop Kayak Plumas Lake is a beautiful long-distance trip that ranges from 6-hours to 11-hours. Along the way, you'll stop to kayak under stunning waterfalls, along the river, and near beautiful lakes. You'll be able to see the beautiful landscape that the area is known for, including the Feather River Canyon. Miner's Flat Watershed Miner's Flat is an area known for its numerous waterfalls, waterfalls, waterfalls, and more waterfalls.
10. Lake Tahoe large Freshwater Lake In The Sierra Nevada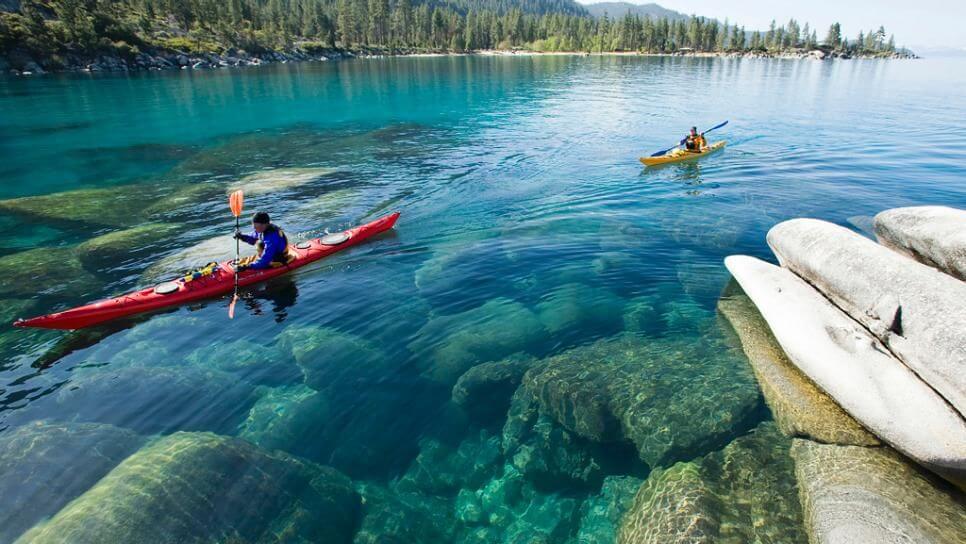 There are a lot of places to kayak in Lake Tahoe, from well-known spots like Meyers and Tahoe City to more obscure locales like Silver State. You may have heard of the Emerald Bay kayaking spot, but don't let the touristy name scare you off; it's a great place to kayak with decent visibility. Meyers Beach is also very beautiful. However, if you plan to kayak on Lake Tahoe, make sure you check out the Blue Duck Paddlesports, located in Meyers, and have a small community of kayakers paddleboarders. Mono Lake is the most unique lake in the United States. Located in the Owens Valley, the lake lies between Mono and Inyo Counties and is home to unique birds and fauna that are not found anywhere else in the world.
11. Mono Lake Saline Soda Lake In Mono County

Mono Lake is one of the biggest lakes in Sierra Nevada, and it is a gem of the state. Located in Kings Canyon National Park, the lake is surrounded by dense forest with abundant wildlife. The lake is perfect for paddling and, if you're not afraid of heights, you can even spot a few geese and bald eagles. You'll also see many other water birds on the lake and in the surrounding area. Mono Lake also is a good starting point for those who would like to explore Mono Lake National Recreation Area. You can choose a nearby trailhead to start, but remember to be very careful not to fall into the lake. These waters can be quite cold and you could get injured very easily. Mono Lake is a freshwater lake, so be sure to wear rubberized hiking boots. You can rent them in downtown Mono Lake.
12. Lower Scotts Flat Lake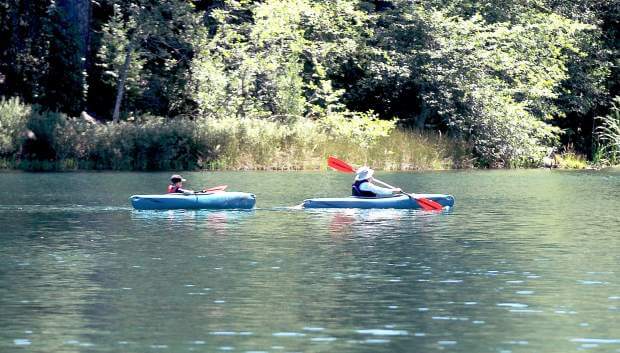 Lower Scotts Flat Lake is not only the best kayaking spot in California for beginners, but it is also the best place in all of the states for kayaking. This lake is in the Tahoe National Forest, and it is a three-hour drive from Reno and Carson City or a 30-minute drive from Truckee. It is accessible from Lake Tahoe via US 50, which leads right into the Lake Tahoe-American Legion State Park. However, the best way to access the Lake is by driving down US 50 past Donner Summit to the State Route 89 near Donner Lake. After you pass Yosemite Village, turn left onto Forest Highway 76, which is commonly known as the Tunnel Creek Road. This will lead you directly into the newly restored Valley of the Moon State Park.
13. Mission Bay San Diego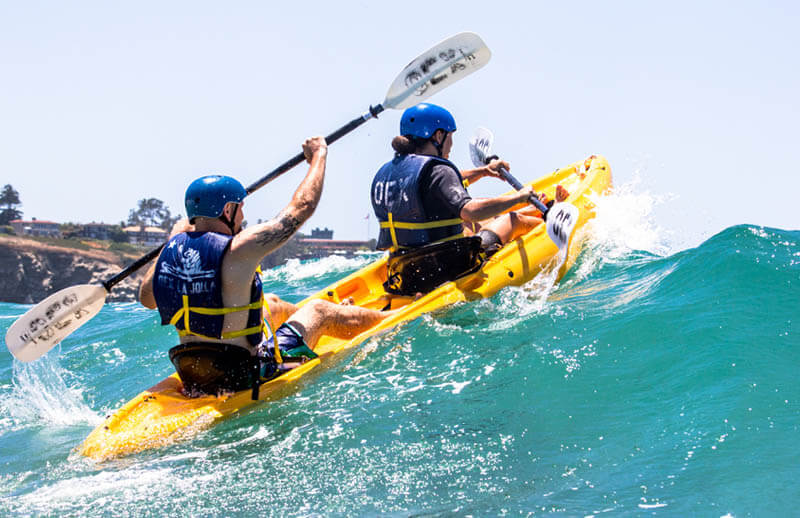 If you like to see lots of dolphins at the beach, this list of the best kayaking spots in California has you covered. This list is also comprehensive, focusing on the spots that have a wide range of interesting and scenic views. It also includes some of the best kayaking in California locations that are especially popular. Most of the spots are off the beaten track, and you might even meet some people from the San Diego area who are enjoying the water nearby. Rowing to the middle of the bay isn't really what people are talking about, especially if you're not interested in being ocean-bound. Instead, head south a bit on the Bay and take the path that leads to the Santa Monica Pier.
14. Alamitos Bay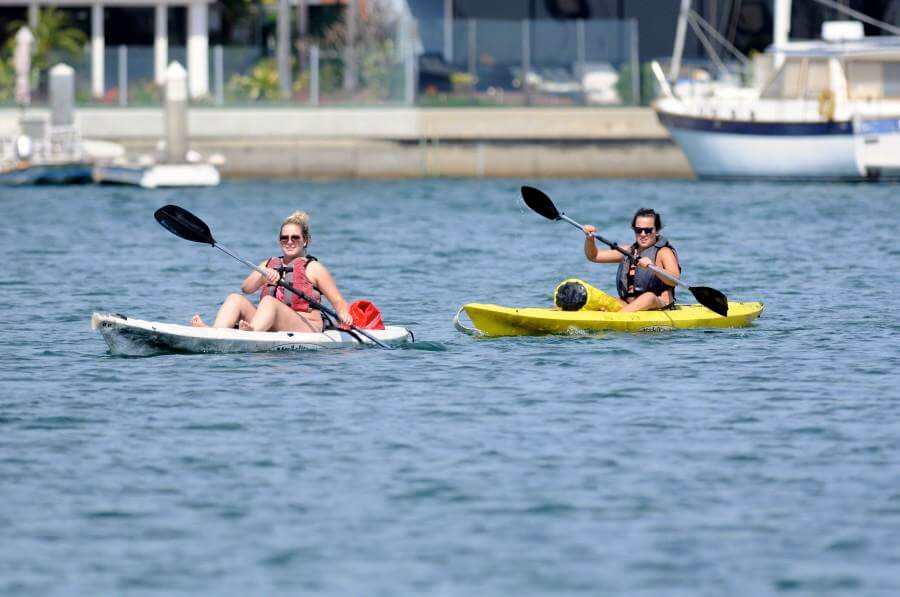 Pier 39 Los Angeles, CA 90015 At least 30 other people have recommended this spot in Los Angeles, but this is the spot most people who love to kayak end up at. Alamitos Bay is bordered by the Los Angeles County-Long Beach Harbor and Sunset Redondo Beach Pier. Alamitos Bay has three different access points that all have kayak racks and boating skills stations. The shoreline has picnic areas and jogging trails for those who want to take their boat to work or the beach. And if you're lucky enough to go in the fall, the evening is perfect for kayaking. The reason this location stands out so much is that you can stop at The Original Oyster Bar on Pier 39 and take in views of the harbor before heading out. Another great kayak spot for Los Angeles.
15. Sunshine Rafting Adventures Knights Ferry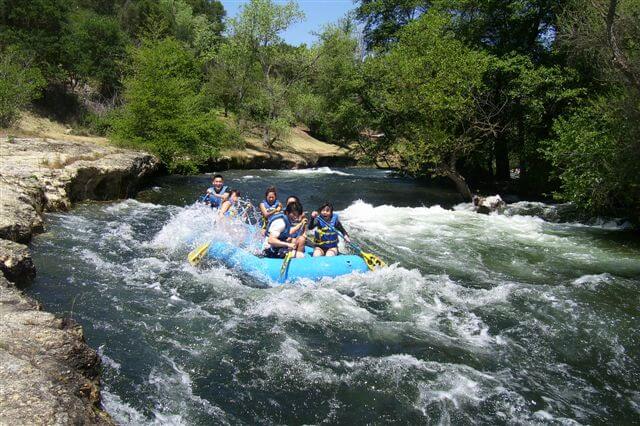 This trip promises to be one for the record books, as the company offers guided paddling adventures that are similar to whale-watching excursions while taking in the majesty of Lake Tahoe. You'll be greeted with stunning vistas, which are perhaps best captured during sunset. Sunshine Rafting Adventures is known for the variety of experiences available on their boat. They have a one-mile, two-mile, and five-mile trip, as well as family-friendly activities, such as open-air movie nights and face painting. If you're concerned that your children will fall asleep on your trek, consider packing them some food and snacks to keep them awake on the short paddle. This experience is not for the faint of heart.
Address: 18000 Covered Bridge Rd, Knights Ferry, CA 95361
Kayaking Tips
Which rivers are best? The best rivers in California are largely dependent on your personal preferences. However, if you're looking to be outdoors and get a workout, the Eel, Klamath, Trinity, and Sacramento Rivers are great places to kayak.

How many people can be in a boat? If you're looking to kayak on a large body of water, you need at least six people, but at least four. A tandem kayak that allows a partner to paddle with you can accommodate six people.

Is there enough room to carry all your gear? It is a good idea to travel with a little extra food and gear. Also, be sure to bring plenty of water in case of emergency, and make sure your kayak fits you and the items you will be carrying. As a general rule, the kayak should be between 6'6″ and 7′ tall. 4.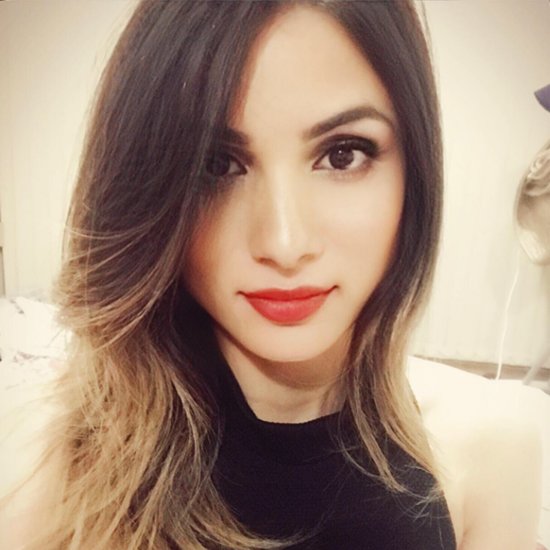 Hello, and welcome to Travel Crog, a site where I share my travel advice for your dream vacations. My name is Molly Martin, and I'm the founder and editor-in-chief of this site. I have a passion for travelling and exploring new destinations, and I want to inspire you to do the same. Six years ago, I left my job as an HR professional and embarked on a three-month trip around the world. It was an amazing experience that changed my life and perspective. Ever since then, I have been travelling as much as I can, and writing about the best things to do, see, and eat in every place I visit. Whether you're looking for a city break, a beach getaway, or a mountain adventure, I have something for you. Travel is not only fun, but also empowering and enriching. Join me on my journey and discover the world with Travel Crog. My motto is: "Life is short, travel more."