Things to Do in Glendale – 2023 (with Photos)
Glendale is situated in the county of Maricopa, Arizona, and is a residential community west of Phoenix. It is just about 14 kilometres (8.6 miles) from Phoenix.
It was a desert until the year 1891, when the first settlers came in after William John Murphy completed his project of bringing water and constructing a road leading to the desert. Murphy called the desert 'Glendale' to draw potential investors and settlers, and it has held its name until today.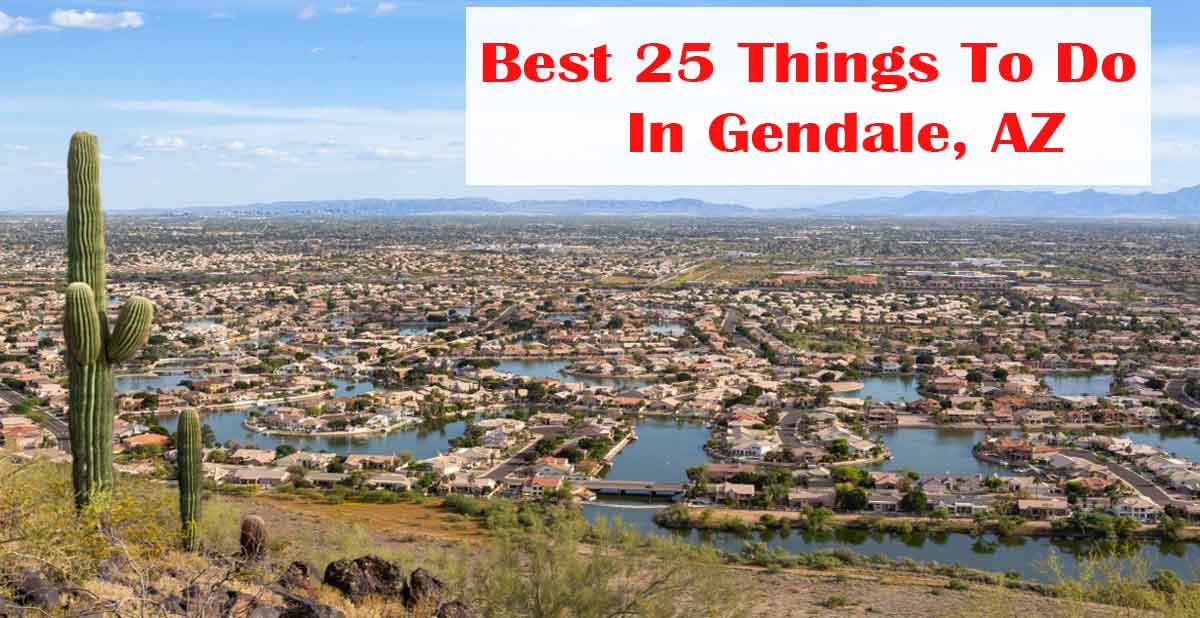 Glendale offers travellers various festivals and special events to enjoy, many cultural attractions and museums to explore, and several professional sports events to attend. This suburban town still offers visitors plenty of things to do year-round.
From touring the historic Cerreta Candy Factory to spending the day with your family relaxing in a public park, there's no shortage of fun to be had in Glendale if you know where to look.
So, here we present the best things to do in Glendale.
1. University of Phoenix Stadium
The University of Phoenix Stadium is an all-in-one stadium located in the desert city of Glendale, Arizona. The stadium is home to the NFL's Arizona Cardinals and is also the annual NCAA Fiesta Bowl site.
If you love sports, the University of Phoenix Stadium is for you. The stadium host football events, it also hosts other sports, such as basketball and concerts. It should be on your list of things to do in Glendale.
2. Westgate Entertainment District
Westgate Entertainment District gives a charming outdoor setting complete with beautiful water features that can keep you and the family happy and busy in Glendale, Arizona.
You can find anything or everything from shops, restaurants, and bars to fun outdoor entertainment, including live music on a Friday and Saturday evening held in Fountain Park.
3. Gila River Arena
Gila River Arena is well known for its state-of-the-art and multifunctional entertainment and sports arena located in Glendale, Arizona. Are you a fan of the Phoenix Coyotes?
Book a ticker for you and your friends while you are in Glendale, and have fun watching the famous hockey team in Gila River Arena. Tourists getting their way into the Phoenix/Glendale part of Arizona should catch a game or show at this award-winning arena.
4. Glendale Historic District for some antique shopping
If you are attracted to antique items or things, then this place is definitely for you.
The historic Old Towne and Catlin Court areas have so many items for you and your family in the town's old district to enjoy a walk through the tree-lined well maintained 10 square blocks full of antique and gift shops, converted from some of the older historic homes.
There are restaurants and food stalls on every corner of the Historic Downtown.
5. Tolmachoff Farms For Kids
Tomalchoff Farms provide so many fun things that are always amusing to take kids or grandkids, meet, and great to see the animals and farm shop. They also offer rides, petting farm animals, and playing in their corn maze and pumpkin patch.
You can also get yummy snacks and even buy some great farm goods when you are on your way out. If you go to Groupon, you get a little discount, but basically, your entrance fee works for everything but the train ride and potato shooting thing. Family-friendly, and they have special events throughout the year as well.
6. Thunderbird Conservation Park
Thunderbird Conservation Park is a large park with a 1,185-acre area. This is situated in the Hedgpeth Hills and is dedicated to preserving a portion of Arizona's desert environment in the city of Glendale.
If you want a simple picnic spot to demand bonding time with your friends or family, the park is ideal for going on a picnic. The park features additional facilities, including a horse staging area, restrooms, and shade ramadas. Thunderbird Conservation Park is the perfect place for a fun-filled day of outdoor recreation.
7. Miniature treasures at the Arizona Doll & Toy Museum
One of the most exciting places for doll and toy collectors to visit in Glendale is the Arizona Doll & Toy Museum. Many of the museum's antique items date from time periods that range between the 1700s and 1980s.
Don't miss the "School Room," a room reconstructed as part of a schoolhouse from days past, as well as the well-stocked gift shop filled with dolls, toys, and books. This is just one of the many precious artifacts held by this unique museum. This museum is definitely worth visiting.
8. Camelback Ranch
Camelback Ranch – Glendale is a large baseball facility that is the home of 15 Major League teams who play in the renowned Cactus League every spring for beginners.
Camelback ranch offers its fans excellent playing fields and facilities. Camelback Ranch boasts 13 full-size baseball fields, three half-fields, 12 luxury suites, a party deck, and a capacity of up to 13,000 baseball fans.
9. Wet 'n' Wild Phoenix
Wet 'n' Wild Phoenix opened July 1, 2009. The waterpark is well-equipped, which is your way to go where you can beat the summer heat in their swimming pools.
Also have the dining options for visitors to choose from, such as Sharky's, Surfer's Sweets & Ice Cream, a variety of beverage and food carts, and Point Break Café.
10. White Tank Mountain Regional Park
The White Tank Mountain Regional Park is a large regional park located in west-central Maricopa County, Arizona. Encompassing 29,271 acres of desert and mountain landscape. This is a great park. The hikes can be as easy or difficult as you want. It is a true desert experience here.
Used the Waterfall trail and some great views of the desert scenery. Lot's of cactus to see and really unusual rock formations. Wear comfortable shoes and take water to stay hydrated.
11. Desert Diamond Casino – West Valley
The place is beautiful, and the gambling machines are state-of-the-art. The Place is really nice, good Food Friendly Staff. You get your choice of American, Asian, or Mexican food there. I had the Arizona burger and onion rings there, and it was superb there. It's a great experience.
12. Sahuaro Ranch Park
Sahuaro Ranch was founded in 1886 by William Henry Bartlett, a native of Illinois. The ranch, located north of what eventually became the city of Glendale, Arizona, was rich in figs and other fruit orchards, vineyards, and fields of alfalfa. There is a historic area with citrus trees with fruit on them.
The kids loved eating the fresh fruit. There are historic buildings and a rose garden with every color of roses you can imagine. There is a covered pavilion with lots of picnic tables that would be great for parties.
It's a wonderful place to spend the day with your family and furry friends. The historic area would be a wonderful place to have a wedding. The park is massive. It covers many acres.
13. Deer Valley Petroglyph Preserve
The Deer Valley Petroglyph Preserve, formerly known as the Deer Valley Rock Art Center, is a 47-acre nature preserve featuring over 1500 Hohokam, Patayan, and Archaic petroglyphs visible on 500 basalt boulders so your our kids will have the opportunity to discover fascinating items here in the Deer Valley area of Phoenix, Arizona.
A display of the area's history together with an in-depth, informative explanation and video. Your kids will have the opportunity to discover fascinating items here.
14. Catlin Court Historic District
The Catlin Court Historic District, established in 1914, is notable for its historical association with an important period in developing the city of Glendale, Arizona, United States.
Some of the beautiful shops visitors will find here include the Cottage Garden, Gracie's Marketplace, Out of the Blue, Memory Lane Trinkets and Treasures, and The Ceremony Shop. The mission of the area is to provide different dining and shopping experiences for all of its visitors.
15. Xeriscape Botanical Gardens
The Xeriscape Botanical Garden is an award-winning botanical garden situated next to the Glendale library, is the perfect place to find out.
All the plants in the garden are clearly named features over 400 different species of plants and have hummingbirds, peacocks, butterflies, and other interesting creatures abound in this park, so you'll have plenty of opportunities to watch them as they go out and about the garden which makes it an interesting outing for everybody as you learn while you look.
16. Brelby Theatre Company, Glendale, Arizona
Brelby Theatre Company is a live theatre company located in Historic Downtown Glendale's Catlin Court District. It Was founded by Shelby Brimhall and Brian Maticic in 2009.
Visitors will enjoy shows that include Spy Love You, Return to Rosie's Pub, Powerhouse – The Tesla Musical, and 12 Days of Christmas. It's great to be entertained, and it feels much better to know that you've contributed to an artist's growth.
17. Haus Murphy's, Glendale, Arizona
Haus Murphy has been working for over 24 years on some of the finest German cuisines in Glendale, Arizona. Guests will choose from authentic German favorites that include the Original German Bratwurst, Wiener Schnitzel, and Haus Gulasch.
On Friday and Saturday nights, diners will be treated to live music performed by the Haus Oompah Band. You also have the option of dining inside or in the restaurant's Biergarten.
18. Cerreta Candy Co., Glendale, Arizona
Cerreta Candy Company attempts to present a lively and fun environment so that visitors can take a guided tour through the family-owned candy factory.
This is the place where you'll learn the process of creating candies of all shapes and sizes. The tour guides will show guests how a delicious sea of caramel turns into little wrapped treats.
19. The 500 Club Golf, Glendale, Arizona
The 500 Club is a gorgeous, championship, 18-hole golf course nestled amongst Glendale, Arizona's secluded and quiet foothills. Even if you are not a fan of golf, you might still want to try playing it at least once in your life.
Golfers will enjoy beautifully maintained greens, fairways, and tees complemented by nature's diverse and rugged terrain.
20. The Spicery, Glendale
The Spicery is a delightful and remarkable restaurant located in Catlin Court's oldest homes in downtown Glendale, Arizona. Visitors will enjoy a variety of themed rooms at the restaurant.
Two of the home's original bedrooms offer more space for smaller groups and an additional dining room. The Blue, Pink, and Rose rooms used to be a bedroom, dining room, and living room. Guests will enjoy the Quiche – served with a homemade roll and garden side salad.
21. Aerogelic Ballooning, Glendale, Arizona
Aerogelic Ballooning is a tourism company which is located in downtown Glendale, Arizona. Visitors wanting to explore Arizona's spectacular desert landscape from a rare perspective.
They'll enjoy magnificent views of McDowell Mountain Regional Park, the University of Phoenix Stadium, the downtown Phoenix cityscape, the Sonoran Desert Preserve, the area's flora and fauna, and stunning sunsets.
22.  At Under The Tuscan Fork, attend a cooking lesson
Learning how to cook Italian food is amazing with your friends and family members to pass some good time participating in the preparation and the consumption of the meal.
It is thoughtfully and in good spirits service. You can learn some history of the dishes. Also include many helpful ideas for food preparation and tips for handling chef knives.
23. La Piazza al Forno, Glendale, Arizona
Stefano Ferraro began La Piazza al Forno in the year 2001, and in his business, with his precious knowledge, the restaurant quickly achieved great success. He was very good at creating handmade brick ovens that made it famous.
There are so many yummy pizzas, and the Mediterranean pizza is popular on the menu; it's prepared with house-made mozzarella and pesto cream sauce, feta cheese, and sundried tomatoes.
24. Antro Nightclub
Make your trip to Arizona as exceptional as possible by going to an amazing party in this nightclub. Unlike other venues, you can enjoy this smaller pool venue during the daytime, allowing you to see the DJ booth from the pool.
They do a great job of switching the club from day to night by allowing the patrons to move into their joint club, The District. Party all night long, dance, and sing with the crowd at Antro Nightclub. They also get many good name artists who play here and offer a night swim during the week.
25. Elements Massage, Glendale
After the trip and fun, of course, you want to relax, you'll require rest and strengthen your lost energy. Massage is Amazing here. The people are genuine and friendly. They help you with any questions. A good massage will improve your blood flow, remove your back and neck pain, and improve your flexibility.
FAQ
What is Glendale, Arizona, known for?
Glendale is known for Sahuaro Ranch Park, listed on the National Register of Historic Places. Thunderbird Park features more than 1,000 acres of prime desert preserve and is a favorite spot for hiking, horseback riding, and picnicking.
Is Glendale, AZ, a safe neighborhood?
Glendale is the 55th safest city in America, according to a recent WalletHub study.
What is there to do in Glendale, AZ, tonight.
Here is the list of best things you can do in Glendale at night
Westgate Entertainment District.
Camelback Ranch – Glendale.
Gila River Arena, Glendale, Arizona
Glendale Historic District
Thunderbird Conservation Park, Glendale, AZ
Tolmachoff Farms, Glendale, Arizona
Catlin Court Historic District
Xeriscape Botanical Garden, Glendale, Arizona.
What time does Glendale Glitters start tonight?
The glittering magic of Glendale's holiday light display remains lit nightly through Jan. 11, 2022, from 5 – 10 p.m. each evening. Historic Downtown Glendale is located at 58th and Glendale avenues.
What is there to do in downtown Glendale AZ?
Some of our recommendation:
La Piazza Al Forno, 5803 W. Glendale
Cerreta Candy Company, 5345 W. Glendale
Glendale 9 drive-in, 5650 N.
Catlin Court
Bitz-ee Mama's
Haus Murphy's
Antique stores
Glendale Police Museum
Things to do in Glendale, AZ During COVID-19
During this covid period, you can visit an open place like:
Xeriscape Botanical Gardens
Camelback Ranch
Gila River Arena
Elements Massage
White Tank Mountain Regional Park
Tuscan Fork
The 500 Club Golf
Desert Diamond Casino
Miniature treasures at the Arizona Doll & Toy Museum
Sahuaro Ranch Park
Thunderbird Conservation Park
Aerogelic Ballooning
Westgate Entertainment District