20 Best Things To Do In Payson, AZ
Payson, AZ, known to many as the "Heart of Arizona", is a true American Hometown with deep traditions and beauty in all directions. You do not have to look far to find something exciting to do in this close-knit community. The area in and around Payson offers a perfect spot to get away from the city environment year-round and the scorching temperatures in the summer which is surrounded by forests and lakes.
Payson offers outdoor activities year-round, with miles of hiking and biking trails, birdwatching, and fishing opportunities, and the chance to spend time outdoors in an environment. But there are plenty of things to do for everyone – outdoor enthusiasts and those who love the charm of small towns alike.
Here is our list of 20 things you can do in and around Payson: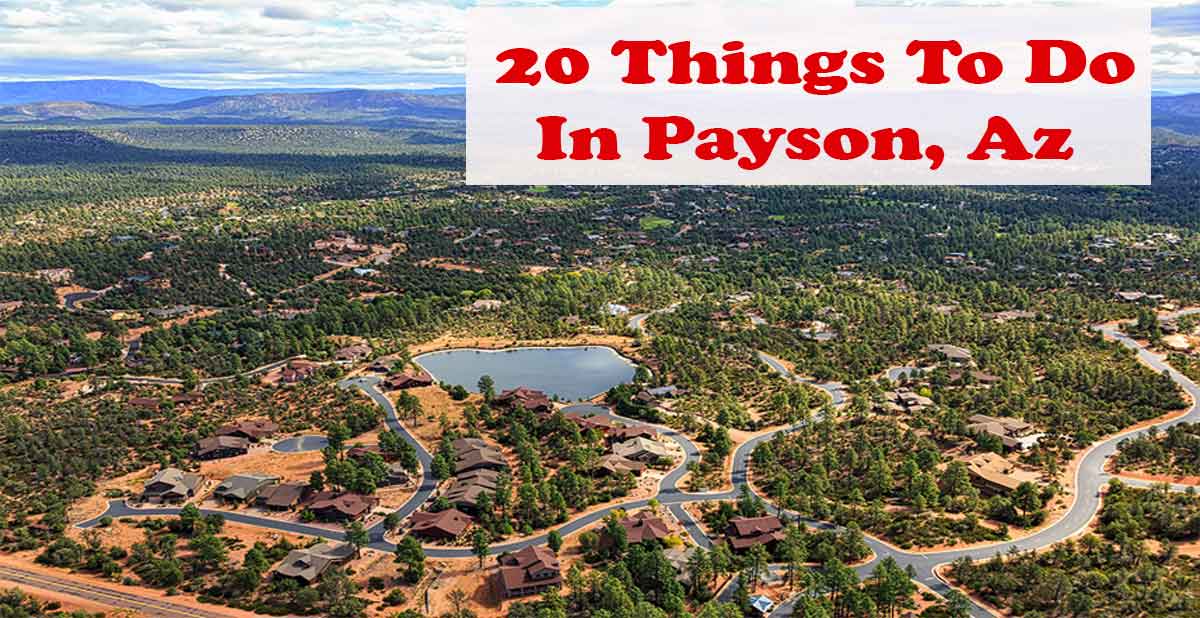 1. Rim Country Museum And Zane Grey Cabin
The Rim Country Museum is a historical museum that is owned by the Northern Gila County Historical Society, has both indoor and outdoor activities that illustrate the native, pioneer, and history of the region.
Guided tours are available for groups of 10 or more, including field trips for elementary and secondary school students. Next to the museum building, you'll see the Zane Grey Cabin. One of the best-known writers of Western novels, Zane Grey loved Arizona. He used the one-room cabin as a writing retreat between 1921 and 1929.
2. Payson Farmer's Market
Payson Farmer's Market is located on South Beeline Highway in Payson. The market is held at Sawmill Crossing Plaza and takes place on Saturday mornings. Since 2009, Payson Farmer's Market has been a popular gathering place since then.
The farmers market is a social event that emphasizes food that's grown or produced within 100 miles of Payson, which is an efficient and environmentally friendly way to produce and distribute food.
3.Tonto Creek Fish Hatchery
Tonto Natural Bridge is one of the largest travertine bridges in the world, which spans the length of a 400-foot tunnel and reaches 150 feet wide by 183 feet high. The Tonto Natural Bridge State Park protects this unique site while ensuring that visitors can see and enjoy it. You can walk down to Pine Creek, enjoy the picnic area or peruse any of the several trails.
4.Green Valley Park
Green Valley Park was assigned in October of 1997. The park has 3 lakes and covers over 17 acres of grass, trees, and shrubs, almost 4 miles of walking paths, outdoor cooking facilities, fishing, and boating Outdoor recreation is important to Payson residents and visitors alike.
One of the best local parks for it is Green Valley Park, called the Jewel of Payson. Visitors can enjoy leisurely walks, fishing, watching gorgeous sunsets, and local activities like outdoor concerts. Boat rental is available. Swimming is not allowed, though. The park is open year-round except for the first week of December when there is no entrance fee, nor will the park be open
5. Mazatzal Hotel and Casino
Mazatzal Hotel and Casino is operated by the Tonto Apache Indian Reservation, located about an hour northeast of Phoenix near Payson. The resort's all-suite hotel features large, comfortable rooms facing the Mazatzal Mountains, with all guests taking access to facilities such as the hotel's indoor swimming pool, spa, and fitness center.
A players' club offers exclusive member benefits, including dining and hotel rewards for frequent casino visitors. $10 daily lunch buffets highlight seafood options. Concerts, comedy shows, and DJ sets are presented periodically at the resort's lounge.
6. Paleo Site In Payson
Great place for science nerds or kids with a passion for science. There's no bathroom, but there's a huge parking area large enough to turn around a bus. Go through the switchback in the barbed wire fence. You can bring a rock hammer, a shovel, a screen, or any sort of hammer if you wish, but I find as many fossils sifting through the detritus below the cliffs as anywhere else.
7. Mogollon Rim
Mogollon Rim surrounding Payson stretches 200 miles across the center of Arizona. The views alone are unbelievable. If you head up to Payson to the Mogollon Rim it showcases high sandstone and limestone cliff formations such as the Kaibab and Coconino cliffs.
And is home to beautiful canyons such as Fossil Creek and Pine Canyons. You want a closer look at the scenery, you can explore the terrain via its many trails that you can take by driving, hiking, or biking.
8. Shoofly Village Ruin
The Shoofly Village Ruin is an archaeological site located in the Tonto National Forest near Payson, Arizona. This place is interesting for the significant point of what it is. Ancient sites such as these just are protected and preserved.
It's an educational adventure. There are restrooms and a picnic area if you'd like to relax and have a snack after seeing the sights.
9. Railroad Tunnel Trail
Railroads have forever been major operators of Arizona's economy. In the 1880s, a tunnel was dug by the Arizona Mineral Belt Railroad through the Mogollon Rim to allow the transport of minerals. Unfortunately,
The plan stopped due to the funding problem. Hikers can explore this cave-like structure and enjoy fantastic views of the Mogollon Rim along the way.
10. Verde River Hot Springs
Verde Hot Spring is a 4.0 kilometer moderately trafficked out and back trail located near Pine, Arizona that features hot springs and is good for all skill levels.
The trail is primarily used for hiking, walking, nature trips, and bird watching and is accessible year-round. The road in can be tricky at times, and you'll need to hike a mile or so from the parking area.
11. Payson Candle Factory
The Payson Candle Factory was founded in 1979. You can actually observe how each creation is produced candles, gifts, and collectibles.
Not only can you buy candles, but you can also watch them make the candles – there are 4 stainless steel tanks for pouring molds, dipping, and carving candles.
12. Battle Of Big Dry Wash
The Battle of Big Dry Wash was fought on July 17, 1882, between troops of the United States Army's 3rd Cavalry Regiment and 6th Cavalry Regiment and members of the White Mountain Apache tribe.
The place is fascinating, Have organized maps/pictures & hands-on evidence into a flowing story about the last Apache/soldier battle in AZ.
13. Rancho Tonto Catch-A-Trout
Rancho Tonto Catch-A-Trout is best known as the rescuer of historic MGM mascot Leo the Lion, located on the former homestead property of "Green Valley" Sam Haught.
You and your kids can fish to your roots' content here, and services are already inclusive of fish cleaning, packaging, and ice. A three-bedroom rental guest house is available for sleeping nine guests and offering amenities such as DirecTV.
14. Ellison Creek Waterfall
Ellison Creek Waterfall is located between Payson and the Mogollon Rim. Ellison Creek is less crowded because of emerging from Covid lockdown and we were very impressed.
Plenty of room to breathe and discover gorgeous little waterfalls. The area from the waterwheel parking area to the waterfalls is a beautiful easy hike and there are many more waterfalls to see if you keep going.
The waterwheel is still in use today. Power is provided by a hydroelectric generator powered by natural underground springs that feed into the massive area of springs.
It's one of the best places in the world to experience an underground spring, especially during winter when ice is not a problem. The dam can be seen above the viewing area.
15. Macky's Grill, Payson, Arizona
By Oregon natives, Greg and Cari Day Macky's Grill was started in 1997. American and Southwestern fare, including creative bar cocktails, gourmet hot dogs and burgers, and steak, rib, and seafood entrees.
The restaurant also features an extensive beer and wine menu and offers a weather-permitting dog-friendly patio. The food served here is what you can expect from Sandwich platters add cups of the restaurant's signature Macky's Famous chili or soup, served with fries, coleslaw, or pasta salad.
16. Fargo's Steakhouse, Payson
Operated by restaurant industry veterans Rick and Jeri Stockman and was opened in 2004. Reservations are available for groups of six or more diners.
Lunch options include artisanal wraps, sandwiches, and burgers, and a variety of creative appetizers, while dinner selections focus on gourmet steak, fish, and seafood entrees.
17. Pennsylvanian Shale-Limestone deposits at the Paleo Site
If you are obsessed with fossils then is place is for you. Preserved shells may also be seen here. Pennsylvanian Shale-Limestone is was once covered by the sea, and you can see fossils of the sea creatures that once lived there, including shrimps and crabs, embedded in the rocks.
18. Sample the coffee at Common Grounds
If you and your friends or family are coffee lovers then this place is for you and your travel members. This cafe features locally roasted beans that make delicious coffee, which you can pair with freshly baked pastries. The classic decors only add to the cozy ambiance, and there's a patio if you fancy enjoying your cup outdoors.
19. Rim Country Bowl
If you love bowling, you have to visit this place. Rim Country Bowl, which re-opened in 2019. Food and drinks are served here. Also, offers other attractions, including an arcade and a pool hall.
20. Payson Day Spa
Even if what you're doing is sightseeing you must be tired at one time. The services offered here are massages, facials, and body scrubs. Be pleased by treating yourself to a treatment or two at the Payson Day Spa. There are also beauty treatments offered here, including hair styling and manicures.
FAQ
What is there to do in Payson AZ today?
Top Attractions in Payson
Tonto Natural Bridge State Park.
Mogollon Rim.
Water Wheel Falls.
Tonto Creek Fish Hatchery.
Green Valley Park.
Rim Country Museum.
Paleo Site.
Horton Creek Trail.
Is Payson AZ a good place to retire?
Payson, Arizona is a good place to retire for those who love nature, adventure, and small-town charm. It has a mild climate, a low cost of living, a low crime rate, and a diverse culture. It offers a variety of outdoor activities and natural attractions, such as hiking, fishing, camping, and hunting in the Tonto National Forest and the Mogollon Rim. It also hosts several events and festivals throughout the year, such as the World's Oldest Continuous Rodeo, the Payson Mountain High Games, and the Arizona State Championship Old Time Fiddlers Contest. Payson is a hidden gem in the Arizona mountains, and a great destination for retirees who want to enjoy their golden years.
How hot does it get in Payson Arizona?
The hottest month in Payson, Arizona is July, with an average high temperature of 29 degrees celsius. The highest temperature ever recorded in Payson was 41 degrees celsius on July 28, 19952. Payson has a mild climate, with warm summers and cool winters. The average annual temperature in Payson is 16.2 degrees celsius.
What are the top attractions to visit in Payson?
The top attractions to visit in Payson are:
Tonto Natural Bridge State Park
Mogollon Rim
Water Wheel Falls
Tonto Creek Fish Hatchery
Green Valley Park
What are the best outdoor activities in Payson?
The best outdoor activities in Payson are:
Mogollon Rim
Tonto Natural Bridge State Park
Tonto Creek Fish Hatchery
Water Wheel Falls
Green Valley Park
What are the most popular things to do in Payson with kids?
The most popular things to do in Payson are:
Mogollon Rim
Tonto Natural Bridge State Park
Tonto Creek Fish Hatchery
Water Wheel Falls
Green Valley Park
How safe is Payson Arizona?
Payson is not a very dangerous place to visit or live, but it is not the safest either. You should always exercise caution and common sense when traveling to any new place, and Payson is no exception. You should avoid walking alone at night, lock your doors and windows, secure your valuables, and report any suspicious activity to the local authorities. By following these simple tips, you can enjoy your stay in Payson and explore its natural beauty and charm.