Things to do in San Luis Obispo, CA
San Luis Obispo is a city located along the Central Coast of California. And is proud to be called the "Happiest City in America." San Luis Obispo is one of the most fun Central California destinations you can visit.
This small town has a friendly atmosphere with 315 days of sunshine a year. The town is mainly known for its lively downtown, iconic Spanish mission, museums, art galleries, great restaurants, and wine tasting rooms. Visitors can enjoy sightseeing and relaxing activities in this town.
Strolling along the pleasant tree-lined streets, dining outdoors beside a babbling creek that offers romantic, tranquil meals, or listening to crickets chirp in the evenings, or day trips to rustic and rural areas; San Luis Obispo has something for every type of traveler.
San Luis Obispo is also a popular halfway stopping point on a drive from San Francisco to Los Angeles. There are a lot of things to do in SLO. To help you choose between them, here are our picks for the 15 most fun and unusual
Things to do in San Luis Obispo, California
1. Bluff trail Montana de Oro
Montaña de Oro State Park preserves 8,000 acres of a picturesque coast of San Luis Obispo County which includes the bluff trail. This trail covers some of the most beautiful coastline views of Californians.
The stretch of the coast is the easiest to access hiking area on the central coast. This an easy hike with a huge payoff. The highlights of the hike include pristine beaches, rock islands, tide pools, whale and sea lions sightings, giant rocky drops with the pacific ocean in the background.
This hike will allow you ample photo opportunities and a memorable experience. For a real treat, try to go for this hike during sunset, you will get to enjoy the gorgeous golden California light.
Source: Pinterest Bluff Trail Montana de Oro
Address: Bluff Trail, Los Osos, CA 93402, United States
2. Madonna inn
One of the most famous hotels in America. The Madonna Inn is both a hotel and an SLO landmark. Its widely unique architecture and over-the-top decoration, colors, and design are the reason why it is on most people's must-visit list when they're in San Luis Obispo.
It has over one hundred individually-styled themed guest rooms which range from candy pink glittery rooms with dazzling chandeliers to rock-themed caved-inspired rooms with waterfall and fireplaces.
You can either choose to stay overnight or plan to visit for a drink or meal in their signature-style bar and sensory overload decorated dining room.
Either way, you are golden, it'll be a place you will fall in love instantly. The vibe and the ambiance are unmatchable.
Tours & Things to do hand-picked by our insiders
Source: Madonna Inn
Address: 100 Madonna Rd, San Luis Obispo, CA 93405, USA
3. Mission San Luis Obispo de Tolosa
The Mission San Luis Obispo de Tolosa is one of the main points of attraction in the city. It was established by Father Junipero Serra in 1772 before the city was even created. And got its name from the bishop of Toulouse. Though there are a lot of traditional Spanish missions that are scattered throughout the city, Mission San Luis Obispo de Tolosa is easily the most beautiful mission among them.
This honor well-earned Spanish architect-style mission features arcades with porticos, a vibrant floral motif along with the interior, a high ceiling, and a simple altar.
The Mission holds special events throughout the year and continues to be in regular operation with regular mass.
The museum offers tours that are led by a docent and it provides enlightenment and education to visitors. It showcases artifacts, items that bear information relating to the history of the Natives of the land. On the side of the museum, there's even a gift shop for souvenir purchases. You can get artwork, jewelry, books, nativity sets, and other handcrafted treasures.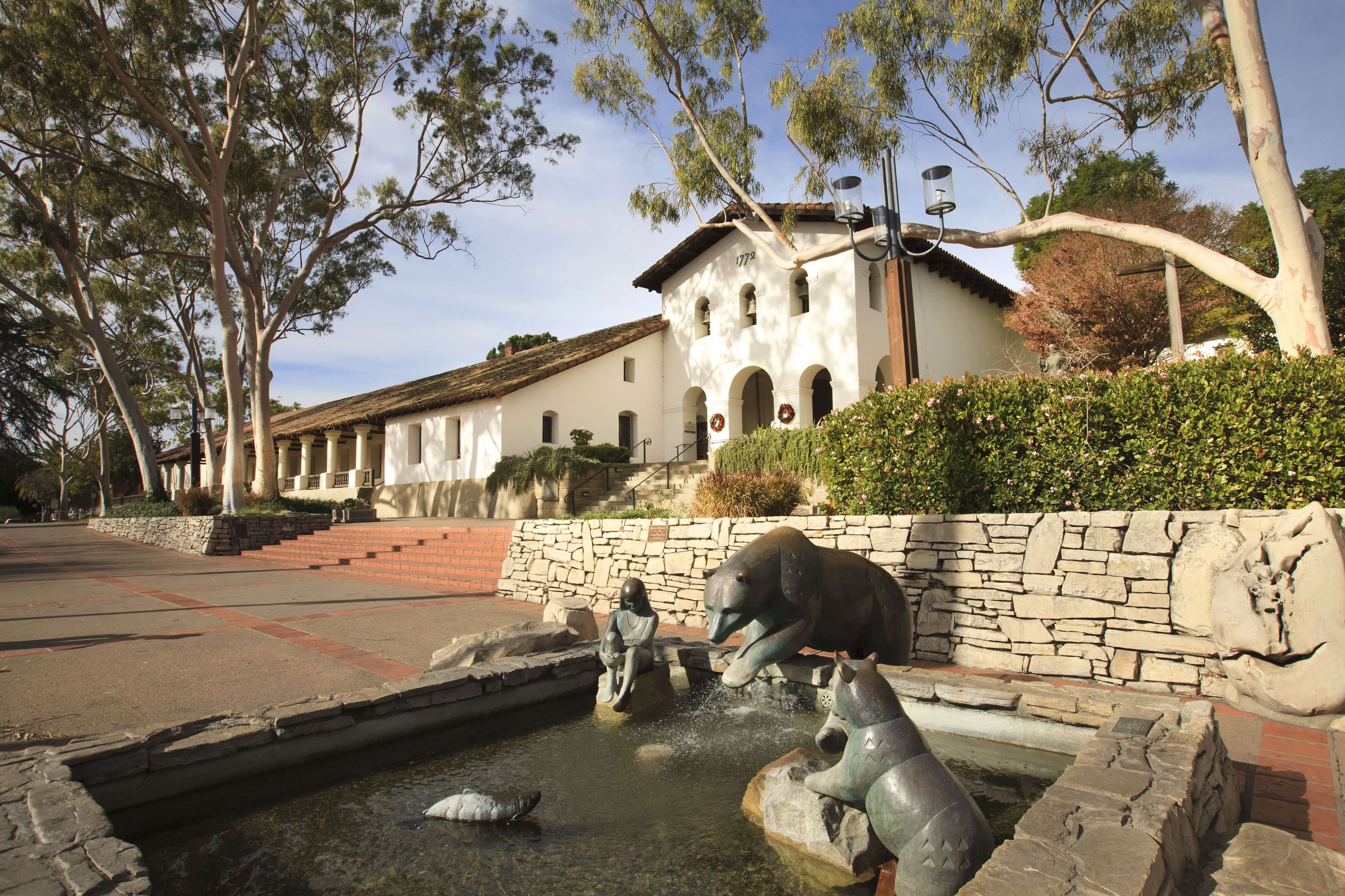 Source: Mission San Luis Obispo de Tolosa
Address: 751 Palm St, San Luis Obispo, CA 93401, USA
4. Bubblegum Alley
Bubblegum Alley is a rather odd and wacky attraction of SLO. The concept of this alley is marginally gross. It is covered entirely with chewed-up bubblegum that has been stuck onto the wall. The tradition of sticking bubble gum onto the walls of this alley started way back, possibly in the 1950s!
The city has tried to clean up the alley couple of times and create a positive area but this bubble gum graffiti has returned every time.
This alley has been featured in books, tv shows, and music. As disgusting as it may sound when you visit this place you will find it oddly fascinating.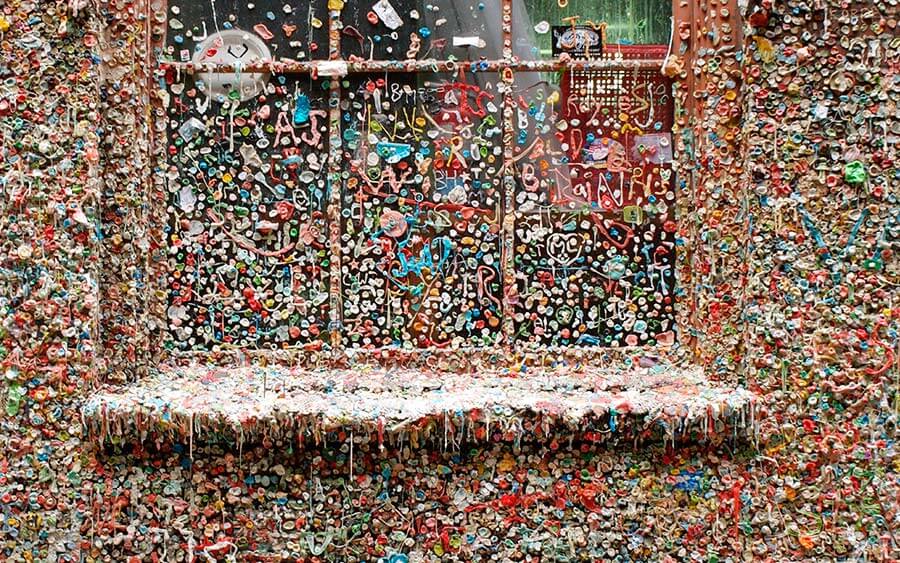 Source: Bubblegum Alley
Address: 733 Higuera St, San Luis Obispo, CA 93401, United States
5. Farmer's market
Every Thursday from 6 to 9 pm, there is a farmer's market in Downtown SLO.  Several vendors line up at Higuera Street and the bustling market starts. The market offers freshly produced fruits, fresh flowers, delicious prepared foods, BBQ, and artisan ice cream.
While strolling up and down the market and browsing foods and crafts, you will experience live music and acts performed by local street artists. The whole atmosphere is colorful and exciting with great food and fun people watching.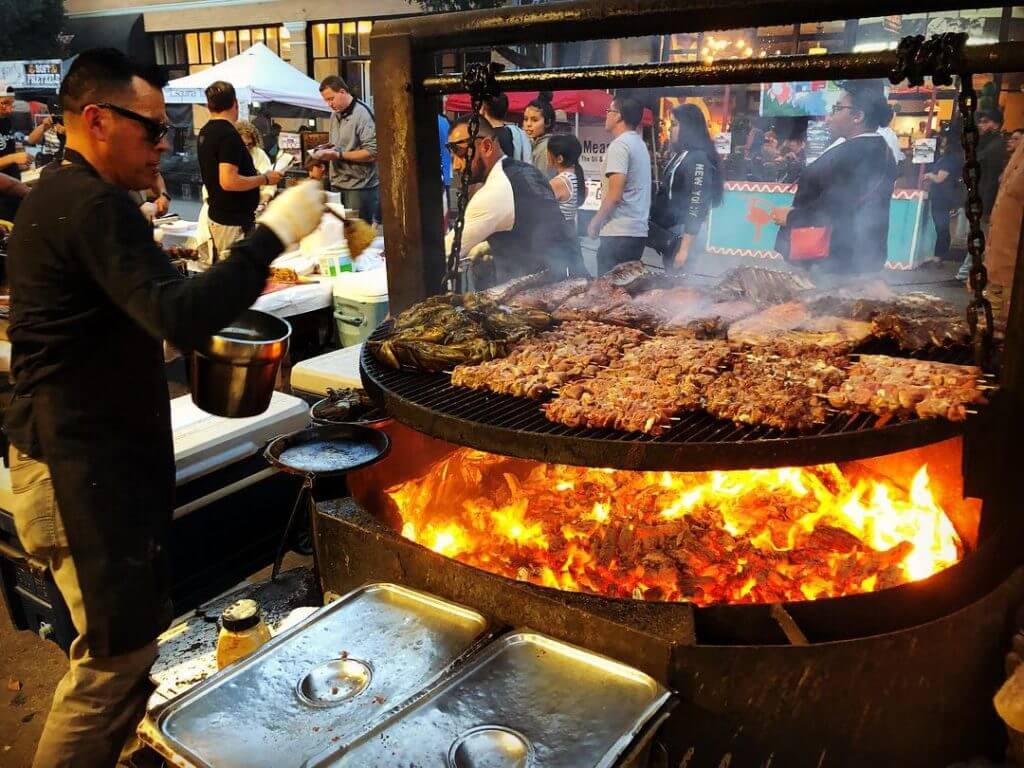 Source: Farmer's market
Address: 681 Main St, Placerville, CA 95667, United States
6. Sunset drive-in theater
There's probably nothing more nostalgic than watching a drive-in movie on the big screen like old times. The Sunset Drive-In has been serving the city for the past 70 years. And it is the last drive-in theater left in the city.
There are two shows nightly and the theater is open every night.
Evoke the nostalgia of old times by grabbing some popcorns and chilled drinks and enjoy a movie with your pals in your SOL trip.
The tickets cost $10 per adult in The Sunset Drive-In and bring cash for the tickets!
Source: Sunset Drive-In
Address: 255 Elks Ln, San Luis Obispo, CA 93401, United States
7. Morro Bay
Morro Bay is located in California's Central Coast, on scenic Highway One. It's a marine life viewing paradise anchored by the stunningly large Morro Rock. This beach is a lovely place to take a stroll on the sandy shores of Morro State beach. You can also take a cruise around morro rock and have delicious seafood at the waterfront restaurant.
The beach is very clean and walkable and is filled with serenity. You may spot sea lions, dolphins, and whales out in the ocean too.

Source: Morro Bay
Address:  California State Route 1 on California's Central Coast
8. Fremont Movie Theater
Fremont movie theater in San Luis Obispo's go-to entertainment hotspot since 1942!! And it is the last streamlined modern theater in the world.
The building is  Art Deco-style with Streamline Moderne architecture, with vintage palm floor and retro pink-shaded exterior all over the glamor.
The theater was almost torn down by the developers in the 20th century but the public fought for it. It now continues to show a mix of classic and contemporary movies and films.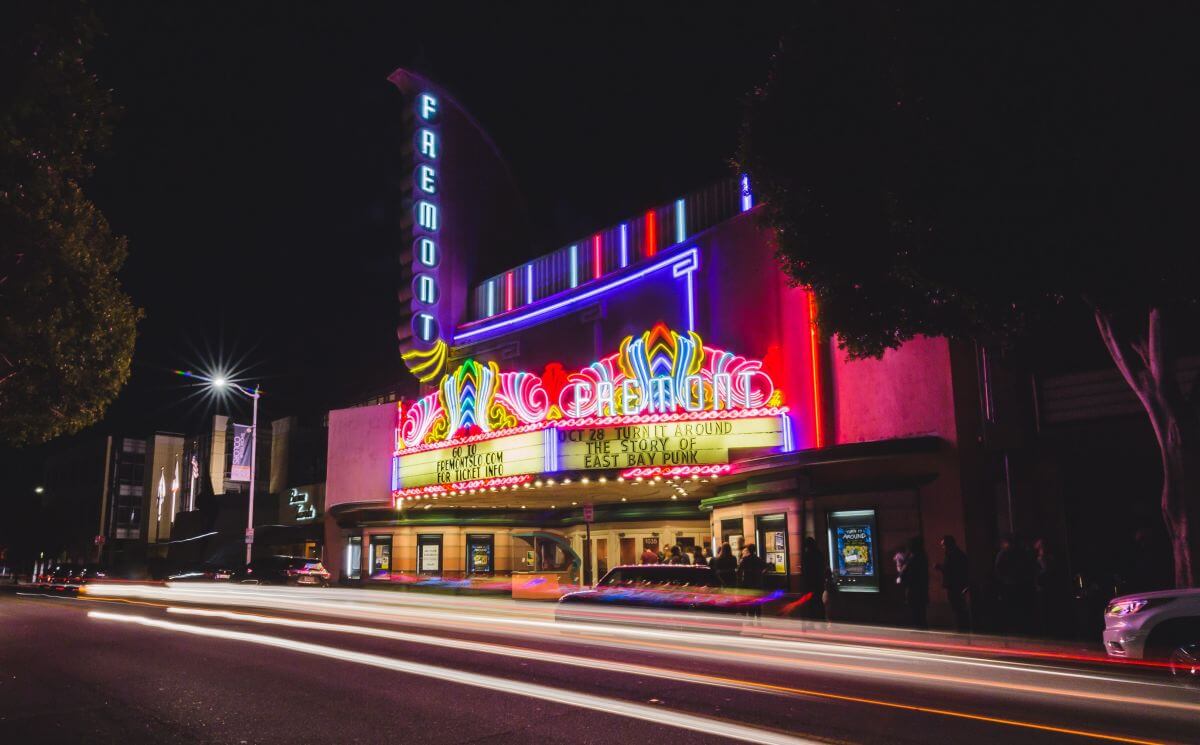 Source: Fremont Movie Theater
Address: 1035 Monterey St, San Luis Obispo, CA 93401, United States
9. San Luis Obispo Children's Museum
The San Luis Obispo Children's Museum is a great place that combines education and fun together. It has a wide range of temporary and permanent exhibits designed to be highly interactive and enjoyable for kids aged between 1-10 years old.
The programs are designed in such a way that they will provoke the creativity, imagination, and curiosity of kids.
The museum exhibits cover three floors with an outdoor play escape. Kids and adults both enjoy the games here.
It's one of the most fun things to do in San Luis Obispo with your family.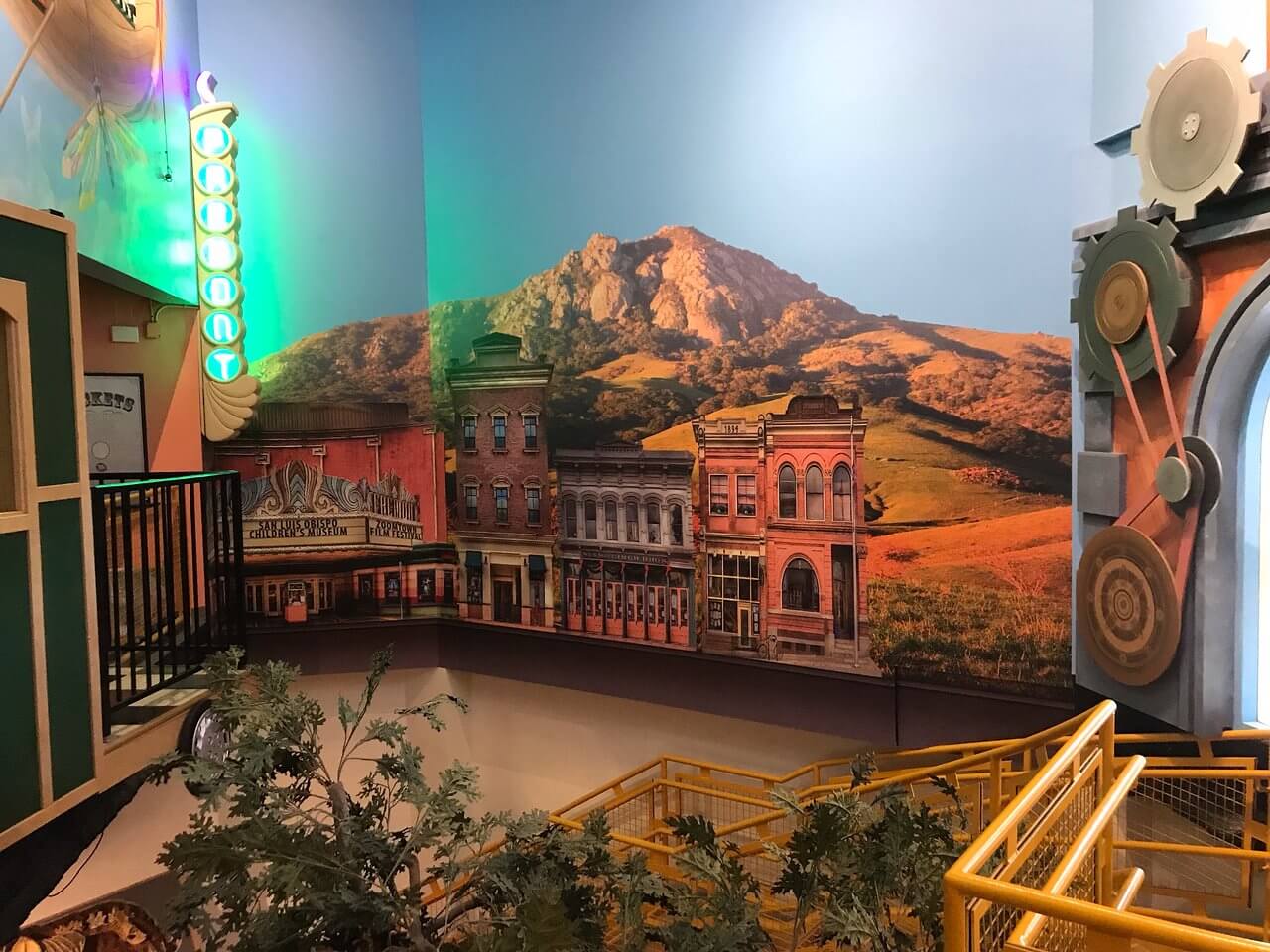 Source: San Luis Obispo Children's Museum
Address: 1010 Nipomo St, San Luis Obispo, CA 93401, United States
10. The Dorn Pyramid
The Dorn Pyramid is one of San Luis Obispo's "must-see" places purely for its uniqueness and unusual nature.
The pyramid was made by a wealthy lawyer Fred Adolphus Dorn, who lost his wife and son during childbirth and the tomb was his way of honoring them.
This pyramid-shaped masonic tomb is 25 feet into the air, built with granite, and completed in 1905.
Strangely, the Dorn Pyramid stands isolated and alone and the front tomb bears the eerie words "DISTVRB NOT THE SLEEP OF DEATH".
If you ask around SLO, you might hear some interesting, slightly spooky theories and mysterious stories about the tomb.
Source: The Dorn Pyramid
Address: Higuera Street and Elks Lane, Oddfellows Cemetery, San Luis Obispo, CA 93401, United States
11. Pismo Beach
A thirty-hour drive from San Luis Obispo is Pismo beach; a lovely, laid-back, relaxing town.
It's close to a classic beach destination you can get near SOL. It's worth the trip out of the city.
The shoreline reaches 23 miles in length. The beach gets really busy during summer. Bodyboarders, surfers, sports players, and sunbathers hang around and have fun on this sandy beach. You will see people are having fun of their life doing activities like whale watching, fishing, scuba diving, volleyball, kayaking, and picnics.
The beach maintains a pleasurable temperature all year long.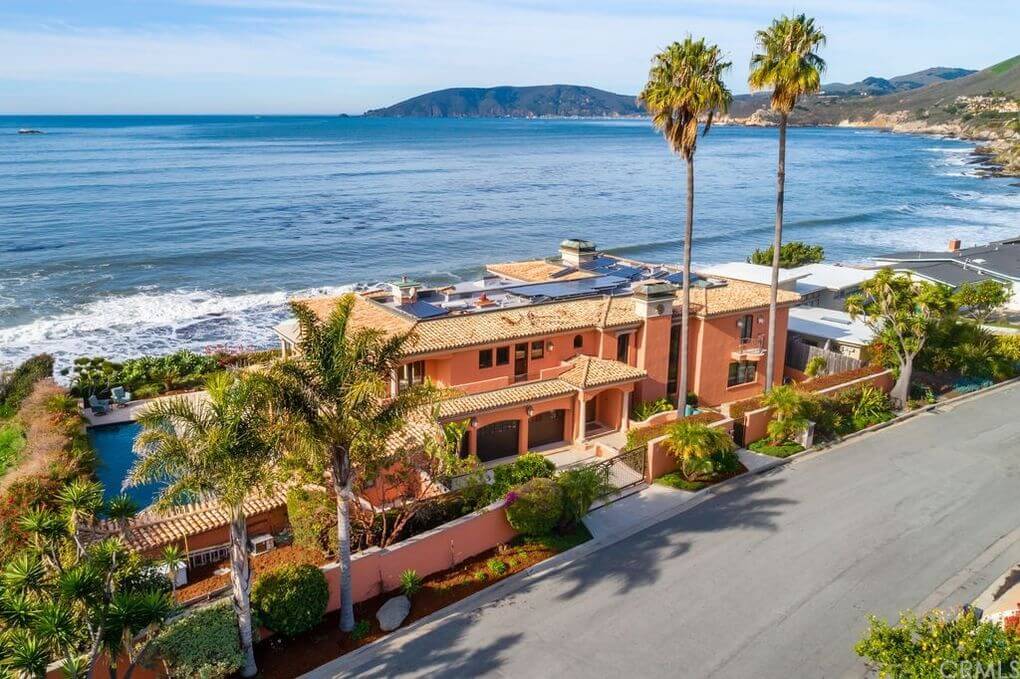 Source: Pismo Beach
12. San Luis Obispo Botanical Garden
San Luis Obispo Botanical Garden is an impressive five acres botanical garden that provides sights of the plant life from all five major climate zones in the Mediterranean.
You can have a look at the greenhouse and nursery and can see how the floras for the botanical garden are grown.
County park plants are grown here and available for purchase.
There's also a Life Celebration Garden where you can purchase memorial engravings for the memory of the loved one you've lost.

Source: San Luis Obispo Botanical Garden
Address: 3450 Dairy Creek Rd, San Luis Obispo, CA 93405, United States
13. Cal Poly Architecture Graveyard
The Cal Poly Architecture Graveyard is located right above the California Polytechnic State University among the hills.
This nine-acre land is packed with strange structures, eclectic statues, and other unusual creations.
To think you might find it a little odd why graveyards as San Luis Obispo attractions?! Well, the Cal Poly Architecture Graveyard isn't actually a graveyard. It's a mishmash and a hodgepodge used by students from Cal Poly.
Students of design, architecture, and engineering left structures they have built over many decades. That's why it's kind of a graveyard for the sample structures.
At the Cal Poly Architecture Graveyard, you'll find all kinds of structures such as houses and sculptures, and many more.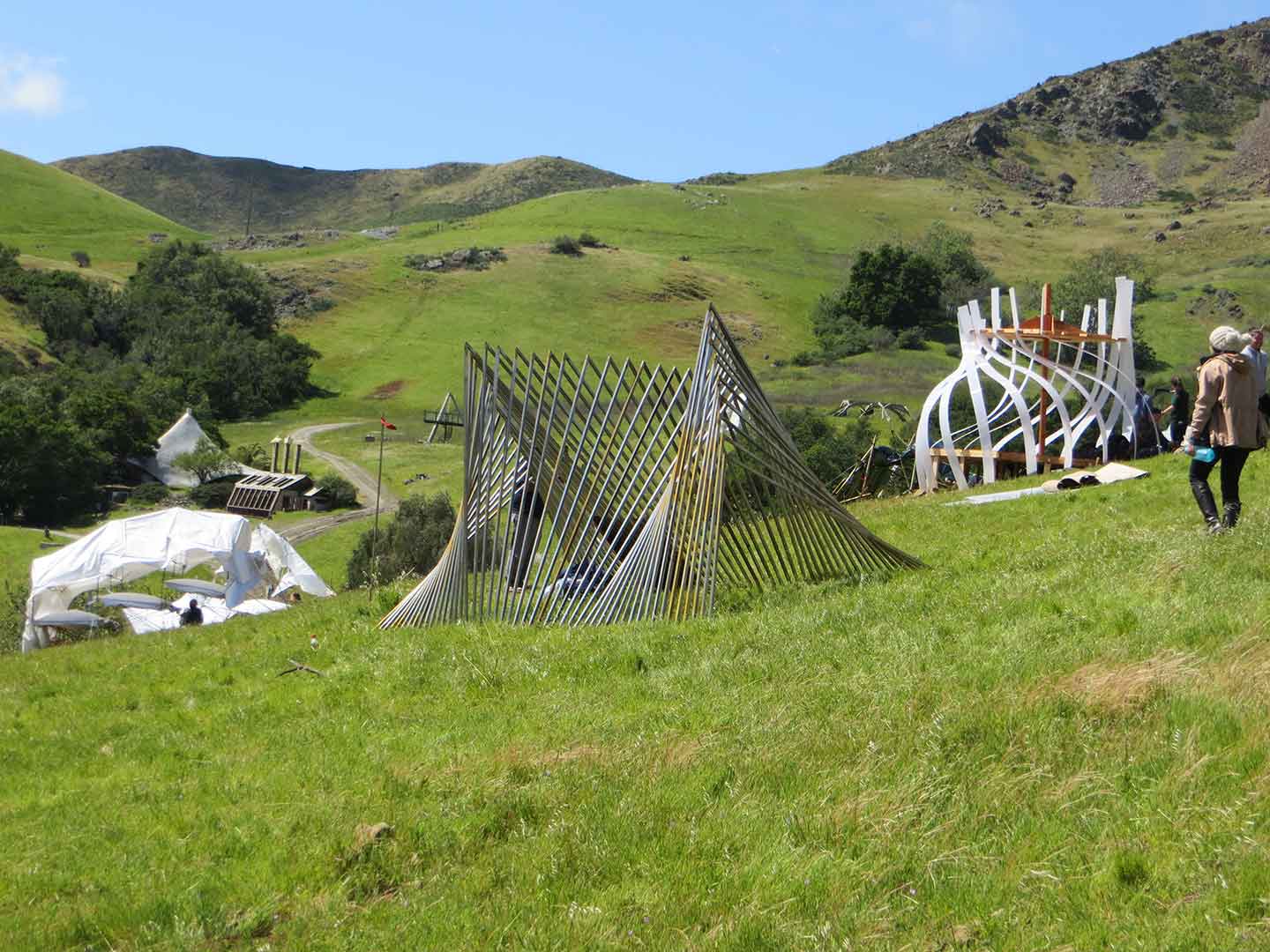 Source: Cal Poly Architecture
Address: Poly Canyon Rd, San Luis Obispo, CA, United States
14. Oceano Dunes State Vehicular Recreation Area
The Oceano Dunes State Vehicular Recreation Area is a serene recreational location and a perfect place for ATV rides or dreamy photoshoots.
It's a 1200 acres state park that features 5 miles of beach and 100 feet high open sand dunes.
There are lots of fun things to do at the Oceano Dunes which includes ATV rides, camping, horse riding, fishing, surfing, watching birds, swimming, hiking, and whatnot.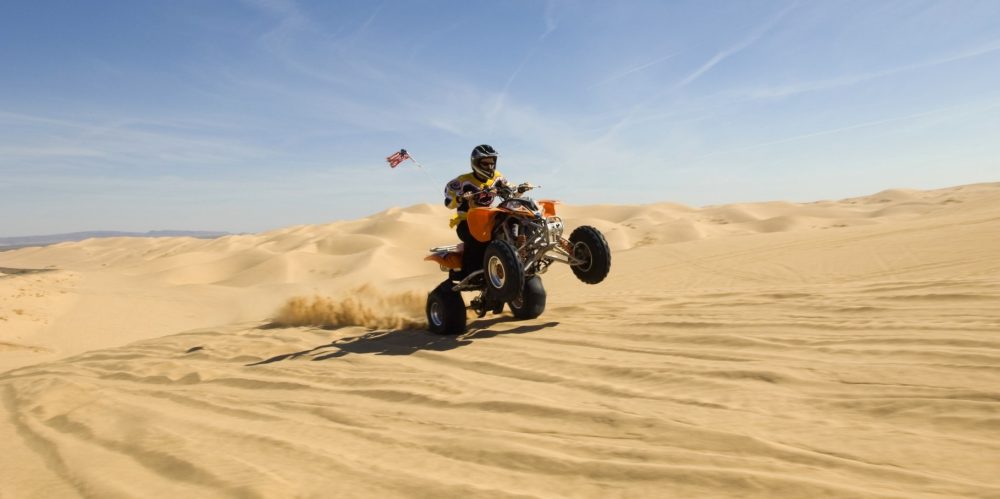 Source: Oceano Dunes State Vehicular Recreation Area
Address: 100 Pier Ave, Oceano, CA 93445, United States
15. Avila Valley Barn
The Avila Valley Barn is such a fun place that you should add to those day trips from San Luis Obispo.
It is a simple farm stand. Here you can purchase lots of different fresh goods.
Owned by the Avila family, the barn provides you the experience of a simply lovely piece of life in the countryside of California.
Kids can have fun interacting with animals at the farm and pony rides on weekends.
The barn also provides the yummiest treats to visitors. Ice cream, barbeque, homemade baked goods, roasted corn, freshly grown and cut vegetables and fruits, candy just name it and have it.
Gifts are also sold if you want to buy souvenirs.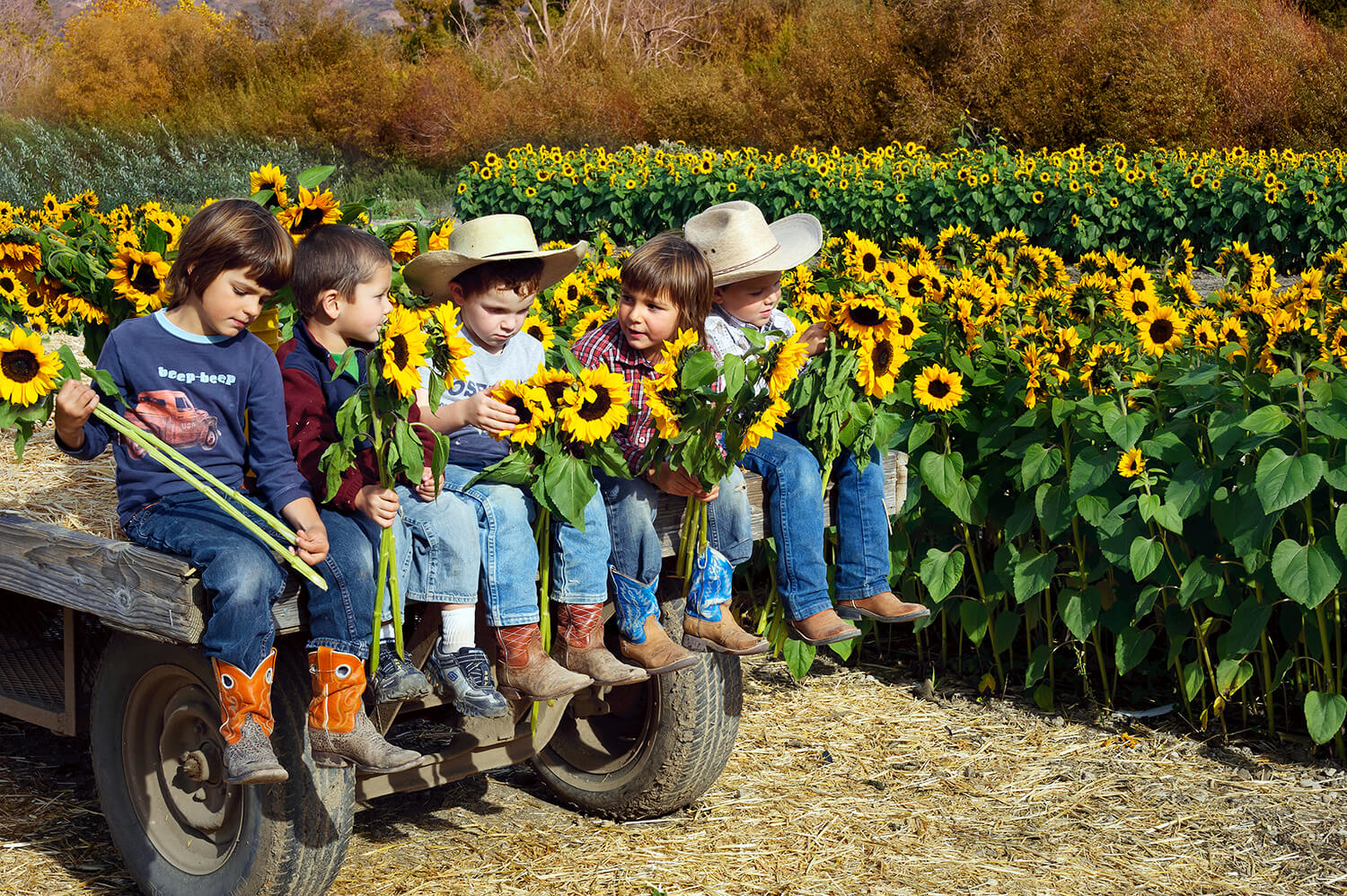 Source: Avila Valley Barn
Address: Highway 1, San Luis Obispo, CA, United States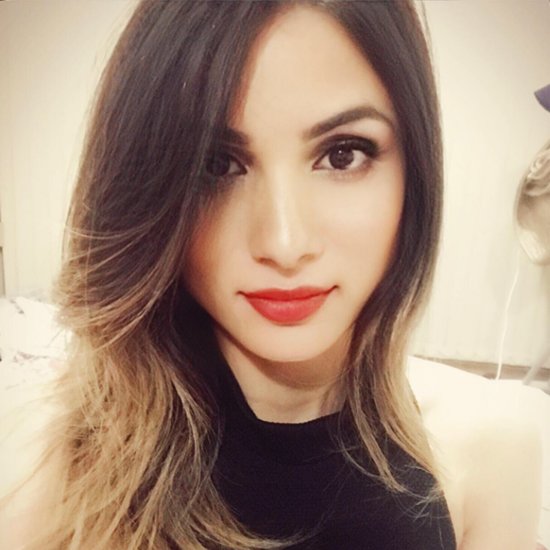 Greetings, travellers! I'm Molly Martin, the passionate explorer behind this vibrant travel platform. Alongside my team—Lorena, Jermaine, Ana, and Alen—we curate awe-inspiring travel destinations to ignite your wanderlust.
Thank you for joining us on this exciting journey. Your presence here enriches our travel community, and we look forward to inspiring your next adventure. Happy travels!