Things To Do In Tombstone
Tombstone is the most historic town in the state, and it's renowned for its Wild West history. It is a town in southeastern Arizona. The city was founded in the 1870s by a prospector. Before that this place wasn't a place for the faint-hearted. The town was full of saloons, gambling halls, brothels, and jails ran by brave lawmen who had their work cut out for them. Thus it has a very interesting history.
So let's explore the best and super cool places to see and fun things to do while you are in Tombstone, AZ.
1. Scavenger Hunt Adventure
Turn Tombstone into a mini-game board and explore Tombstone as you play this fun scavenger hunt and Urban Adventure Quest. Guided from any smartphone, teams make their way among well-known and overlooked gems of the city, solving clues and completing challenges while learning local history. Book Now
2. San Xavier del Bac Mission
Step back in time and visit one of the Wild West's most notorious towns, Tombstone. This is a full-day tour bringing to life the myths and legends of Tombstone, plus a chance to see such extraordinary places as the Sonoran and Chihuahuan deserts, the Mission at San Xavier del Bac, and the Boot Hill Cemetery. Travel in a 9 or 13-seat vehicle on this small-group tour and enjoy a more personalized experience.
3. Tombstone and Bisbee Day Tour
Enjoy this fabulous scenic 3-hour drive to the town of Tombstone. Wander around the famous town of Tombstone as you relax in a luxury vehicle. Wander around Tombstone's famous town, watch a gunfight display, and feel like you're in the Wild West. You will also explore the former copper mining town of Bisbee.
4. Tombstone Courthouse State Historic Park
Tombstone Courthouse State Historic Park is a state park in Tombstone, AZ. Located on the corner of 3rd and Toughnut Streets, this place is home to and preserves the original Cochise County courthouse. Tombstone Courthouse is a magnificent two-story Victorian structure. This courthouse once housed the offices of the sheriff, treasurer, and recorder, as well as the jail, and courtrooms of Cochise County. All the first-hand accounts and historic documents have been restored and preserved to just how it must've looked back then.
5. OK Corral
A trip to Tombstone without visiting the OK Corral would be a sin. The OK Corral is the most well-known site in Tombstone. This place relives the famous shootout in 1881 between the Earp and Clanton gangs.
It's a legendary event in the Old West Town. Today, that scene is reenacted by nine gunfighters stand on the spots where they began the gunfight (Of course these one shoot blank). Take a self guided tour to this iconic place.
6. Rose Tree Museum and Bookstore, Tombstone, AZ
Rose Tree Museum displays a fine collection of historic artifacts and materials. You will experience the history of the families who have called Tombstone home for generations. The museum features an array of artifacts and the attached bookshop carries a variety of exciting books on history.
7. Good Enough Mine Tour
The Goodenough Mine was Tombstone's major silver producer. Explore Goodenough mine in an hour-long tour and take a deep look at the original 1879 workings of the mine and the hard work of the miners. This tour is the most authentic and unique attraction in the City of Tombstone. You will also experience the beautiful rocks and minerals that were pulled from the earth, and historic structures and artifacts and structures dating back 130 years.
8. Bird Cage Theater
The Bird Cage Theatre was a famous theatre in Tombstone that operated continuously for 24 hours a day and never closed during its eight years, operating day and night.
This theatre featured a dance hall, saloon, a bar, and brothel, where the painted ladies hung from the ceiling in crib-style housings named 'bird cages'. The walls and ceiling have 140 bullet holes.
The building is also believed by many to be haunted, loud music is sometimes heard at night, and cigar smoke and whiskey can sometimes be smelled in the air. One of the most popular things to do here is the ghost tour (if you are into these things). The tour takes place in the early evening. Book now!
9. Tombstone Epitaph Newspaper and Museum
Tombstone Epitaph newspaper was printed in the 1880s on the original Washington hand press. Now, the Epitaph Museum is a free attraction in Tombstone, and visitors can see the printing techniques of the 1880s. The original press is on display.
10. Allen Street
Allen Street is the main street through town. Allen Street became famous for being at the heart of the action during the time of the Old West. It saw plenty of gunfights in its day. A trip to Allen Street really gives people a chance to see what life was once like in the Old West. Here the major attractions are the restaurants and shops, and the famous old saloons. Stroll down Allen street and take a self guided walking tour and enjoy every corner of the street.
11. Boothilll Graveyard
Boothill Graveyard is a small graveyard of at least 250 interments located in Tombstone. It's names boot hill cause the cemeteries are the burial grounds of gunfighters who 'died with their boots on.'
Boothill cemetery will give you an eerie chill thinking about the tough lives lived in those harsh and unforgiving days.
To here some chilling stories on your visit at this grave here, book this guided tour and go on a ghost adventure.
12. Big Nose Kate's Saloon
Big Nose Kate's Saloon is a famous saloon that was opened in 1880 as the Grand Hotel, which was declared one of the finest hotels in the state with 16 bedrooms, luxurious furnishings, and art-adorned walls.
The deluxe hotel housed some of Tombstone's most famous residents, including Wyatt and Virgil Earp, Doc Holliday, the McLaury brothers, and the Clanton Gang when they visited Tombstone.
This Saloon serves authentic Mexican and Southern fare accompanied by live country music and Wild West reenactments.
13. Longhorn Restaurant, Tombstone, Arizona
Located in a historic building that was once the Bucket of Blood Saloon, the Holiday Water Company, the Owl Café, and the hotel from which Virgil Earp was shot from the second floor, the Longhorn Restaurant is open for breakfast, lunch, and dinner, seven days a week, and can be rented for private events and functions. American cuisine includes prime steaks and barbecue, hearty burgers, fresh seafood, crisp salads, and decadent desserts.
14. Crystal Palace Saloon and Restaurant, Tombstone, AZ
Located on the corner of 5th and Allen Streets in the heart of Tombstone. Boasting rustic landmark furnishings, and serving authentic Mexican and Southern fare and drinks, the Crystal Palace Saloon (originally the Golden Eagle Brewing Company) is open daily for lunch and dinner, and hosts live entertainment on Friday and Saturday nights.
15. Tombstone Gunfighter and Ghost Tour
Owned and operated by Mike Jones, the one-of-a-kind Ghost Tours begin at 6:30 pm every evening, outside of Big Nose Kate's Saloon, once the luxurious Grand Hotel, seeking out the haunted and horrific legends of Tombstone. Gunfighter and Ghost Tours take around 45 minutes and include visits to The Owl Café, also known as The Bucket of Blood Buckskin, The Bank of Cochise County Brown's Hotel, Hafford's Saloon, and the O.K. Corral Shooting of Virgil Earp.
16. Tombstone Trolley Tour LLC
Regionally owned and operated company tours all the town's top attractions, including the O.K. Corral, the Bird Cage Theatre, the legendary Boot Hill Cemetery, and the Old Tombstone Western Theme Park, among others. Tickets may be purchased online at the Trolley Depot or at Old Tombstone Western Theme Park. Trolley tours last around 25 minutes.
17. Wyatt Earp House And Other Old Homes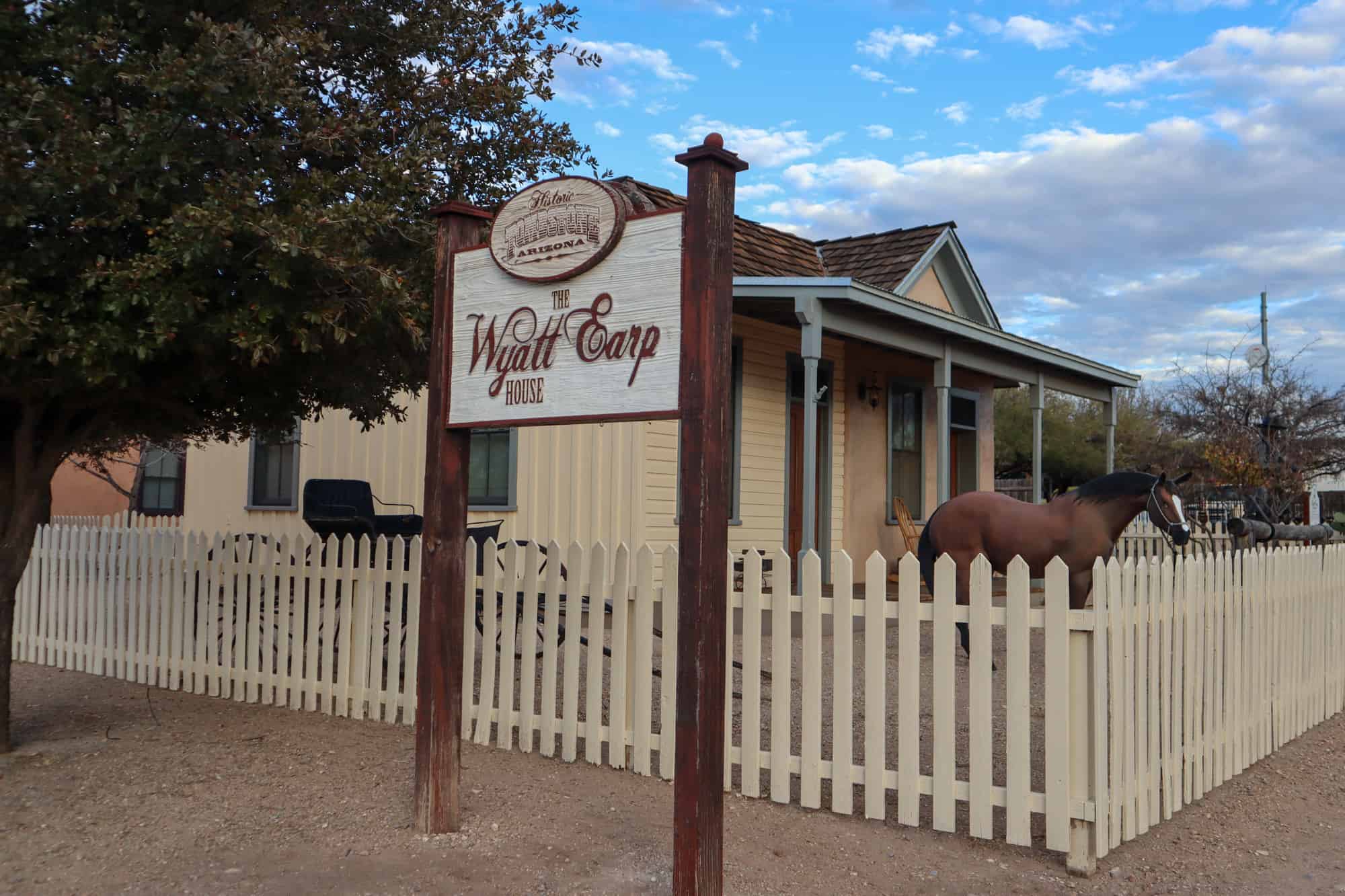 Wyatt Earp House and other old homes are a great way to take a step back in time and experience a little slice of history. There are so many interesting things to explore in these old homes – from vintage artifacts and antiques to classic architectural features. 
Start your visit by checking out the exterior of the Wyatt Earp House. Take in the design elements of this Southwest–style home and the iconic Western porch along its facade. In the interior, admire the rustic, wood–paneled walls and floors and hunt for some historical photo prints from the Earps' time in town.
18. Old Tombstone Western Theme Park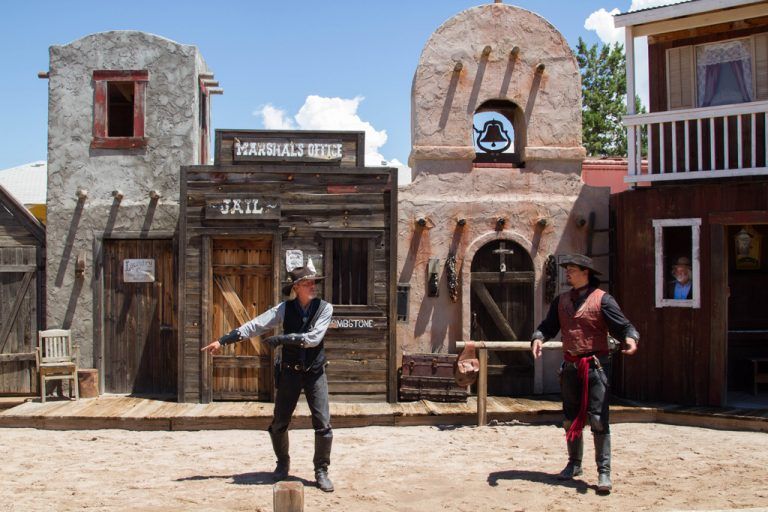 Old Tombstone Western Theme Park is a one-of-a-kind destination. It offers lots of cowboy-style attractions and activities. Stroll along life-size recreations of classic Western settlements from the 1800s. You will see full of costumed actors, shops, and 19th-century buildings.
Take a thrilling horseback ride around the park. You'll be guided by an experienced cowboy or cowgirl who can teach you a bit about the Old West.
Visit the classic Western saloon for some rowdy fun or take aim at the shooting range and compete with your family and friends to see who can hit the bull's eye. If you are there till night, stick around for a live cowboy concert with music, and dancing.
19. San Pedro Riparian National Conservation Area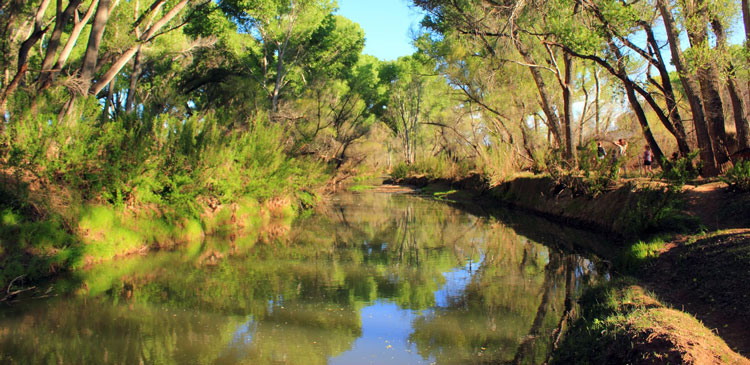 Head on over to San Pedro Riparian National Conservation Area and have the time of your life! This 488,000-acre conservation area located in Arizona is great for people of all ages.
Like any outdoor area worth its weight, San Pedro Riparian is full of great hikes and trails. Whether just a short stroll or a full-day adventure, the trails offer stunning views of the riparian areas. Any time between March and April, the San Pedro Riparian flourishes with wildflowers.
Namely, the brake fern, southwestern spiderworts, and white filaree. Take a stroll or a bike ride and take in these gorgeous blooms! San Pedro Riparian is also full of wildlife, especially birds! Over 250 species of birds is found in the area.
20. Visit The Schieffelin Hall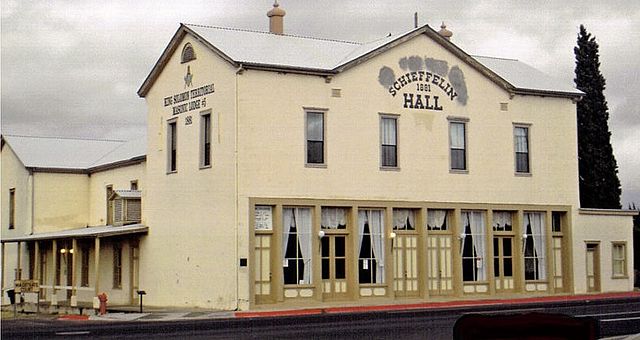 Schieffelin Hall in Tombstone, Arizona has some amazing things to check out. It's the first permanent courthouse in Arizona and a great example of architectural history from the 1880s. Inside, you can find a lot of fascinating vintage furniture.
The artifacts from when the area was a thriving silver mining town are displayed here. Explore the mysterious tunnels underneath – rumored to lead to underground saloons. If you're visiting in late July or early August, be sure to take in the Helldorado Days, a celebration of Tombstone's days as a Wild West town.
21. Check Out the Tombstone Art Galleries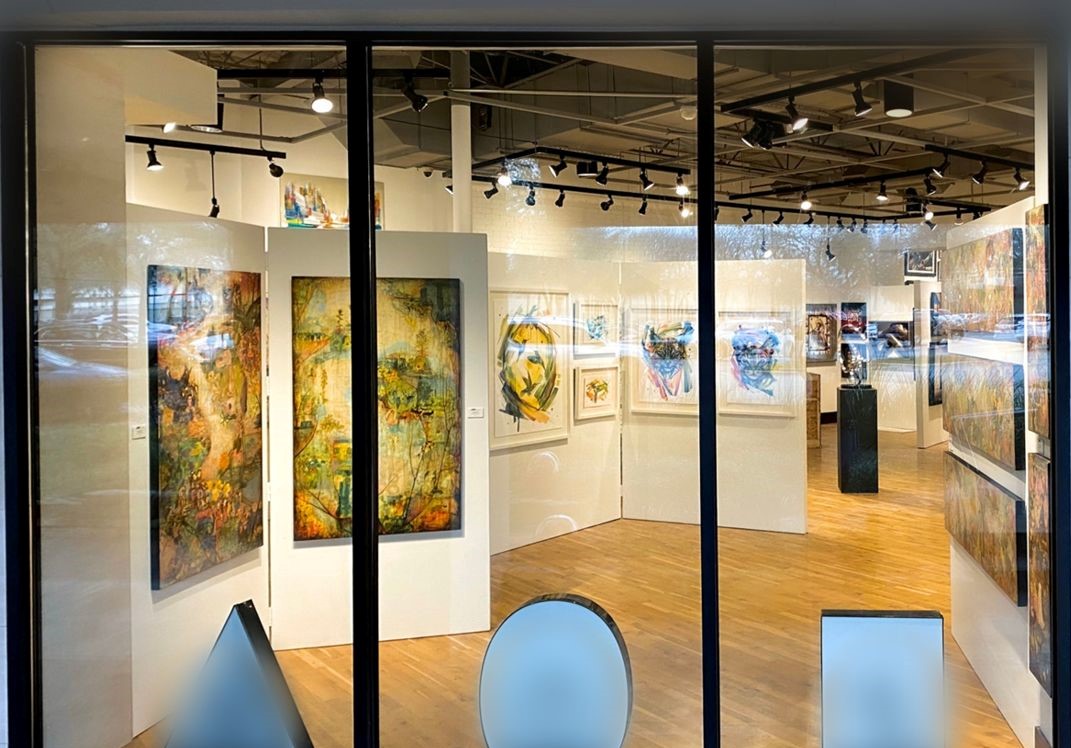 The exhibits in Tombstone Art Galleries display an amazing selection of pieces. Meet some of the most talented artists in the area while exploring their art. Get a glimpse of original and limited edition prints and paintings.
The exhibits carry a vast collection of oil paintings, abstract landscapes, and even wooden sculptures. You'll also find mixed media works, tapestries, and stained glass.
They also carry some black and white prints for photography enthusiasts. Whether you're a collector or just someone who appreciates art, you should visit the exhibits here in Tombstone.
22. Stop at Tombstone Brewing Company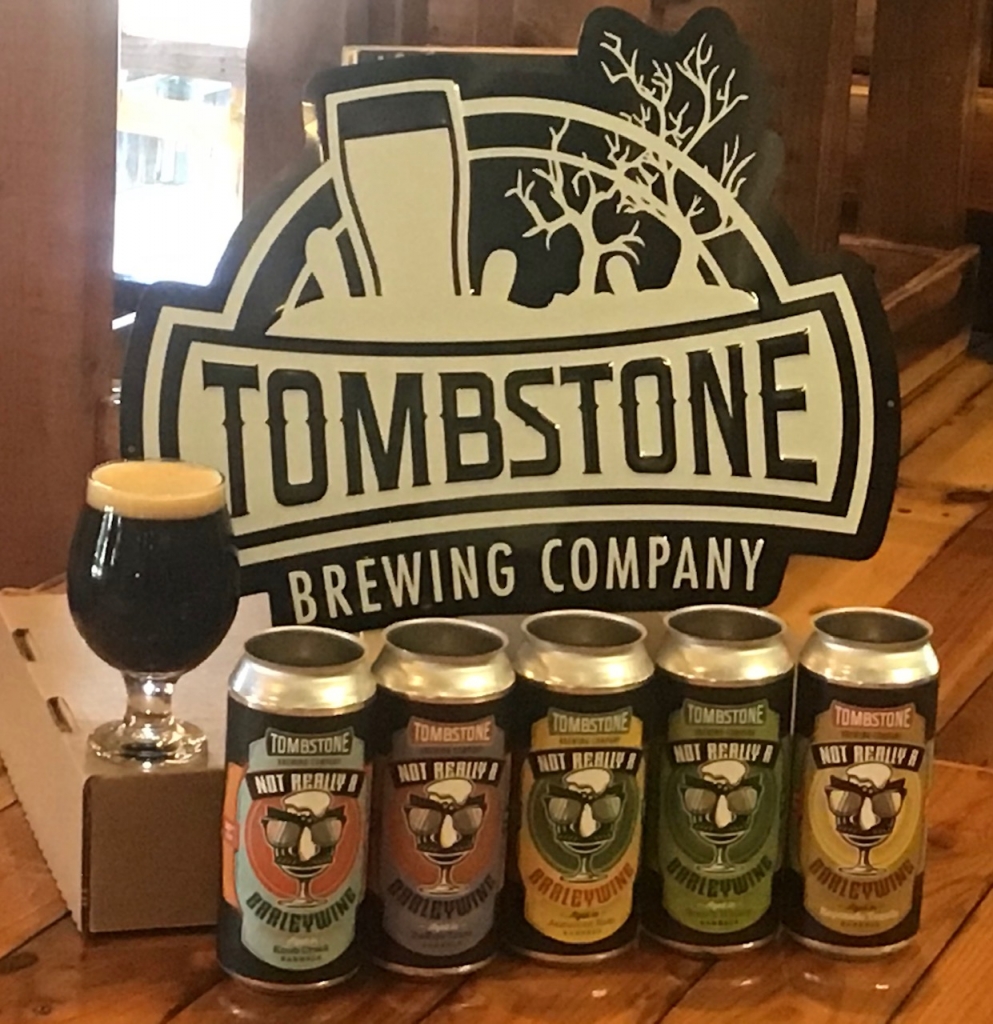 Whether you're a beer enthusiast or just looking for a fun night in Tombstone AZ, visit the Tombstone Brewing Company. Tombstone Brewing Company offers craft beers made in-house with specialty ingredients. It's the top beer choice for beer lovers.
From IPAs to lagers to wheat beers, you're sure to find something that fits your taste. Tombstone also has a wide selection of killer seasonal beers, with something new and exciting released all the time. Don't forget to ask your server or bartender for a recommendation- they know their stuff!
23. Go on the Outlaw Trail Segway Tour 
If you're looking for a unique and exciting way to explore Tombstone, Arizona, then an Outlaw Trail Segway Tour is the perfect adventure for you! On the tour you'll explore the streets of the old Wild West town, rolling by the iconic architecture and history-filled streets.
You'll also get to see some awesome views of sites like Boot Hill, Big Nose Kate's Saloon, and the infamous O.K. Corral. Along the way, you'll get to learn more about the legends and stories of the lawless days.
Take some great pictures using the Segway as your own personal camera tripod. All in all, this tour is a great way to experience the spirit of the old West and have a great time doing it.
24. Take a Scenic Drive Through the Dragoon Mountains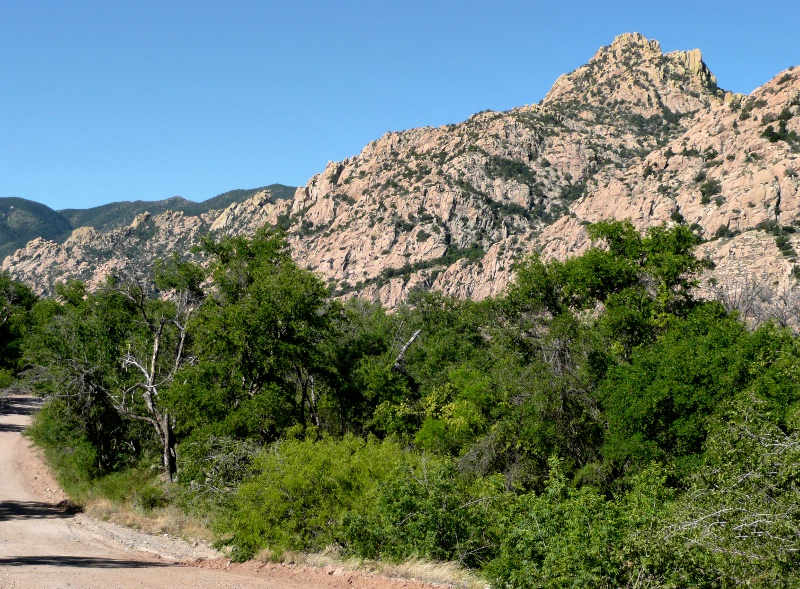 Take a breathtaking drive and experience the natural beauty of the Dragoon Mountains in Tombstone, AZ. The driveway is truly scenic and it covers the red-ochre-colored canyons to rugged mountain peaks.
The main attraction of the drive is the Dragoon Road which drifts through the Coronado National Forest. You'll drive past timeless buttes, ancient cliffs, and vast vistas that stretch miles and miles away. You might even spot mule deer, wild turkey, Gambel's quail, and desert tortoises as you go.
You will be amazed to see the spectacular views of Arizona's Sonoran Desert. The sweeping landscapes are full of creosote bushes and cacti and lit up by shades of purple, yellow, and gold.
25.  Take a Ride on the Stagecoach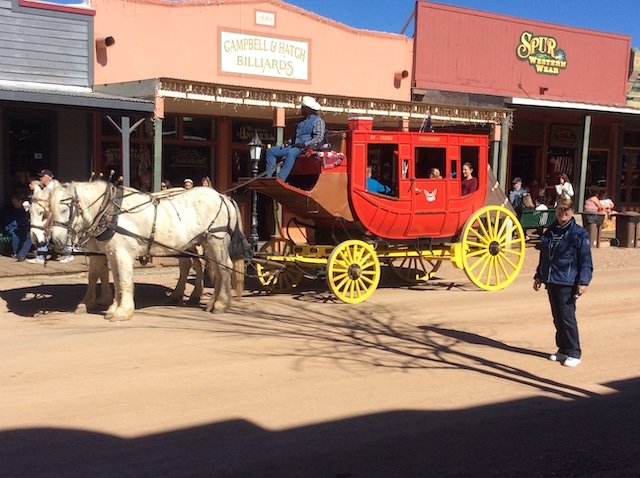 If you want to feel like, you are living a real piece of American history, take a stagecoach ride in Tombstone. You will get a great view of all of the Wild West landmarks. This fun adventure ride will take you through the streets of an old western town.
Take in the beauty of the streets lined with gift shops and saloons. See the architecture of the old buildings that have stood the test of time. It's a really cool experience, and definitely something you will never forget.
26.  Go for a Jeep Tour of the Sonoran Desert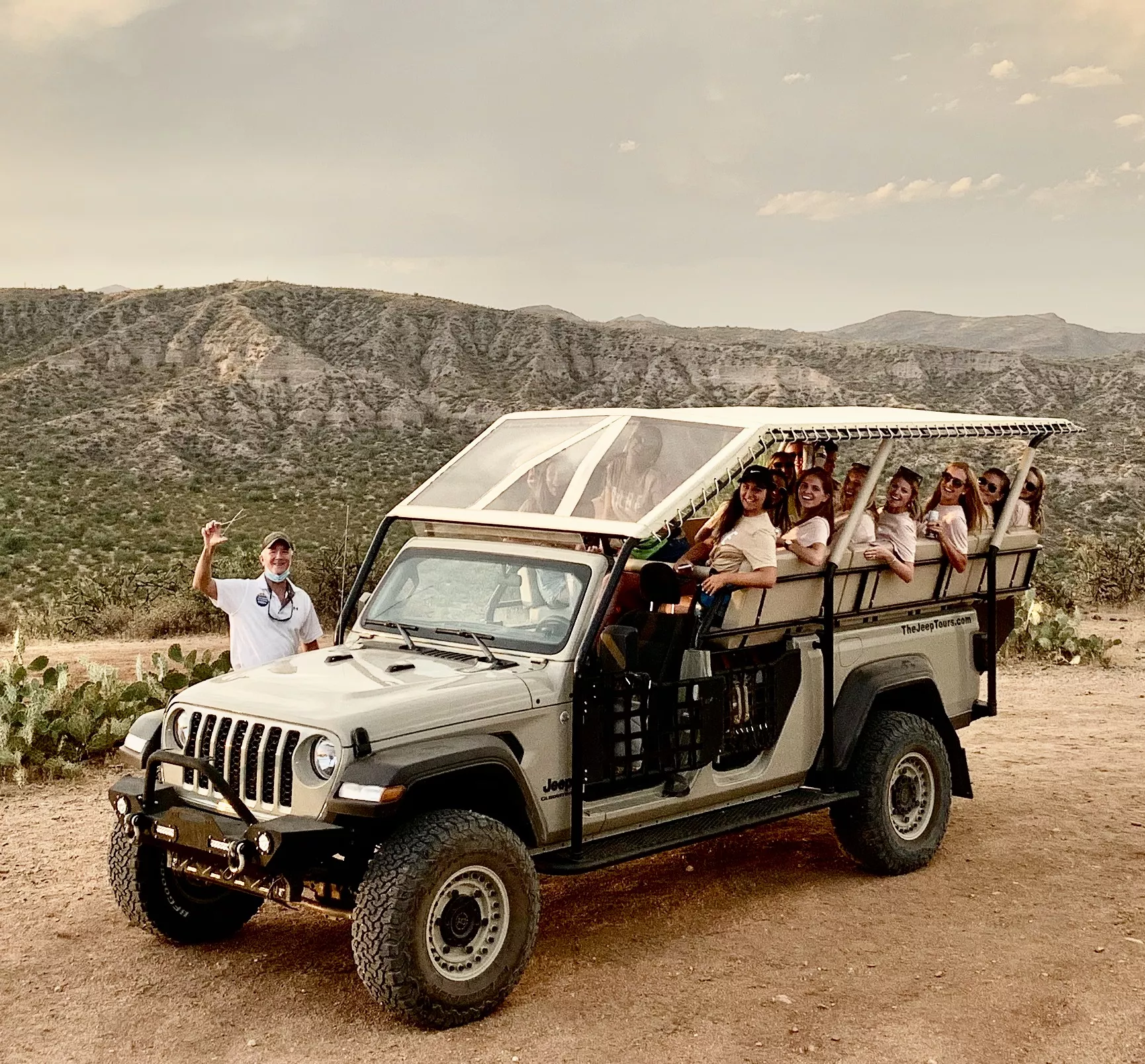 Bored with historical sightseeing in Arizona? Then try this adrenaline-filled adventure in the Sonoran Desert. The Jeep Tour is the perfect way to explore the stunning landscape and the unique rugged wildlife.  
The Jeep Tour will let you get up close and personal with the majestic view of the Rincon and Chiricahua Mountains and the amazing desert floor below.
You will catch the sight of some wild animals, such as Chihuahua Desert lizards, rattlesnakes, coyotes, and javelina.
27. Stop by Big Jim's Trading Post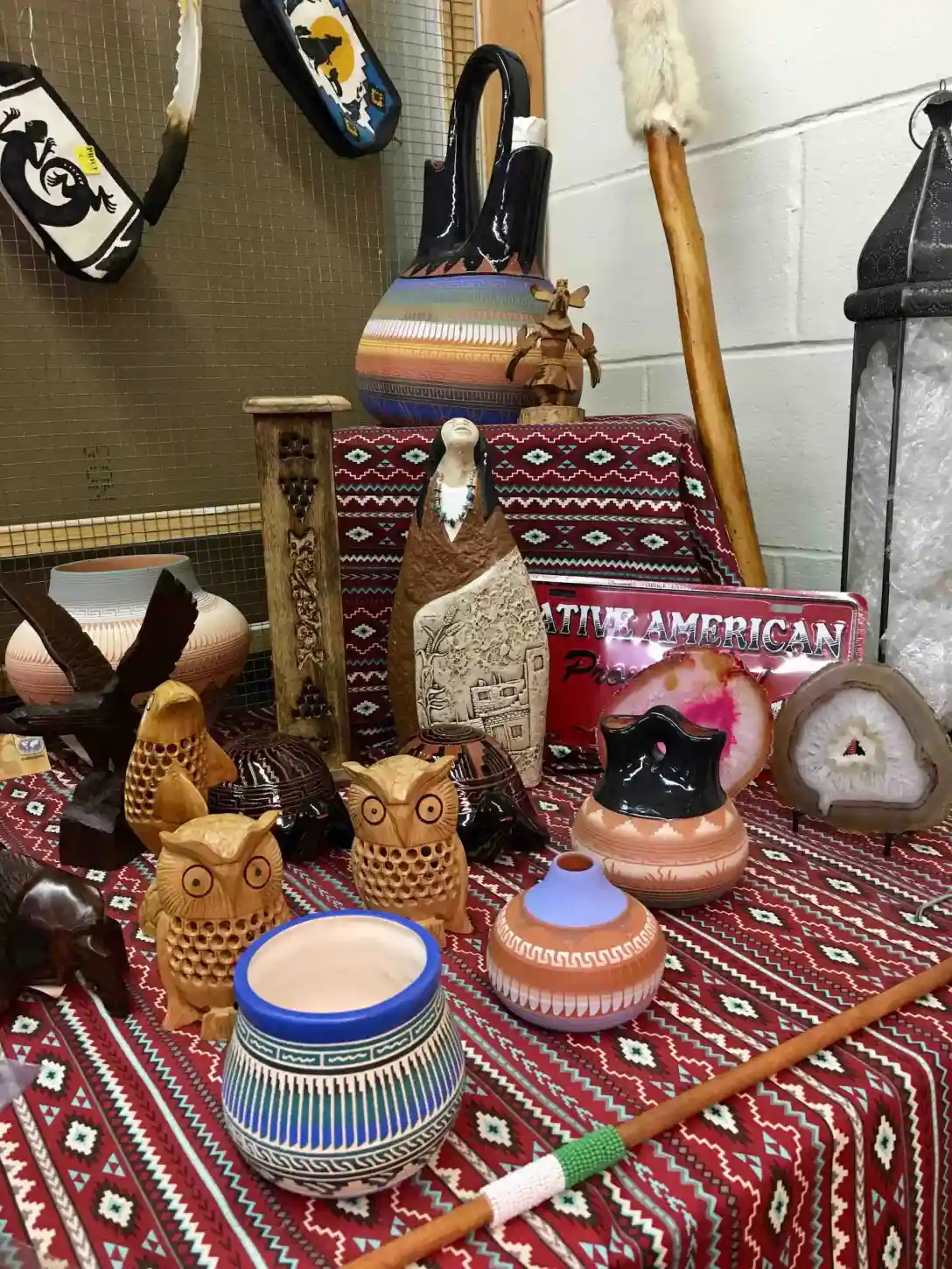 End your trip by getting the perfect souvenir of your Arizona adventure. And Big Jim's Trading Post in Tombstone is where you want to go! This wild west spot is packed with all kinds of old-timey trinkets, artwork, and gadgets.
It's an old-fashioned trading post where you can shop 'til you drop for something special to remember your vacation. The store is filled with items like Native American jewelry, vintage hats, old photographs, western sculptures, and even some weird Western oddities.
Not to mention, the owners are incredibly friendly and knowledgeable. So, don't be afraid to ask them about their wares.
What is there to do in Tombstone AZ today?
9 Top-Rated Tourist Attractions in Tombstone
OK Corral.
Allen Street. Allen Street.
Boothill Graveyard. Boothill Graveyard.
Courthouse State Historic Park. Courthouse State Historic Park.
Bird Cage Theatre. Bird Cage Theatre.
Goodenough Mine Tour. The Good Enough Mine Underground Tour.
Rose Tree Museum.
Tombstone Epitaph.
Is Tombstone Arizona worth visiting?
Tombstone is real, a small town 90 minutes or so SE from Tucson. In addition to regular residents and their homes and businesses, there are many historical sites from the "Wild West" era and a regular re-enactment of the Gunfight at the OK Corral. If you're interested in that history it's worth a visit.
Best Time to Visit Tombstone
How much does it cost to get into Tombstone AZ?
Admission is $10 for adults, $9 for seniors, $8 for children 8 to 18; the theater is open daily from 8 am to 6 pm.
Is Tombstone Arizona open for visitors?
Tombstone is a living town, not a theme park. There are no opening and closing hours for the town, but you will find that most of the attractions and shops will open between 9 and 10 in the morning and close between 5 and 6 in the evening. The Saloons, Restaurants, and Paranormal activities do stay open later. A.
What is Tombstone Arizona famous for?
Tombstone is world-renowned for its mining history and the "Gunfight at the OK Corral" in 1881, between the Earp brothers — Wyatt, Morgan, and Virgil — and the Clantons, Frank and Tom McLowery.
How Safe IS Tombstone AZ?
How would you rate the amount of crime in Tombstone? Excellent. There is virtually no crime in this area.
Is Tombstone a ghost town?
The city nearly became a ghost town, saved only because it was the Cochise County seat until 1929. The city's population dwindled to a low of 646 in 1910 but grew to 1,380 by 2010.
How long does it take to tour Tombstone AZ?
If you watch the show & want to look around the museum for at least 2 hours. The tombstone itself has old bars, church town hall, etc wagon rides allow at least 4 hours for everything.
Does the Tombstone Epitaph still exist?
Founded in January 1880 (with its first issue published on Saturday, May 1, 1880), The Epitaph is the oldest continually published newspaper in Arizona.
Where should I stay when visiting Tombstone?
Tombstone Hotels and Places to Stay
The Tombstone Grand Hotel. Tombstone, AZ.
Landmark Lookout Lodge. Tombstone, AZ.
Tombstone Monument Ranch. Tombstone, AZ.
Larian Motel. Tombstone, AZ.
Trail Rider's Inn Motel. Tombstone, AZ.
Tombstone Sagebrush Inn. Tombstone, AZ.
Katie's Cozy Cabins. Tombstone, AZ.
Virgil's Corner Bed & Breakfast.
Does the OK Corral still exist?
As of 2018, the Love family continues to operate the O.K. Corral as a historic site. The museum property extends from the Allen Street frontage northward to Fremont Street, including the land where the historic gunfight began.
Is the movie Tombstone historically accurate?
Incredible as it may seem, much of Tombstone is based on historical fact. The film takes liberties in telling the story, many of which are based on legend. The film is a reasonably accurate portrayal of the events in and around Tombstone.
What is Tombstone Arizona like today?
Today Tombstone offers a glimpse into the past with historic attractions such as museums, history tours on foot, by stagecoach or trolley, underground mine experiences, paranormal adventures, shopping, dining, and of course gunfight reenactments.
Does it snow in Tombstone AZ?
Tombstone, Arizona gets 14 inches of rain, on average, per year. The US average is 38 inches of rain per year. Tombstone averages 1 inch of snow per year. The US average is 28 inches of snow per year.
How far is the tombstone from Phoenix AZ?
168 miles. The road distance is 185.1 miles.
If there is other place we forgot to mention in this "things to do in Tombstone" post, please feel free to comment.